Smoking food is one of the best ways to enjoy outdoor eating. The smell and taste of smoke-prepared delicacies always excites us. So, to accomplish this, we need a trusted charcoal smoker for home.
The likelihood of getting the wrong charcoal smoker is high. That is why we recommend that you read this list and get to know which among the thousands of charcoal smokers on the market is the right fit for you. Getting the best charcoal smoker can be a challenge. However, with a little reading here and there, you can narrow down your choices and ultimately pick the best charcoal smoker for you.
1. Weber 22" Smokey Mountain Cooker, Charcoal Smoker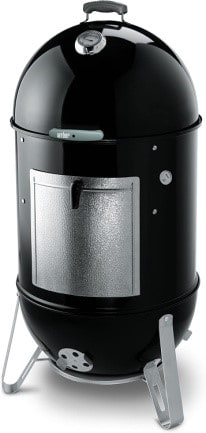 Weber is a trusted brand when it comes to grilling and smoking. The 22" charcoal smoker from the company's Smokey Mountain Cooker Series is one of our top-notch favorites because of its versatility and functionality. This best charcoal smoker does not only smoke your fresh catch of salmon nor your readily prepared steak, but it also gets tastebuds watering as the smell of barbecue fills the air.
It has two plated steel cooking grates where you can easily place the meat for smoking. It is large enough for a couple of big cut meats or perhaps several smaller ribs. To further ease its convenience, it comes with an extra-large water pan that maintains the heat for an all-day smoking adventure. Moreover, you'll find it easy to load charcoal and wood because the fuel door is removable.
There is also a built-in thermometer to ensure that the meat is smoking just at the right temperature! After all, when it comes to cooking meat, we all know that the perfect temperature is the key to that luscious taste.
Why we like it:
Plated steel cooking grates
Built-in thermometer
Rust-resistant legs
Easy to assemble
190 F maximum inside temperature
Specifications:
Grid Dimensions: 21 ½ x 21 ½ in.
Main Grilling Area: 363 sq. in.
Total Grilling Area: 726 sq. in.
2. Realcook 17" Vertical Steel Charcoal Smoker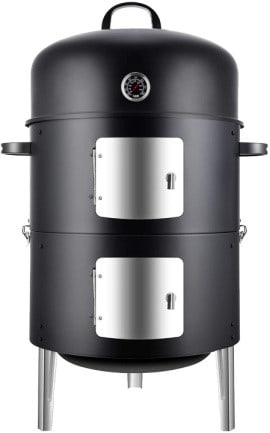 Outdoor cooking with this best charcoal smoker from Realcook is easy and fun! With family and friends in tow for a party, you can serve the best bbq and smoked dishes using this multi-functional smoker. Not only can you smoke or grill, but you can also steam, bake, roast, and even braise your stuff with Realcook's charcoal smoker. If this isn't enough for you, we don't know what is.
To add, it comes with two access doors, which makes it more convenient for you to use. You can open the upper door whenever you need to check on your food. Meanwhile, you can open the other door whenever you need to add charcoal or wood. This mechanism allows proper cooking and maintenance of the right temperature for your food as you save it from the unnecessary door opening.
The presence of heat-resistant Bakelite handles boosts the performance of this charcoal smoker. The handles make it easy to transport, baste, and cook your food. Furthermore, it also has a crossbar and four hangers that allow you to smoke meat of different sizes and shapes.
Why we like it:
Built-in thermometer
2 piece cooking grids
Latch locking system
2 access door
Cold or hot smoking
Adjustable air vent
Specifications:
Item Dimensions: 22 x 17 x 35 in.
Total Grilling Area: 453 sq. in.
3. Realcook 20" Charcoal BBQ Smoker Grill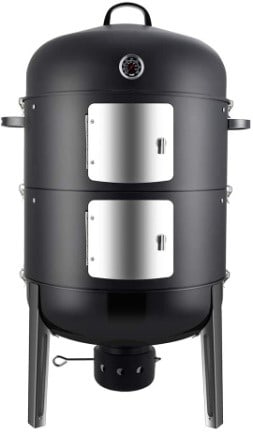 If Realcook's 17" is too small for your smoking and grilling needs, then you can invest in this 20" best charcoal smoker. With 3" more in space, you can definitely cook more for any gathering or occasion. It has almost the same benefits as the 17" one, but with just more space to grill and smoke meat.
Moreover, the 20" charcoal smoker has a special bottom damper with an ash collector. This allows smooth control of airflow from the bottom, which in turn helps in maintaining a steady temperature within the smoker grill. The ash collector, meanwhile, keeps ashes in one space for easy clean-up.
Despite its larger size, the 20" Realcook charcoal smoker is portable and very easy to assemble. It is composed of 4 parts that you can assemble and disassemble for transport. It takes around 30-45 minutes to install whenever you need to use it. In addition, you can even use this best charcoal smoker as a fire pit when the weather gets cold! All thanks to its latch locking system! Now, isn't this enough of a steal already?
Why we like it:
Special vent design
Portable
Easily assembled
Large capacity
Multi-layer
Functional access doors
Porcelain-enameled water pan
Built-in thermometer
Specifications:
Item Dimensions: 25 x 20 x 41 in.
Total Grilling Area: 636 sq. in.
4. Kamado Joe 18" Classic II Charcoal Grill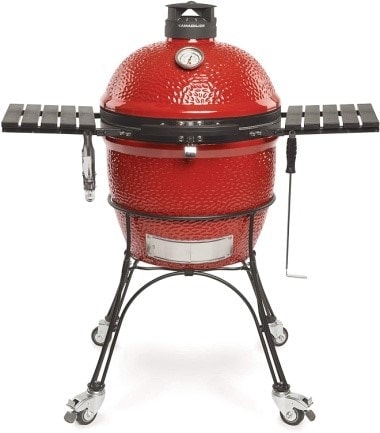 When it comes to charcoal grills and smokers, Kamado Joe is a dream come true to have. It is more expensive compared to other charcoal grillers and smokers, but it is worth the price as it is loaded with amazing functions and is made of high-quality and durable materials that can last you for years. The Classic II is an 18" premium ceramic grill. It comes with a cast iron cart and locking wheels to ensure that you never have to worry about it moving around while smoking.
It has two layers of grills, which are designed as a half-moon. This design allows you to cook various foods of different styles with varying temperatures at the same time. Moreover, what makes it the best charcoal smoker is its Kontrol Tower Top Vent. This helps uphold a steady air setting for accurate airflow management whenever you open and close the charcoal smoker. It is also rain and mold-resistant, making it a perfect fit for your outdoor needs.
Why we like it:
Flexible cooking system
Controls consistent airflow
Patented airlift hinge
AMP Firebox
Fiberglass mesh gasket
Stainless steel latch
Powerful but quiet motor
Can bake pizza
Specifications:
Item Dimensions: 26.40 x 26.40 x 36 in.
Temperature: 225 F to 750 F
5. Dyna-Glo 36" DGX780BDC-D Vertical Charcoal Smoker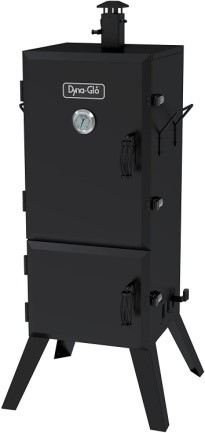 One of the largest on our list of the best charcoal smokers comes from Dyna-Glo. This 36" vertical charcoal smoker is best for smoking large amounts. A vertical charcoal smoker is great to capture and maximize that smoky flavor since the smoke just comes up and up and up! Another thing that makes this the best charcoal smoker is the fact that it can accommodate varying sizes and different types of foods! It has four cooking grates that you can adjust easily to suit your needs.
It comes with two-door access that lessens heat loss whenever you need to check on your food or add charcoal. The charcoal chamber, which is made from porcelain enamel, is designed so that briquettes can be stacked tightly for a more efficient and improved smoking prowess. To help protect your Dyna-Glo vertical chain smoker, you can purchase this Dyna-Glo DG784GSC Premium Cover to keep dust and other elements away.
Why we like it:
Large capacity
Includes charcoal chamber and grate
Comes with a removable ash pan
Stainless temperature gauge
4 cooking grates
Specifications:
Item Dimensions: 20.83 x 21.45 x 49.73
Total Smoking Area: 784 sq. in.
6. Char-Griller E16620 Akorn Kamado Charcoal Grill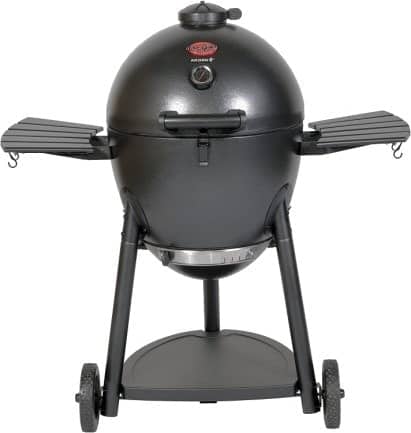 If you are on a tight budget but want to enjoy Kamado-style grilling, then you should consider this Akorn Kamado Charcoal Grill from Char-Griller. Despite its affordable price, this can compete with expensive brands such as Big Green Egg and Kamado Joe.
The triple-walled insulation, which helps keep the heat, is just one of the many facets we like about this particular charcoal grill. To ensure that it provides the best Kamado-style grilling, it maintains heat ranging from 200 F to 700 F. It also has a removable warming rack just above the cast iron grill space. This means that you can keep your food warm even after you're done grilling it.
On top of that, its adjustable top damper preserves airflow and controls heat perfectly to suit your smoking style. The bottom damper further controls the airflow to keep the temperature precise and accurate. Meanwhile, you do not have to worry about cleaning up ashes since it comes with an ash pan that collects the ash. You simply have to remove it and throw the collected ash away after you are done smoking. Not only is it great for slow smoking, but it is also the best charcoal smoker for high heat cooking and grilling.
Why we like it:
Triple-walled insulation
Cast-iron cooking surface
Powder-coated steel exterior
Porcelain-coated steel interior
2 folding metal shelves
Heat gauge
Detachable warming rack
Specifications:
Product Dimensions: 45 x 31 x 47
Primary Cooking Space: 314 sq. in.
Warming Rack Space: 133 sq. in.
Total Cooking Area: 447 sq. in.
Temperature: 200 F to 700 F
7. Cuisinart 18" COS-118 Vertical Charcoal Smoker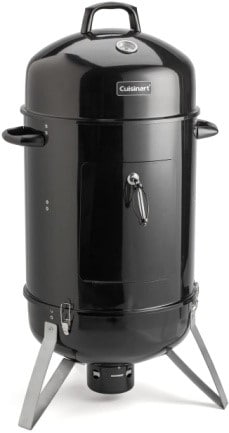 Cuisinart is a pro when it comes to kitchen equipment. They have every right to be included in this list of the best charcoal smokers. The 18" vertical charcoal smoker has a lot of room to smoke the foods you want – whether it's hard as meat or as soft as vegetables and cheese. It comes with two air vents. These vents help control the amount of heat and smoke within your vertical charcoal smoker. You can easily open and close these vents to help regulate the amount of heat and smoke in the chamber.
Furthermore, it has a steel housing, which is a clear indication of its durability and strength. The water bowl made from porcelain enameled steel makes sure that no drippings will fall onto your charcoal. Moreover, water vapor also enhances the flavor of what you are smoking. This is perhaps the easiest charcoal smoker to assemble as well since you only need a screwdriver and a good 15 minutes.
Why we like it:
Two air vents
Two 18" stainless steel racks
Porcelain enamel water bowl
Latching base
Steel housing
Easy maintenance and cleaning
Easy to assemble
Specifications:
Item Dimensions: 22 x 24 x 43
Total Cooking Area: 512 sq. m.
8. Sunlifer 20.5" Vertical Charcoal Smoker and Grill Combo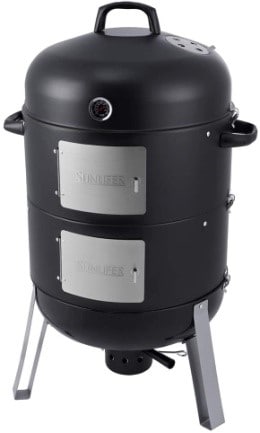 A heavy-duty bbq smoker is something that you need for that perfect outdoor gathering. Listed as one of the best because of its multi-functional ability, this smoker can be used for both hot and cold smoking. You can also use it in many different ways, such as a fire pit, charcoal grill, and bbq grill. Not only is it great for smoking and grilling, but it is also perfect for baking, braising, roasting, and steaming!
This all-around smoker and grill combo has a built-in thermometer with the most detailed temperature scale as well as two air vents that you can adjust to achieve the utmost temperature control. The crossbar and hooks inside can hold various sizes and types of foods. In addition, it includes three cooking grates that provide a very large area of 969 sq. in. for your cooking needs!
We also love how portable this charcoal smoker is. It is very easy to assemble, clean, and transport to your desired location. You will never go wrong with this 20.5" vertical charcoal smoker from Sunlifer.
Why we like it:
Very large cooking area
Latch locking system
2 access door
Multi-functional
Précised built-in thermometer
Easy to assemble, clean, and transport
Specifications:
Item Dimensions: 41.34 x 24.8 x 20.67
Total Cooking Area: 969 sq. in.
9. Masterbuilt 20060416 Charcoal Bullet Smoker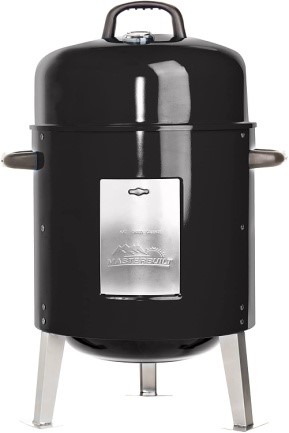 Mastering smoking meat and other foods require not only the proper skill but also the right charcoal smoker. So if you want to become the master chef in smoking, try this Masterbuilt charcoal bullet smoker. This charcoal smoker is the right tool for you to learn and master the art of smoking. The Charcoal Bullet Smoker has two porcelain-coated smoking racks, which are great for smoking since you do not have to worry about metal chunks breaking off from your iron racks. So long as the porcelain racks are intact, you will have a worry-free smoking experience.
The access door for charcoal is located in the front, which makes it uncomplicated for you. Moreover, you can be assured that you always get the right temperature because it has a built-in thermometer that will show you the current reading. Whether you're having a simple dinner with family or a full-blown party with friends, Masterbuilt has one of the best charcoal smokers for you!
Why we like it:
Perfect tool for outdoors
Very simple to use
Accurate temperature reading
2 porcelain-coated racks
Porcelain-coated water bowl
Porcelain-coated charcoal pan
Front access door
Specifications:
Item Dimensions: 19 x 22 x 31
Total Smoking Area: 395.4 sq. in.
10. Giantex 2-tier Vertical Charcoal Smoker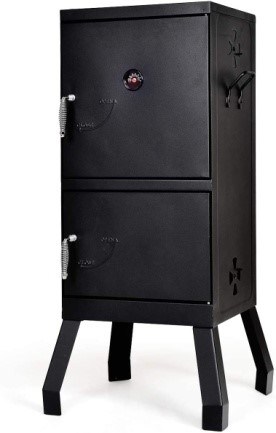 One of the basics of a charcoal smoker should be its double access door design. And this vertical charcoal smoker from Giantex has such function. On top of that, it also has a readable thermometer located right outside the door for easy readability of the inside temperature. To further help control the smoke and the heat, it has four vents located on both sides of the charcoal smoker. This gives you the manual power to control the smoke by either opening or closing the vents.
In addition, it is made with temperature-resistant plastic-sprayed iron. The iron keeps things hot, whereas the temperature-resistant plastic ensures that the smoker will not corrode easily. The grills and brackets are chromium-plated with good thermal conductivity leading to shortened cooking time.
You can smoke as well as roast meat here. It is also very straightforward to use. All you have to do is add wood and charcoal to the charcoal basin so that the smoker produces more smoke. You can close the bottom door and control the smoke through the four vents on both sides of the equipment. With such ease, you'll have effortlessly smoked foods in just a few hours.
Why we like it:
Visible thermometer
2 access doors
4 air vents
Handles on both sides
Easy handling and moving
Enameled charcoal basin
Temperature-resistant iron
Chromium-plated brackets and grills
Shortened cooking time
Large cooking capacity
Easy to operate
Specifications:
Item Dimensions: 17 x 18.5 x 40
11. Barton 18" Vertical Charcoal Smoker with Temperature Gauge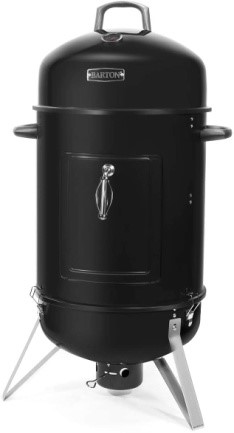 Getting yourself a smoker that can smoke all types of foods is a treat. This charcoal smoker from Barton is a must-have. You can smoke all types of meats, as well as vegetables and even cheese with this 18" vertical charcoal smoker.
This smoker includes 2-steel wire racks. The racks have enough room for you to smoke all kinds of foods from different types of meat to vegetables. It has enough room to accommodate a whole chicken too!
Using Barton's charcoal smoker is as easy as counting to three. First, you simply light the charcoal and add wood chunks. Second, fill the water bowl. And third, fill the interior racks with food! It's good to go unless you want to control the temperature and smoke to your liking. By doing so, you can make adjustments to the air vents. This charcoal smoker has a dual air vent system, which makes it easy for you to deal with the amount of heat and smoke needed for the smoking process.
Moreover, the temperature gauge is mounted on the lid of the charcoal smoker. This provides a quick and easy reading of the temperature to ensure that you are still smoking and on the right track for the heat. The temperature for smoking ranges from 200 F to 275 F, and you can regulate that with the help of the vents.
Meanwhile, the thermometer gauge can read from 100 to 800 F. Since the smoker is made of steel and iron, you can be assured of its durability and strength. Surely, this will last you several years if used and maintained well.
Why we like it:
Made from steel and iron
Can be used as a fire pit
Adjustable barrel grill
2 different heights for grilling and smoking
Dual air vent system
2 steel-wire racks
Simple to use
Specifications:
Overall Dimensions: 23.5 x 21 ¾ x 42
Cooking Space: 512 sq. in.
12. Audew 18" Charcoal Smoker Grill Outdoor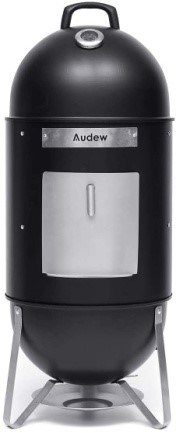 Audew is one of the most affordable charcoal smokers that we have on this list. Despite the price, it is still considered one of the best charcoal smokers because of its efficient ability to provide well-smoked foods. It is a 2-in-1 combo that acts both as a smoker and griller. You no longer need to purchase two separate items for smoking and grilling.
When it comes to temperature checking, this comes with a built-in thermometer that allows you to keep track of the internal temperature. You can further adjust the temperature by adjusting the fire through controlling the internal circulation via the damper vent.
The two cooking grids provide an overall 480 sq. in. of cooking space. It's enough to provide a meal for your family and a small group of friends. The fuel door allows easy access to check and add charcoal when needed. It also helps prevents the smoke from escaping while you are smoking the food.
Since this is a portable charcoal smoker and griller, it is suitable for outdoor cooking. We strongly recommend this best charcoal smoker, especially if you are on a tight budget. With its affordable price yet efficient ability for smoking, this is surely a must-have.
Why we like it:
Built-in thermometer
Damper vent
Removable grids
Simple temperature adjustment
Specifications:
Item Dimensions: 18.5 x 18.5 x 45
Total Grilling Area: 480 sq. in.
What To Look For When Buying The Best Charcoal Smoker
Now that we have listed our recommendations, it is now up to you to decide which one you like most. You need to consider several factors when coming to a decision. After all, you want to have the best charcoal smoker that will give you the best smoky foods, and at the same time, is durable enough to withstand the test of time and the harsh elements in the surroundings.
Capacity
Capacity is an important factor when buying a charcoal smoker. You need to be familiar with the different sizes and how much you can actually cook at one time. Having a large capacity cooking area will save you a lot of time, especially if you are serving large crowds. However, if you only need this for family time, you can settle for an average cooking area.
Function
Most of what we have listed in this article are considered multi-functional. You can smoke as well as grill the foods you want. Some even have added functions for baking pizza or acting as a fire pit on cold weather days. Some are also great for steaming and braising. Each brand provides unique functions to boost their products further. For this reason, you need to know what these functions are and if you can use them.
Portability
Being able to transport your smoker is essential, especially when it comes to outdoor use. Portable charcoal smokers are the best to have, considering that they can easily be moved from one location to another. The best charcoal smoker is also easy to assemble. Effortless and fast assembly lessens your preparation time and hastens the process. Make sure that you get an excellent and portable charcoal smoker that you can naturally use outdoors.
Budget
Budget plays a key role when deciding the best charcoal smoker that fits you. No matter how much you like a certain brand's charcoal smoker, if it is out of budget, then you won't be able to get it. Set your budget first. Know your pocket's limit. This will help narrow down your choices to a select few.
Once you have it narrowed down, do your research and see which one among the selection above fits your needs the most. Rest assured that there are a lot of best charcoal smokers that are still durable and will work quite well despite your budget range.