The only thing better than a delicious homecooked Italian meal is a (generous) sprinkling of freshly grated cheese. Even if you're not much of a cook, shredded cheese is enough to take your mediocre dish to the next level. But we don't mean just any type of cheese; once you start shredding cheese at home, you'll never want to go back to the store-bought kind. And the best part? Doing it is ridiculously easy once you have the best cheese grater for your kitchen.
Cheese shredders come in all shapes and sizes and they're the perfect addition to any kitchen. Gone are the days when you needed a powerful food processor to get perfectly shredded cheese—the smaller handheld models will get the job done just as well!
Today, we've rounded up the six best cheese graters on the market. We've made sure to include different kinds and we're certain you'll find the perfect one for you on this list. But even if you don't, we've prepared a handy definitive buying guide to help you with your search. 
1) Best Overall Pick: Spring Chef Professional 4-Sided Box Grater in Stainless Steel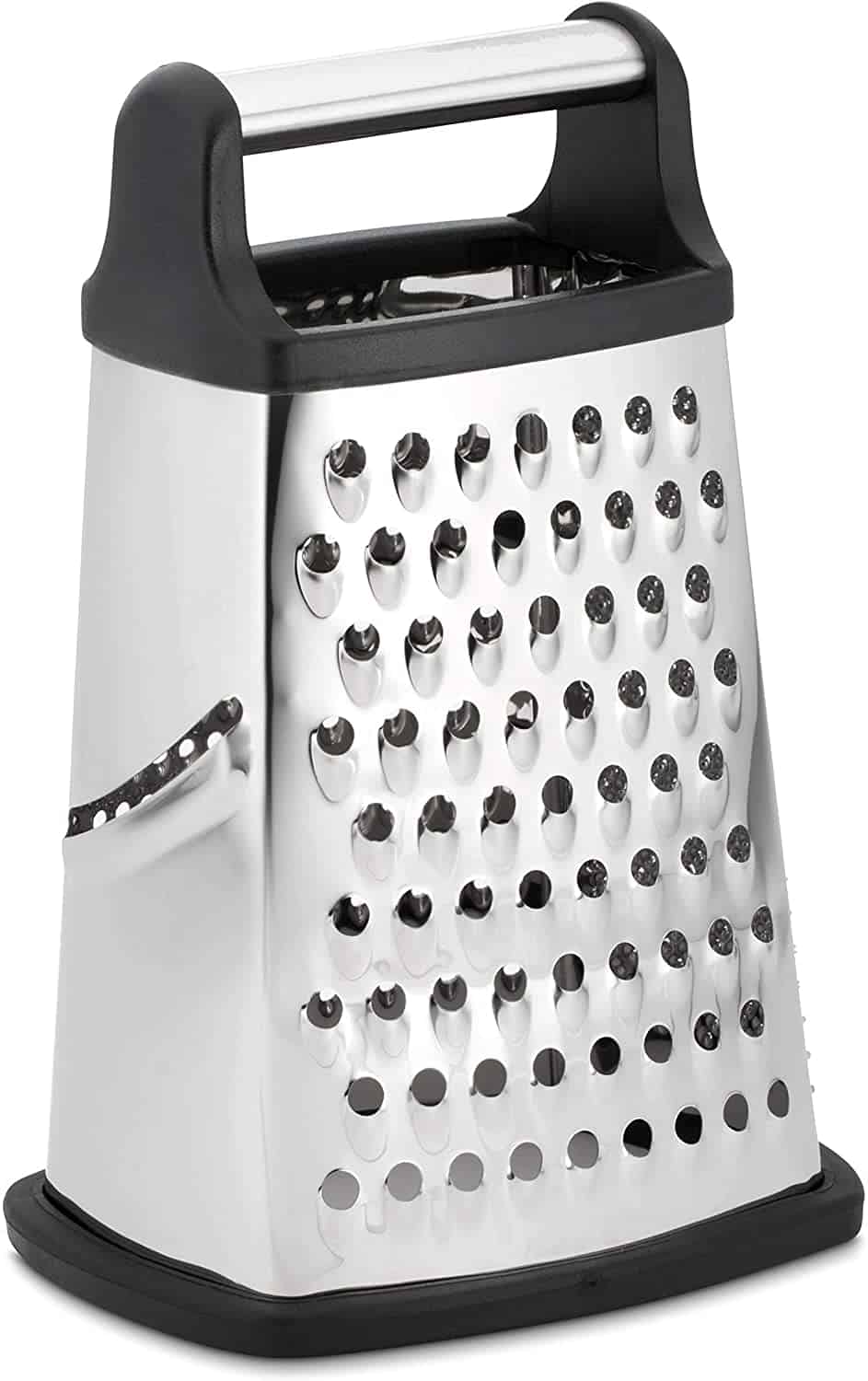 The Spring Chef shredder is probably the best cheese grater all around. We recommend it to anyone who doesn't know which type of grater to get, as it comes with four sides you can experiment with. Plus, it's incredibly easy to use.
You'll get a strong grip over this boxed grater thanks to the non-slip base. Place it over your favorite cutting board without worrying about it moving around. Additionally, the sturdy handle has an ergonomic design, making it easy to hold and safe to press down.
Each side has different-sized holes. They range from very fine to thick, giving you all types of cheese shreds you could want. On top of that, it also has a mandoline-like blade to get wide and thin slices of cheese.
Because the blades are so sturdy, you can use it as a vegetable chopper, too. Whether it be for grating carrots to throw into a salad or thinly slicing zucchinis for a ratatouille, this grater will be your best friend.
The blade is stainless steel and rust-proof. Thus, it's easy to clean, as you can put the grater in your dishwasher and skip out on the handwashing.
2) Top Budget-Friendly Cheese Grater: Norpro 339 Stainless Steel Grater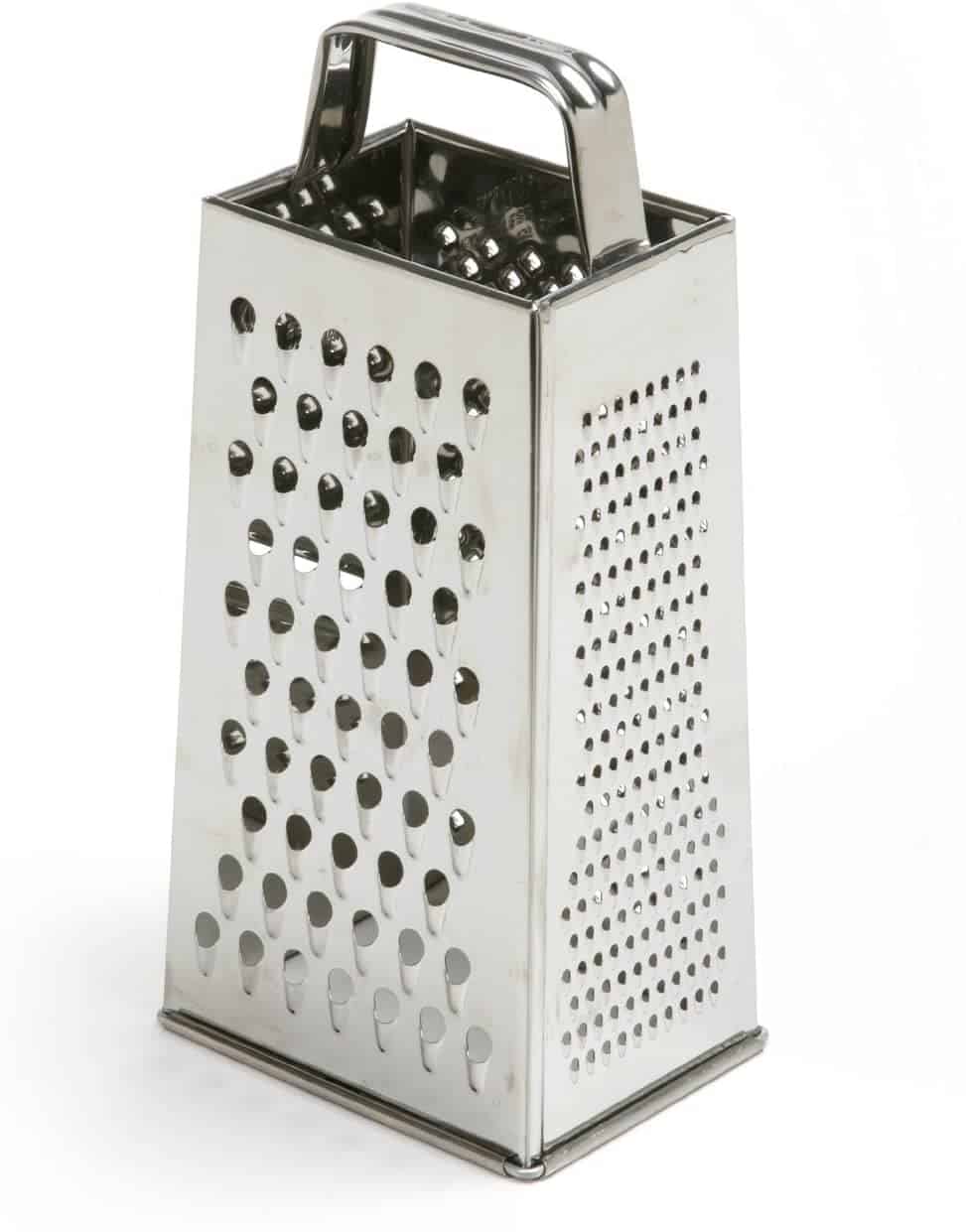 The most affordable cheese grater on our list is this Norpro model. It's completely made of durable steel and has a very minimalist design. Yet, it's still a versatile kitchen essential that gets the job done well and consistently.
This grater has four different sides. Each has different-sized holes. Thus, you can experiment with all of them and decide which one you like best.
Because it is so versatile, you can also use the Norpro as a vegetable shredder or as a zester. It's a handy food-prep helper for any home cook.
We love how durable and long-lasting this grater is. Norpro has a reputation for making high-quality kitchen utensils and this one is no different. It will never rust, even after many years of coming in contact with water.
Despite that, this grater will keep better if you wash it by hand right after using it. This way, you ensure the blades keep sharp for longer and that there is no bending in the material.
3) Premium Electric Grater: InnoMoon Cheese Grating Attachment for Stand Mixer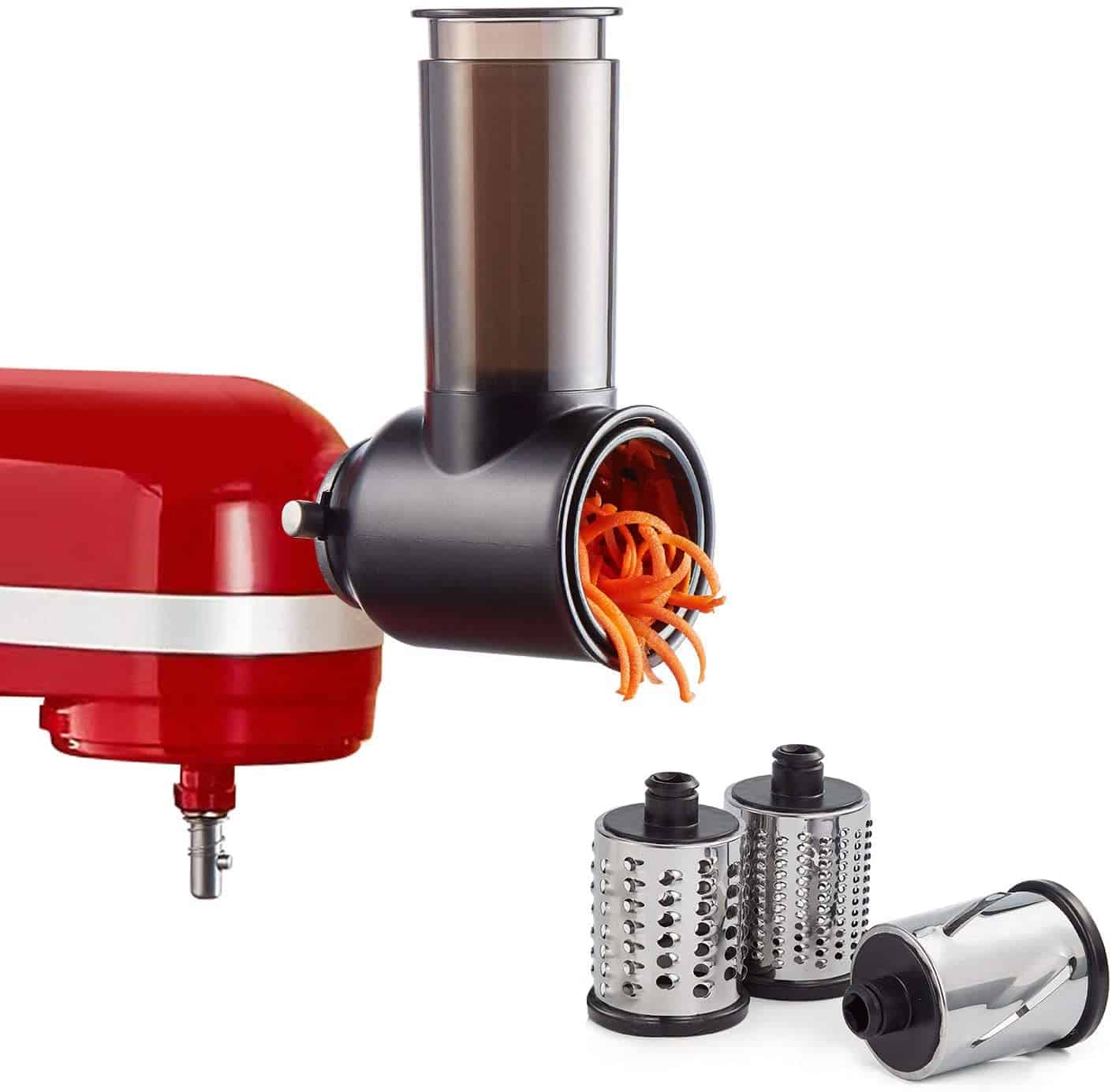 A more expensive (but handier!) alternative is this InnoMoon cheese grater attachment. When you mount it on your KitchenAid stand mixer, this accessory and your appliance will work together to do everything for you.
It may not seem like it at first, but putting this attachment together is incredibly easy. It grabs on to your KitchenAid stand mixer effortlessly. Once it does, all you have to do is turn it on and feed a small-ish block of cheese through it. No sliding a block of cheese up and down a grater; no turning a lever. You'll get your pile of grated cheese without ever breaking a sweat.
Since it comes with three different stainless steel drums, you can play around with how coarse your cheese shreds will be. From fine shredding to slicing, you get full control over everything.
Alternatively, you could also use this attachment to shred all kinds of hard vegetables. It's a great way to help you work the five a day into your diet.
To keep them in tip-top condition, hand wash each drum. Although they're made of rust-proof stainless steel, they'll keep sharper for longer if they're handled with care.
4) Best Cheese Grater for Soft Cheese: OXO Good Grips Box Grater with Container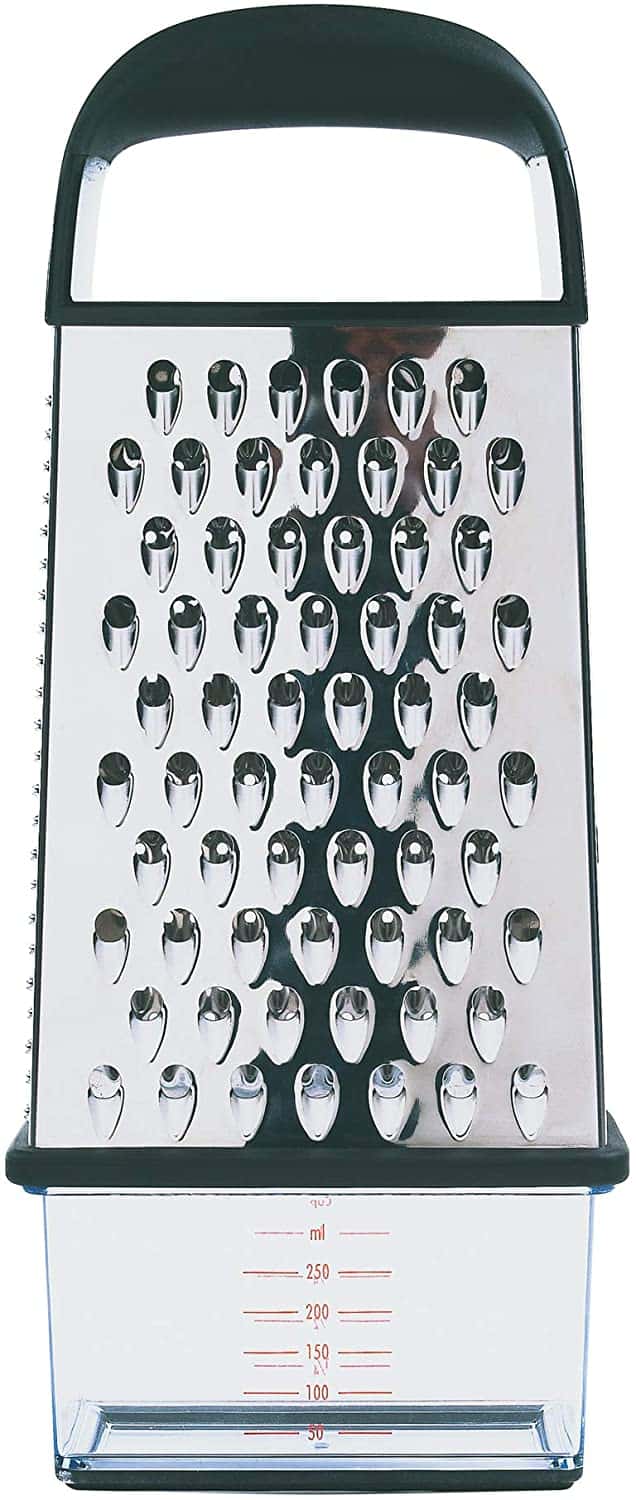 This OXO Good Grips grater brings together comfort and practicality. We love how ergonomic the design is and how sharp the blades keep even after months of continuous use. And it even comes with a handy plastic container!
The best feature of this shredder is its innovative design, namely the non-slip rubber base and soft handle at the top. Firstly, it stays put on your countertop without slipping, ensuring you're safe from any cutting accident. Secondly, you can hold down the grater without having to put too much force on it (see where the name "Good Grips" comes from?) This will be especially helpful if you have a whole block to shred all in one go!
The plastic box is also very handy. You can attach it to the bottom of the grater. This way, it will catch all the cheese shreds and make clean-up that much easier. You don't even need to grate over a cutting board. This is ideal for grating soft cheeses, as they're more likely to release some liquid. Since it will all get caught in the box, there's no need to wipe down your counter.
Despite it being a box grater, its slimmer design allows it to fit easily into most drawers. You get the convenience of having a four-sided grater without all the bulkiness that comes with these models.
5) Best Cheese Grater for Hard Cheese: Zyliss Classic Rotary Cheese Grater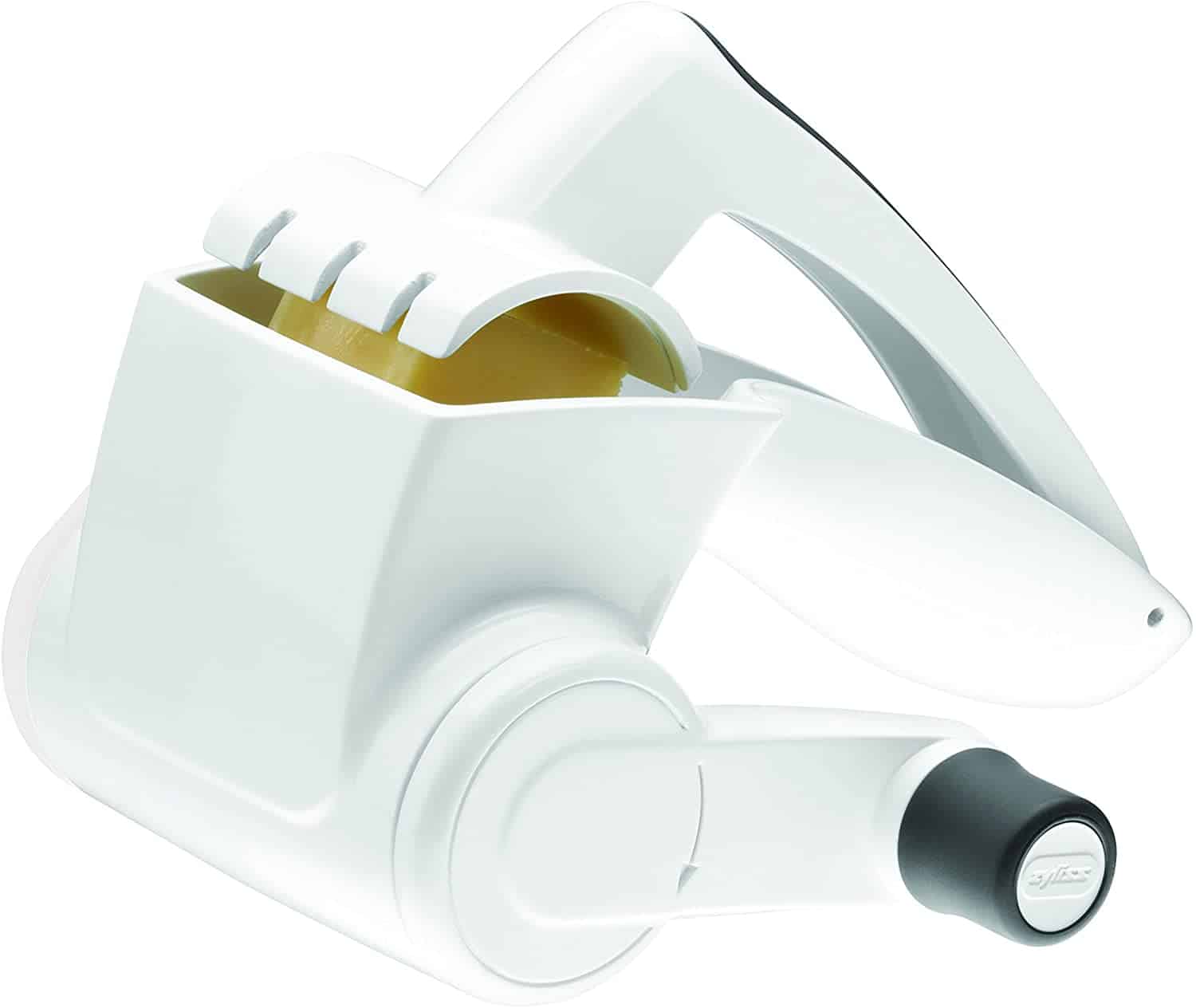 This Zyliss model takes a different approach. It is a rotary cheese grater, perfect for shredding any hard cheeses without tiring you out.
It may seem difficult to use at first, but this couldn't be further from the truth. Place your stick of hard cheese into the shute, close the top part over it, and start cranking the handle. The steel drum inside will shred even the hardest cheeses, like aged parmesan.
The shreds will fall out the side, so make sure you're shredding over your plate! The way it's designed makes this the perfect cheese grater to have at the dinner table. Each person can add their own delicious pile of cheese to their food.
This grater comes with only one drum, perfect for fine grating hard cheeses and nuts. Since it is dishwasher-safe, you save time at the end of your meal. Plus, you'll get a five-year warranty from the brand, meaning you can send back your appliance if it's faulty!
6) Most Versatile Grater: Utopia Kitchen Six-Sided Cheese Grater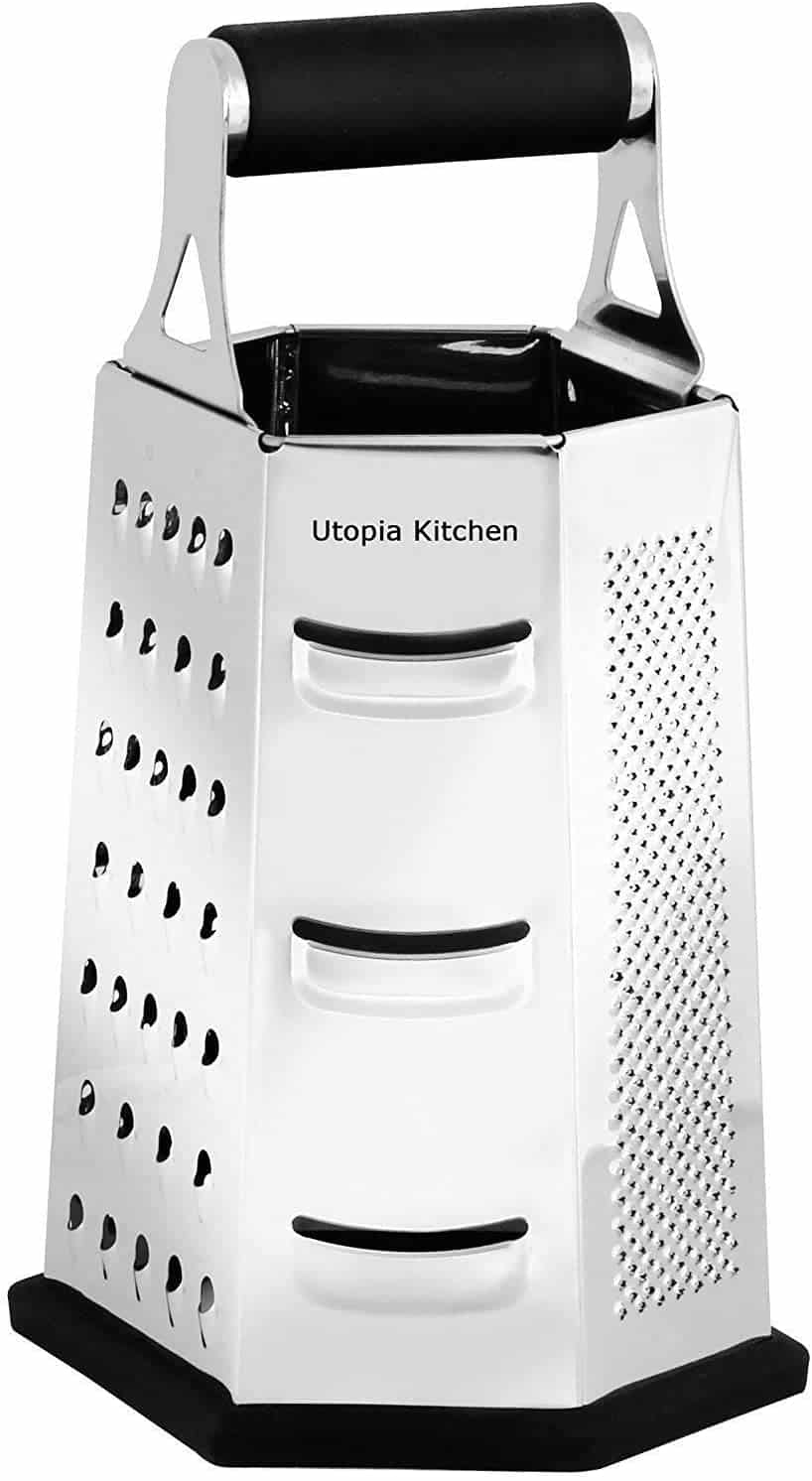 We've saved some of the best cheese graters for last: the Utopia Kitchen one is probably the most versatile shredder there is. Plus, it's super durable, making it a great purchase.
The best thing about this shredder is the fact that it has six sides. Each has a different surface with different-sized holes. This makes it a six-in-one kitchen utensil, letting you play around with different levels of coarseness for your shreds. It handles anything from powdery-like fine grating to thick, coarse shredding.
Moreover, since the grater surface is made from sturdy steel, you can use the Utopia Kitchen shredder to grate hard vegetables and even zest citrus fruits or nuts.
The rubber handle and rubber feet are also an awesome addition. They make it so that the grater doesn't slide around your counter. Additionally, they take some of the pressure off your shoulders when grating a large block of cheese in one sitting.
Luckily, the entire grater is dishwasher-safe. This saves you time in the long-run, as you don't need to hand-wash it. The stainless steel blades won't rust and will keep providing great surface glide for many months or years to go. 
Why Get a Cheese Grater?
You might be asking yourself, "Why would I ever need my own cheese grater?" After all, you could get it pre-shredded from the supermarket, neatly packed in a plastic container, right? Not so fast. There are many reasons why getting one of these graters is a good investment. Even if you don't cook often. Let's get into them.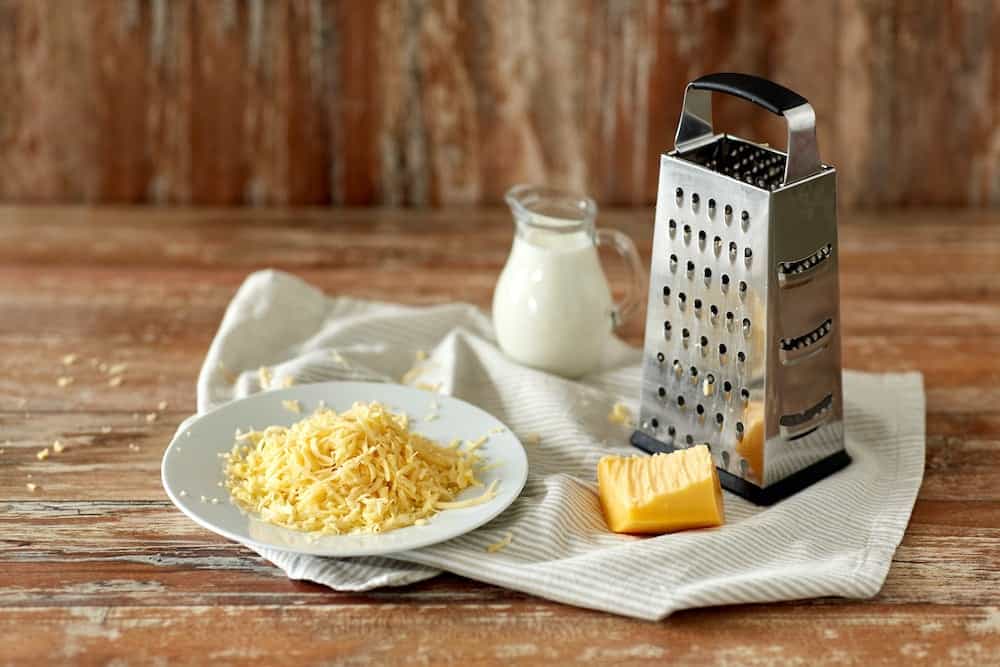 Shredded Cheese vs Freshly Grated Cheese
Store-bought pre-packaged shredded cheese is worlds different from freshly grated cheese. The main difference between the two is that the former has anti-caking agents added to it, while the other doesn't. Each brand uses its own, but you'll often find either cornstarch or cellulose (wood pulp) added to the mix. While this does ensure that the individual shreds of cheese don't stick together, there's some controversy around anti-caking agents.
Better Consistency
Even if you don't care about the health effects of these additives, you will probably still want to stay away from them. At least if you want high-quality cheese with great consistency.
For starters, hard cheeses like parmesan can quickly dry out with anti-caking agents. This means they won't be as good to eat for as long, thus making you lose money.
Secondly, store-bought shredded cheese doesn't melt well. If you're making a healthy pizza, enchiladas, or a béchamel sauce, for example, you won't end up with that yummy cheese-pull consistency. Instead, you'll likely get some clumps of semi-molten cheese. Not ideal.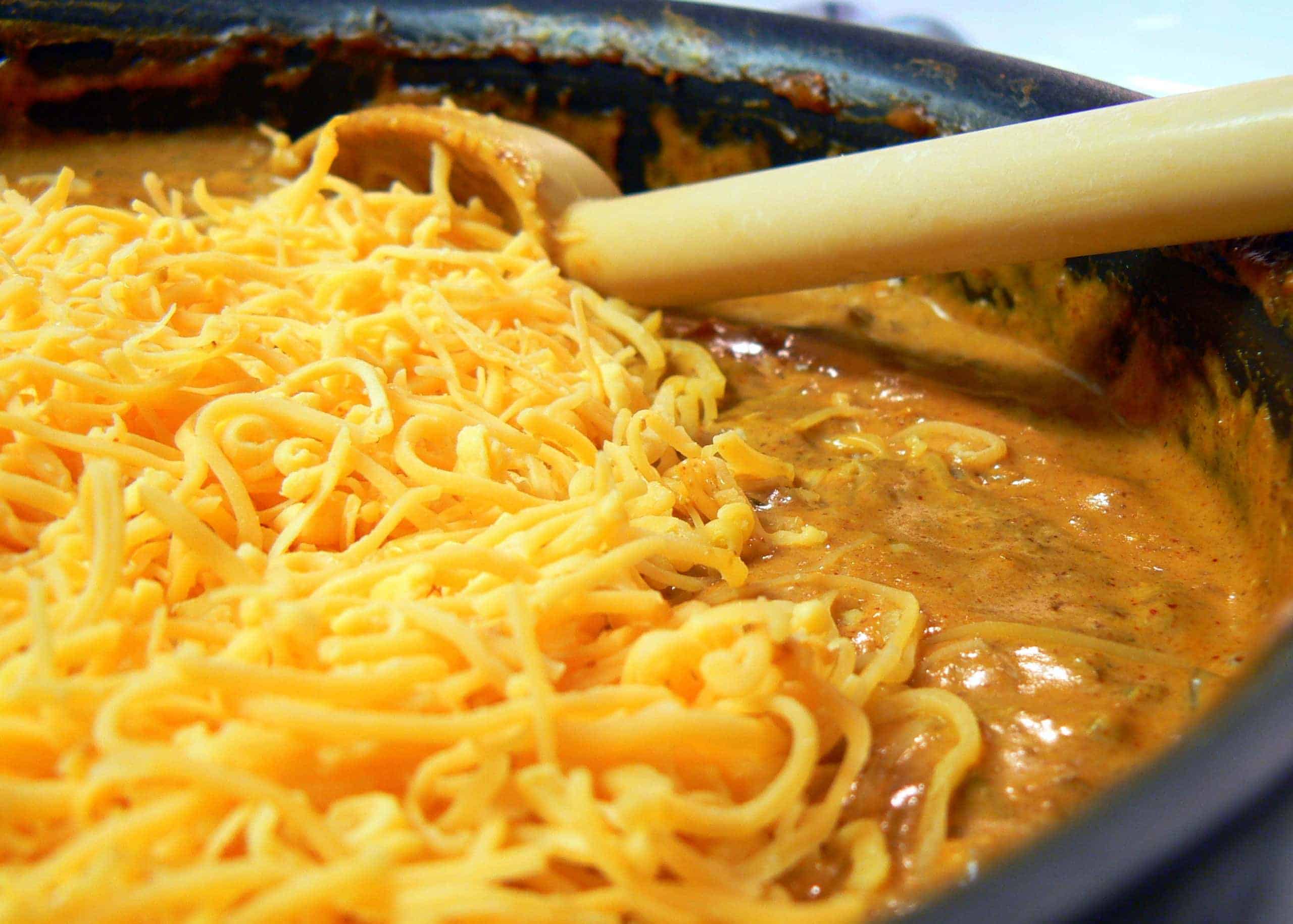 Better Quality
On top of all that, grating cheese at home gives you full control over what's in your cheese. This way you can make sure you're getting the best-quality cheese your money can buy. If you want a sharp taste, buy a block of cheddar and get shredding. Or if you'd like to mix it with some mild and refreshing notes, shred some fresh mozzarella. You choose.
Different Types of Cheese Graters
There are four kinds of cheese grates. They all get the job done, only in slightly different ways. Are you surprised at how different they all are? We were too!
Boxed Cheese Grater
These are the most popular cheese graters. They have at least four sides and some even come with a removable container to catch the shreds of cheese. At the top, you'll find a handle to help you get a good grip on the shredder. Some boxed cheese graters also have a non-slip base to keep the grater nicely secured.
Its main downside is how bulky they are. Boxed cheese graters will take up quite a bit of room in your kitchen drawers. If that's a problem, you're better off looking for a more compact design.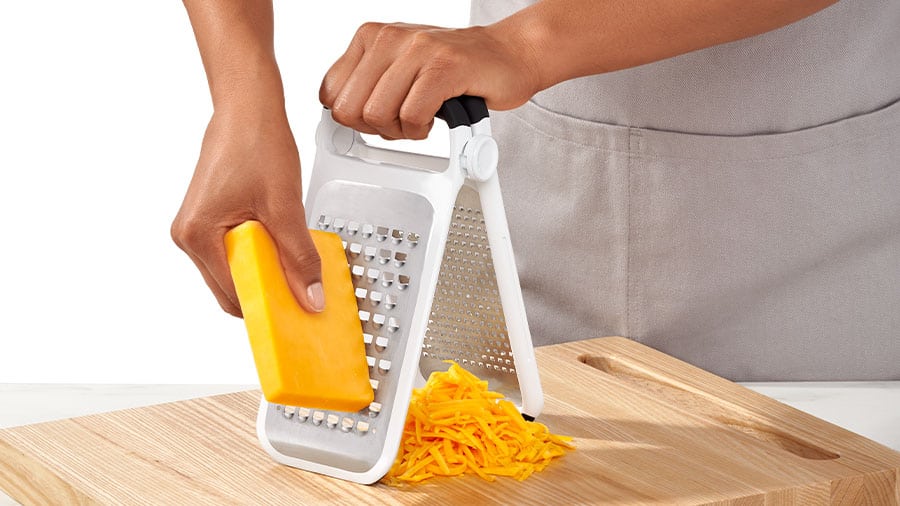 Rotary Cheese Grater
These ingenious gadgets are great at keeping your knuckles safe. Whereas you have to use your hands to slide the block of cheese up and down on a box grater, a lever does the work for you on a rotary grater. You place the (small) block of cheese in a stainless steel drum with holes and then rotate the handle. You'll get evenly shredded bits of cheese on the other side.
The only problem with these models is that you'll have to cut up your block of cheese into smaller pieces so you can fit them in the shredding drum.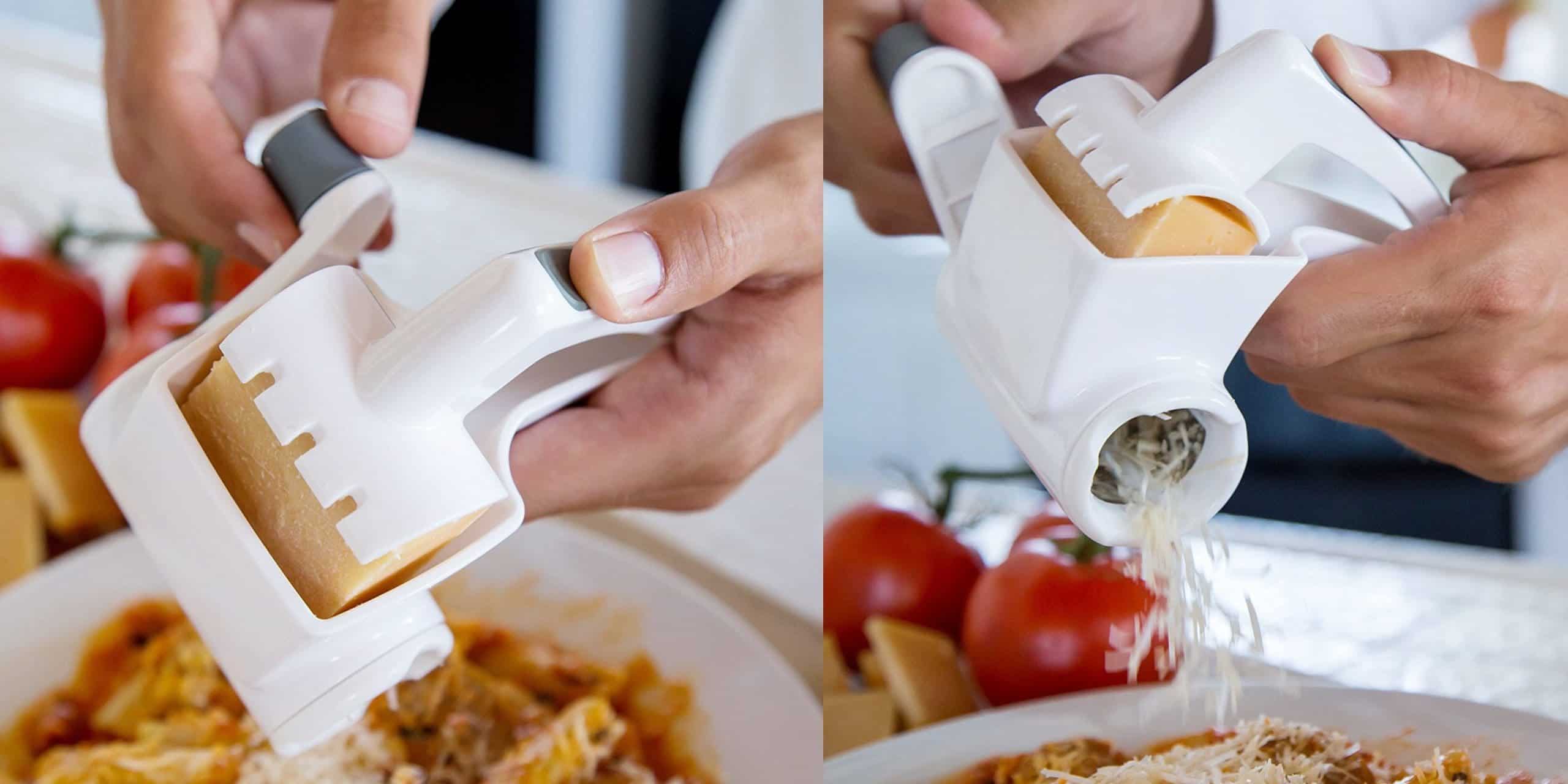 Microplane Cheese Grater
If you're strapped for space, you'll love the Microplane cheese grater. At one end is a thin but sturdy grating surface, while at the other is an ergonomic handle. Because of its compact design, this grater fits perfectly inside a drawer, alongside your cutlery. They're also relatively cheap models, making it an awesome budget-friendly option.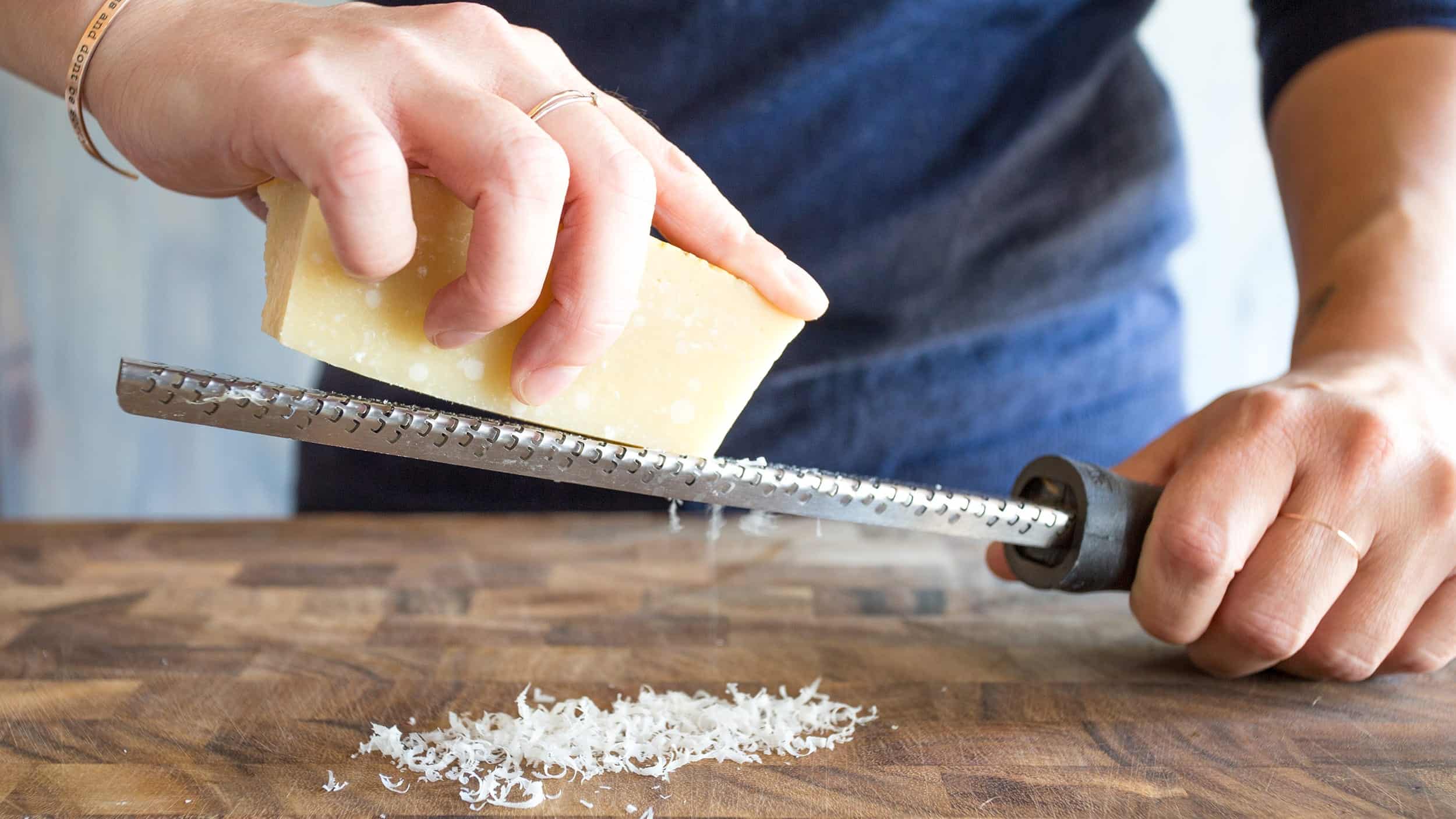 Electric Cheese Grater
Do you already have a standmixer or a food processor? Then you can skip out on getting a brand new cheese grater and buy a cheese grating attachment instead. Both these large appliances do an awesome job at evenly shredding cheese without you needing to put in any effort at all. They do everything for you.
What's the Best Cheese Grater to Buy?: Ultimate Buying Guide
If you haven't found the best cheese grater for you on this list, that's okay. It just means you'll have to look through the hundreds of different shredders available on the market. Does that sound overwhelming? It doesn't need to be. Look for the following features; the best cheese graters will check off most (if not all) of these boxes.
Size of Holes
First things first, how thin do you like your shreds of cheese? Some graters have large holes, while others have much smaller holes. It's all about choosing the one that works best for you.
Pro tip: if you want to play around with different shred sizes, get a four- or six-sided box grater. Each side will have different-sized holes, which can go from super-small (almost powder-like) to chunky. There's nothing like experimenting.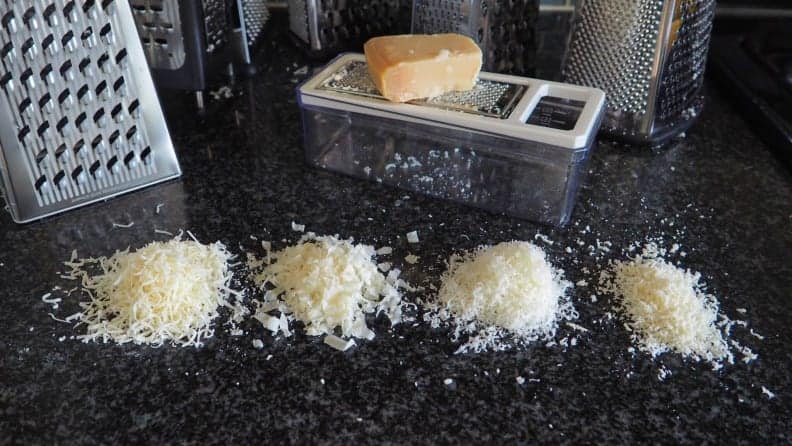 Versatility
Some cheese graters can do a lot more than just grating cheese. They can even double as vegetable choppers! When you get a versatile model, you're unlocking more possibilities in the kitchen. For instance, with a four-sided box grater, you can shred cheese and mandoline hard veggies (that is, cut them very, very thinly). With a handheld Microplane grater, you could even effortlessly grate nutmeg and garlic!
Best Cheese Grater Sturdiness
Of course, you should get a sturdy cheese grater that will last you many years. This way, you're maximizing your investment and don't need to worry about getting a new shredder any time soon.
Above all, you need a rusting-proof grater. Otherwise, the grating surface and holes will get rusty, which could have negative impacts on your health.
Your grater should also remain sharp, even as you use it. You can always sharpen the blades later with some sanding paper, but dull blades are no fun.
Additionally, you can look for a model with a year warranty. That way, if you run into any problems, you can easily solve them without losing any money.
Easy to Use
Look for a cheese grater that is easy to use so that you can get the most out of it. Models that have a non-slip base (for boxed graters), ergonomic handles, and removable plastic container boxes are great!
Easy to Clean
Let's admit it: cheese graters aren't the easiest to clean. The smaller the holes, the harder they are to clean. That's why, if you don't want to bother with doing laborious handwash, you should invest in a dishwasher-safe model. You'll thank us later.