The best home cooks have a high-quality set of knives. You can always tell when something was made with the best kitchen knives. How? The cuts are always even, thin, and retain the shape of the ingredient. But you don't need to spend a fortune on expensive kitchen knives to up your game. To get started, you need just three: a paring knife, a serrated knife, and the best chef knife you can find.
This last one is extremely important. How can you be a better cook if you don't have a proper cook's knife? It lets you cut veggies, fruit, and meat like a pro. Plus, this sharp knife will also keep your fingers safe from cutting accidents, something dull knives just can't do.
Once you're more experienced, you can expand your knife set. A boning knife and a fillet knife are also must-haves for aspiring chefs—but you'll get there in time. First, you need to get the perfect chef knife for your kitchen. That's why we've reviewed the top five products out there. We have also put together the ultimate buying guide to help you find the utensil of your chef dreams!
1) Best Chef Knife Overall: Zwilling J. A. Henckels 8-Inch Knife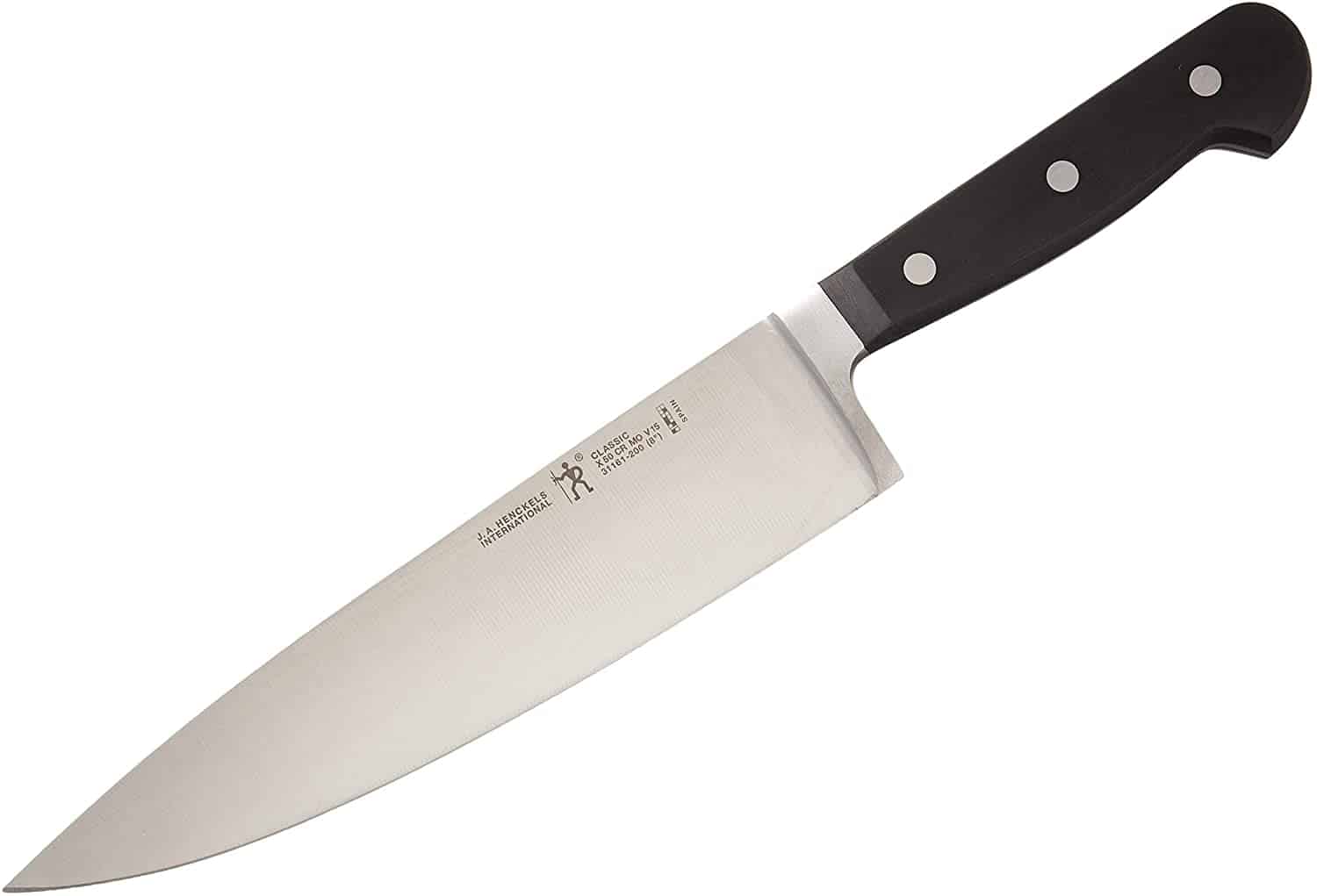 The J. A. Henckels International 8-inch chef kitchen knife is one of the most beloved products out there. It does an awesome job at making thin, precise cuts and is beautifully designed. It's a great place to start for beginners.
One of the best things about this J. A. Henckels essential is how sturdy and durable the blade is. It is made from strong high-quality German stainless. This makes it a heavier knife overall and able to effortlessly cut through pretty much any kind of vegetable.
Despite being heavy, this utility knife is super easy to hold and use. You have J. A. Henckels's ergonomic triple rivet design to thank for that. Both the handle and the blade weigh about the same, making it a well-balanced tool.
To save you time when you're done using the knife, you can just put it in the dishwasher. The blade and handle are both rust-resistant, meaning they won't get damaged after the wash.
2) Best Affordable Chef Knife: Mercer Culinary Millennia Chef's Knife

If you don't feel like spending much on more kitchen utensils, the Mercer Culinary chef's knife is a great pick. It's the best chef's knife for the money. In other words, you get a great-performing kitchen essential for an even better price. There's a reason why this is one of the most popular knives on the market!
What sets this knife apart from other models on the market is its unique ergonomic handle. The texturized plastic makes it easier for you to grip the knife. This way, it never slips from your hand, not even if it's wet. Secondly, the finger guard further helps prevent any cutting accidents, as it's there to protect you.
If you've never worked on your knife skills and want to start doing it, you can't go wrong with this one. It's an incredibly beginner-friendly model.
On top of that, the Japanese high-carbon stainless steel blade is of the highest quality you'll find. It's sharp, has great edge retention, and it's easy to care for. It makes for a knife that will last you a long time, if you care for it properly.
Lastly, keep in mind that this is not a dishwasher-friendly knife. The handle may deteriorate over time otherwise. However, it's very easy to clean with some soap and water over the sink.
3) Best Multi-Purpose Pick: Wusthof Classic 8-Inch Cook's Knife

You can't go wrong with any of Wusthof Classic's kitchen knives. They're industry leaders and consistently make some of the best utensils out there. This one isn't an outlier. It does an outstanding job of cutting all kinds of ingredients—yes, even meat and bones!
Let's talk about the most obvious feature this knife boasts: an incredible blade. This heavy German-made high-carbon stainless steel blade can cut through practically anything without breaking a sweat. Emphasis on the heavy.
That's why we're calling it the most versatile utensil on our list. Tough vegetables, for instance, are usually challenging for most chef's knives. But with this one, you can slice and dice butternut squash easily without having to apply too much force. Even more impressive is the fact that the Wusthof Classic chef's knife can also handle all cuts of meat and bones. It doesn't chip or crack when cutting through them and doesn't require you to put too much effort into the task.
On top of all that, the blade is tempered in a special way so that it keeps a sharp edge for longer. This means you'll be able to go longer without sharpening your new best kitchen essential. It's as hands-off and low-maintenance as you'll get.
We also can't look past the ergonomic design. The Wusthof Classic 8-inch chef cutting knife has a full tang, triple-rivet, full bolster, and finger guard. This all makes the knife more robust, long-lasting, and comfortable to use.
4) Best Lightweight Knife: Global G-2 8-Inch Professional Chef's Knife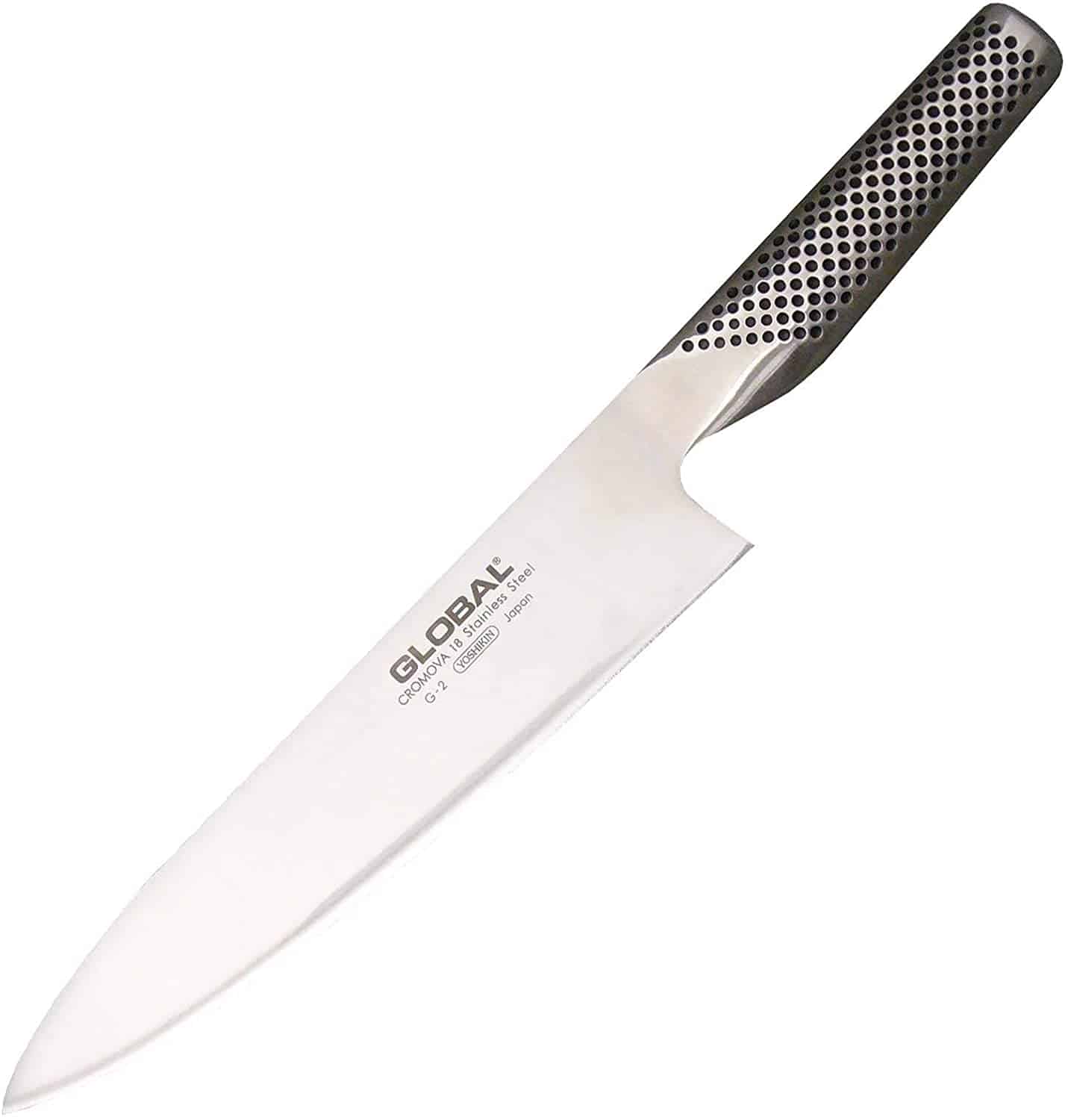 For all the home cooks whose wrists get tired from holding heavy knives (ahem, Wusthof kitchen knives), this is one of the best one out there. Global made an amazing lightweight 8-inch chef knife that is easy to maneuver and still does an incredible job at chopping all kinds of vegetables.
Right away, you'll notice this knife has a different style handle. It's made from the same material as the blade, allowing from a smooth transition. But this doesn't mean it will feel awkward or slippery in your hands. The molded dimpled ridges on the handle provide a safe and strong pinch grip.
The blade is made from good-quality hard stainless steel. It's a pretty robust blade capable of cutting through plenty of hard vegetables. At the same time, it's soft enough to still let you easily sharpen your knife on any whetstone.
As if that weren't enough, this Global G-2 chef's knife has another upper-hand on similar models. The blade features a straight edge, a unique design decision that contrasts with Western-style blades, which have a beveled edge. Thus, you will get thin and even cuts every time.
5) Best Chef Knife for Vegetables: Shun Classic 8-Inch Chef's Knife

Most items on our list so far have Western-style designs. The Shun Classic is an incredible alternative to those models, as it is lightweight, incredibly strong, and one of the sharpest models you'll ever find.
This Shun Classic 8-inch chef knife is great at cutting hard vegetables. Butternut squash, sweet potatoes, you name it, it's not a problem for this kitchen knife. Plus, you can even julienne them finely without breaking a sweat. While it's not so great at cutting through bone, it's a pretty versatile utensil.
All that because this is a Japanese knife. The softer steel makes it different from other Western models but it is still great at retaining its edge. It's a relatively low-maintenance knife great for having in your kitchen drawer. Yet, do keep in mind that, as with all Japanese knives, this one is slightly more prone than Western-style knives to cracking and chipping if you're not careful with it. It's essential that you follow the right technique to keep your knife "alive and well" for many years.
The wooden handle is yet another nice touch. Since it is coated with resin, it doesn't get any water damage. Not only is it visually appealing, but it is also sturdy and easy to hold. 
What Is a Chef Knife?
The blade of a chef's knife usually measures eight inches in length and one-and-a-half inches in width. The tip of the blade points straight ahead to give you more precision when it comes to cutting. The blade edge is typically very sharp when it's new. You should regularly sharpen it to keep your cook's knife pristine.
While the cook's knife was first used to disjoint meat, now it is used for pretty much anything in the kitchen. It's the most versatile utility knife you'll ever own.
You can use it to dice, slice, julienne, and mince all kinds of fruits and vegetables. For instance, you can very finely dice an onion or a clove of garlic easily and effortlessly using a sharp chef's knife. Other less specialized dull knives just won't cut it—literally. Additionally, chef knives are also used to disjoint and slice various cuts of meat.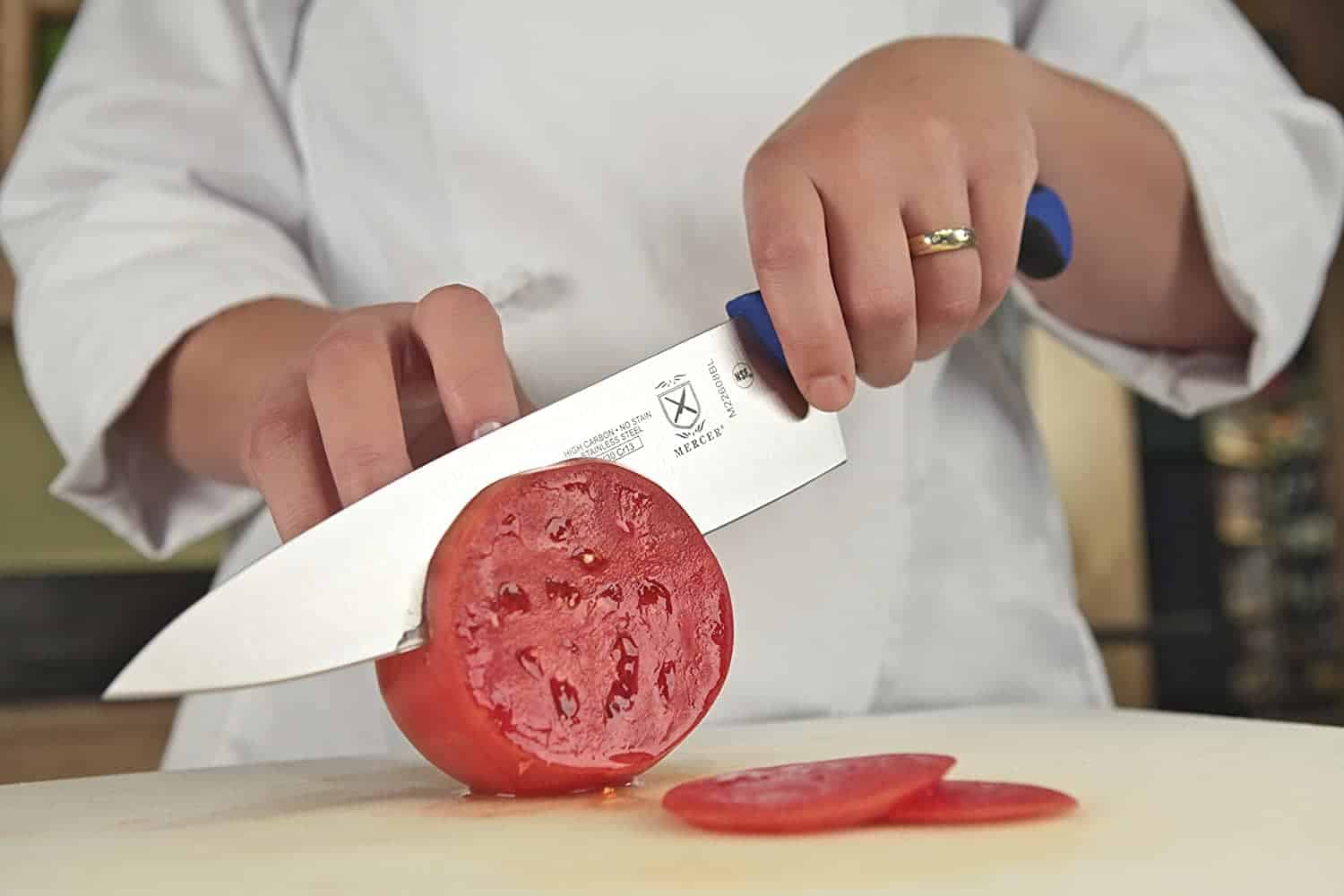 Types of Chef Knives
Chef knives have been very popular for a long time, both in East Asia and in Europe. That's why you'll find these utility knives divided into two groups: Japanese knives and German knives.
They each have their own peculiarities and you can tell the difference between the two styles just by looking at them. We can't tell you which one is better, since they have their pros and cons. We'll let you decide that for yourself.
Japanese Chef Knife
Japanese knife crafting has a long, long history—and they're still popular kitchen utensils around the world today. That's most likely because they do a great job at cutting things very finely and precisely, thanks to their thinner blades. This is why they're perfect for handling fresh, raw fish. They're also lighter knives and easy to maneuver without tiring your arms—a huge plus.
On the other hand, because the knife blade is thinner, it's also more brittle. This means knives like these need more care than Western ones. If you don't pay special attention to it, a Japanese chef's knife won't last you very long, as it's prone to chipping and cracking.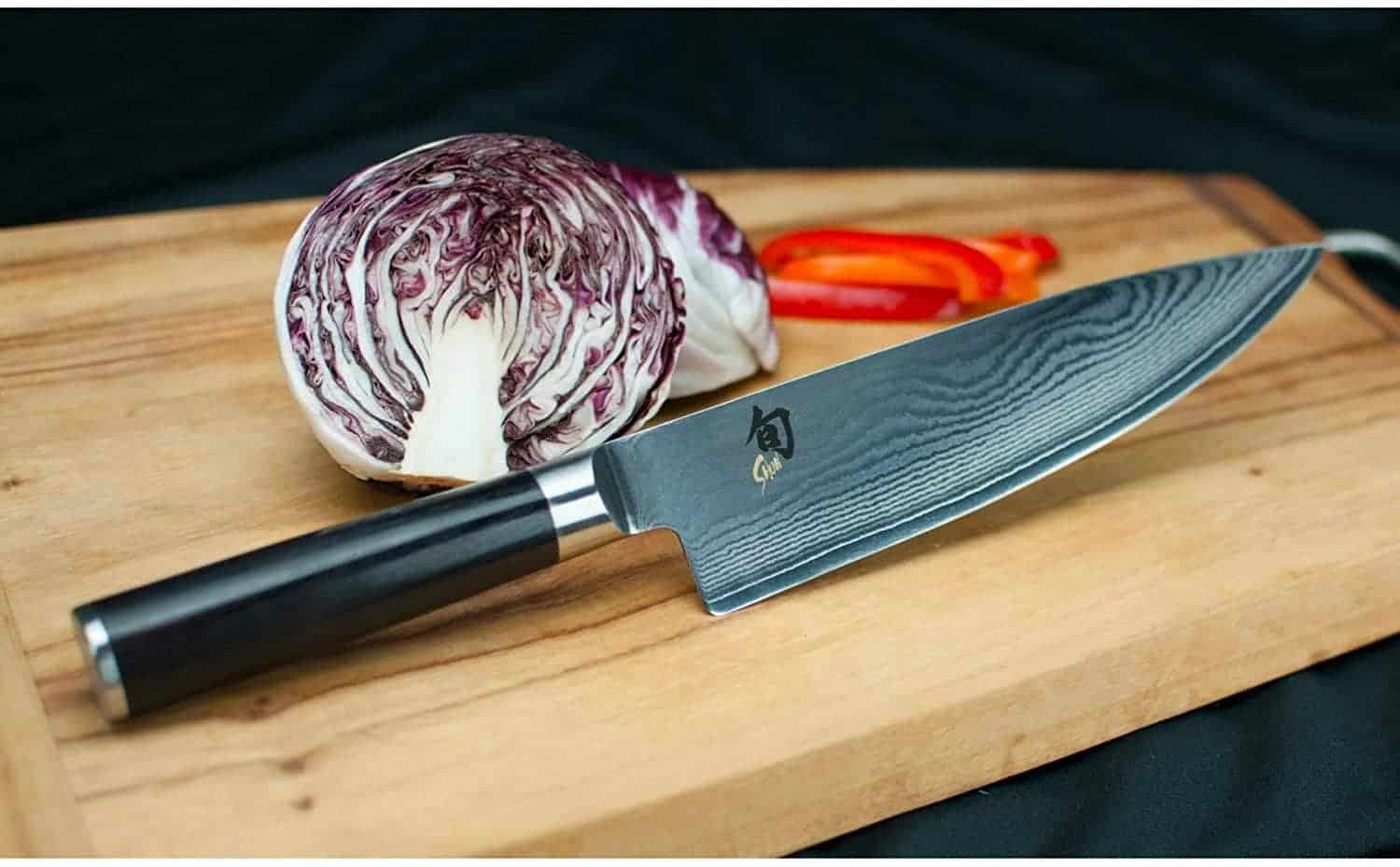 German Cook's Knife
German knives are also known as Western chef knives. They're perhaps even more popular in Western countries, as they're more robust. Their blades are slightly wider and made from softer steel. This makes them great heavy-duty knives.
Their main downside is that they're not as sharp and thin as Japanese knives. On top of that, because the steel is softer, you'll need to sharpen them more regularly than you would a Japanese-style knife. But that doesn't mean they're bad; not at all! They're still cutting edge utensils (literally) handy to have around; they just need more frequent sharpenings.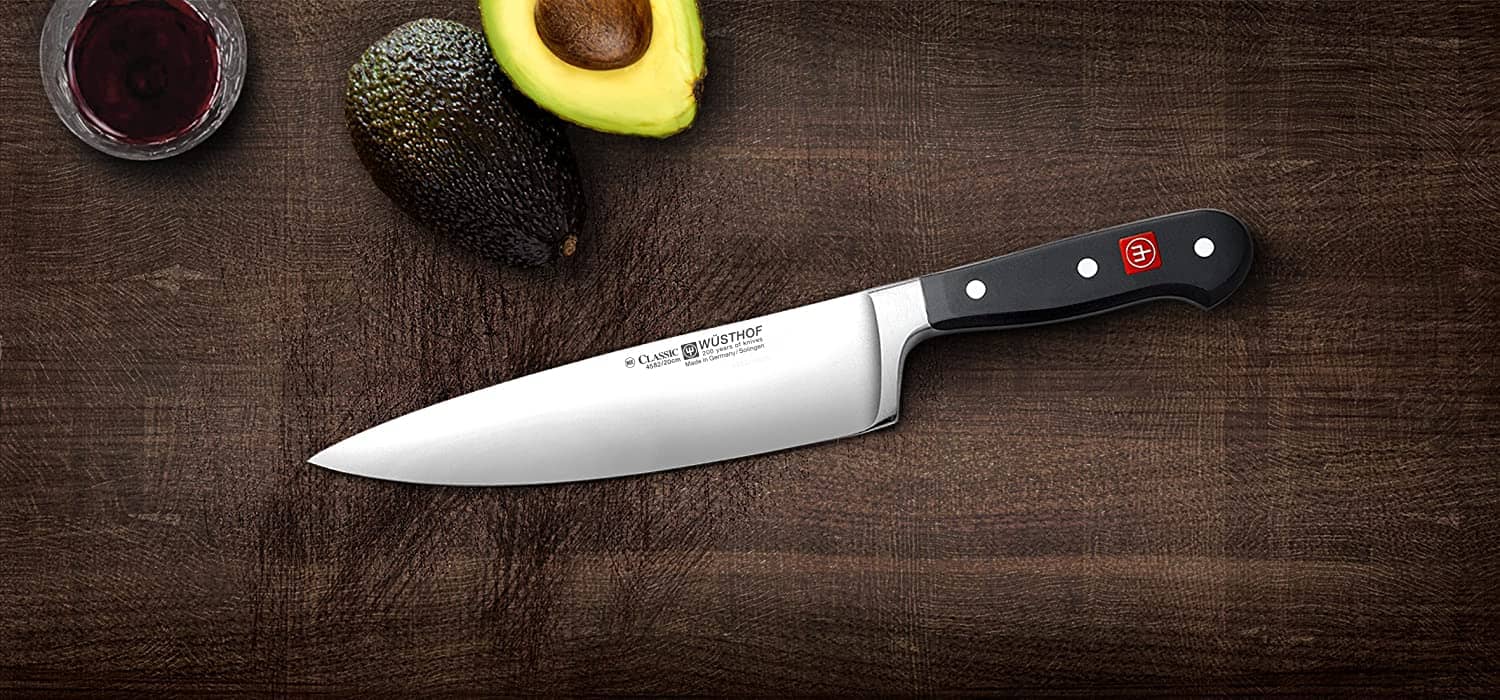 What's the Best Chef Knife?: Ultimate Buying Guide
There is no single best chef's knife. You'll have to find the one that best works for you and your needs. That isn't to say that all knives are the same, though. Once you start doing your research, you'll realize that there are dozens of different items out there. And not all of them are quality knives!
To make sure you get the best value for your money, make sure to look for these features. The best knives on the market for you will check off more—if not all—of these boxes.
Sturdiness
Simply put, you need a chef's knife that will last you several years. Getting used to your knife is essential if you want to achieve professional-level skills in the kitchen.
Thus, you need to invest in a knife that has a strong blade resistant to some wear-and-tear. The blade should also be made from high-quality steel that won't rust or chip away. Finally, a sturdy handle is also very much essential—and the more ergonomic the design, the better.
Quality and Design of Handle
As you can imagine, you'll spend a lot of time gripping and maneuvering your chef's knife. So it's essential that it feels good and moves well in your hand. A knife that's difficult to use is no use at all.
This all comes down to personal preference. How deep or shallow do you want the knife's throat to be? What are your thoughts on plastic, resin, and wood handles? Your answers to all these questions will affect which knife you choose. For some people, even the size of their hands has sway over which one to get!
Weight and Balance
The best chef knives are well-balanced. That means that the blade and the handle weigh roughly the same. This gives you much greater control when holding the knife and using it on your cutting board. A knife that's imbalanced will likely tire your wrists and make imprecise cuts—the opposite of what you want.
Best Chef Knife Materials
Chef knives are made with different blade materials. The most popular is by far stainless steel—either an alloy if we're talking Western-style blades, or pure if we're talking about the Japanese ones. Either way, they're very efficient, precise, and durable. While they do require more frequent sharpenings, they're well worth the trouble.
Two additional material choices are carbon steel and Damascus steel. These two are most loved by chefs all around the world, as these knives have awesome sharp edge retention properties. In other words, they stay sharp for longer and thus need less care.
Alternatively, you can also opt for a ceramic blade. You won't find many knives of this type, as they tend to be more brittle and prone to chipping and cracking.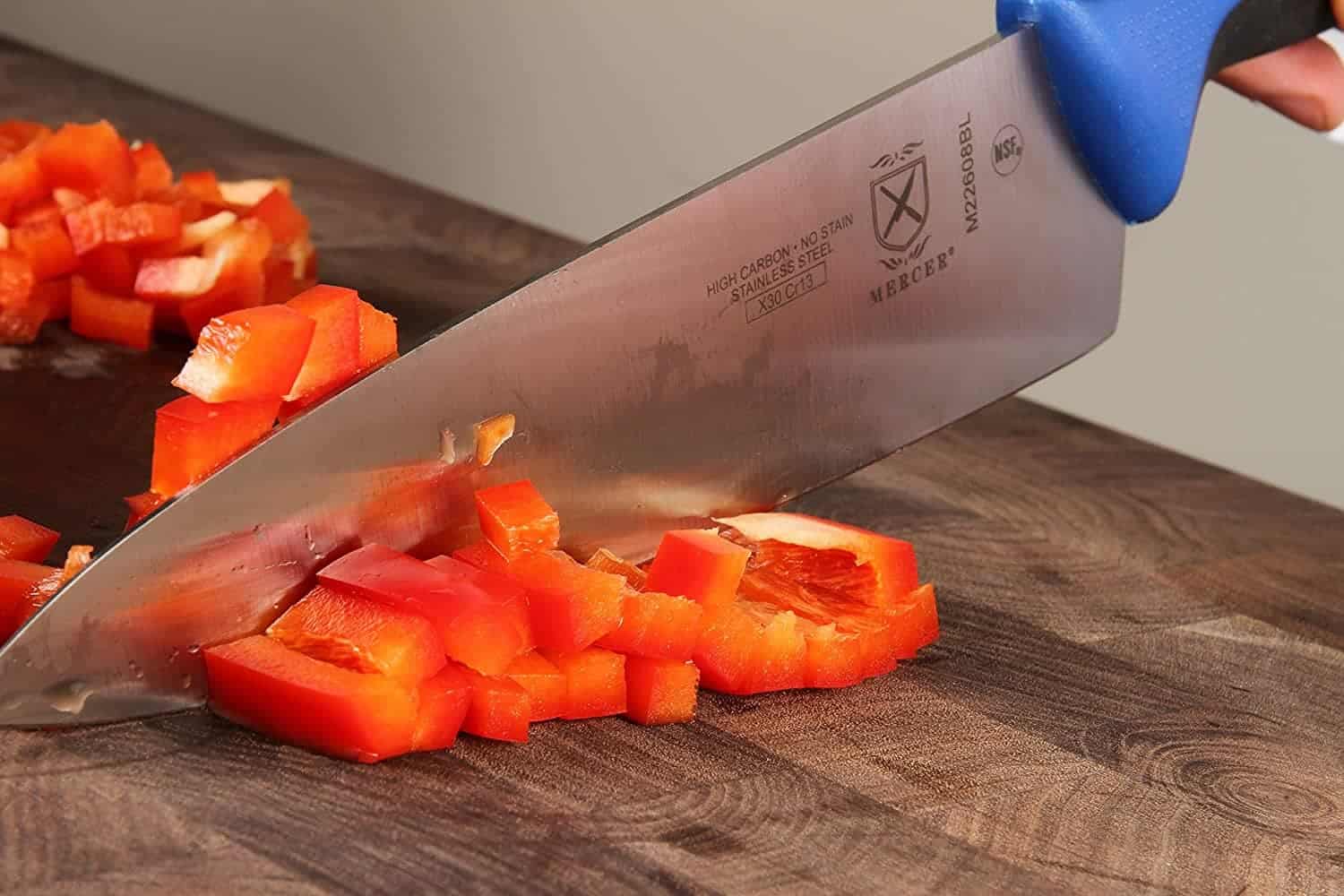 Versatility
An 8-inch chef kitchen knife is already incredibly versatile. But some manufacturers go the extra mile and add design elements to make them even greater jacks of all trades. This makes your investment all the more worth it.
For instance, robust, heavy-duty chef's knives can handle tougher tasks than brittle models. It might not seem like much, but it could be the difference between cutting through bone effortlessly and shattering a brand-new knife.
Efficacy
Of course, you need a knife that looks good and cuts well. This is where customer reviews (and reviews such as the ones we've done here) come in. Figure out what the majority of the feedback looks like—especially from customers who are reviewing their chef's knives years after they bought them. It's the best way of maximizing your investment.
Price Range
As you can see from our list, you don't need to splurge to get quality kitchen knife. There are quite a few affordable items you can get if you're strapped to a tighter budget. Always take into consideration how much you can spend. There's no need to get into a hard spot just to get a higher-end knife.
Easy to Clean
The best chef knives are easy to clean. There are no empty spaces between the handle and the blade for food to get trapped in. Some models are also dishwasher-safe, but most chef's knives are generally super easy to handwash anyways.
Easy to Sharpen
Lastly, you'll need to think of upkeep for the knife you end up picking. Using a knife sharpener, how long will you need to hone the blade? And how often will that particular blade need to be honed? These things matter in the long run!