An air fryer is a great-to-have kitchen appliance if you are keen to make healthier, low-fat meals that are crispy and tasty. Chefman air fryers are among the best-selling on the market. They are available in different sizes, shapes, designs, and functionalities.
We explore the best Chefman air fryers for your consideration, as well as providing you with a buying guide for choosing between the range of Chefman air fryers.
The Best 3 Chefman Air Fryers
1. Best Choice Overall: Chefman 6.3 Quart Digital Air Fryer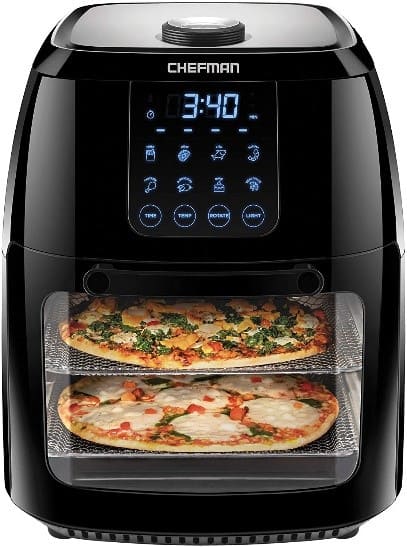 Why It Stands Out
Our selection for the best Chefman air fryer is Chefman 6.3 Quart Digital Air fryer. It stands out because of its numerous functionality and convenience features, large capacity, and sleek design.
It is a versatile hybrid device that serves as an air fryer, rotisserie, food dehydrator, and oven. It can be used to cook a wide range of recipes, including pizzas, pies, chicken, or drying fruits, among others. It may be pricey, but you will get value for your money.
Features
The Chefman 6.3 Quart Digital Air fryer is elegantly designed with a gloss black plastic finish. It has a two-tier rack that can be seen through a large window at the front panel. The large window enables you to have a good view of the food as It cooks. Furthermore, the interior is well lit.
It also has a large LCD control panel on the front panel. The LCD has eight presets represented by various food icons or cooking method icons, time, temperature, light, and rotate setting. It also displays the timer in large blue digits and has an auto-shutoff feature.
This multipurpose appliance can be used for any cooking functions, including baking, grilling, drying fruits, or roasting. It incorporates a futuristic air-drying technology that delivers perfectly cooked and crispy fries.
It comes with the necessary accessories for all its functionalities, including two airflow racks, rotisserie spits and forks, a drip tray, a rotating basket, and d retrieval tool. With a capacity of 6L, the unit allows you to make enough food for the whole family in one round.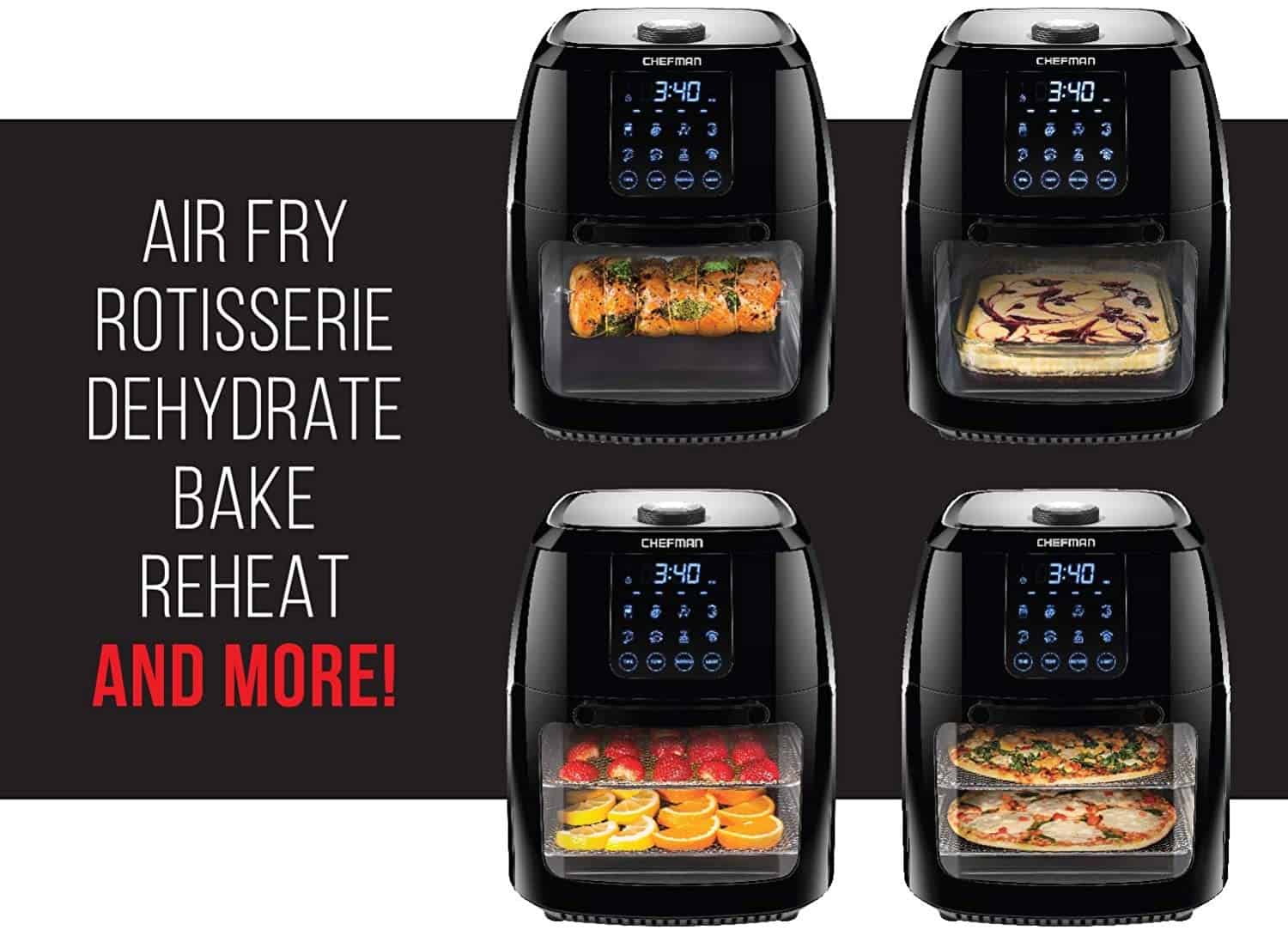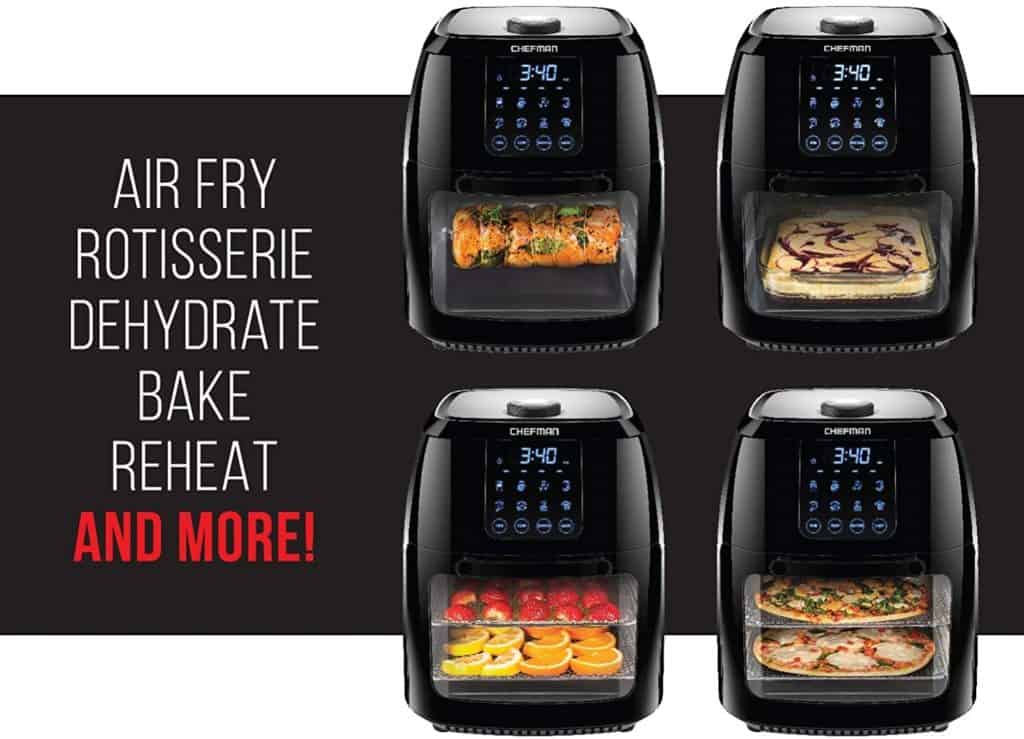 It is easy to clean as all its accessories are dishwasher safe. Notably, it is fitted with an integrated air fryer for an odor-free kitchen. Its design incorporates cETL approved safety technology. The manufacturer provides a 1-year warranty on this air fryer.
Pros
8 touchscreen presets
Made of BPA free plastic
Multifunctional
Comes with all the necessary accessories
Large 6L capacity
1-year warranty
Dishwasher safe parts
Advanced safety technology
Cons
Quite a steep price
You can only set temperatures to a number that ends with 0. The air fryer is designed to increase temperatures at a range of 10.
2. Runner Up: Chefman XL, 8-QT TurboFry Air Fryer

Why It Stands Out
This Chefman turbo air fryer has a huge cooking capacity with a compact and sleek design. It sits beautifully on your countertop without taking up too much space.
It is ideal for cooking in big batches for families – it is large enough to make a week's food in one round. It also stands out for its advanced, easy to use interface. Previous users praise it for its low power consumption compared to other fryers in the same category.
Features
The Chefman TurboFry Air Fryer, XL, is made of stainless steel. It has a sleek square shape with a stainless-steel finish.
With a capacity of 8 quarts, it is ideal for making large batches of food. It can be used for a wide range of recipes, including chicken, French fries, meat, and fish, among others.
It is simple to operate with a simple touch of the button. It also has a captive touch screen that can be used to control the timer and temperature. Its digital display is clearly visible for easy monitoring of cooking time and temperature.
You can use the preset setting for the various food types for a quick start. It has a 60-minute timer that shuts of automatically when the food is done cooking.
This air fryer is easy to clean. All the detachable parts are dishwasher safe. The basket and flat frying tray are nonstick.
Pros
One-touch preset for various foods
Simple to use touch screen control
Advanced digital display
Easy to use and clean
60-minute auto-shutoff timer
Dishwasher safe accessories
high 8-quarts capacity
Non-stick
Energy efficient
1-year warranty
Cons
Fewer cooking functions than the Chefman 6.3 Quart Digital Air fryer
3.Best Compact: Chefman 2 Quart Airfryer

Why It Stands Out
The Chefman 2 Quart Air Fryer stands out for its compact size, sleek design, ease of use, and affordable price range. It is ideal for small families or people living alone. It can also be used in dorm rooms, offices, or as a multipurpose cooking appliance on an RV.
Features
This compact-sized air fryer is space-saving and still efficient. Since it is small, it fits well even on small counter-spaces and can be stored in cabinets. It is easy to operate with a single knob that you turn to set the 60-minutes timer. It also has an auto-shut safety feature.
It is versatile in its cooking functionalities. The 2L capacity air fryer can bake, roast, grill, dry, and reheat. It comes with a detachable free basket, tray, and rack. The cooking accessories are nonstick; therefore, no need to grease them, which keeps your cooking low-fat.
It has a flat basket design that saves space while increasing capacity by 40% without increasing energy consumption.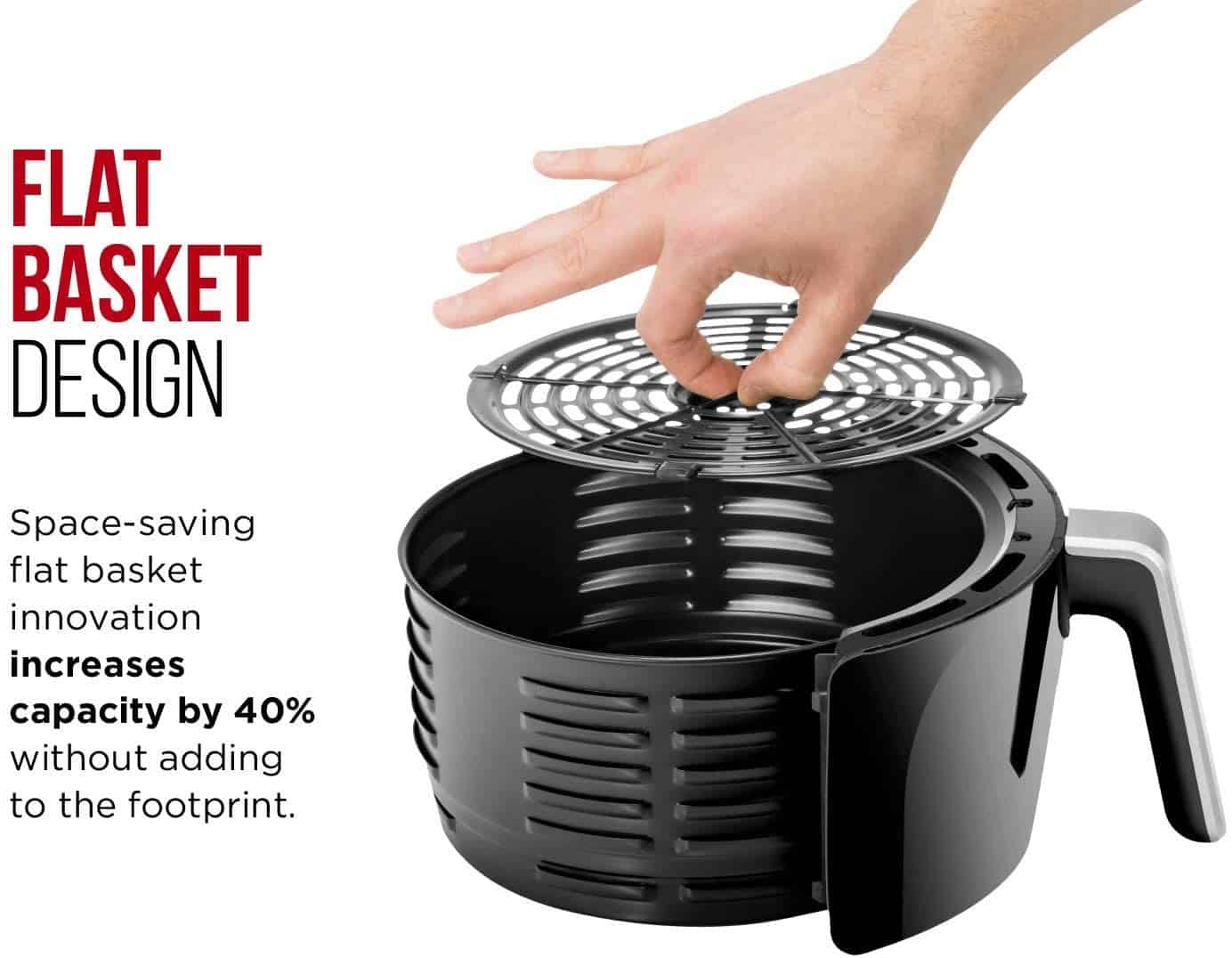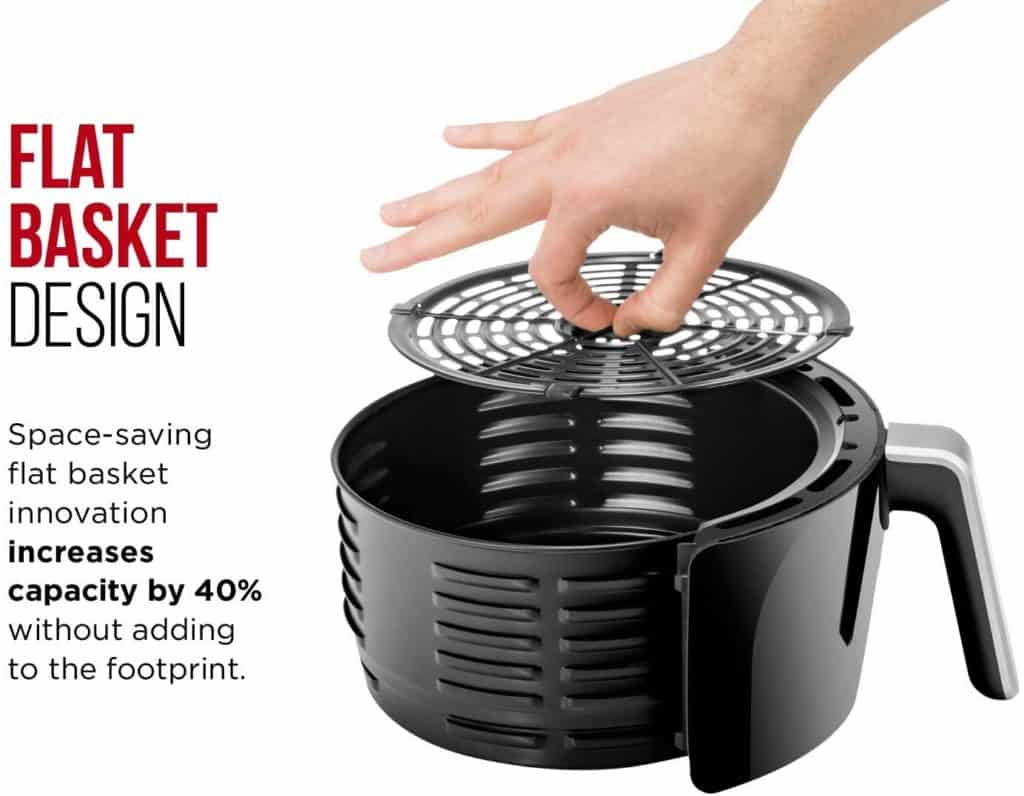 It is easy to clean as the detachable parts are dishwasher safe, and its design incorporates an air filter. Like other Chefman air fryers, it incorporates the cETL approved safety features for durability and comes with a 1-year warranty.
Pros
Ease to use
Multi-purpose
Compact size
Sleek design
Easy to clean
Easily portability
Space-saving
Auto-timer shutoff
1-year warranty
Cons
Only ideal for cooking small batches
Produces the smell of burning plastic when cooking
Nonstick coating flakes off
Chefman Air Fryer FAQ and Buying Guide
Are Chefman Air Fryers Good?
Chefman has established itself as a reliable American company that specializes in small kitchen appliances. Their air fryers are generally versatile, easy to use, and easy to clean.
The company boldly positions its TurboFry appliances as the most futuristically designed as they use up to 98% less fat than traditional cooking methods. This is quite efficient compared to other air fryers in the market as the industry standard for oil reduction ranges between 75% & 80%.
From customer reviews and ratings across various platforms, we can safely say that the Chefman air fryers are good. They are highly rated for being easy to use, versatile, easy to clean, and energy-efficient.
There is a wide range of options to choose from, depending on your preference and needs. Whether you want a small one to use in a dorm room or a bigger one for a family gathering, Chefman air fryers are available in different sizes, shapes, colors, cooking functionalities, and display features at relatively affordable prices.
Factors to Consider When Choosing a Chefman Air Fryer
With the wide range of Chefman air fryers on the market, it can be difficult to decide which air fryer model to choose. Below are some factors to consider to help you narrow your options down to the most suitable choice of air fryer.
Preferred capacity. This will be determined by the number of people you will cook for with the air fryer. Go for larger capacities for bigger food batches and vice versa.
Physical Size of the air fryer. Compact sized air fryers are ideal for smaller spaces such as dorm rooms and studio apartments. If you have ample countertop space, the large models will do.
Controls and features. While some Chefman air fryers have simple, analog, knob control features, others have advanced multi-preset, touch screen control features.
Price. Identify the key specifications you want in an air fryer, and then find one in that category within your budget.
What Can You Cook with the Chefman Air Fryer?
While all air fryers are designed to make crispy, tasty fries using minimal oil, air fryers can be used for many other foods. The range of recipes depends on the cooking features and accessories that a particular air fryer has.
You can cook foods such as the following: starchy vegetables, bacon, and meat with the most basic air fryer.
It is worth noting that some foods should not be cooked in the fryer, such as recipes with wet batter, green vegetables, soups, cheese, rice, dry seasonings, olive oil, etc.
How Do You Use the Chefman Air Fryers?
All Chefman air fryers are praised for being easy to use. Their control panels are quite straight forward. However, there may be slight differences in operation mechanism from one Chefman air fryer to another depending on the user interface, control panel, and functionalities.
Each Chefman air dryer comes with a user manual; refer to it for usage instruction and contact their customer support for further assistance if you encounter any challenges.
How To Maintain Your Chefman Air Fryer
To keep your Chefman air fryer in a tip-top condition, you need to clean and store it properly. Generally, air fryers are easy to clean.
One, because unlike a deep fryer that uses lots of oil that leaves a lot of grimly mess, air fryers use very minimal oil, with most of it being absorbed by the food as it cooks.
Secondly, the cooking accessories in all Chefman air fryers are detachable and dishwasher safe.
Below is the step-by-step process for cleaning your Chefman air fryer:
Pull out the air fryer's plug from the socket.
If the air fryer is still hot, let it cool down.
Remove the detachable parts.
Wipe the outer part of your air fryer with a damp cloth.
Either hand wash the detachable part with warm water, dishwashing soap, and a soft cloth or load them up on the dishwasher. Check if any food segments are stuck on the basket or trays and remove them before putting them in the dishwasher. Avoid scrubbing the nonstick coating roughly as it will scrape it off.
Dip a washing cloth or sponge in hot water and wash the inside parts of the air fryer.
Once done cleaning, dry the air fryer and its accessories and store them in a cool, dry place. The main unit should be placed in an upright position at least a few inches away from the edge. You may put away the accessories in a dry drawer.
If you are cooking consecutive batches, you don't have to clean the air dryer after every batch. Wait to finish all the batches and then clean.
Additional Chefman Air Fryer Maintenance Tips
Do not store your air fryer with the plug on the socket.
Regularly inspect the cord for any tear and wear. Do not plug in the air fryer if you notice any worn out cords.
If you stay for a long time before using your air fryer, clean it before removing any dust particles.
Maintain at least a 4-inch distance between the air fryer and the wall or other appliances when using it. This allows enough ventilation room for the air fryer to release hot air or steam when cooking.
Carefully read your owner's manual for clear instruction on air fryer use and maintenance.
When cleaning, do not submerge the main air fryer unit or cords in water. Wipe the outer and inner parts with a soft, damp, warm cloth, or sponge.
Do not, at any one point, disassemble the main unit.
Chefman Air fryers differ from model to model. Whether you want a minimalistic, compact-size air fryer, or a larger one with more sophisticated features and functionalities, you will find one from the Chefman Air fryers product line.
Our pick for the best Chefman Air fryer is the Chefman 6.3 Quart Digital Air Fryer. It has a sleek design, easy to use interface, and it is multifunctional.