Chicago Cutlery is a renowned brand for professional-grade knives for home use. These knives are reputed for being comfortable and well-balanced to use. For each type of Chicago Cutlery knife, there is a wide range of specifications to choose from. Or, you could opt for a set ranging from 19-piece sets to 6-piece sets.
Below is a review of the top 4 Chicago Cutlery knife sets. We also answer the most common Chicago Cutlery knives questions.
The 4 Best Chicago Cutlery Knife Sets Reviews
Here is a look at the features, pros, and cons of some of the best Chicago Cutlery knife sets.
1. Chicago Cutlery 19 Piece Knife Block Set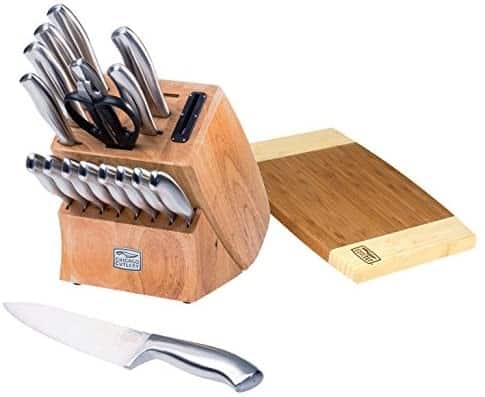 This set includes:
3-inch peeler
3-¼-inch parer
6-inch boning
5-inch utility
8-inch serrated bread
7-inch Santoku
8-inch slicer
8-inch chef
Shears
Eight (8) 4-½-inch steak knives
Woodblock
Bamboo cutting board
This is the ultimate Chicago Cutlery knife set to have in your house. At an affordable price, you get high quality, innovatively designed, and efficient complete range of knives for a professional-like experience.
Whether you want to cut meat, veggies, cake, or bread, the Chicago Cutlery Insignia 19-Piece Knife Block Set has a knife for every purpose.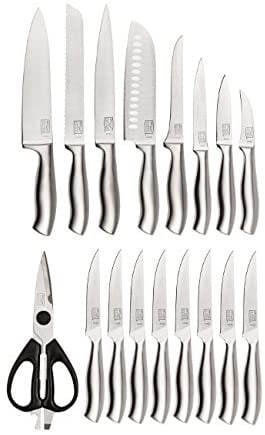 All blades are made of high-quality carbon stainless steel for precise cutting. The edges are easy to sharpen and retain their sharpness for long. The high carbon steel is resistant to staining and pitting, while the forged design and full metal construction offers added balance and sturdiness.
All knives have a stainless-steel handle, while the shears have a plastic handle. All handles are designed for sturdy and ergonomic handling. However, avoid using the knives with oily hands as the metallic handle is prone to slipping.
The woodblock in this set is heavy and stylishly design to sit sturdily and beautifully on your countertop. It has a built-in sharpener. The sharpener incorporates the 25 Degree Taper grind edge that ensures optimal sharpness. It also comes with a bamboo cutting board.
Pros
Professional-like
Has a complete range of knives
Easy to sharpen
25 Degree Taper grind edge sharpening
Durable
Great value for their price
Comes with a lifetime warranty
Cons
Some people find the knives too heavy
Slippery knife handles om oily hands
2. Chicago Cutlery Insignia2 18-Piece Knife Block Set with In-Block Knife Sharpener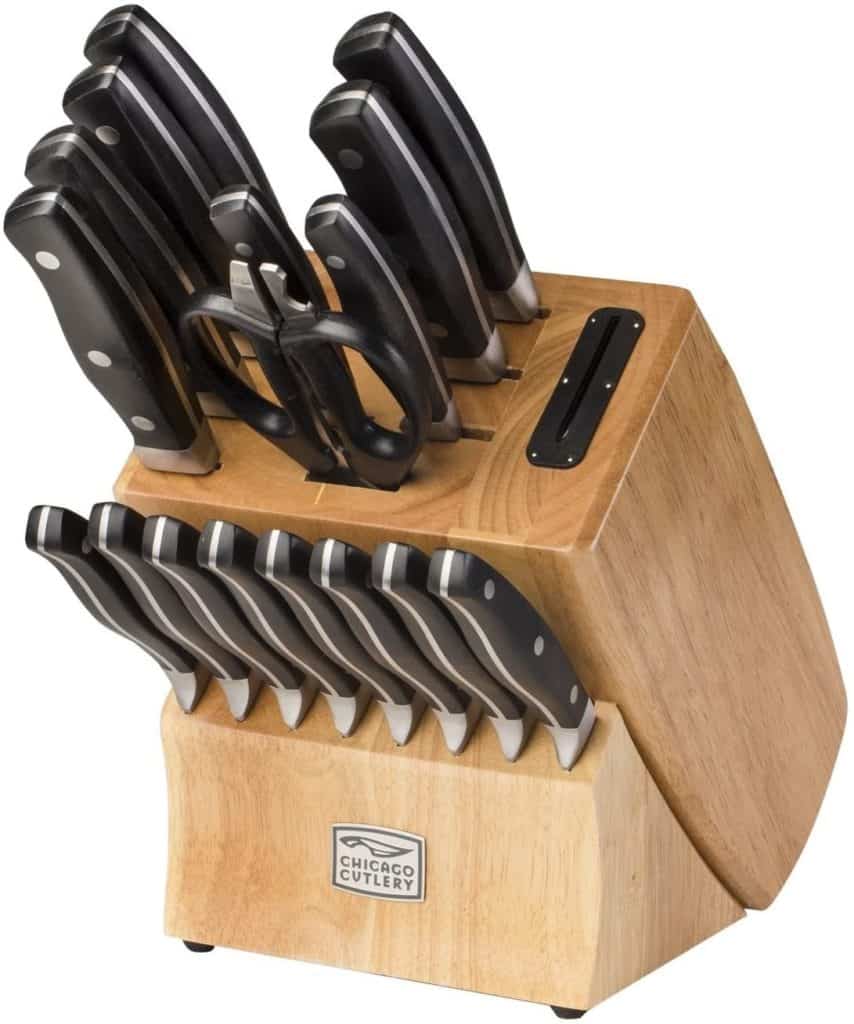 This set includes:
3-inch parer
3-½-inch parer
5-inch boning
5-½-inch utility
7-inch serrated bread
7-inch Santoku knife
8-inch chef's knife
8-inch slicer
Eight 4-½-inch forged steak knives
Shears
Block with sharpener
This 18-piece set is great as a starter set. It is affordable, high-quality, and comprises of the essential types of knives. All the knives, shears, and block sharpeners are made of carbon stainless steel with heavy-duty forged bolsters.
The knives and shears have polymer handles that are triple-riveted using stainless steel rivets that provide ergonomic handling. The manufacturer offers a lifetime warranty on this set. Handwashing is the recommended method of cleaning these knives.
The wooden block design incorporates 17 angled storage slots for easy storage, access, and retrieval of the knives. It also has a sharpener to keep your blades at optimal sharpness.
Pros
High-quality build
Nice looking design
Sturdy and ergonomic handling
Lifetime handling
Durable
Block has an inbuilt sharpener
Easy to sharpen and retain sharpness
Cons
Susceptible to rusting
Not suitable for use as heavy-duty steel professional knives
3. Chicago Cutlery Essentials Stainless Steel Knife Block Set (15 Piece)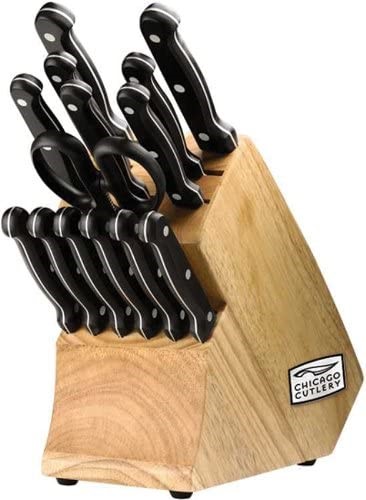 This set includes:
3-inch peeling
3-½-inch paring knife
4-½-inch serrated fruit knife,
4-¾-inch serrated utility knife
5-inch Santoku knife
7-inch Santoku knife
8-inch scalloped bread knives
Kitchen shears,
6 serrated steak knives
Woodblock
The 15-piece Chicago Cutlery Essentials Stainless Steel Knife Block Set is also a great choice for those looking for a budget knife set with all the essential types of knives for home use.
All the blades are made of high-carbon stainless steel that ensures the edges are strong, sturdy, and durable. The blades are also easy to sharpen and offer precise cutting. The high carbon stainless steel is not prone to pitting or staining.
All the knives incorporate a full metal tang construction that keeps them balanced, strong, and easy to handle. They have polymer handles that are triple riveted on the end of the steel blade. The manufacture offers a lifetime warranty against manufacturing defects.
Pros
Quite affordable
Set contains all essential knives
Blades are made with high –carbon stainless steel
Lifetime warranty on manufacturer's defects
Cons
Do not have a bolster
Prone to rusting
4. The Chicago Cutlery DesignPro 13 Piece Block Set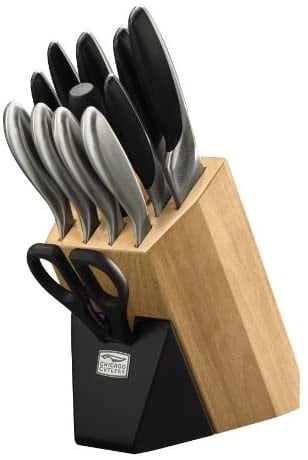 This set includes:
8" Chef knife
7" Santoku knife
8" Bread knife
5" Utility
Two Parers (3 and 3-½")
2-¾" Peeler
Shears
Sharpening Steel
Six 4-¼" Steak Knives
It is an affordable knife set that is suitable for both beginners and seasoned cooks. It has a sleek yet functional design.
This set's handles are innovatively and uniquely designed to offer a stable grip, optimal positioning, and superior control. The handles have bolsters, are contoured, and have etched finger positions that ensure you are holding the knives correctly and prevent injury when cutting. The polymer handles offer a comfortable and firm handling of the knives.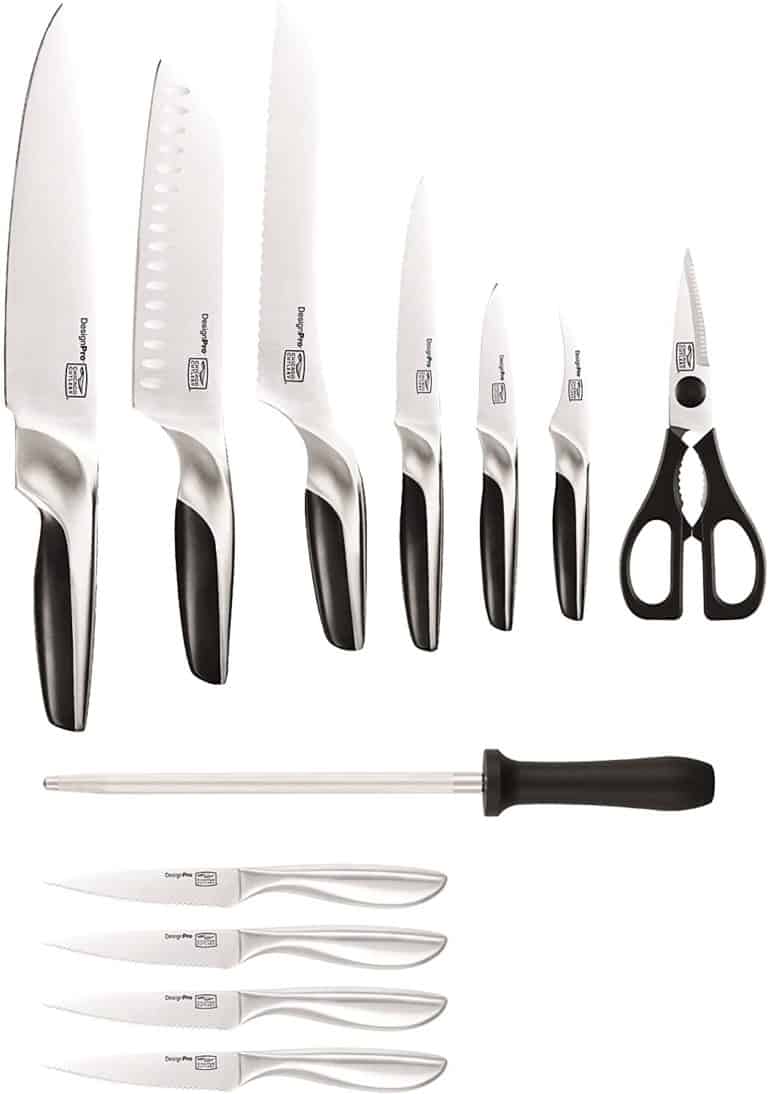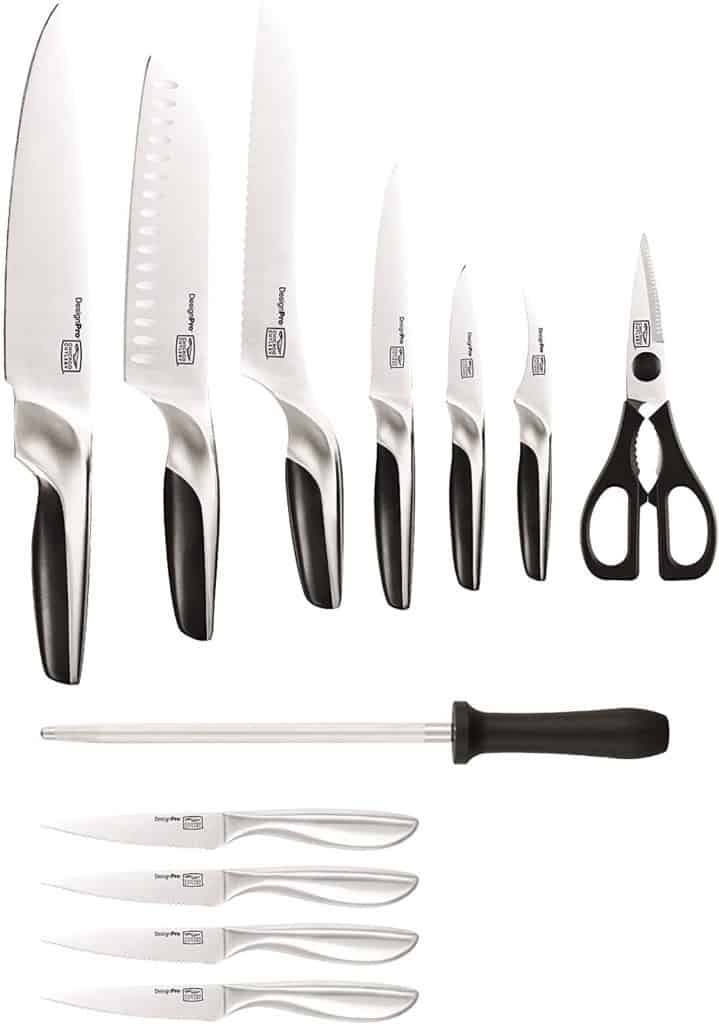 The blades are ultra-sharp. They are made of high-quality Japanese steel, which is strong, sturdy, and durable. Since the Japanese stainless steel is forged, the knives are easy to sharpen, and they retain their sharpness.
Both the knives' handles and blade design offer a sleek and contemporary look. Even the wooden block is aesthetically appealing while offering adequate storage for the knives and shears. Each knife is having an easy to handle weight.
Pros
Set constitutes of all the essential knives
Suitable for both beginners and novice cooks
Modern, innovative yet functional design
Easy, safe and ergonomic handling
Easy to sharpen
Made of durable, high-quality Japanese stainless steel
Cons
Relatively limited number of steak knives
Chicago Cutlery Knife Sets FAQS
How good is the quality of Chicago Cutlery knives?
Chicago Cutlery knives have been praised by some of the world's renowned chefs as high quality, professional-grade knives sold at an affordable price for home use.
As evidenced by the numerous positive reviews and high ratings, Chicago cutlery knives and knife sets are of high quality. Most knives are made from forged stainless steel or carbon steel. The forging process makes the knives' blades stronger, making the knives considerably durable.
The forging process also enables the manufacturer to create a bolster between the knife's handle and blade for some knives. Bolstered handles offer your fingers protection when using the knife. Furthermore, forged knives are easy to sharpen since the blades are sturdy.
Are Chicago Cutlery Knives dishwasher safe?
The manufacturer indicates that Chicago Cutlery knives are dishwasher safe. However, like any other knife, it is best to hand wash your knives separately from other utensils. Do put your Chicago Cutlery Knives in a dishwasher as the heat and detergents may damage the blade.
Wash with some warm water, mild soap, and a soft cloth, then dry the knives and store them in their knife block or a knife magnet.
If you have knives that have a wooden handle, avoid soaking them in water for too long. Extreme exposure to water may deplete the handle's natural oils that keep it looking shiny and prevent it from rotting.
How do you take care of Chicago Cutlery Knives?
Chicago Cutlery Knives made of carbon steel are susceptible to rusting; therefore, they should not be left in water for too long. Ensure to completely dry the knife and to store it in a cool, dry place.
When it comes to sharpening, Chicago Cutlery Knives are easy to sharpen. Use sharpening steel at least after three uses. Do not wait for the blade to become completely blunt as it makes sharpening and retaining sharpness harder.
To keep walnut handles looking fresh, rub or soak the knives' handles in natural mineral oil. Chicago Cutlery sells a natural wood conditioner (WCOIL) for cleaning and preserving wooden handle. After cleaning the handle with the oil, gently scrub it with steel wool, and do not use soap.
Chicago Cutlery vs JA Henckels: Which Is Better?
Both companies manufacture and distribute high-quality knives. However, JA Henckels are rather high end. With proper maintenance and adequate sharpening, Chicago Cutlery works adequately well for most at-home uses.
Is Chicago Cultery Made in the US?
Chicago Cutlery knives are made in China and distributed in the US by Corelle Brands.
The Chicago Cutlery knives are a great option to consider if you are looking for quality, efficient, yet affordable knife sets for at-home use. Our top pick for the best Chicago Cutlery knife sets is the Chicago Cutlery Insignia2 18-Piece Knife Block Set that has a knife for every purpose.
The set undoubtedly offers you value for your money. It has a complete range of knives for all your cutting needs, and its design is modern and functional.