Chocolate chia pudding is the perfect 5-ingredient breakfast or snack. This tasty treat packs plenty of nutrition in every bite. Enjoy it as part of your daily routine or as a special dessert!
Why You'll Love This Chocolate Chia Pudding Recipe
Only 5 Ingredients- This chocolate chia pudding is a cinch to make. You only need five simple ingredients: chia seeds, cacao powder, honey or maple syrup, coconut milk, and vanilla extract.
Vegan Friendly- When using maple syrup instead of honey, this recipe is 100% vegan.
Chocolate- Who doesn't love chocolate? Thanks to the cacao powder, this chia pudding recipe packs a delicious chocolatey punch. It's a great way to satisfy any sweet tooth!
What Is Chia Pudding?
Chia pudding is a creamy and delicious dessert made from chia seeds, milk, sweetener, and other ingredients. Chia seeds are incredibly nutritious. They contain antioxidants, fiber, protein, and omega-3 fatty acids! Combining the chia seeds with milk gives you a thick and creamy pudding that can be enjoyed as a snack or dessert.
The great thing about chia pudding is that you can customize it however you want. Add your favorite mix-ins, like fruits, nuts, or spices, to make it unique. Or try making different flavors like chocolate, vanilla, or even peanut butter!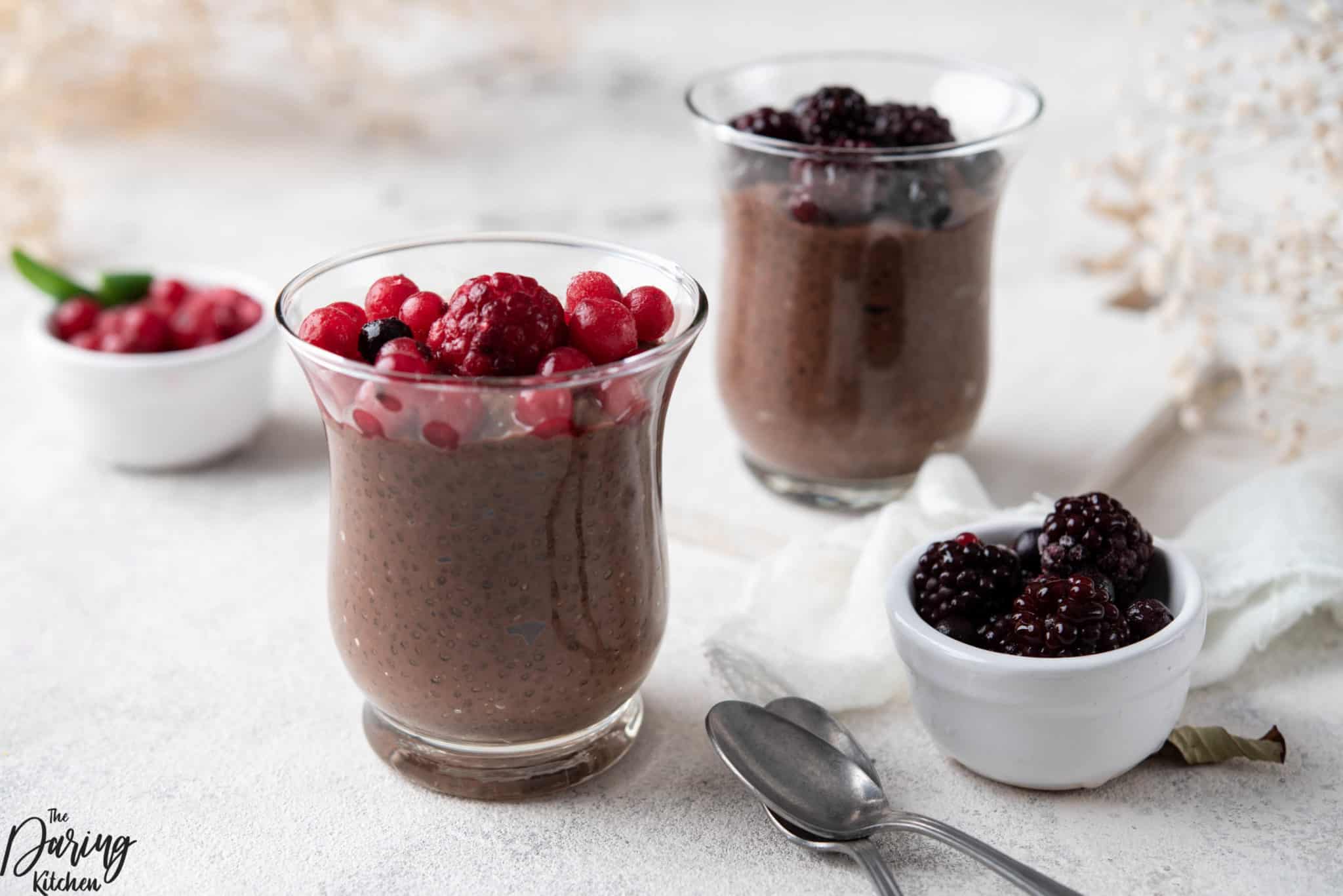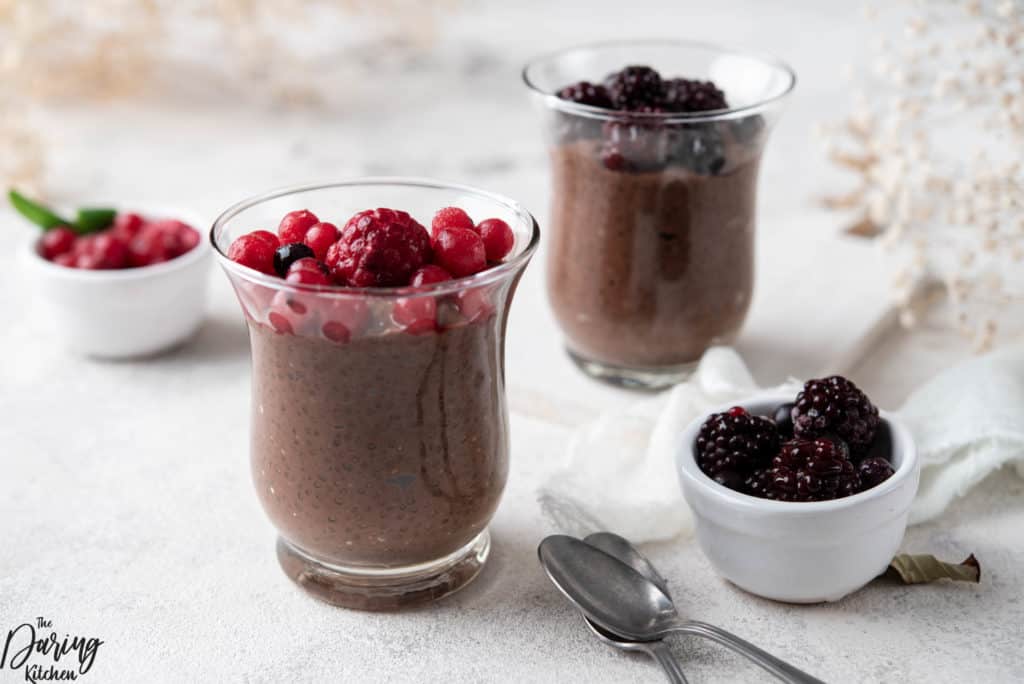 Equipment
Mixing Bowl
Whisk
Baking Spatula
Measuring Cups and Spoons
Ingredients
Cacao Powder- This raw form of chocolate has incredible nutrient benefits. It differs from cocoa powder, which often has added sugar. Cacao powder gives this pudding the color and chocolate flavor we all love.
Honey or Maple Syrup- Sweetens the chocolate chia pudding in an all-natural way! If you can find powdered maple syrup, it really makes the whisking process easier.
Vanilla Extract- Adds a touch of sweetness and an irresistible aroma to the pudding.
Coconut Milk- This dairy-free milk gives this pudding a silky texture. You can also use almond milk if you like.
Chia Seeds- These little seeds give this pudding great consistency and a nutrient boost! It is better to use whole chia seeds instead of ground chia seeds.
Fresh Berries- Optional, but an unbeatably delicious garnish! I also love adding cacao nibs and coconut whipped cream. Kids love to put chocolate chips on it too.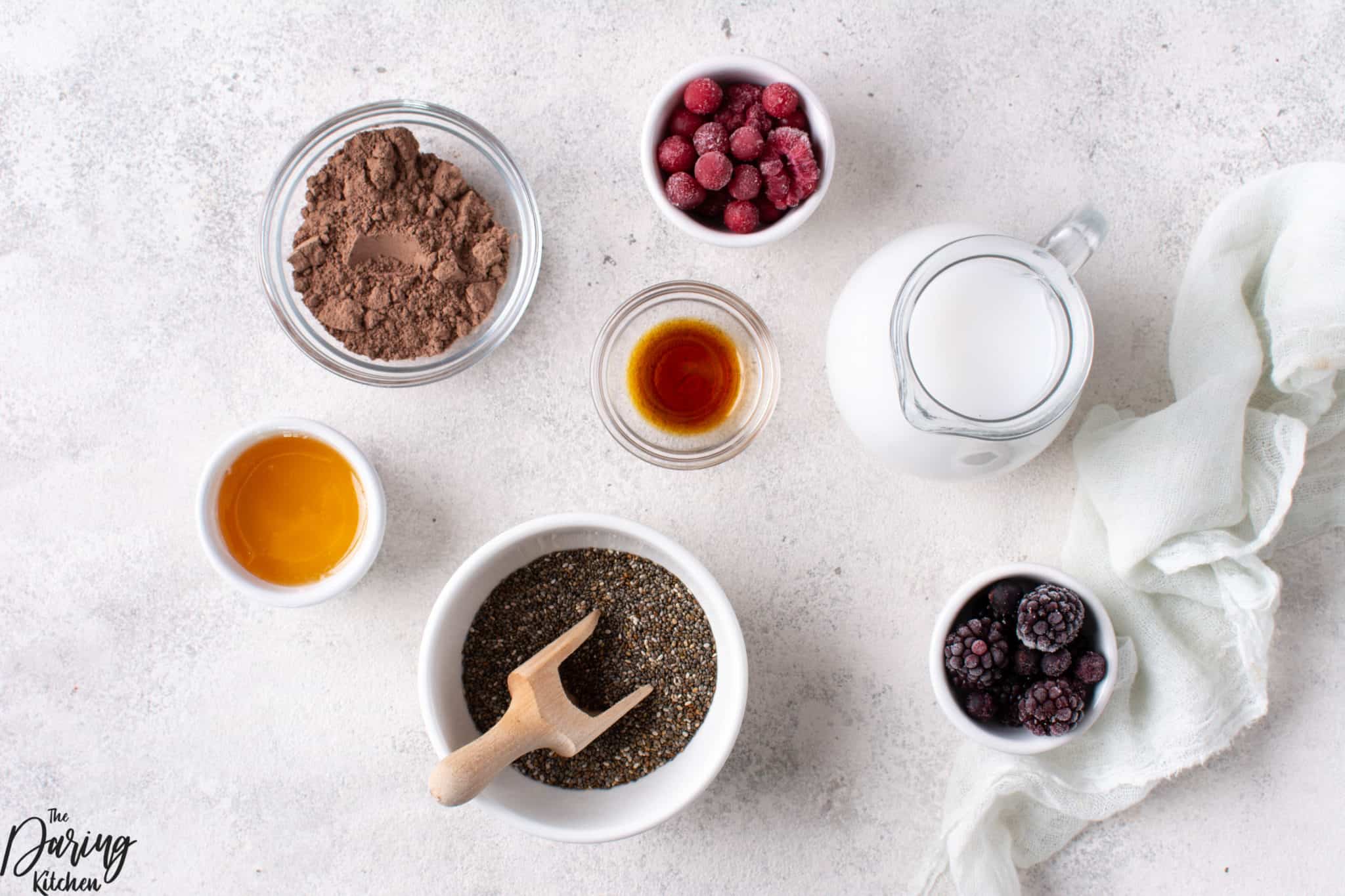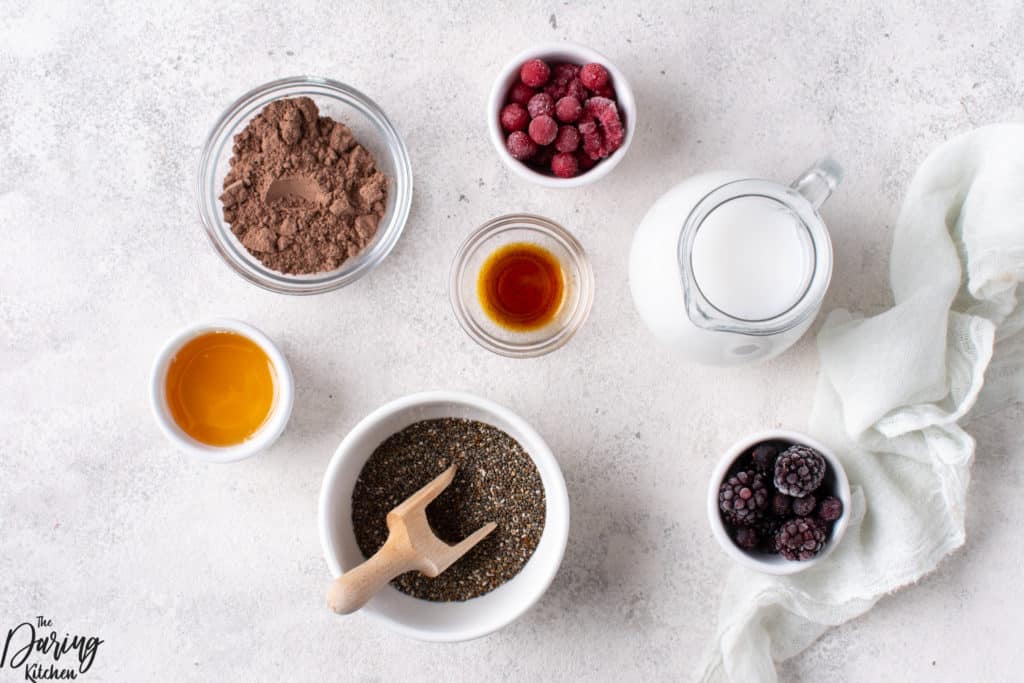 How To Make Chocolate Chia Seed Pudding
Gather all your measured ingredients together. Combine your cacao, honey or maple syrup, and vanilla in your mixing bowl. Whisk well until everything is well-combined.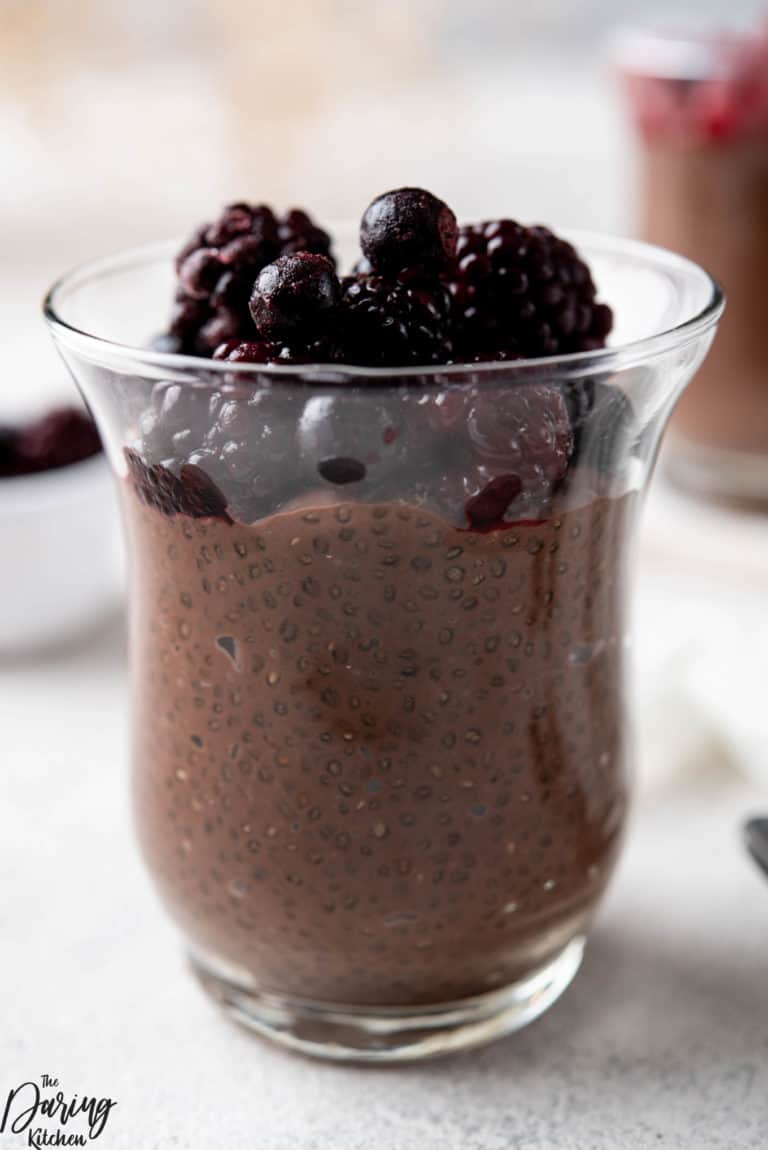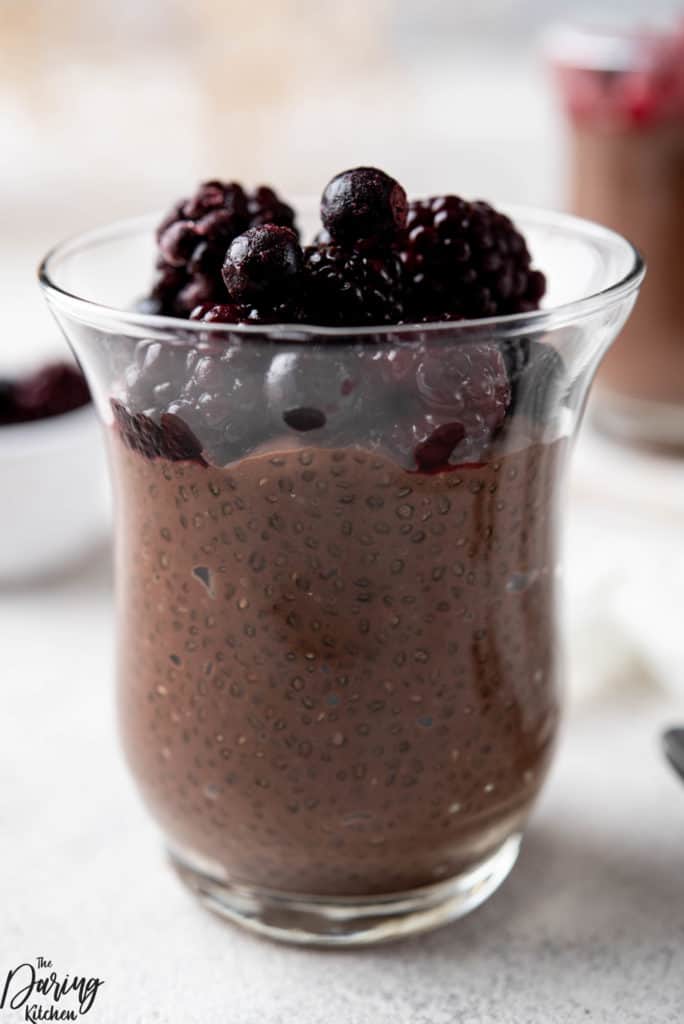 Slowly pour in your coconut milk, mixing as you pour. Continue to whisk until the mixture is even and smooth. You do not want to under-mix - this will give the pudding a strange consistency.
Add in your chia seeds and gently incorporate them into the mixture. These seeds will absorb liquid quickly, so move fast to combine them!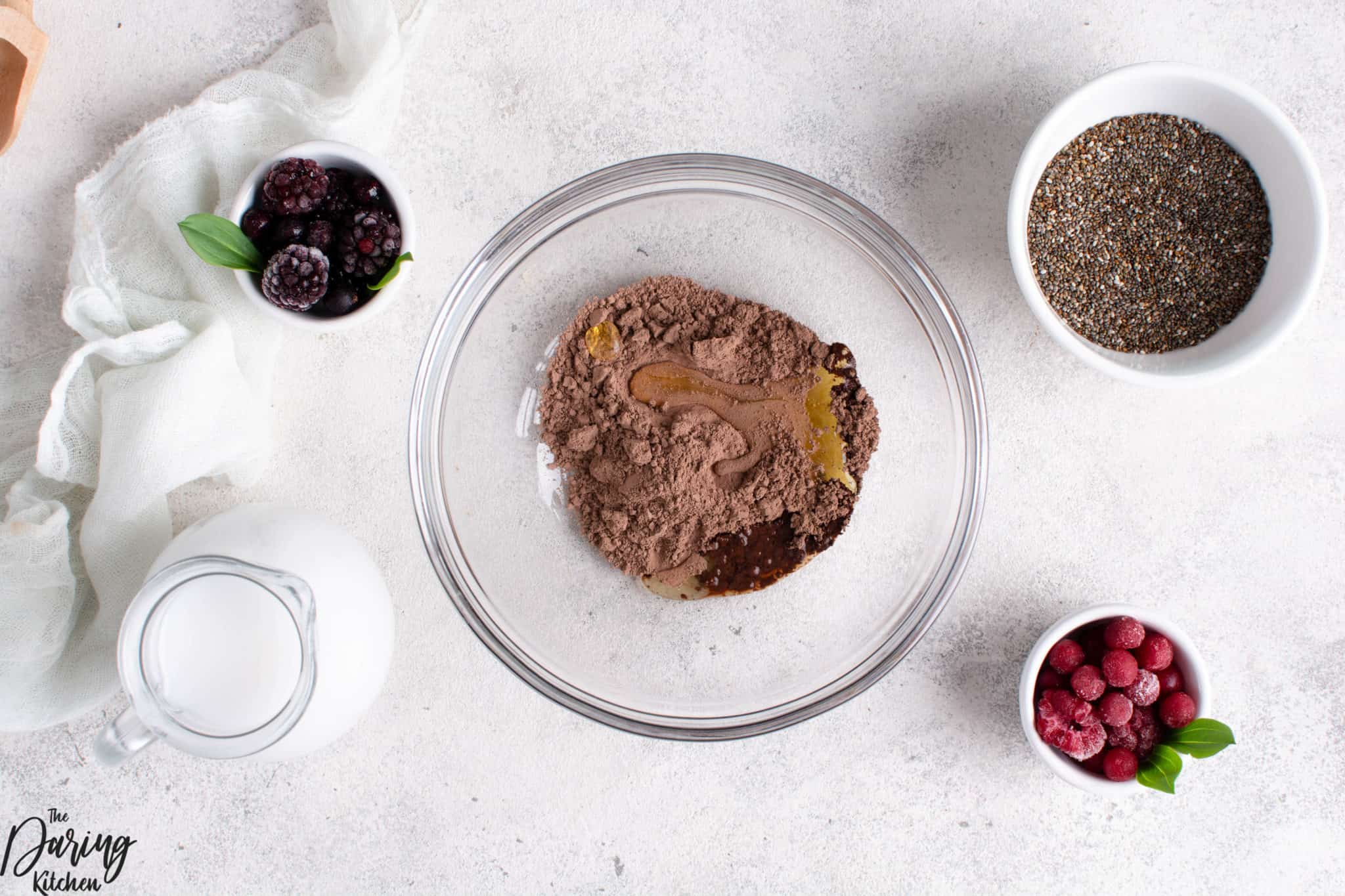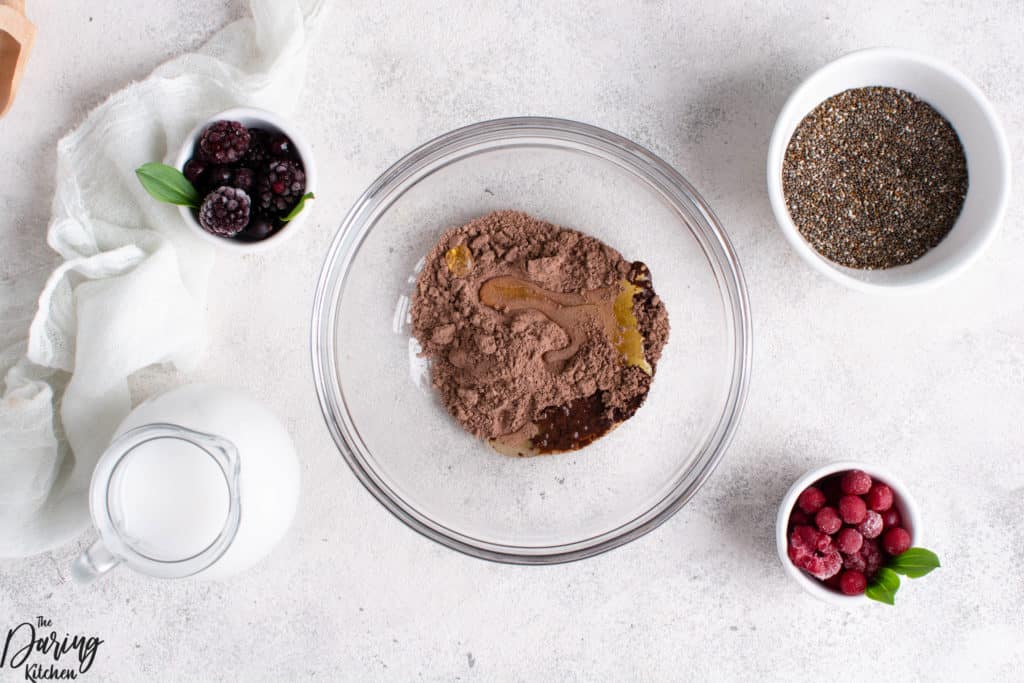 Refrigerate your pudding for one hour. You can keep it in your bowl or transfer it to a more excellent dish. The choice is yours!
When the hour is up, your pudding is ready to serve. However, allow your pudding to rest for another hour on the counter for optimal texture and temperature.
Top with berries. I also like adding fresh coconut cream, cacao nibs, or even dust of cocoa powder if you want to get fancy!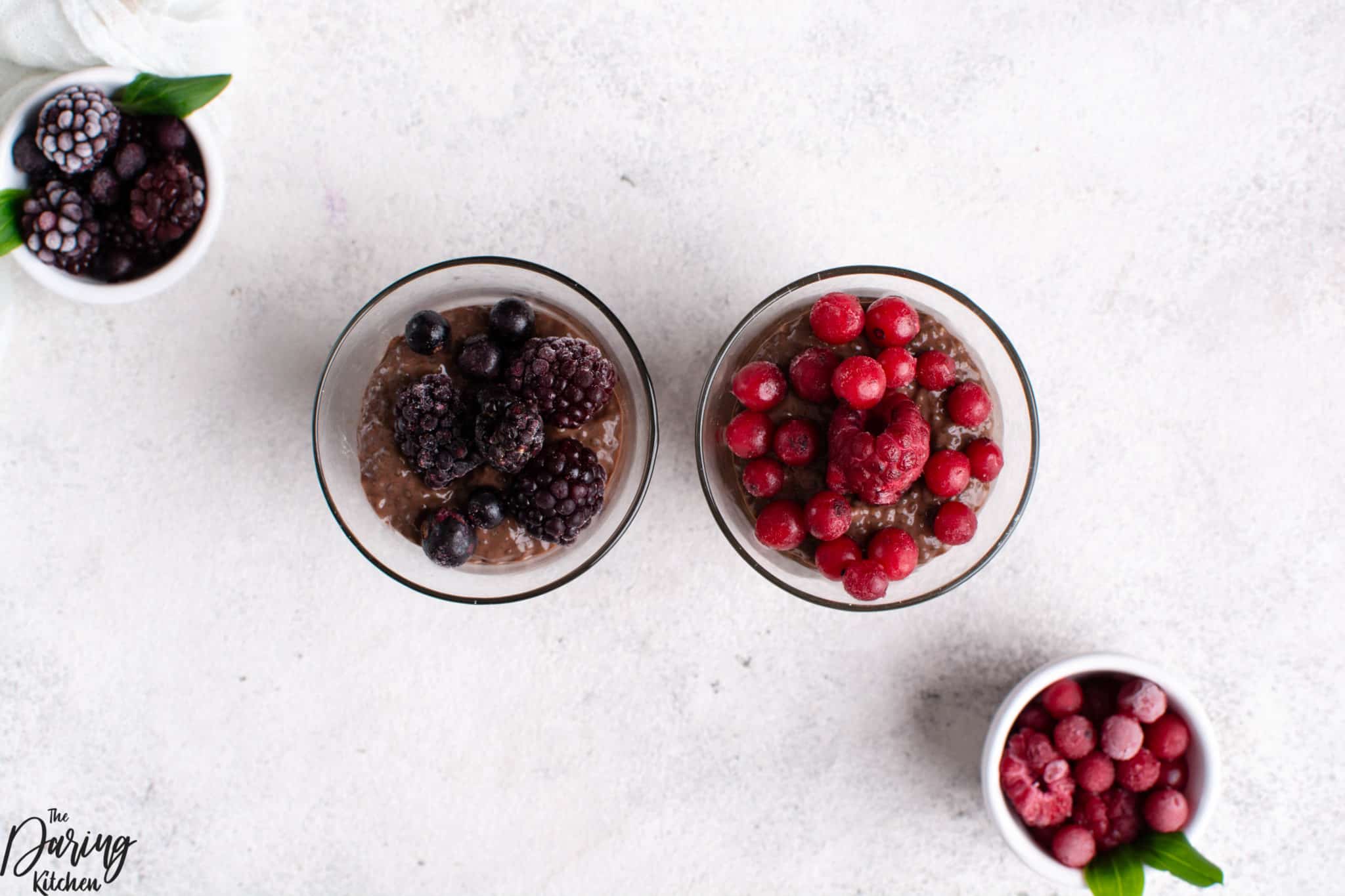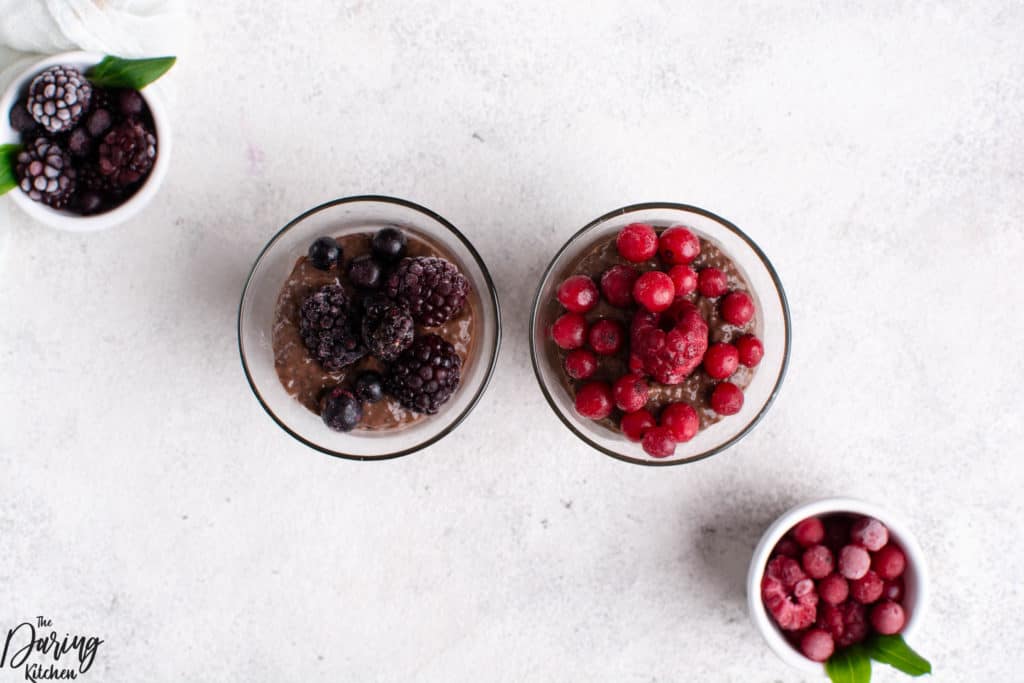 Popular Substitutions & Additions
If you don't have cacao powder, cocoa powder will work in a pinch. It will be less nutritious and may contain sugar or other additives.
Want to add protein? Add one scoop of your favorite protein powder with the chia seeds - this is delicious!
You can substitute almond milk, oat milk, cashew milk, soy milk, or any dairy-free milk instead of coconut milk.
If you don't have honey or pure maple syrup, you can use any liquid sweetener - agave, brown rice syrup, and date syrup work well too.
Play with flavors like almond extract, other fresh fruit, or nut butter like peanut butter, cashew butter, or almond butter. The possibilities are endless!
Can I Freeze Chocolate Chia Pudding?
Yes, you can freeze chocolate chia pudding! Just make sure it is stored in an airtight container. This pudding will keep for up to 6 months in the freezer. Thaw overnight in the refrigerator before serving.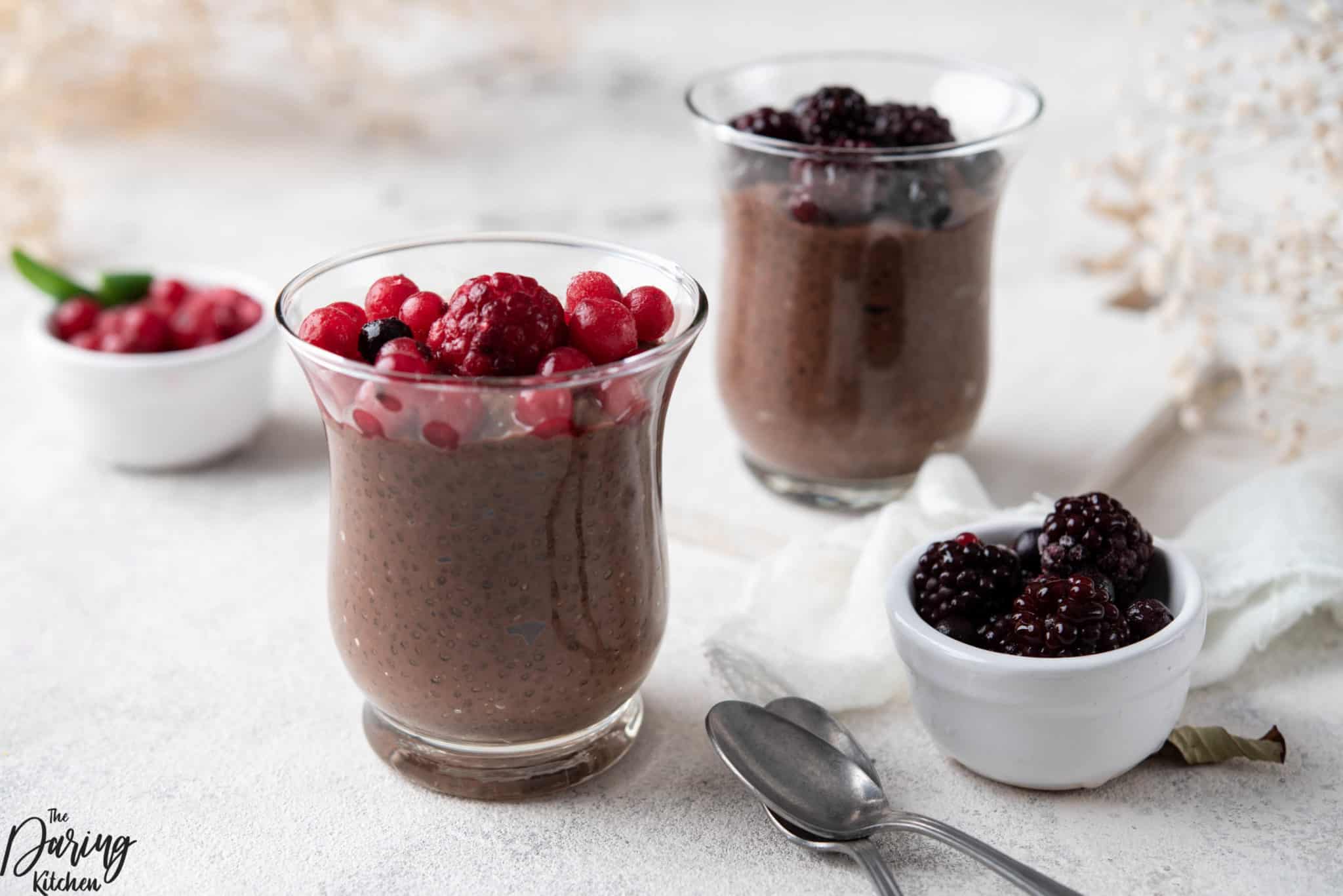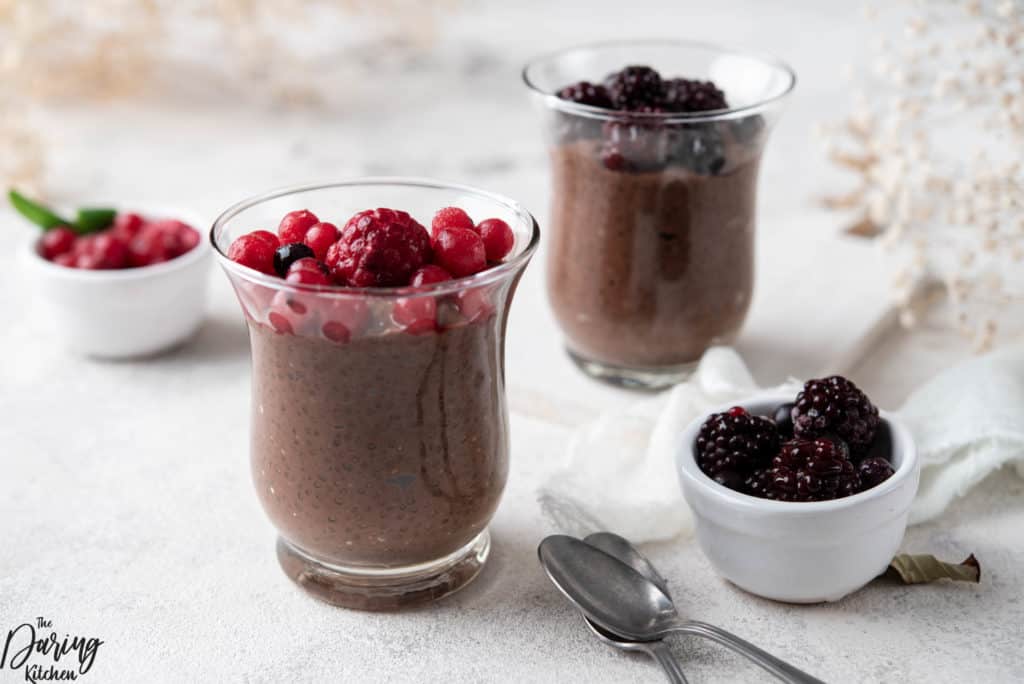 Chocolate Chia Seed Pudding FAQS
What is the best way to store leftover chocolate chia seed pudding?
It is best to store your leftover chocolate chia pudding in the refrigerator for up to 5 days. Make sure it is stored in an airtight container.
Do I need a blender or food processor to make this chocolate chia seed pudding recipe?
No, a blender or food processor is not necessary. You can combine all of the ingredients with a whisk and bowl! However, using a blender is helpful if you want to play around with different flavors.
Can I use regular sugar instead of honey or maple syrup?
Yes, you can use regular granulated white sugar instead of honey or maple syrup. However, it may give the pudding a grainy texture.
Is this chocolate pudding recipe gluten-free?
Yes, this chocolate chia pudding recipe is naturally gluten-free and vegan when using maple syrup as the sweetener. The only exception would be if you are adding any additional ingredients that contain gluten.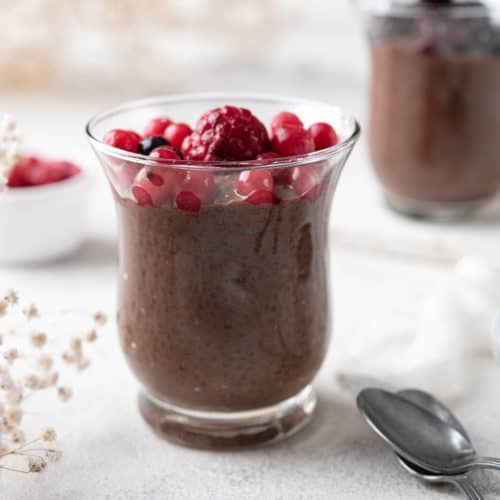 Chocolate Chia Pudding
Enjoy this delicious 5-ingredient breakfast or snack: chocolate chia pudding! This tasty treat delights your taste buds and nourishes your body with every bite.
Print
Pin
Rate
Ingredients
2

tbsp

cacao powder

1

tbsp

honey or maple syrup

1

tsp

vanilla

1

cup

coconut milk

¼

cup

chia seeds

Fresh berries,

to serve with
Instructions
In a bowl, combine cacao, vanilla, and honey.

Pour in coconut milk, gradually, and whisk until smooth.

Add chia seeds and stir well.

Refrigerate for 1 hour. Serve or let it rest for another hour.
Nutrition
Calories:
343
kcal
|
Carbohydrates:
15
g
|
Protein:
7
g
|
Fat:
31
g
|
Saturated Fat:
22
g
|
Trans Fat:
1
g
|
Sodium:
19
mg
|
Potassium:
414
mg
|
Fiber:
9
g
|
Sugar:
1
g
|
Vitamin A:
11
IU
|
Vitamin C:
1
mg
|
Calcium:
161
mg
|
Iron:
6
mg