Calling all chocolate lovers! This chocolate chia pudding is fast to make and to eat, making it the ultimate guilt-free snack. Packed with mighty chia seeds and their omega 3 fatty acids, you will feel energized and nourished in no time.
Chocolate Chia Pudding Video
To get a step-by-step understanding of one of my favorite chia seed recipes and its ingredients, check out my video above! You will really get a feel for the recipe. And, it will make you pretty hungry too.
The Best Chocolate Chia Pudding Recipe
I love desserts. Since I was a kid, I was a chocolate fanatic. Cake, ice cream - if it was chocolate, I wanted it!
Something extra special from childhood was always pudding. Remember Snack Packs? They're still sold today. The pre-made pudding packs were a staple growing up. My mom used to pack them in my lunch bag. It had the best consistency. But, boy did it have a ton of sugar.
Flash-forward to adulthood - I know better than to eat a bunch of snack packs. Focused on a more plant-based way of living, I began to dabble in new desserts. My newest and greatest discovery: chocolate chia seed pudding!
This chia pudding recipe is so quick and easy to make. It only requires 5 ingredients (if you aren't including the toppings!) It was a goal of mine to make this recipe as simple as possible. There are a lot of chia pudding recipes out there that are way too simple. Or worse, filled with tons of sugar!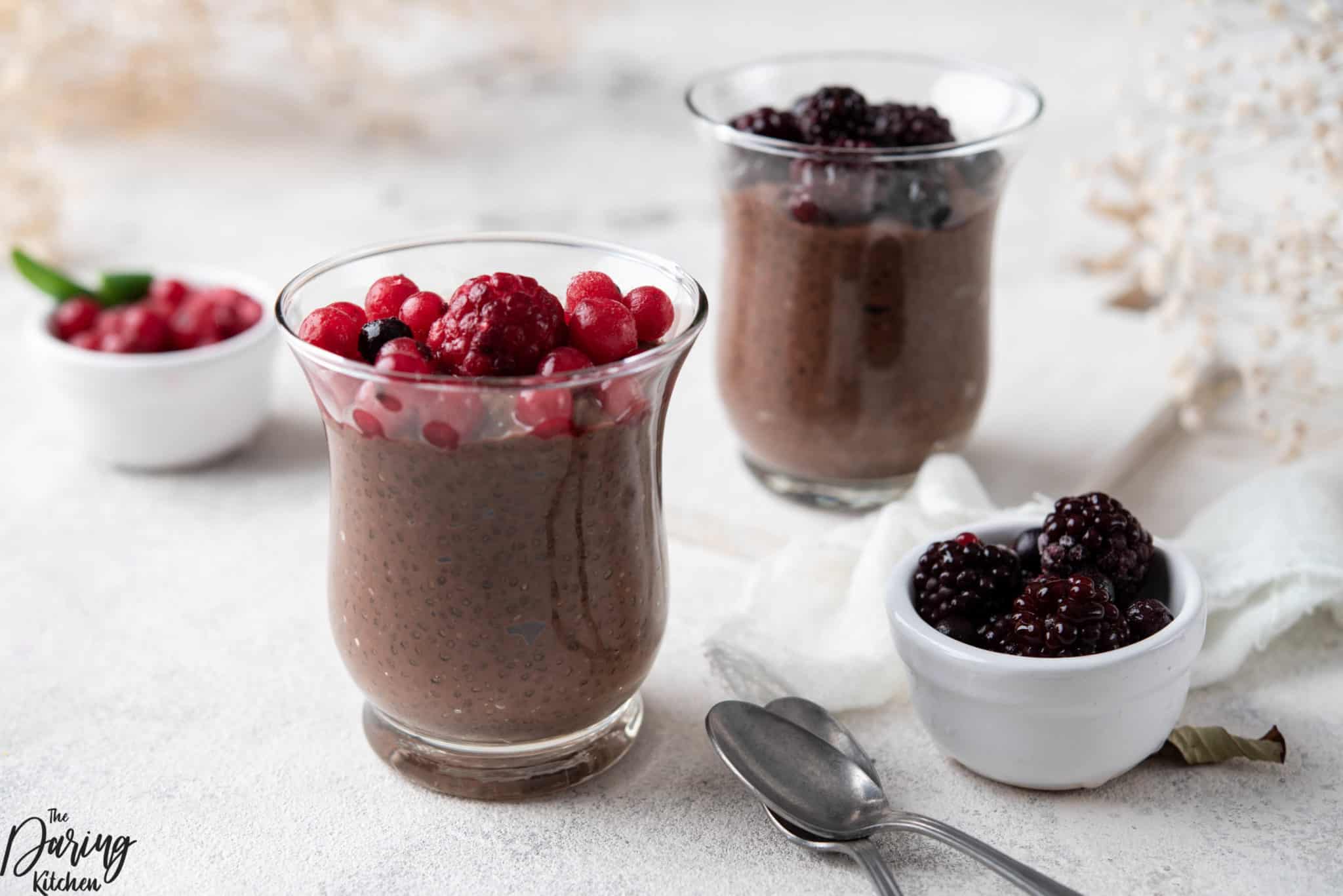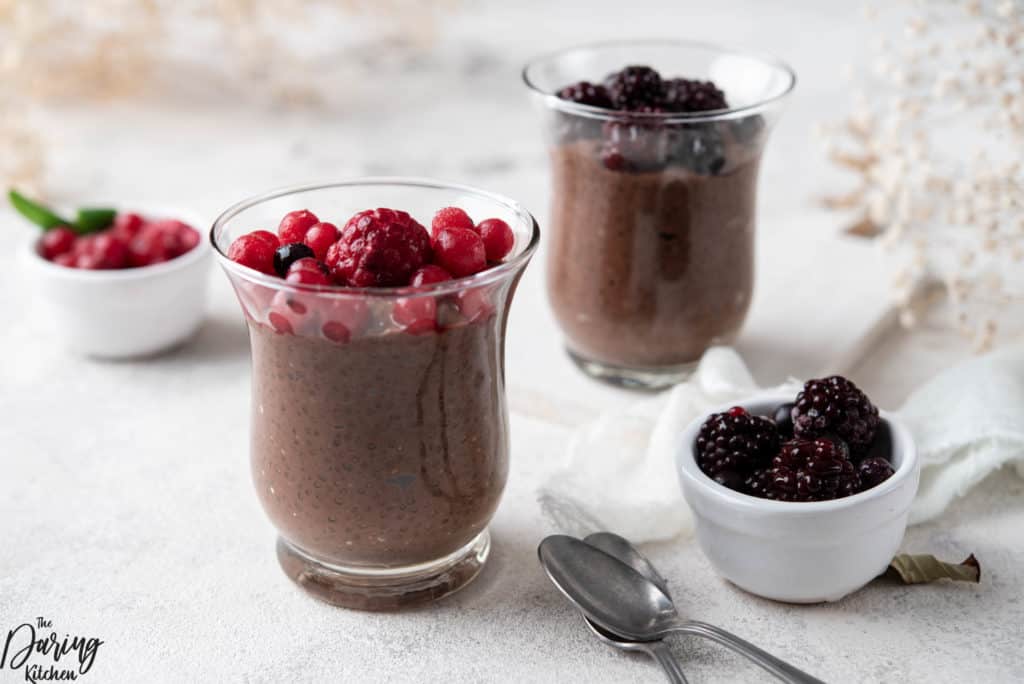 So, instead of using super sweet chocolate bars or chocolate chips, I used cacao powder, vanilla extract, and honey. This healthy combo gives this pudding just enough sweetness to keep you coming back for more.
Chia seeds are just so awesome. They give this pudding amazing consistency. Chia seeds also give you a mega boost of omega 3 fatty acids and other vitamins. So, you really aren't eating dessert - you're having an incredible healthy dessert.
To be honest, I eat this chocolate pudding at least once a week. It makes a great snack or dessert. Kids even love it too!
Ingredients in Chocolate Chia Pudding
This chocolate chia pudding has only plant based ingredients. Yup - there is no milk, butter, or any dairy in this recipe whatsoever! Instead, I use my favorite non-dairy creamer: coconut milk. This lends this chocolate chia seed pudding the perfect consistency.
So, let's break down the ingredients in this delicious chocolate chia pudding!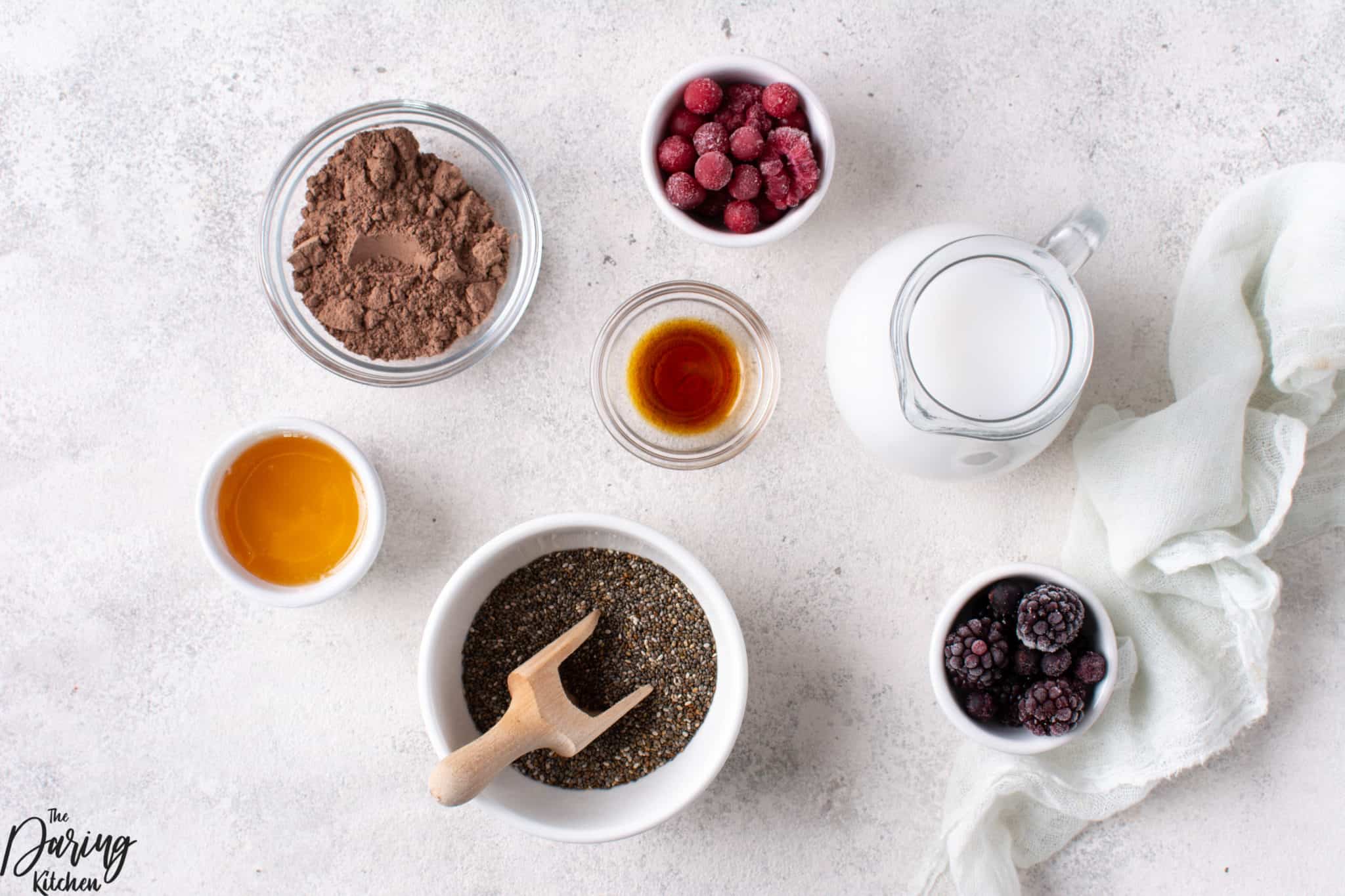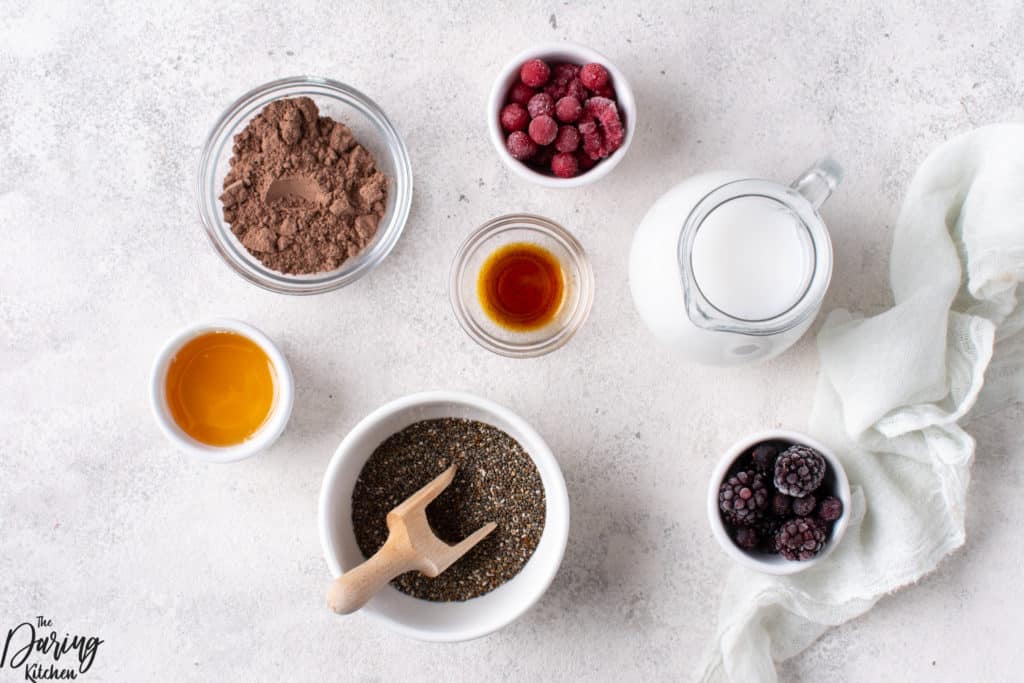 Cacao powder - this raw form of chocolate has incredible nutrient benefits. It differs from cocoa powder, which often has added sugar. Cacao powder gives this pudding the color and chocolate flavor we all love.
Honey (or maple syrup) - these sweeten the chocolate chia pudding in a totally all-natural way! If you can find powdered maple syrup, it really makes the whisking process easier.
vanilla extract - this adds a touch of sweetness and an irresistible aroma to the pudding
coconut milk - this dairy-free ingredient gives this pudding a silky texture. You can also use almond milk if you like.
chia seeds - these little seeds give this pudding great consistency and a nutrient boost! It is better to use whole chia seeds instead of ground chia seeds.
Fresh berries - this is optional, but an unbeatably delicious garnish! I also love adding cacao nibs and coconut whipped cream. Kids love to put chocolate chips on it too.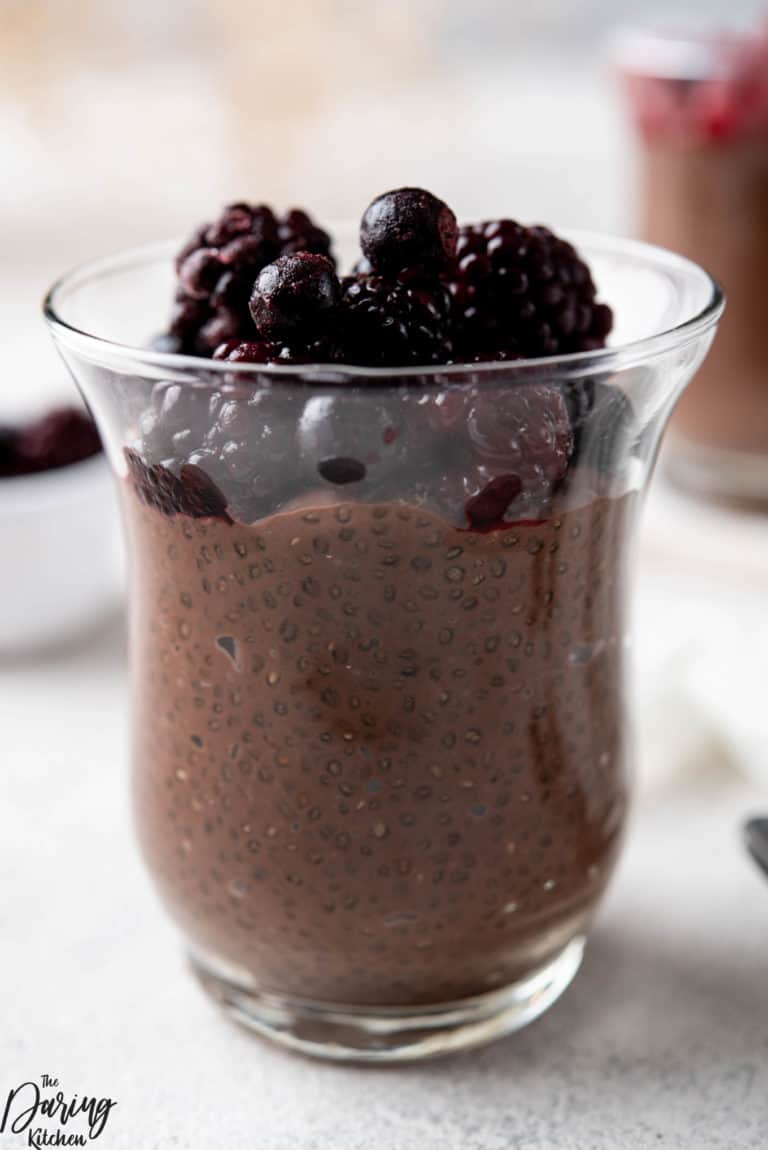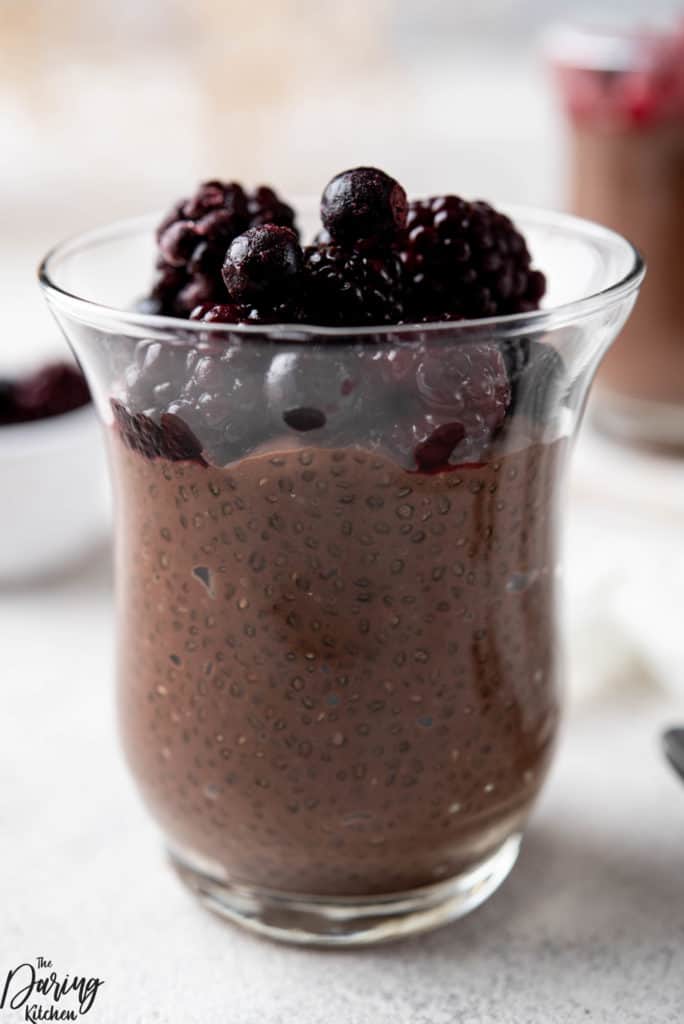 Along with your ingredients, you will also need some mighty kitchen appliances! These are pretty straightforward. But, I always like to emphasize them before you get to prepping. You will need a sturdy mixing bowl (I prefer stainless steel,) a whisk, and a handy baking spatula.
These tools, especially the whisk, will help you achieve the perfect pudding texture.
How to Make Chocolate Chia Pudding
If you're hungry already, I don't blame you. I've talked up this delicious chocolate pudding enough! Let's dive into how to make this delicious recipe.
P.S. this recipe only takes 10 minutes to prepare!
Step 1: Gather all your measured ingredients together
Step 2: In your mixing bowl, combine your cacao powder, honey (maple syrup,) and vanilla. Whisk well, until everything is well-combined.
Step 3: Slowly pour in your coconut milk, mixing as you pour. Continue to whisk until the mixture is even and smooth. You do not want to under mix - this will give the pudding a strange consistency.
Step 4: Add in your chia seeds and gently incorporate them into the mixture. These seeds will absorb liquid quickly so move fast to incorporate them!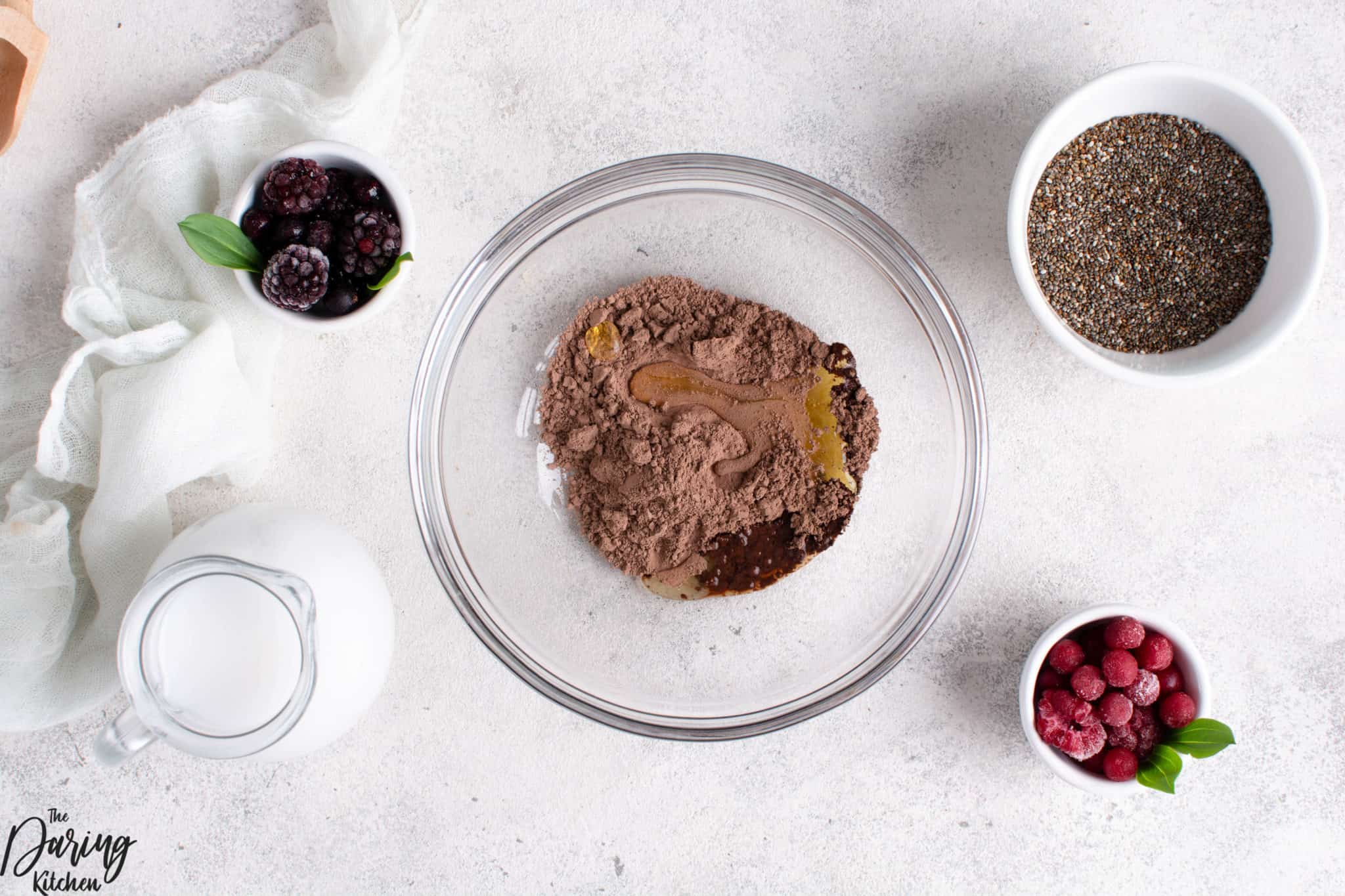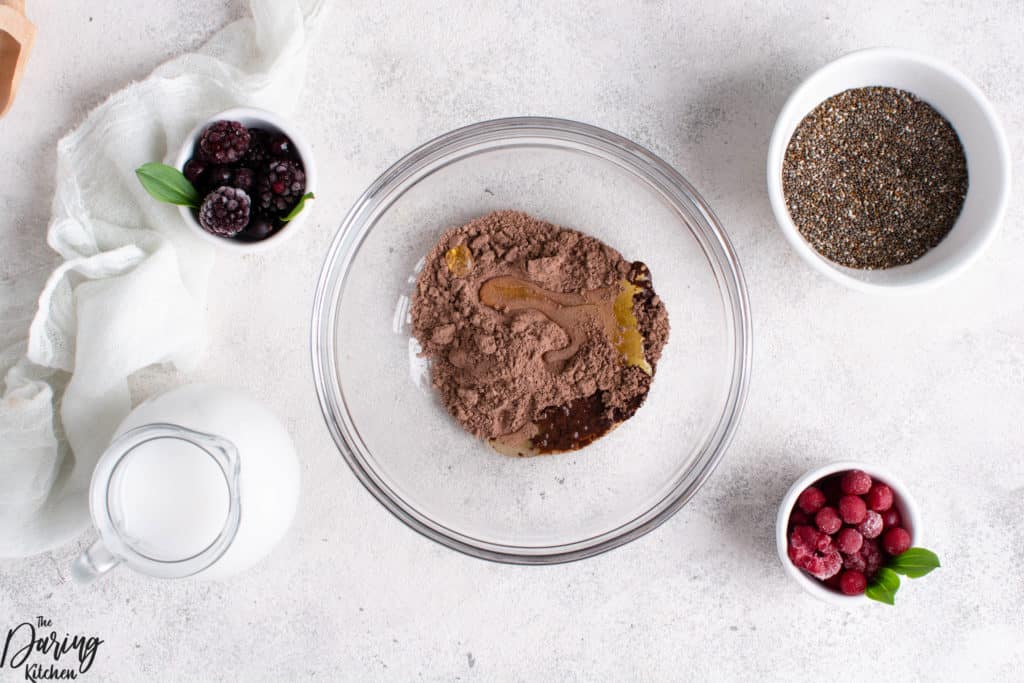 Step 5: Refrigerate your pudding for one hour. You can keep it in your bowl, or transfer it to a nicer dish. The choice is yours!
Step 6: When the hour is up, your pudding is ready to serve. However, for optimal texture and temperature, allow your pudding to rest for another hour on the counter.
Step 7: Top with berries. I also like adding fresh coconut cream, cacao nibs, or even dust of cacao powder if you want to get fancy!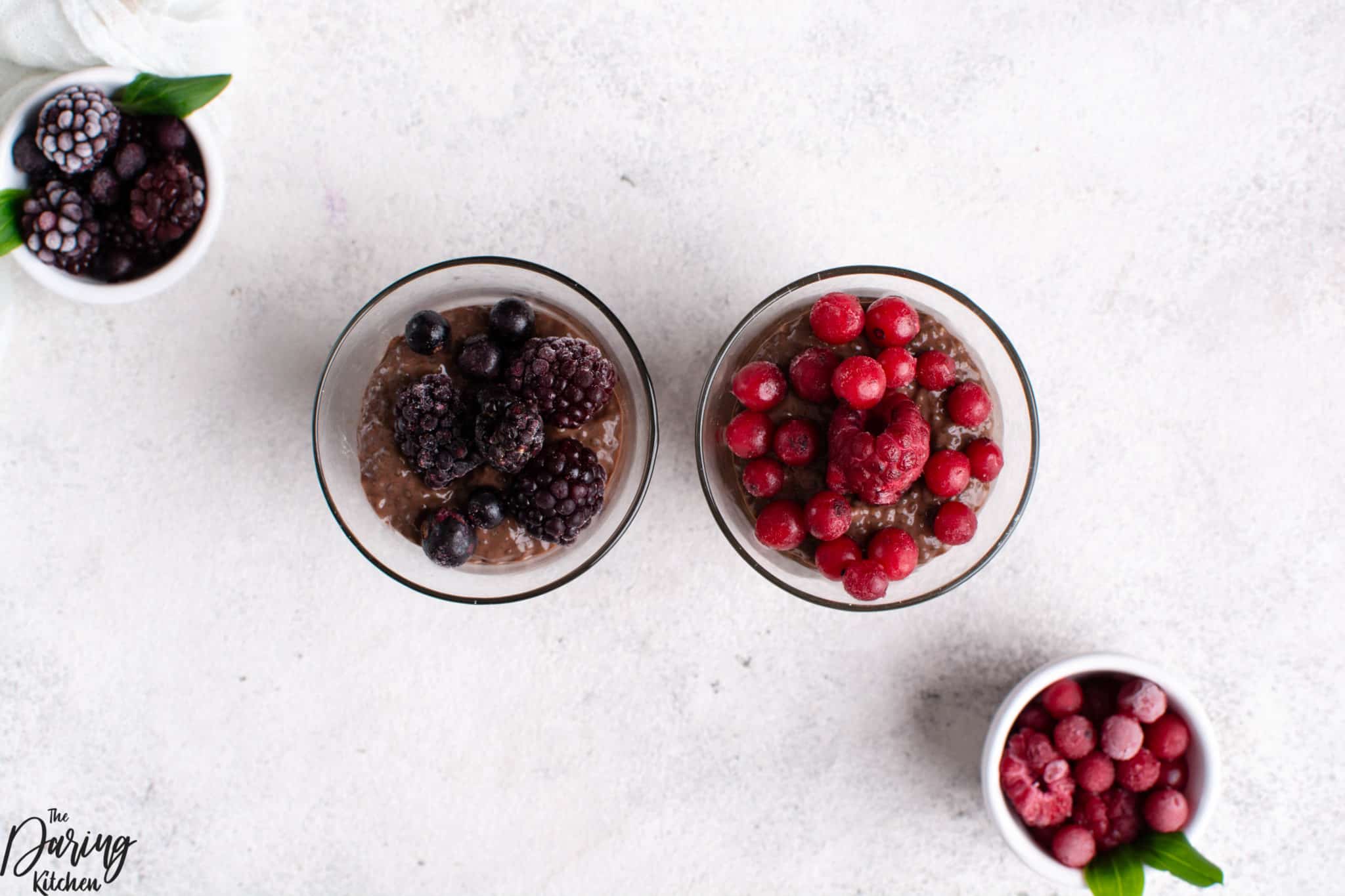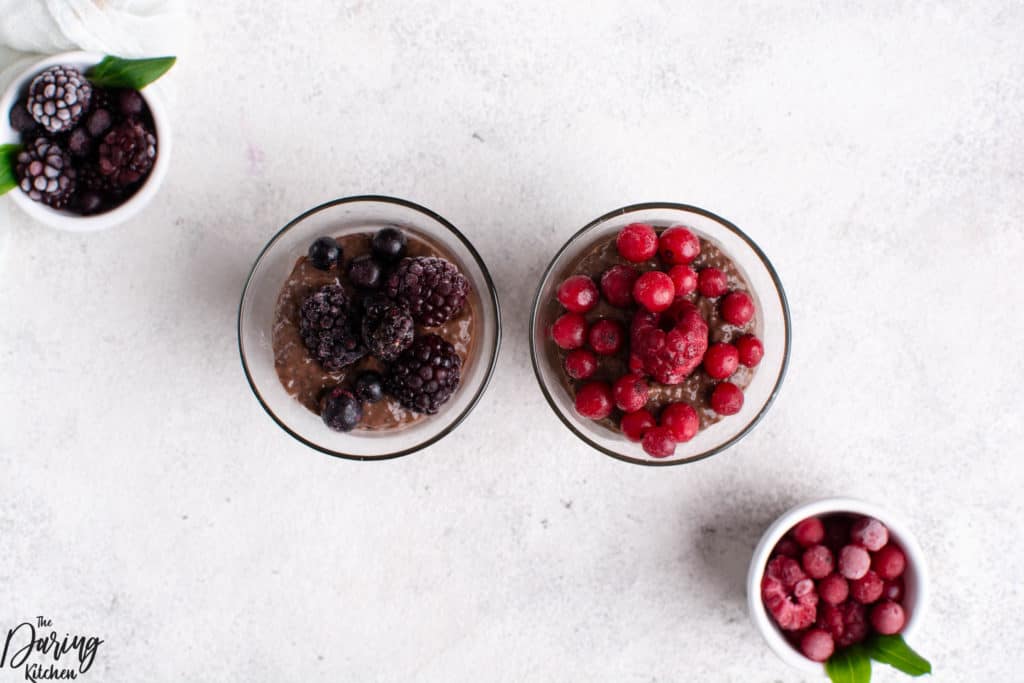 And, that's it! This oh so simple chia seed pudding recipe is a staple in my household. I hope it becomes one for you too.
Let me know how your chia pudding turned out in the comments below!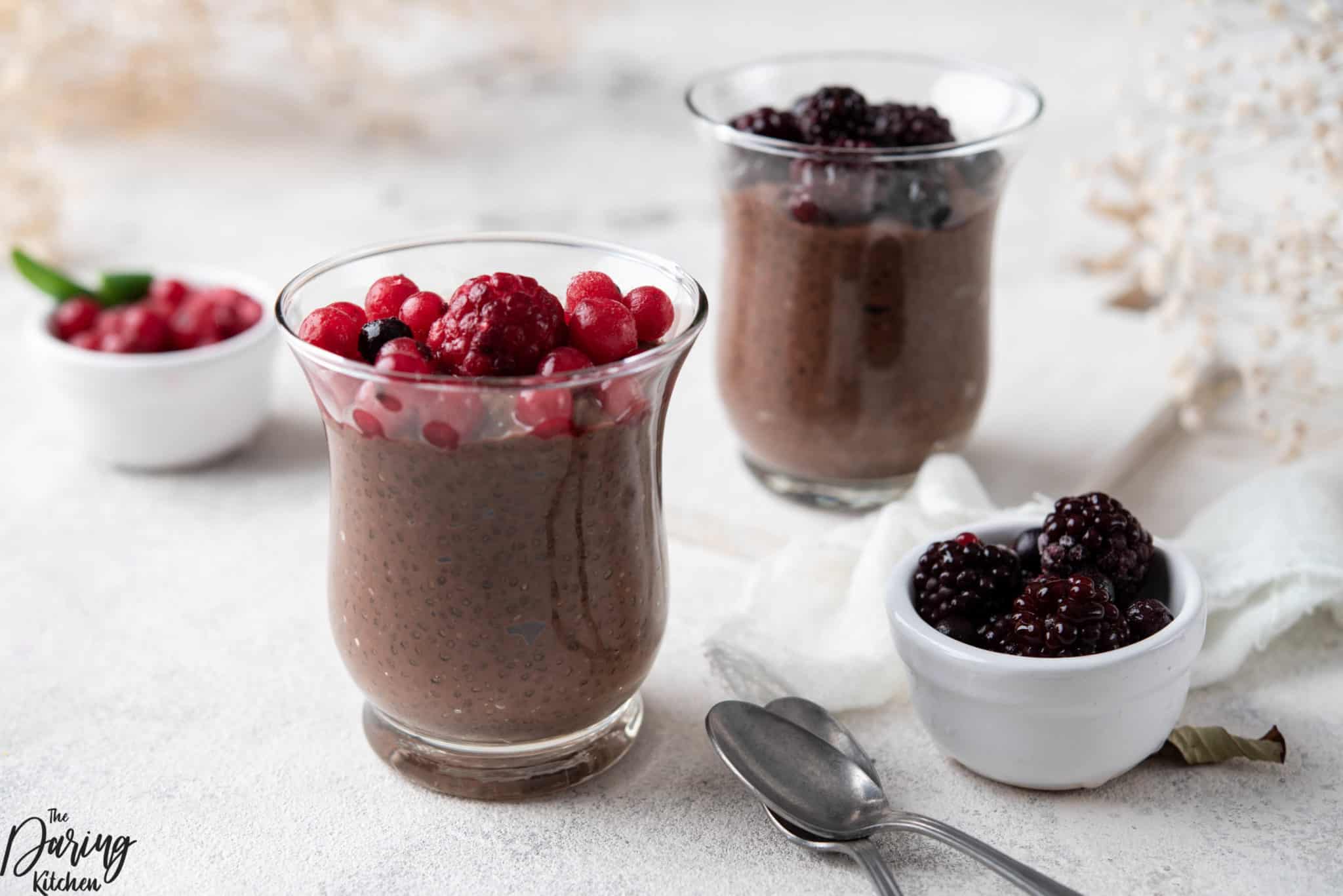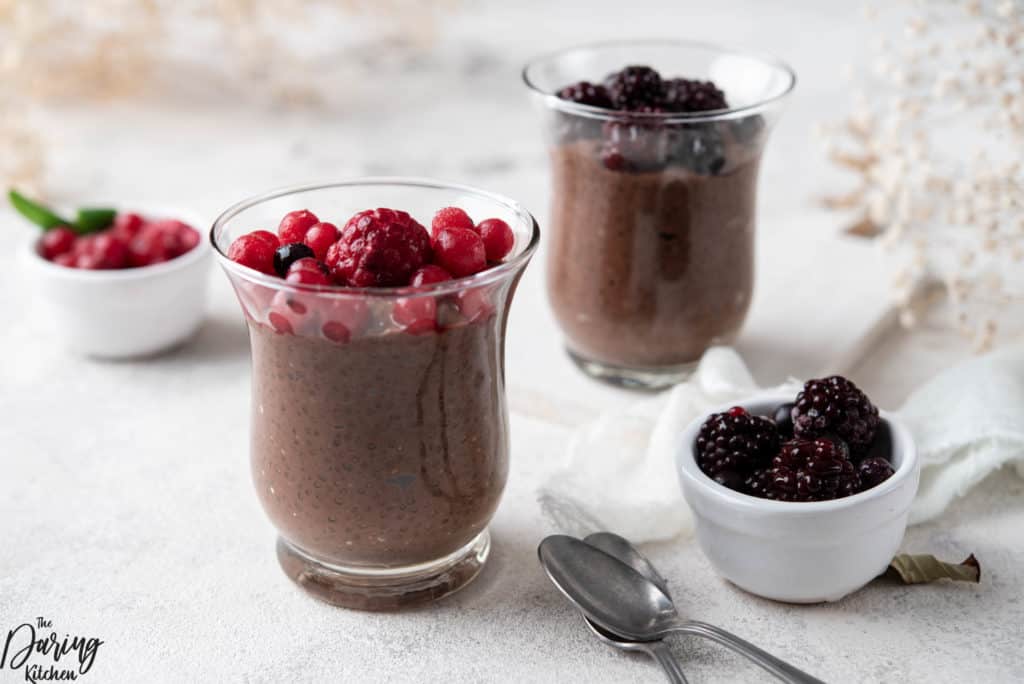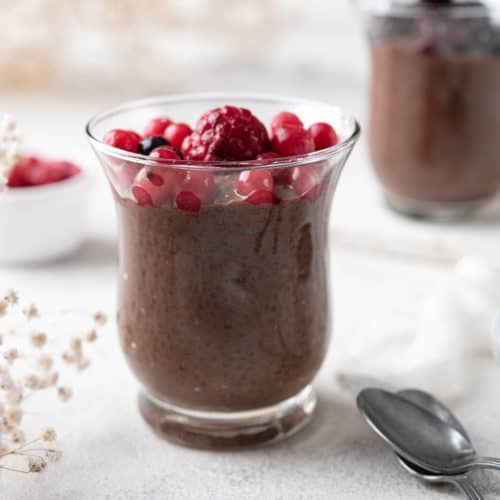 Chocolate Chia Pudding
With its ultra-creamy and chocolatey consistency, no one will be able to resist this pudding recipe!
Print
Pin
Rate
Ingredients
2

tbsp

cacao powder

1

tbsp

honey or maple syrup

1

tsp

vanilla

1

cup

coconut milk

¼

cup

chia seeds

Fresh berries,

to serve with
Instructions
In a bowl, combine cacao, vanilla, and honey.

Pour in coconut milk, gradually, and whisk until smooth.

Add chia seeds and stir well.

Refrigerate for 1 hour. Serve or let it rest for another hour.
Nutrition
Calories:
343
kcal
|
Carbohydrates:
15
g
|
Protein:
7
g
|
Fat:
31
g
|
Saturated Fat:
22
g
|
Trans Fat:
1
g
|
Sodium:
19
mg
|
Potassium:
414
mg
|
Fiber:
9
g
|
Sugar:
1
g
|
Vitamin A:
11
IU
|
Vitamin C:
1
mg
|
Calcium:
161
mg
|
Iron:
6
mg