Chocolate-covered almonds- Raw or toasted almonds are tossed in delectably creamy melted chocolate until completely covered. The chocolate-covered almonds are then cooled in the freezer until firm. Finish off these crunchy chocolate-covered almonds by dusting them with cinnamon powder. This sweet yet healthy snack is sure to please anyone who tries them!   
Do you like almonds? How about chocolate? If you answered yes to both of these questions, then you are going to love this recipe for homemade chocolate-covered almonds! Chocolate-covered almonds are a delicious and healthy snack. This easy recipe is perfect for satisfying your sweet tooth without sacrificing your diet. So get creative in the kitchen and give these almonds a try today. I promise you won't regret it!
Why You'll Love This Chocolate Covered Almonds Recipe
Sweet and crunchy-

There's something about a sweet and crunchy treat that tastes fantastic, like these chocolate-covered almonds. Their sweet and crunchy flavor is the perfect combination for anyone looking for a great dessert or sweet snack.

Easy to find ingredients-

Some dessert recipes require complicated ingredients that are difficult to find, but not this recipe! This recipe only has 3 ingredients, and they can all easily be found at your local grocery store.

No-bake recipe–

Dessert recipes that don't require baking are always pretty simple. This milk chocolate-covered almonds recipe is great for beginners.

Versatile –

You can customize this recipe however you want by changing up the type of chocolate, nuts or adding things such as salt, coconut, and dried fruit.
Equipment Needed To Make Chocolate Covered Almonds
Baking sheet

Microwave-safe bowl.

Mixing Bowl

Fork

Parchment paper

Measuring cup

Skillet (Optional)

Ingredients For Your
Chocolate Covered Almonds Recipe
How To Make Chocolate Covered Almonds
To make chocolate-covered almonds, simply combine melted chocolate and almonds until they are entirely covered in chocolate. Place chocolate-covered almonds on a baking sheet. Allow chocolate to cool and sprinkle with cinnamon before serving.
What to Serve/Pair with Your Dark Chocolate Almonds
Chocolate-covered almonds make a tasty treat all on their own, but if you are looking for ways to jazz up some other desserts, adding chocolate-covered almonds would be the perfect addition! Try adding some chocolate-covered almonds to yogurt, add them to homemade trail mix or even use them to top off some Vegan Vanilla Ice Cream.
Popular Substitutions & Additions
The most common substitute for handmade chocolate-covered almonds is the type of chocolate that is used to cover the almonds. This recipe does not require a specific kind of chocolate to produce these homemade chocolate-covered almonds. There are numerous varieties of chocolate available, including dark, milk, and white. Choose whatever variety of chocolate you like best. Just have fun with it.
If you're on a diet or have food allergies, you can get vegan, keto-friendly, and gluten-free chocolates.
The second substitution in chocolate-covered almonds is the type of nuts that are used. Try swapping the almonds out for peanuts, cashews, macadamia nuts, pecans, hazelnuts, or even sunflower seeds! Any of these nut substitutions would be fantastic.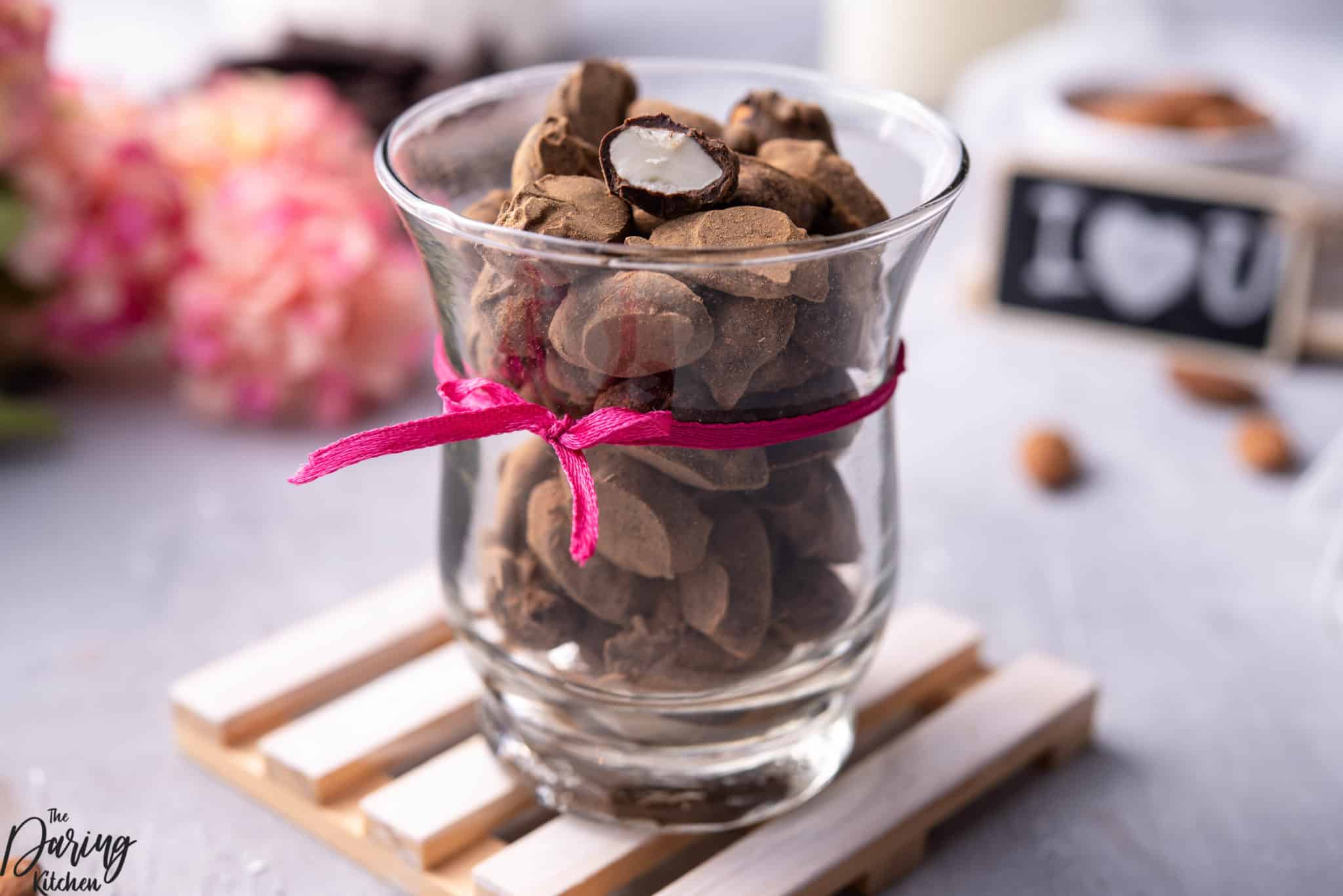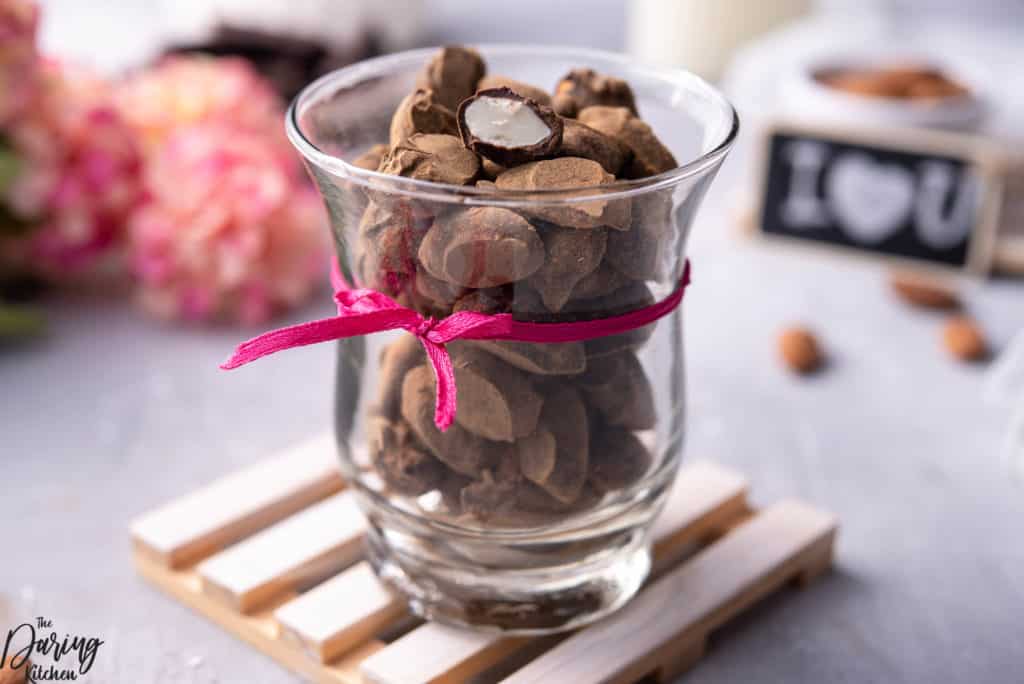 How To Reheat & Store Milk Chocolate Covered Almonds
Best Way To Store Chocolate Covered Almond Leftovers
The greatest place to keep leftovers of chocolate-covered almonds is in an airtight container or a ziplock bag. Chocolate-covered almonds may be kept on the kitchen counter for up to 4 weeks if properly sealed in an airtight container.
How Long Will Chocolate Covered Almonds Last In The Refrigerator?
Chocolate-covered almonds can be kept for up to four weeks in the refrigerator. Always remember to use an airtight container or ziplock bag.
Can I Freeze Almonds Covered In Milk Chocolate?
You can freeze chocolate-covered almonds. They will keep for up to six months in an airtight container or freezer bag. When you take frozen chocolate-covered almonds out of the freezer, and they begin to thaw, they will produce condensation and not look as lovely as they did when stored in the freezer, but they will taste just as fantastic.
How To Reheat Dark Chocolate Covered Almonds
I do not suggest heating chocolate-covered almonds because they will melt if heated. When the chocolate coating becomes too warm, it will liquefy, resulting in a huge chocolate mess.

Chocolate Covered Almonds FAQs
Will chocolate chips work in place of chocolate bars for this recipe?
Yes. You may use whatever type of chocolate you have on hand. Chocolate chips are ideal since they are already small and melt quicker. If you're using a bar of chocolate, make sure you cut it into little pieces. Smaller pieces of chocolate help to speed up the melting process and avoid burning.
Can I use a double boiler in place of a microwave in this recipe?
Yes, of course! It's just easier for me to use the microwave than lugging out more dishes, but you may melt the chocolate in a double boiler. You can also make a homemade double boiler by heating a normal saucepot and heat-safe bowl over medium-low heat.
Do raw almonds and roasted almonds have different flavors?
Yes. While raw almonds covered in chocolate are delectable, roasted almonds are crunchier and have more of a nutty flavor than raw ones. The flavor of the milk or dark chocolate is enhanced with roasted almonds as well.
Will this recipe work if salted almonds are used?
Yes, if you love the salty-sweet flavor combination, using salted almonds would be an excellent way to make chocolate-covered almonds.
Can I turn these into chocolate-covered almond clusters?
Yes. Simply spoon 4 to 5 chocolate-covered almonds out of the melted chocolate and arrange them in a pile so they will stick together to form clusters.

Other Delectable Sweet Chocolatey Recipes You'll Love
Don't Forget To Come Back And Let Me Know How Your Homemade Chocolate Covered Almonds
Turned Out!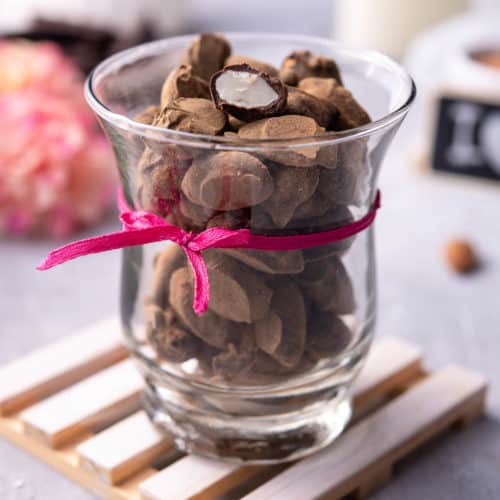 Chocolate Covered Almonds
Rich, silky smooth chocolate dusted with warm cinnamon coats a sweet, woody almond making for a decadent afternoon snack or post-dinner treat.
Print
Pin
Rate
Ingredients
50

oz.

chocolate

chopped

1 ½

cup

almonds

1

tbsp

cinnamon powder
Instructions
Melt the chocolate in a microwave-safe bowl.

You can use raw or toasted almonds. To toast the almonds, toast the almonds in a dry skillet over medium heat for few minutes.

Place the almonds in a bowl, and cover with melted chocolate.

Stir the almonds until they are fully coated.

Using a fork, remove one almond by one from the bowl, and place on a baking sheet lined with parchment paper.

Place the coated almonds in a freezer until the chocolate are firm.

Transfer the almonds into a bowl, and sprinkle with cinnamon. Shake and toss the almonds until they are coated with the cinnamon powder.
Nutrition
Calories:
1190
kcal
|
Carbohydrates:
126
g
|
Protein:
11
g
|
Fat:
77
g
|
Saturated Fat:
33
g
|
Polyunsaturated Fat:
6
g
|
Monounsaturated Fat:
17
g
|
Trans Fat:
1
g
|
Cholesterol:
50
mg
|
Sodium:
63
mg
|
Potassium:
387
mg
|
Fiber:
8
g
|
Sugar:
102
g
|
Vitamin A:
6
IU
|
Vitamin C:
1
mg
|
Calcium:
162
mg
|
Iron:
2
mg