Chocolate Covered Oreos- Crunchy cream-filled chocolate sandwich cookies are dipped into thick, rich melted chocolate then they are ready to be decorated for any theme, holiday, or party. These deliciously eye-catching cookies will be a hit no matter what event you make them for!
Do you love Oreos? How about chocolate? You would absolutely love this recipe if you answered yes to either of those questions! Chocolate-covered Oreos are the perfect combination of crunchy, rich, and creamy, and they're perfect for any party or celebration.
Chocolate-covered Oreos are so easy to make - all you need is a few simple ingredients and a little time in the kitchen. Whether you're looking for a new dessert to add to your repertoire or just want something sweet and decadent, these cookies will hit the spot.
Why You'll Love This Chocolate Covered Oreo Recipe
Great As Gifts- Homemade gifts are always unique, and they are even better when you can eat them! Chocolate-covered Oreos make an excellent gift for any occasion. Add a lovely ribbon to a festive container or bag for the perfect finishing touch.
Simple Ingredients: With only 3 ingredients, this recipe is simple to follow, easy to make, and downright delightful. You probably have all of the ingredients you need right in your pantry right now!
Perfect For Parties- This chocolate-covered Oreo recipe can easily be doubled or tripled to feed a larger crowd. It's perfect for potlucks, parties, and other gatherings!
Customizable: Chocolate-covered Oreo cookies may be prepared for almost any occasion. Use different colored chocolate, sprinkles, and other embellishments to fit any event.
Rich And Creamy- Everyone who tries these Oreos loves them! Trust me; you will not be disappointed! They are sweet, creamy, and decadent- just like you would expect from a chocolate-covered oreo.
Equipment Needed To Make These Chocolate Covered Oreos
Knife

Microwave-Safe Bowl

Spoon

Muffin Tins

Piping Bags

Measuring Cups

Ingredients For Oreos Covered In Chocolate
Chocolate

Oreos

Sugar Decor
How To Make Chocolate Covered Oreos
To create these delectable chocolate-covered Oreos, you'll need to chop your chocolate. Keep a few tablespoons aside and melt the rest in the microwave.
Place some of the melted chocolate in a muffin tin, top it with an oreo, and then cover it with chocolate. Place the frozen muffin tin in the freezer until the chocolate is set.
While the Oreos are in the freezer, melt the remaining chocolate and spoon it into a piping bag. Cut a small hole in the piping bag before filling it with chocolate and piping it over the frozen Oreos.
Decorate to your own taste with sugar decorations, and allow the Oreos to cool in the fridge for a while before serving!
What to Serve/Pair with Your Chocolate Covered Oreos
You don't need a specific occasion to enjoy chocolate-covered Oreos! They're perfect for when you just want something sweet and satisfying. They can simply be enjoyed with a cold glass of milk, like a traditional Oreo, or a steaming cup of coffee.
If you want to go beyond ordinary milk and coffee with chocolate-covered Oreos, they're also great with ice cream. The smooth ice cream balances out the richness of the chocolate and adds depth to both. Fresh strawberries or other fruit may also be served with chocolate-covered Oreos to offer a light, refreshing contrast.

Popular Substitutions & Additions
If you're looking to change up your chocolate-covered Oreos, there are a few popular substitutions and additions that you can try.
Experiment with different flavor Oreos.

Try using different types of chocolate like milk chocolate, dark chocolate, white chocolate, etc.

Swap out the Oreos for other cookies such as cream puffs, biscotti, or even cake!

Add sprinkles, nuts, or shredded coconut on top for extra texture and flavor.

Try dipping the Oreos in melted peanut butter or Nutella for a more decadent treat.

Use flavored frosting instead of melted chocolate for a new take on this classic recipe.
How To Reheat & Store Chocolate Covered Oreos
What Is The Best Way To Store Oeros Covered In Chocolate?
Keep the chocolate-covered Oreos in an airtight container. For stacking, line them up in a single layer and then place a piece of parchment paper between each layer.
How Long Will Chocolate Covered Oreos Last In the Fridge?
Chocolate-covered Oreos will keep for up to 2 weeks if kept in an airtight container either in the refrigerator or at room temperature.
Can I Freeze Chocolate Covered Oreos?
Yes. Chocolate-covered Oreos may be kept in the freezer. They will remain fresh for up to 6 months if stored correctly.
How To Reheat Oreos Covered In Chocolate?
Because the cookies are covered in chocolate, there's no need to reheat them. Allow frozen chocolate-covered Oreos to thaw at room temperature before eating.

Chocolate Covered Oreos FAQs
Can I make chocolate-covered Oreos in advance?
Yes, you can make the Oreos covered in chocolate in advance and store them in an airtight container, and they will last up to 2 weeks.
Will chocolate chips work in place of a chocolate bar?
Yes. Chocolate chips or chocolate melts make a fantastic substitute for chocolate bars when making chocolate-covered Oreos.
Is there a specific type of chocolate needed for this recipe?
No. You may use any kind of chocolate you like. However, I suggest using high-quality chocolate to achieve the finest possible finish.
Can I make these chocolate-covered Oreos without muffin tins?
Yes. If you don't have muffin tins or just don't want to use them, you may dunk the Oreos into a bowl of melted chocolate and lay them on a parchment-lined baking sheet to cool instead.
Is there any alternative to piping bags?
Yes. If you don't have any piping bags on hand, a resealable sandwich bag may be used as a substitute; just cut the corner of the bag and use it like you would a piping bag.

Other Mouthwatering Chocolate Recipes You'll Love
Creamy Chocolate Martini With Baileys 
4 Ingredient Homemade Dark Chocolate
Chocolate Ravioli With Mascarpone And Raspberry Sauce
Edible Chocolate Chip Cookie Dough

Don't Forget To Come Back And Let Me Know How Your Chocolate Covered Oeros Turned Out!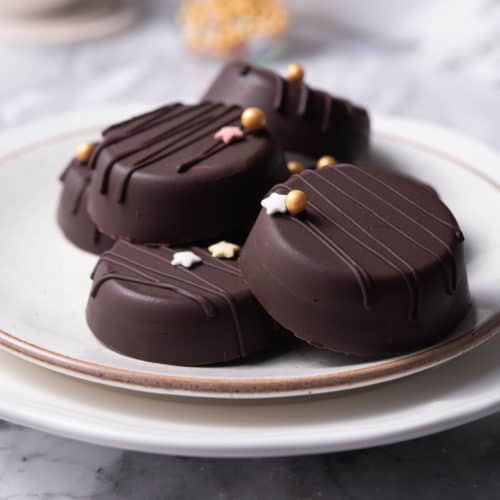 Chocolate Covered Oreos
Crunchy cream-filled chocolate sandwich cookies dipped in rich melted chocolate, then decorated for any occasion. These eye-catching cookies are always a hit!
Print
Pin
Rate
Ingredients
1

cup

chocolate

chopped

6

oreos

Sugar decoration

as desired
Instructions
Reserve 3 tbsp of the chocolate. Melt the remaining chocolate in a microwave until runny.

Place some of the chocolate in a muffin tin. Use silicone or plain muffin tin.

Place Oreos on top of the chocolate.

Cover the Oreos with the remaining chocolate. Place the Oreos in a freezer until the chocolate is firm.

Melt the remaining chocolate and spoon into a piping bag. Make a small cut on the top of the piping bag. Pipe the chocolate over the chocolate covered Oreos.

Place some sugar décor on top of the Oreos.

Place the Oreos in the fridge for another 10 minutes and serve.
Nutrition
Calories:
153
kcal
|
Carbohydrates:
21
g
|
Protein:
1
g
|
Fat:
8
g
|
Saturated Fat:
4
g
|
Polyunsaturated Fat:
1
g
|
Monounsaturated Fat:
1
g
|
Trans Fat:
1
g
|
Cholesterol:
6
mg
|
Sodium:
54
mg
|
Potassium:
28
mg
|
Fiber:
1
g
|
Sugar:
16
g
|
Vitamin A:
1
IU
|
Calcium:
3
mg
|
Iron:
1
mg