Chocolate fudge muffins - Warm, moist, and decadent, these fudge muffins are pure chocolate bliss. A delicious batter is created by combining flour and butter with perfect hints of sugar, cocoa, and vanilla mixed in. Melted chocolate is folded into the batter for an extra texture. Your house will smell incredible before you have time to add the chocolate drizzle!
Who doesn't love chocolate? And who doesn't love muffins? Combine the two, and you have a delicious treat for any chocoholic! Chocolate fudge muffins are packed with rich, chocolatey flavors that are sure to satisfy your sweet tooth. These decadent, moist muffins are easy to make and will be loved by anyone who tries them. So preheat your oven and get ready to indulge in some fudgy goodness!
Why You'll Love These Chocolate Muffins
Simple Ingredients-

This dish does not require any difficult-to-find components. In fact, most of the ingredients in this recipe are likely to be in your kitchen already.

Portable-

Whether you're running behind for an appointment, in need of a quick bite, or bringing going to a party, fear not, these chocolate fudge muffins are easily transported and perfect on the go.

Sinfully Delicious -

These muffins are moist, fudgy, and absolutely amazing. You'll be drooling before you even take your first bite!
Equipment Needed To Make Chocolate Fudge Muffins
Muffin Tin

Paper Muffin Liners

Mixing Bowl

Stirring Spoon

Wire Cooling Rack

Measuring Cups

Measuring Spoons

Ingredients For Your
Fudge Muffins
Butter

Brown Sugar

Eggs

Vanilla Extract

All-Purpose Flour

Baking Powder

Cocoa Powder

Melted Chocolate

Sugar Decor (if desired)
How To Make Chocolate Fudge Muffins
To start making chocolate fudge muffins, preheat the oven and fill muffin pans with liners. Combine butter and sugar until smooth. Add eggs and vanilla, then beat until fluffy. Stir in dry ingredients before pouring in melted chocolate. When thoroughly combined, fill muffin tins with cake batter and bake. Remove cooked muffins from the oven and allow them to cool. Finish by topping each muffin with melted chocolate and sugar. ENJOY!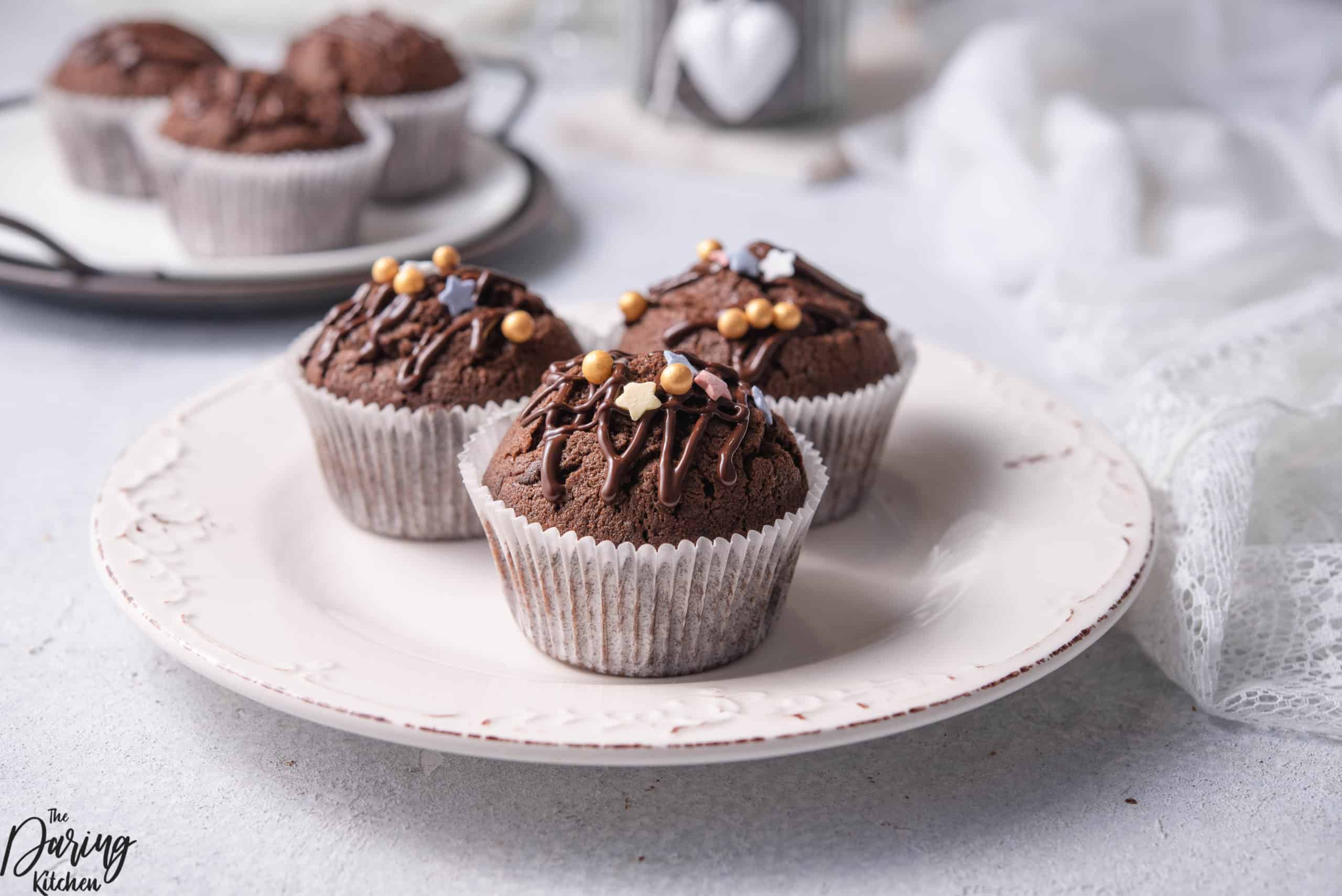 What to Serve/Pair with Your Chocolate Muffins
Muffins are a breakfast staple, so it's no surprise that these fudgy muffins would pair perfectly with other breakfast foods. Carrot Bacon and Peanut Butter Banana Oatmeal both would complement your chocolate muffins wonderfully with a big cup of fragrant coffee.
If chocolate fudge muffins are more of an after-dinner sweet treat, try serving them alongside a big scoop of Vanilla Ice Cream or with a Chocolate Martini at a dinner party.
Popular Substitutions & Additions
Chocolate fudge muffins are delicious on their own, but if you want to take them to the next next level, there are numerous possibilities! Try one of these or combine a few ideas together to make your own combination.
Nuts- Walnuts, Pecans, Macadamia Nuts, Cashews

Chopped Fruit- Bananas, Apples, Dates, Berries

Extracts- Vanilla, Orange, Peppermint

Toppings- White Chocolate, Salted Caramel, Peanut Butter

How To Reheat & Store Easy Chocolate Fudge Muffins
Best Way To Store Chocolate Fudge Muffin Leftovers
An airtight container or freezer bag lined with paper towels is the best way to store leftover chocolate muffins. To prevent moisture from accumulating in the container, allow your muffins to cool completely before storing them. Excess humidity in the container will result in chocolate muffins that are less than delicious. Leftover muffins can be kept for up to 3 days in an airtight container or bag at room temperature.
How Long Will Chocolate Muffins Last In the Fridge?
When stored in an airtight container, a batch of chocolate fudge muffins will last for up to 5 days in the refrigerator.
How Long Will Chocolate Muffins Last In the Fridge?
When stored in an airtight container, a batch of chocolate fudge muffins will last for up to 5 days in the refrigerator.
Can I Freeze Easy Chocolate Fudge Muffins?
Yes! If you want to store chocolate fudge muffins for a more extended period, freezing is an excellent option. In an airtight container, chocolate muffins will keep for up to 3 months. To thaw, simply move to the refrigerator overnight, then microwave if desired.
How To Reheat Fudge Muffins
Fudge chocolate muffins are lovely served at room temperature, but if you prefer them warm, just pop them in the microwave for a few seconds.

Chocolate Fudge Muffin
FAQs
Why are my muffins dry?
Dry muffins occur for two primary reasons. The muffins have been cooked for too long, or the batter was over-mixed. Over-mixing causes a thicker batter to dry up when baking, resulting in a more dense cake. Over-baked muffins will dry out due to all of the moisture being evaporated.
Can this recipe be doubled?
Yes! These chocolate fudge muffins are so delicious that you'll want to have extras on hand, so you don't run out so fast. So it's perfect that this recipe is so easy to double. Simply double the ingredients as written and use a 12-hole muffin pan or make two separate batches.
Can I use self-rising flour for these chocolate muffins?
Yes. In this case, you can use self-rising flour instead of all-purpose flour. However, if you're using self-rising flour, omit the baking powder from the original recipe.
I don't have paper muffin liners. Can I still make these chocolate fudge muffins without them?
Of course! If you don't have any paper muffin liners on hand, don't worry! You can still make these delectable muffins. Simply line the muffin pans with your favorite non-stick spray and proceed with the recipe as written.
Is there a way to tell when the muffins are done?
Yes. Inserting a wooden toothpick into the center of one of your muffins before removing them from the oven is the best method to tell when they're ready. If the wooden toothpick comes out gooey with no solid crumbs, then the muffins need to be left in the oven longer. If it comes out clean with only a few moist crumbs left behind, then you know that your muffins are ready to be taken out of the oven.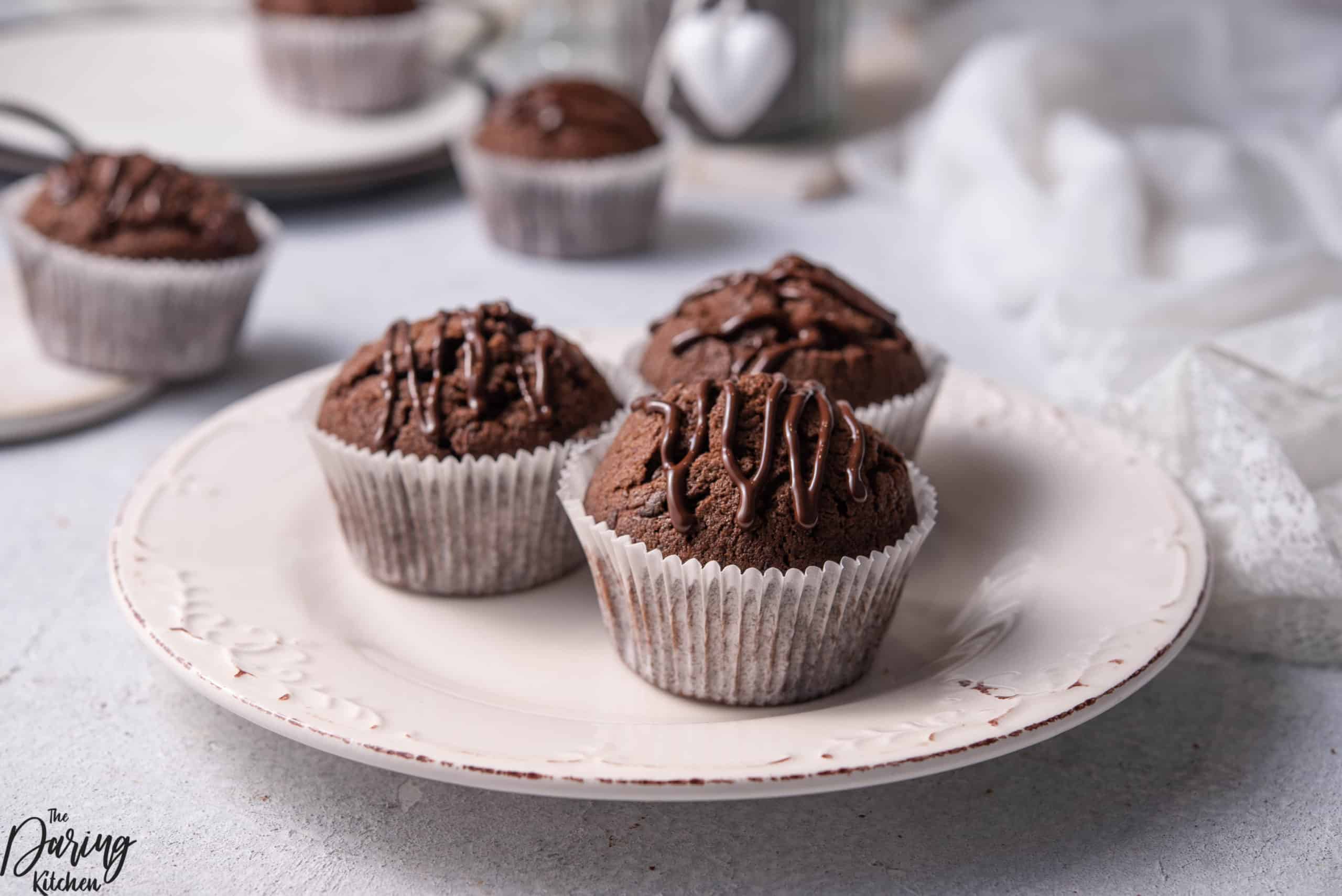 Don't Forget To Come Back And Let Me Know How Your Chocolate Fudge Muffins Turned Out!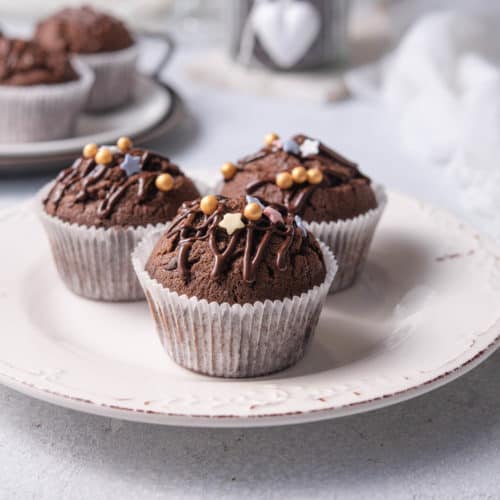 Chocolate Fudge Muffins
Chocolate fudge muffins are irresistible! Moist, fluffy, and packed with sinfully delightful chocolate fudge, they'll certainly satisfy your sweet tooth!
Print
Pin
Rate
Ingredients
½

cup

butter

softened

½

cup

brown sugar

2

eggs

1

tsp

vanilla extract

⅓

cup

all-purpose flour

½

tsp

baking powder

3

tbsp

cocoa powder

4

oz.

melted chocolate

Sugar décor

as desired
Instructions
Preheat oven to 350F. Line 6-hole muffin tin with paper liners.

In a mixing bowl, beat butter with sugar until smooth and creamy.

Fold in flour, baking powder, and cocoa powder. Stir until just combined.

Fold in melted chocolate.

Scoop the batter into the paper liners.

Bake the muffins for 20-22 minutes.

Cool the muffins on a wire rack. Drizzle the muffins with additional melted chocolate and decorate with sugar décor.
Nutrition
Calories:
326
kcal
|
Carbohydrates:
37
g
|
Protein:
4
g
|
Fat:
19
g
|
Saturated Fat:
11
g
|
Polyunsaturated Fat:
1
g
|
Monounsaturated Fat:
5
g
|
Trans Fat:
1
g
|
Cholesterol:
95
mg
|
Sodium:
268
mg
|
Potassium:
149
mg
|
Fiber:
2
g
|
Sugar:
25
g
|
Vitamin A:
552
IU
|
Vitamin C:
1
mg
|
Calcium:
64
mg
|
Iron:
1
mg