This quick, no-churn chocolate ice cream recipe is vegan and oh-so-yummy! Yes, you heard it right! This classic chocolate ice cream is made with only 8 plant-based ingredients! It is bursting with chocolate flavor that will make you want more! The perfect dessert for every weather and occasion!
Chocolate ice cream! Who doesn't love it? This recipe is perfect for those with a sweet tooth but can't tolerate dairy or choose to live a vegan lifestyle. Sometimes it can be hard to find (and hard on your wallet) a healthy dessert recipe that is still really satisfying. That is why I am here today with this no-churn vegan chocolate ice cream recipe! It is dairy-free, tastes amazing, and will not leave you feeling heavy or guilty.
The best part (besides eating it, of course) is no churning is required! All you have to do is mix the ingredients and let them freeze. This classic vegan chocolate ice cream is made with coconut milk, cashew, and cocoa powder. Since it's dairy and gluten-free, you can share it with everyone that loves ice cream without any worries. What are you waiting for? Let's get to the recipe!
Why You'll Love This Vegan Chocolate Ice Cream
Healthy Ice Cream:

My classic chocolate ice cream recipe is a healthier choice for a cold dessert. It is dairy-free and vegan— perfect for people who are on a strict diet. This ice cream is also good for people who are lactose intolerance. This is an egg-free recipe as well, so this is safe for children who have egg allergies.

No-Churn Ice Cream

: This vegan chocolate ice cream is simple to prepare. This recipe does not require churning; therefore, it is less time-consuming. You can make this ice cream without breaking a sweat!

Less expensive: Making your own food is the most cost-effective and practical way to save money. If you're on a limited budget, ice cream can be ridiculously expensive. However, with this vegan chocolate ice cream recipe, you may have as many scoops as you like at a more reasonable price. Although creating homemade ice cream is less expensive, it does not taste any less delicious. In fact, this is a restaurant-quality recipe!
Equipment Needed To Make No-Churn Chocolate Ice Cream
Food blender or food processor

Freezer-friendly container

Measuring cup (dry and wet ingredients)

Measuring spoons

Saucepan

Stove

Freezer

Ice Cream Scooper

Can opener

Large mixing spoon or spatula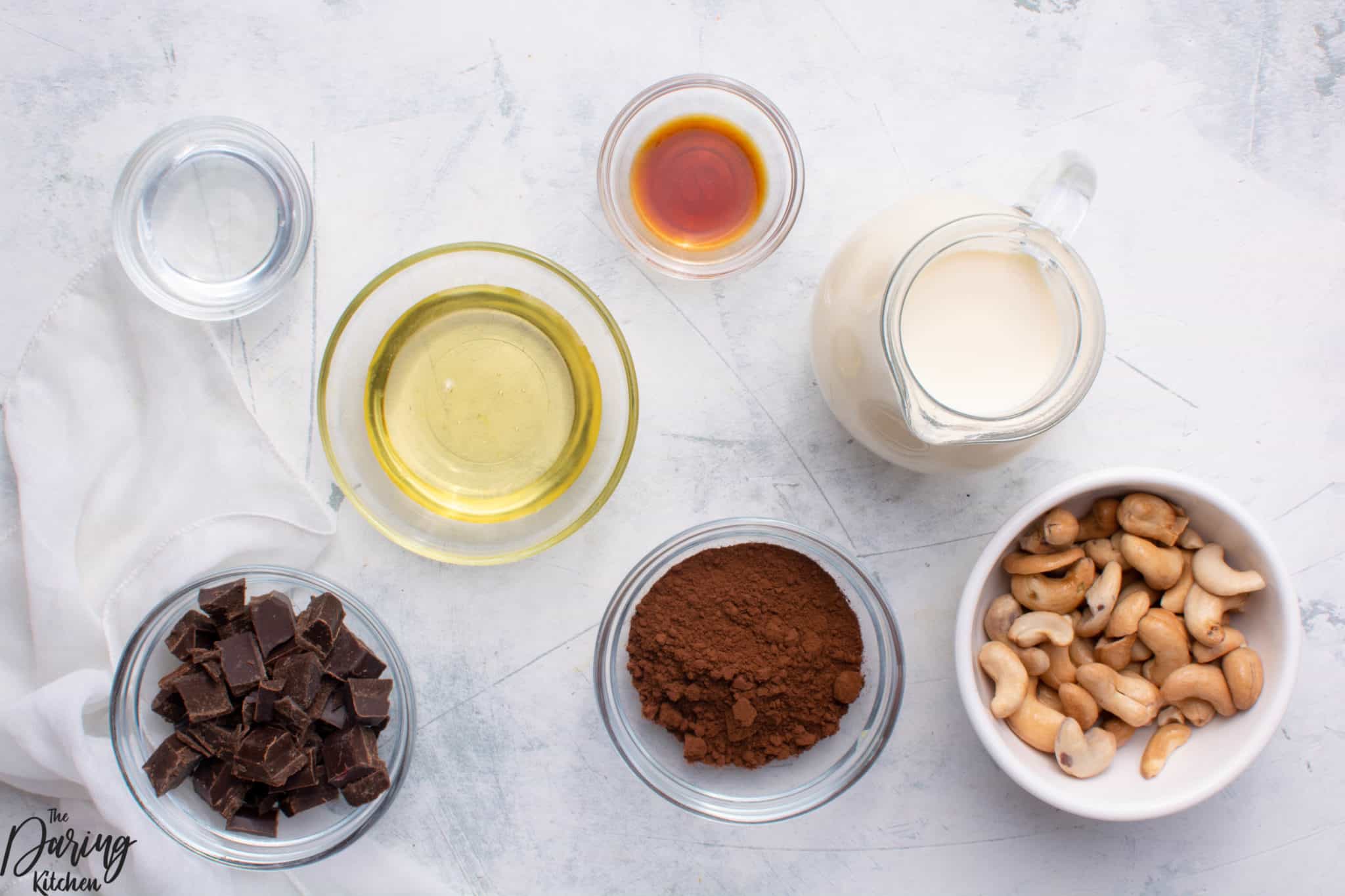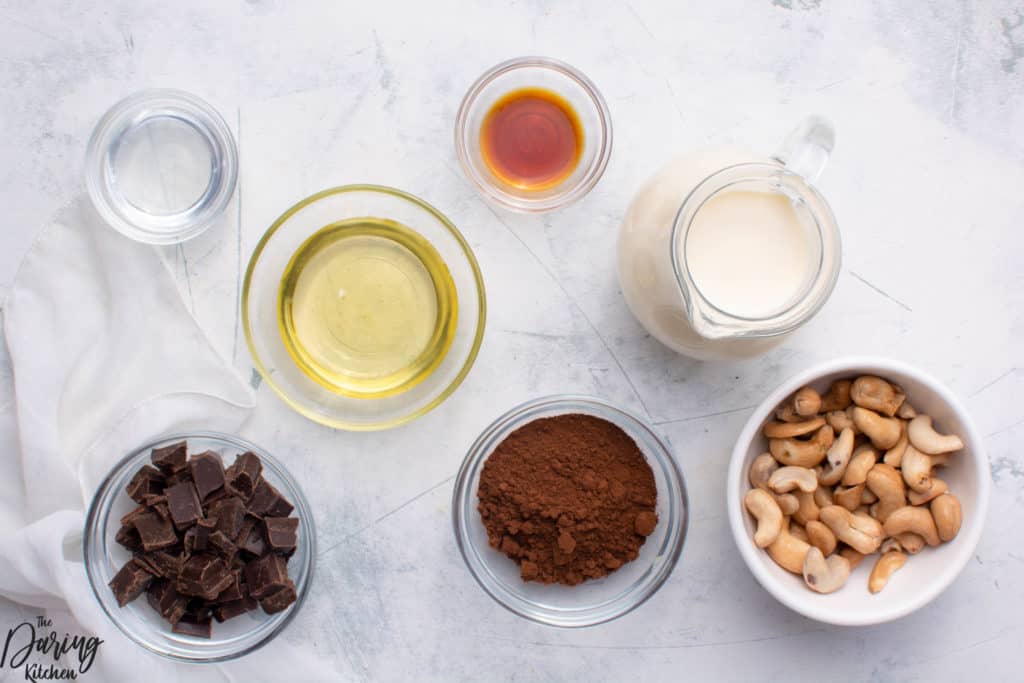 Ingredients For Your Vegan Chocolate Ice Cream
Coconut milk

Cashews

Dark chocolate (Vegan)

Coconut cream

Agave syrup

Cacao powder

Coconut oil

Vanilla
How To Make A Vegan Chocolate Ice Cream
To make this classic, no-churn chocolate ice cream, you'll need to heat your coconut milk, cacao powder, and dark chocolate until well combined. Once the chocolate is melted, transfer to a blender with the remaining ingredients and blend until smooth. Pour your ice cream base into a freezer-friendly container and freeze. It's that simple!
What to Serve/Pair with Your Dairy Free Chocolate Ice Cream
Crepes:

Some chocolate ice cream on top of the crepes, whipped cream, and a drizzle of chocolate, strawberry, or raspberry sauce would be fantastic additions to this dish.

Pies:

Pies are delicious when served with ice cream—chocolate pairs well with fruits such as banana, cherry, strawberry, and raspberry. You can pair your vegan chocolate ice cream with banana cream pie or other fruit pies.

Brownies:

For chocolate aficionados, a warm, chewy brownie topped with a scoop of chocolate ice cream is the perfect dessert.
Popular Substitutions & Additions
Toppings:
Vegan Marshmallow

Chocolate Chips (White, Semi-sweet, or dark)

Crushed Nuts (Cashew, Almond, or Pecan)

Candy Sprinkles

Rolled Wafer Sticks

Cherry

Sliced or Chopped Fresh Strawberries

Fresh raspberries

Espresso Powder
Substitutes:
A great agave syrup substitute is unrefined coconut nectar, which has the syrup consistency and sweetness of agave without the treatment.

Almond milk can be used in place of coconut milk. If you're on a low-fat diet, almond milk is the way to go.

You can use other nuts for this recipe if you do not like cashews. 

If you're a coffee enthusiast, you can substitute coffee powder for chocolate.
How To Store Vegan Chocolate Ice Cream
Keep the ice cream in the freezer in a container that is suitable for freezing. This will ensure that the vegan chocolate ice cream remains fresh and delicious.
How Long Will Vegan Chocolate Ice Cream Last In the freezer?
Providing you are using ingredients that are not about to expire, vegan ice cream will last between 3 months if it is stored properly. This ice cream, on the other hand, tastes best within two weeks.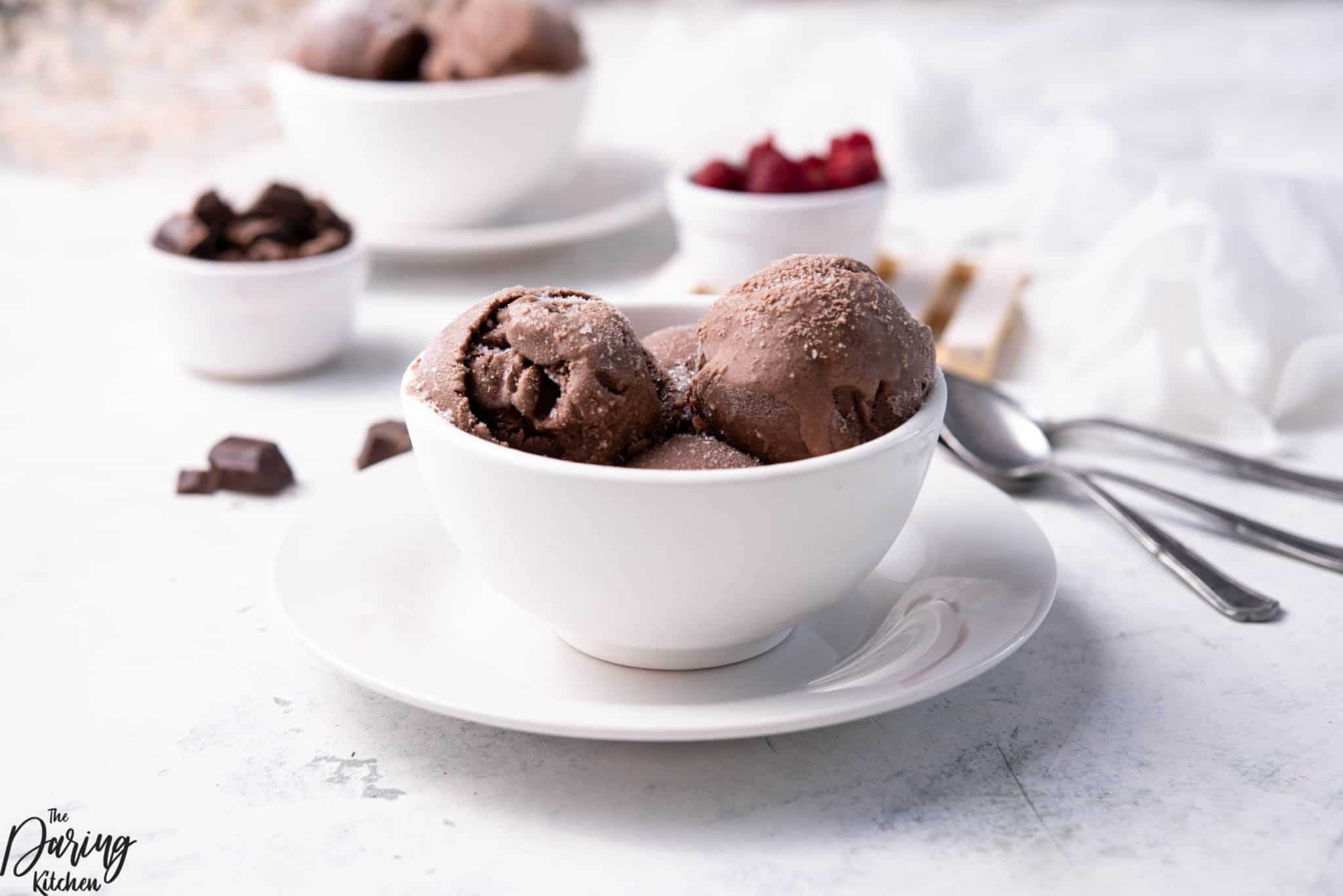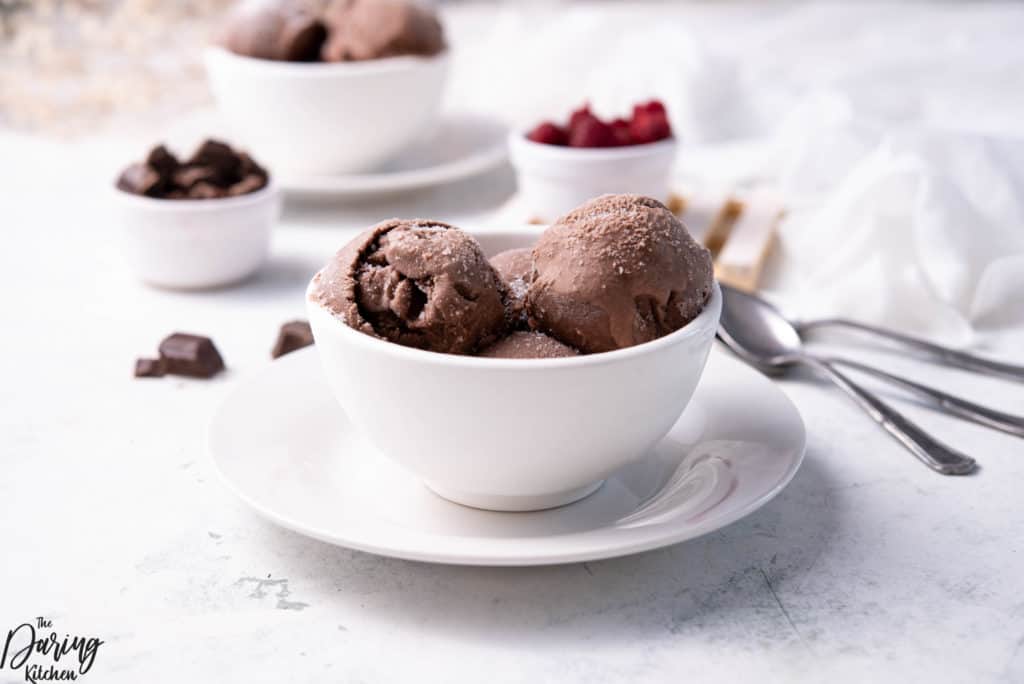 Dairy-free Chocolate Ice Cream FAQs
Should I really soak the cashews?
Yes, you should. Soaking the cashews gives your chocolate ice cream an amazing creamy texture. The cashews will also be easier to blend when soaked overnight. Make sure you rinse and drain them before blending with the rest of the ingredients.
Is this gluten-free?
Yes, the ingredients in this recipe are free of gluten. However, it is best to double-check the labels.
Can this be sugar-free?
Yes, it is possible to make it sugar-free. Agave syrup contains a lot of sugar. This recipe can be made using stevia or sugar-free syrup.
Can I use an ice cream maker?
Yes, you can create this no-churn chocolate ice cream with an ice cream maker. Your ice cream will be creamier if you use an ice cream maker!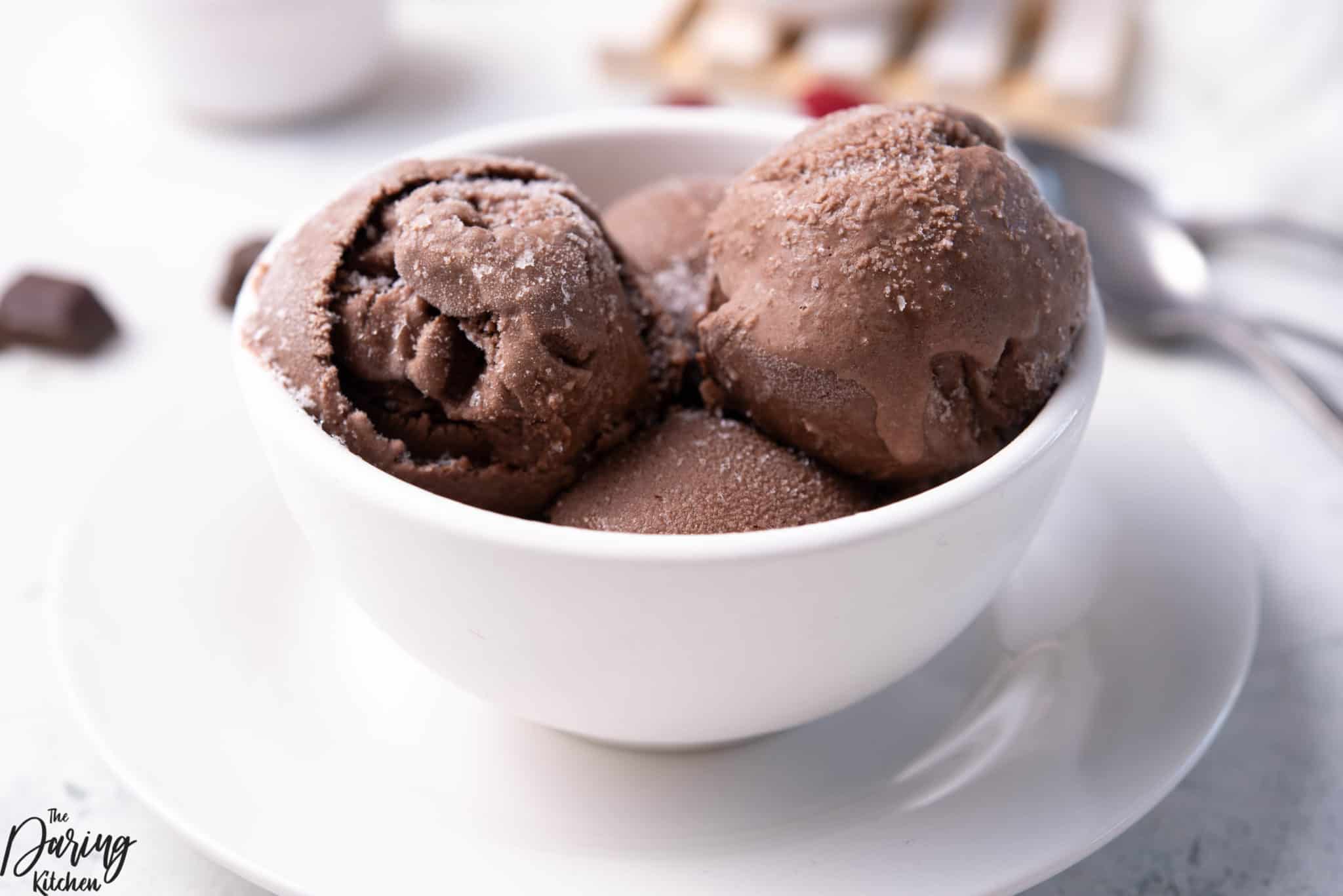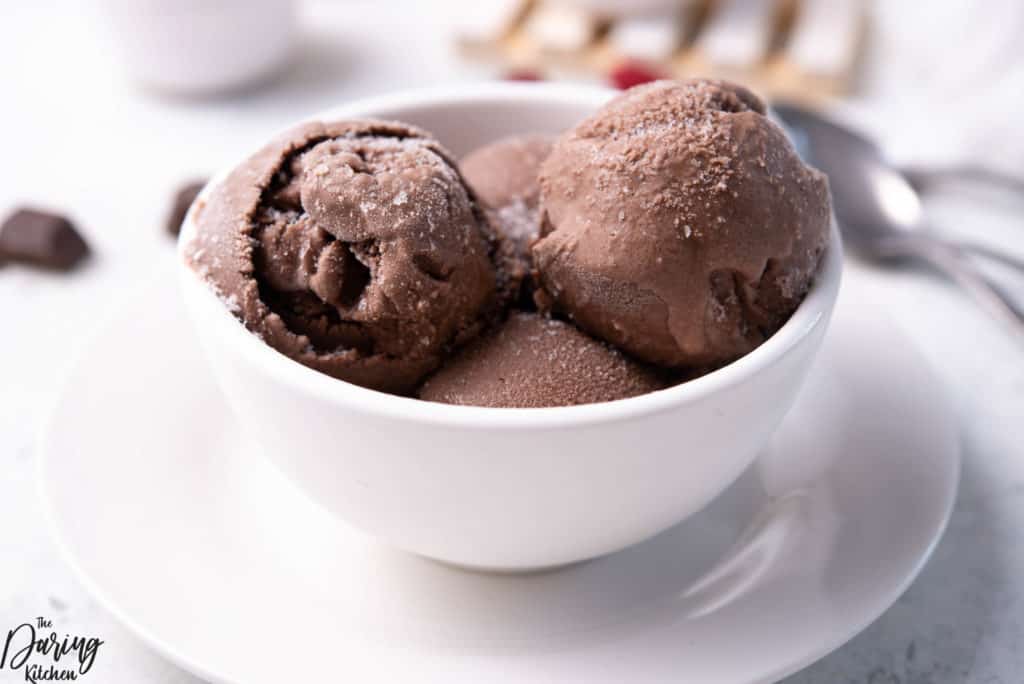 Don't Forget To Come Back And Let Me Know How Your vegan chocolate ice cream Turned Out!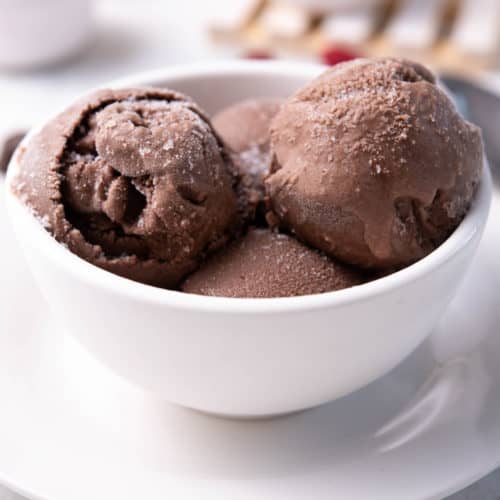 No-churn Vegan Chocolate Ice Cream
Nothing beats classic chocolate ice cream! This no-churn chocolate ice cream recipe is vegan and tastes like heaven on a spoon!
Print
Pin
Rate
Ingredients
2

cups

coconut milk

1

cup

cashews

soaked overnight, rinsed and drained

¾

cup

chopped quality dark chocolate

½

cup

coconut cream

½

cup

agave syrup

⅓

cup

cacao powder

1

tbsp

coconut oil

1

tbsp

vanilla
Instructions
In a saucepan, combine coconut milk and cacao powder.

Heat the mixture and add chocolate. Stir until the chocolate is melted. Remove from the stove.

In a food blender, combine coconut milk-chocolate mixture and remaining ingredients.

Blend on high speed until smooth.

Pour the mixture into a freezer-friendly container.

Freezing method:

-Freezer-friendly container: Pour the mixture into the container, cover with a piece of parchment paper and freeze for 4 hours. Stir the ice cream every hour to prevent large ice crystals from forming.

-Ice cream machine: Freeze the ice cream according to manufacturer's directions.

Remove ice cream from the freezer 10 minutes before serving, if using a freezer-friendly container.

Top the ice cream with some fresh raspberries or more chopped chocolate.
Nutrition
Calories:
558
kcal
|
Carbohydrates:
37
g
|
Protein:
9
g
|
Fat:
45
g
|
Saturated Fat:
30
g
|
Polyunsaturated Fat:
2
g
|
Monounsaturated Fat:
9
g
|
Trans Fat:
1
g
|
Cholesterol:
1
mg
|
Sodium:
19
mg
|
Potassium:
606
mg
|
Fiber:
5
g
|
Sugar:
19
g
|
Vitamin A:
9
IU
|
Vitamin C:
1
mg
|
Calcium:
46
mg
|
Iron:
8
mg