Ultimate Creamy Chocolate Martini With Baileys - this creamy chocolate martini is simple yet elegant! It only takes 4 ingredients to make this cocktail: vodka, chocolate liquor, chocolate, and baileys! If you're looking to impress a date or love chocolate, this is the cocktail for you!
Whether you're looking for a drink to celebrate with or something to help you relax after a long day, this chocolate martini is sure to hit the spot. It's made with Bailey's and is SO creamy and delicious. Martinis are the perfect drink for any occasion. But if you're looking for a martini that will really wow your guests, look no further than the ultimate creamy chocolate martini. This martini is vegan and made with delicious dark chocolate, making it the perfect drink for all your vegan friends. Plus, it's incredibly easy to make! So grab your shaker, and let's get started!
Why You'll Love This Creamy Chocolate Martini
Quick and easy!

From start to finish, this recipe only takes about 5 minutes to make

Creamy and delicious –

This chocolate martini recipe is so sweet and creamy. It is the perfect dessert cocktail after a nice dinner or any other special occasion.

Crowd pleaser –

This romantic martini is sure to be loved by everyone because who doesn't love chocolate? 
Equipment Needed To Make Ultimate Chocolate Martini
Microwave safe bowl

Reserve plate

Stirring spoon

Cocktail shaker

Martini glass

Food scale

Measuring cups and spoons

         

Ingredients For Your Creamy Chocolate Martini Recipe
Ice cubes

Chocolate liqueur 

Baileys

Vodka

Shaved chocolate for garnish
How To Make A Ultimate Creamy Chocolate Martini With Baileys
To make this chocolate martini, you'll need to start by melting your chocolate in a microwave-safe bowl. Once melted, line the rim of your martini glass in chocolate and drizzle some chocolate inside the glass. You can get fancy with the design if you'd like! Combine the vodka, baileys, and chocolate liqueur in a shaker with ice and give it a good shake! Pour the martini in the glass and garnish with shaved chocolate!

What to Serve/Pair with Your Chocolate Martini
Creamy chocolate martini with Baileys is amazing as a dessert on its own, but adding a little more filling dessert will make this chocolate martini even better. Vegan Mint Chocolate Chip Ice Cream, Chocolate Chip Cookie Dough Bites, and Sweet Potato Brownies are always yummy sweet treats to enjoy with your chocolate martinis.
Popular Substitutions & Additions
So many things complement chocolate that you can add so my different flavors to your chocolate martini here are a few amazing examples of what to add to your chocolate martinis to enhance the flavors even more:
Vanilla extract

Orange extract

Espresso

Cherry flavoring
How To Reheat & Store Chocolate Martinis With Baileys
Best Way To Store Chocolate Martinis Leftovers
The best way to store leftover creamy chocolate martinis is in a jar with a lid or any other type of airtight container in the refrigerator. 
How Long Will Ultimate Creamy Chocolate Martinis Last In the Fridge?
If stored in an airtight container, this creamy chocolate martini recipe will last for up to a week in the refrigerator.
Can I Freeze Chocolate Martinis With Baileys
Yes, you can store leftover ultimate chocolate martinis in the freezer, but with all of the alcohol in them, they will not freeze all the way. They would do great in ice cube trays. You can just pop a few in the blender after they have frozen and then turn them into chocolate martini frappes!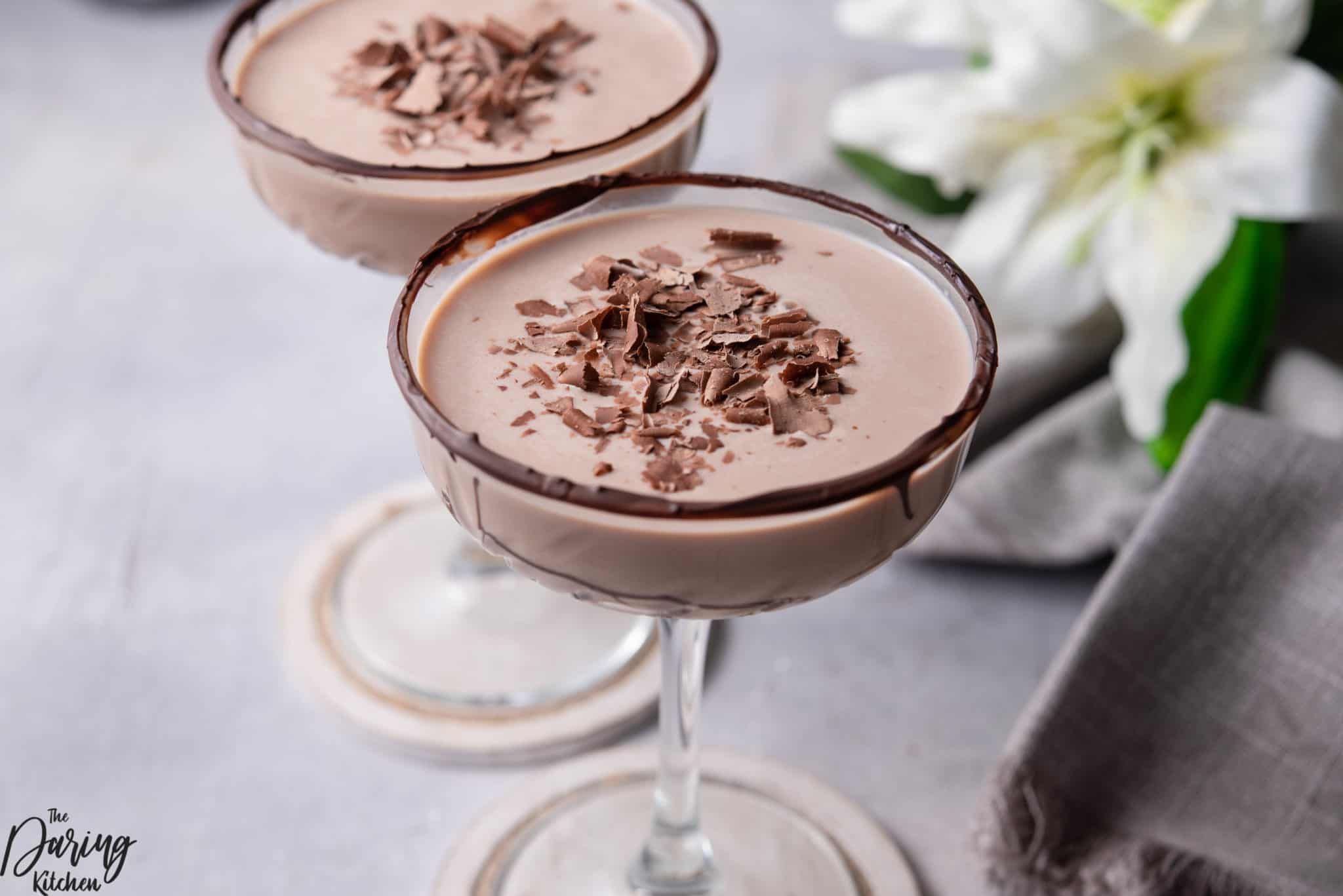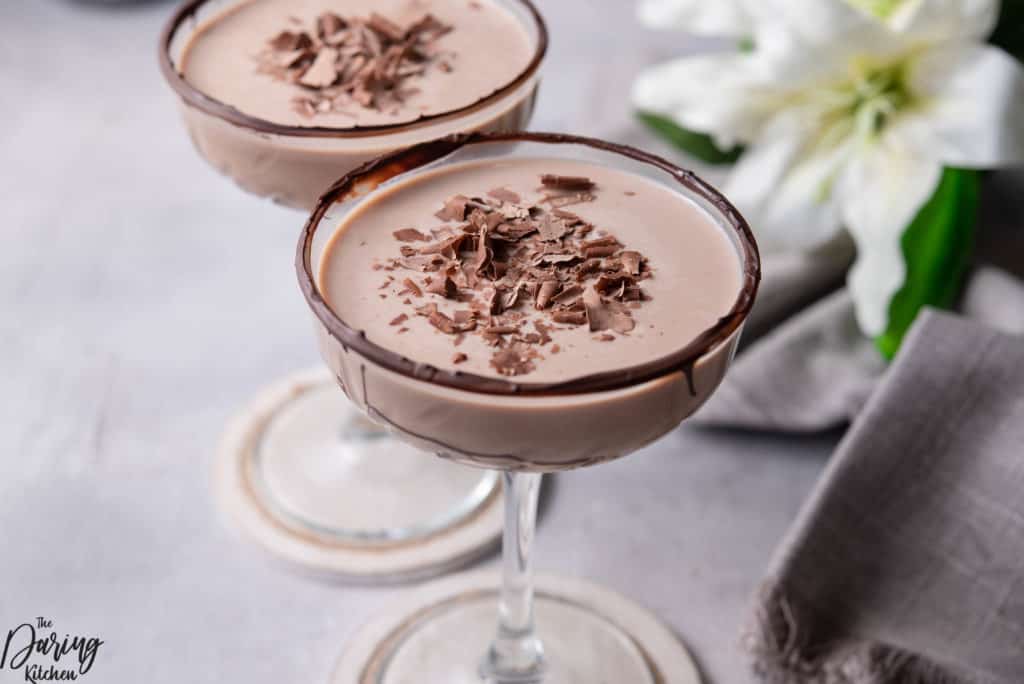 Ultimate Creamy Chocolate Martini With Baileys FAQs
What kind of Baileys is vegan-friendly?
Baileys has come out with a vegan-friendly version of their traditional Irish cream liqueur. It's called Baileys Almande Almondmilk liqueur. The Almande is so good! On top of being vegan-friendly, it is also gluten-free too!
How do I know when my martini is chilled enough to serve?
You need to shake your cocktail shaker long enough that you can see frost forming on the shaker. That is when you will know that the creamy chocolate martini is chilled enough to serve.
Could I use chocolate syrup for the garnish of the martinis instead of shaved chocolate pieces?
Yes! A vegan chocolate syrup would make a great alternative to chocolate shavings atop your martini. If you want to make the martini glass even prettier, you can drizzle some chocolate syrup inside the glass before adding the drink to it.
Could I add a whipped cream topping to the top of my martini?
Of course, you can! In fact, that sounds delicious! There are vegan store-bought coconut whipped cream options out there, but if you want to make your own, it is super simple! Get a good quality coconut and chill it in the refrigerator overnight. Scoop it into a bowl then whip it with a hand or stand mixer until it starts to form peaks. Once peaks are formed it's ready to serve!
Is this chocolate martini gluten-free?
It will depend on the type of chocolate liquor that you use. Some chocolate liqueurs do have ingredients that contain gluten. Make sure to read all labels and ingredients if you have a gluten allergy.

Other Dessert Recipes You'll Love
Don't Forget To Come Back And Let Me Know How Your Creamy Chocolate Martinis Turned Out!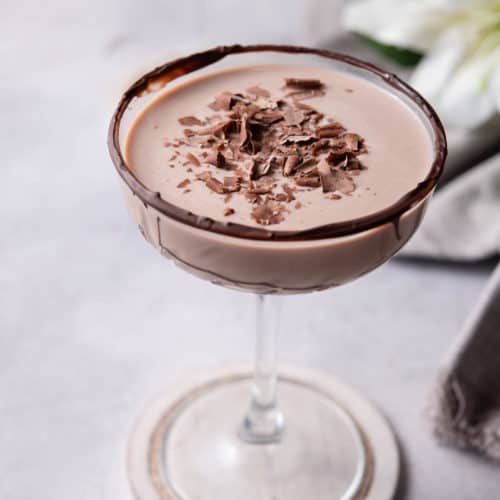 Ultimate Creamy Chocolate Martini With Baileys
This 4 ingredient chocolate martini with baileys is the ultimate cocktail for chocolate lovers. It's easy to make, vegan, rich, creamy, and oh so smooth!
Print
Pin
Rate
Ingredients
2

oz.

chopped chocolate

1

cup

ice cubes

4

oz.

chocolate liqueur

4

oz.

Baileys

Use Vegan Baileys if you are going for vegan

4

oz.

vodka

Shaved chocolate

for garnish
Instructions
Pour half the chocolate onto a plate. Spread the chocolate with a spoon.

Coat the glass rim with the melted chocolate.

Drizzle the remaining chocolate inside the glass, creating a pattern as you desired.

In a shaker, add ice, chocolate liqueur, Baileys, and vodka. Close the shaker and shake well.

Pour the martini into the glasses and garnish with some shaved chocolate.
Nutrition
Calories:
580
kcal
|
Carbohydrates:
35
g
|
Protein:
1
g
|
Fat:
10
g
|
Saturated Fat:
6
g
|
Polyunsaturated Fat:
1
g
|
Monounsaturated Fat:
3
g
|
Sodium:
16
mg
|
Potassium:
101
mg
|
Fiber:
2
g
|
Sugar:
33
g
|
Calcium:
11
mg
|
Iron:
1
mg