Fresh herbs such as basil, cilantro, dill, parsley, and other leafy herbs can add life to any dull dish and make you look like a professional cook to the eyes of your family. Now, you don't need to be a herbalist to distinguish one herb from another especially since most of the times, they come with labels when buying at the store.
However, when it comes to cilantro vs parsley, things get a little tricky. You see, they look so similar that it is often very hard to tell one from another (even for the more experienced eye). Besides, if there is no label on the packet, you may end up buying the wrong herb.
Interested in learning more about the differences between parsley and cilantro in terms of taste and appearance as well as their culinary uses, nutritional value, and health benefits? Let's jump right in!
How To Tell Cilantro From Parsley
Flat leaved parsley has pointed serrated leaves whereas the leaves of cilantro are much more curved and delicate looking. If you can't remember which has the curved leaves and which the pointed ones, match the letters. 'Pointed' is for parsley and curved for 'cilantro' - easy, right?
Apart from the shape, there is also a difference in color. Parsley's green leaves are slightly darker than cilantro's which are brighter green. Also, cilantro has longer and more slender stalks as well as smaller leaves.
If you still find it difficult to distinguish between the two, there is no harm in rubbing or pinching a leaf to smell its aroma. Cilantro has a pungent complex aroma and taste which some people find it bright and lemony while others feel it resembles the smell of soap. Parsley has a grassy smell that is milder than cilantro.
When buying either of the two herbs, look for stalks that are firm and leaves that are green and vibrant (avoid those yellowish discolored leaves). To keep your herbs fresh for longer (even up to 2 weeks) store in water-filled glasses in the refrigerator - just remember to change the water from time to time. Alternatively, you can also use a food wrapper or a resealable bag. Wash the herbs when they are ready for consumption.
Uses of Parsley vs Cilantro in Cooking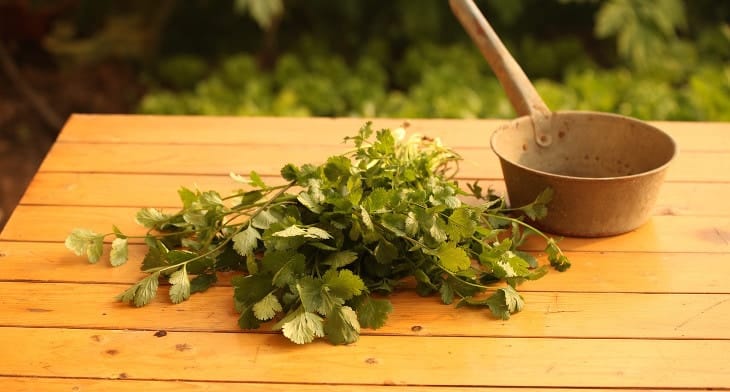 There are so many ways to use these two herbs in recipes that are both tasty and nutritional. For starters, it's difficult to imagine southwestern or Mexican dishes without cilantro as it is a staple in many cooking versions like guacamole, burritos, salsa and more.
It's also very popular in Asian dishes as well as Indian and middle-east recipes. It can be enjoyed cooked or raw and adds an amazing flavor to sauces, salads, pesto, chutney, dressings, and dips.
As the heat reduces its flavor, it's better to add it to the dish just before it is served. Cilantro is not for everyone but once you try the right recipe, you can become a convert for life – for me, the moment of change came when I made pumpkin soup with ginger and cilantro.
On the other hand, parsley is also used widely in anything from soups and sauces to vegetable sautés and fresh salads. As one of the most common herbs in Middle-Eastern cooking recipes, you can often find it in tabbouleh(a salad with parsley, bulgur, mint, and vegetables) and stuffed vegetables with rice.
As a garnishing ingredient, it adds color, texture and a clean flavor to your dishes. Its light fresh taste makes it much liked and versatile. Mix chopped parsley with some butter to pour over your fish, add to your pesto sauce for more texture or sprinkle it over a freshly cut salad to add flavor and increase nutrition. Simple omelets and marinades become more interesting with a last-minute addition of fresh parsley.
Remember that flat-leaf parsley has a stronger flavor than the curly parsley and therefore it holds up better when used in hot dishes. In any case, you will want to add it towards the end of cooking so it retains its taste and color. You can use both the stalks and the leaves to flavor stocks, stews, and sauces.
Benefits of Cilantro & Parsley Healthwise
Adding flavor to your dishes cannot be the only goal when cooking meals for you and your family. The nutritional value and health benefits of natural foods play a very important role when choosing one cooking ingredient over the other.
Let's take Cilantro for example. Medicinally used since ancient times, it is a powerhouse of antioxidants and other healthy nutrients. It is rich in vitamin A, a powerful antioxidant for healthy skin, eyes, and teeth as well as a robust immune system. It also contains vitamins C and K.
Vitamin C is well known for boosting the immune system and promoting skin health, wound healing and tissue repair whereas vitamin K is important for bone metabolism and normal blood clotting. Cilantro is also rich in minerals and fiber.
It has been historically used as an anti-inflammatory and is said to be effective in terms of digestion. Since it is low in calories, it makes a super healthy addition to any weight loss diet meal.
When it comes to parsley, it is an important source of antioxidant vitamins (A, C and K) that can help reduce inflammation in the body and promote healthy skin and bones. The presence of flavonoids in this herb can prevent the risk of chronic diseases according to studies.
It also contains minerals that help support bone health and carotenoids that are important for healthy eyes. A word of warning: Pregnant women should not consume parsley excessively as it can have uterotonic side effects.
Can You Use Cilantro In the place Of Parsley?
Cilantro has a very characteristic taste that adds personality to certain dishes. Parsley, on the other hand, can sometimes go unnoticed since its taste is not as distinctive.
Thus, it may be fine to use parsley instead of cilantro but not the other way round. It also depends on the recipe you are making. Using cilantro in place of parsley can be better when garnishing and not when it is used as the main ingredient in a sauce, pesto or other recipes.
Finally, Which is Better: Cilantro or Parsley?
There is not a right or wrong answer to this question. Each herb has its own successful cooking stories to tell. When it comes to certain dishes though such as Indian or Mexican, cilantro may have an edge over the parsley.
On the other hand, when looking for a herb that can be used in many different ways, parsley is the one that jumps right into your head.
In any case, there is no harm in experimenting and using one in place of the other in different recipes. Be creative, be open-minded and you've got nothing to lose!