Ground cinnamon is a staple ingredient that most people typically have on hand in their spice rack or pantry closet. While some seasonings are too complex to use on a frequent basis, cinnamon is a delightfully fragrant spice that is equally delicious when used in sweet and savory dishes alike.
As with other spices that are often used, your cinnamon stash may be quickly and unexpectedly depleted. Before you know it, you might find yourself in the midst of cooking a recipe and have an empty bottle in your hand!
This is where we come in.
Welcome to your guide to all of the best ground cinnamon substitutes! In this list, you'll find options that can stand in for this popular spice in both sweet and savory recipes. When a trip to the store is out of the question, or just entirely inconvenient, these substitutions are sure to do your dishes justice.
What is Cinnamon?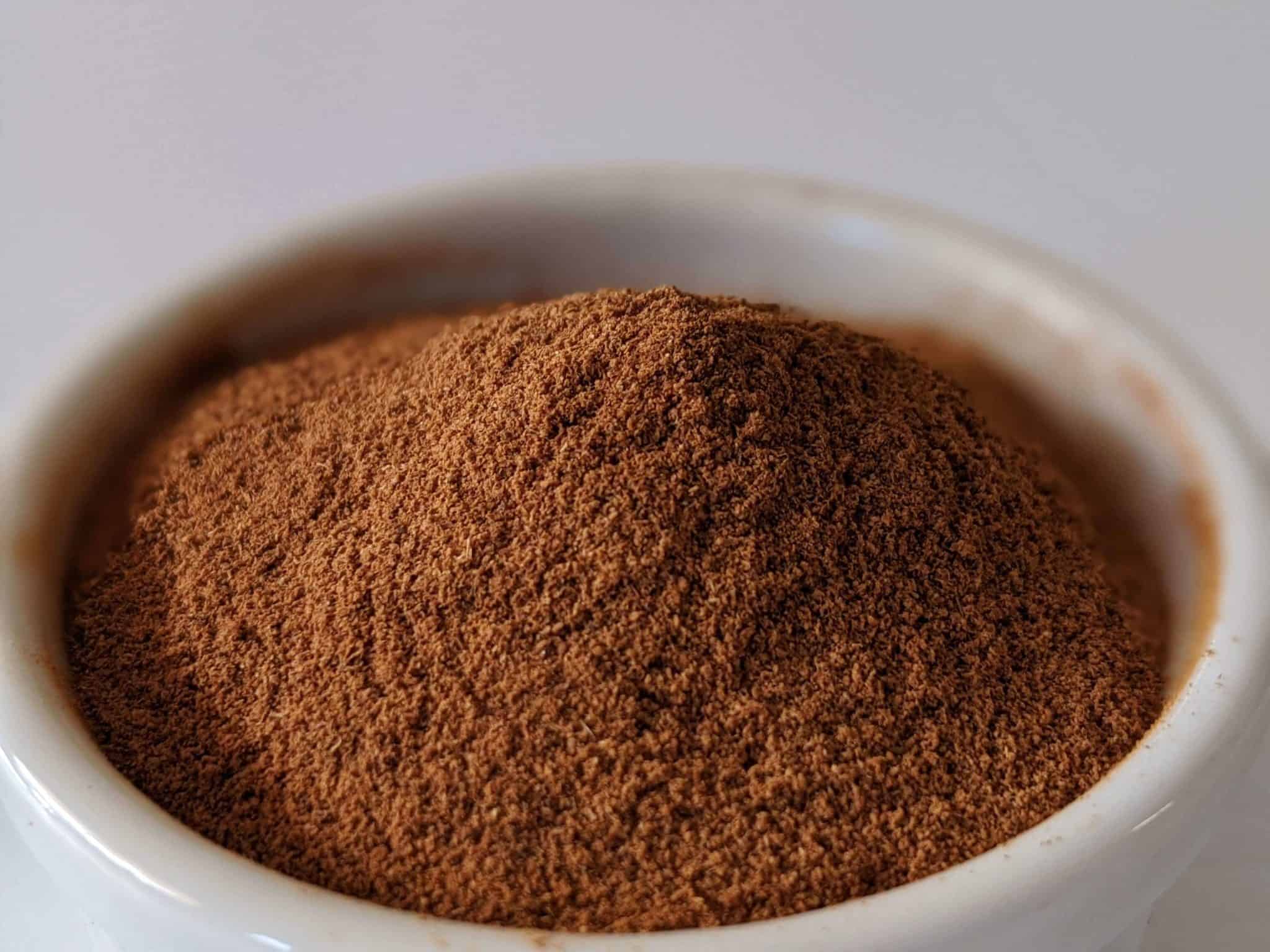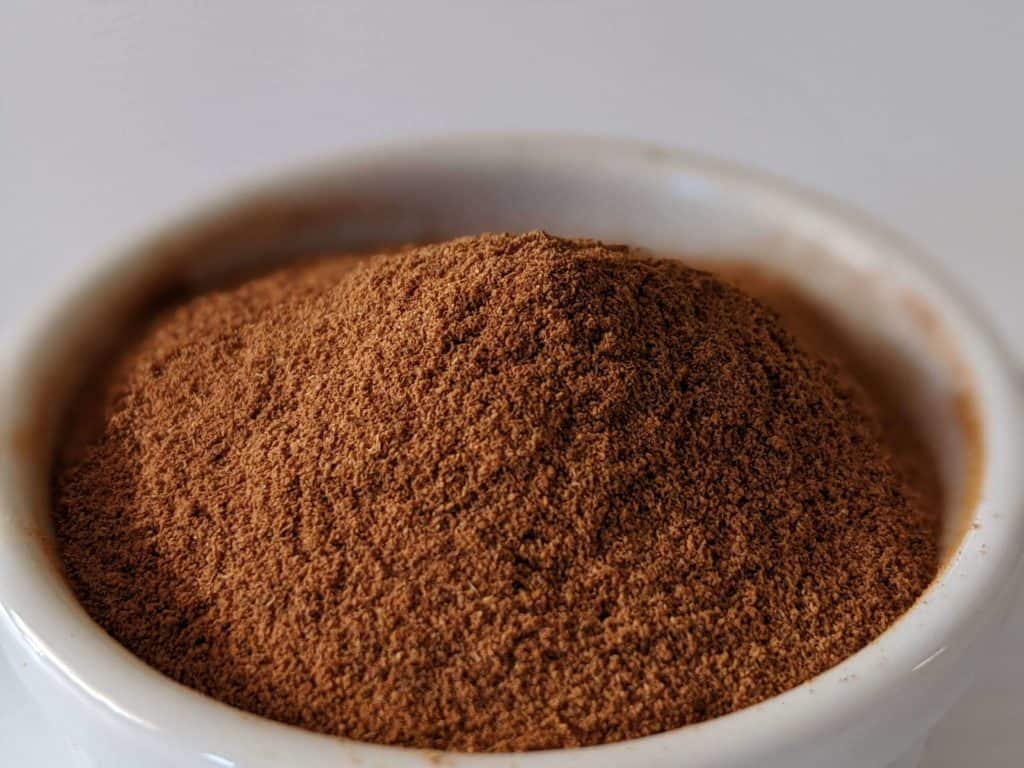 In order to understand why the following options will work as a good cinnamon substitute, let's cover a little background on cinnamon itself.
Cinnamon is actually the inner bark of an evergreen tree that is native to parts of eastern Asia, India, and Sri Lanka. The cinnamon tree is a member of the family Lauraceae and is closely related to other laurels such as bay laurel, sassafras, and avocado. The laurels are especially known for their fragrant oils, and cinnamon is no exception! The oil found in the cinnamon bark is what imparts the characteristic spicy-sweet flavor that cinnamon is known and loved for.
As with other laurels, cinnamon has a slew of health benefits. The fragrant compound in cinnamon oil, known as cinnamaldehyde, is high in antioxidants which provide anti-inflammatory benefits to the body. In addition, cinnamon oil is antimicrobial and can even help fight against bacterial and viral infections, making it an important aid to the immune system.
Substitutes for Cinnamon
Now that we understand the role we're looking to fill when considering cinnamon substitutes, let's get to it!
You can substitute cinnamon with any of the following options, although some may work better than others depending on flavor profile and other ingredients in your recipe.
It's also important to note that if you are looking for a substitute due to a cinnamon allergy, that not all of these options will be suitable. Some of these options outlined below actually do contain cinnamon, while others may be related to or contain similar compounds that could result in an allergy as well.
If an allergy is at issue, be sure to thoroughly read all ingredient listings, double check any spice mixture to see if it includes cinnamon, and do any associated research before including a substitute in your recipes.
Cinnamon Sticks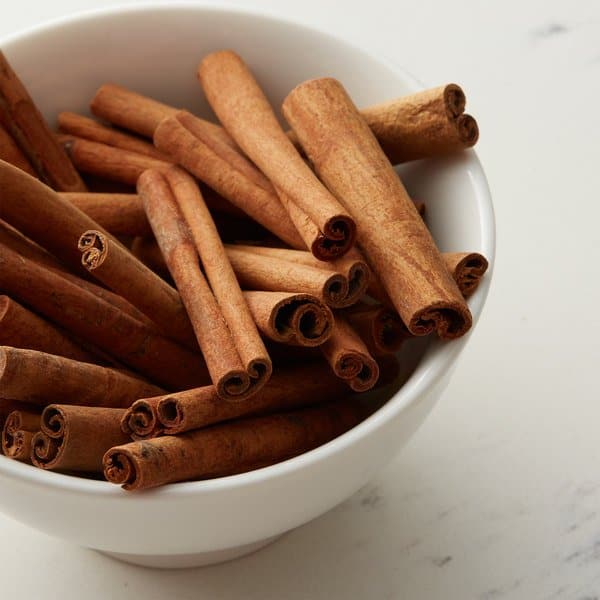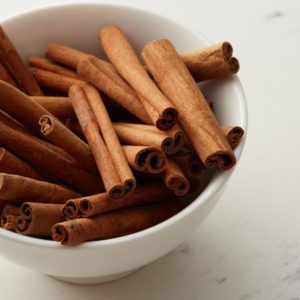 The first cinnamon substitute option is likely the most obvious one: whole cinnamon sticks. If you've got these on hand, you're all set! As noted, cinnamon is actually the ground up bark of a certain tree, and a cinnamon stick is simply a piece of bark that hasn't been ground into powder just yet. Cinnamon sticks are the starting point of all ground cinnamon, therefore they are easily used in its place.
If your recipe is something that will simmer for some time (such as a braise, marinade, sauce, or custard) then you can proceed with the cinnamon sticks in their whole form. The simmering liquid will have time to extract plenty of cinnamon flavor from the sticks, no pulverizing needed! Just be sure to fish out the whole cinnamon before serving.
On the other hand, if you're using cinnamon in a rub, as a topping, or in baked goods such as coffee cake, you'll need to turn those cinnamon sticks into powder. For this task you can use either a spice grinder or a coffee grinder. Just place the sticks into the appliance and grind until the cinnamon becomes a fine powder.
No electric grinder? No problem! You can grind cinnamon sticks by hand using a fine grater such as a microplane or by crushing the sticks in a mortar and pestle. This will take a bit of elbow grease, but well worth it if it saves you a last minute trip to the store.
How Much to Use:
If you're using whole cinnamon sticks to replace ground cinnamon in a recipe, remember this rule of thumb: 1 cinnamon stick provides the same amount of flavor as about ½ teaspoon of cinnamon powder. If you will be grinding your cinnamon, then you can go right ahead and measure your freshly ground cinnamon just as the recipe calls for.
Cinnamon Extract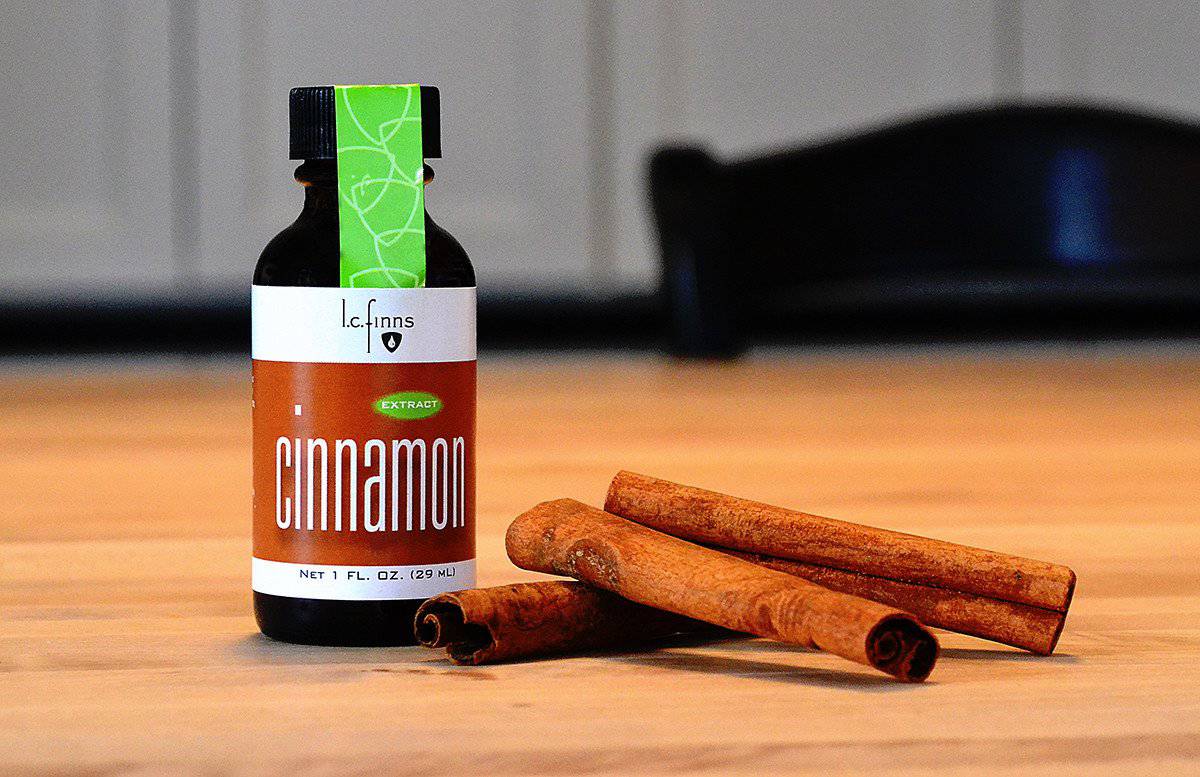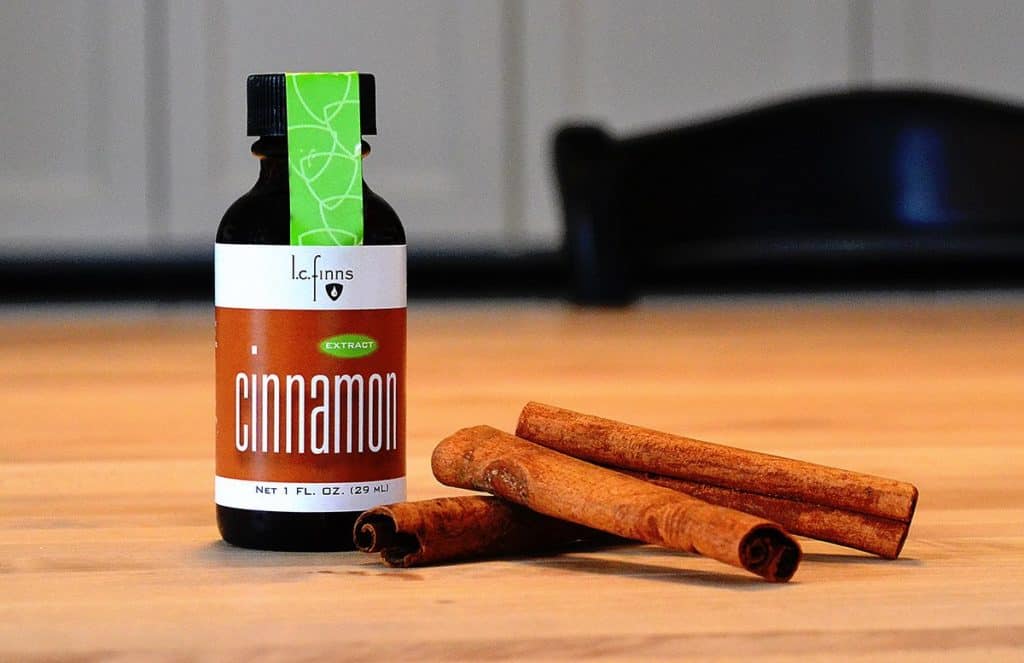 Cinnamon extract is less common than cinnamon in other forms, but as it provides super concentrated cinnamon flavor, it makes for a truly great cinnamon substitute! The extract is made by steeping whole cinnamon bark in alcohol, which draws the flavor out of the cinnamon and into the liquid. Then the mixture is strained, and a deeply flavored cinnamon extract is born.
How Much to Use:
As mentioned, cinnamon extract has a concentrated cinnamon flavor therefore you should use less of it than you would ground cinnamon or cinnamon sticks. When replacing ground cinnamon with cinnamon extract, we recommend starting with only ¼ of the amount specified in your recipe.
Allspice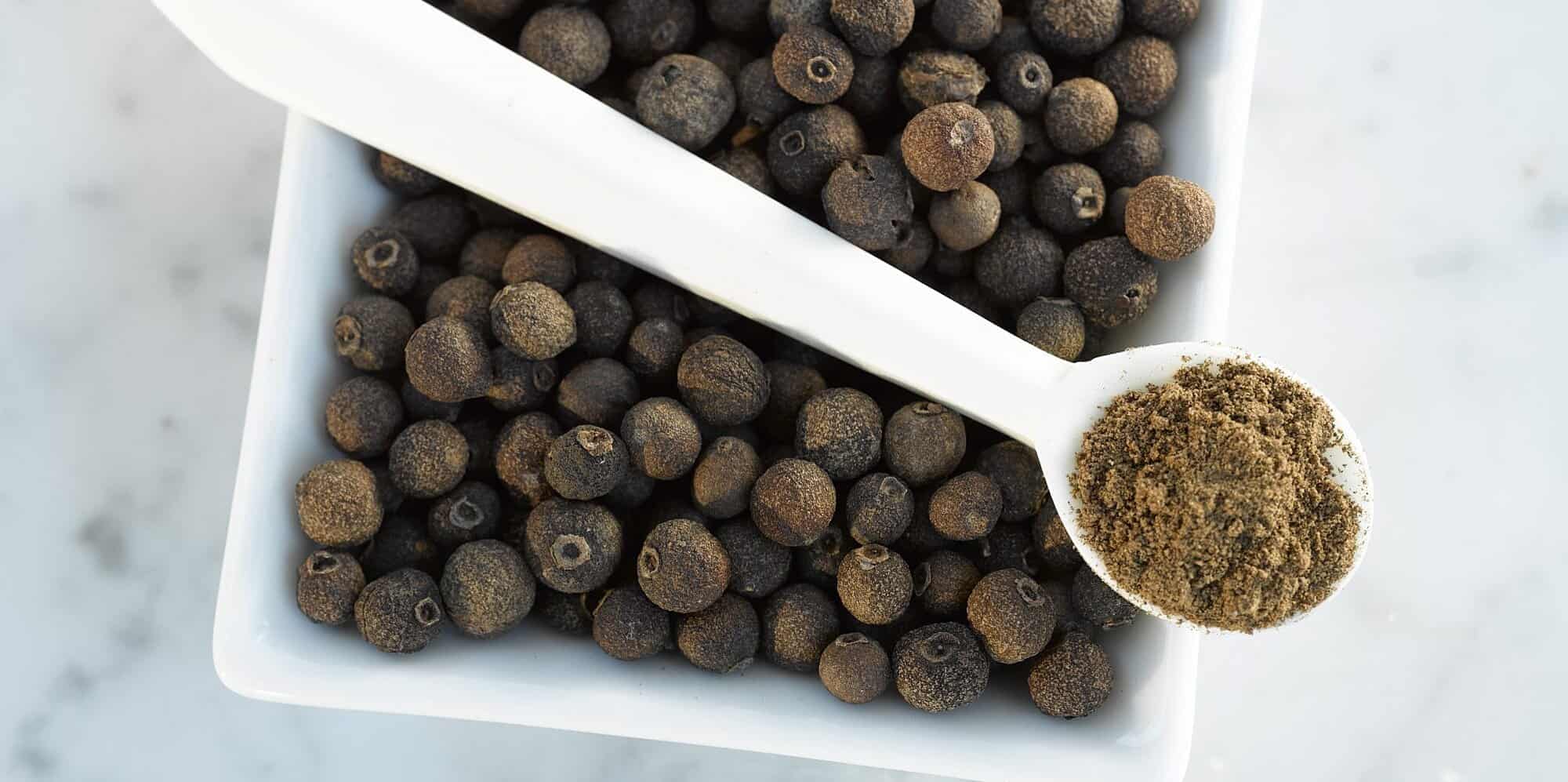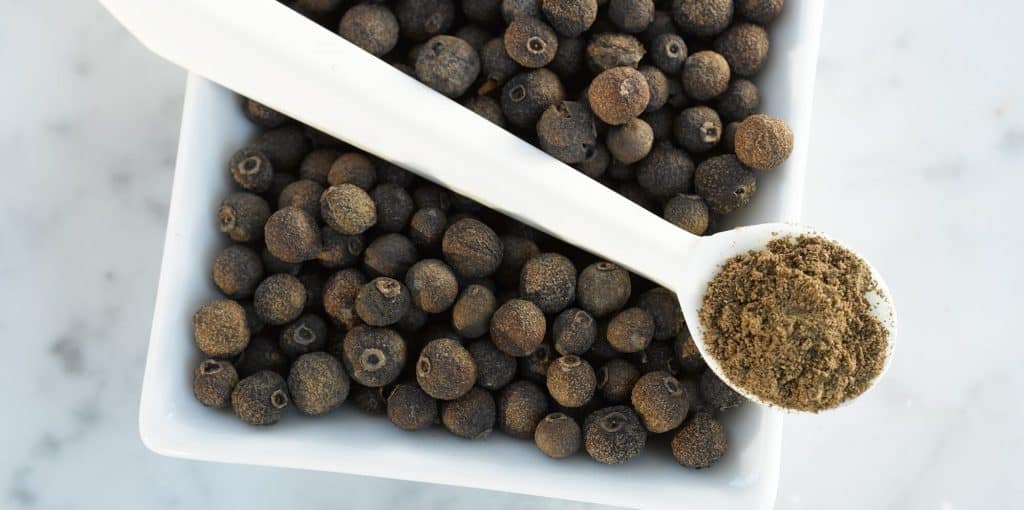 Allspice is a spice that frequently confuses many folks, as the name leads one to think that it is a mixture of several spices. Not so! Allspice was given its name due to the fact that its unique flavor contains notes of other spices such as cloves, black pepper, nutmeg, and cinnamon. However, allspice berries do not actually contain any of these other spices.
Allspice is derived from the dried unripe berry of a tree species found in tropical regions of Central and South America. The allspice berry in its whole form actually looks somewhat like a large black peppercorn! Ground allspice has a robust and warm flavor, making it a very good substitute for cinnamon.
How Much to Use:
Allspice is potent stuff; therefore you should use less if you are using it as a cinnamon substitute. When replacing ground cinnamon with ground allspice, we recommend starting with only ¼ of the amount the recipe calls for. Taste and add more if you like!
Nutmeg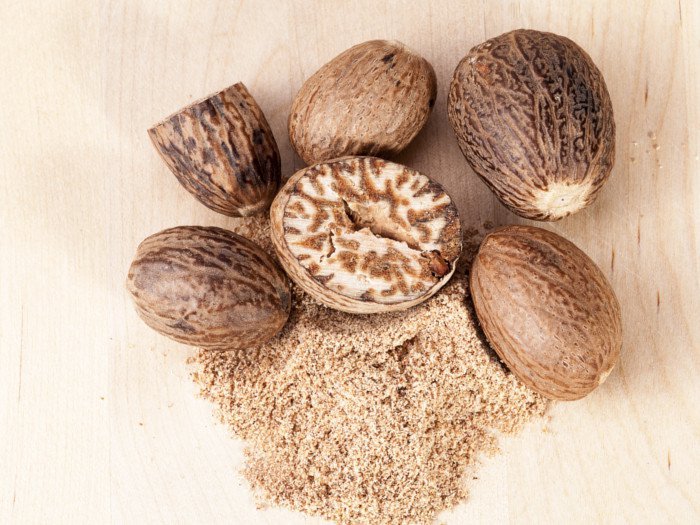 Nutmeg is one of two spices derived from the nutmeg tree and is typically available in either whole or ground form. As you might expect upon hearing the name, nutmeg has a mildly nutty flavor with just a hint of floral spice. Nutmeg is a popular spice to be used in recipes alongside cinnamon, as the two spices have a naturally similar flavor. It's no wonder that nutmeg makes for an excellent cinnamon substitute!
How Much to Use:
Nutmeg is a bit stronger in flavor as compared to cinnamon and can easily turn a recipe bitter if too much is used. When using nutmeg as a substitute for cinnamon, we recommend starting with only ½ of the quantity specified. You can always add more after a taste test or punch up your dish with a bit of freshly grated nutmeg as a garnish!
Cloves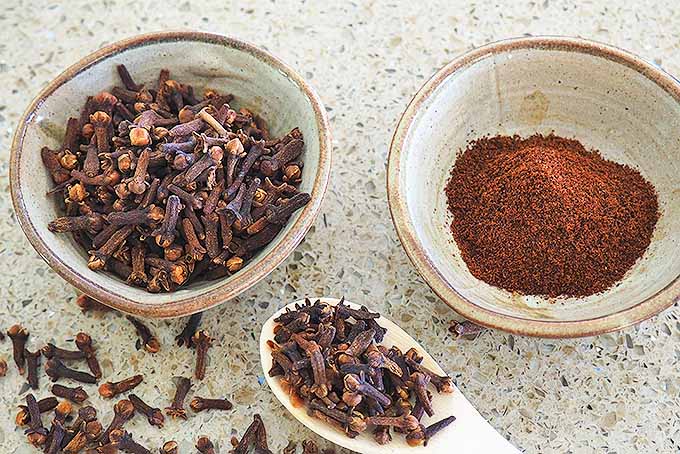 It's hard to tell just by looking at them, but cloves are actually dried flower buds--who knew! The tiny buds are dried and ground, producing a fragrant spice that has an intense flavor and warming effect on the palate.
For many people, the scent and flavor of cloves are reminiscent of warm, cozy memories and holiday celebrations. Cinnamon is right there with it in the cozy department, so it makes perfect sense that ground cloves make for a good cinnamon substitute.
How Much to Use:
You can tell just by their smell that cloves pack a serious punch! Cloves can easily overwhelm a dish and knock out other key flavors, so a delicate hand is necessary when it comes to cloves. When substituting cinnamon with ground cloves, use only ¼ the amount called for in a recipe.
Ginger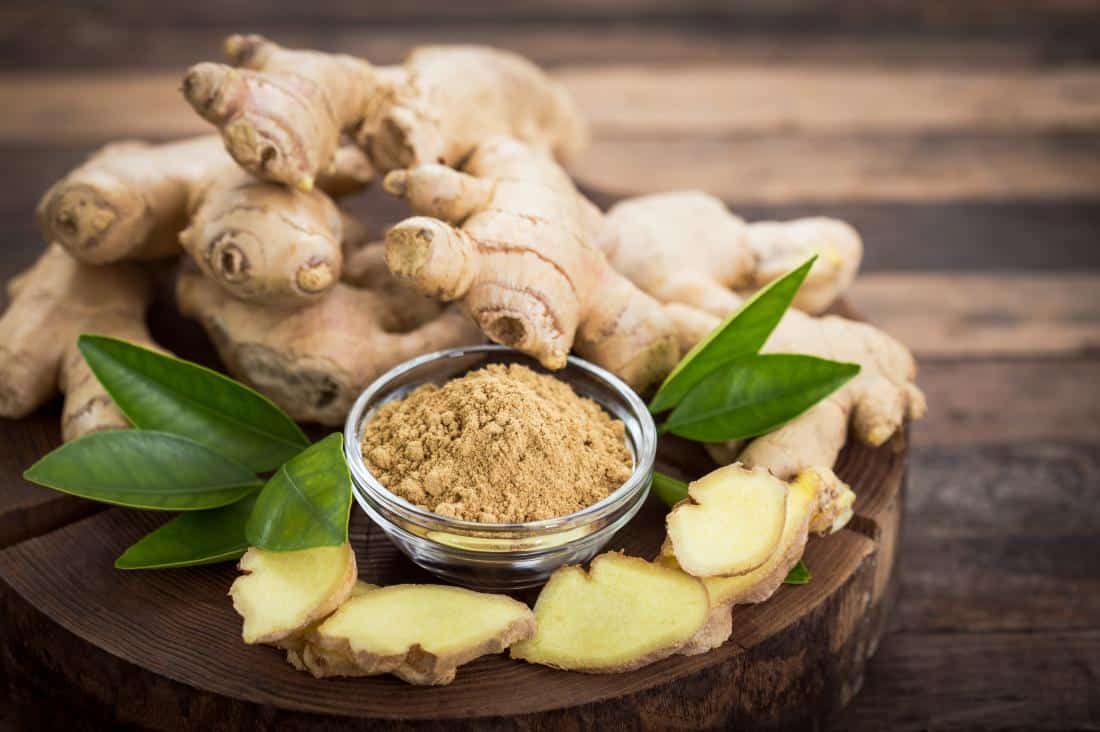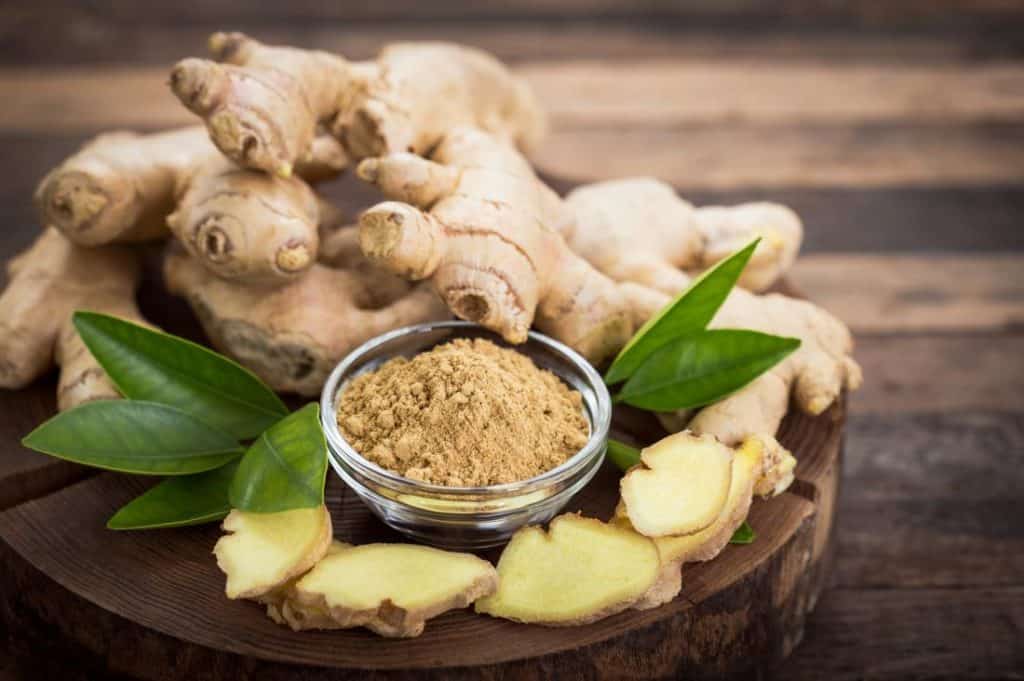 The spice that we know as ginger is harvested from the underground stem of the ginger plant. Ginger is processed and sold in many different ways: dried and ground, crystallized, pickled, the list goes on! Though ginger is heavenly in all its forms, you most definitely want to opt for the dried and ground version when it comes to using ginger as a cinnamon substitute.
Ginger has much more heat than cinnamon, so you may want to combine it with something else when using it as a cinnamon substitute. For sweet dishes, you can help balance the heat of ginger by adding in a flavorful spice such as nutmeg or clove, something floral such as vanilla extract, or a bit of extra sweetness into the recipe. As a substitute for cinnamon in savory applications, try pairing ginger with a smoky spice such as cumin.
How Much to Use:
To avoid any too-hot-to-handle results when replacing ground cinnamon with ground ginger, start with just ½ of the amount the recipe calls for.
Cardamom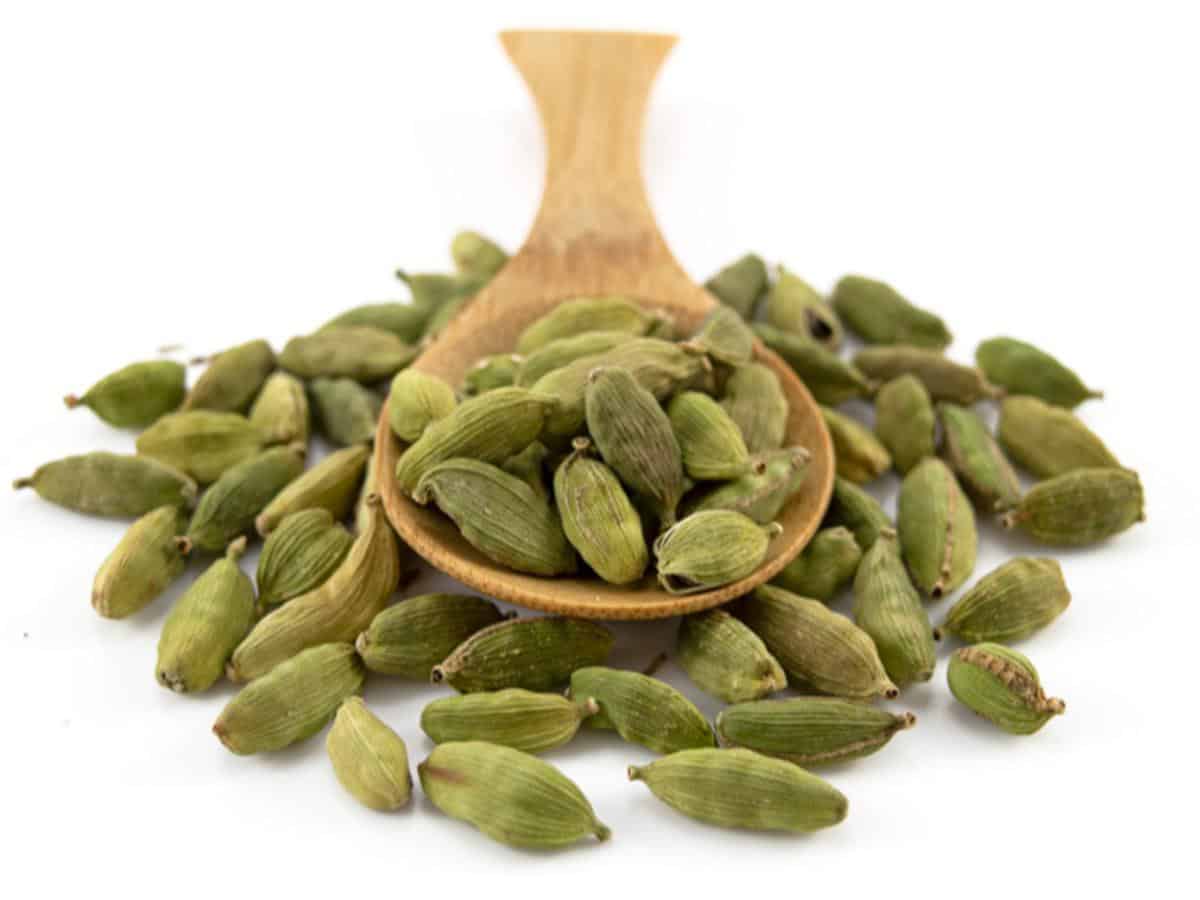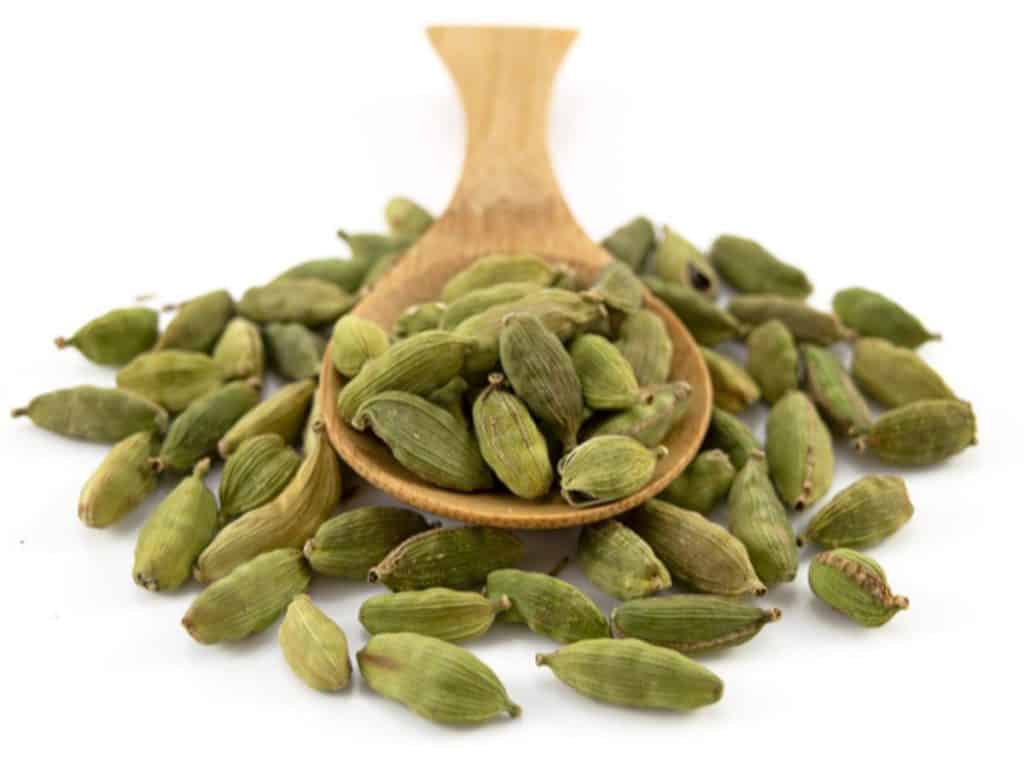 Cardamom is a spice that is more readily used in savory dishes than cinnamon, yet the two spices do have significant flavor profile overlap, making cardamom well worth considering as a good cinnamon substitute.
Cardamom pods are typically sold in their whole form and take a bit of work to grind, therefore they are best used in dishes where the whole pods can be steeped and removed after they have successfully perfumed the entire dish with their herbaceous flavor.
How Much to Use:
Cardamom has a slightly sweet and spicy flavor like cinnamon but is much more herbal and can introduce astringency to a dish if too much is added. When using cardamom as a substitute for cinnamon, we recommend a one to one ratio, but bear in mind the resultant flavor will be different than when using cinnamon or any of the other above options. Different doesn't mean not delicious though, give it a shot!
Spice Mixtures as Substitutes for Cinnamon
Pumpkin Pie Spice/Apple Pie Spice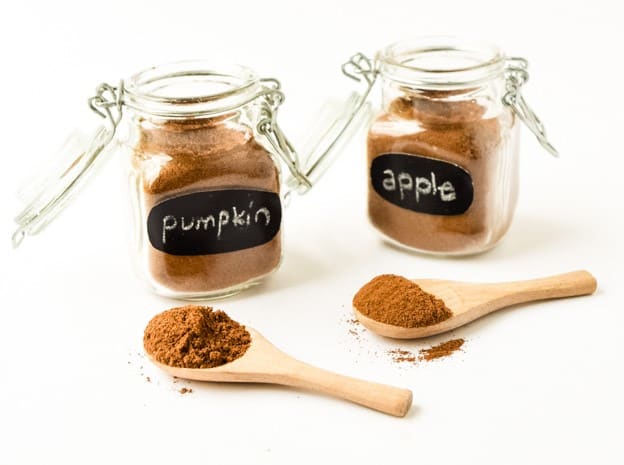 Pumpkin pie spice and apple pie spice are two spice mixtures that already contain cinnamon, so naturally they're two of the best cinnamon substitutes available. Both mixtures typically consist of cinnamon, allspice, ginger, and nutmeg. The key difference between the two is that pumpkin pie spice contains cloves as well.
How Much to Use:
Since pumpkin pie spice and apple spice are pre-mixed, the flavors are already balanced in such a way that they can straightforwardly replace cinnamon in a recipe. You can use a one to one ratio here, just be sure to check if your recipe is calling for other spices that may already be present in your pie spice mixture of choice and adjust accordingly!
Garam Masala: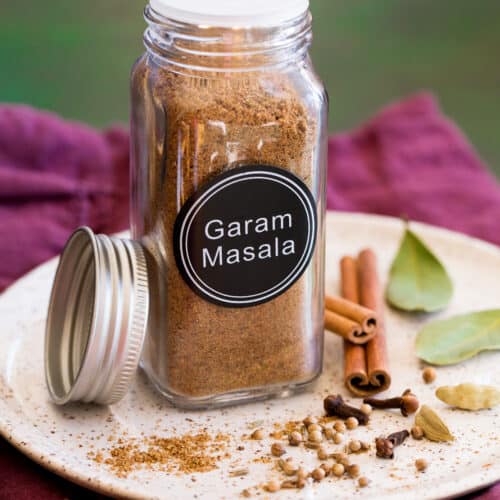 Another spice mix that makes the cut is garam masala. Garam masala is a mixture of cinnamon and other spices, including but not limited to: nutmeg, cloves, black pepper, coriander, and cumin. Rooted in Indian cuisine, garam masala is typically used in savory dishes and therefore would not be a good substitute for cinnamon in any sweet applications.
It may sound exotic, but garam masala is typically available at your local grocery store and is a handy spice to keep in your cabinet.
How Much to Use:
It's tough to say exactly how much garam masala you will need to use to substitute cinnamon in a recipe as the answer is entirely dependent on the specific ingredients and proportions of the garam masala mix you have. We think it's wise to start off with only ½ of the amount called for in the recipe, then taste and increase the amount as needed.
Choosing the Best Cinnamon Substitute: The Takeaway
The important lesson here is this: if you find yourself suddenly fresh out of cinnamon, don't drop everything and run to the store just yet! First take stock of your pantry and consider your other options using our guide.
Choosing a good cinnamon substitute is all about the balance between all spices included in a recipe. Sweet dishes are more likely to be complimented by the similar notes of nutmeg, cloves, allspice, and spice mixtures. Savory recipes are more flexible and can take on the addition of heartier flavors such as ginger, cardamom, and garam masala.
Who knows, you might even find that by swapping out cinnamon for another spice, you introduce a new flavor to your recipe that you just happen to love even more! Sometimes, the best discoveries are the ones that happen accidentally.