When it comes to staying warm in the wintertime, food is a great go-to. But, not just any food.  You need something that is warm and hearty. My brain goes right to chickpea curry. But, not just any chickpea curry - Coconut chickpea curry. It fits the bill perfectly!
This curry recipe is fabulous for any weeknight dinner. It is one of my favorite recipes to add to your meal prep routine. This recipe is super easy to make. It requires many staple pantry ingredients. And, it takes only 25 minutes to make. That's it!
This vegan recipe has all the nourishment you need. It's filled with fiber-rich chickpeas, creamy coconut milk, and fresh spices. This combination will leave your kitchen smelling so heavenly. This recipe will also leave you feeling super satisfied. Chickpeas really help you feel satisfied. Also, mixing couscous into the curry adds a healthy dose of carbs that will keep you full for hours. This is especially necessary on a chilly winter's day!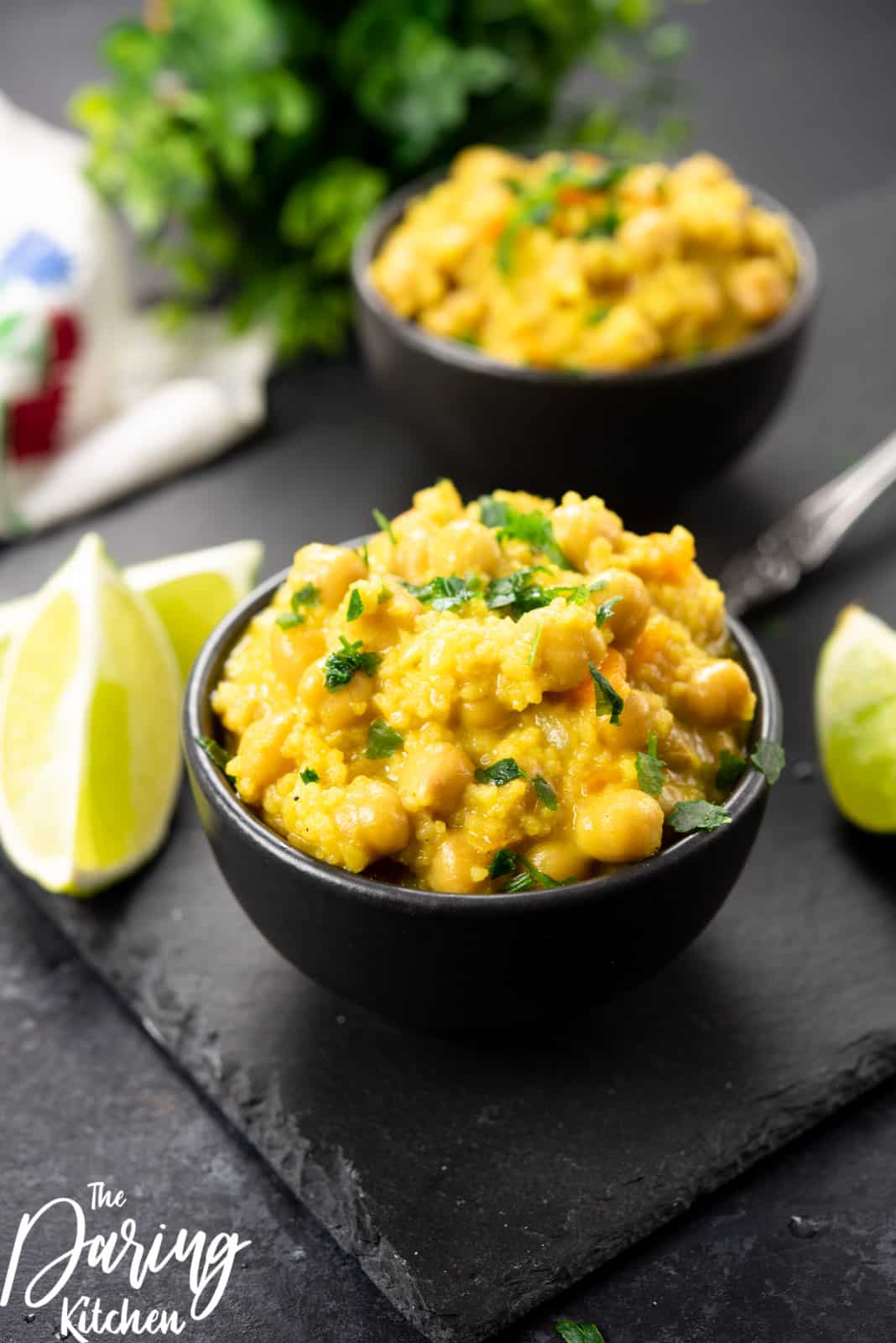 The Creamiest Chickpea Curry
Yes, I said it: this is the creamiest of the coconut chickpea curry recipes. What's the trick? Magical coconut milk.
I love this milk for many reasons. First, it's naturally rich and velvety, lending an awesome texture to curry. It's no wonder it is a staple in South and Southeast Asian curries. Also, coconuts are very heart-healthy. They are abundant in vitamins and healthy fats. These energize you and help to keep you full for hours.
Finally, this milk is completely vegan! It's such a great alternative to heavy cream. For years, I struggled with tummy troubles from dairy. Thank god coconut milk exists!
This milk comes in a few forms. There are canned and carton versions. I use the canned version as it often is less processed. Most importantly, it contains that wonderful layer of coconut cream. This lends that creamy texture to the chickpea curry that you want. Carton coconut milk, on the other hand, is not as rich and often has additives. That's a no-go for me!
Pro tip: finish any curry recipe with a nice squeeze of lime juice. It cuts right through the richness of the coconut! It tastes even better with basmati rice. Or, if you feeling super indulgent, a warm piece of naan bread!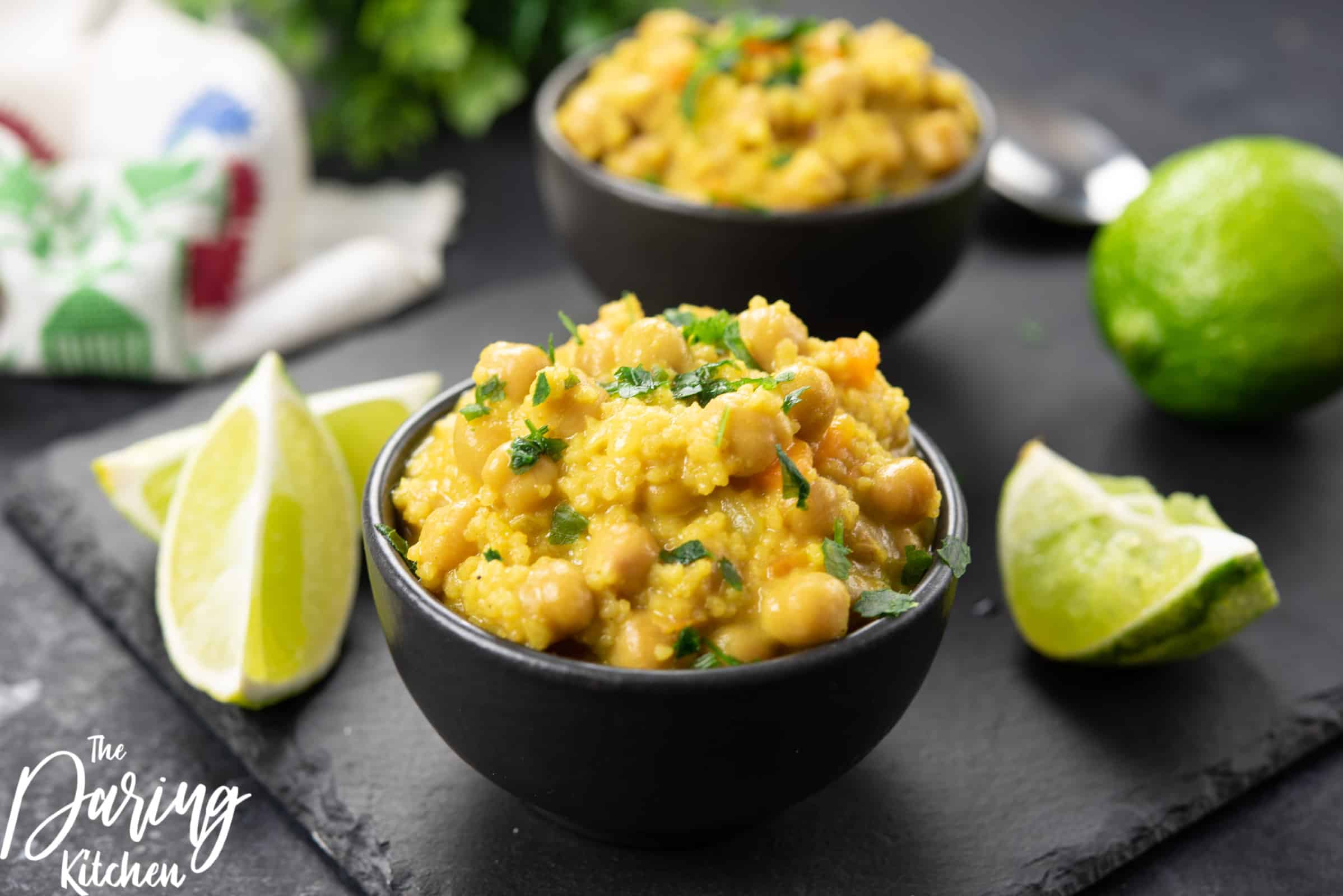 The Most Aromatic Coconut Chickpea Curry
What sets this curry recipe apart is its veggies, herbs, and spices. All the ingredients are common fridge and pantry ingredients. These are what give this curry such a heavenly taste and smell.
I always start this recipe with the aromatics: onion, carrot, garlic, and ginger. Cooking these in oil releases all the delicious flavors and aromas of these ingredients. This is especially true for the garlic and ginger.
The spices come next. To curry this chickpea curry, all you need is curry powder, along with salt and pepper. What is in this spice blend you ask? It is a blend of 20 different spices. This includes spices like ground coriander, cumin, and turmeric. You can also use garam masala, a popular spice blend used in chana masala, a traditional Indian chickpea curry. It's important to note that garam masala is much bolder in flavor. The choice is up to you!
While it's possible to make your own curry spices, it is quite time-consuming. Making your own would increase the cooking time of this recipe a ton. But, homemade spice blends last you many recipes to come. If you are more partial towards certain spices, like ground coriander, you can always a tsp ground extra! Also, if you like things with more heat, I suggest adding in red pepper flakes for an added kick.
To finish this chickpea curry, I sprinkle a generous amount of fresh cilantro. It makes the dish a little prettier. Chopped fresh cilantro also gives this lovely freshness to the chickpea curry too.
How to Make the Best Chickpea Curry Recipe
I've talked this coconut chickpea curry up a lot. So, how do you make it? Running a food blog, I've come across recipes that are very simple to extremely complicated. I can proudly say this chickpea curry is very easy to make.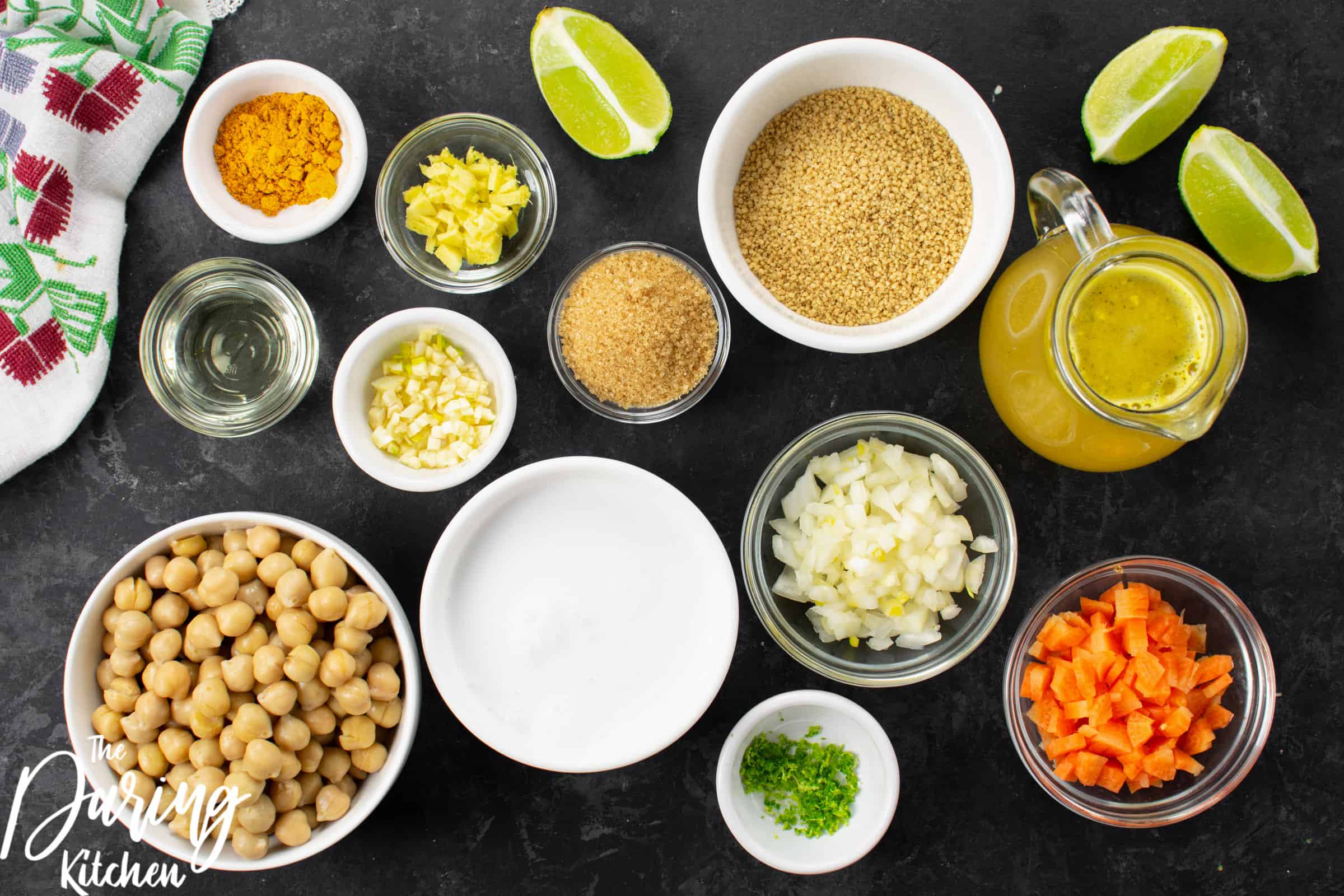 Start with your aromatics. In a large saucepot, heat a couple of tablespoons of oil. When the oil is hot, add in your onions, carrots, garlic, and ginger. Stir and let cook for about 5 minutes.
When the onions are translucent, add in your curry spices (and cayenne pepper or red pepper flakes if you want some heat!) Mix in carefully with the other ingredients. Allow everything to cook for 30 seconds, until the spices become super fragrant.
Add in your chickpeas. Make sure to mix them in so that they are coated with the spices as well.
Cover everything with vegetable stock and coconut milk. Gently stir all the ingredients together. Gradually bring the chickpea curry to a simmer, stirring occasionally.
Now it's time to cook your couscous. Pour it in, along with the coconut sugar and lime juice. Allow the chickpea curry to a simmer for 15 minutes.
When your curry reaches a perfectly creamy texture, it's ready to taste. Adjust the flavor of your curry with salt and black pepper. Pour it into bowls and garnish it with tons of chopped fresh cilantro. You can also add a dash of red pepper flakes if you like things a little spicier.
Serve it with a side of warm naan bread and/or basmati rice!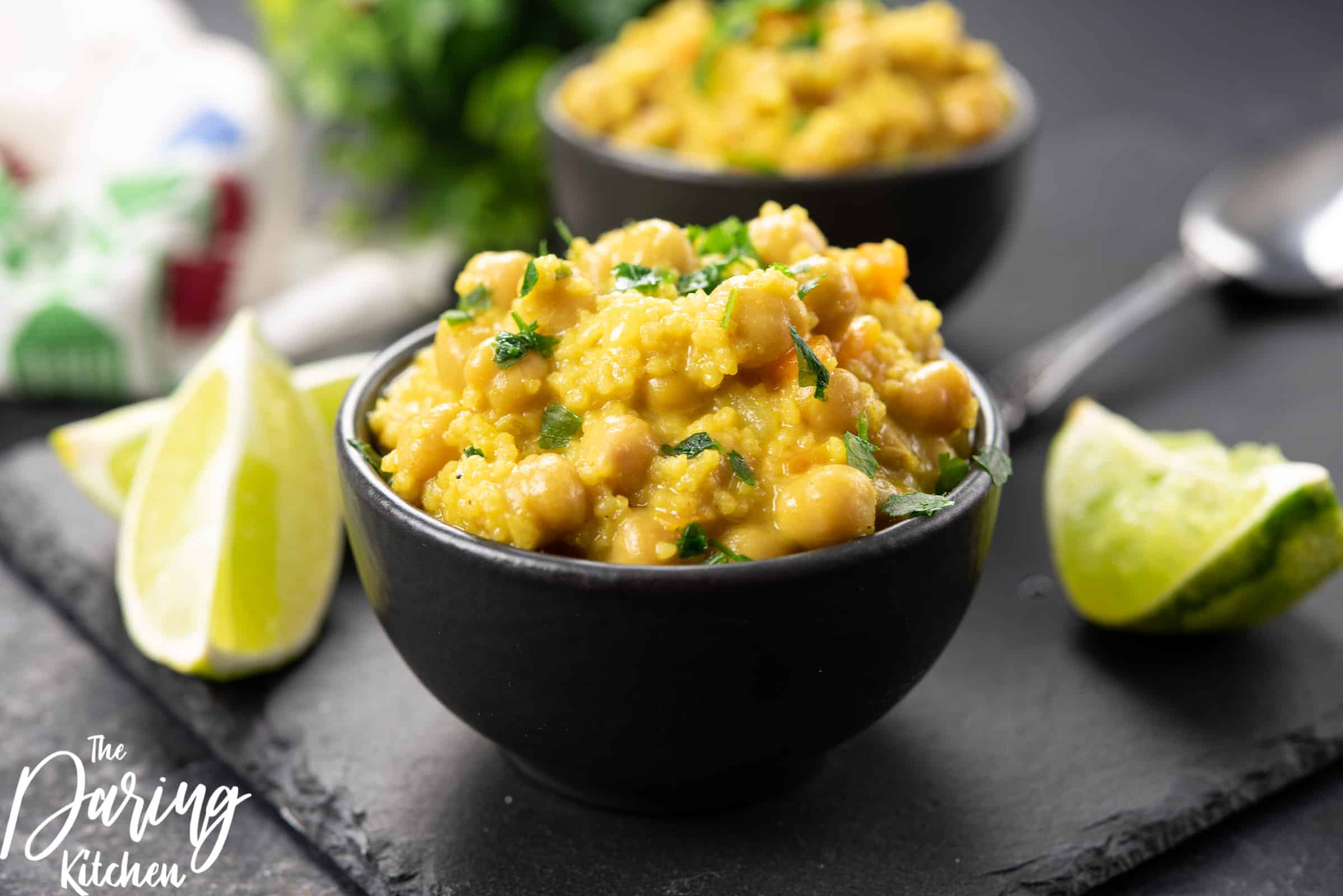 I would love to hear how you enjoyed this chickpea curry recipe, or about any curries you personally love! And, don't be shy to leave a rating of this recipe if you can.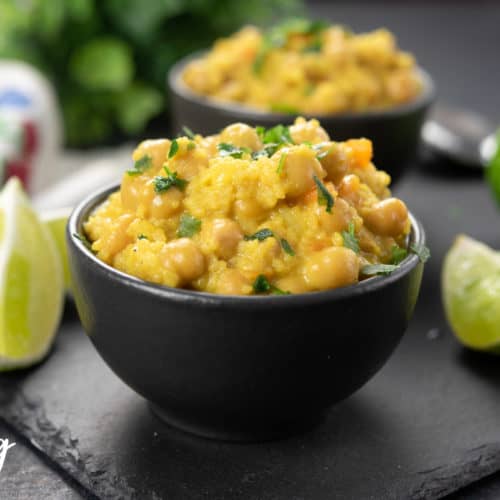 Chickpea Couscous Curry
A hearty vegan dish that will surely get you through winter!
Print
Pin
Rate
Equipment
Knife

Colander, for draining

Saucepot

Spatula
Ingredients
1

tbsp

olive oil

½

cup

onion

chopped

½

cup

carrots

chopped

4

cloves garlic

minced

1

tbsp

ginger

minced

1

tbsp

curry powder

14

oz

can chickpeas

rinsed drained

1

cup

vegetable stock

2 ½

cups

coconut milk

¾

cup

couscous

3

tbsp

coconut sugar

1

tbsp

lime zest

finely grated

salt

to taste

chopped coriander

for garnish, optional

lime wedges

for serving, optional
Instructions
In a large saucepot, heat oil over medium-high heat.

Add onions, carrots, garlic, and ginger.

Cook stirring for 4-5 minutes.

Add curry spices and cook for 30 seconds.

Add chickpeas and stir to coat.

Pour in vegetable stock and coconut milk. Bring to a simmer.

Add couscous, coconut sugar, lime zest, and simmer occasionally simmering for 15 minutes.

Remove from the heat and season to taste with salt.

Serve warm, garnished with chopped cilantro.
Nutrition
Calories:
578
kcal
|
Carbohydrates:
57
g
|
Protein:
13
g
|
Fat:
36
g
|
Saturated Fat:
27
g
|
Sodium:
564
mg
|
Potassium:
632
mg
|
Fiber:
7
g
|
Sugar:
8
g
|
Vitamin A:
2829
IU
|
Vitamin C:
6
mg
|
Calcium:
91
mg
|
Iron:
7
mg