There is nothing more universally appreciated than a well-made cup of coffee first thing in the morning. Something about the bold aromas and rich mouthfeel make coffee the ideal way to make us feel ready for the grand adventure that is the day before us. Let's face it: we are weak without it.
Sadly, not all of us can live above a Starbucks. Making coffee at home is something that most people have to do for themselves, even if their eyes are barely open and their brain is still under the covers. Fortunately, with the right set of equipment and a little bit of experimentation, it is possible to achieve a cup of home brew coffee that will have you feeling like the brave adventurer that you really are. But even with a great coffee maker pre-ground coffee isn't going to do the trick. In order to unlock the true potential of your coffee, you are going to need to switch to whole bean.
And that means treating yourself to a coffee grinder.
The best coffee grinders are designed to provide simplistic automation with repeatable precision, even first thing in the morning. To put it more simply, they are packed with features that allow the user to control the size of the coffee grinds to an incredible degree. Drinkers of pre-ground coffee might not realize it, but the grind size is right next to water hardness when it comes to dictating the finished flavor.
You'd better grab a cup of coffee, because our team has compiled a list of the 10 best coffee grinders of the year, and we're not stopping there. Afterwards we'll be leading a bit of a digital seminar on what makes these grinders tick, as well as how you can use them at home to make better coffee than ever.
Breville Smart Grinder Pro BCG820BSSXL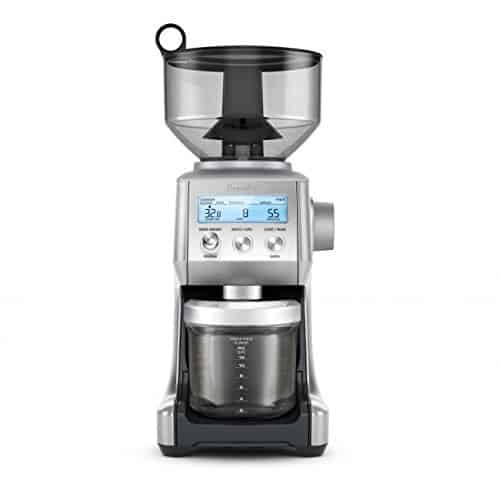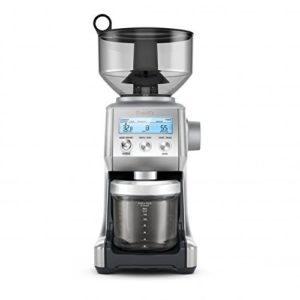 Breville has been in the coffee game for quite a long time, and there is no doubt that this impressive longevity is a result of anything but their company's dedication to high-performance coffee machines and accessories. The Smart Grinder Pro represents the state of the industry when it comes to electric burr coffee makers.
The Breville Smart Grinder Pro has 60 precise settings, which is about as many as you are going to get, even with one of the more expensive burr grinders out there.
What we really love with this particular unit is the digital LCD display and control knobs. Everything is really simple to use and understand, which is an absolute necessity for early mornings before we've had our coffee. It's worth noting that the screen's backlight is more than adequate for grinding in low light, such as those beautiful pre-dawn mornings when all you really want is to load up your espresso machine with the best grounds possible.
One thing that we have noticed about the Smart Grinder Pro is that is requires regular cleaning to keep performing at its best. A lot of people who bought this unit have complained about gradually slowing grind speeds ... which is a sure-fire sign that your unit is in need of a top to bottom clean.
Key Specifications:
Burr Size: Small - 50-50mm or Large 58mm (both included)
Grind Settings: 60
Bean capacity: 18 oz
Standout Feature: Brightly lit & easy to read LCD display
Rancilio HSD-ROC-SD Rocky Espresso Coffee Grinder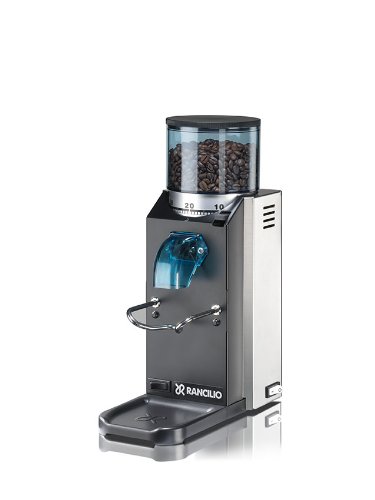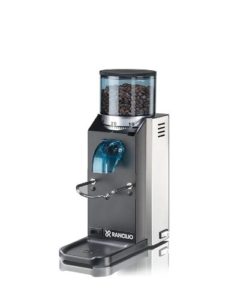 There comes a time in every coffee drinker's life when it is simply time to make an upgrade. Whether its because those entry-level grinders jsut weren't getting the job done, or you are just looking to treat yourself to something nice, the Rancilio espresso grinder offers some of the best high-performance grinding of any item on our list. In fact, this is a machine that you might actually find in your local espresso shop. It can handle almost 8 pounds of beans per hour, so unless you plan on drinking that much coffee yourself, you might as well go ahead and open up a coffee shop.
The sleek professional look with a classy blue accent is a very real selling point here. It's just a good looking machine, plain and simple ... one that we would very much like to see sitting on our countertop at home. Of course, then we might have to upgrade the countertop to match.
Speaking of that blue tint, it's not just for aesthetics. Having a tinted hopper is an effective way to prevent light from damaging beans that are being stored in the hopper. This is probably more important for small coffee shops and large households where the hopper needs to remain filled for quick service. Still, it's a nice touch of color for a type of machine that is generally all chrome and black plastic.
Key Specifications:
Burr Size: 50mm
Grind Settings: Variable Dial
Bean capacity: .65lb
Standout Feature: Commercial-grade grinder that can grind 7.7 lbs per hour
Baratza Encore Conical Burr Coffee Grinder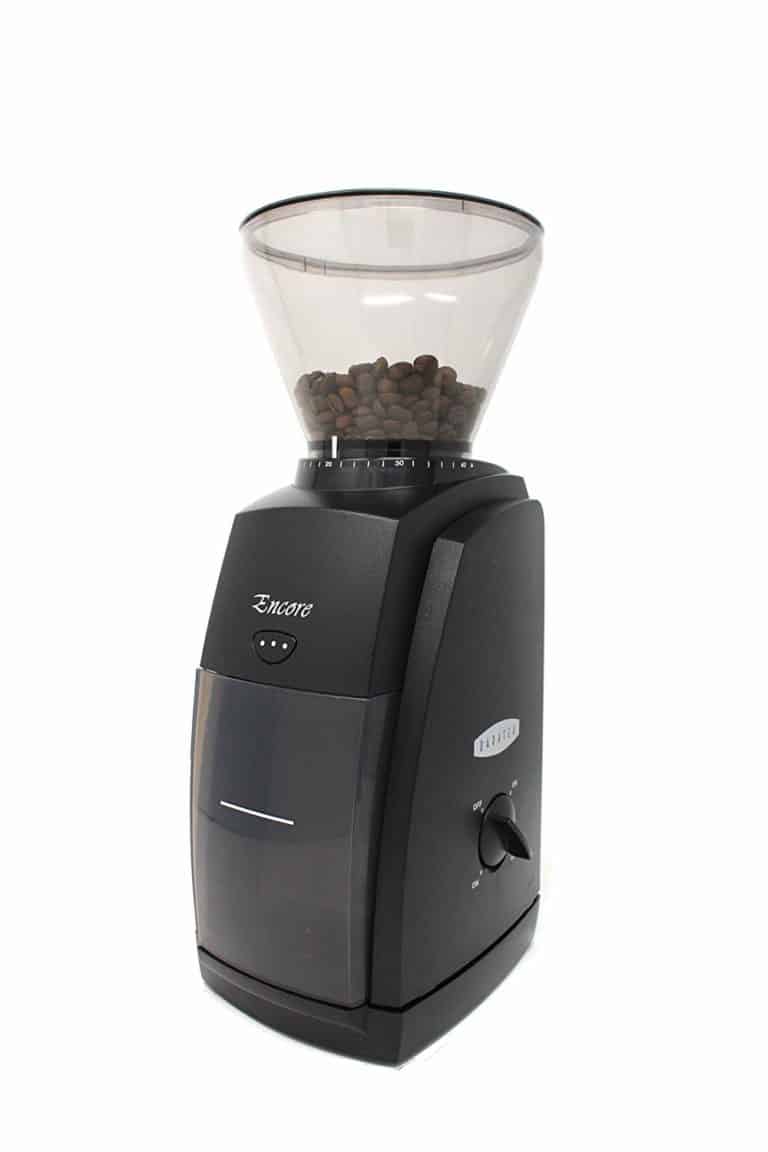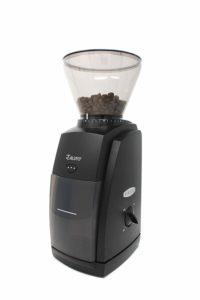 We debated putting this unit at the top, because it seems that the Baratza Encore of the most searched-for electric burr grinders on the internet. We had to have a look for ourselves to see what all the hype was about, and several cups of well-made coffee later, we arrived at the consensus. This is perhaps the best value coffee grinder for those who want an upgrade in performance but are perhaps not ready to pay the many hundreds of dollars that a professional machine can cost.
And yet there is something about this machine that is more like professional coffee grinders, which is the Baratza signature ability to get replacement parts for all of the grinder's integral components. That means that you no longer have to toss out the whole unit when something breaks. Most people seem to get about 2 to 3 years of 7-day-a-week grinding out of there home grinders before they give out. Coffee shops, on the other hand, keep their machines for years because there are parts readily available to fix them when they break.
The price for this model is only slightly higher than the most budget-friendly models of burr grinder, so it's also quite impressive that Baratza is still offering a 1-year warranty on parts.
Key Specifications:
Burr Size: 40mm
Grind Settings: 40
Bean capacity: 8oz
Standout Feature: Replacement parts are available for all Baratza Encore machines.
Baratza Virtuoso Plus Conical Burr Coffee Grinder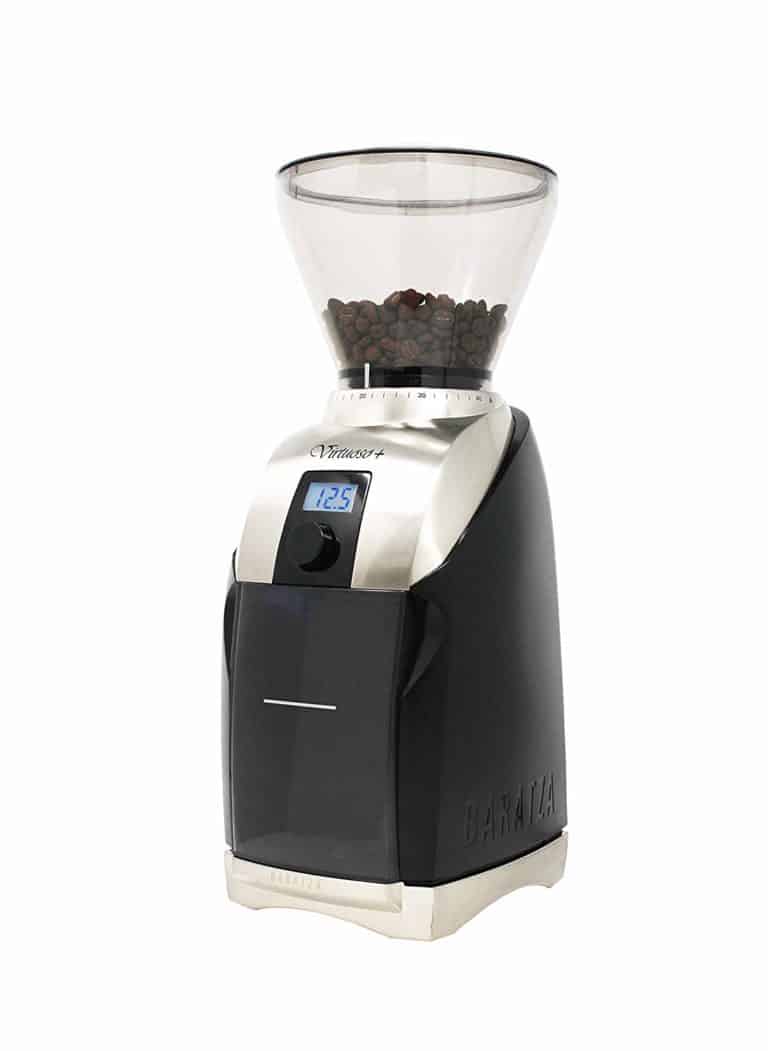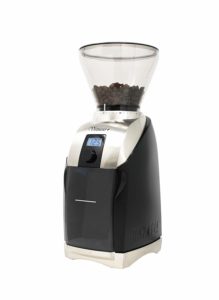 For the coffee connoisseur that isn't ready to jump into the high-end costs of the Vario but is still looking for a conical burr grinder that produces cafe-quality grind consistency, the Baratza Virtuoso Plus (+) is the clear answer. It is well above entry-level grinders in terms of both consistency and overall performance, yet is sold for a little over half of that what the Vario will run you.
What we appreciate most about this particular model is the quiet and unassuming nature of its design. Aesthetically speaking it is very simple. A narrow  footprint means that it is going to fit in nicely with your current setup, or store easily in the coffee cupboard.
The digital readout is also a bit simplified compared to other makes and models. Where as other units such as the Breville Smart Grinder Pro feature readouts with a lot of complicated information, this one simply displays the grind timer. This is especially handy for coffee drinkers who are trying to replicate grind amounts for fully-repeatable dosing. After all, once you find the perfect dose for you morning cup of coffee, you are most certainly going to want to repeat it.
As is usual with Baratza burr grinders, the Virtuoso+ is subject to the companies generous 1-year warranty, as well as the replacement parts program which allows you to buy new components as needed.
Key Specifications:
Burr Size: 40mm
Grind Settings: 40
Bean capacity: 8oz
Standout Feature: Elegant shape and design; remarkably simple operation
OXO BREW Conical Burr Coffee Grinder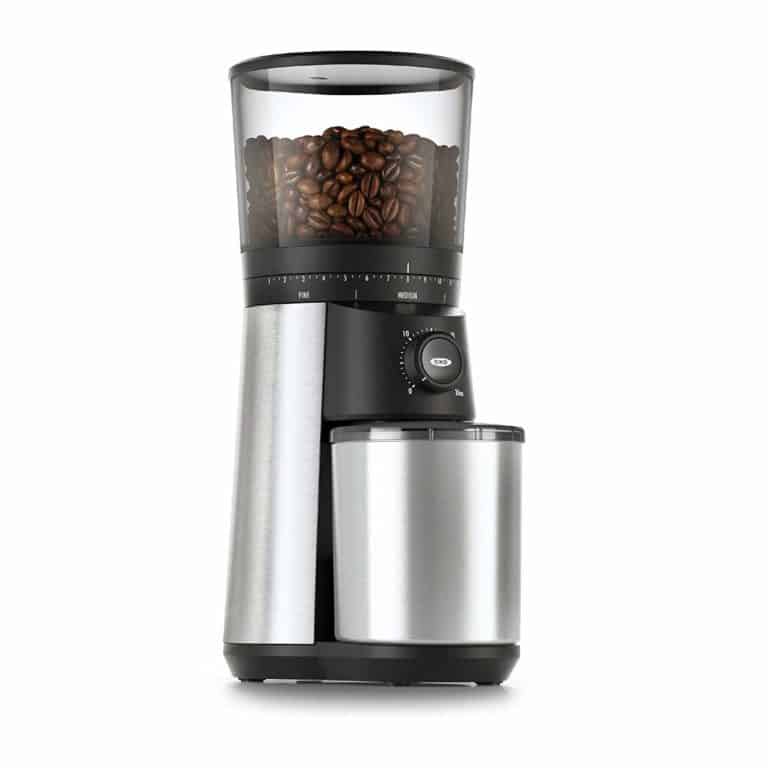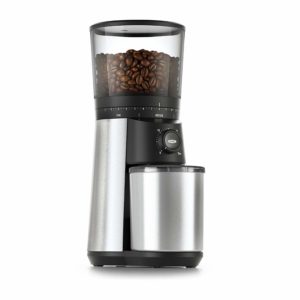 Unlike the Baratzas or Brevels on the market that can set you back a few hundred bucks, the Conical Burr Grinder by OXO BREW is significantly cheaper, not to mention light and with a smaller footprint. That makes it the economical pick in more ways that just one, and is perhaps why OXO machines are truly all over the place. In fact there aren't many burr grinders than can be found for cheaper than this one, though they are out there.
The reduced price on this particular model shouldn't be taken as an indicator of poor performance. While it does have significantly less grind settings than Baratza models and is lacking any kind of digital readout, it is still streets ahead of your average blade grinder.
Static cling is normally a big issue for more modestly priced coffee grinders. While some manufacturers have taken complicated (expensive) steps to fix the issue, Oxo's solution is refreshingly simple. By utilizing a stainless steel grind bin that comes into direct contact with a grounded plug port, they have effectively and efficiently eliminated the problem of static cling that plagues so many conical burr grinders, and not just the ones in this slightly lower price range.
Key Specifications:
Burr Size: 40mm
Grind Settings: 15
Bean capacity: .75 LBS
Standout Feature: Great anti-static metal construction w/ grounded coffee bin
KRUPS GX5000 Burr Coffee Grinder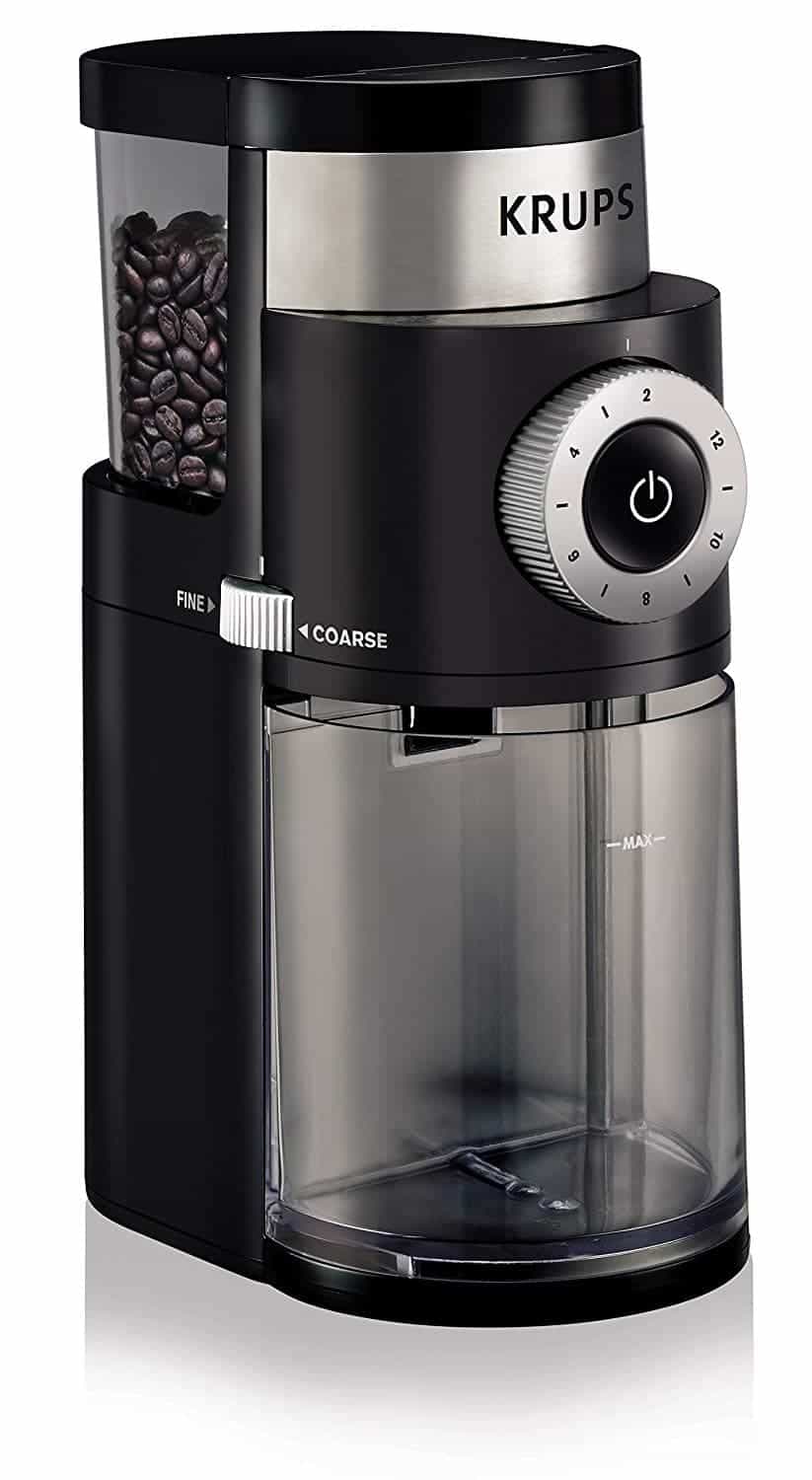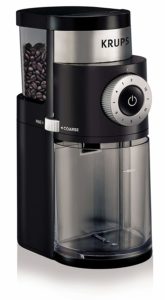 While you won't be seeing the KRUPS GX5000 at your local hipster cafe or anything, it still manages to be one of the most popular entry level burr grinders. Even though it just might be the cheapest electric coffee grinder on our list, it still performs admirably with 9 different settings and an easy-use dial. A manual grind quantity timer allows for precise repeatability and feel more reliable than some digital readout displays.
We were actually surprised to find that KRUPS was the first company to release an electric coffee grinder. That might explain  why they continue to be so relevant in the market. in fact, the company was founded in 1846, and though it has changed a lot in that time, it says a little something about their lasting power in today's market.
This is one of the few grinders that we have seen with a lid-lockout safety feature. It basically prevents operation of the grinder when the hopper lid and coffee container are both completely in place. It''s not a big hassle, but can be a cause for confusion for the person who hasn't had their coffee yet and doesn't know why their machine isn't grinding.
Key Specifications:
Burr Size: 40mm
Grind Settings: 9
Bean capacity: 8oz
Standout Feature: Most Affordable electric burr grinder on our list
JIAWANSHUN 250g Automatic Coffee Burr Grinder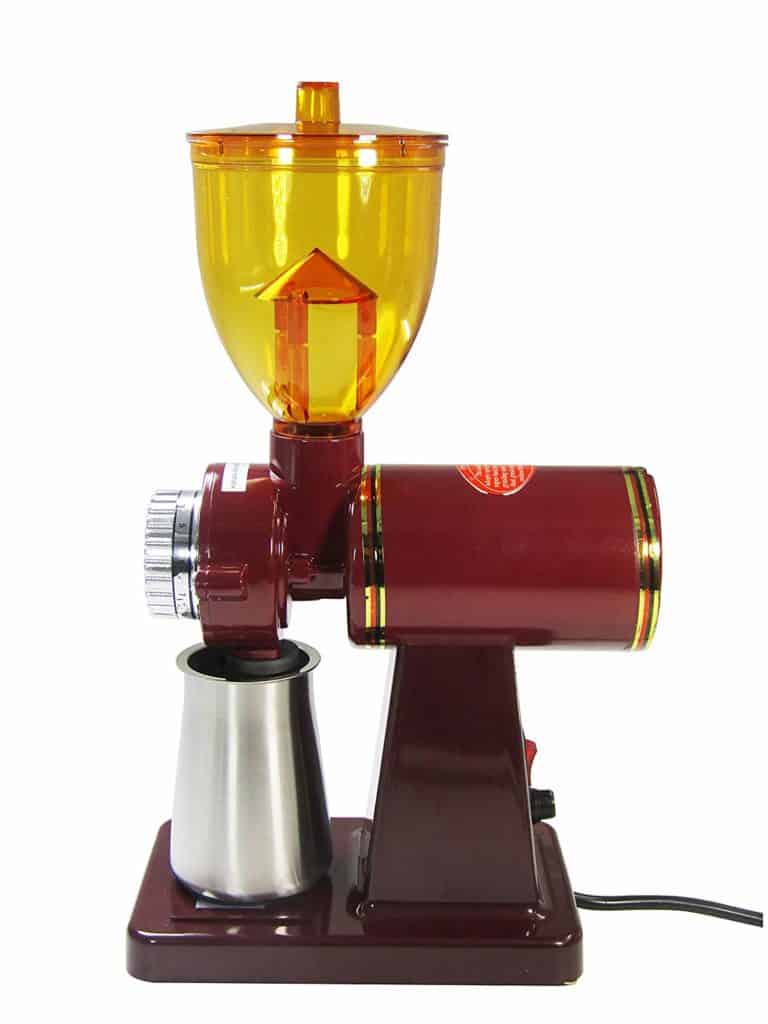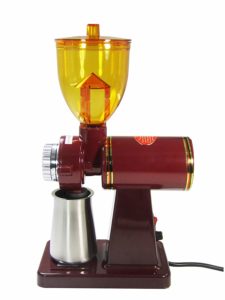 We were immediately drawn to the unique style of the JIAWANSHUN burr coffee grinder. The color scheme makes it looks like it belongs in a different time, on a different continent. Of course we anticipate that there are a lot of purists out there who don't think that its appropriate to buy a coffee grinder from a tea-drinking country like China when there are so many Italian and American brands to choose from. But in this case the source is irrelevant. The JIAWANSHUN performs as well if not slightly better than maybe half of the grinders in the $100 - $200 price range.
One thing that jumped out at us was the relative quietness of this grinder. It has a significantly softer sound than most of the Italian grinders that we have seen. This is no doubt due to the thicker metal motor casing. For this reason we think this grinder is a particularly good fit for those households where not everybody is an early-waker like you are.
The hopper is large, but has no measurement lines for marking how much you're putting in there. It is possible to use the included metal grind cup as a measurement, as it holds just about the same volume as the hopper itself.
Key Specifications:
Burr Size: 40mm
Grind Settings: 8
Bean capacity: 250g
Standout Feature: Great anti-static metal construction w/ grounded coffee bin
Baratza Vario Flat Burr Coffee Grinder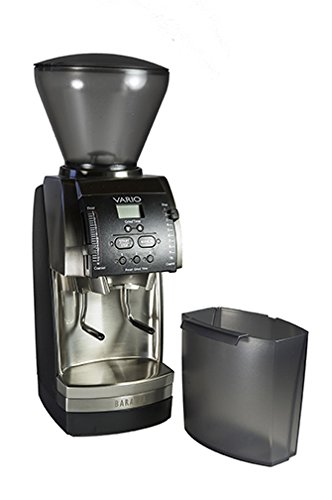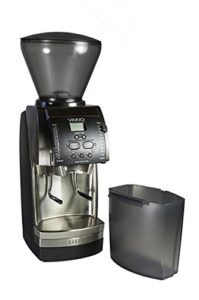 If professional quality espresso is what you're after, then you aren't going to do any better than the Baratza Vario. Believe me, we've looked.
Unlike the Encore above or the smaller Precico, the Vario is designed to be the top of the heap in terms of grind consistency and customization. It offers a staggering 230 different grind settings with is almost hard to fathom. This incredible range of grind sizes means that this burr grinder can be set to create grinds that work perfectly with the rest of your system. Because let's face it, if you're looking at the Baratza Vario, chances are you have a pretty good espresso machine already, and you're likely the kind of person that likes having things exactly the way that they want them.
Of course cost is the biggest drawback to the Vario. It is the most expensive coffee grinder on our list, and though we also deem it to be one of the very best, it would be impossible for some consumers to not experience a small degree of sticker shock when look at that element. Fortunately, for these consumers there are plenty of Baratza models that come close to this kind of performance but are significantly cheaper.
Key Specifications:
Burr Size: 54mm
Grind Settings: 230
Bean capacity: 8oz
Standout Feature: Absolute top-of-the-line burr grinder
Bodum Bistro Burr Grinder (Premium)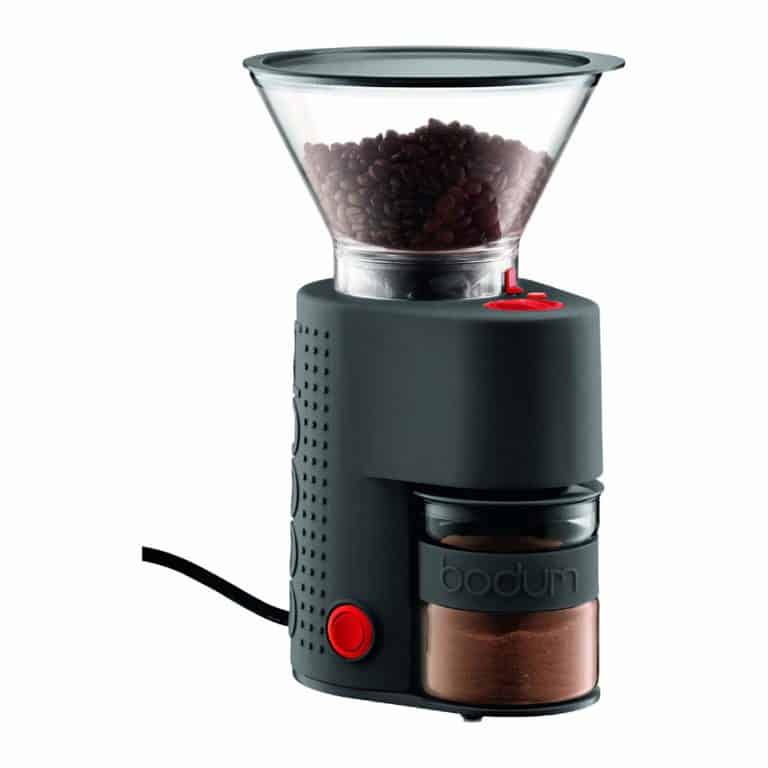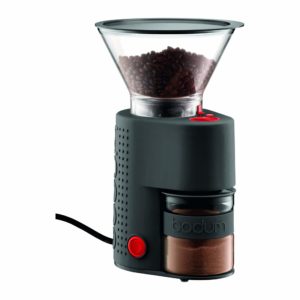 Bodum has become quite well known for making some of the most affordable electric coffee grinders on the market, without losing their previous reputation for making some pretty impressive kitchen gear. Their Bistro Grinder is one of the most popular "entry-level" grinders, which is probably why you are here looking at it thinking that you've seen it somewhere before. Chances are you have a neighbor, friend, or colleague who has one of these on their countertop.
Some burr grinders with glass components are frequently susceptible to static buildup, and this can be a somewhat common cause of total product failure. That certainly isn't the case here with the Bodum Birstro. There is hardly any static cling, even in the glass grind receptacle. This also means that less ground bean sticks to the side of the machine and glass. So less waste and less cleaning in one fell swoop.
Now this is a more modestly priced grinder, so there are a few material considerations that come to play. While the conical burrs themselves are made of high-quality stainless steel, the rest of the gears are made of a cheaper plastic. It hasn't happened yet, but we do expect them to give out in time.
Having said that, the Bistro Grinder still manages to be one of the best low-price burr grinders for the discerning coffee drinker.
Key Specifications:
Burr Size: 40mm
Grind Settings: 12
Bean capacity: 7.75 oz
Standout Feature: A great balance of price and performance
Handground Precision Manual Coffee Grinder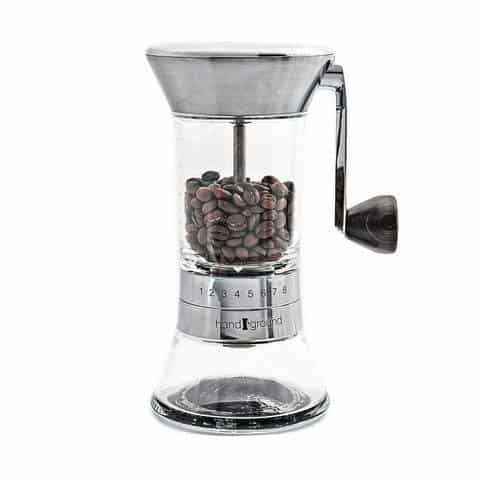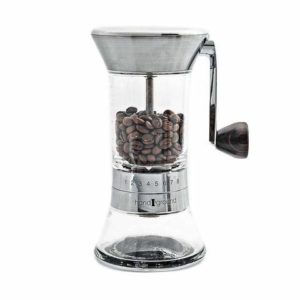 There is something quaintly charming about a manual coffee maker, especially when it utilizes the same burr grind technology that top of the line electric and automatic models use to preserve the most flavor and aroma that they can. Aside from the fact that you have to use your hands and there is no timer, you can usually get just as precise a grind as you can on most mid-range electric grinders.
Part of the charm of the Handground grinder is no doubt the chrome and glass aesthetic. This is the kind of thing that you want to leave out because it makes your kitchen look better. The fact that it is this compact is only a bonus.
Manual grinders do have the advantage of not requiring any electricity, in addition to not requiring any motor. This makes them supremely light and portable, which means that you won't have to give up your perfectly brewed coffee just because you are traveling, camping, or taking an off-grid vacation. Now you can grind up those coffee beans wherever you're at, even hitting cappuccino levels of grind without issue.
Key Specifications:
Burr Size: 40mm
Grind Settings: 15
Bean capacity: 4oz
Standout Feature: Great-looking manual grinder; totally portable for camping & traveling
Coffee Grinder Buyer's Guide: How to Choose the Best Coffee Grinder for A Perfect Cup of Joe
If you've made it this far, then we perhaps don't need to spend any more time convincing you of why you should be grinding your own coffee beans as opposed to buying pre-ground coffee. At this point, you're well away of how much more pointed the flavor and aroma of freshly demolished coffee beans can be.
If you're seriously considering purchasing a new coffee grinder, then congratulations! Coffee grinders these days are not only more precise and reliable than they have ever been, but the cost of these machines has been dropping significantly in the last few years.
The grinders that we looked at here represent only a small fraction of what is available on the market, so we've put together a guide that can help you understand exactly what it is that separates an okay coffee grinder from the best coffee grinder. And if you don't know how to grind coffee, you surely will by the end of it.
Burr Style Coffee Grinders: Why They're Better than Blade Grinders
You might have noticed that every one of the coffee grinders that we reviewed here today are what you would call a burr style grinder, or simply a burr grinder. A burr in this case refers to the way in which the bean is being ground down. While traditional blade grinders used rotating blades much in the same way that a kitchen blender would, burr grinders utilize a pair of burred discs. These discs grind the beans down evenly and reliably, as opposed to blades which are far more chaotic.
The perfect coffee is very dependent on getting a consistent grind. This is something that we cannot stress enough. Without a good, consistent grind, you will end up with pieces of coffee beans that are all different sizes. When these inconsistently sized pieces are exposed to hot water in the brewing process, their differing sizes will cause different rates of extraction. In other words, smaller bits of the coffee bean are at risk of being over-extracted, while larger bits of the coffee bean are at risk of being under-extracted.
When you have both over and under-extracted coffee in the same batch, the result is a sup of coffee that can be wildly inconsistent with the bean's true nature. Getting a grind in which every particle is roughly the same size is the best way to ensure even and reliable extraction.
The bullet point? If there are any blade grinders in your house, you might want to upgrade to a burr style.
Automatic Electric vs. Manual Coffee Grinders
While we only featured one manual coffee grinder on our list, we think that it's important to take a moment to note that they can be just as effective as your electric grinder in many cases, with the only drawbacks being that you cannot rely on a timer for a repeatable amount of ground coffee, and you obviously have to use your hand.
The precise repeatability of electric coffee grinders make them the choice of coffee snobs in almost every case. However, there are instances in a person's life when electricity is not readily available. Take camping, for instance. With a good manual grinder, you no longer need to rely on the atrocity that is instant coffee. A small manual grinder can fit in with the other camp gear and provide you with the perfect cup of coffee, wherever you go.
Low Speed Grinders vs. High Speed Grinders
As you continue your search for the perfect coffee grinder, you might find that some of them are advertised with an RPM. The revolutions per minute refer to how fast the motor is running, and therefore how fast the coffee beans are being ground down.
However, fast grinders aren't just for the impatient. There are distinct effects that RPM can have on the final product.
Low Speed Grinders
Generally speaking, the more affordable a coffee grinder is, the more likely that it will be considered low-speed. While there is no official demarcation between low speed and high speed, there are a few less-direct ways to make the measurement. For instance, low speed grinders usually have smaller, conical-shaped burrs. The motors are a bit smaller, and almost all of them use a gear reduction system that allows them to operate off of these smaller motors.
The obvious selling point of a low speed grinder is its price. They are also quite suitable for coffee styles that don't need super-consistent grind settings, such as French Press or even some drip coffee.
One of the biggest drawbacks to the low speed grinders is that the gear reductions often cause even more static electricity to build. We'll talk more about that in a moment. Another is that they tend to be conical burr grinders as opposed to flat burr grinders, which can reduce the surface area of the burr and increase grind time.
High Speed Grinders
With bigger, direct-drive motors and larger, flatter burrs, high speed grinders are far more efficient at creating the perfect grind. Lovers of Turkish coffee will have no choice but to invest in a high speed grinder, because the added surface area of the flatter burrs is the only way to get the ultra-fine grind that is required of the style. The higher RPMs associated with high speed grinders can also lead to a reduction in overall static electricity buildup. Most of the time there are also fewer gears and internal components, which means that on average they tend to last longer than low speed grinders.
While their performance is unmatched, high speed grinders are significantly more expensive than their low speed counterparts, sometimes five to six times the price.
Static Electricity & Coffee Grinders: What's all the Fuss?
We should probably take a few minutes to explain what everyone is talking about when they bring up static electricity. Consumers of pre-ground coffee will have no idea how the concept of static comes into play with the preparation of coffee, but experienced connoisseurs might be all too familiar with it.
Here's the quick & dirty summary. As a coffee bean moves through the grinding mechanism, it picks up some electrical charge. The longer the gears are running, the more electrical charge is allowed to build up. This charge sends coffee particles up and of the grinder, or, alternatively, causes them to stick stubbornly to the side of the grind chamber. Not only does this make a mess, but it means that you are loosing precious coffee grounds.
Some manufacturers have taken this issue to heart when designing the newest models of burr grinder. Altering the shape and construction material of the burr has been shown to have a significant effect on static buildup. Also, models with stainless steel grind chambers as opposed to plastic grind chambers are usually more effective at dissipating the electrical charge.
Our recommendation? If you are experiencing excess static buildup in your grind chamber, the quickest fix is to simply wait 5 minutes or so for some of that charge to dissipate. It means delaying that cup of coffee that you are probably seriously in need of, but it gives the grinds a chance to un-stick from the chamber, thus saving you a little time on cleanup afterwards.
Grind Settings
One of the first things you will see advertised about a coffee grinder is how many grind settings it includes. This has recently become a major comparison point for grinders. As the world starts to turn away from bad cups of coffee and towards premium coffee, they have begun to realize how important the grind setting is to achieving good coffee.
The grind settings refer to how fine or coarse the ground coffee will be. There are major style implications for these settings, all of which have a direct effect on both flavor and the actual coffee brewing process. The range here is pretty incredible ... anywhere from a mere 8 settings to a whopping 500+. One must ask themselves if 500 different grind settings are really necessary. The real aficionados will tell you, absolutely. But us? We are happy with about 20 settings, as we only ever really use one.
The truth is that no matter what your style preference is, achieving the correct grind size is the backbone of that goal. The goal is to extract the perfect amount of flavor and aroma from the ground down bean.
Under extracted coffee is the result when the grounds are too coarse and water is not able to reach all that flavor locked inside the crushed bean
Over extracted coffee is the result when the grounds are too fine. This additional exposure to hot water means that not only will the goof flavor and aromas be pulled out, but also harsh tannins and acrid flavors that can spoil a good cup of coffee.
Remember, blade grinders create coffee grounds that are both over and under-extracted, which is why your decision to switch to a burr grinder is likely one that you're not going to regret.
Grind Timers
Most automatic electric coffee grinders feature a grind timer. This feature allows the user to get a reliable amount of coffee grounds, no matter how many beans are in the hopper. Using the same amount of grounds from cup to cup is essential for a consistently perfect coffee, and even small amount of excess or lacking grounds can significantly affect the flavor.
It is not uncommon to see these timers measured by the cup. In other words, the amount of cups of coffee you are trying to make. However, these standards are not to be taken as strict guidelines. Everyone likes their coffee a little differently, which means different amounts of grounds. Our recommendation is to experiment. Have some fun with it! After a few tries you will be zeroing in on the perfect cup for you.
Remember: the longer that the grinder is in operation, the more heat that will be created inside the unit. Recent research has shown that the temperature of the actual mean when it goes into the grinder can have a noticeable effect on finished flavor, so it is best to not let your grinder components get too hot. Some grinders feature an auto-off feature for this reason, and others have been designed to wick excess heat before it can affect the grounds.
Q: How do I Choose the Right Grind Size?
A: The size of your grind should match the type of coffee you are looking to make. Because some models have literally hundreds of grind settings available, it would be impossible to make a direct chart for all of them. However it is possible to estimate based on style preferences:
Coarse settings are for cold brew and French press, two styles that require larger grounds for slower infusions. Look for granules about the size of brown sugar.
Medium settings are best for your traditional home coffee makers (drip coffee) or any coffee machine with a flat-bottom filter. The granules will be closer to the size of salt.
Fine settings work ideally for machines with conical filters. Finer than both salt and sugar.
Extra fine settings are designed for espresso machines. Look for super fine granules, like bagged garden soil.
Turkish-fine is not an official size, but it is worth noting that even an espresso-level fine grind is not fine enough for traditional Turkish coffee
Q: How do I Clean my New Coffee Grinder?
A: If you use your grinder 4 times a week or more, then a weekly cleaning is highly recommended. Coffee oil has a tendency to stick to the mill and can make the grinder less efficient over time, leading eventually to bad coffee. Fortunately, even electric grinders are easy to clean.
Generally speaking, any removable parts such as the hopper and grind bin are dishwasher safe. The mechanical components will require a bit more work, but nothing that can't be wiped away with a clean, damp cloth. Using a small amount of diluted soft detergent can help with the coffee oils, but excess amounts will be harder to rinse out.
Remember that automatic grinders usually have a lot of electrical components in the base and on the inside, so it's never a good idea to submerse the whole thing.
Final Cup: The Best Coffee Grinder
We should start by congratulating you on your decision to switch to whole bean coffee. And if you're an old-hand at grinding, then good for you. Keep it up. The most direct path to a great cup of coffee is through careful bean extraction, and that all starts with achieving an appropriate grind.
Our verdict? It doesn't get much better than the Baratza Vario. It's high-performance in a small package, and nearly every component is completely replaceable. All this in addition to the generous 1-year warranty on all their product.
The Bistro Burr grinder from Bodum, however, is far more affordable and performs admirably even in the face of fancier grinders like the Vario. For anyone who doesn't want to spend half a rent check on a coffee grinder, this is the model for you.