When it comes to coffee, everyone has their personal preferences: flavored or non-flavored coffee, light roast, dark roast, creamer, no creamer – there are a lot of options at hand. Then, of course, some enjoy picking up a cup of joe at a local or chain coffee shop each day while others prefer to brew at home. If making your own, again comes another decision: to opt for ground beans, freshly ground coffee, or even coffee pods.
For many, nothing beats a coffee maker with grinder to conveniently turn beans of one's choice into freshly ground coffee ready to brew. It beats having to get a handheld blade grinder for coffee beans or an electric burr grinder that will take up precious counter space in your kitchen. Plus, this is the best route for delicious coffee, since you can't always find pre-ground beans or even coffee pods for your Nespresso machine in every flavor and roast you want.
That said, if you prefer to brew coffee at home, particularly from freshly ground coffee beans, finding a quality coffee maker with grinder is your next step. Trust me, there are a lot of machines out there to pick from with different features, designs, and price ranges.
When on your search for the perfect coffee machine-grinder duo, check out these ten top models:
1. Capresso 488.05 Team Pro Coffee Maker and Grinder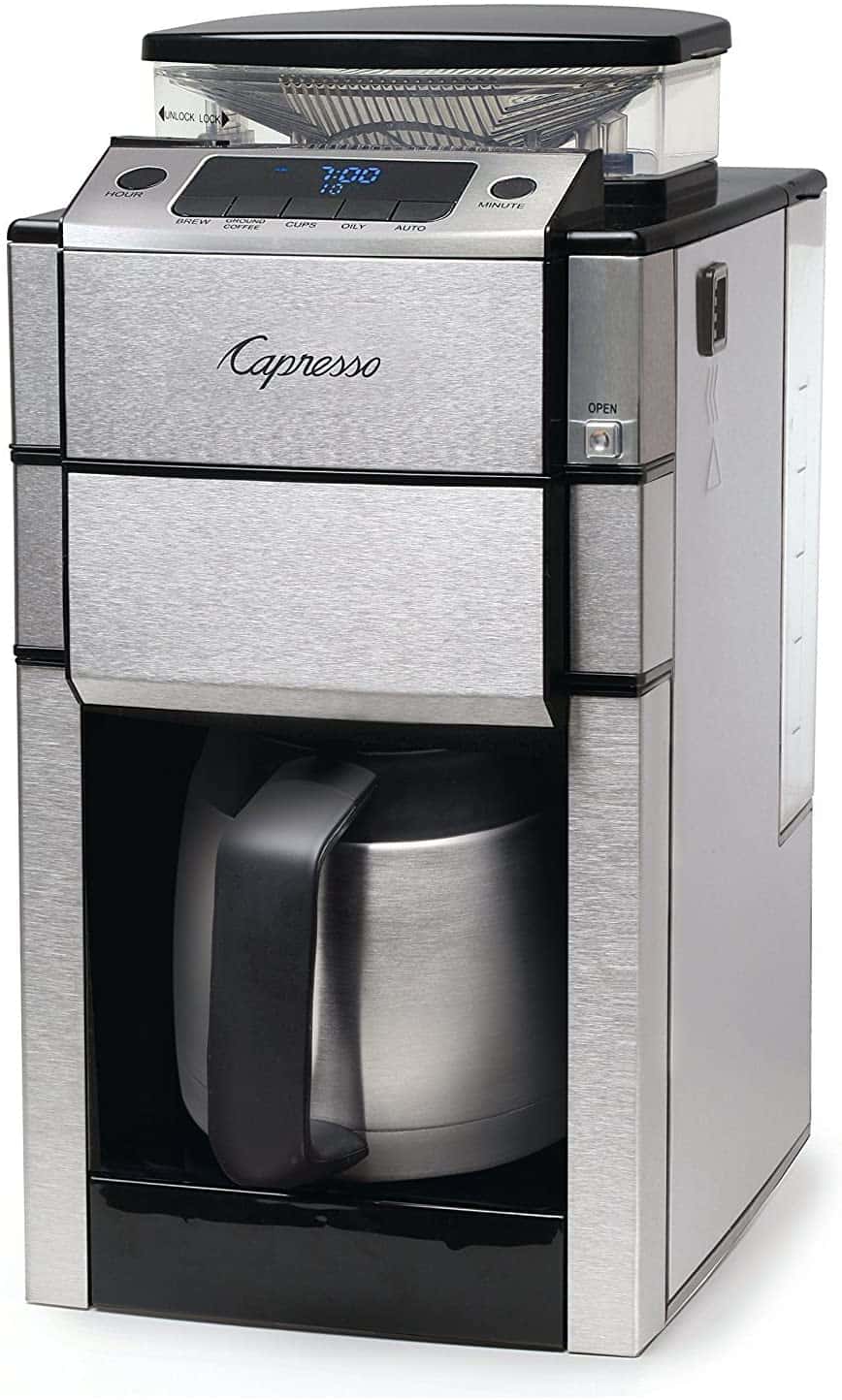 This Capresso model is one of the best coffee makers with grinders for newbies. It is simple in appearance, easy to use, and easy to clean. Simply pop the beans of your choice into the machine, and the unit will know exactly what to do. Because the blade grinder is so quiet, you won't wake everyone up in the morning with your brew. Additionally, if you have pre-ground coffee on hand, you can use this too in your Capresso Coffee Team GS.
There's no need to keep buying paper filters when you get this unit. It has a built-in filter that will keep the coffee powder out of your drink and can be put in the dishwasher after you're done using it. Plus, the thermal carafe will keep your drink warm for a long time.
Moreover, the patented dispenser helps you grind and brew the perfect cup. It controls the flow of ground beans into the filter so that it never gets too full. Thanks to the two-step grinding process, the grinding process gets cleaned after each cycle. This way, you won't get old, stale coffee grounds in your new cup of coffee.
While this unit is a bit more expensive than other models, it's still worth considering. It's incredibly user-friendly, practical, straightforward, and easy to clean. Moreover, it looks sleek and modern—perfect for every kitchen.
Top Features:
LCD display
Fully programmable coffee grinder
2 brewing modes: brew with or without the grinder
10 cup capacity
Includes gold-tone filter
2. Cuisinart DGB-700BC Fully Automatic Grind and Brew 12 Cup Coffee Maker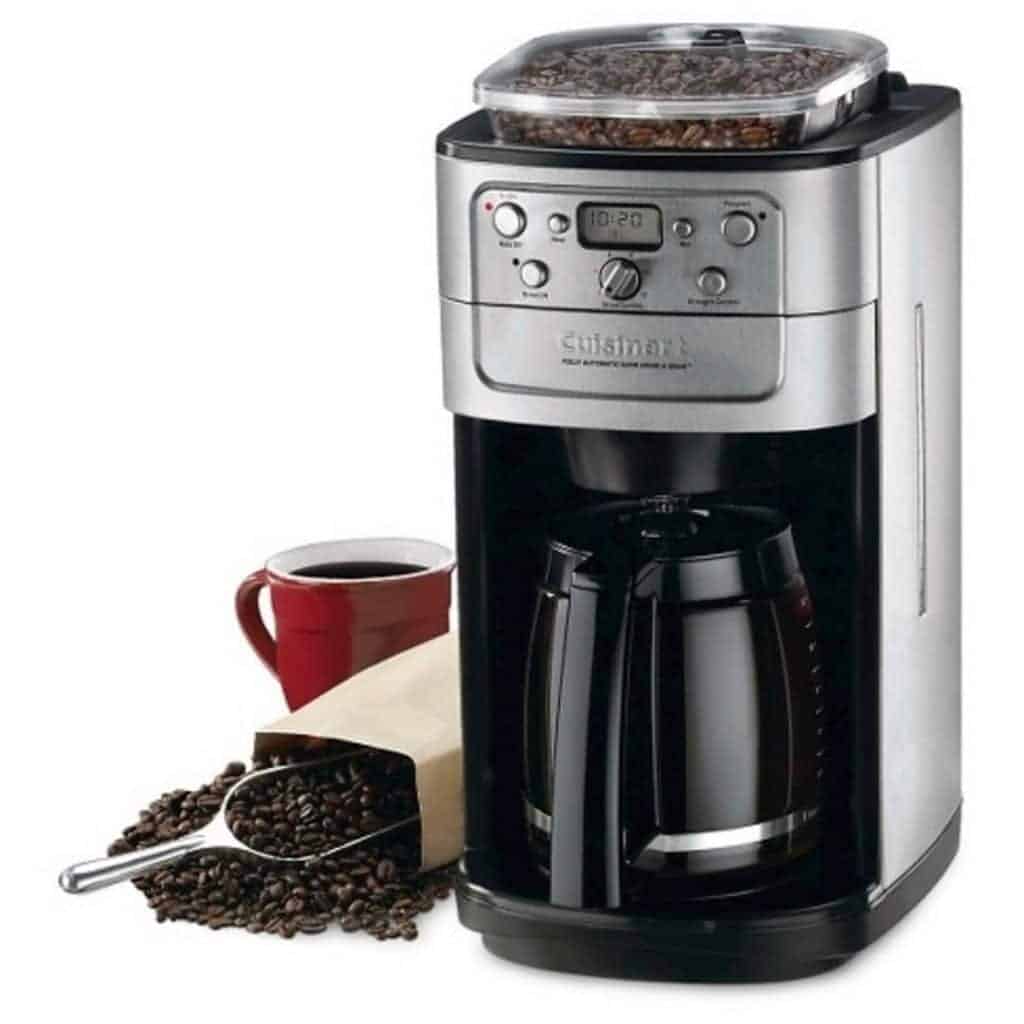 This next coffee maker is made by a more popular brand: Cuisinart. It offers a more simplistic, yet modern design than the last one we looked at. It offers a masculine-industrial black with brushed chrome design that will look phenomenal in just about any kitchen.
The Cuisinart DGB-700BC Fully Automatic Grind and Brew does all the guessing. The built-in burr grinder apart of this machine automatically begins to grind before brewing to make the process easy on your part.
You can also pre-grind your coffee beans before making your cup of joe. Some users of this machine like to grind their beans the night before and then set their machine to 'grind off' in the morning, so the brewing will automatically begin. After brewing, this coffee maker shuts off automatically.
In general, this coffee maker has awesome programmable and custom features such as the option to pick among different brew strengths. But if there's anything bad I have to admit, this Cuisinart coffee maker has a noisy grinder. So, if you're not up for this, this may not be the right coffee maker with an incorporated grinder for you.
Top Features:
Digital display, clock, and timer
Pause and pour feature
Push-button controls
Custom brew strength
Programmable
Automatic shut-off
Includes water filter, removable permanent filter basket, and a mesh filter
3. Gevi 10-Cup Pour-Over Coffee Maker with Grinder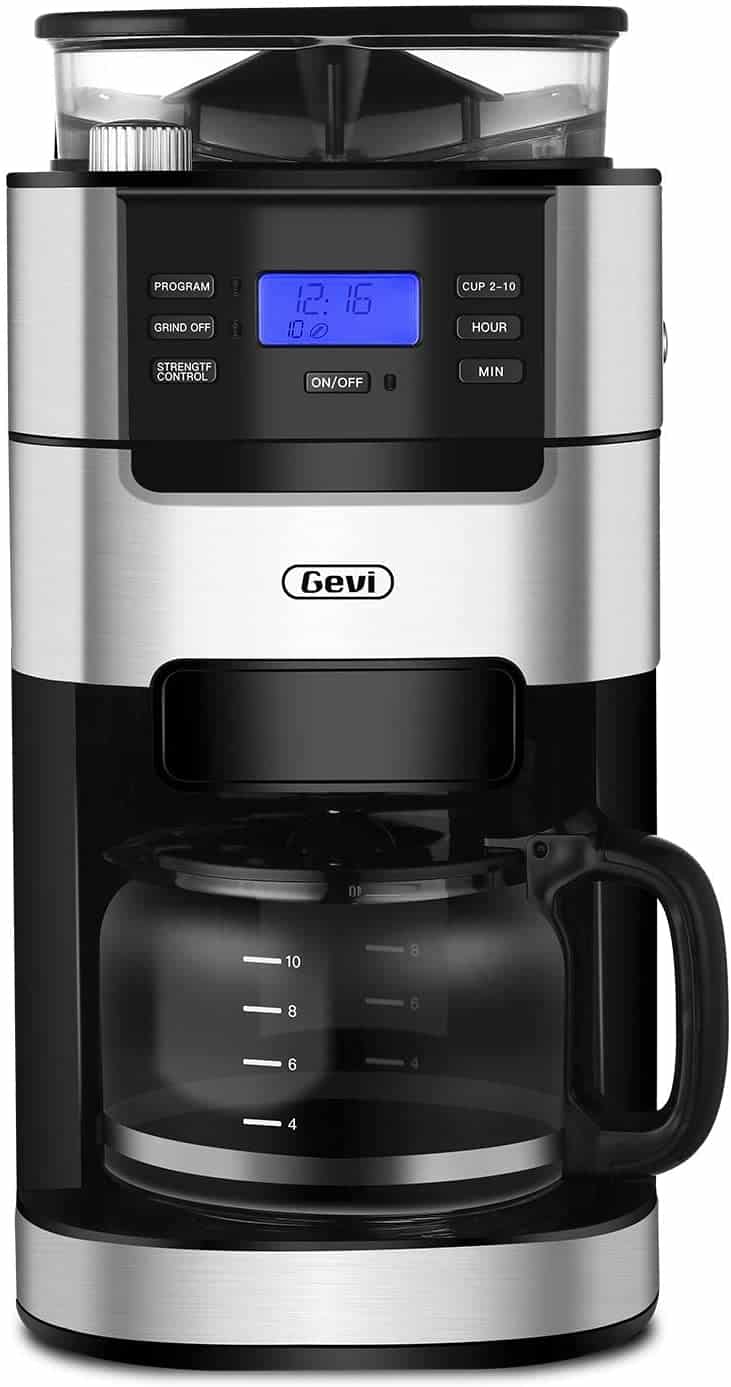 You may not have heard of Govi before, but this coffee maker with a grinder has surely put them on the map. It has all the best features you're looking for in a grind-and-brew coffee maker and it's not as expensive as you might think.
The Govi Coffee Maker brews up to 10 cups at a time. This makes it the perfect choice for families (or someone who really needs their caffeine fix throughout the day).
You can control the grind settings by pressing the buttons near the display screen. Pick from up to eight grind size options to fully customize your cup of coffee. You can also choose the strength of your cup—mild, normal, and strong—for the best pick-me-up in the morning. You'll get the best coffee for you every time.
If you're a creature of habit, you can program the Govi Coffee Maker to start brewing every day at the same time. This way, once you're out of bed, you'll hear a soft bell go off and have a delicious cup of coffee waiting in the kitchen. Plus, since the unit has an auto-shut-off setting, you don't have to worry about turning it off yourself.
Top Features:
Digital LCD display
Programmable timer for automatic brewing
8 coarseness of grind options and 3 strength options
Keeps coffee warm for up to 2 hours
Can brew up to 10 cups of coffee in one go
4. Black + Decker Mill and Brew 12-Cup Programmable Coffee Maker with Grinder, White, CM5000WD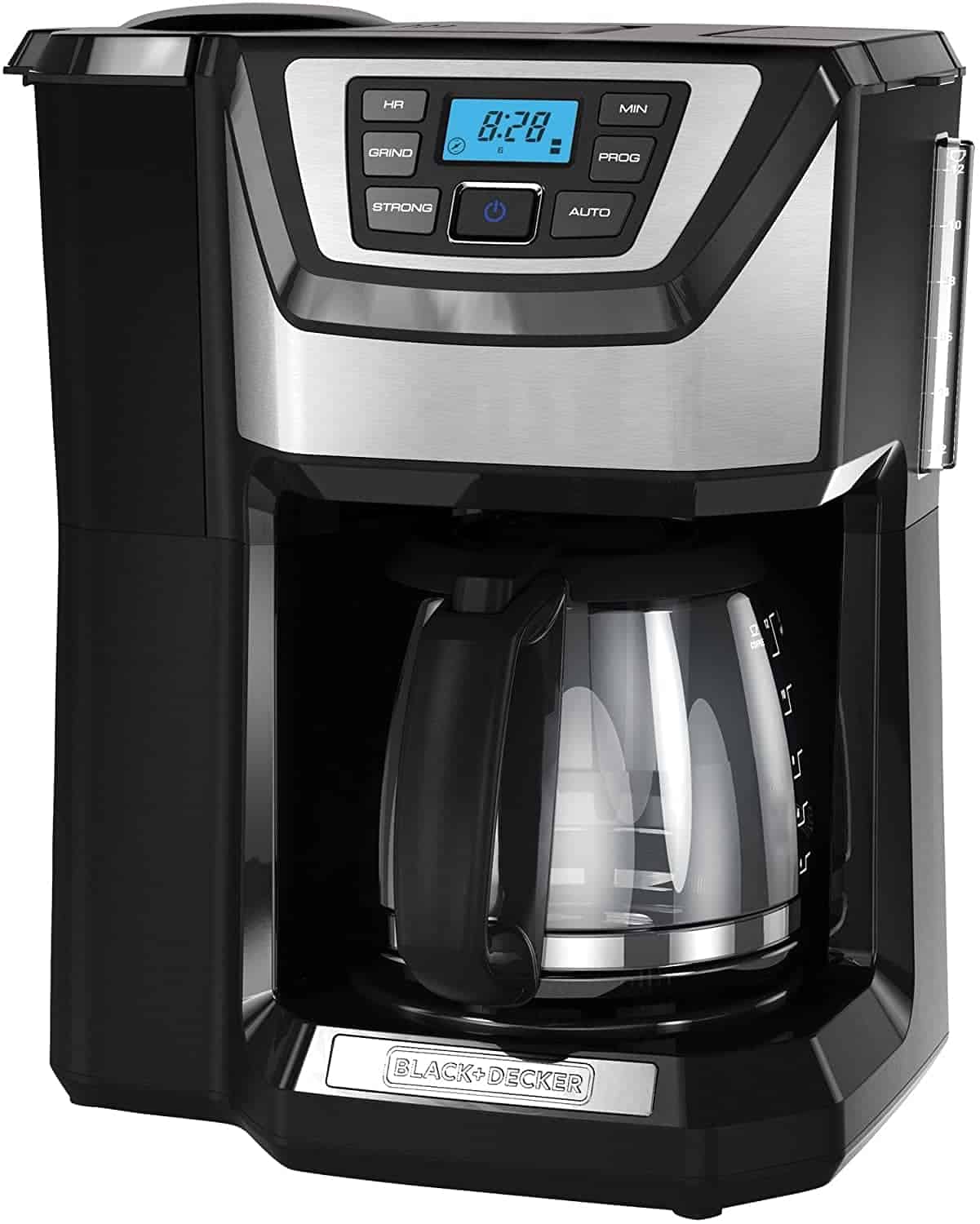 The Mill and Brew Programmable Coffee Maker by Black + Decker is a great grinding coffee maker under $80. While it offers a beautiful, glass carafe, the machine overall isn't incredibly modern or trendy. Regardless, it looks good and gets the job done.
You can get this machine in four different colors: Black, Black/Stainless Steel, Red or White. However, one downside I noticed right off the bat was that you have to pay more for certain colors. Of course, the Black/Stainless Steel is pricier, yet looks the most modern.
This coffee maker with grinder model offers a custom brew strength, the option to begin your brew on auto-start, and pick between brewing whole beans or pre-ground beans of coffee. For coffee fanatics who are particular about their brew, you even have the option to select the coarseness of your grind. A few reviewers of this machine, however, have stated that the glass carafe (12 cups capacity) chips. That said, ensure to properly follow the manual instructions when cleaning.
Top Features:
Custom brew strength
QuickTouch programming – 24-hour auto brew
Removable, easy-to-clean filter and grinder
Carafe holds up to 12 cups
Includes permanent coffee filter and glass carafe
5. Breville BDC650BSS Grind Control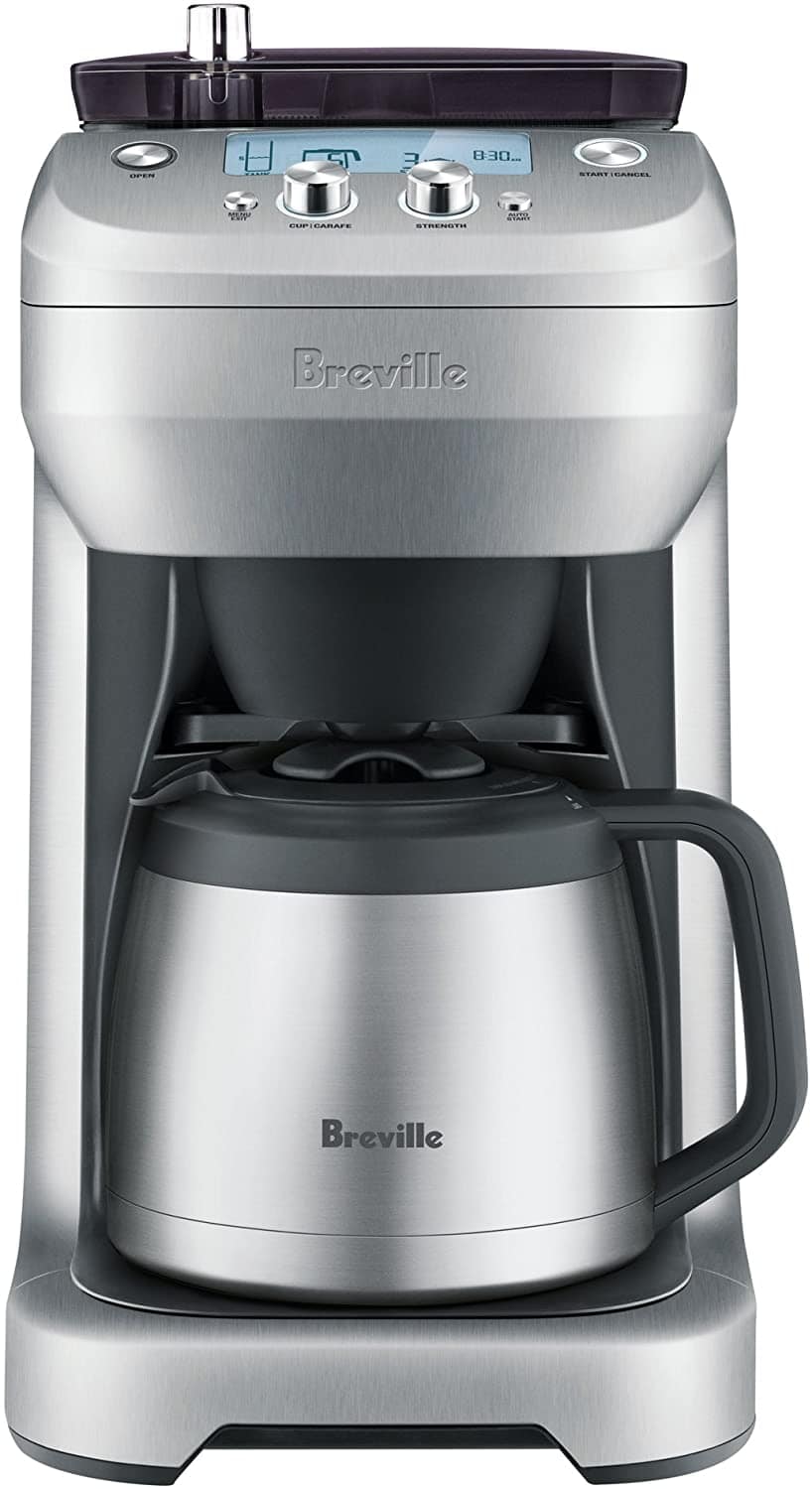 Coffee enthusiasts will love the Breville Grind Control (BDC650BSS) – especially for its eight different coffee strength settings and grind size options. If you're not using the thermal carafe that comes with the unit, the removable drip tray will come in handy. Once you take it out, you'll be able to fit tall travel mugs.
This coffee maker also features an LCD screen, however, one that is essentially concealed, or better yet, at eye-level as it is slightly angled upward. While the LCD screen is beautiful, the placement is favorable in that it doesn't take away from the slimmer, cleaner, more traditional design this machine offers.
The Breville Grinder Control additionally has a programmable auto-start for those who want to time their grind and brew ahead of time and has pre-brew temperature control to heat your water to the perfect temperature. As a bonus, brewing sessions are quiet.
As you can imagine, all this doesn't come without a catch. In this case, it's the steep price tag, which we still think is worth it if you're willing to spend that much. After all, how many programmable coffee pots do you know of that take the hassle out of making coffee on a busy morning? Plus, the coffee this unit makes consistently hits the mark every time.
Top Features:
8 coffee strength settings
½-pound bean hopper capacity
12-cup carafe capacity
LCD screen
Programmable auto-start
Pre-brew temperature control
6. KRUPS KM785D50 Grind and Brew Automatic Coffee Maker, Black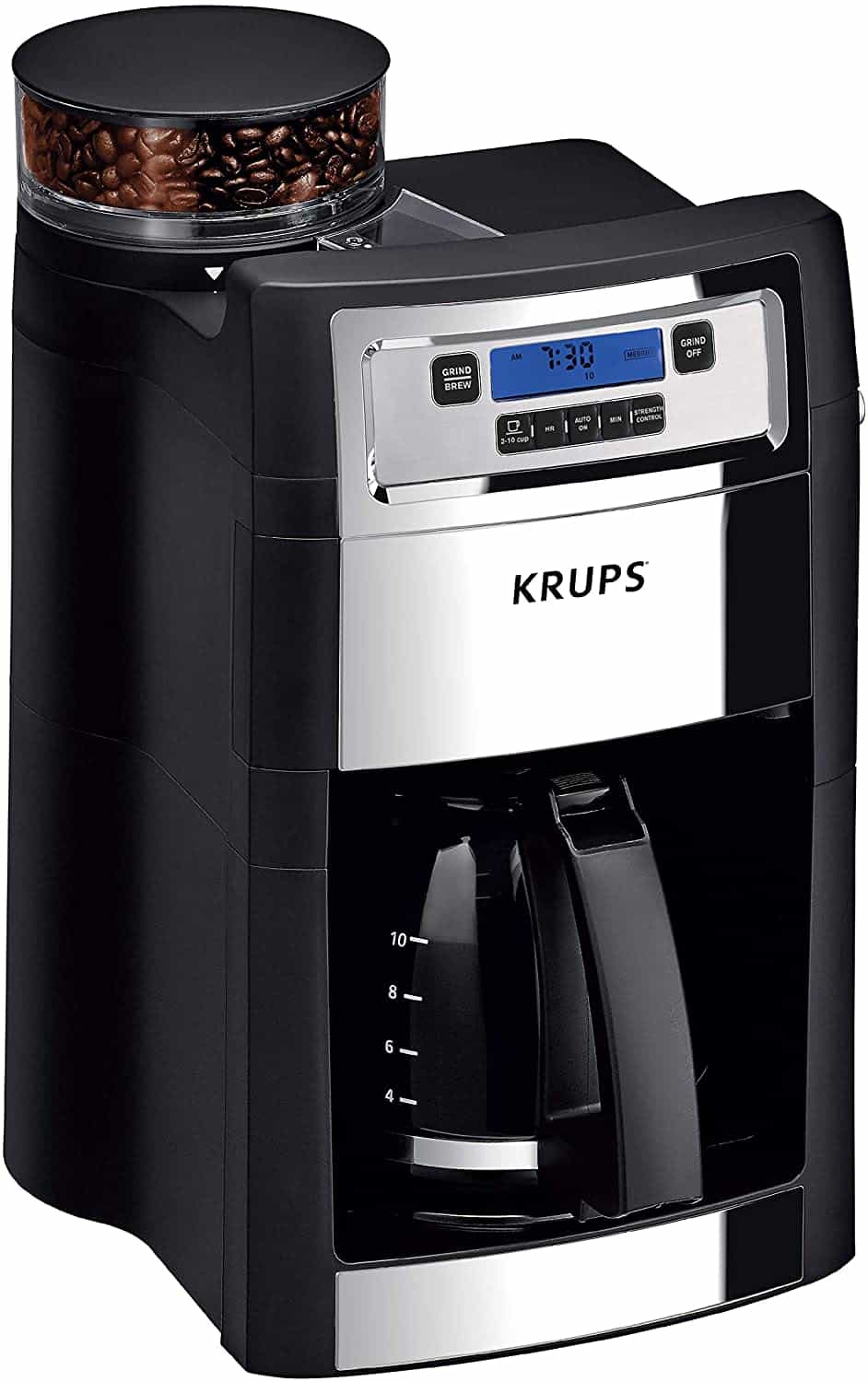 The attractive yet simple-looking KRUPS Grind and Brew Automatic Coffee Maker features a straightforward push-button system and a modest LCD screen. When you think of how easy yet how modern this coffee maker is, you can understand why it's one of the most popular models out there.
With the KRUPS KM785D50, starting your brew is easy and versatile. Pick your brew strength and grinding setting of your choice. Even use the auto-start feature to preset your brewing time, or use the keep-warm function for up to two hours to keep your fresh brew warm.
But keep in mind that if you want a quieter machine, you probably won't like the KRUPS. Some reviewers also write that the grinder doesn't have the precision and control they were looking for. But don't lose sight of the fact that this machine has five grind settings for you to choose from, depending on the type of coffee you're making.
All in all, it's a worthwhile investment in a robust coffee maker that will last you years.
Top Features:
LCD display
10 cup capacity
Conical burr grinder with 5 settings
3 brew strength options: mild, medium, and strong
Auto-start
Keep-warm function for up to 2 hours
7. Breville BES870XL Barista Express Espresso Maker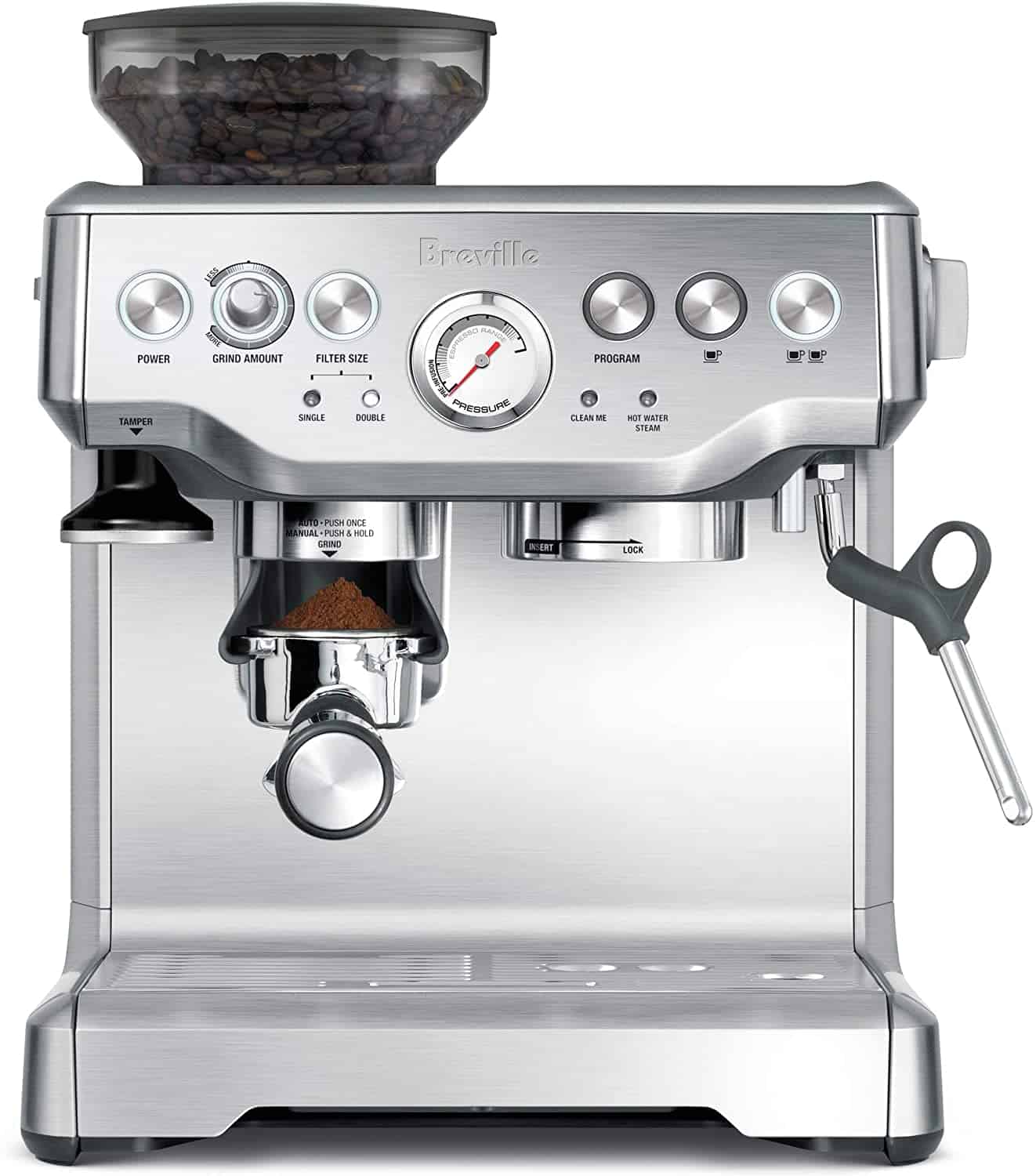 We've saved the most expensive and most sophisticated model for last. The Breville Barista Express Espresso Maker brews café-quality coffee at home in the most uncomplicated way possible. If you're open to stretching your budget, we know this machine will make any coffee aficionado happy.
This Breville coffee maker offers the perfect espresso extraction temperature, a fully-adjustable conical grinder, and plenty of accessories included with the purchase. The function of this machine's grinder is heavily favored and truly is a coffee maker all in one machine. The frother (or steam wand) is also a very satisfactory component of this espresso maker.
Moreover, you can grind and brew as little or as much coffee as you want. Making enough for a single cup is just as easy as making enough to fill a thermal carafe.
Cleaning a coffee maker by Breville is very easy, despite the machine appearing complex to maintain. It even features a 'CLEAN ME' light to indicate when it's time to run its cleaning cycle. It doesn't get much easier than this.
The only con (besides the price) is that there are some plastic pieces in the machine. This shouldn't be a big deal for the average buyer, but some people are not open to having plastic in their expensive machinery. Not that it affects the taste of the coffee by any means, just out of principle. To that, we say it's a valid personal concern, but it doesn't take away from the fact that this is one of the best coffee makers with grinder on the market today.
Top Features:
15-bar Italian pump
Frother
Automatic water temperature adjustment
½-pound stainless steel bean hopper
67-ounce water tank
Includes stainless-steel milk jug, precision razor dose trimming tool, single and dual water filter baskets (4), filter holder, and cleaning kit
How to Find the Perfect Model: Buyer's Guide
You'll quickly realize there are hundreds of coffee machines with burr grinders, but they're not all made the same. Some are definitely worth the investment, while others will probably not satisfy your coffee-making needs.
Capacity and Size
How many cups of coffee do you want to brew at a time? Some coffee machines will brew enough coffee to keep a battalion well-caffeinated—but they're also bulkier and more expensive. Others are much more compact but only make a few cups of coffee at a time. You'll have to figure out which type you'd prefer.
Versatility
The best coffee makers with a built-in grinder will give you several grind options. This means you could choose the coarseness of the grounds for your next cup. This is particularly important for anyone trying out different techniques and exploring new flavor profiles. But the trade-off is that versatile models are typically more expensive.
Keep-Warm Setting?
Do you make a whole pitcher of coffee to drink throughout the day? Or are you the brew-as-you-drink type?
Some coffee makers will keep your pot of coffee warm for as long as you need it. Others skip out on this feature altogether. Because models with the keep-warm setting are usually pricier, you should decide if this is a must-have for you.
Easy to Clean
Not all coffee makers are easy to clean. Some are a real challenge to get sparkling clean after each brew. Ask yourself how willing you are to spend long minutes cleaning your new coffee maker after every use.
Sturdiness
Of course, we couldn't skip out this factor to consider. The sturdiest coffee makers are the best investments because you'll keep using them for longer. A cheap (in both senses of the word) coffee brewer will need replacing after just a year or two—what a hassle!
Final Words: Best Coffee Maker with Grinder
Didn't find what you were looking for? We have a few more tips for you if you're ready to venture into the vast world of coffee makers with burr grinders all on your own.
What is the best model on sale?
The best coffee machine with grinder for one person may not be the best option for another. The size, color, overall design, programming and features, amount of coffee that can be brewed at once, coffee compatibility (ground coffee only, coffee pods, etc.), the price of the machine, and so on are all important to consider.
Who makes the best coffee maker with grinder?
While there is no single best coffee maker with grinder for home out there, some of the top brands for such products include Capresso, Cuisinart, Breville, KitchenAid, KRUPS Gourmia, Delonghi, and Black + Decker.