When it comes to coffee, everyone has their own personal preferences: flavored or non-flavored coffee, light roast, dark roast, creamer, no creamer – there are a lot of options at hand. Then of course, some enjoy picking up a cup of joe at a local or chain coffee shop each day while others prefer to brew at home. If making your own, again comes another decision: to opt for ground coffee, fresh ground coffee, or even coffee pods.
For many, nothing beats a coffee maker with a grinder to conveniently turn beans of one's choice into freshly-ground coffee ready to brew. After all, you can't find pre-ground coffee or even coffee pods in every flavor and brand you want.
That said, if you prefer to make coffee from home, particularly from freshly-ground coffee beans, finding a quality coffee maker with grinder is your next step. Trust me, there are a lot of machines out there to pick from with different features, designs, and price ranges.
When on your search for the perfect coffee machine-grinder duo, check out these ten top models:
1. Capresso Coffee Team GS
The Capresso Coffee Team GS is one of the best coffee makers with grinders for newbies. This coffee maker is simple in appearance, easy to use, and easy to clean. Simply pop the beans of your choice into the machine, and the machine will know exactly what to do in terms of quietly grinding your beans and whipping up the perfect cup of coffee. However, if you have pre-ground coffee on hand, you can use this too in your Capresso Coffee Team GS.
If you don't need your coffee right away, use the programmable timer to tell your machine to brew your coffee in the future, or place your current cup on the non-stick warming plate to keep warm for later. After using, this coffee maker shuts off automatically for safety purposes as well as for convenience.
The price of the Capresso Coffee Team GS is decent being at $199. However, one disadvantage is that there is only a one-year warranty tied to this machine. But on a positive note, Capresso is a reputable company that offers quality coffee makers. Reviewers of this machine state that this device lasts an average of eight to ten years when well cared for. Overall, this coffee machine is pro at what it does; no complaints there.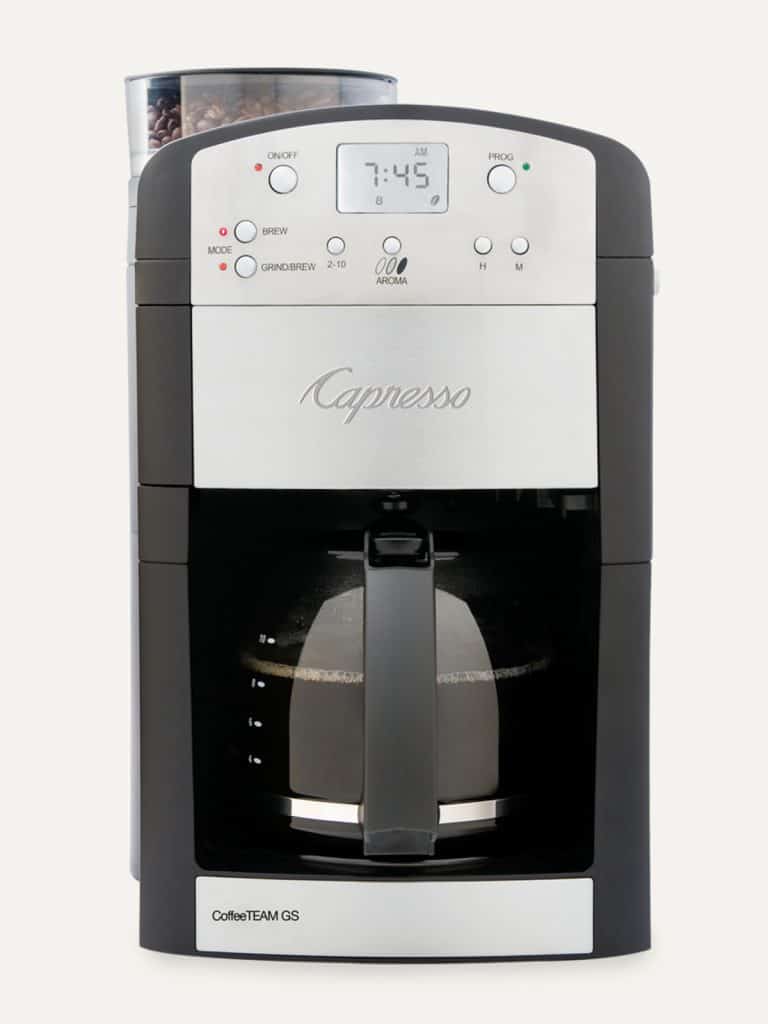 Top Features:
LCD display
Programmable coffee grinder
Programmable clock timer
2 brewing modes: brew with or without grinder
2-hour safety shut-off
Non-stick warming plate
10 cup capacity
Includes gold tone filter
2. Cuisinart Fully Automatic Grind & Brew 12 Cup Coffee Maker – Brushed Chrome DGB-700BC
This next coffee maker is more on the affordable side at $129.80; however, it offers a more simplistic yet modern design than the last one we saw. The one specifically pictured below offers a masculine-industrial black with brushed chrome design that will look phenomenal in a variety of settings.
Like the Capresso Coffee Team GS, the Cuisinart Fully Automatic Grind & Brew does all the guessing. The built-in burr grinder apart of this machine automatically begins to grind before brewing to make the process easy on your part.
You can also pre-grind your coffee beans before making or skip the grinding process altogether. Some users of this machine like to grind their beans the night before and then set their machine to 'grind off' in the morning, so the brewing will automatically begin. After brewing, this coffee maker shuts off automatically.
In general, this coffee maker has great programmable and custom features such as the option to pick among different brew strengths. But if there's anything bad I have to admit, this Cuisinart coffee maker has a noisy grinder. So, if you're not up for this, this may not be the right coffee maker with built in grinder for you.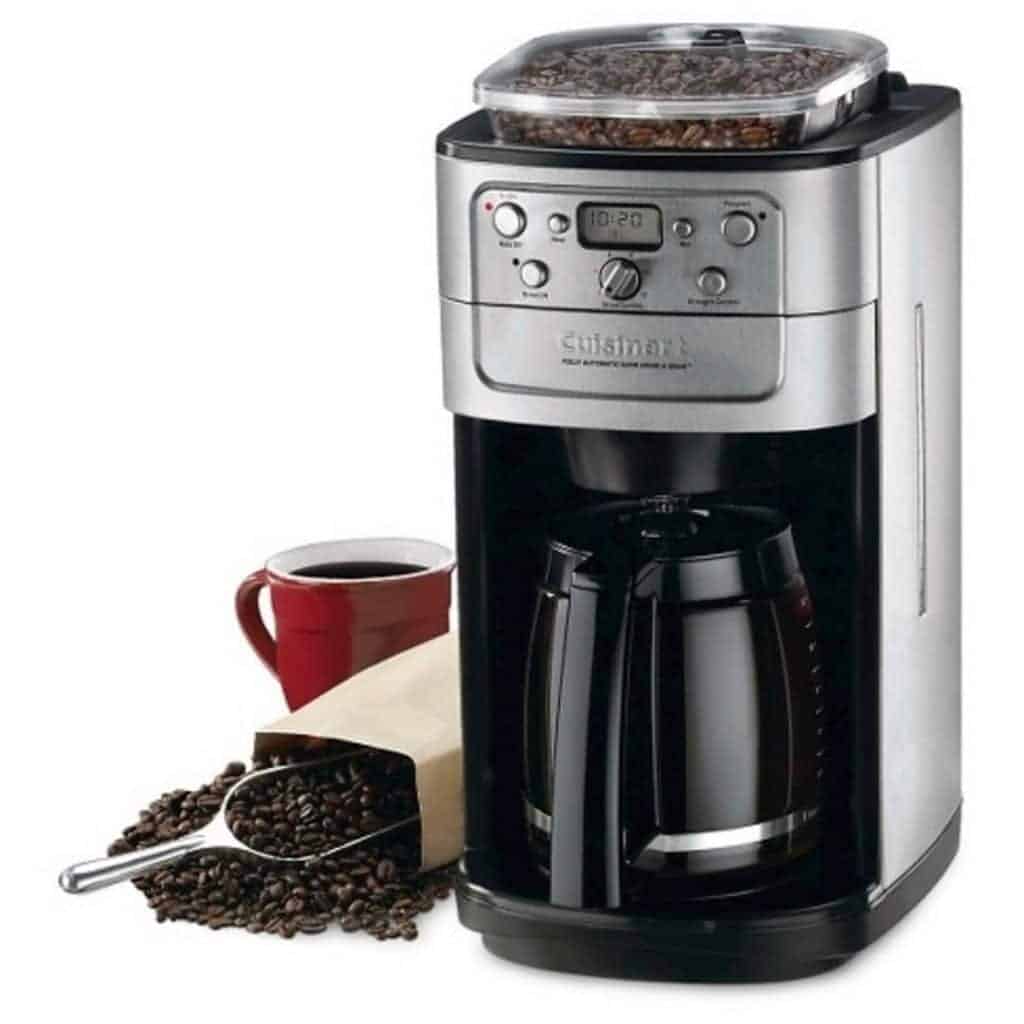 Top Features:
Digital display, clock, and timer
Pause and pour feature
Push-button controls
Custom brew strength
Programmable
Automatic shut-off
Includes water filter, removable permanent filter basket, and a mesh filter
3. DeLonghi Dedica Stainless Steel Conical Burr Grinder – KG521M
DeLonghi has been impressing consumers for decades with their Italian-made coffee makers. When I came across their Dedica Stainless Steel Conical Burr Grinder machine, I knew it would be a great buy. Just from the looks of this coffee maker, it's super clean, modern, and slim. The taller, transparent grinder on top gives this machine a bit of an exaggerated, avant-garde look, making it stand out from other coffee machines with grinders.
As for the function of this coffee maker, there are a plethora of features to choose from. There are 18 variable settings for drip coffee, pour over, French press, and espresso. You also have the option to grind your beans prior to making your coffee or just skip to the brewing process with pre-ground coffee instead. Before brewing, you can additionally select your desired coffee strength from light to strong.
As for the cons, some would consider the fact that this Italian coffee maker is actually made in China, misleading. Many also consider the bean hopper a bit too small for their taste. Regardless, there is a lot this machine offers and not too many bad things to say about it in terms of how it actually functions.
The original price for this DeLonghi coffee maker is $278.95, but it is currently price dropped on multiple sources for only $155.95. For the quality, features, style, and brand tied to this machine, this could be considered the best coffee maker under 200 dollars.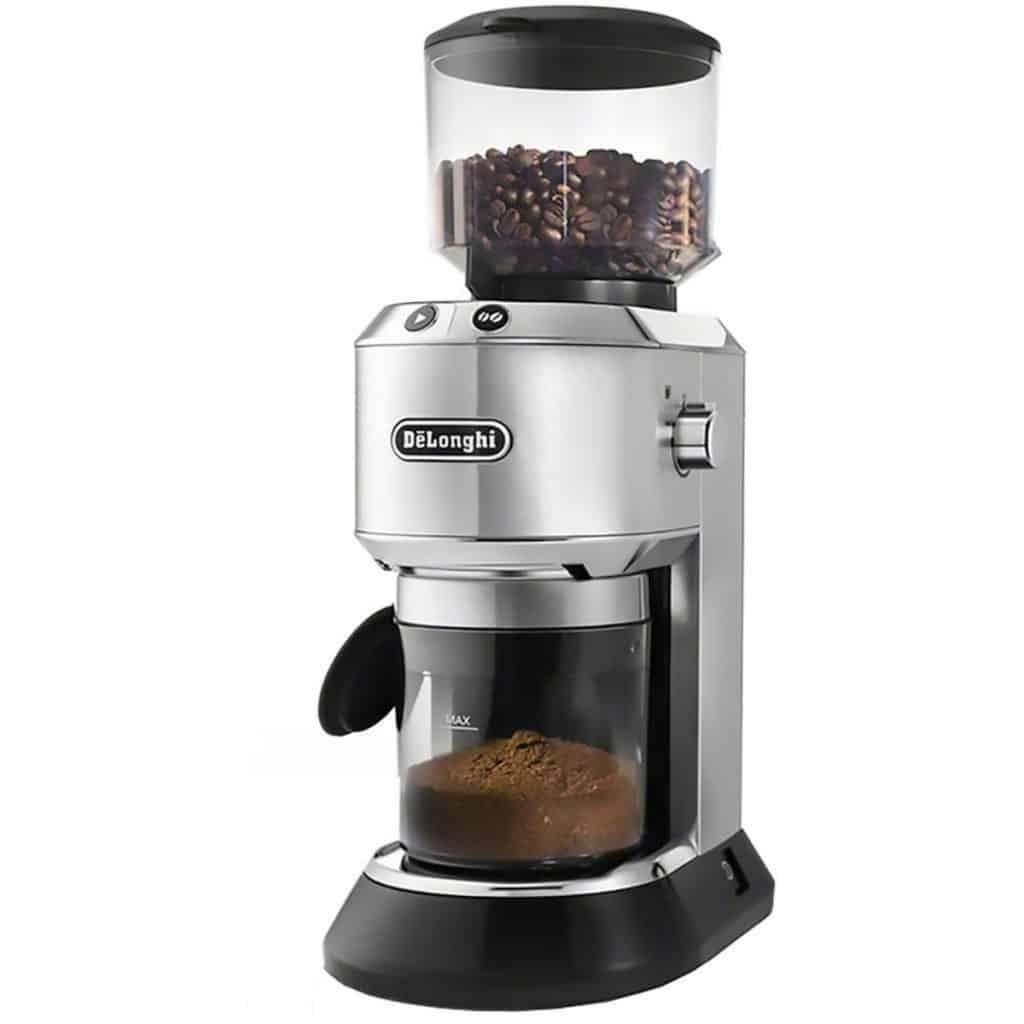 Top Features:
Digital LCD display
12-ounce bean hopper
Three strength settings to choose from: light, normal, and strong
14-cup storage container and grinding capacity
18 grind settings for French press, espresso, and drip/pour-over
Stainless steel burr grinder
Removable upper burr
4. Gourmia GCM4500
Next up, we have a compact, automatic coffee maker all in one by Gourmia, another highly recognized company. This ETL-listed coffee maker grinder combo is attractive with its black-and-silver design, glass carafe, and blue backlit LED screen. Best of all, this machine is under $70, but the appearance fools the eyes into thinking it's double the cost.
While the Gourmia GCM4500 is on the more affordable end, it has the features you need in a coffee maker for home or for a small office. Program your machine to start brewing in the morning if you prefer, and pick between grinding then brewing or simply brewing with pre-ground coffee.
Although this coffee maker utilizes a reusable filter, some aren't fond of the daily cleanings this requires. Others find it convenient in that they don't have to continuously purchase disposable filters. Another con is that the water reservoir isn't as big as other machines, but this all part of the convenient compactness this coffee maker offers. But in general, the Gourmia GCM4500 is affordable, has an incredibly easy setup and cleanup, and never fails to provide a tasty cup of coffee.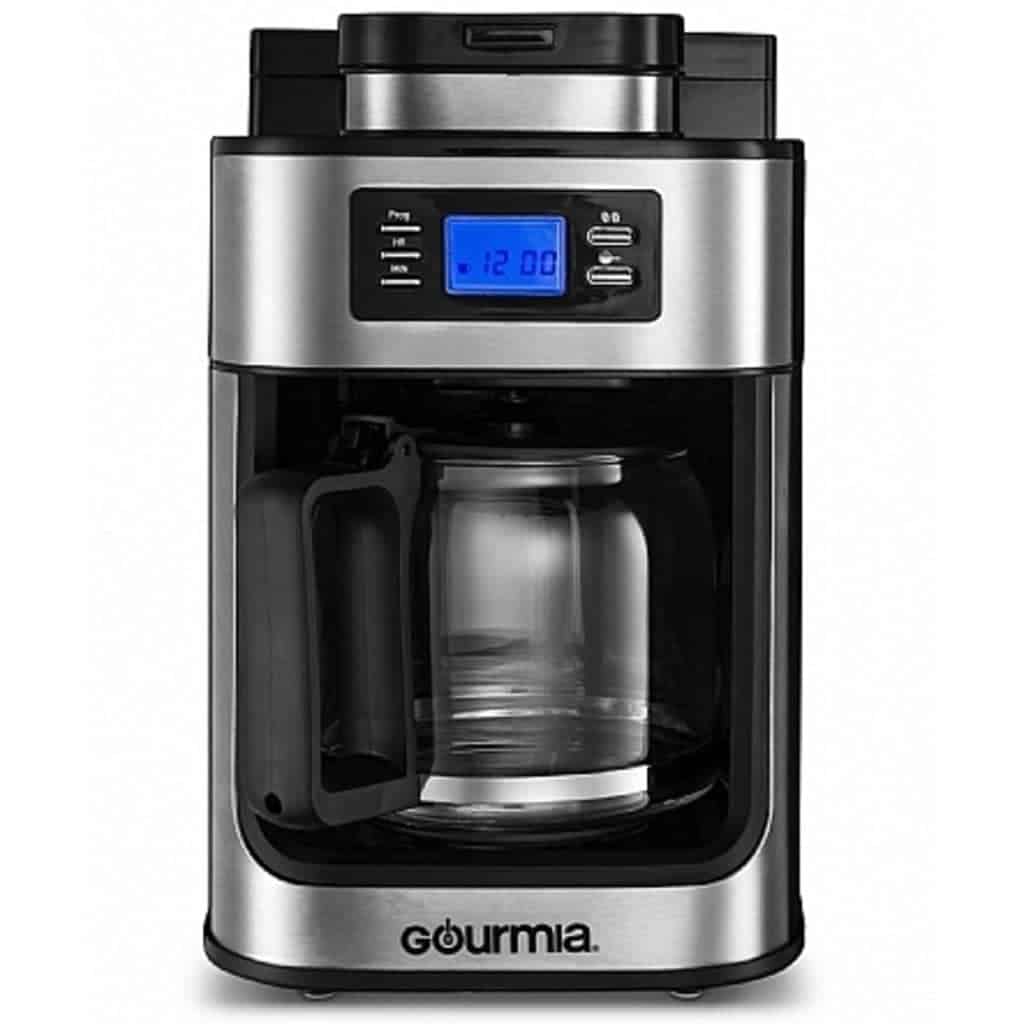 Top Features:
LED display
Programmable
Removable grinder and brewing chamber
ETL-compliant
10 cup capacity
Includes carafe and reusable filter
5. Black + Decker Mill and Brew 12-Cup Programmable Coffee Maker with Built-In Grinder, White, CM5000WD
The Mill and Brew Programmable Coffee Maker by Black + Decker is a great self grinding coffee maker under $80. While it offers a beautiful, glass carafe, the machine overall isn't incredibly modern or trendy. Regardless, it looks good and gets the job done.
You can get this machine in four different colors: Black, Black/Stainless Steel, Red or White. However, one downside I noticed right off the bat was that you have to pay more for certain colors. Of course, the Black/Stainless Steel is pricier, yet looks the most modern.
Setting the price fiasco aside, this coffee maker with grinder model offers a custom brew strength, the option to begin your brew on auto-start, and pick between brewing whole beans or pre-ground coffee. For coffee fanatics who are particular about their brew, you even have the option to select the coarseness of your grind. A few reviewers of this machine, however, have stated that the glass carafe chips. That said, ensure to properly follow the manual instructions when cleaning.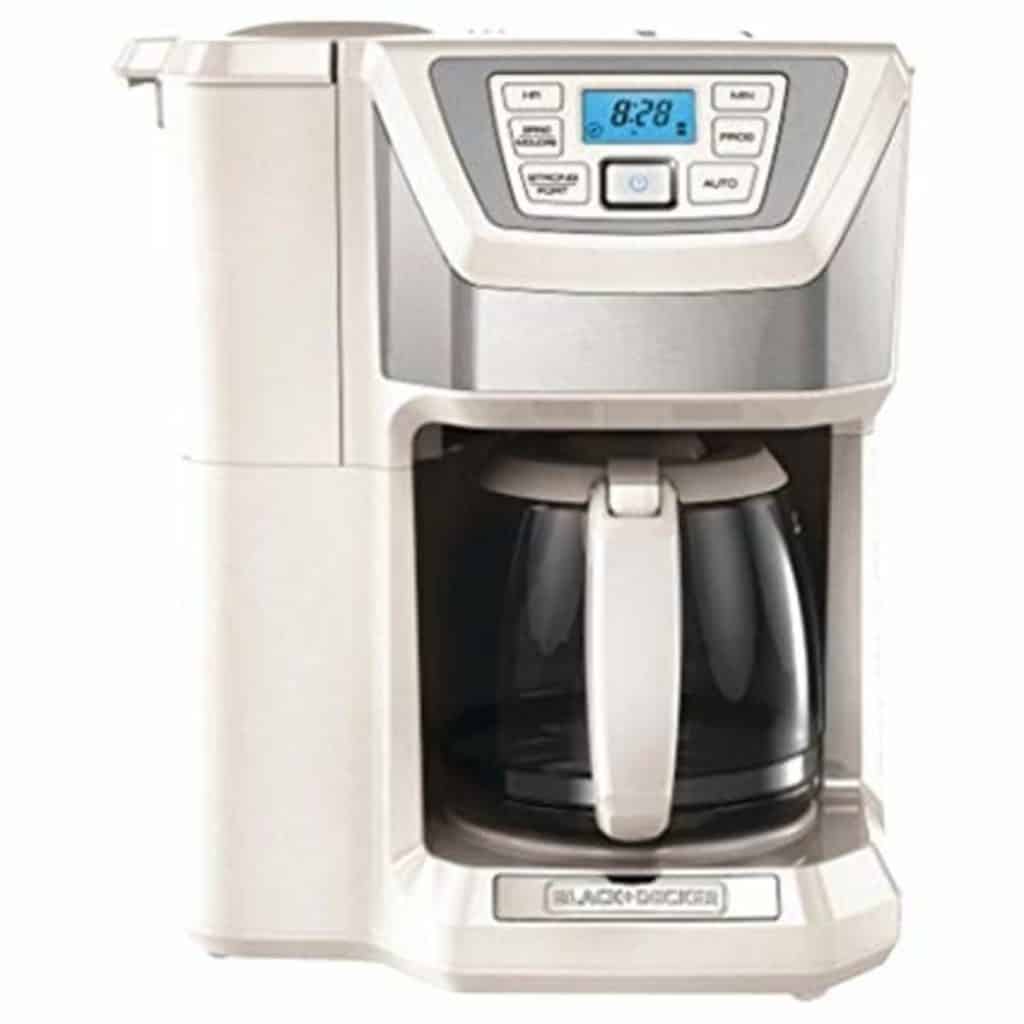 Top Features:
Custom brew strength
QuickTouch programming – 24-hour auto brew
Removable, easy-to-clean filter and grinder
Carafe holds up to 12 cups
Includes permanent coffee filter and glass carafe
6. Cuisinart Grind-and-Brew Thermal Automatic Coffee Maker, Brushed Metal (DGB-650BC)
For under $90, you can get the Cuisinart Grind-and-Brew Thermal Automatic Coffee Maker. This machine is very compact and is ideal for those with tight kitchens or who want a coffee maker that grinds coffee in their small office space. Regardless of being a smaller machine, there are plenty of positive reviews this baby has acquired.
From the quality, double-walled coffee carafe that promises to keep your coffee warm even hours after brewing to the convenient automatic brewing, the quality is present. There's also a 24-hour programmability feature to allow you to get a head start on your brew. Once your machine is done, it will automatically turn off.
But as a downside, many state that the grinder is loud. Setting this aside, many love the overall function and quality the grinder offers. This Black + Decker grind and brew coffee maker is also often noted for its quality, easy of use, and simple cleaning. Additionally, the thermal carafe is well-loved as it can keep coffee warm for two hours or longer, doing exactly what its designed to do.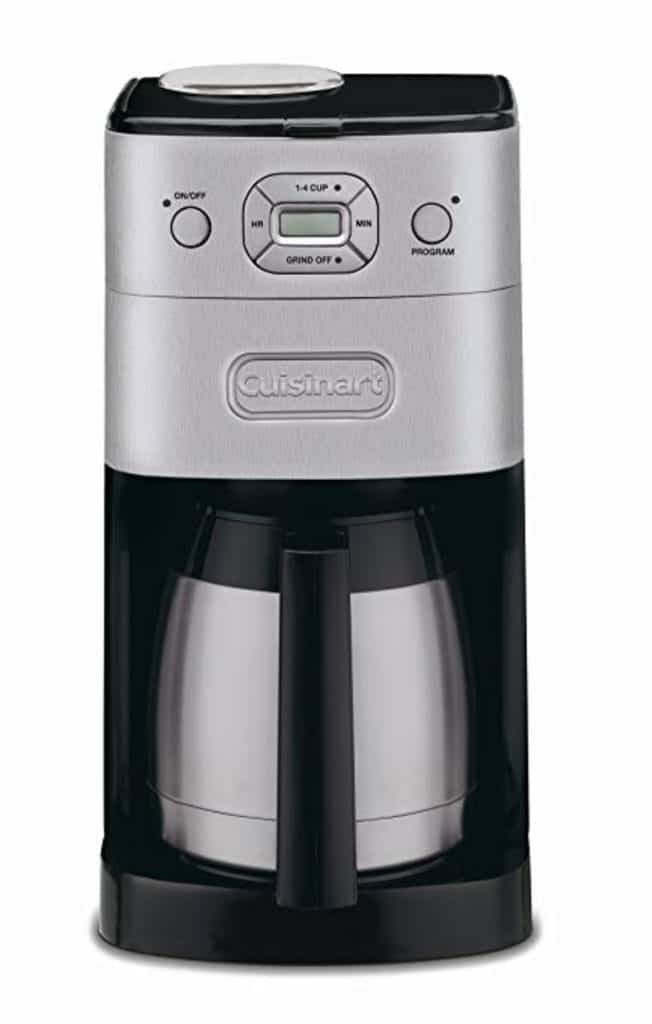 Top Features:
Fully programmable
Auto shut-off
Grind-off feature
1- to 4-cup setting
Thermal carafe
Brew pause
BPA-free, double-walled thermal stainless-steel carafe
Includes permanent gold tone filter, charcoal water filter, and coffee measuring scoop
7. Breville BDC650BSS Grind Control
Coffee enthusiasts will love the Breville Grind Control (BDC650BSS) – especially for its eight different coffee strength settings. For travel mugs or other taller cups, this Breville coffee maker has a removable drip tray to increase the height space available under the dispenser.
This coffee maker also features an LCD screen, however, one that is essentially concealed, or better yet, at eye-level as it is slightly angled upward. While the LCD screen is beautiful, the placement is favorable in that it doesn't take away from the slimmer, cleaner, more traditional design this machine offers.
The Breville Grinder Control additionally has a programmable auto-start for those who want to time their brew ahead of time and has pre-brew temperature control to heat your water to the perfect temperature. As a bonus, brewing sessions are quiet.
But to bring up the bad, this machine is almost $300, yet isn't the perfect coffee maker the price would imply it to be. While it is still one of the most popular and known coffee makers with grinders on the market, some wish the materials were less plastic-y and that the water reservoir was more conveniently placed. Disregarding these, this machine doesn't make a big mess on the counter when the grinder is used, isn't stingy with the amount of water it uses from the water tank, and cleverly disassembles for cleaning.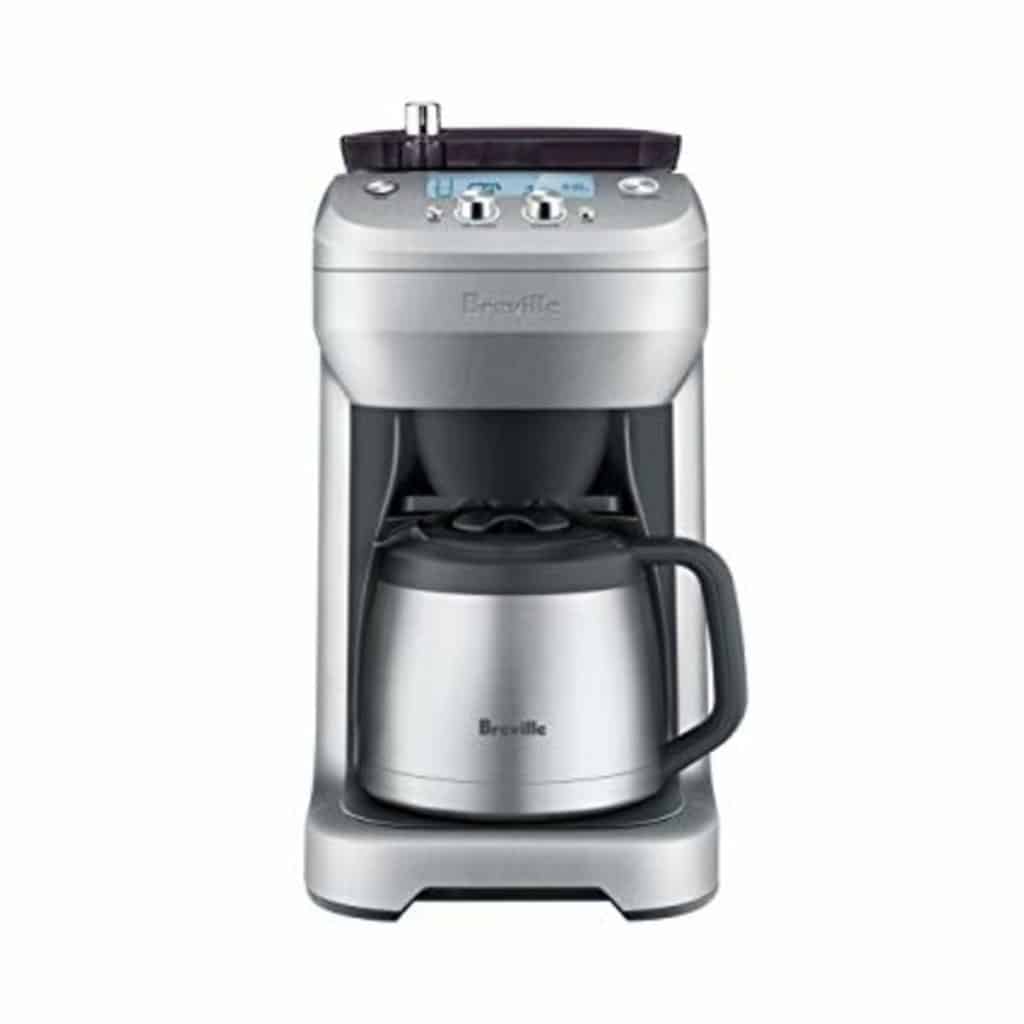 Top Features:
8 coffee strength settings
½-pound bean hopper capacity
12-cup carafe capacity
Removable drip tray
LCD screen
Programmable auto-start
Pre-brew temperature control
8. Cuisinart Single-Cup Grind and Brew (DGB-1)
If you prefer a coffee maker with single serve brewing, consider this Cuisinart coffee maker. This beautiful, very slim machine is sold in a beautiful black-and-silver and is very modern in appearance. To accommodate taller cups, this machine has a removable drip try to offer more space.
With its grind-off feature, you can choose to just brew with pre-ground coffee instead of going through the automatic whole-bean grinding process. Best of all, there are just three steps to starting your brew. Simply add beans, fill the water tank, and then pressure the 'Grind & Brew' button. You can also pick your brew strength so that your brew meets your personal expectations.
While this machine can be a bit messy to clean up, it nevertheless is easy to clean, and of course, to use. Another potential downside is that if you wish to serve coffee for the family, you can't do it with this machine; you can only brew up to 16-ounces at a time. However, this is given. That said, don't opt for this machine if you prefer a machine that can brew for multiple folks at once.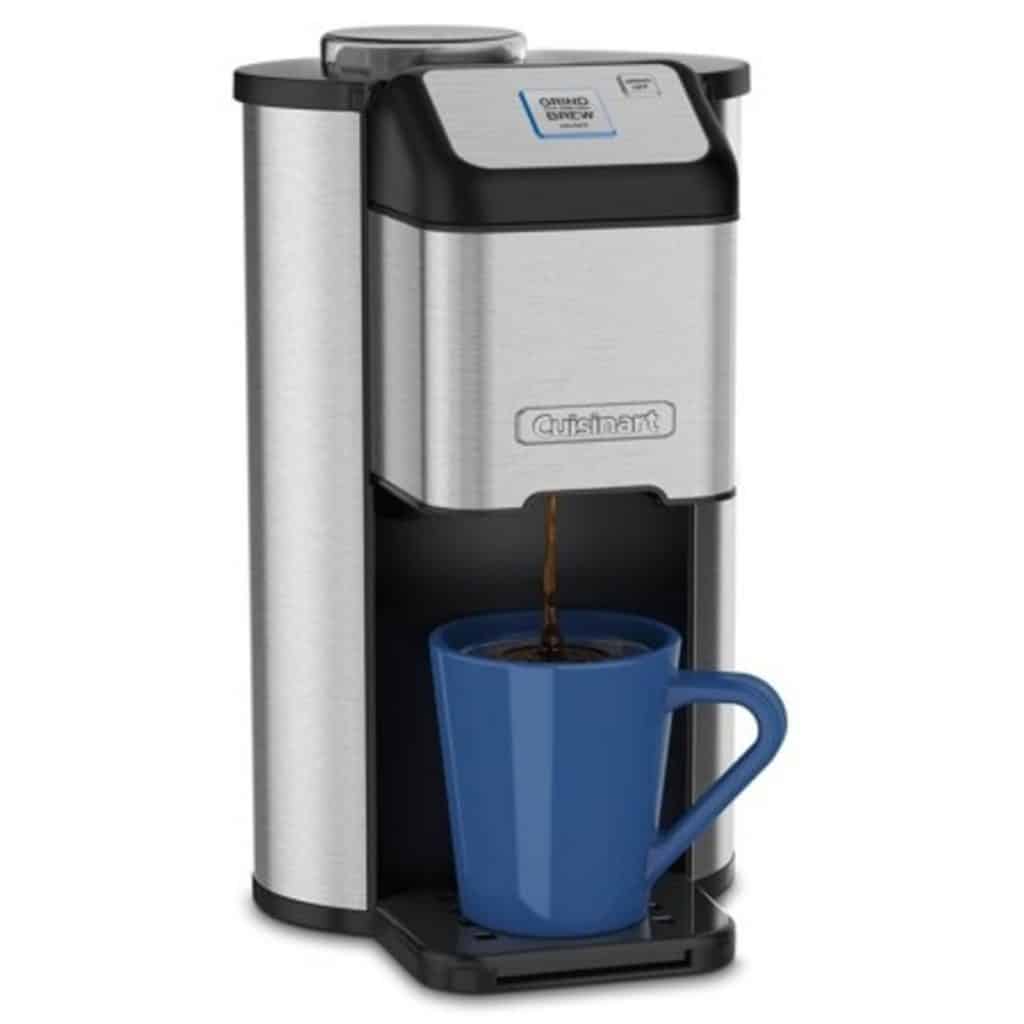 Top Features:
Brews up to 16-ounces at a time
Brew strength feature
Automatically grinds before brewing
Grind-off feature
Removable drip tray
Removable, dishwasher-safe parts
Includes charcoal water filter and gold tone, permanent filter
9. KRUPS KM785D50 Grind and Brew Automatic Coffee Maker, Black
The attractive yet simply designed KRUPS Grind and Brew Automatic Coffee Maker (KM785D50) features a straight-forward push-button system and conservative LCD screen. This KRUPS machine is one of Amazon's top sellers and one of the their highest-rated coffee makers with grinders sold on their website.
With the KRUPS KM785D50, starting your brew is easy and versatile. Pick your brew strength and grinding setting of your choice. Even use the auto-start feature to preset your brewing time, or use the keep-warm function for up to two hours to keep your fresh brew warm.
But keep in mind that if you want a quieter machine, you probably won't like this KRUPS machine. Some reviewers also state that the grinder doesn't have the control that they wish it had despite there being five settings. But in the end, this machine is currently on sale for $130.34 (originally $199) and has great customizable features and a quality carafe.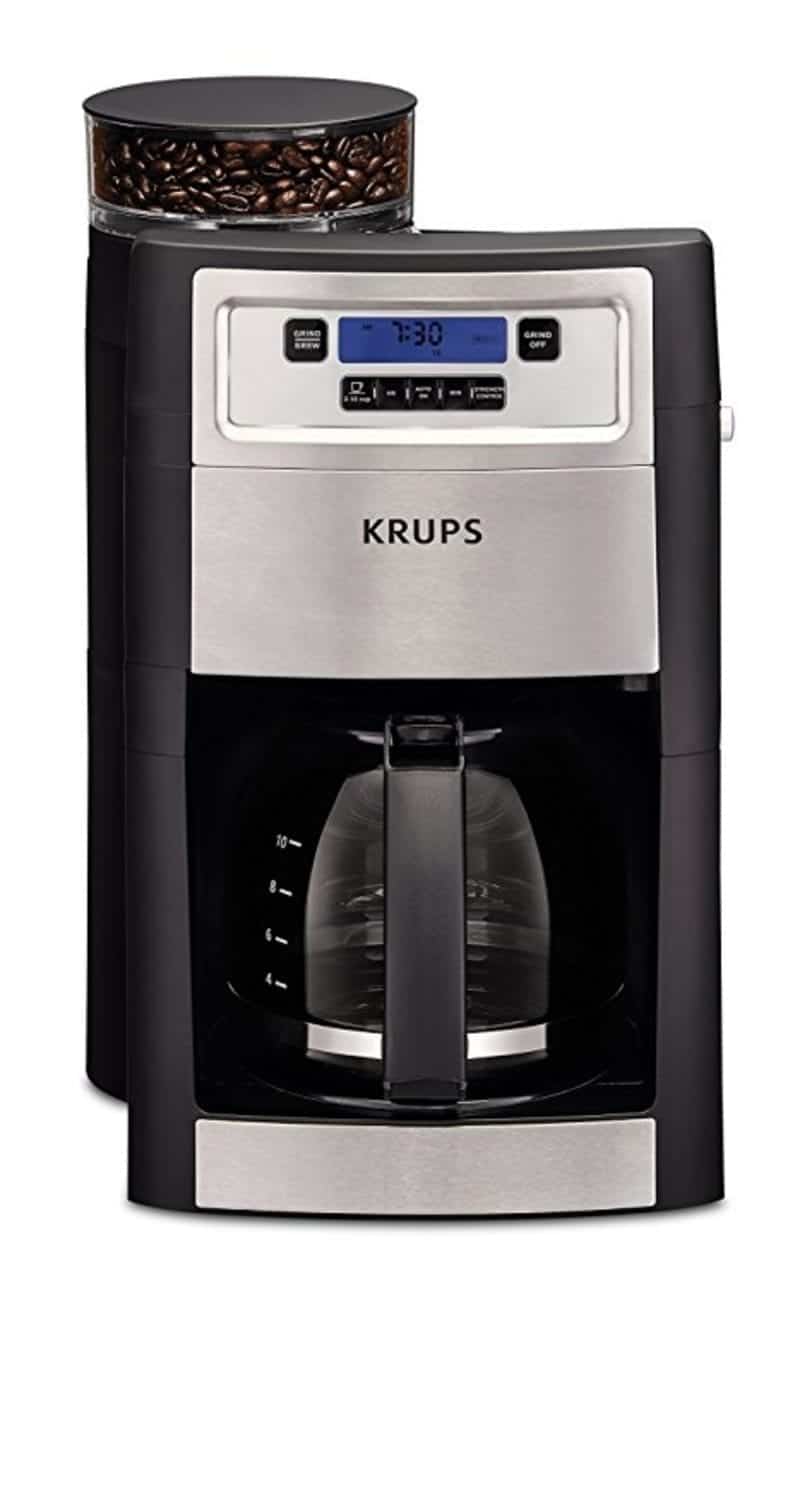 Top Features:
LCD display
10 cup capacity
Conical burr grinder with 5 settings
3 brew strength options: mild, medium, and strong
Auto-start
Keep-warm function for up to 2 hours
10. Breville BES870XL Barista Express Espresso Machine
Last on this list, we'll cover the Breville Barista Express Espresso Machine (BES870XL). While absolutely gorgeous, this machine is the most expensive on this list, selling at $548. So, unless you're open to spending that much, you might want to skip on this model.
This Breville coffee maker offers the perfect espresso extraction temperature, fully-adjustable conical grinder, and plenty of accessories included with the purchase. The function of this machine's grinder is heavily favored and truly is a coffee maker all in one machine. The frother is also a very satisfactory component of this coffee machine.
Cleaning a coffee maker by Breville is very easy, despite the machine appearing complex to maintain. It even features a 'CLEAN ME' light to indicate when it's time to run its cleaning cycle. (Read the FAQ towards the end of this article for information on how to clean your Breville machine.)
But since you are spending $548 for the machine, you can be a bit picky. (I mean, the price itself is a con for some buyers.) Some dislike that there are some plastic components on this machine. Others complain that this coffee maker takes a bit more getting used to, but once you get acquainted with it, it is a wonderful machine that brews a great cup of espresso.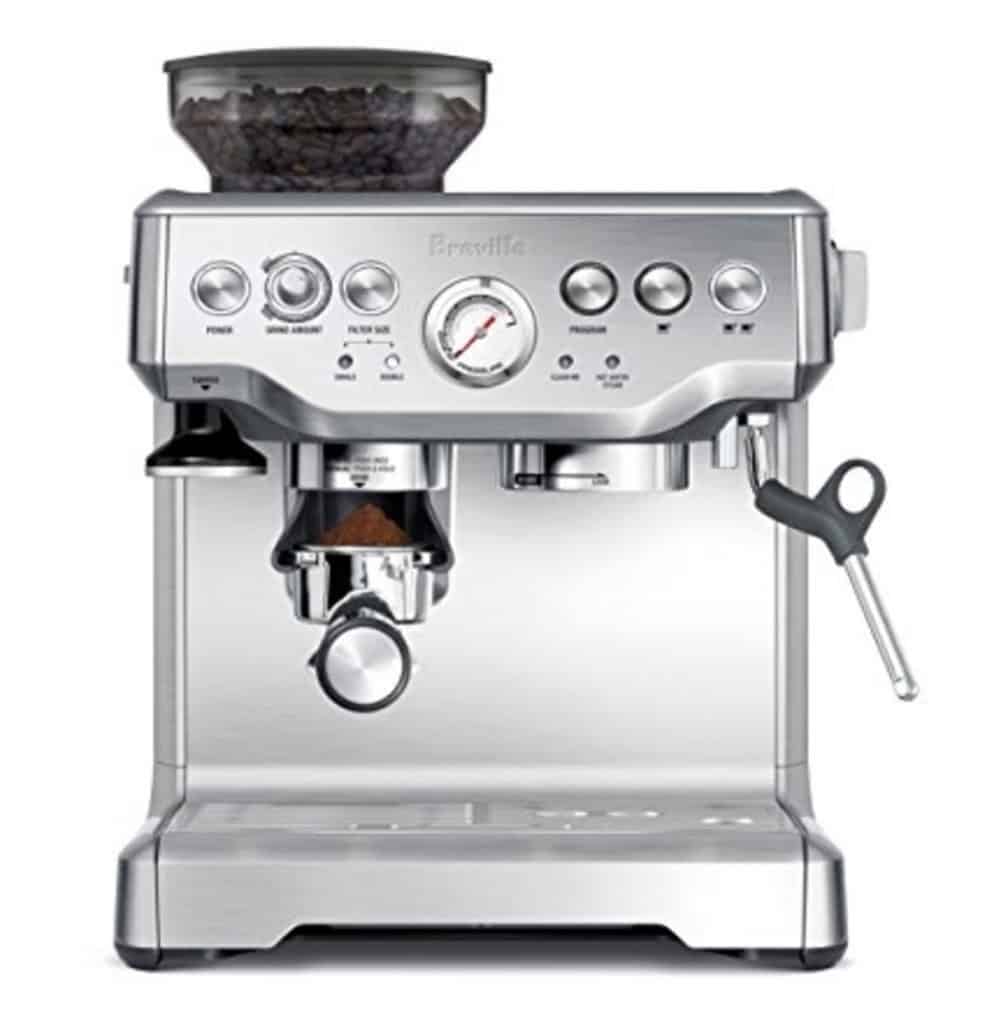 Top Features:
15 bar Italian pump
Frother
Automatic water temperature adjustment
½-pound stainless steel bean hopper
67-ounce water tank
Includes stainless-steel milk jug, precision razor dose trimming tool, single and dual water filter baskets (4), water filter and filter holder, and cleaning kit
FAQ:
Before picking out the best coffee machine for your needs, you should first get acquainted with a few things:
Are coffee makers BPA free?
No, not all coffee makers and grinders are BPA free. However, there are BPA free options available. Most coffee makers are in fact BPA free, but do your research anyway to verify this.
Can coffee makers make tea?
Yes, you can make tea with a coffee maker. Usually the best way to go about this is to run your coffee maker (without coffee) to achieve hot water for your tea. Just place a tea bag or few in your carafe before brewing, depending on how much tea in ounces you plan to make.
You might want to complete a cleaning cycle prior to brewing tea in your coffee maker just to ensure coffee debris is not present in your tea.
What is the best model on sale?
The best coffee machine with grinder for one person may not be the best option for another. The size, color, overall design, programming and features, amount of coffee that can be brewed at once, coffee compatibility (ground coffee only, coffee pods, etc.), the price of the machine, and so on are all important to consider.
Who makes the best coffee maker with grinder?
While there is no single best coffee maker with grinder for home out there, some of the top brands for such products include Capresso, Cuisinart, Breville, KitchenAid, KRUPS Gourmia, Delonghi, and Black + Decker.
How to clean a coffee maker with grinder?
Machines will vary, but when cleaning your coffee grinder and maker combo make sure you unplug your machine first before getting started. Verify which parts of your machine must be washed and how (e.g., dishwasher, hot water and soap, vinegar, etc.).
The important parts of your coffee maker to emphasize when cleaning include the water reservoir, the reusable filter (if applicable), the grinder basket, the carafe, the inside of your coffee maker (run diluted vinegar through your machine), and the outside of the coffee maker.
Please check your specific coffee machine with grinder manual for detailed instructions specified for your particular machine. If you don't have a manual, try to search for a free version of it online. Keep in mind that every machine will be different; some machines may have more or less parts, and not to mention, may or may not have dishwasher-safe components (including the carafe).
How to clean Cuisinart machine?
Cleaning a Cuisinart coffee grinder and brewer is fairly simple. After turning off and unplugging your machine, Open the reservoir, and remove the grinder basket. Open the basket to remove the filter basket holder, basket, and cover. Additionally, remove the lid to the reservoir by pulling it towards you when the lid is halfway open.
Place the latter parts you just removed in a soap-water bath. Rinse these objects with warm water until suds are gone. Then dry towel them thoroughly. These parts are also dishwasher safe (top rack only) if you prefer this option instead.
With a damp dishcloth, wipe the exterior of your Cuisinart coffee maker. Be sure to especially clean the area where your grinder basket is placed. Be sure not to drench your machine with water.
To clean the coffee carafe, remove it from the coffee maker, and either place it on the top shelf in your dishwasher or handwash it in the sink. After it's washed, be sure to thoroughly hand dry it. Before placing your carafe back in your machine, wipe down the area where your carafe sits. Use small amounts of soap to remove coffee or other debris from where your carafe rests if necessary.
Last but not least, it's time to decalcify your coffee maker. You can do this by pouring two parts cool water and one part white vinegar in the water reservoir of your machine. Turn your coffee maker on to let this mixture run through. After it's finished, throw out the vinegar mixture, and turn off your machine. To rinse it out, run another cycle but with just cold water this time. Decalcify your machine whenever it brews slower than usual or if your coffee tastes slightly different.
How to clean Breville coffee maker with grinder?
Breville, being one of the best coffee makers with grinder, is important to know how to clean in case you decide to get one for yourself. Like Cuisinart, Breville coffee makers are not overly complex to clean, but nevertheless, will require both daily and periodic cleaning to keep well-maintained.
For daily cleaning, place an empty mug under the head of your machine (with no coffee in your machine). Click '1 cup' to release a cup of water into your cup. Do not drink; throw the water out. The purpose of this is to clean any residue or blockages.
Then, proceed by removing the frothing enhancer and cleaning it with warm water. Wipe the steam wand with a damp cloth. To ensure all milk from your frother, flush extra milk out by pressing 'STEAM' on your machine. Use the pin end of your cleaning tool if the tip of your frother appears to be clogged. Lastly, use a damp cloth to wipe up any remaining coffee grounds on the shower head.
For periodic cleaning of your Breville coffee maker with grinder, empty the beans from your hopper, run the grinder while on empty for 5 to 10 seconds, and remove the hopper to remove the upper burr to clean it with the cleaning tool. Relock it back in place after cleaning.
You'll also want to put your Breville machine through a cleaning cycle. The convenient 'CLEAN ME' light will come on when it's time to opt for the cleaning cycle. When this occurs, empty the drip tray and fill the water tank with water. Place the 54mm cleaning disc in the Dual Wall Single Shot filter until it clicks into the portafilter. Place one of the cleaning tablets in the center of this disc, make sure the machine is turned off, and hold the '1 cup' and '2 cup' buttons at the same time while also pressing the power button. The 'CLEAN ME' button should start to flash if done correctly. The cleaning cycle should last five minutes.