Did you know that 70-percent of individuals aged 60 or older own a drip coffee maker? It's true, and that doesn't even include other types of coffee makers they may also own. Apart of the same study, just 15-percent aged 18 to 60+ didn't own any type of product at all. That said, it is apparent that owning your own coffee machine is incredibly common.
Many enjoy having their own coffee maker for obvious reasons: the cheaper price per cup of coffee (as opposed to going to a coffee shop), the flexibility when one can brew their coffee, and the ability to personalize their cup exactly the way they prefer.
But if you have yet to opt for your own coffee maker or are looking for a new one, you've come to the right place. Let's find the best coffee maker for you!
1. Hamilton Beach (49980A) Single Serve Coffee Maker and Coffee Pot Maker, Programmable, Stainless
The Single Serve Programmable Coffee Maker (49980A) is one of the top coffee makers for pods and ground coffee that Hamilton Beach has to offer to deliver both single servings and full pots of coffee. You can not only use ground coffee but also coffee pods. Coffee pods snap easily into the pod holder apart of the single-serve brew basket.
This modern unit is modern has a cutting edge look with beautiful contrasts of black plastic and stainless-steel accents. It also features a small, blue display screen with the time and offers a button-operated control panel. The Hamilton Beach 49980A is convenient in that it has an automatic shutoff, safely shutting down your machine even if you forget after brewing.
The price for this coffee maker on Amazon is originally $89.50, on sale for $59.99. That said, you're getting great bang for your buck. But some reviewers wish it had a permanent filter. However, others would prefer to have disposable filters, so this tends to be more of a preference thing. There is also no sound to alert you when your coffee is finished brewing. Apart from these cons, there isn't much else that this machine lacks.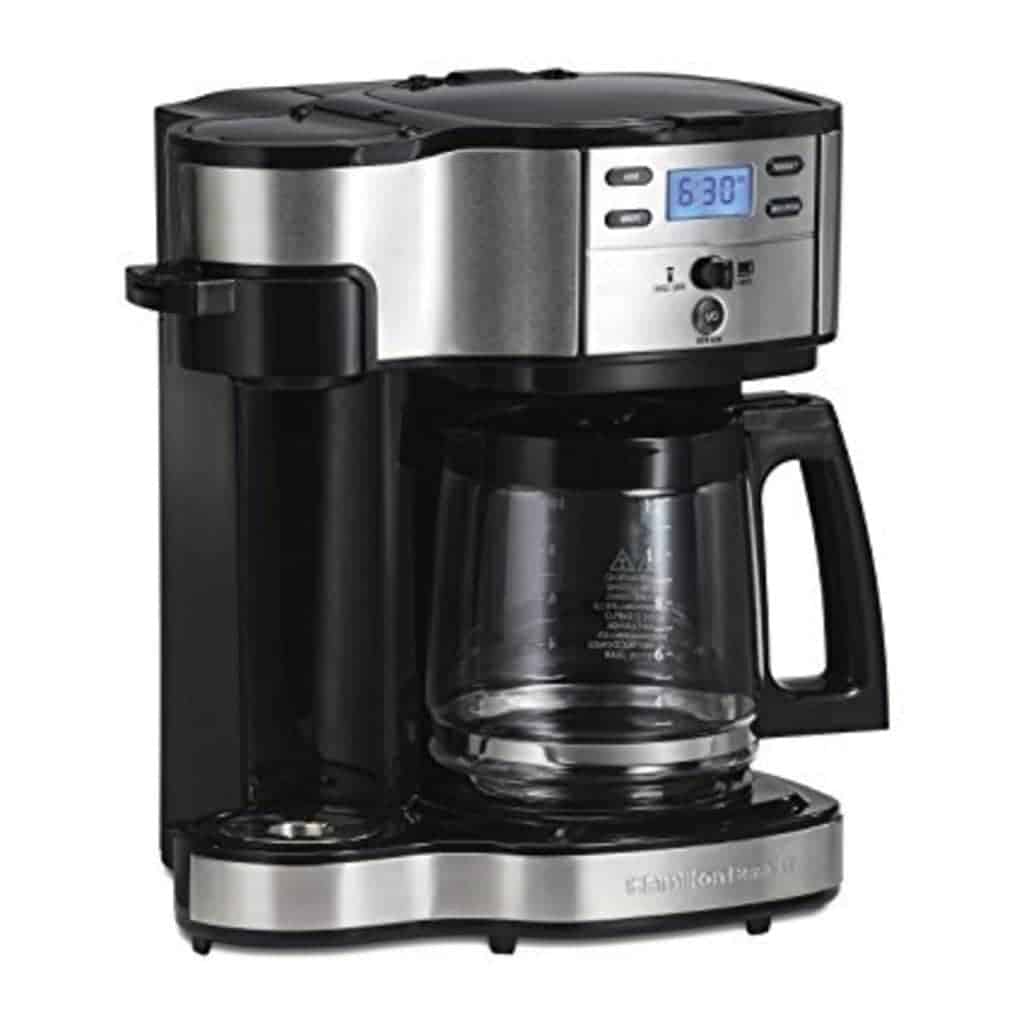 Top Features:
Control panel and display
Brew strength selector
2 ways to brew coffee: single serve or full pot
Compatible with loose ground coffee and disk-shaped soft pods
Brews up to 14 ounces in a travel mug (not included)
Adjusts to accommodate shorter cups
Fully programmable up to 24 hours
Auto shutoff
Includes 12-cup glass carafe and mesh filter
You can buy this coffer maker in WalMart
2. Cuisinart DCC-3200AMZ PerfecTemp 14 Cup Maker, Stainless Steel
Cuisinart delivers a narrow, modern design without any "fluff" with their PerfecTemp Programmable model. It also features a beautiful LCD screen and neatly-organized button controls to give you a brew personalized to your liking.
This Cuisinart coffee pot also offers 24-hour programmability, an alert to let you know when your coffee is finished, and a setting to self-clean your coffee machine, and auto shutoff when you're done brewing. And if you want to save some coffee for later, use the keep-warm function. As for general maintenance, the LCD display will let you know when it's time to decalcify your coffee machine.
This four-star machine is originally $185, now on sale on Amazon for $77.21. The original asking price for the quality and features apart of this machine is a lot, but the discount price is favorable. Due to its popularity, this product has also achieved Amazon's Choice.
But one con is that the ready tone to alert you when your coffee is ready is very loud. Fortunately, this can be turned off but cannot have the volume adjusted. The brewing itself can also be a bit on the louder side. Being made of plastic, this is another con as some reviewers find that there is a slight plastic-y smell when first using their machine.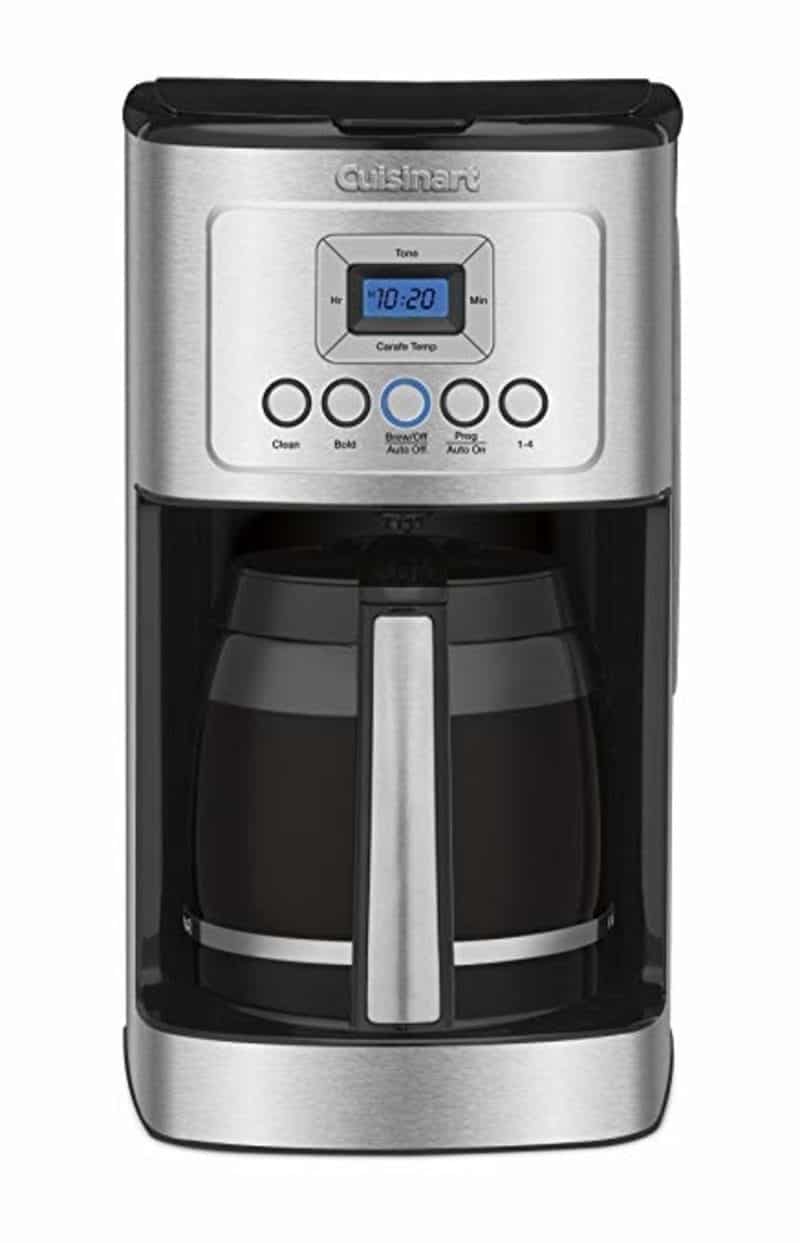 Top Features:
LCD backlit control screen
Brew strength control
Fully automatic: 24-hour programmability and 1-4 cup setting
Keep warm temperature control
Self-clean setting
Auto shutoff
Ready tone alert
Light signal to indicate if the machine needs to be decalcified
Includes 14-cup glass carafe, charcoal water filter, and gold-tone coffee filter
3. Keurig K55/K-Classic, K-Cup Pod, Single Serve, Programmable, Black
While you won't have stainless-steel components or an LCD screen on the Keurig K55, what you will get is a beautiful machine in the color Black or Rhubarb with sophisticated, rounded edges and a simple set of buttons.
Just place your cup into the slot, pick your cup size (6, 8, or 10 ounces), and begin the brewing session. You'll have your personal perfect cup of coffee in just under a minute. This machine will auto turn off for added convenience and safety. Additionally, when the water level is low in the water reservoir, your machine will let you know. The Keurig is also very easy to clean, especially with its removable drip tray.
Because the Keurig is only compatible with Keurig's K-Cup pods, don't get this machine if you prefer to brew with your own coffee. This machine also isn't for you if you're hoping to serve a full pot of coffee, for obvious reasons. But this coffee maker is an essential for at-home use or in offices to allow each staff member to brew up the flavor of their choice. You can buy this coffer maker at WalMart.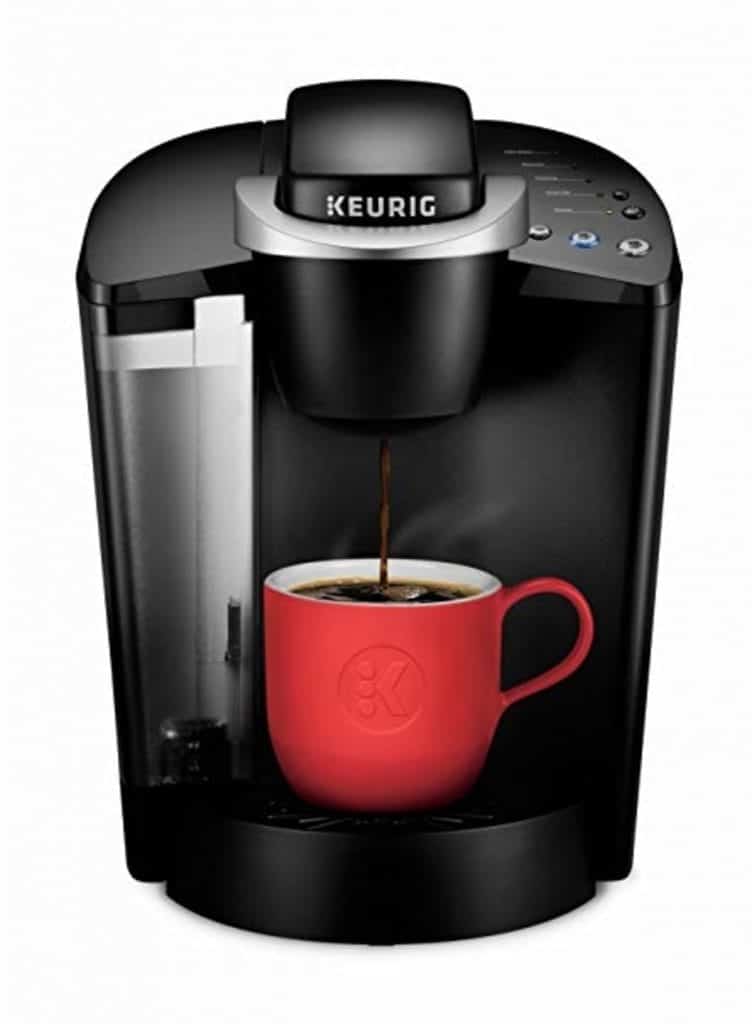 Top Features:
Compatible with Keurig K-Cups
Brews 3 different cup sizes: 6, 8, or 20 ounces
48-ounce water reservoir
Add water alert
Auto shutoff
Includes 4 K-Cup pods, 2 water filters, and a water filter handle
4. Braun BrewSense 12 Cup Drip (KF7000BK)
Possibly the best cheap coffee maker, the Braun BrewSense still has the technology most other makers use, from a pause-and-pour setting to a descale warning alert. This drip coffee maker is also fully programmable, includes a sturdy glass carafe, and a keep warm plate.
Braun claims that their machine won't leave a messy counter as it features a unique ledge on its back. This helps to collect the condensation that is created during the brewing process.
For currently under $60, you can purchase the Braun BrewSense 12 Cup Drip Coffee Machinefeaturing its streamlined, modern design. While it offers an attractive LED display, the screen is very tiny, and the machine itself is quite plastic-y. There is also no adjustable brew strength options to pick from. However, for many buyers, these two "cons" may not be issues. For the price, this can be expected.
But if you want stainless-steel accents and a larger LED screen along with the ability to pick your brew strength, opt for the Braun KF7150BK instead of the KF7000BK.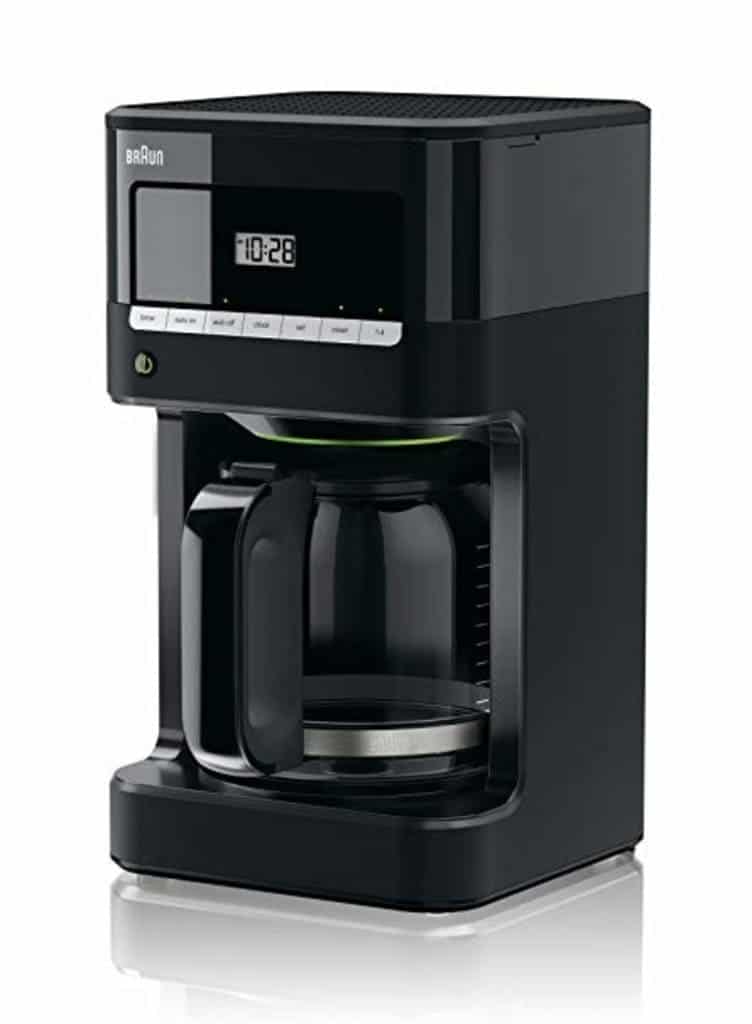 Top Features:
LED display
Anti-drip pause-and-pour setting
Descale warning
Fully programmable
1-4 cup functions
Keep warm plate
Includes gold tone permanent filter, charcoal water filter, and 12-cup glass dishwasher-safe carafe
5. Bella Classics 12-Cup Coffee Maker – Chrome/Black
Get the Bella Classics 12-Cup unit if you want a machine with a rounded-off, compact design and decent technology for under $30. (Incredible!) This coffee maker from Walmart, despite its low cost, still has an auto-start and pause and serve features along with the ability to pick your brew's strength to give you the best coffee for your taste buds. It also comes with a permanent filter, saving your wallet in the long-run.
Clean-up is also simple with the Bella Classics 12-Cup given that it features a removable brew basket and a dishwasher-safe permanent filter and carafe. Additionally, it has a non-stick, stain-resistant warming plate. As a bonus, it also has rubber footing on the bottom to ensure it doesn't scratch up your kitchen countertops.
In general, the Bella Classics 12-Cup can be described as affordable luxury. But looking at the coffee maker reviews, some cons are as follows: it can be difficult to empty water from the carafe into the water reservoir, the machine tends to be a tad too tall for some kitchens, and that the top of the machine itself can be difficult to open.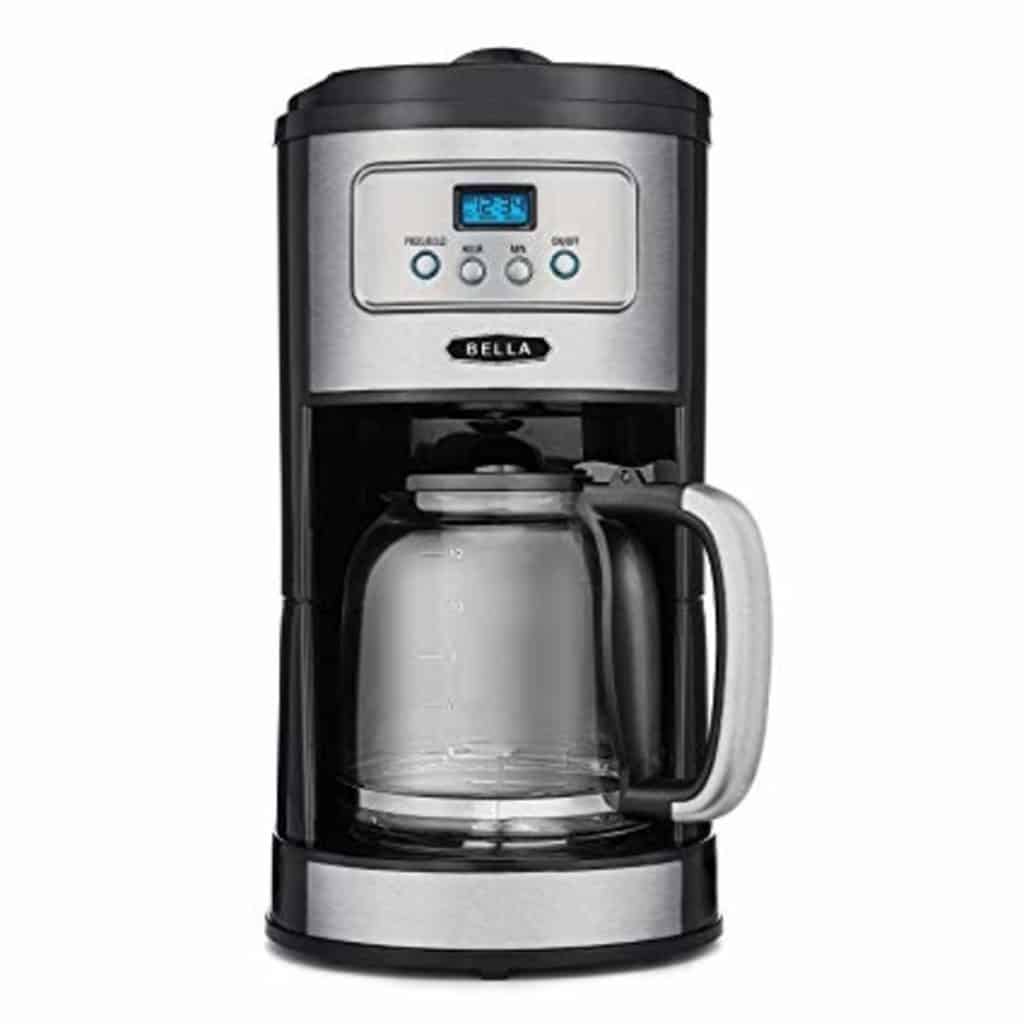 Top Features:
Brew strength selecting feature
Removable brew basket
Keep warm plate
Auto-start to brew up to 24 hours
Pause and serve feature to stagger servings mid-brewing
Includes coffee scoop, dishwasher-safe permanent filter, and glass carafe
6. Moccamaster KBTS741 Manual-Adjust Drip-Stop 32oz Coffee Maker – Polished Silver, Thermal Carafe
The Moccamaster KBTS741, not to be confused with KBT741 (slightly different model), is within the $300 range, but nevertheless, is a great option if you want a more luxurious model. This machine meets strict brewing standards and has achieved the European Coffee Brewing Center's Seal of Approval for their high-end standardization. The latter proves that Moccamaster truly is providing a quality machine.
With this Moccamaster model, you're getting a light-weight, energy-efficient, recyclable device with the ability to brew up a 32-ounce pot of coffee within six minutes up to 205-degrees Fahrenheit. But this machine doesn't just function well, it lasts. The fact that t also offers a five-year warranty alone is wonderful.
Additionally, if you want a higher-end model without plastic, you won't be getting it with this model. Even with its price, there are several plastic components. But these plastics are, after all, BPA, BPS, BPF, and phthalate-free. However, the overall design is unique and is very up-to-date in appearance. Also, keep in mind that this model has a thermal carafe. If you want glass, consider choosing another Moccamaster model with one; other similar models, while different in features, look quite similar.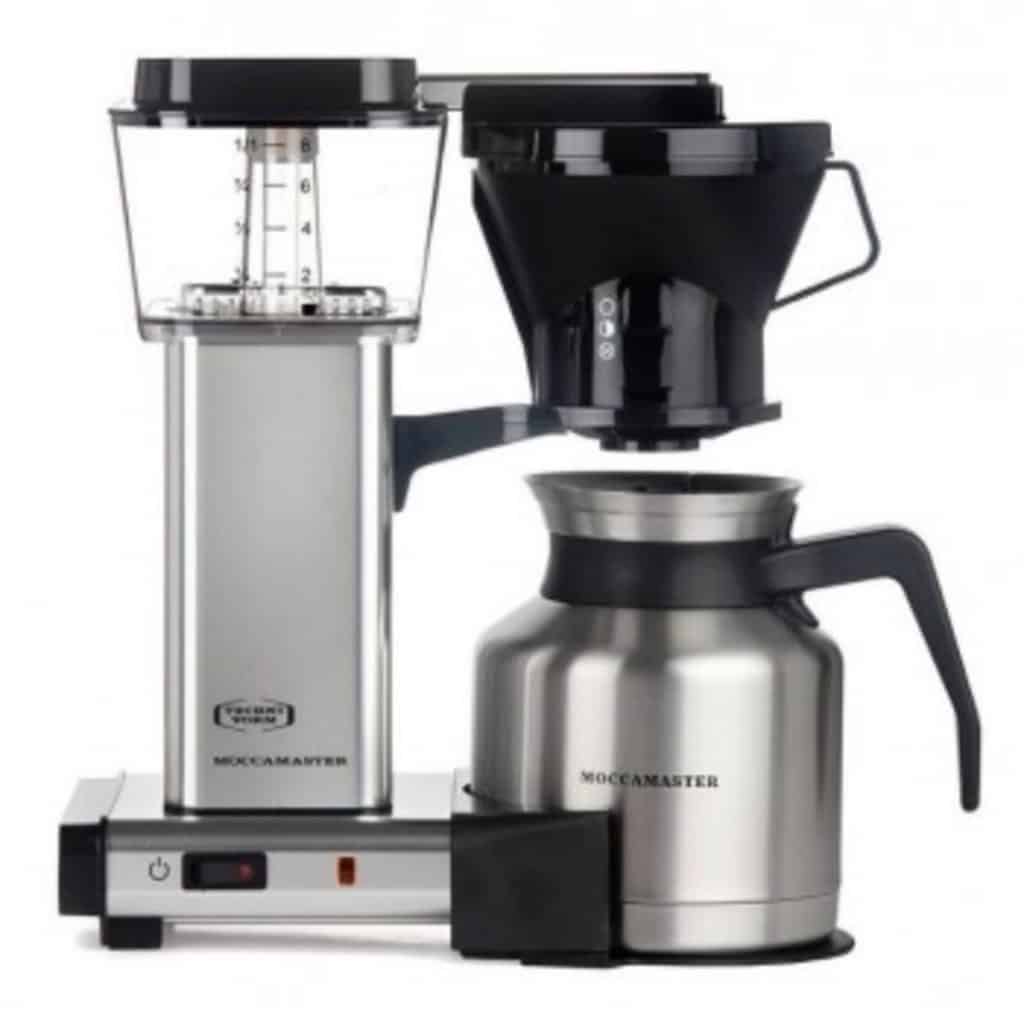 Top Features:
BPA, BPS, BPF, and phthalate-free plastics
Can brew a European cup (4 ounces)
Double-walled thermal carafe
Meets the SCAA and SCAE strict brewing guidelines
Holds the European Coffee Brewing Center's Seal of Approval for adhering to their "Golden Cup" guidelines
Handmade in the Netherlands
7. Oxo On Barista Brain 9 Cup Coffee Brewer
Next up, we have a mid-range model: the Oxo On Barista Brain 9 Cup. The modern, dual design of this machine is like no other. It even offers a tiny LED screen and design that is minimalistic in appearance. In fact, there is just one knob located on the front of the machine that works for all functions and, while takes time to get used to, is very user-friendly.
The Oxo On Barista Brain is programmable and offers a status and freshness indicator to ensure your machine is well-maintained. As for its vacuum-insulated, stainless-steel carafe, it is easy to pour and keeps coffee warm for hours after brewing. In general, the production of this Oxo model is intricate with its microprocessor-controlled brew cycle, precise rainmaker shower head, and its ability to maintain the perfect temperature (up to 204.8-degrees Fahrenheit).
While there are a lot of good things to say about this model, there are still things to look out for. For one, it doesn't include a gold tone filter. The water tank is also not removable. Additionally, many coffee maker reviews of this machine complain about the larger, non-compact design it offers.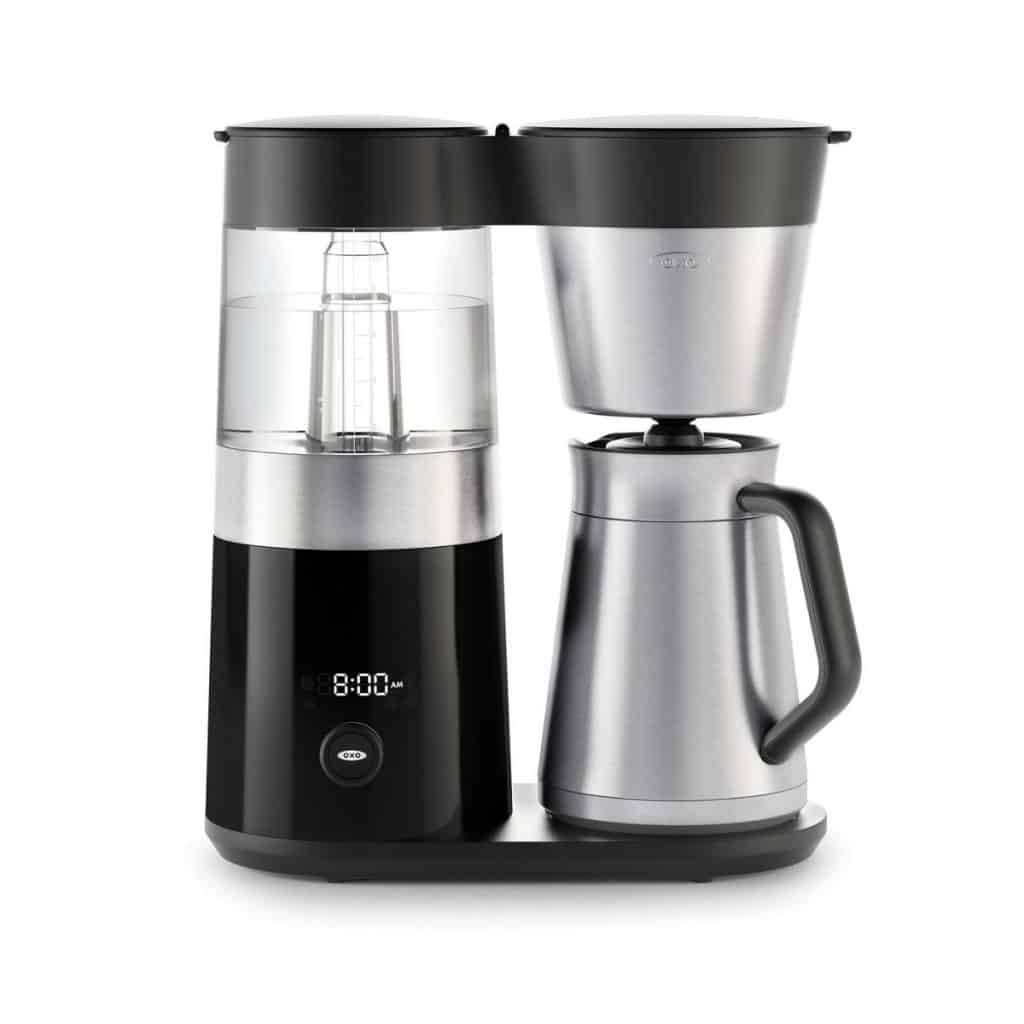 Top Features:
LED screen
Coffee status and freshness indicator
Microprocessor-controlled brew cycle
Rainmaker shower head for evenly-dispersed pour over coffee
Programmable; 24-hour start timer
Includes stainless-steel carafe
8. Bonavita 8-Cup One-Touch (BV1901PS)
Featuring BPA-free plastic, a stainless steel thermal carafe, and an overall clean design, the Bonavita 8-Cup One-Touch is a great pick under $135. If you prefer a glass carafe, you can get that instead for $40 less or approximately $50 less if you select the version with a black base (as opposed to the more expensive stainless-steel option) with a thermal carafe. The version pictured here is the stainless-steel model with thermal carafe.
This Bonavita machine brews up to 8 cups within six minutes at a maximum temperature range of 205-degrees Fahrenheit. When you're doing brewing your coffee, you can rely on its auto shut-off feature to safely power down your appliance, allowing you to get on with your busy day.
While this convenient appliance makes great coffee and keeps coffee warm up to four hours in its thermal carafe, the optional pre-infusion mode it offers can be confusing for some users. Additionally, it doesn't have a timer function or the ability to pick a brew strength. It's a nice machine, but without these features for its price, this is kind of upsetting.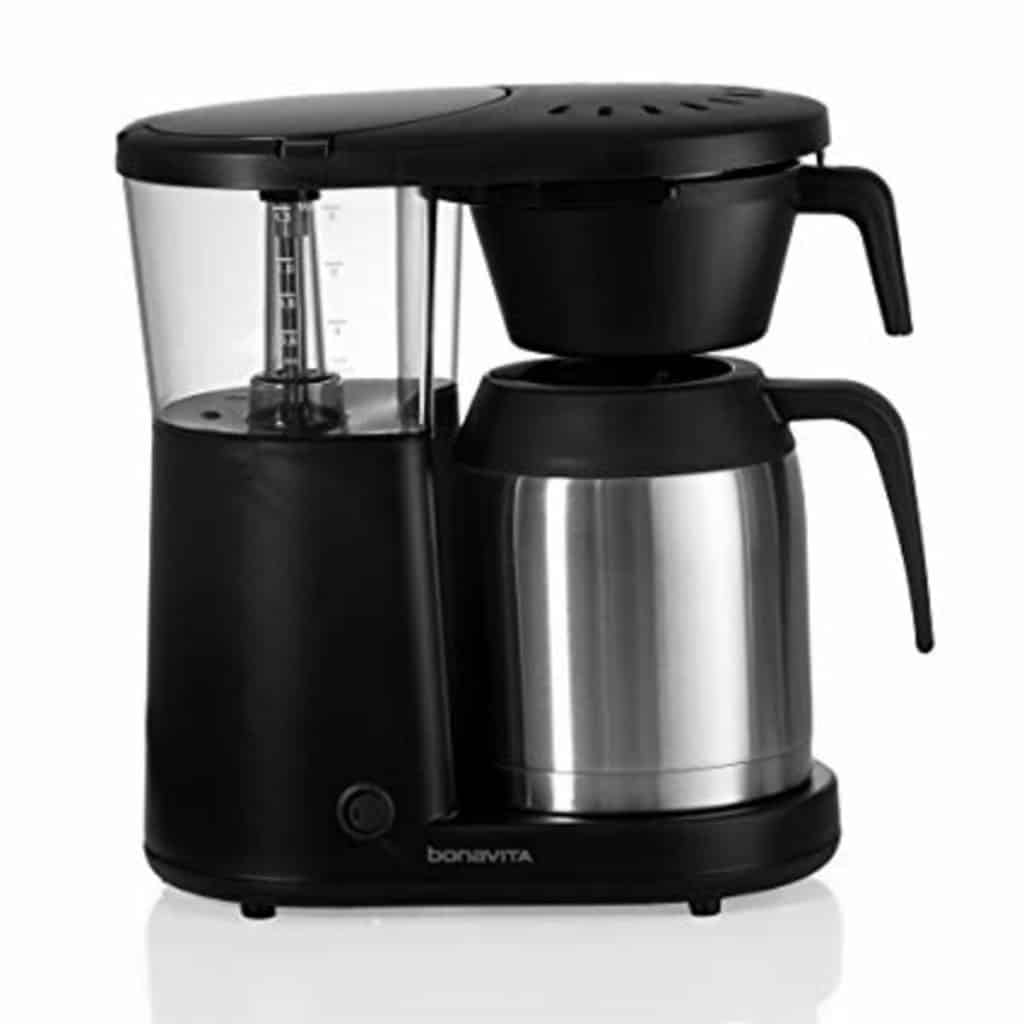 Top Features:
One-touch brew
Precise brewing temperature
BPA-free plastic
Auto shut-off
Pre-infusion mode (optional): degasses fresh ground coffee prior brewing
Stainless steel-lined thermal carafe
Includes dishwasher-safe filter basket, carafe lid, and showerhead
9. Behmor 5393 Brazen Plus Temperature Control Maker
Originally $199, now on sale for under $105 on Amazon, you can purchase the Behmor 5393 Brazen Plus Temperature Control Coffee Maker. This SCAA-certified coffee machine offers ideal coffee extraction with its extra-large, precise showerhead and the perfect temperature range up to 210-degrees Fahrenheit. Its fun, sci-fi appearance definitely makes it stand out.
When brewing your cup of coffee, you have the ability to pick your brewing time or even pre-soak prior to brewing. Best of all, the quality of the coffee brewed by this machine is an easy five stars, with major thanks to its higher brewing temperature. In fact, the temperature calibrations (and altitude correction) are patent pending.
As for the cons, the Behmor 5393 Brazen Plus Coffee Maker leaves condensation behind after brewing. Additionally, the opening on the carafe is a bit small as many reviewers have mentioned, and thus, must be tipped almost completely upside-down when pouring the last bit of coffee. A last common complaint is that the machine, while narrow, is very tall, and if anything, is too tall. But generally, these aren't major cons.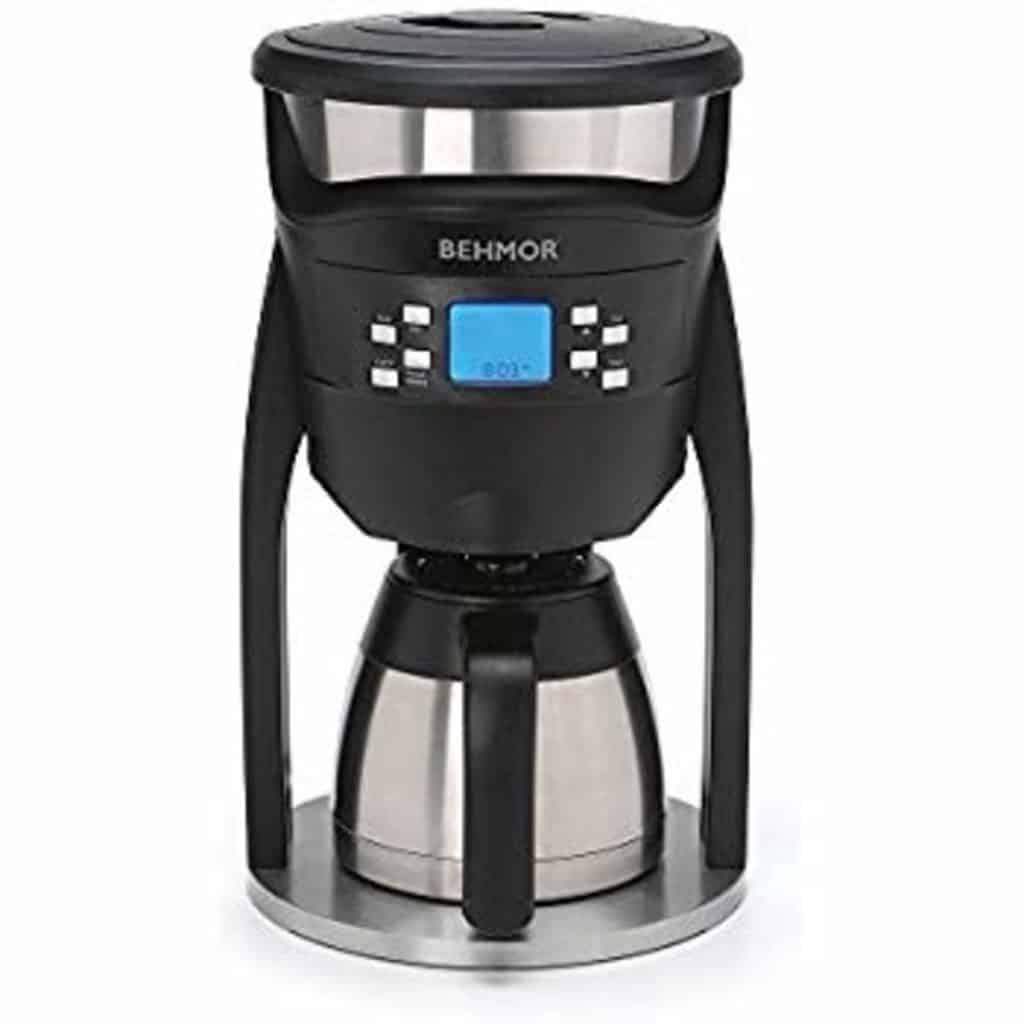 Top Features:
Brewing temperature control
Pre-soak feature
Programmable brew start time
Five 8-ounce cup capacity
SCCA certified
Includes double-walled, stainless-steel thermal carafe
10. Technivorm Moccamaster KBG Coffee Brewer, 40 oz, Polished Silver
If you value having a quickly-brewed cup of coffee with minimal noise, the Technivorm Moccamaster KBG Coffee Brewer may be the best pick for your needs. This beast can fill a carafe virtually silently within six minutes. It also features automatic shut-off when you're done brewing and auto drip-stop. Many also applaud Technivorm Moccamaster for having plastic materials without BPA, BPS, BPF, or phthalate.
One of the most appealing things about the Technivorm Moccamaster KBG is that you can purchase it in 17 different colors, from conservative Polished Silver, to bold Yellow Pepper, to vivid Grape. That said, it is a very versatile machine for a variety of settings from the office to the home. The general design of the KBG is unique, luxurious, and cutting-edge.
You'll receive a five-year warranty with this purchase, which is pretty good for a kitchen appliance. However, you'll be forking out over $300 to purchase it. But on a brighter note, this model has received an Amazon's Choice award on Amazon and has over 580 reviews with an overall review of 4.5 stars.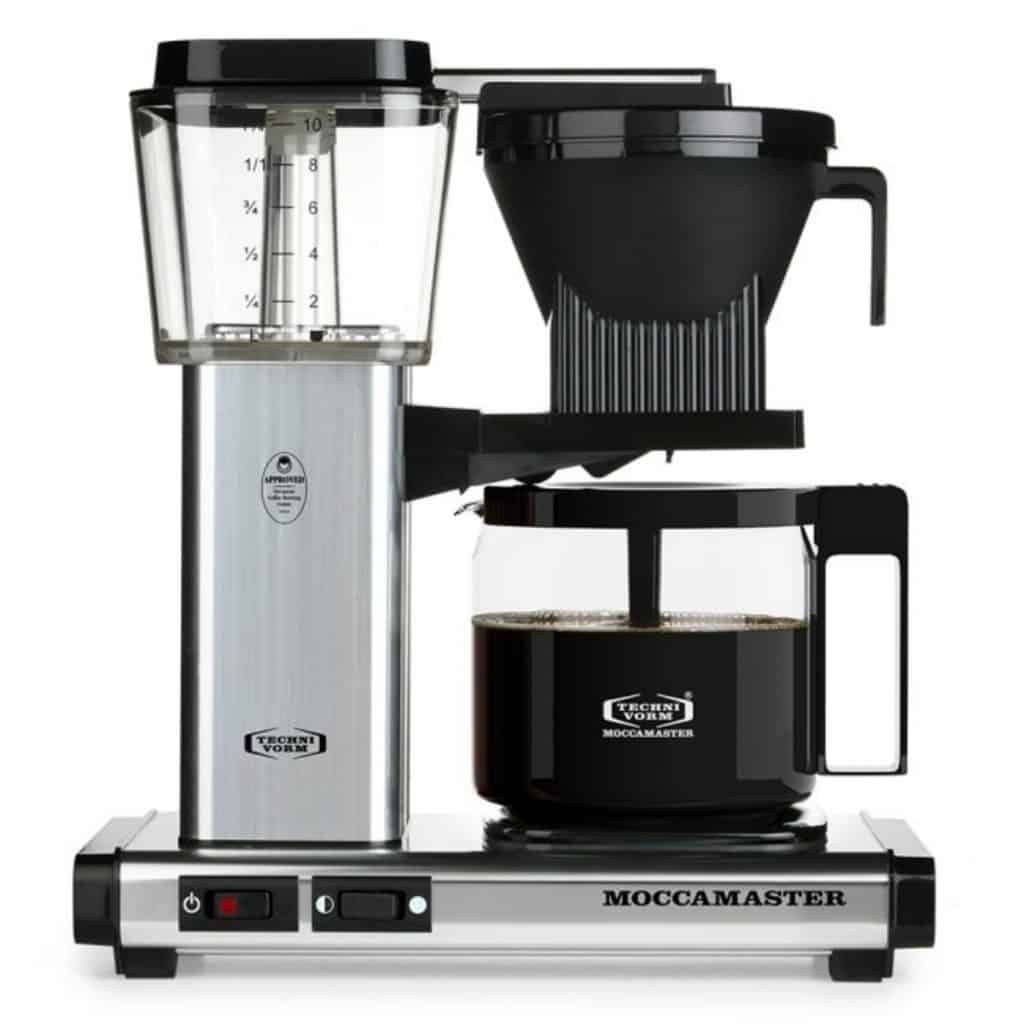 Top Features:
BPA, BPS, BPF, and phthalate free plastics
Auto drip-stop
Automatic shut-off
Includes glass carafe
FAQ:
If you're still not sure which coffee maker is most suitable for you, read through the questions and answers below to give you a better idea.
Which coffee maker lasts the longest?
When searching, be sure to thoroughly read reviews as some reviewers occasionally mention how long they've had the machine or a similar machine by the same company. Most companies won't tell you how long their machine will last, however, will suggest the length of time in which it is guaranteed to last. In that case, check to see how long the warranty is.
According to Statista, drip filter coffee makers last an average of six years. Pad filter, hard cap espresso, and semi-automatic espresso makers last an average of seven years. As for fully automatic espresso machines, these tend to last approximately 10 years.
Which coffee maker is best rated?
There are many to choose from, but one of the best coffee makers from the above list is the Hamilton Beach (49980A) Single Serve model with an average 4.3 out of 5-star rating with over 4,300 reviewers.
The second of the top rated coffee makers on our list would be the Hamilton Beach 2 Way Brewer (49980Z) with an average 4.3 out of 5-star rating with over 1,800 reviewers. These machines are fairly similar, but nevertheless, still have their differences.
Some say that the best coffee maker brand is the coffee maker with Keurig stamped down the side of it, with their legendary pods. But what is the "best" is a matter of personal opinion.
Do coffee makers make a difference in taste?
Technically, yes. Some may notice that when using the same beans in one maker, it tends to make better-tasting coffee. It's not the model itself that can give a different flavor to your coffee. Instead, it has more to do with how well youbrew your cup of joe. Some swear by machines, some swear by French presses. Who's right or wrong?
The machines that tend to make the best, most perfect cups of coffee are the ones that brew at a higher temperature (usually above 200-degrees Fahrenheit). Additionally, whether or not the water is properly filtered and pressurized in your machine and whether you have a coffee maker with a grinder for fresh ground coffee or have a machine that is only compatible with pre-ground coffee can also make a significant difference. The grinder itself in terms of how fine or coarse it grinds, can also impact the flavor and/or texture of your coffee. It's not as glamorous, but it's easier to use than a French press.
Are coffee makers recyclable?
Whether or not your model is recyclable depends on the materials it is composed of. There are also different methods of recycling to keep in mind. For example, Hamilton Beach products that are no longer working can be shipped back to the company, and they will properly recycle the old appliance without charge (apart from postal fees). But most manufacturers don't offer this take-back program.
You might also want to check with a local recycling company to see if they can recycle and/or utilize any working parts or materials from your old coffee maker. However, never just throw away or recycle your appliance on your own.
But if your machine is still in working order but you simply no longer want it, either give it to a friend or donate it to a charity.
Can coffee makers boil water?
Some like the idea of being able to use their maker to boil water. However, your average coffee pot will not have this function as they have a temperature range limit and only warm water. In fact, a great chunk of coffee makers don't even reach above 200-degrees Fahrenheit, thus, not being able to reach the boiling temperature (212-degrees Fahrenheit).
But if you want to boil water, you might want to consider a stovetop coffee maker instead of an actual machine, that is, unless you know it has the capability of boiling.
Do coffee makers go bad?
Like with all appliances, coffee makers will eventually need to be replaced. Apart from the machine itself, you may need to need to replace an older, non-functioning part such as a grinder or coffee maker pot replacement. Some products may not last as long as ones from other companies. Always check the reviews.
What coffee maker does Starbucks use?
Buying a coffee machine like Starbucks is not going to be affordable. They don't use machines in the $200 range or less; their automatic machines are approximately $5,000 each from a Swiss company known as Thermoplan.
Thermoplan has been supplying thousands of Starbucks stores for almost two decades now. While Thermoplan has luxury coffee machines available for purchase from select retailers, the exact model of Starbucks machines is the Mastrena, an exclusive model just for Starbucks stores.
How to clean coffee maker without vinegar?
While many coffee maker companies recommend using vinegar to clean their machines, if you don't like the smell of vinegar, don't have it on hand, or don't want to use it for whatever reason, there is an alternative. You may use water and lemon juice instead.
Just use half water and half lemon, or two-thirds water and one-third lemon. Run your coffee make through a brewing cycle. After it's finished, dispose of the solution. Run another brewing session to filter out any excess lemon still present. The methods of using lemon in replacement of white vinegar is essentially identical, but it can be more expensive.
Why did my coffee maker stop working?
There may be many reasons why your coffee machine isn't working. Whether your coffee maker stopped working after cleaning, suddenly won't turn on, or whatever the problem is, always check your coffee maker manual. Additionally, do some research online.
If you still cannot get a solution, contact the manufacturer of your coffee maker. There may be a simple solution such as changing a setting on your machine or doing a reset. However, your machine may instead require a part replacement or service necessary to fix your machine. While you may need to replace your coffee maker, especially if it is old, never assume your machine is completely dead.