Did you know that 70-percent of individuals aged 60 or older own a drip coffee maker? It's true, and that doesn't even include other types of coffee makers (such as a French press) they may also own. We can safely say that it is apparent that owning your own coffee maker is incredibly common. Not only is it convenient, but it's also cheaper for avid coffee drinkers.
But with so many different coffee makers out there, which one is right for you? Today, we're reviewing the best coffee maker units of the year. They're all easy to use and make delicious cups of coffee for every coffee addict out there. With them, you can enjoy coffee shop-quality drinks for a fraction of the price.
Let's find the best coffee maker for you!
1. Hamilton Beach (49980A) Single-Serve Drip Coffee Maker and Coffee Pot Maker, Programmable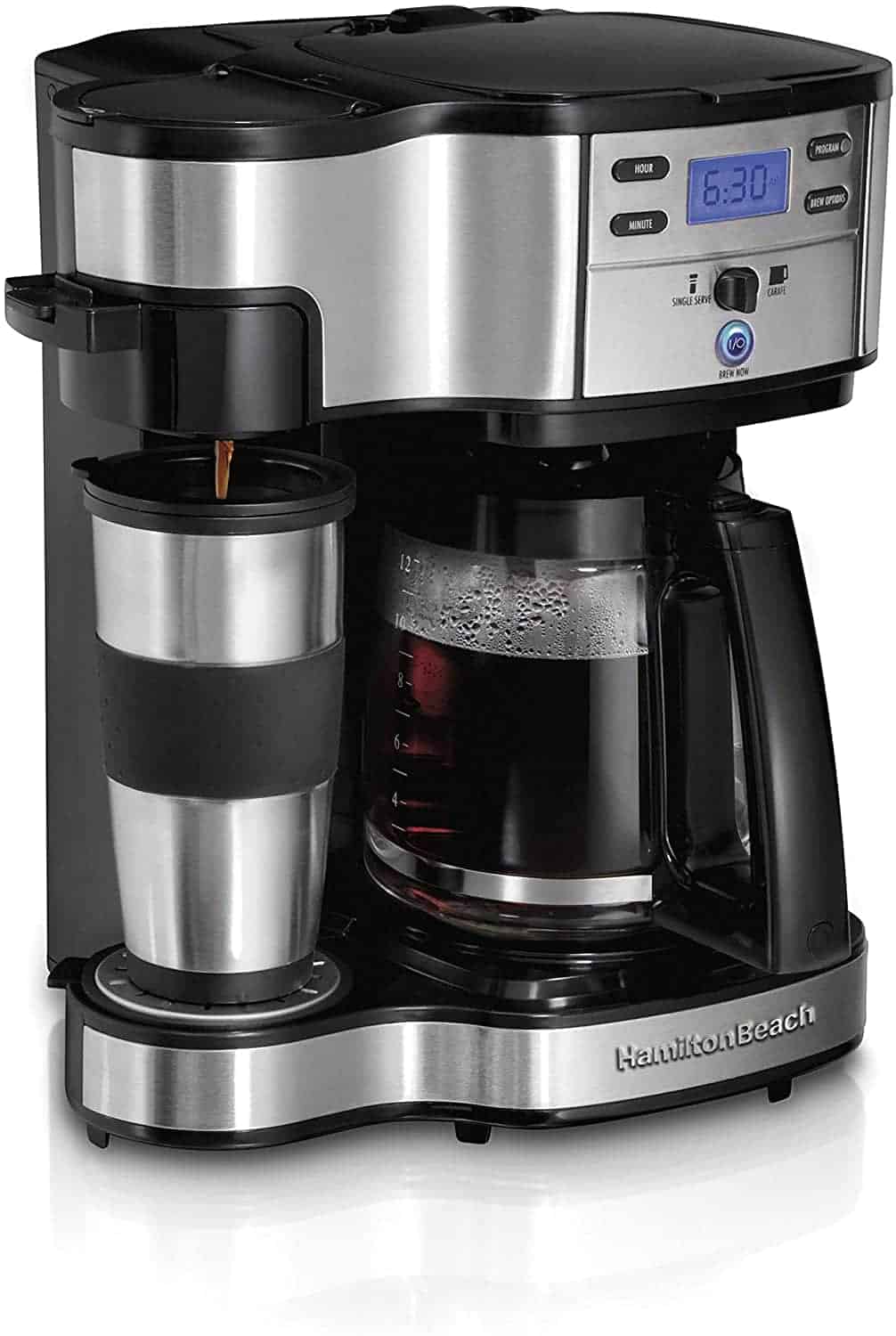 The Single Serve Programmable Coffee Maker (49980A) is one of the best drip coffee makers that work with pods and coffee grounds that Hamilton Beach has to offer. You can either brew a full pot of coffee or a single cup. Coffee pods snap easily into the pod holder apart of the single-serve brew basket. If you get iced coffee pods, you can quickly make a cold brew.
This modern high-end unit is modern has a cutting edge look with beautiful contrasts of black plastic and stainless-steel accents. It also features a small, blue display screen with the time and offers a button-operated control panel. The Hamilton Beach 49980A is convenient in that it has an automatic shutoff, safely shutting down your coffee maker even if you forget after brewing.
For all those reasons, this is probably the best drip coffee maker out there.
Top Features:
Control panel and display
Brew strength selector
2 ways to brew coffee: single-serve or full pot
Compatible with loose coffee grounds and disk-shaped soft pods, with the option for hot and cold brew
Brews up to 14 ounces in a travel mug (not included)
Adjusts to accommodate shorter cups
Fully programmable up to 24 hours
Auto shutoff
Includes 12-cup glass carafe and mesh filter
2. Cuisinart DCC-3200AMZ PerfecTemp 14-Cup Maker, Stainless Steel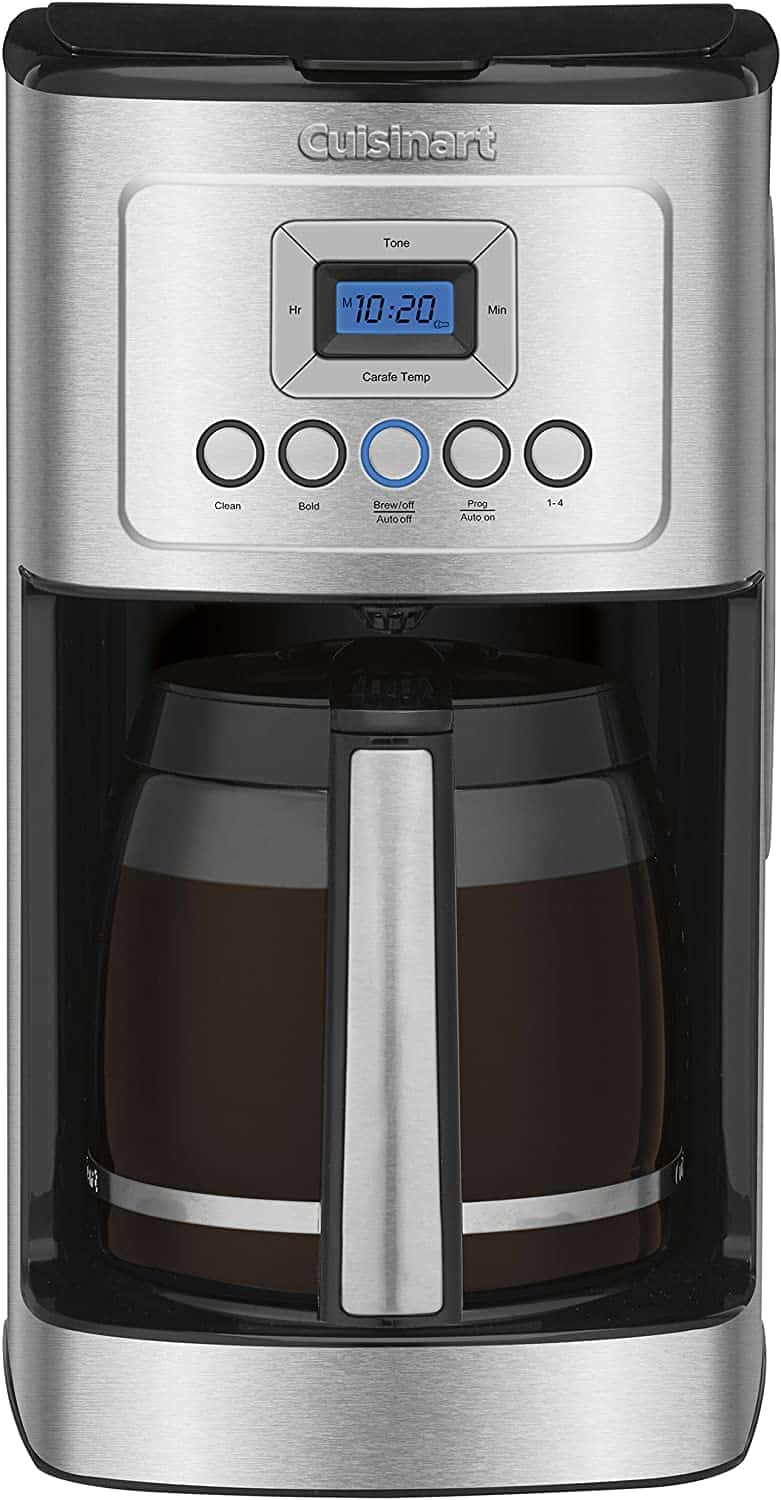 Cuisinart delivers a narrow, modern design without any "fluff" with their PerfecTemp Programmable model. It also features a beautiful LCD screen and neatly-organized button controls to give you a brew personalized to your liking.
This Cuisinart coffee pot also offers 24-hour programmability, an alert to let you know when your coffee is finished, and a setting to self-clean your coffee maker, and auto-shutoff when you're done brewing. And if you want to save some coffee for later, use the keep warm function. As for general maintenance, the LCD display will let you know when it's time to decalcify your coffee maker.
Top Features:
LCD backlit control screen
Brew strength control
Fully automatic: 24-hour programmability and 1-4 cup setting
Keep-hot temperature control
Self-clean setting
Auto shutoff
Ready tone alert
Light signal to indicate if the coffee maker needs to be decalcified
Includes 14-cup glass carafe, charcoal water filter, and gold-tone coffee filter
3. Keurig K 55/K-Classic, K-Cup Pod, Single Serve, Programmable Coffee Machine, Black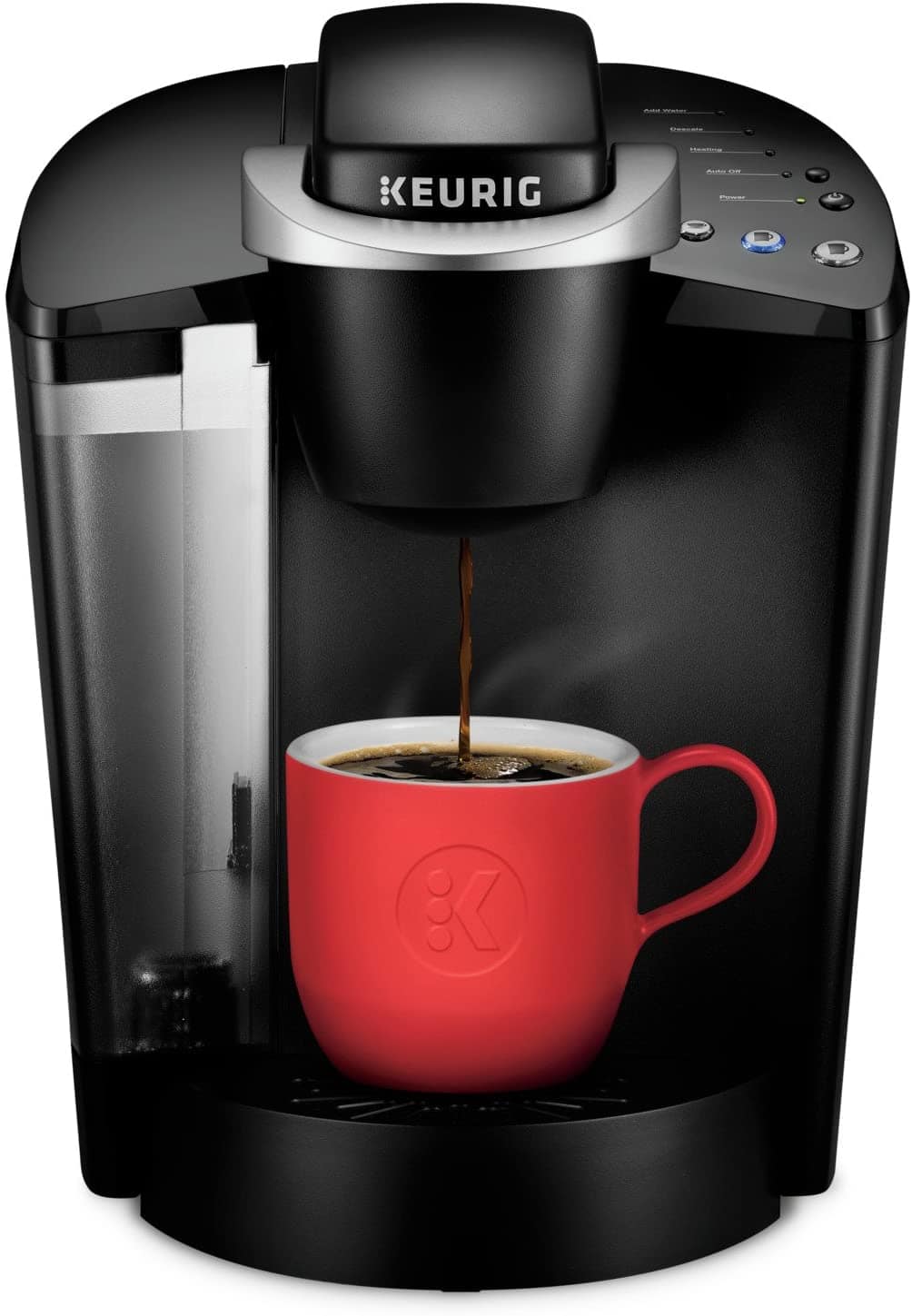 While you won't have stainless-steel components or an LCD screen on the Keurig K55, but what you will get is a beautiful coffee maker in the color Black or Rhubarb with sophisticated, rounded edges and a simple set of buttons.
Just place your cup into the slot, pick your cup size (6, 8, or 10 ounces), and begin the brewing session. You'll have your personal perfect cup of coffee in just under a minute. This coffee maker will auto turn off for added convenience and safety. Additionally, when the water level is low in the water reservoir, your coffee maker will let you know. The Keurig is also very easy to clean, especially with its removable drip tray.
The coffee maker is compatible with Keurig's signature K-Cups for extra convenience. But you can also get the reusable K-Cup mesh and fill it with your fresh coffee grounds of choice. You can not only fully control the flavor profiles, but it is also a good eco-friendly alternative to disposable plastic coffee pods.
Top Features:
Compatible with Keurig K-Cups
Brews 3 different cup sizes: 6, 8, or 20 ounces
48-ounce water reservoir
Add water alert
Auto shutoff
Includes 4 K-Cup pods, 2 water filters, and a water filter handle
4. Braun BrewSense 12 Cup Drip Coffee Maker (KF7000BK)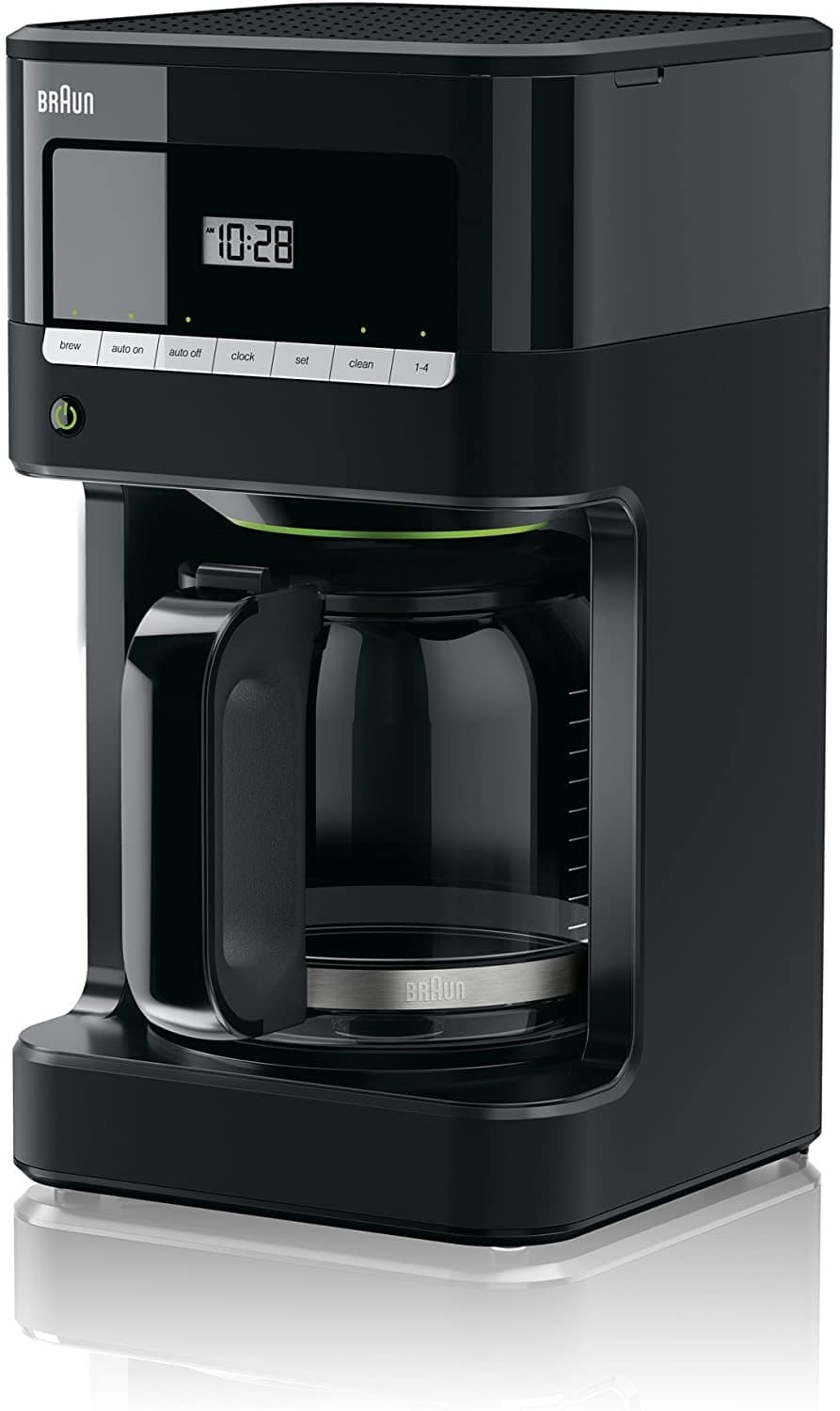 Possibly the best affordable 12-cup coffee maker, the Braun BrewSense still has the technology most other makers use, from a pause-and-pour setting to a descale warning alert. This drip coffee maker is also fully programmable, includes a sturdy glass carafe, and a keep-warm plate.
Despite all those features, this is an incredibly easy-to-use coffee maker. If you don't want to tinker with pre-set programs in the morning, this is the best coffee maker out there for you.
Braun claims that their coffee maker won't leave a messy counter as it features a unique ledge on its back. This helps to collect the condensation that is created during the brewing process.
Top Features:
LED display
Anti-drip pause-and-pour setting
Descale warning
Fully programmable
1-4 cup functions
Keep-hot plate
Includes gold-tone permanent filter, charcoal water filter, and 12-cup glass dishwasher-safe carafe
5. Oxo Barista Brew 8-Cup Coffee Maker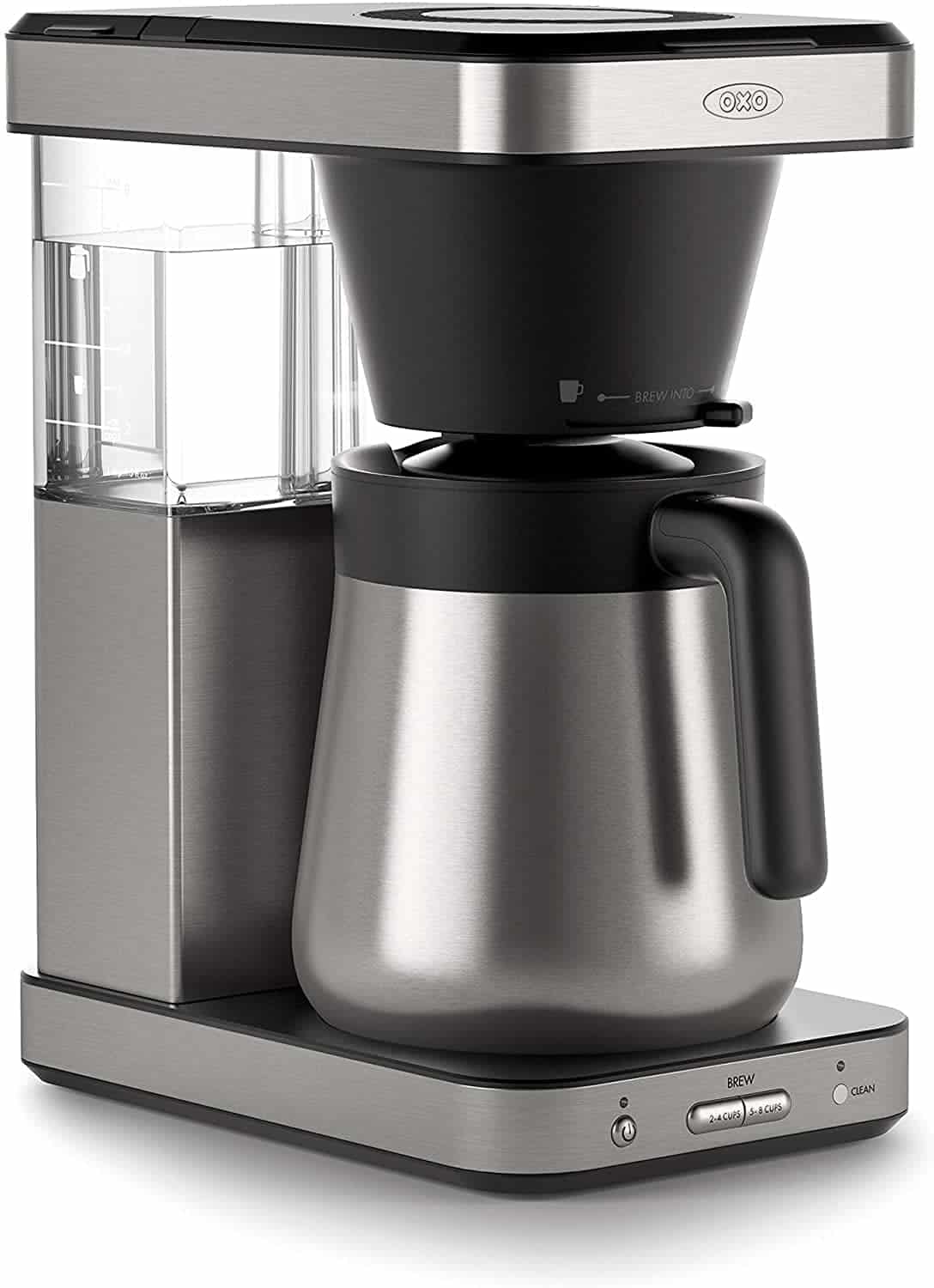 Next up, we have a mid-range model: the OXO Barista 8-Cup Brew Coffee Maker. The modern, sleek design makes this coffee maker stand out from the rest of the competition. While it doesn't have a futuristic LED screen, it still performs at the top of its game.
This model is quite versatile. You can brew a single serving or an entire coffee pot, without having to tinker with the settings too much. This is one of the reasons why this is the most user-friendly coffee maker on our list today.
For those days when you need a constant flow of caffeine throughout the day, the stainless steel thermal carafe will tide you over for two hours. Its double-walled design keeps the heat in, meaning your coffee will be at the perfect serving temperature for hours after you brew it.
Cleaning this model is also very easy. It's nothing we wouldn't expect from the trusted and seasoned OXO brand.
Top Features:
Simple button settings make the coffee maker simple to use
Can brew one cup of coffee or up to eight cups of coffee in one go
Easy to clean and easy to refill the water tank
6. Bonavita 8-Cup One-Touch (BV1901PS)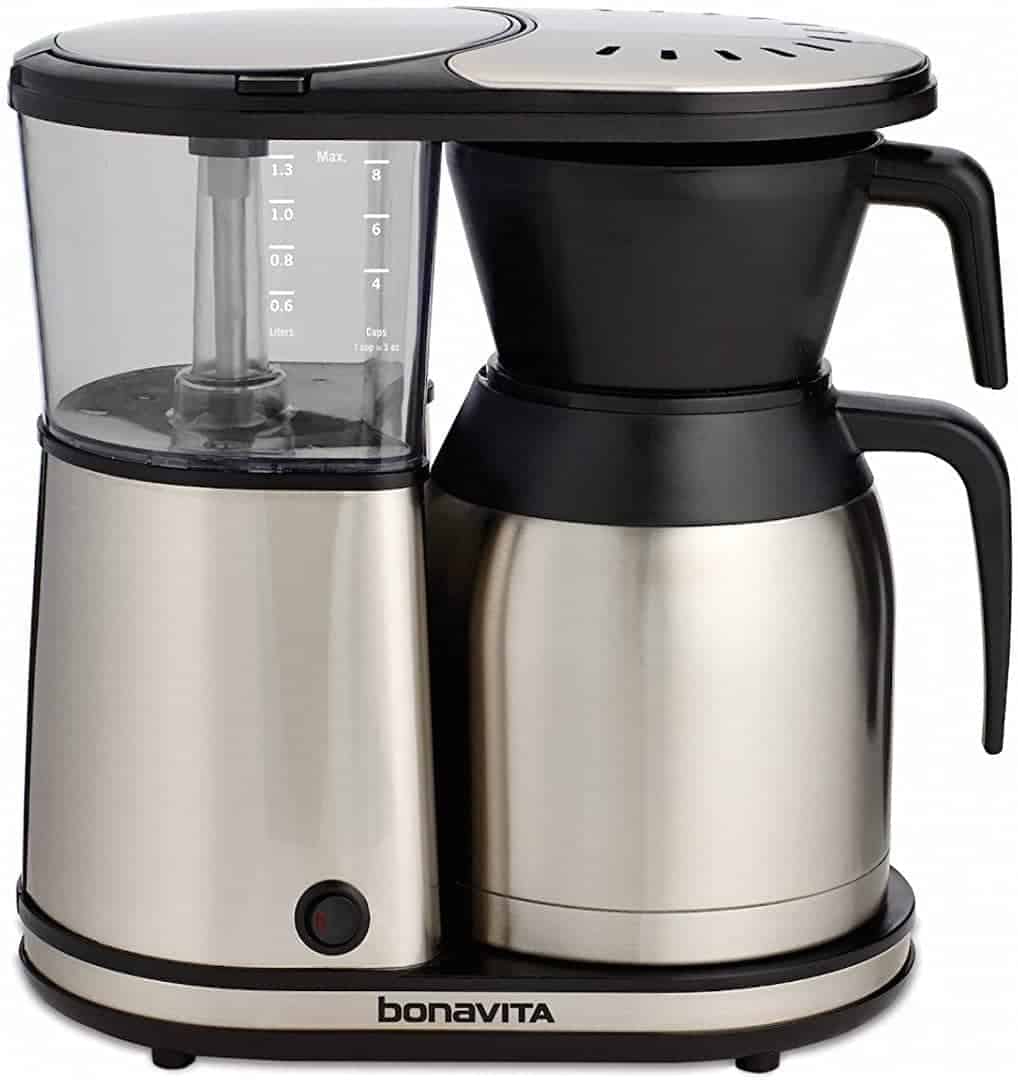 Featuring BPA-free plastic, a stainless steel thermal carafe, and an overall clean design, the Bonavite 8-Cup is a coffee maker to consider adding to your kitchen. You can even choose what color you want the base to come in.
This Bonavita coffee maker brews up to 8 cups within six minutes at a maximum temperature range of 205-degrees Fahrenheit. When you're doing brewing your coffee, you can rely on its auto shut-off feature to safely power down your appliance, allowing you to get on with your busy day.
This convenient appliance makes great-tasting brewed coffee and keeps coffee warm up to four hours in its thermal carafe. It's perfect for when you have a lot to get done and need some caffeine to check things off your to-do list.
Additionally, the simple one-button design ensures you won't have a hard time getting used to this coffee maker. No frills, no confusion.
Top Features:
One-touch brew
Precise brewing temperature
BPA-free plastic
Auto shut-off
Pre-infusion mode (optional): degasses fresh ground coffee prior brewing
Stainless steel-lined thermal carafe
Includes dishwasher-safe filter basket, carafe lid, and showerhead
7. Technivorm Moccamaster KBG Coffee Brewer, 40 oz, Polished Silver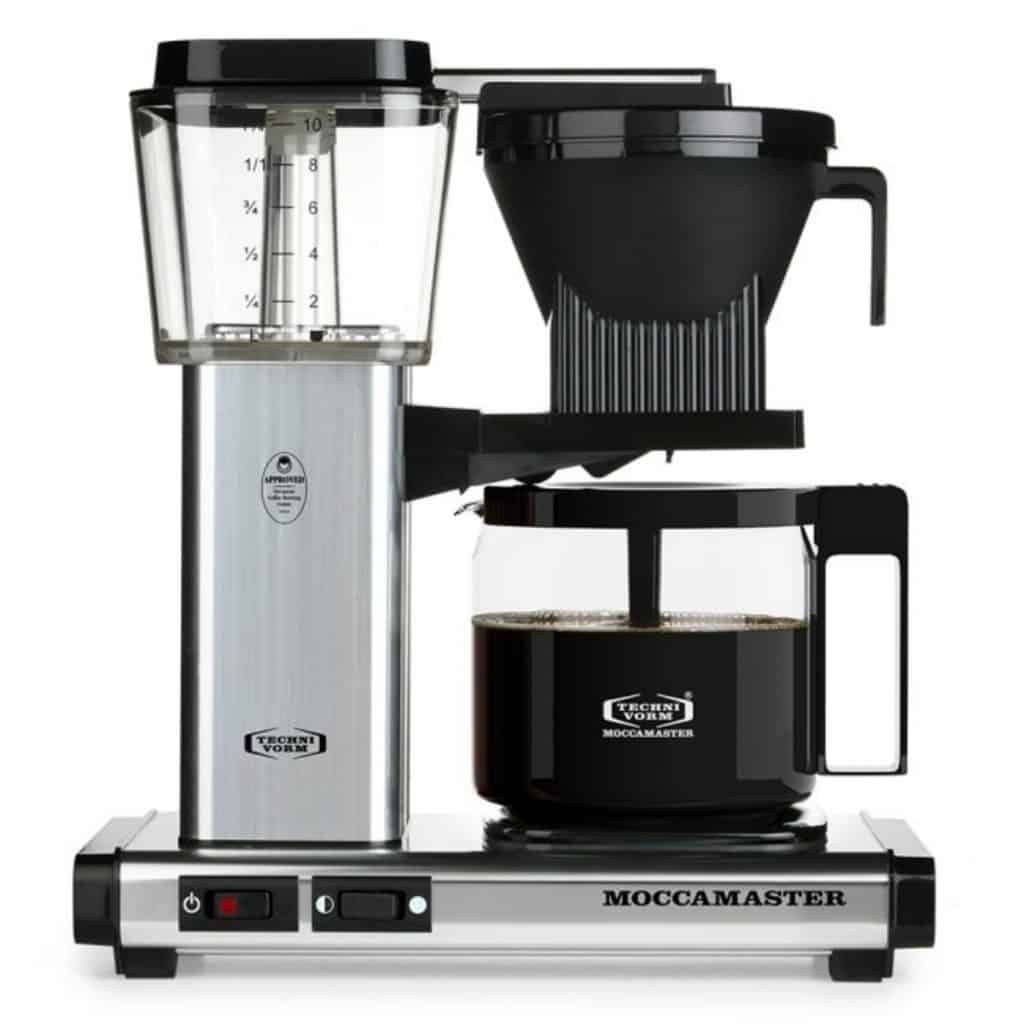 If you value having quick brew time and minimal noise, the Technivorm Moccamaster KBG Coffee Brewer may be the best coffee maker for your needs. This beast can fill a carafe virtually silently within six minutes. It also features automatic shut-off when you're done brewing and auto drip-stop. Many also applaud Technivorm Moccamaster for having plastic materials without BPA, BPS, BPF, or phthalate.
One of the most appealing things about the Technivorm Moccamaster KBG is that you can purchase it in 17 different colors, from conservative Polished Silver, to bold Yellow Pepper, to vivid Grape. That said, it is a very versatile at-home coffee maker. It would even fit perfectly in an office setting. The general design of the KBG is unique, luxurious, and cutting-edge.
You'll receive a five-year warranty with this purchase, which is pretty good for a kitchen appliance. It makes sense why Technivorm Moccamaster would be so generous with their policy. After all, they're a well-loved and well-trusted coffee maker brand that has yet to have made a badly rated product.
Top Features:
BPA, BPS, BPF, and phthalate-free plastics
Auto drip-stop
Automatic shut-off
Includes glass carafe
Buyer's Guide: How You Can Find the Best Coffee Maker for You
Sometimes, our suggestions aren't enough for our curious readers. That's why we always write a helpful buyer's guide to go along with our product reviews. After all, if you're venturing out into the world of drip coffee makers, you need to know what features to look out for. Before you settle on a specific coffee brewer, make sure it ticks most (or, better yet, all) of these boxes:
Capacity
How many cups of coffee will you brew most days? If you need a lot of caffeine to keep you going, it's good to have a generous-capacity model that can brew many cups in one go. Large coffee makers are also best for coffee-loving families.
Do keep in mind that not all generous-capacity coffee makers offer a single-serving option. For those days when you only need a cup of joe in the morning, it might be best to only brew one cup. This will help you avoid pouring perfectly good coffee down the drain.
Carafe or No Carafe?
Some coffee makers come with thermal carafes made of stainless steel, while others are designed to drip coffee straight into a cup. Thermal carafes are best to keep hot coffee warm throughout the day, meaning you only have to brew a big batch once a day. Glass carafes are also common, but they don't retain heat and can break easily if you're not careful.
Easy to Use
Of course, the best coffee makers come with dozens of bells and whistles. However, more isn't always better. If you want a hassle-free experience when brewing coffee, you don't need to spend a ton of money on features you won't use. Moreover, an overly complicated coffee maker isn't very handy in the morning when you're half-asleep, right?
Versatile Features
That said, it might still be a good idea to invest in a coffee maker with special features. If you like switching things up occasionally, spending a bit more to get more features may be worth it.
Easy to Clean
Lastly, we recommend getting a coffee maker that's easy to clean. Bonus points if the carafe is dishwasher safe and you can remove the water tank, to descale it once in a while. Generally speaking, the best coffee makers aren't that hard to clean, but you'll be better off if you check user reviews to see if they mention the cleanup process.