Who doesn't love a good cup of coffee? Nothing makes a business conference or meeting better than a warm cup of your favorite caffeinated beverage. That's why getting a coffee urn for your next event is so important. It'll make everyone in the room feel more at ease (and less sleepy!).
Today, we're reviewing the best coffee urns on the market. You can't assume every model is great, which is why we've made this list. We've taken into account efficiency, capacity, and (of course) design. You'll also find here a buying guide to help you find the best appliance for your needs. Keep reading!
1) Hamilton Beach 45-Cup Coffee Urn: Best Overall Pick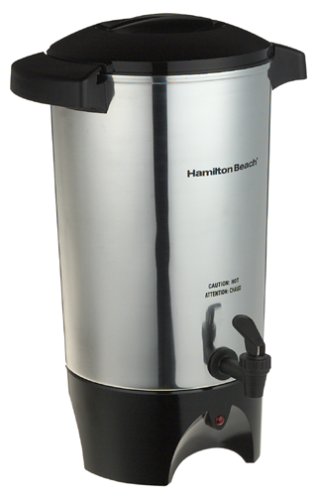 The best coffee urn on our list is the Hamilton Beach 40515R model. It has all the main features you need from this type of appliance, has a slick design, and is pretty affordable. It's the best bang for your buck.
This urn doubles as a large-scale coffee maker, too. If you're using 30 to 45 cups of water, each cup will only take a minute to brew. You can start it before your guests arrive, keep preparing things, and then have the coffee be ready for pouring just 45 minutes afterward.
A handy feature this appliance has is its indicator light. When the coffee is brewed and ready to serve, a red light will turn on. It tells your guests they can get their warm cup of coffee without needing to guess.
On top of that, the safety features are also a big plus. The lid locks into place so you can safely transport the urn from one room to another without spilling anything. The handles are also heat-resistant, so you won't burn yourself when you grab them.
This unit does have its drawbacks. There is no continuous heat feature, and so as soon as the coffee is done brewing, the urn will switch itself off. This means the coffee will get progressively colder, as there is no great insulation system.
On the plus side, if you're expecting a smaller crowd, that won't be a problem. The Hamilton Beach 40515R lets you brew as little as 15 cups at a time.
Highlights:
Capacity: Up to 45 cups of coffee

Red "done brewing" indicator light

Heat-resistant handles

Locking lid prevents spillage

Two-way dispenser nozzle

Quickly brews large amounts of coffee

Doesn't need a coffee filter

Easily measure how much water you pour in
Drawbacks:
Can't see how much coffee there is left without opening the lid of the water tank

Coffee may get cold within an hour of brewing
2) HomeCraft CU30SS Quick-Brewing Urn: Budget-Friendly Pick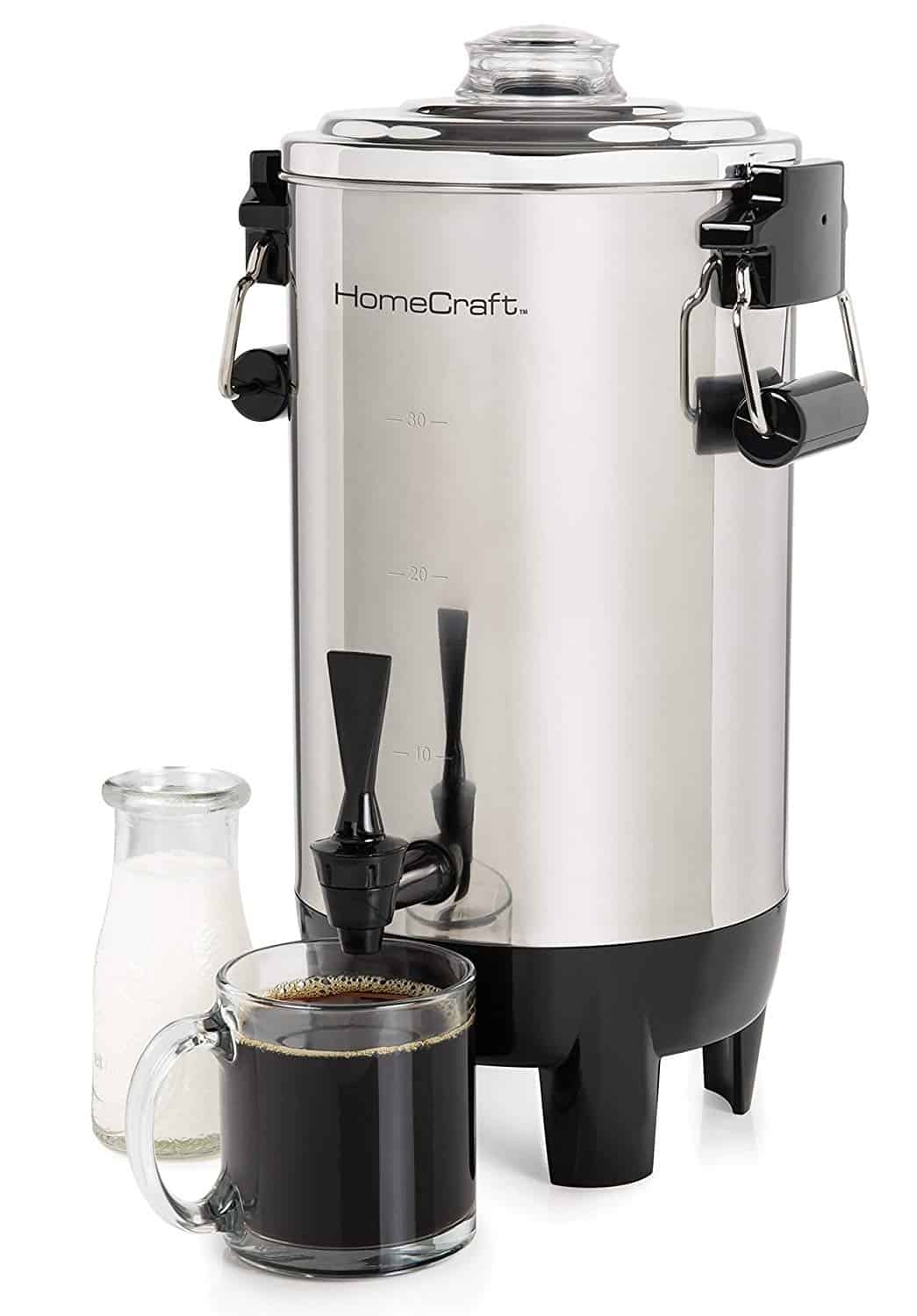 You can still get an awesome coffee maker and urn if you're on a budget. The HomeCraft CU30SS has all the main features you need in a coffee urn, hundreds of glowing customer reviews, and (best of all) comes with a pretty affordable price tag.
You can make up to 30 cups of coffee with this unit. It will automatically start brewing from the moment you plug it in. Each cup of coffee takes only a minute to brew. Thus, your guests can pour themselves a warm cuppa thirty minutes after you start the urn.
One of our favorite things about this particular urn is its dripless faucet. Unlike many other models on the market, this one won't waste coffee and make a mess when it's not being used.
There is also a handy "keep warm" function. It ensures the coffee doesn't get cold after it's done brewing. This way, you can entertain a crowd for a whole afternoon without having to worry about reheating (and messing up) dozens of cups of coffee.
You can easily transport this unit thanks to the side handles. They'll be cold to the touch so you don't burn yourself. Unfortunately, the lid doesn't lock in place, so you'll have to be careful when moving the urn.
You won't need paper coffee filters to brew good coffee. The urn has a built-in coffee filter where you place your coffee grounds. When you're done using this unit, you can put the coffee filter directly in the dishwasher.
Highlights:
Capacity: Up to 30 cups of coffee

Clear glass lid lets you easily see how much coffee is left

Cold-touch handles make it easier to transport the unit

Keep-warm function keeps coffee warm and delicious

Reusable and dishwasher-safe coffee filter

Faucet doesn't drip when not in use
Drawbacks:
Lid doesn't lock to the urn
3) Hamilton Beach Commercial Stainless Steel Coffee Urn: Premium Pick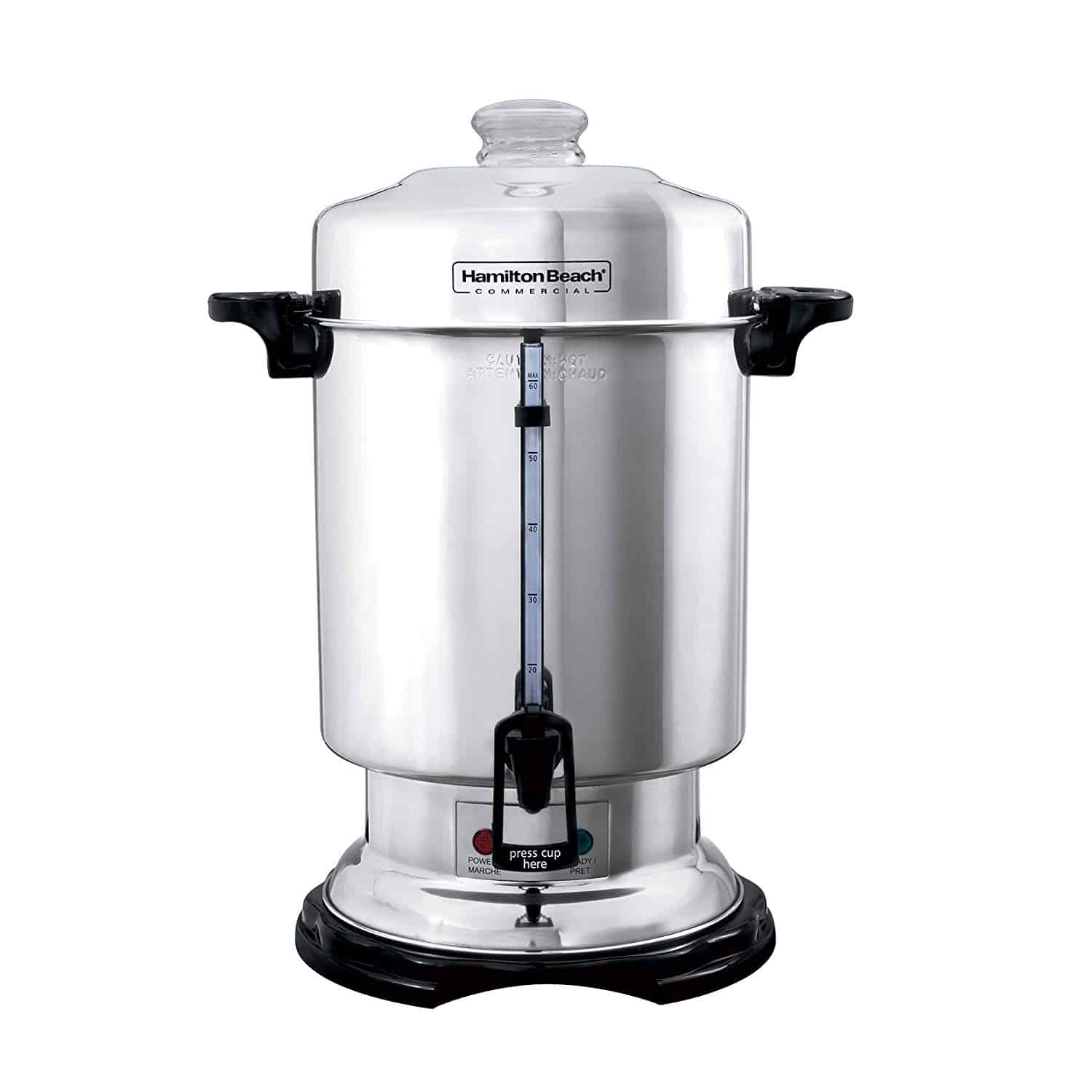 For those who feel comfortable spending a bit more money, we recommend the Hamilton Beach Commercial Coffee Urn. It brews delicious coffee, has all the key features you're looking for (and then some!) and looks very professional.
You can brew up to 60 cups of coffee at a time with this coffee urn. Each cup takes about 60 seconds to brew, so you can expect the urn to be full of steamy, delicious coffee in only an hour. That gives you enough time to finish your preparations before your guests come in and pour themselves a cup.
The coffee will stay warm even after the urn is done brewing it. This appliance has a built-in "keep warm" feature that traps in the heat. Even after a few hours, your beverages will be at ideal serving temperature. There's nothing worse than cold coffee.
When the coffee is done brewing, you'll see an indicator light turn on. No need for guessing. On top of that, there is also a "coffee window" along the side of the urn. It'll show you how much coffee there is left, so you can make a fresh batch if need be.
Lastly, we also like the one-hand dispensing handle. It makes it easier to pour yourself a cup of coffee without having to set down whatever else you're holding. Simply press your mug to the handle and coffee will come out in a continuous stream.
Highlights:
Capacity: Up to 60 cups of coffee

Clear coffee/water window tells you how much liquid is left in the urn

One-hand dispensing handle makes it easier to pour

Polished stainless steel design gives it a professional look

Stain-resistant stainless steel coating inside

Keeps coffee warm for hours after it's brewed

Indicator light turns on when coffee is brewed
Drawbacks:
No built-in on/off switch
4) Cresimo Airport Coffee Urn and Hot Beverage Dispenser: Best Compact Option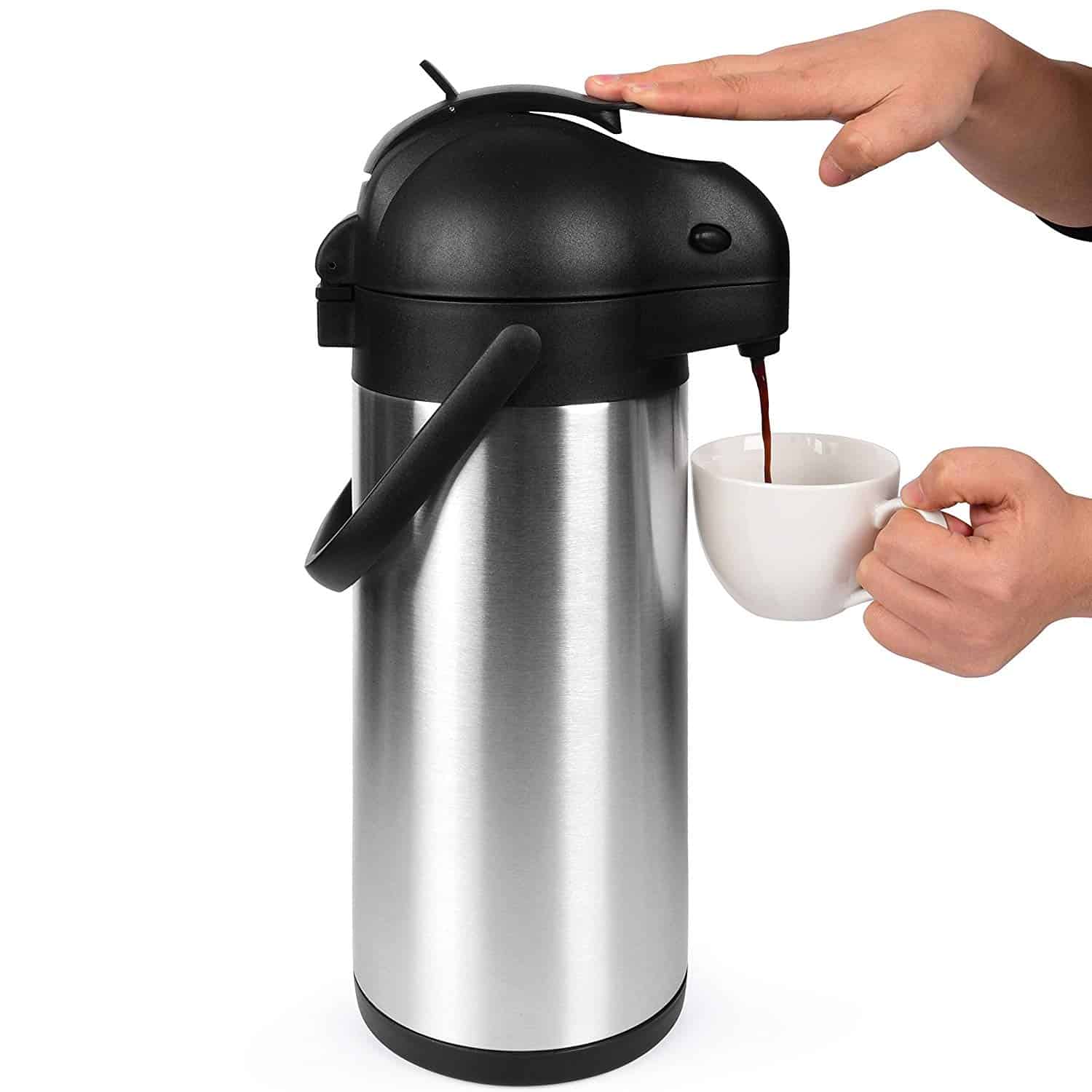 Another great option is the Cresimo Airport urn. It's especially great for those who are looking for a cheaper coffee pot and don't need something huge taking up space. It's our favorite pick for small get-togethers.
This coffee urn brews up to 12 cups at a time. You do need to boil the water before pouring it into this unit. Yet, that also means you'll only have to wait around five minutes before pouring yourself a warm cup of coffee.
The Cresimo urn ensures your beverages stay warm for up to twelve hours after brewing them. It uses vacuum-locking technology to trap in the heat. Do keep in mind that some customers have had trouble with this feature and their coffee has gotten cold much faster than it was supposed to.
One feature we love is the dispenser. This button sits at the top of the urn. All you have to do is press it to fill up your cup and release it when you're done pouring.
We also have to mention that this is one of the few coffee makers and urns that works perfectly with any size mugs. Most urns have their tap on the lower half of the tank. This one, however, has its tap at the top of the urn. You can easily fill up a deep mug.
Highlights:
Capacity: Up to 12 cups of coffee

Easy to clean

Very portable design

Doesn't take up much room

Durable stainless steel interior and exterior

Practical one-hand pouring lever

Works with any size mug
Drawbacks:
Works best with pre-heated water

Vacuum-sealing "keep warm" feature isn't reliable

No indicator light to tell you when the coffee is done brewing
5) Cafe Amoroso 100-Cup Hot Beverage Dispenser: Largest Capacity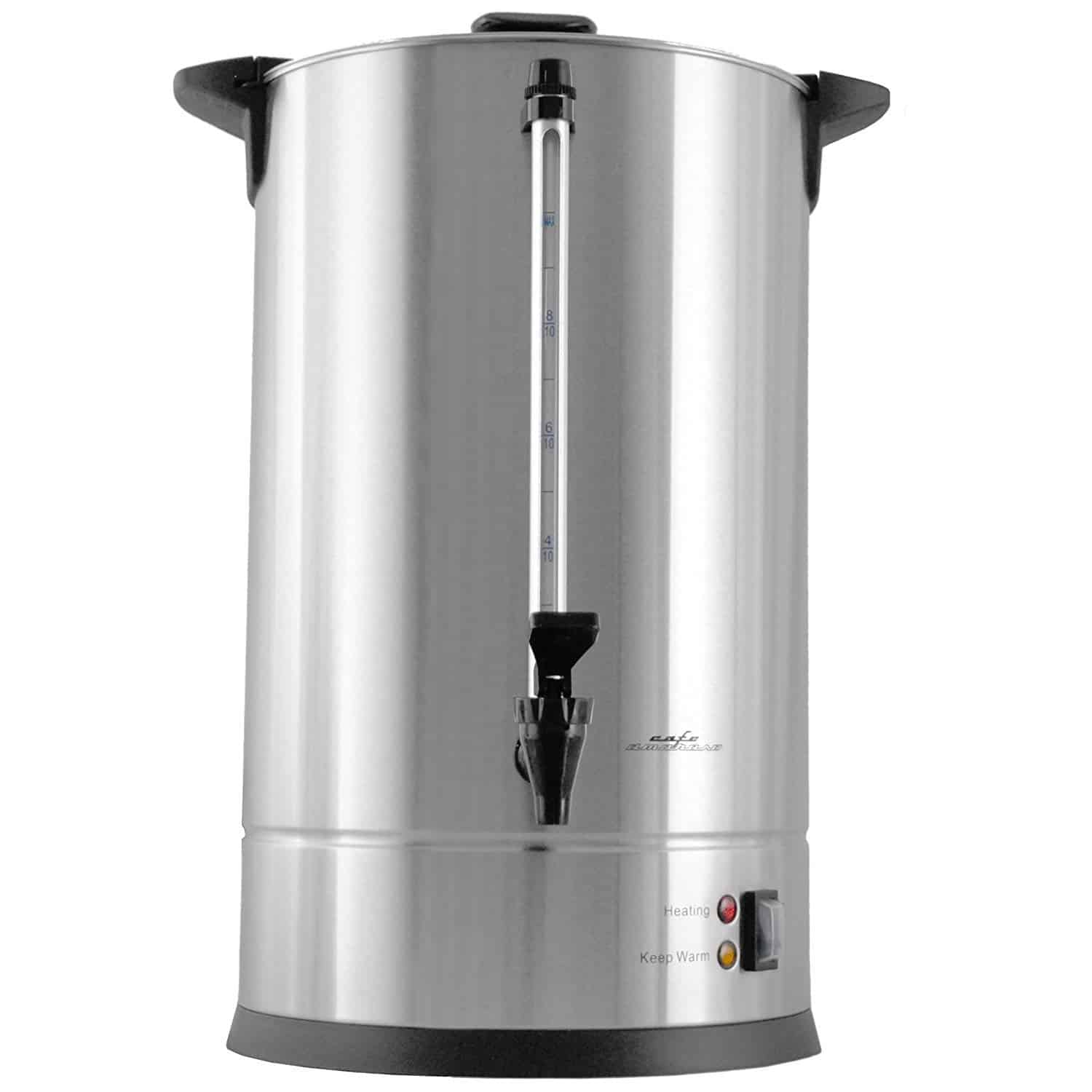 If you're expecting a big crowd, the Cafe Amoroso urn will be your best friend. It was designed to handle lots of coffee lovers and it lives up to that promise. Not to mention that it comes with a pretty reasonable price tag.
You can brew up to 85 cups of coffee at once with this urn. Put the grounds in the brewing basket, fill the water tank up to the 85-cup mark, and sit back while the Cafe Amoroso does its job.
In reality, this appliance has a capacity of 100 cups. While it won't brew more than 85 cups at a time, you can still add already brewed coffee to the water tank. Do this once the rest of the coffee is ready. It may be a bit of a hassle, but it's the best solution on the market for large crowds.
Surprisingly, the Cafe Amoroso unit will be ready to pour you a cup of freshly brewed coffee in just 45 minutes. That means it only takes 50-or-so seconds to brew each cup. Talk about impressive!
There are two ways of keeping your coffee warm after it is done brewing. The first is by turning the urn off and relying on the insulating system. This should keep your beverages warm for a few hours. The second is by turning on the "keep warm" feature. It will actively keep your coffee at the ideal serving temperature for as long as you want. Do keep in mind that this last option is somewhat noisy and wastes energy.
Lastly, the walls of the urn are very thick to prevent them from heating up too much. Thus, if you accidentally touch the urn, you won't burn yourself. It's a handy feature not a lot of coffee makers and urns come with.
Highlights:
Capacity: Up to 100 cups of coffee

Good insulation technology and design

Quickly brews a large amount of coffee

Stainless steel brewing basket eliminates the need for filters

Practical "keep warm" feature

Drip-proof sturdy faucet

Drip tray prevents spillages and a mess
Drawbacks:
Won't brew 100 cups in one go
6) West Bend 58002 Polished Aluminum Coffee Urn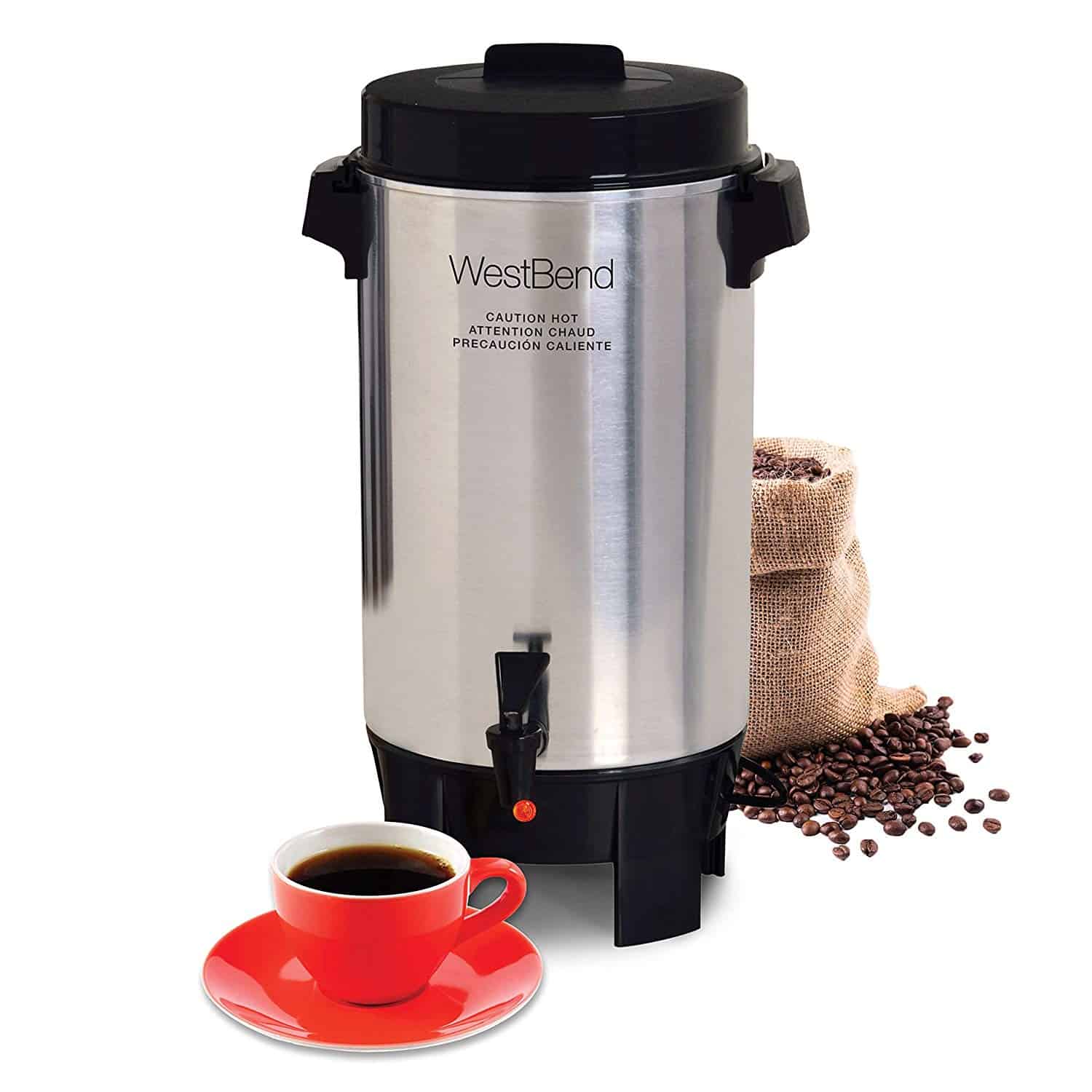 Moving on to the sixth product on our list we have the West Bend 58002 coffee urn. This brand is well-known in the world of electrical appliances, and this product lives up to that reputation.
This machine can brew up to 42 cups of coffee at the same time. You don't need disposable filters. All you have to do is place the grounds in the plastic brewing basket and then fill the water tank up to the mark.
When the coffee is done brewing, you'll see a red light turn on. It means you can pour yourself a cup. No guessing-work needed.
Luckily, there's built-in automatic temperature control. It keeps the coffee inside warm for hours and hours after the coffee is done brewing. This is handy if your get-togethers tend to last an entire day.
Highlights:
Capacity: Up to 42 cups of coffee

Indicator light turns on when coffee is brewed

Great insulation system and design

Sturdy faucet makes serving easier

Lid can be locked into place
Drawbacks:
Spigot is located too low on the urn for large mugs

Impossible to tell at a glance how much coffee is left
7) Hamilton Beach 40540 40-Cup Brew Station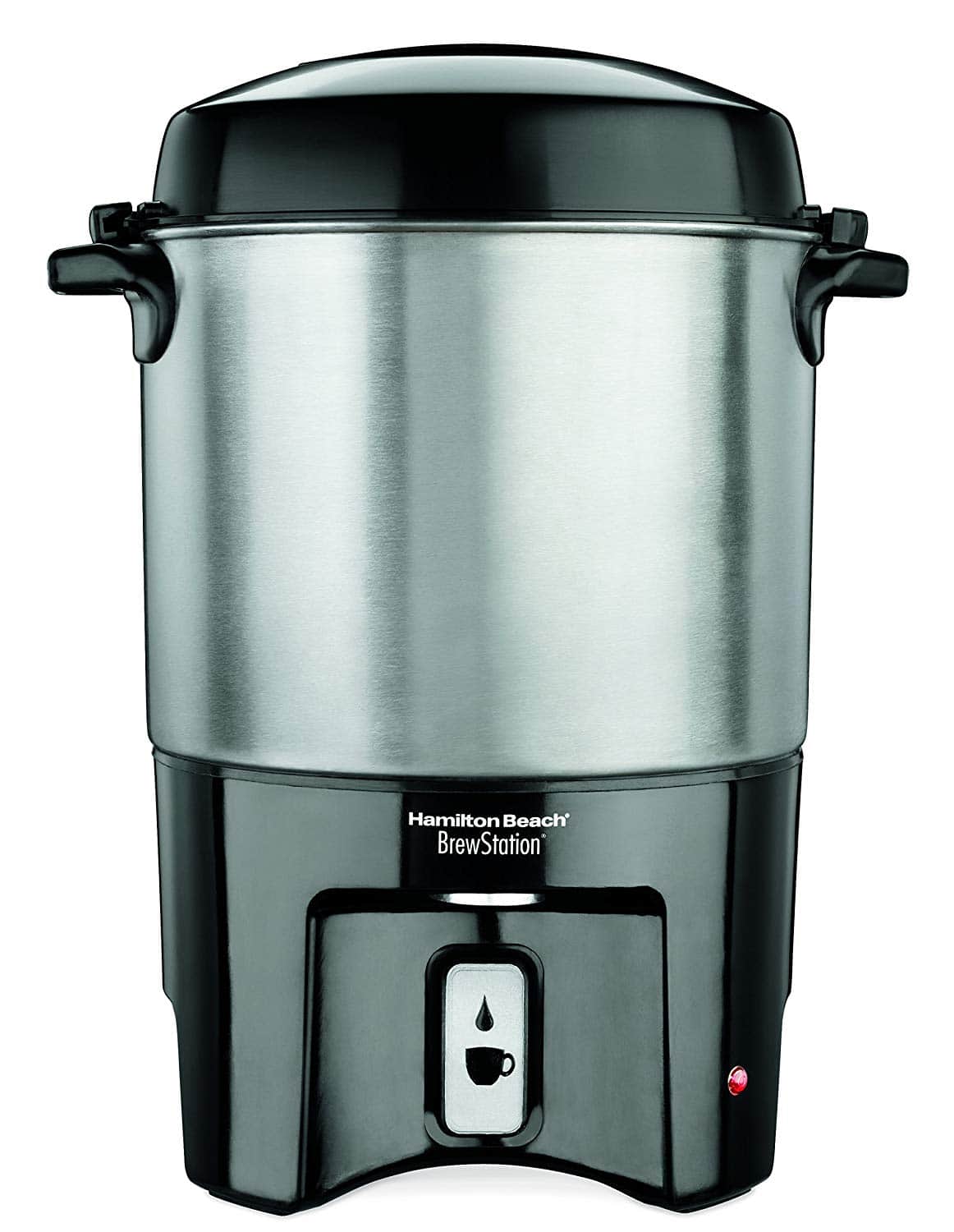 Yet another Hamilton Beach product on our list. But once you take into account how reliable their products are, it's no surprise. This time, we have a 40-cup coffee urn great for those looking for an easy-to-use carafe.
This urn can brew up to 40 cups at a time. You won't need any coffee filters, since there's a built-in coffee-brewing basket. In less than an hour, your guests will be able to pour themselves a delicious cup. They'll know when it's time when they see the red light turn on. Practical, right?
This Hamilton Beach unit has a clever insulation design. It keeps drinks warm for a long time, even if the urn has been turned on. On top of that, inside you'll find a gentle heater. When you turn on the "keep warm" feature, it will help you keep your coffee deliciously warm.
Because the dispensing button is very hot to the touch, you shouldn't touch it. This means you won't be able to use a styrofoam cup with this unit.
Highlights:
Capacity: Up to 42 cups of coffee

Indicator light tells your guests when coffee is done

High-quality insulation system

Heater keeps coffee warm throughout the day

Easy to clean

Easy to transport
Drawbacks:
8) Continental Electric PS-SQ018 Coffee Urn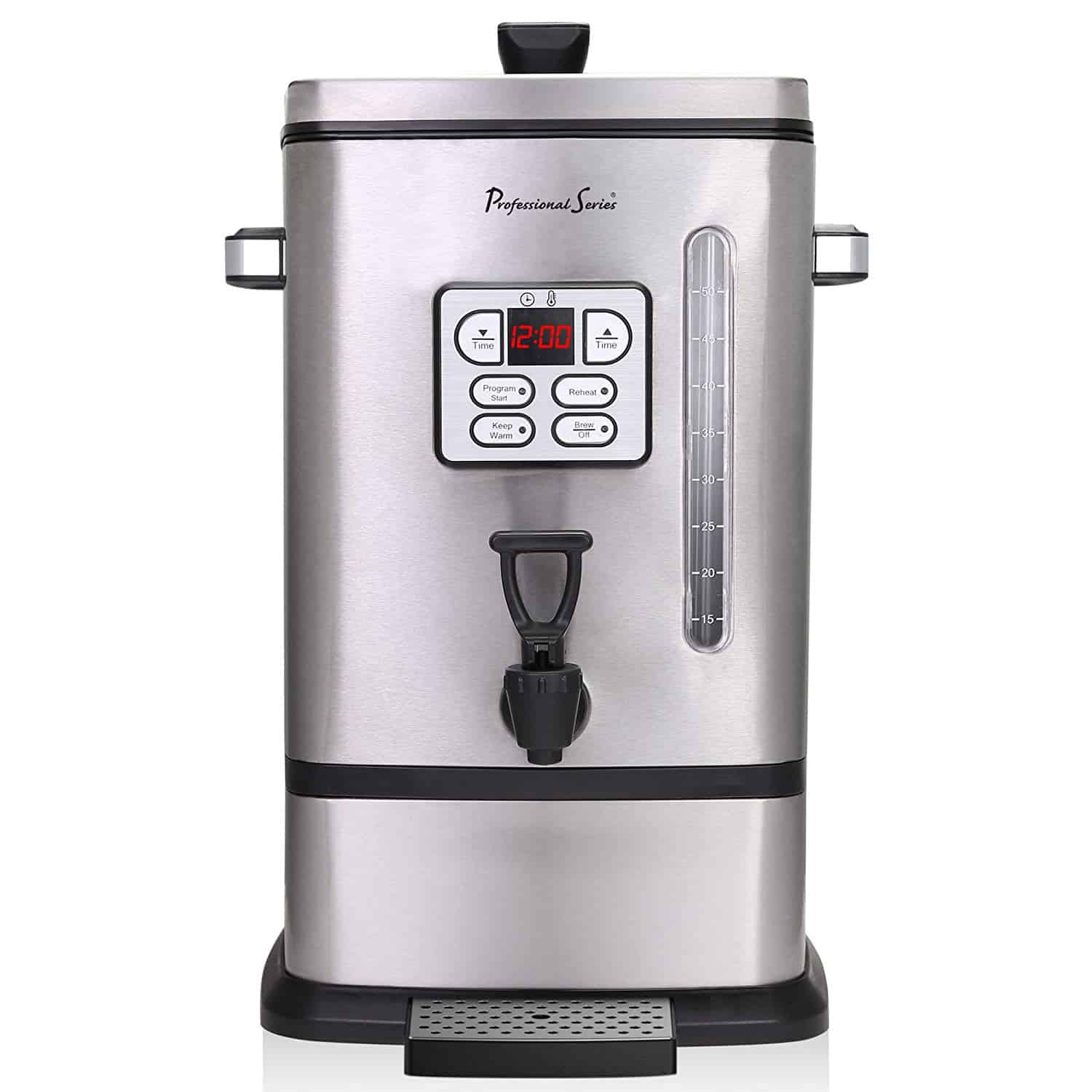 If you want a more futuristic-looking coffee urn that goes above and beyond, the Continental Electric PS-SQ018 unit is a good pick. You'll get the usual key features and then some.
This model makes up to 50 cups of coffee at a time. Each cup takes around a minute to brew. Thus, in less than an hour, you can pour your guests a warm cup of coffee.
Luckily, this urn comes with a handy a "keep warm" setting you can enable when the coffee is done brewing. This way, the coffee won't get cold. It's perfect for those long business meetings and networking events that can stretch for a whole day.
You can also make the most out of the "program start" setting. For instance, if you want the coffee to start brewing in half an hour, click the "time up" button until you reach 30 minutes. It will start working then.
Lastly, there is a coffee window along the front of the appliance. It will show you how much coffee is left. You won't need to open the lid and peer from above. 
Highlights:
Capacity: Up to 50 cups of coffee

Quality and durable coffee brewing basket

Great "keep warm" feature

Built-in programmable timer

Practical coffee level window

Stainless steel outside is easy to clean

Lightweight and easy to carry
Drawbacks:
9) Elite Cuisine CCM-035 30-Cup Electric Coffee Dispenser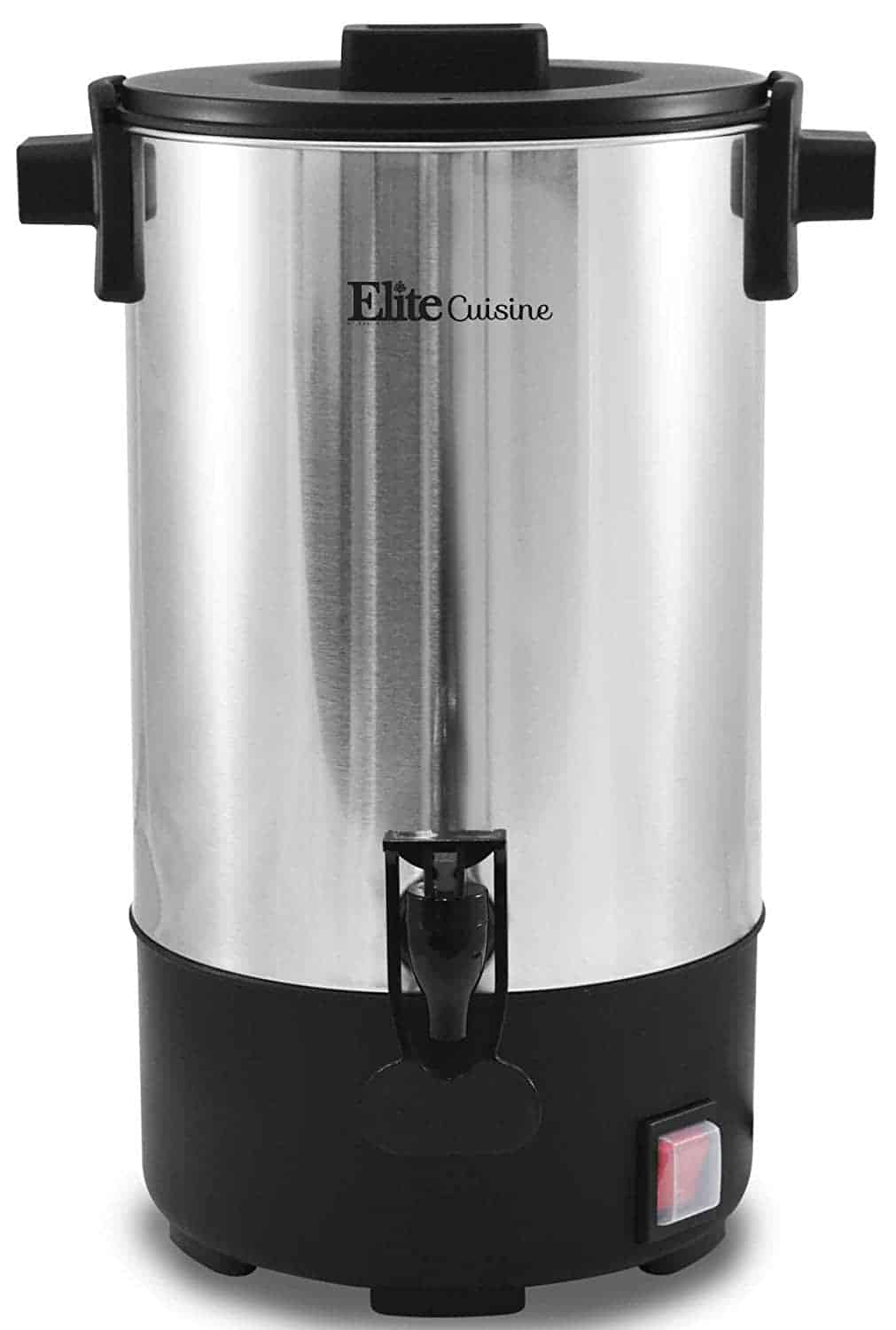 Another great product is the Elite Cuisine CCM-035 coffee urn. It's more compact than other items on our list but it performs just as nicely.
You will be able to brew up to 30 cups of coffee using this appliance. Since it takes this model one minute to brew one cup, in half an hour the tank will be full of warm, delicious coffee.
To make this unit more user-friendly, there's an indicator light near the dispenser. It lights up when the coffee is done brewing and tells your guests it's pouring time.
Lastly, the "keep warm" function works well. It keeps your coffee at the perfect serving temperature hours after the coffee is done brewing.
Highlights:
Efficient design makes it easy to store

Locking lid is durable and dishwasher-safe

Reusable mesh basket for coffee grounds is dishwasher-safe

Two-way spigot is sturdy and allows for one-hand pouring

Keeps coffee warm for hours on end

Cool-touch handles make it easy to transport

Rust-resistant inner and outer coating
Drawbacks:
How to Choose the Ultimate Coffee Urn: Buying Guide
Now that we've shown you our nine favorite coffee urns, you must have an idea of what features to look for.
In case none of these models won over your heart, you can always look for one on your own. To help you, we've put together this buying guide. In it, we list the main features you need to pay attention to. Keep these in mind so you can buy the best urn for your needs!
Capacity
First things first, how many people do you want to serve? The first thing you need to establish is how large you want your coffee urn to be. They come in all sizes, from 12-cup to 100-cup capacity. Keep in mind that, generally speaking, the larger the urn, the more expensive it will be.
Heating
This is also a crucial feature. Will the coffee urn keep the coffee warm after it's done brewing? Some models have a gentle heating system built-in, while others don't. The best appliances will keep your drinks warm for hours on end. The cheaper ones will leave your coffee cold and stale at the end of the event.
Filters
Most models have a built-in removable brewing basket. That's where you place the coffee grounds. In this case, you don't have to keep buying disposable coffee filters. In the long run, it's a cost-effective feature. It's also more environmentally friendly.
Ease of Use and Cleanup
You don't want to spend dozens of dollars on an appliance that's tricky to set up and use. Look for coffee urns with straightforward steps: clearly marked water level, easy-to-remove lid, and so on. Customer reviews will tell you a lot about how easy to use a given model is.
It's also wise to get an urn with parts that are dishwasher safe. On top of that, look for appliances with a slick design. They won't have nooks and crannies that need cleaning but that are hard to reach.
Accessories and Extra Features
If you're willing to spend some more money, there are some cool accessories and features available. They aren't necessary, but they're always a nice bonus. Here are some you may find:
Drip tray
Dripless faucet
Indicator light
Coffee/water level window
Programmable timer
Frequently Asked Questions on Coffee Urns
Q: What coffee grounds can I use with an urn?
You don't want grounds that are too fine. Otherwise, they'll fall from the brewing basket and end up in your guests' cups. Make sure you're using a good-quality, reliable coffee grinder.
Q: Can a coffee urn make hot chocolate?
You can, but the process won't be the same as making coffee. Make sure the brewing basket isn't inside the urn. First, fill the water tank with however much water you need. Then, turn on the urn and wait for the light to come on. Add the powder, mix it well, and enjoy!
Q: Can a coffee urn be used for hot water?
Definitely! Remove the coffee ground basket from the urn, fill the tank with however much water you need, and turn on the machine. When the indicator light comes on, you can start pouring.
Q: How to use a coffee urn?
Every model is different, but the process of using a coffee urn is pretty universal. In a nutshell, you'll need to:
Fill up the tank with water

Place the brewing basket in place and add the coffee grounds

Close the lid and turn on the appliance

Serve when the indicator light comes on
Here is a useful video to help you visualize the process of making coffee with an urn or percolator.
Q: How to clean a coffee urn?
Remove the coffee ground basket, stem, and lid. Clean those under running water with a gentle soap. Then, wet a towel, add a bit of soap, and wipe the inside of the urn. Make sure no electrical parts come in contact with water.