Most folks already know when and how to use the different settings on their regular oven to achieve the results they want in the kitchen. Select a baking temperature for any batch of cookies or crank it up to broil to achieve the perfect bubbly crust on the top of your extra cheesy lasagna!
What about the difference in settings on a convection oven though? It's tough enough to even keep track of what sets convection cooking apart from your usual cooking, let alone comprehend all of the differences between individual convection cooking methods!
Today we're taking a deep dive on two of the most-likely-to-be-used settings on your convection oven: convection bake and convection roast. We'll cover all of the things that set these two cooking methods apart from one another, as well as discuss the situations which might be best suited to either method! Grab a glass of ice water to keep cool because we're taking a dive into the sweltering world of convection cooking.
How Does a Convection Oven Work?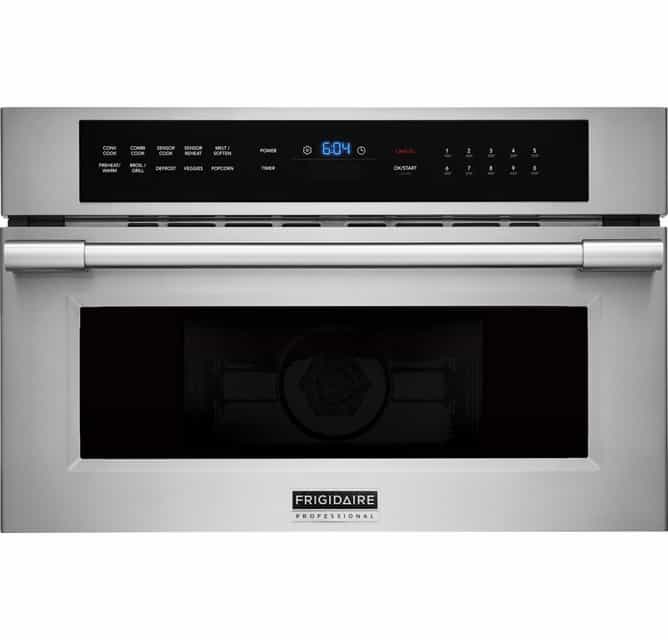 It's been some time since convection cooking technology arrived on the market, but there is still a lot of mystery surrounding this cooking technique. So, let's set the record straight on exactly how convection cooking works, and most importantly, how it differs from cooking done in a regular oven.
A traditional oven relies on either gas or electrically powered elements within the oven to generate heat which then naturally radiates to and around the food. The problem with this setup is that the hot air is not always evenly distributed and at some point, someone thought to themselves "there must be a better way!"
And a better way there was. By adding an air circulation system within an oven, it was discovered that the heat from those same heating elements could be used to cook food evenly and more quickly. A convection oven is designed to make use of a series of fans and an exhaust system, thereby providing air circulation as well as removing both cold air and excess moisture. These factors work together to efficiently maintain a cooking environment which is much more constant than a regular oven setting.
What are the Benefits of Convection Cooking?
So, why are convection ovens quickly becoming more popular than traditional ovens? Because the benefits of convection cooking are numerous!
Energy Efficiency: As we mentioned above, thanks to its ingenious design which circulates the heated air throughout the oven and over the surface of foods, a convection oven is able to cook food faster as compared to a traditional oven. This means reduced cooking time for almost everything you make, meaning big cuts on overall energy consumption. This spells good things for the environment, as well as your wallet!   
More Even Cooking: As the convection oven saves energy with its efficient circulation, this characteristic has a double benefit. The lack of hot and cold spots inside the oven means your food cooks evenly for once! No longer are you forced to go through the disheartening experience of removing a baking sheet of vegetables from your oven, only to find that half of it is completely roasted while the other half is soggy and limp!
Superior Browning: As the convection oven's fan blows to efficiently circulate the hot air, it also vents any moist and cool air out, and this is the true key to achieving even browning and caramelization of foods. This is especially useful on days when your oven is extra busy (holidays! bake-a-thons! potluck dinners!) or filled with several different foods releasing steam into the air. In any given situation, convection settings are able to help ensure that all foods brown evenly and don't interfere with one another's cooking.
Types of Convection Ovens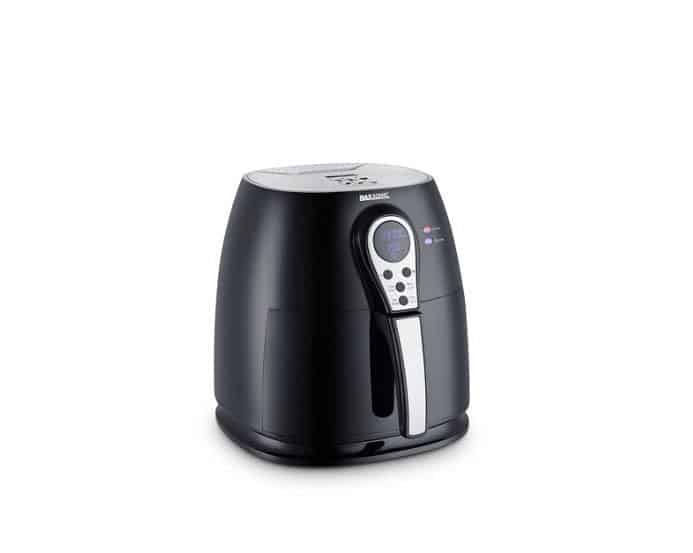 There are a few different types of convections out there to be aware of, as each of the following will cook food slightly differently:
American Convection Oven
Also known as a "traditional" convection oven, the American convection oven is essentially your standard conventional oven, with upper and lower heating elements, but with one major difference: the addition of a hot air circulation system! At the back of the oven a fan is built in, which spins while the heating elements are on, thus distributing air throughout the unit.
European Convection Oven
The European convection oven takes things a step further, as in addition to the two heating elements that an American convection oven includes, the European model includes a third heating element which sits just behind the fan. This results in even better efficiency, as the fan blows pre-heated air in addition to evenly mixing the warmth generated by the other two heating elements.
Microwave Convection Oven
This may look like your standard countertop or wall-mounted microwave, but it has one major upgrade: a convection option of course! A convection microwave not only contains everything it needs to cook foods by way of microwave heat, but it also contains a heating element and fan unit, which can be used to cook food in just the same way as inside a convection oven.
You might never think that French fries could come out crispy or that vegetables could be roasted in a microwave (which let's be honest, more often than not tend to just make things soggy), but with a convection microwave, this is possible!
Air Fryer
Debatable on whether or not it can be considered an "oven", the fact remains that air fryers actually use just the same technology as all convection ovens. That's right, air frying is convection cooking!
Air fryers are typically small units, meant to remain on the countertop for the utmost convenience. They contain a heating element and a blower, as well as a fryer-type basket which helps to provide maximum air circulation to the food as it cooks. Thanks to their small size, they preheat quickly and the air inside air fryers tends to circulate more quickly as compared to actual convection ovens.
Comparing Convection Baking and Convection Roasting
Now that we understand the basics of both traditional and convection ovens, we can now begin to understand the different settings which are available on most any given convection oven. Convection bake and convection roast are two settings which tend to be the most often used but yet, there is still some confusion on when to use which. Allow us to guide you through each of these convection settings, explaining the differences between them and when each is best utilized.
What is Convection Baking?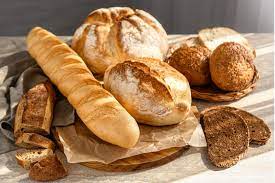 Just like traditional baking, the convection bake setting is useful for cooking those types of foods which require even, consistent cooking. The fact that convection baking takes place at an overall lower temperature is especially helpful for those items which need to rise properly as they cook, as the moderate amount of hot air provides just the right environment for foods to lift.
In addition, when convection baking is being used, the oven will work to optimize the amount of heat distributed by each heating element. Since the goal with convection baking is overall uniform heat distribution, the convection bake setting tends to make the most use of the bottom (and rear, in the case of a European convection oven) heating element and very little of the top heating element, also known as the broiler element.
While this steady heat distribution and air circulation of convection baking is perfect for cooking foods in which you aim to achieve the same texture all the way through, the problem with the lack of involvement of the broiler element is that there will be a minimal level of browning or crisping action. Also, the low and steady heat can result in dryness if the foods are not properly monitored.
When is Convection Baking Used?
Not surprisingly, convection baking is used for, well, baked goods! Some items which are known to thrive under the conditions of the convection bake setting are:
Breads, either sweet or savory
All types of cookies
Cakes and cupcakes
Pies
Baked egg dishes such as quiche or frittata
Muffins
What is Convection Roasting?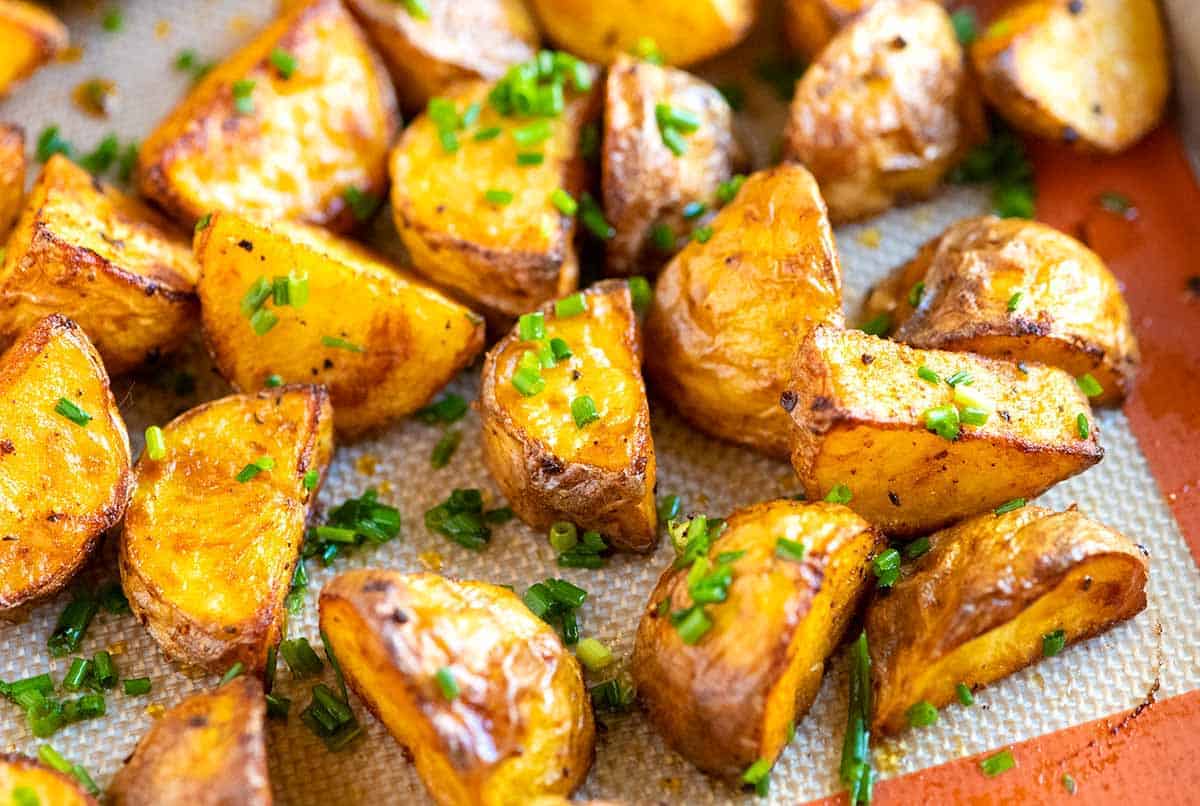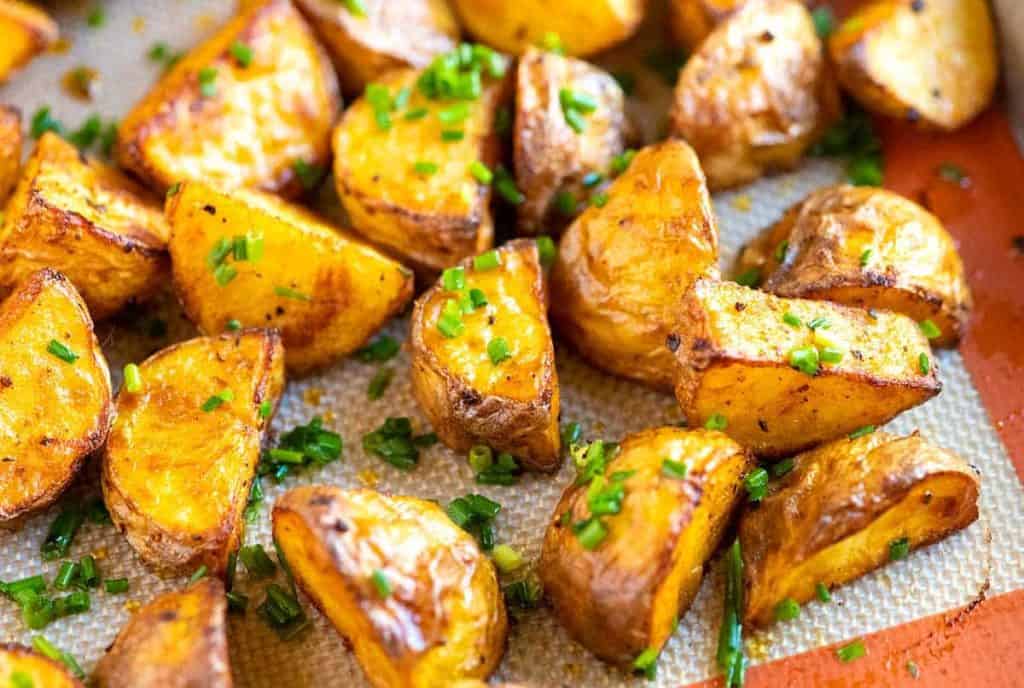 Convection roasting, on the other hand, is not suitable for baked goods as it may cause the outside to burn or otherwise overcook before the inside finishes off. It is, however, absolutely perfect for delivering that photo worthy golden-brown crust to the surfaces of foods. Unlike convection baking, where the aim is to achieve a uniform texture all the way though, with convection roasting, you can develop a nice distinction between the inner and outer layer of a food. Think French fries with their crispy outside and pillowy-soft interior, or roasted chicken with its golden crispy skin yet moist and tender inside.
To achieve this, the convection roasting setting operates at higher temperatures, typically for shorter periods of time. When a convection oven is set to roast, it makes use of both the bake and broil elements, thereby heating the food from underneath as well as above. This provides the right balance of ambient as well as direct heat to the food, cooking it through, as well as developing the texture at the surface of the food.
While it's true that the convection roast setting is able to cook faster and crisp food quicker as compared to oven settings which operate at a lower temperature, the risk here is that the outside surface of the food could potentially easily overcook while the interior has yet to finish. Therefore, foods which are being convection roasted must be monitored carefully, at least until you get used to how quickly food browns when in this high heat setting!
When is Convection Roasting Used?
Convection roasting is ideal for cooking foods which you want to develop the outer texture of, or otherwise have a distinction between the interior and the exterior of the food. Some examples of foods which are best suited to convection roasting are:  
Meat and poultry, especially whole roasts or chickens
Dishes of mixed ingredients such as casserole or lasagna, which remain covered during cooking and then are uncovered to develop the top crust at the end
Roasting vegetables gives them a natural caramelization!
Crispy potatoes of any type
Other Convection Cooking Info & Tips
You might find that your first couple forays into the world of convection cooking are a little tough--don't let this deter you! Convection ovens behave quite differently than conventional ovens and they can take some adjusting to, especially if you have cooked a great number of meals using regular oven technology in your life! Here are a few tips to make your convection cooking journey a bit easier:
When using convection settings, you want to be sure not to do anything that would inhibit the circulating air within the oven. Avoid the use of bulky cookware, such as a high-sided casserole dish or Dutch oven, and try not to crowd the oven with too many items overall as this could end up blocking air flow.
If cooking with parchment paper or aluminum foil, be sure that the sheets are securely fastened to the cookware or that they are under a layer of heavy food. You'd be surprised at how strong the blowing air within a convection of it is! Not only do you risk ruining your meal, but a loose piece of parchment or foil could fly up and block the fan or heating element, causing a hazard to the oven itself.
With that in mind, be careful when cooking any delicate foods such as soufflés or airy cakes as these could be affected by the strength of the convection oven fan as well. Also be mindful about foods with lightweight ingredients on top, such as a sprinkling of fresh herbs, which likely will be blown off when the fans turn on.
If you plan to cook a recipe that is written for regular oven technology and would like to use convection instead, lower the convection temperature by about 25℉ to 30℉ from what the original recipe calls for. Also, be sure to check on your food sooner and more often than you normally would until you understand how the differences in cooking affect your favorite recipes!
Convection Bake vs. Convection Roast: Summary of Differences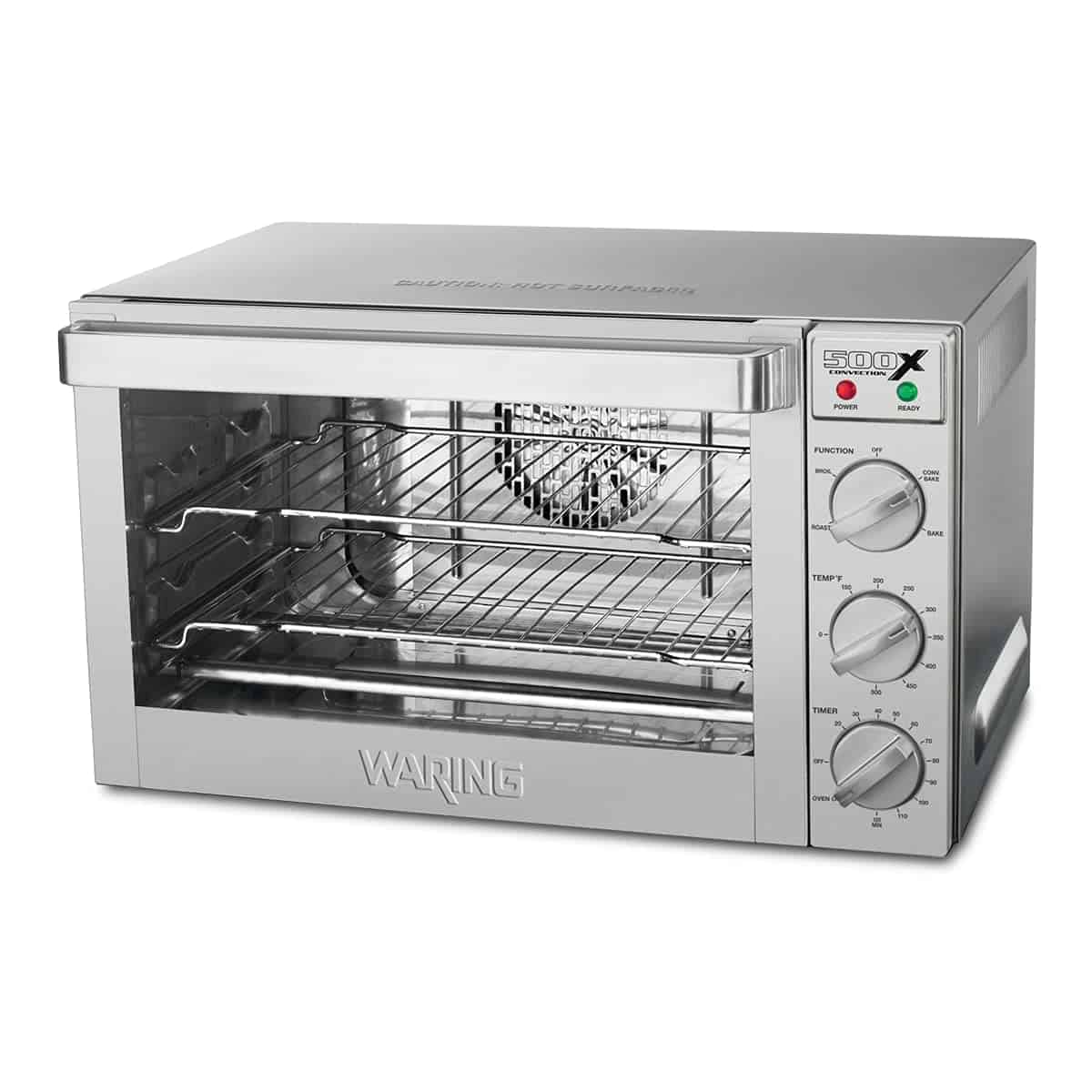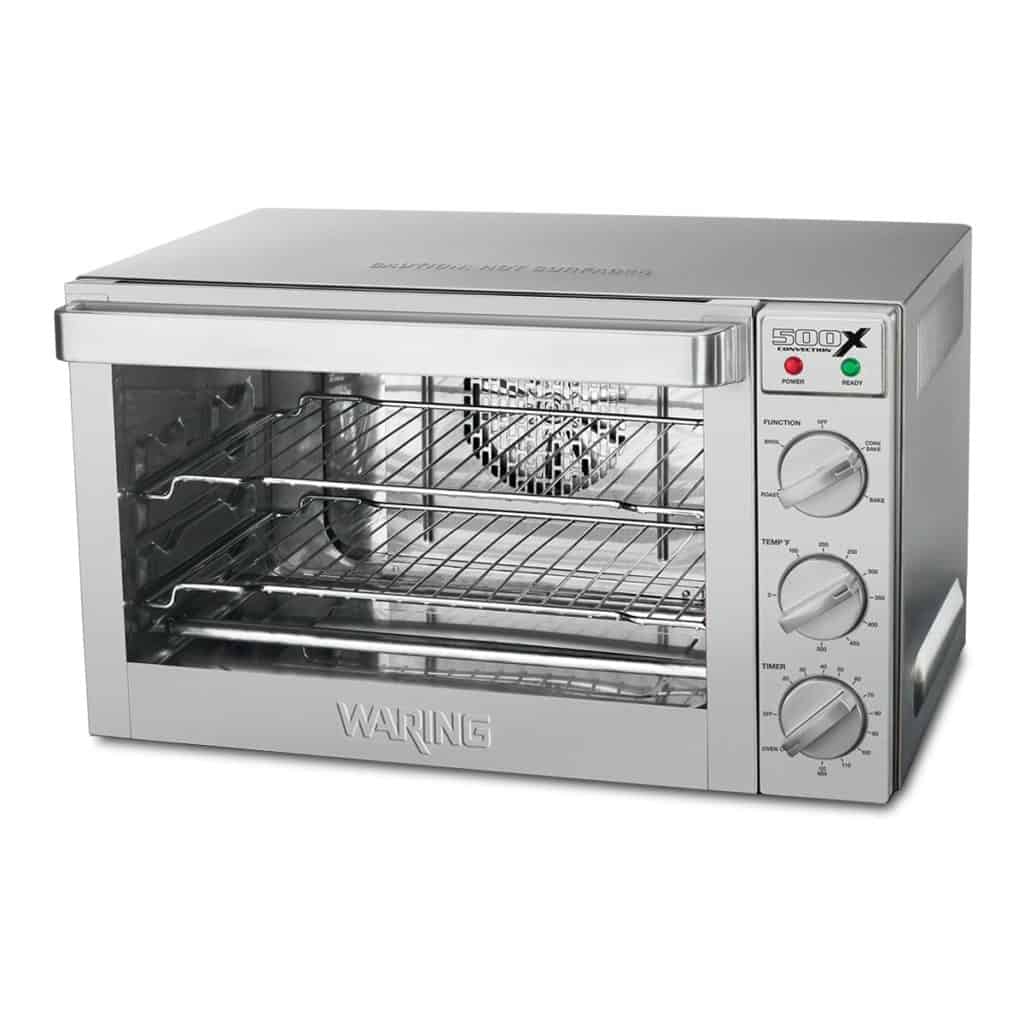 Let's do a quick recap of the key differences between two of the most popular settings you'd find on a convection oven: convection baking and convection roasting.
Temperature. The convection bake setting will generally be at an overall lower temperature as compared to the convection roast setting, which happens at high heat.
Cooking Time. Since convection baking is done at a lower temperature, foods that are baked generally cook for longer than foods which are convection roasted, as this occurs at a high temperature but for a more brief period of time.
Heating Elements. Convection ovens contain top and bottom (and sometimes rear!) heating elements, but not all heating elements are used for all cook settings. Convection baking mainly makes use of the bottom heating element, while convection roasting will employ both the upper and lower heating elements.
Distribution of Heat. This is the main difference between convection baking and convection roasting. With convection baking, the lower heating element heats the food from underneath, causing the hot air to be evenly dispersed around the food. Convection roasting on the other hand, results in a concentration of heat from above, which directly alters the surfaces of foods.
Effect on Foods. This difference in the distribution of heat causes some distinct effects on the foods as they cook. Convection baking causes foods to cook evenly in texture and develop uniform coloring. Convection roasting, on the other hand, delivers distinguishable texture and caramelization to the surfaces of foods, and is ideal for creating a noticeable difference between the interior and exterior of a food.
Foods Which are Best Suited. The evenly regulated heat of convection baking is perfect for pastry applications such as baking pies, breads, cookies, and cakes. The direct, hot heat of convection roasting is ideal for developing a pleasant exterior texture while still cooking through the interior of foods such as succulent meats, crunchy vegetables, and crispy potatoes.