Whether you're buying new kitchen equipment or replacing the old rusty pots you used for years, getting the best copper cookware is essential. It's the best way of maximizing your investment and ensuring these pieces will stay with you for many years to come.
Today, you'll find a myriad of remarkable cookware items on the market, which would be great, if it didn't make choosing one all the harder. Not only should you focus on looks, but you should also take quality, sturdiness, safety, and extra features into consideration.
We're making the process of finding the ideal copper cookware for your kitchen as easy as can be. Today, we'll review the best sets on the market. We'll also put together a checklist of features to keep in mind as you shop around online—it'll make the whole process less overwhelming.
Let's dive right in!
1. Matfer 915901 8 Piece Bourgeat Copper Set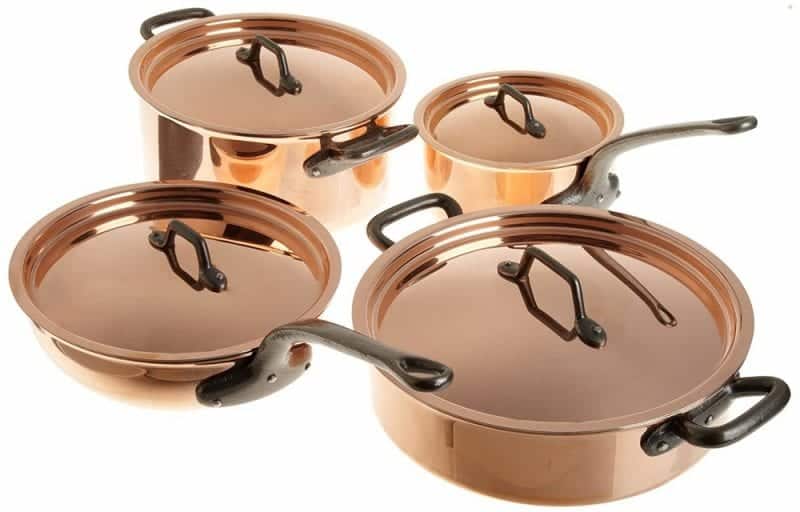 If you are looking for a simple set of cookware then it certainly doesn't get any more simplistic than the Matfe Bourgeat copper pots and pans set. Boasting of two and a half millimeters of copper layered between polished steel to deliver unmatched conductivity and the perfect thickness that makes it easier to withstand heavy-duty use, this 8 piece set of copper pan set from France is hands down the best copper kitchen set available.
In addition, it has riveted handles made of solid cast iron to ensure that you have a safe and comfortable hold when getting food off the stove. And although it costs a ton, it is a worthwhile investment that beautifully blends functionality and aesthetic to give the best of both worlds.
Best Features
Precise even heat conduction with no hot spots
Easy clean properties that make clean up a breeze
Can be used on all cooktops except induction cooktops
2. Mauviel M'Heritage 1.5mm Cookware Set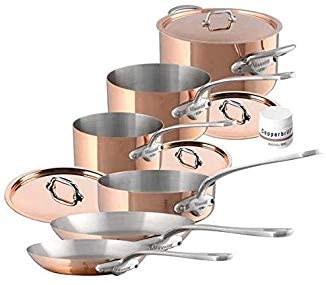 Next up on our list – the Mauviel M'Heritage Copper Cookware 10-Piece Set. Besides looking sleek and elegant (especially on a pot rack!), these pots and pans are great at getting the job done. They heat quickly and evenly (with no random hot spots), quickly adjust to temperature control changes, and are incredibly durable. Despite not being made of pure copper, both professional and novice cooks will love adding this set to their kitchen.
It combines two different materials that offer superior conductivity to cook food both fast and efficiently and has ergonomically designed handles that stay cool even when the cookware becomes hot making it easier to get food off the stove. In addition, it has a hard-wearing stainless steel lining that's non-reactive and ideal for basically all types of cooking.
Best Features
Clean up is a breeze
Stay cool handles that provide a safe and comfortable hold
Compatible with all types of cooktops
3. T-fal C836SA Ultimate Stainless Steel Copper Bottom Cookware Set

We know what you're thinking: this looks just like a regular stainless steel cookware set! It's actually not and there's a good reason why we included it on our list. Despite not being pure copper and having that signature copper-brown color, these T-fal copper pots and pans have a copper interior. Thus, this set blends the best of stainless steel cookware and quality copper cookware.
The handles and exterior are completely rust-proof, which makes the entire set dishwasher-safe. When you're done using it, there's no need to handwash every stock pot and pan. Plus, the steel adds sturdiness to each piece.
The copper bottom and core help heat the pots and pans more quickly, thus saving you time and money on the electric or gas bill. Speaking of which, this set can be used on any stovetop—gas, electric, and induction included. On top of that, you'll also be able to put the pans and pots in the oven, since they can withstand temperatures as high as 500ºF.
Best Features
Dishwasher safe, making cleanup a seamless task
Ergonomically designed handles that provide a comfortable and safe hold
Oven safe up to 500 degrees
It is compatible with all types of cooktops
It has a multi-layer base that delivers optimal even heat distribution
Gently flared rims that facilitate easy pouring
Glass lids that allow you to easily monitor food as it cooks
Limited lifetime warranty
It has a vented hole that allows steam to escape to prevent boiling over
4. All-Clad 60090 Copper Core 5-Ply Bonded Cookware Set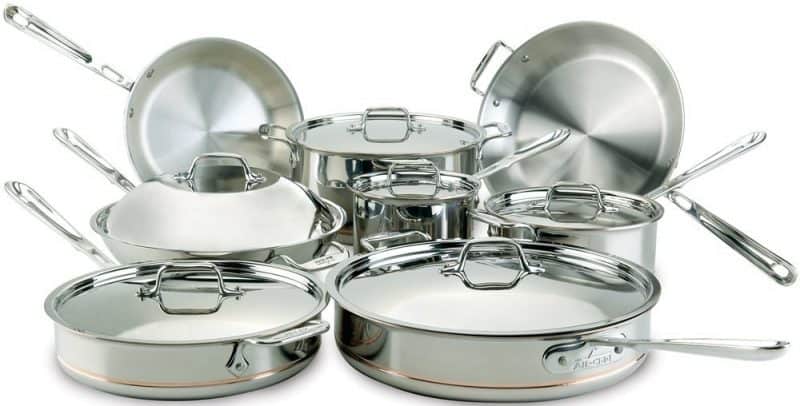 Once again, we have another set that isn't pure copper. It has a polished steel exterior and remarkable design, which makes this All-Clad Copper Cookware Set one of the best out there, both in functionality and aesthetics. Add that to the fact that it is highlighted with a copper accent and placing it atop the countertop even when not in use seems like a pretty good idea.
But it doesn't end there.
The All-Clad copper cookware set packs plenty of features too including a 5-ply construction with a copper center that ensures that heat spreads quickly and evenly throughout the cookware and a highly polished stainless steel interior with superior anti-stick properties. In addition, the handles are also ergonomically designed to ensure that they offer an even heat choke to reduce heat transfer and make it easier for you to hold your pots without getting burnt.
However, for all its advantages the All-Clad copper core 14 piece cookware set isn't for everyone. Made in the USA, this 14 piece set of cookware costs a bit much especially if you are on a budget.
Best Features
Easy to maintain
Flared edges for drip-free pouring
Thick copper core for even heat distribution
Riveted handles that provide a safe and comfortable grip
Oven safe up to 600 degrees
A highly polished interior that prevents food from sticking to the sides
Includes 10 inch and 12-inch fry pans, 3 quart and 6 quart covered sauté pans, 2-quart and 3-quart saucepan (covered), an 8-quart stock pot, and 12 inch covered chef's pans
5. Lagostina Q554SA64 Martellata Hammered Copper Cookware Set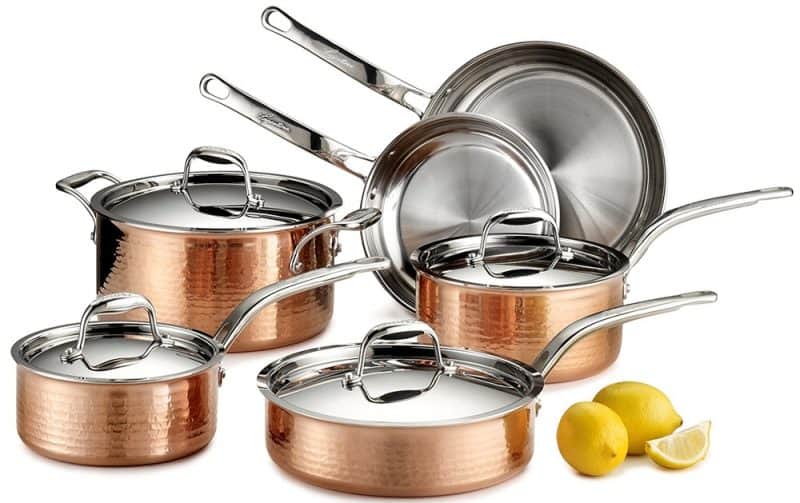 The Lagostina Martellata Hammered Copper Cookware 10-Piece Set might not look like much at first glance, but for all its advantages, it sure drives a hard bargain. The ply construction promotes even heating, the hammered copper exterior adds a touch of warmth and elegance to your kitchen, and the steel interior adds to the robustness of the set.
In addition, Lagostina also features tight-fitting stainless steel lids that lock in the nutrients and moisture and cast stainless steel handles that are strong enough to last for years. And if you don't like making a mess when pouring liquids from food, the cookware is fitted with flared edges that make things less messy.
According to Lagostina, this Lagostina Martellata copper cookware set of stock pots and saucepans is a durable and timeless product, and judging by the many positive Lagostina copper cook pan reviews, it's worth every dime you spend.
Best Features
Tri-ply stainless steel construction that lasts for years
Ergonomically designed handles that provide a safe and comfortable hold
Oven safe up to 500 degrees
Lifetime warranty
Compatibility with all types of stoves
6. Cuisinart Tri-Ply Copper Set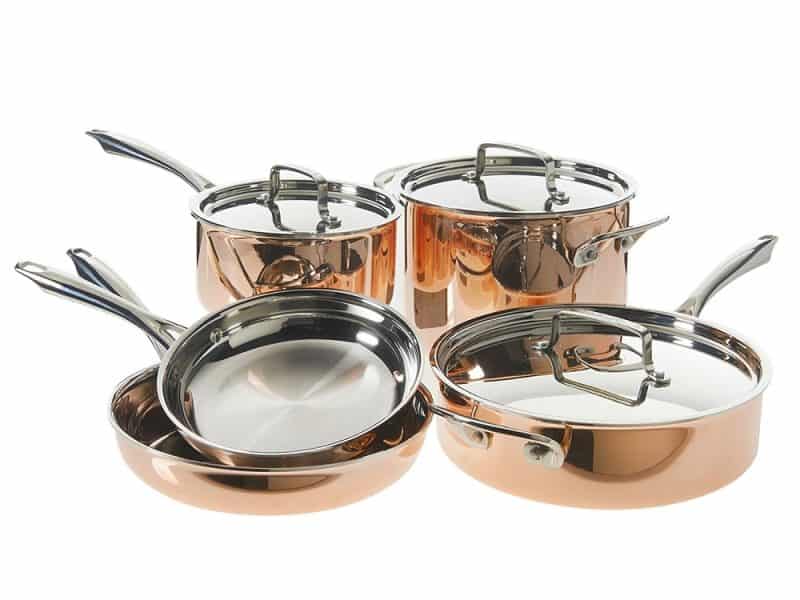 If you're thinking of making a gourmet dish with copper cookware sets as seen on TV, the Cuisinart Copper Exterior Set is an investment that will prove worth every single penny.
Exclusively designed with triple-ply material, the Cuisinart Copper and Stainless Steel Cookware Set provides superior heat conductivity and even heat distribution to ensure that your food cooks evenly. Not to mention the fact that it could give you years of service as long as you take good care of it.
Best Features
Oven safe up to 500 degrees
Contoured stainless-steel handles that provide a comfortable hold
Compatible with all cooktops except induction
Uniquely designed rims and covers that fit tightly to trap moisture and heat
7. Anolon Nouvelle Copper Cookware Set with Hard-Anodized Nonstick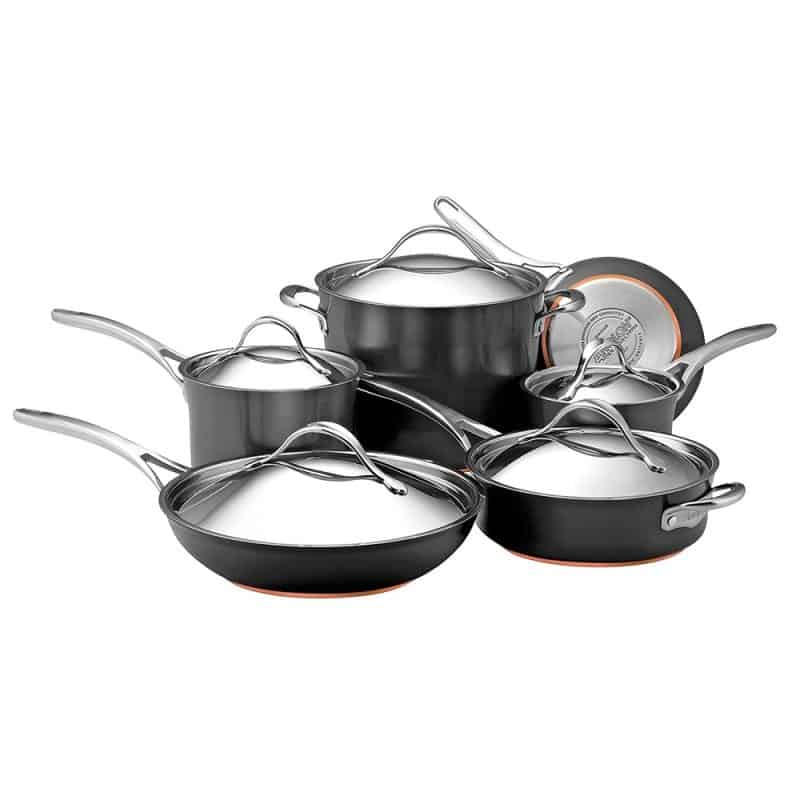 The Anolon Nouvelle copper stainless steel 11pc cookware set is another top copper cookware that set you should definitely add to your arsenal.
It has a multi-layered base that promotes even heating for exceptional cooking performance and superior food release for effortless cleanup. Additionally, the Anolon Nouvelle cookware set has an ergonomically designed handle that provides a safe and comfortable hold and has an impeccable touch of style that makes it the perfect kitchen centerpiece.
Best Features
Oven-safe up to 500 degrees
It is constructed with premium quality materials that stand the test of time
Lifetime warranty
Best Copper Cookware Sets Buyer's Guide
Don't just walk into your local store and grab whatever copper cookware set that is on sale. Even a plumber needs to have their tools of trade. So it's important to have the facts on what kind of cookware will be ideal for your needs.
What You're Going to Cook
Remember the old adage that the taste of the pudding is in the eating? Well, I also think that a lot of it also has to do with the kind of cookware you're using. However, the kind of cookware you go for is also dependant on what you plan on cooking so you want to match your cookware to your cooking needs.
For instance, copper is ideal for when you want to boil water, brown meat, or simmer a sauce and cook fillet; whereas stainless steel works best for people who regularly sear meat.
Your Stove
While most copper cookware has versatile adaptability to whatever heat source you use, issues related to uneven heating could arise.
Handle
You are going to be in contact with the cookware handle quite a bit and so it is only reasonable that the handle is safe and comfortable enough to make the process a little less daunting. Some cookware sets have cool-touch handles that you can hold without potholders. However, there are also handles that get pretty hot and become virtually impossible to hold without a potholder.
Ease of Cleanup
Unless you plan to use your copper pans for cooking on special occasions only, it's inevitable that they will get dirty and you'll need to clean them up after use. And the last thing you want is to have to deal with sticky pots and pans that just don't seem to get clean. The best copper cookware sets will be easy to clean by hand and—if you're lucky enough—dishwasher-safe.
Price Tag
Top of any buyer's concern when making a purchase is how much the item in question is going to cost them. And with good reason too. After all, cookware sets don't come cheap at all. However, while cheap is expensive in the long run, you don't have to spend top dollar to get a decent set of pots and pans.
You could get basic cookware pots that go for as little $20 and copper sets going for as low as $299.00. But if you don't mind splurging a little more to get a luxury set of cookware, then there are even more expensive sets that cost as much as $1,000. It all depends on how much you are able and willing to spend.