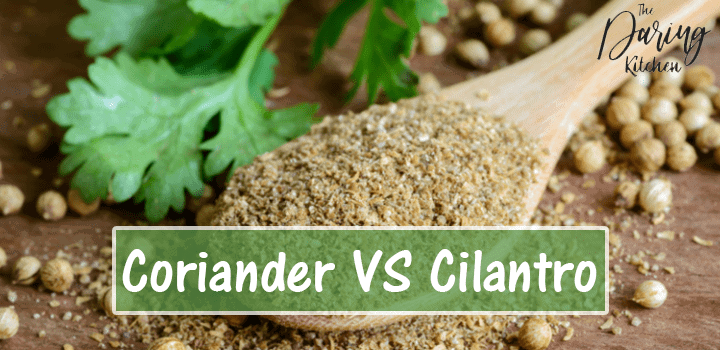 Choosing the right herb or spice for your recipe can sometimes be harder than you think. Take coriander vs cilantro for example. You have fresh coriander, dried coriander leaves sold in the bottle, dried coriander seeds, and if all that wasn't enough, you also have cilantro.
But wait, isn't 'cilantro' the Spanish word for the English word 'coriander?' Yes, but there's more to it. You see, in North America, cilantro often refers to the fresh stalks and leaves of the coriander plant whereas coriander refers to the dry seeds.
Both coriander and cilantro come from the same plant (scientific name: Coriandrumsativum.) However, there are distinct differences in their appearance, taste, culinary uses, and even nutritional value and health benefits.
So, how can we make sure that we don't get confused by the names and what we buy is the right thing? There are two rules: first, know your herbs and spices, and secondly, know your recipe and what it calls for-the dry seeds or the fresh herb.
How about a little help? Let's jump right into the differences between cilantro and coriander.
What Is Cilantro?
Cilantro is also called Mexican or Chinese parsley. It's an annual herb in the parsley family, also known as the celery family. Other aromatic flowering plants in the same family include dill, fennel, parsley, anise, and cumin.
Wondering how cilantro looks like? It looks very much like parsley and that's why it is often difficult for people to tell cilantro from parsley. However, cilantro's leaves are smaller and more curved than the pointed serrated leaves of parsley. They also feel more delicate to the touch.
In terms of color, they are bright green and the stalks of the plant are long and slender. Both the tender stems and the leaves are edible and used in cooking.
When buying cilantro, look for green aromatic leaves and firm stalks. Avoid those wilted yellow leaves. To keep this herb fresh for longer, put it in a water-filled jar or glass and store it in the refrigerator. Change the water every couple of days, removing any wilted leaves.
What Is Coriander?
While, internationally, coriander can refer to both the fresh leafy portions and the dry seeds of the coriander plant, in the States coriander mainly refers to the dried seeds. These small round dry fruits have a yellow-brown color and ridges that run lengthwise.
They are a warm spice that can be used ground, whole, or crushed as a seasoning or food flavoring in a variety of sweet and savory recipes.
As with all dry seeds, toasting them will release more of their aroma. Heat a pan, add the seeds and dry fry them over medium heat. Remove from heat when the coriander's aroma gets released.
Difference In Flavor And Smell
Fresh cilantro has a bright, citrusy, and complex flavor with hints of mint, lemon, and pepper. It tastes refreshing and tart. It can be added to the food just before serving because the flavor reduces with cooking. The stems of cilantro also have a strong taste and are commonly used in soups and Thai curry pastes.
However, not everyone is a fan of cilantro's taste and smell. Some people find it unpleasant and soapy. Why such a difference? The answer may lie in the genes and more specifically a particular gene in the olfactory area of our brain that makes some people more sensitive to the characteristic aroma of cilantro.
The taste becomes milder and possibly more pleasant if cilantro leaves are crushed into a pesto for example.
On the other hand, the coriander's taste is very different from cilantro. Coriander seeds have an earthy, sweet and aromatic taste with peppery and citrusy notes. They pair well with cumin, garlic, nutmeg, and allspice.
Powdered coriander is the main ingredient in the Indian spice mixture 'garam masala' commonly used in Asian curry dishes, stews, cooked lentils, and other delicious spicy recipes.
Different Culinary Uses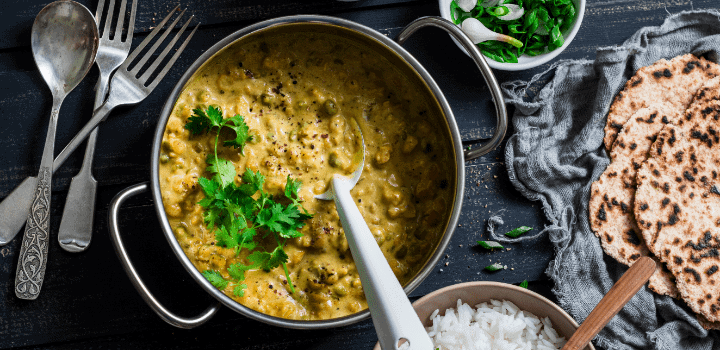 Cilantro and coriander are used in cooking in many different ways. Plus, they are common ingredients in Indian, Asian, Middle Eastern, North African, and Mediterranean recipes. Cilantro is also a key ingredient in Mexican, Tex-Mex, and Southwestern American cuisine.
Popular dishes with Cilantro
Here are some popular ways to enjoy cilantro:
Salsa: Cilantro salsa is a sauce used as a condiment for tacos, quesadillas, and other Mexican or Mexican-American recipes. It's also great as a dip for tortilla chips.
Chutney: A sauce native to the Indian subcontinent. It's made from vegetables, fruits, herbs, and spices. Any chutney recipe will taste a lot better tossing in some fresh cilantro.
Salad dressing: Looking for some extra kick in your salad? How about sprinkling a bit of chopped cilantro to your green salad? A little of this fresh ingredient also goes a long way when added to your rice or pasta salads. It pairs great with citrus and vinaigrette dressings-you will want to try it in a chicken sandwich dressing.
Guacamole: An avocado-based spread, dip, or salad of Mexican origin that is now part of the International cuisine.
Curry: A sauce or gravy of Indian origin that includes meat, vegetables, and a combination of herbs and spices.
Baingan Bharta: Vegetarian dish of Indian origin. It'sgrilled eggplant mash mixed and cooked with spices.
Soups: Chop some cilantro and stir it in with some plain yogurt or sour cream to top soups, stews, and chili dishes.
Popular dishes with Coriander
Coriander pairs well with other spices such as cumin, cinnamon, chili powder, and curry. It's a common ingredient in the following foods:
Meat marinades and brines
Curry pastes
Pickles
Stewed vegetables like ratatouille
Soups
Chilis
Sausages
Baked potatoes
Cookie and cake seasoning
Compote
Health Benefits Of Cilantro & Coriander
The coriander plant has been historically used to treat digestive problems and urinary tract infections. In Chinese medicine, coriander seeds are used to aid digestion and treat gastric disorders while the fresh leaves can be chewed to help rid of bad breath.
As a herbal tea, cilantro can help relieve headaches that are caused by a common cold or the flu. It is also said to help recover loss of appetite.
Cilantro is rich in antioxidant vitamins that help boost the immune system and keep your skin healthy and less vulnerable to aging. It's also a good source of fiber and minerals like potassium, magnesium, calcium, and phosphorous.
Can You Use Coriander Instead Of Cilantro?
In some recipes, coriander and cilantro can be used interchangeably but with a different flavor in the end result. If you want to replace coriander with another spice, try cumin. Parsley can sometimes substitute cilantro as a garnish in salads, stir-fry, and soups.