Hello, Daring Cooks! I'm Rachael from pizzarossa and have only been a member here since February but am totally in love with this place. My family are all brilliant cooks and, thanks to them, I grew up with a passion for good food but my passion for cooking, especially for trying new things and broadening my culinary horizons, came a little later in life. My obsession now is to try my hand at everything I had baulked at before, to learn as much as I can and to delve into every stage of "food" from recipe to mouth. I am truly honoured to be hosting this month's challenge and I hope everyone enjoys it!
Cornmeal, polenta, grits, ‪mielie-meal‬, bramata, fine, medium, coarse, yellow, white, quick, slow cooking…
Download printable file HERE
it seems that ground corn comes with an endless array of names and variations. Gluten-free, low fat and super healthy, cornmeal is eaten in traditional dishes in just about every corner of the world. There are styles of casseroles, patties, pastries, pancakes, flatbreads, soufflés, biscuits, soups, porridges, breads, cakes, cookies and muffins, savoury and sweet, that could keep you making new dishes for months.
Most of us have a few staples that we stick with, things that we know work and that fit into our kitchen culture. The challenge, then, is to make something using cornmeal that you have never made before. Use it in a new way, with ingredients you hadn't considered, in a dish you hadn't considered or as a replacement ingredient for a standard.
I've spent the past few months scouring link after link on the internet in a whirlwind of culinary discovery and gathering an archive of recipes which I've used as a base for the recipes provided here. I've divided the recipes into sections based on style of cooking or serving, with links to variations on gazillions of blogs and websites (yours may be included! I recognised at least a few in my wanderings). Feel free to use/adapt one of the recipes provided or those in the links below, or to share something new. I've absolutely no doubt that the list here is far from exhaustive!
Recipe Source: Some of the recipes provided are my own, others are linked, and there are loads of further links given in each section.
Blog-checking lines: Rachael of pizzarossa was our August 2012 Daring Cook hostess and she challenged us to broaden our knowledge of cornmeal! Rachael provided us with some amazing recipes and encouraged us to hunt down other cornmeal recipes that we'd never tried before – opening our eyes to literally 100s of cuisines and 1000s of new-to-us recipes!
Posting Date: August 14, 2012
Mandatory Items: Cornmeal!
Variations allowed: N/A
Preparation time: It depends what you make.
Equipment required: Nothing special, but the recipes cover equipment anyway.
CORNMEAL BATTER:
A basic cornmeal batter (half the fritter recipe below minus the sweetcorn) can be flavoured with herbs and spices and used to coat fish, chicken strips, shrimp, or sliced vegetables which have been dredged in flour, such as onions, eggplant (aubergine), zucchini (courgette), firm tomatoes, broccoli or cauliflower florets, portabellas, etc., which are then fried until golden and cooked through. Frying can be deep or shallow depending on what you're cooking. You can also use buttermilk instead of milk. Or add cheese, herbs and spices.
Cornmeal batter makes a great base for fritters. You can make fritters with just about anything in them, you can make them sweet, savory, or spicy – the possibilities are endless.
The recipe given here is a simple base with sweetcorn (an old standard recipe, so no specific source). Go ahead and replace the sweetcorn with whatever you fancy, tweak the optional add-ins and let your imagination fly!
Sweetcorn Fritters
Recipe by:Rachael Thew
Yield: About 15, depending on size
Time: 5 minutes preparation, 6 minutes cooking per batch – about 30 minutes in total
Equipment: Bowl, spoon, frying pan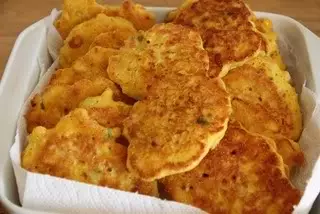 Ingredients:
1 cup (240 ml) (170 gm) (6 oz) cornmeal
1 cup (140 gm) (5 oz) all-purpose (plain) flour
1 1/2 cups (360 ml) (375 gm) (13 oz) sweetcorn, drained
2 large eggs, lightly beaten
3/4 cup (180 ml) milk, plus more if needed
1 teaspoon (5 ml) (5 gm) baking powder
1 teaspoon (6 gm) salt
optional – finely chopped scallions, parsley, chives, cilantro (coriander), chillies, red peppers (red capsicum), shredded cheese, herbs, spices…
oil for frying (e.g. canola, sunflower, olive)
Place everything in a bowl except the oil and mix together well. Add more milk if it seems too thick.
Heat about a tablespoon of oil in a large frying pan over a medium heat. Working in batches, drop spoonful's of the mixture into the pan. Fry the fritters for 2 or 3 minutes on each side, until golden. Add oil between batches as needed. Drain on paper towel and serve warm.
For a vegan version, leave out the eggs and use nut or soy milk (up the quantity to 1 cup or more). For a GF (gluten-free) version, use GF flour or use 2 cups cornmeal (the batter will be denser).
CORNMEAL PASTRY:
You can use cornmeal to make bases for sweet (a tart -like base) or savoury (a pizza-like base) toppings .
Cold Roasted Vegetable & Mozzarella Tart with a Cornmeal Base
Recipe by:Rachael Thew
Serves: 4
Time: 30 minutes total for cornmeal, 50 minutes total for vegetables, plus cooling time – a lot can be done simultaneously, but allow a good couple of hours total
Equipment: Measuring cup and spoons, saucepan, baking dish, pie dish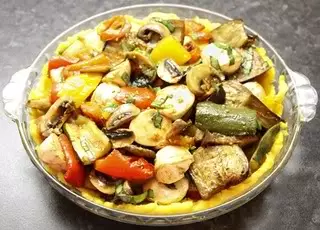 Ingredients:
Base:
1/2 cup (120 ml) (85 gm) (3 oz) medium-grind cornmeal
1 2/3 cups (400 ml) milk or water, or a combination of milk and water, or stock
1/2 teaspoon (3 gm) salt
2 tablespoon (30 ml) (30 gm) (1 oz) butter or oil
1/4 cup (30 gm) (1 oz) finely grated Parmesan cheese (optional)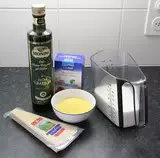 Filling:
1 medium zucchini (courgette)
1 small eggplant (aubergine)
1 red- and 1 yellow pepper (capsicum)
3½ cups (250 gm) (9 oz) mushrooms
2 cups (250 gm) (9 oz) small grape/cherry tomatoes
2 tablespoon (30 ml) olive oil
salt and pepper
1½ cups (200 gm) (7 oz) bocconcini (small mozzarella balls), halved
1/4 cup (60 ml) (15 gm) (½ oz) chopped fresh basil
1 tablespoon balsamic vinegar

Preheat oven to hot 425°F/220°C/gas mark 7. Trim the zucchini, eggplant and peppers, halve or cut in thirds depending on size and cut into in wide strips, de-stem and thickly slice the mushrooms and halve the tomatoes. Pile them into a roasting dish, drizzle with olive oil and sprinkle with salt and pepper. Toss so everything is coated.
Roast in hot oven for 40 minutes, until tender and starting to brown. Set aside to cool.

Meanwhile, put the milk/water or stock in a medium saucepan and bring to a simmer on medium heat. When it starts simmering, add the salt then slowly stir in the cornmeal. Cook on low heat, stirring frequently, for 20 minutes.
When it's smooth and creamy, stir in the butter/oil and the Parmesan, if using.
Use damp fingers or a non-stick spatula to press polenta/cornmeal into an oiled pie dish and set aside to cool and set, about half an hour. When ready, put under the broiler (oven grill) for 5 minutes to brown. Set aside to cool again.
Drain any liquid from the cooled vegetables (reserve it for another use). Toss the filling ingredients together then pile them into the "pastry". Chill if desired, or serve at room temperature.
Variations: Use jarred vegetables (e.g. artichokes), sun-dried tomatoes or other herbs. If you use fine or course cornmeal/polenta you may need to adjust the liquid as well as the cooking time – check the packet.
Nsima with Ndiwo
This recipe is very slightly adapted from http://www.friendsofmalawi.org/learn_about_malawi/volunteer_life/recipes…. I made double the quantity of nsima given here, but it was far too much for us. The traditional way to eat nsima is to break pieces off the "patty", roll it into a ball and form a depression with your thumb which you then use as a scoop to eat the accompanying stew. Hubby and I cheated a bit and just ate lumps of nsima and scooped the stew up with a spoon. It was absolutely delicious!
Serves: 2
Time: 5 minutes prep, 10 – 15 minutes cooking
Equipment: 2 saucepans, measuring cups, spoons

Nsima
Ingredients:
1 cup (240 ml) (170 gm) (6 oz) cornmeal
2½ cups (600 ml) water
Put water in a medium saucepan and heat. Just before it comes to a boil, gradually stir in half the cornmeal until smooth. When it starts bubbling, reduce heat to low and gradually stir in the remaining cornmeal. Cover the pot and turn off heat. Leave to sit for 5 to 10 minutes, undisturbed.
When ready to serve, use a large spoon, wet it and scoop the nsima into burger-sized patties onto plates. Serve immediately.
Ndiwo
Ingredients:
3-4 cups (750 ml -1000 ml) chopped greens of your choice (we used cabbage and silverbeet)
1 onion, chopped
1 tablespoon (15 ml) oil (we used peanut)
2 tomatoes, chopped
1 cup (240 ml) water
salt to taste
pepper and salt for serving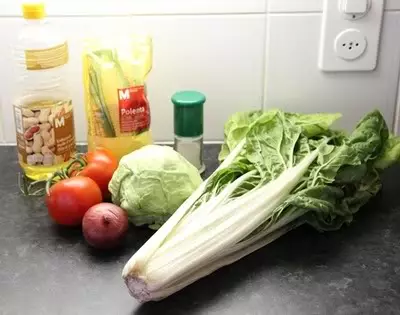 Heat the oil in a large pot and sauté the onion until translucent. Add all other ingredients, cover for a few minutes, until greens are tender and tomato has broken down a bit. Remove lid and simmer another 5 minutes until some of the liquid has evaporated.
Spoon into bowls, sprinkle with a little more salt and some freshly ground black pepper and serve with nsima.
Poudine Mais
Poudine maïs is a traditional Mauritian dessert:
Recipe adapted from http://yummychooeats.com/2012/03/12/mauritian-independence-day/
Serves: 8
Time: 10 minutes preparation, 2 hours + chilling
Equipment: Measuring cups and spoons, saucepan, wooden spoon, pudding dish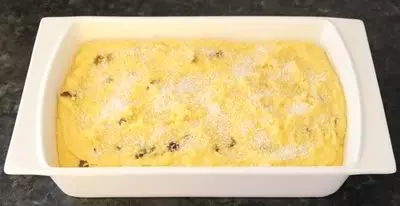 Ingredients:
2 cups (480 ml) (340 gm) (12 oz) cornmeal
2 cups (480 ml) cold water
3 tablespoon (45 ml) (42 gm) (1½ oz) caster (superfine) sugar (I used superfine raw sugar)
2 cups (480ml) milk
1 teaspoon (5 ml) vanilla
3 tablespoons (30 gm) (1 oz) sultanas
1 tablespoon (15 gm) (½ oz) butter
4 tablespoons (20 gm) (2/3 oz) dessicated coconut + 1 tablespoon (5 gm) extra for sprinkling
extra butter for greasing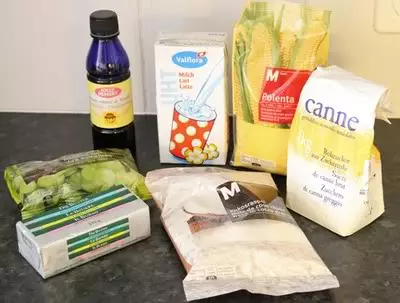 Directions:
Put the cornmeal in a large saucepan, cover with cold water and cook over a medium heat until it starts to bubble.

Add remaining ingredients (except extra coconut and butter for greasing) and mix well.
Reduce heat to medium and simmer, stirring continuously, until the liquid has been absorbed into the cornmeal and it has the consistency of porridge (oatmeal), about 5 minutes.
Take off the heat.
Butter a shallow dish and pour the mixture into the dish. Sprinkle over the extra coconut and place the dish in the fridge for a couple of hours to set.
Serve cold.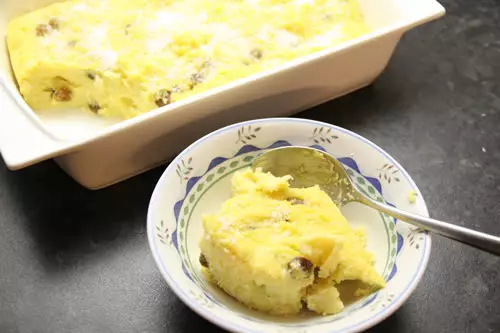 Additional Notes, Information & Links to Other Cornmeal/Polenta Recipes
Other recipes using cornmeal batter
There are, of course, hushpuppies and corn dogs (http://www.breannasrecipebox.blogspot.ch/2012/06/mini-corn-dogs.html), but you can use cornmeal batter to coat just about anything that you can fry. It's heavier than an all-flour batter, but imparts a lovely corny, nutty flavour, as well as packing a healthy punch.
Cornmeal batter is also a great way to make pancakes and waffles.
Buttermilk pancakes:
http://www.fullcircleadv.com/2011/03/fluffy-buttermilk-cornmeal-pancakes…
Blueberry pancakes:
http://traceysculinaryadventures.blogspot.ch/2012/06/blueberry-cornmeal-…
Lemon pancakes:
http://sweetpeaskitchen.com/2012/06/12/lemon-cornmeal-blueberry-pancakes…
Savoury waffles:
http://snixykitchen.wordpress.com/2012/06/16/cheddar-cornmeal-waffle-blt…
More savoury waffles:
http://fooddoodles.com/2012/06/14/whole-grain-savory-cheddar-cornmeal-wa…
Sweet waffles:
http://barbarabakes.com/2012/06/cornmeal-lemon-ricotta-waffles-with-stra…
Cornmeal-battered fritters seems to be particularly popular in Central America and the Caribbean, but also come from further afield.
Puerto Rican cheese fritter:
http://www.thenovicechefblog.com/2012/05/surullitos-cheese-corn-sticks/
Dominican cornmeal fritter:
http://www.dominicancooking.com/296-arepitas-de-maiz-cornmeal-fritters.h…
TexMex corn fritter:
http://www.closetcooking.com/2010/09/texmex-style-corn-fritters.html
Malawian banana fritter: http://www.friendsofmalawi.org/learn_about_malawi/volunteer_life/recipes…
Other recipes using cornmeal pastry
Nashi pears (sweet):
http://atdownunder.com/2010/07/17/on-a-rainy-day/
Mushroom galette:
http://atdownunder.com/2012/04/26/a-fall-picnic/
Pizza:
http://www.annabelkarmel.com/recipes/gluten-free/pizza-recipe
More pizza:
http://www.glowkitchen.com/2012/04/polenta-sweet-potato-pizza/
Bruschetta:
http://taste-for-adventure.tablespoon.com/2012/05/15/polenta-bruschetta-…
Cornmeal crumb:
Cornmeal can easily replace breadcrumbs on anything, like fish, meat or chicken, vegetables, patties or arancini.
Chicken:
http://leaandjay.wordpress.com/2012/05/01/cornbread-fried-chicken-breast…
Asparagus:
http://cupcakesandkalechips.com/2012/05/01/cornmeal-crusted-asparagus-si…
Green tomatoes:
http://www.jasonandshawnda.com/foodiebride/archives/11357
More green tomatoes:
http://syrupandbiscuits.com/fried-green-tomatoes/
Arancini:
http://www.thecurvycarrot.com/2012/06/10/baked-risotto-balls/
Appetisers and mains in traditional European and American cooking styles:
There are, again, endless variations for serving cornmeal/polenta as a main course. Here are a few.
Polenta Napoleons:
http://thefigtree.blogspot.ca/2012/05/polenta-napoleons-with-tomato-vege…
Polenta with Italian Sausage, Kale, Tomatoes and Crispy Potatoes: http://www.dailyunadventuresincooking.com/recipe/polenta-recipe-with-ita…
Polenta fries:
http://sweetroots.blogspot.ch/2012/05/polenta-fries-and-hibiscus-ketchup…
Vegan Grilled Cheese and Basil Polenta Sandwiches:
http://sweetroots.blogspot.ch/2012/05/vegan-grilled-cheese-and-basil-pol…
Miso mushrooms with polenta:
http://www.onebitemore.com/2012/01/miso-mushrooms-with-polenta/
Momofuku's 510 eggs with Crispy Polenta & Arugula:
http://against-thegrain.com/recipes/momofuku-510-eggs-with-crispy-polent…
Broiled Polenta with Mushrooms and Cheese:
http://tastefullyjulie.com/moosewood-monday-broiled-polenta-with-mushroo…
Warm bruschetta:
http://www.pbs.org/parents/kitchenexplorers/2012/05/22/grilled-italian-p…
Cheesy Grits with Poached Egg:
http://www.dinnervine.com/2012/05/cheesy-grits-poached-egg/
BBQ Tofu with Grits, Roasted Tomatoes, and Caramelized Leeks: http://veggiewithacause.blogspot.com/2012/05/i-eat-barbecue-sauce-with-s…
Lemon Garlic Shrimp and Grits:
http://dinnersdishesanddesserts.com/?p=1946
Breakfast:
Cornmeal/polenta/grits fall into both sweet and savoury categories when it comes to breakfast.
Here are some sweet…
Breakfast Polenta with Maple and Mascarpone: http://www.thecurvycarrot.com/2012/05/08/breakfast-polenta-with-maple-an…
Polenta Porridge with Almond Milk:
http://elsbro.com/blog/2012/05/29/sweet-polenta-porridge-with-almond-mil…
Jamaican cornmeal porridge:
http://www.celtnet.org.uk/recipes/miscellaneous/fetch-recipe.php?rid=mis…
And some savoury…
Bacon, Egg, and Cheese Polenta:
http://bakelist.com/2012/05/14/bacon-egg-and-cheese-polenta/
Grits, Tomatoes, Spinach and a Poached Egg:
http://www.kaceyskitchen.com/2012/05/grits-tomatoes-spinach-and-poached-…
Southern Grits and Sausage Casserole:
http://suite101.com/article/grits-and-sausage-casserole-a38096
Caribbean:
Cou-cou is a cornmeal and okra porridge common on many Caribbean islands. http://en.wikipedia.org/wiki/Cou-cou
Africa:
Cornmeal is a staple in many parts of Africa. In Malawi, it is known by several names depending on how much of the kernel is used, but the whole ground kernel is called ngaiwa and is used in numerous dishes. There are some great sounding recipes here at http://www.friendsofmalawi.org/learn_about_malawi/volunteer_life/recipes…, including nsima (a congealed cornmeal porridge eaten with a vegetable or meat stew), ngaiwa phala (a breakfast porridge), mkate (a type of banana bread) and banana fritters.
Bonus points to anyone who can get their hands on banana leaves to make mkate!
Asia:
If anyone can provide a recipe for Chinese wo wo tou (conical steamed corn cakes) (http://mmm-yoso.typepad.com/mmmyoso/2009/03/road-trip-tianjin-bistro-san…) or the sweet date version (http://mmm-yoso.typepad.com/mmmyoso/2009/03/road-trip-tianjin-bistro-san…) or tie bing (fried corn bread) it would be great! They sound very interesting, but I had no luck tracking down anything other than numerous mentions of them.
The Punjabi makki di roti is a cornmeal bread much like a corn tortilla. http://en.wikibooks.org/wiki/Cookbook:Makki_di_roti
And finally, some sweet treats:
Poudine maïs is a traditional Mauritian dessert: http://yummychooeats.com/2012/03/12/mauritian-independence-day/
Macarons Maïs Violette (Violet Cornmeal Macaroons) are a traditional French cookie: http://www.celtnet.org.uk/recipes/miscellaneous/fetch-recipe.php?rid=mis…
Dessert grits:
http://therunawayspoon.com/blog/2012/06/sweet-grits-and-sorghum-peaches/
Storage & Freezing Instructions/Tips:
It depends entirely on what you make, but prepared cornmeal keeps well for a couple of days in the fridge or for several months well wrapped in the freezer.
Additional Information: Check out the wikipedia page (http://en.wikipedia.org/wiki/Cornmeal)
for loads more information and links.