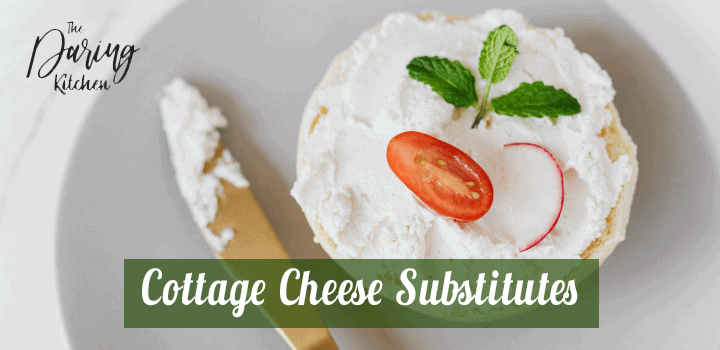 Cottage cheese. A popular choice for dieters and health enthusiasts because of its low fat. Did you also know that it's popular among athletes due to its high amount of protein?No doubt this is a tasty, versatile and affordable cheese with a variety of uses in savory recipes and sweet desserts.
But what if you're out of it and your mind tells you to use a cottage cheese substitute instead of rushing to the store? The good news is that there are plenty of substitutes for cottage cheese.
Depending on the recipe, you may discover that one substitution works better than the other. For example, the substitute used in baking may not be as good if used in lasagna or other cooked recipes.
What Is Cottage Cheese?
Cottage cheese is a fresh (not aged) curd cheese with a mild taste. You may also hear people calling it curds and whey. Here's why: cottage cheese is made from skim milk. Rennin, an enzyme from the calf´s stomach is then added to the liquid.
This causes some of the milk proteins to clump together. The proteins that clump are called 'curd proteins' while the ones that don't clump are named 'whey proteins.'
Since whey doesn't taste so good, cottage cheese manufacturers create cottage cheese which is mostly curds but retains some of the whey. That is how you obtain curds and whey. Also, the addition of cream 'dressing' to the curds improves the taste.
Cottage cheese comes in different versions: whipped, creamed, lactose-free, large-curd, small-curd, sodium-free, or reduced-sodium. It is naturally yellow, but after the addition of titanium dioxide (an additive), it becomes bright white.
There are many ways to enjoy this diet-friendly, yet delicious cheese. It can be combined with toast, fruit, tomatoes, and granola or used in salads and dips - often as a healthy mayonnaise alternative. Many cooking recipes and dessert recipes call for this ingredient – think lasagne with cottage cheese as a replacement of ricotta and yummy keto cheesecake.
An easy and cheap way to enjoy cottage cheese that is free of additives is to create your homemade version. Plus, it's a great idea to use extra milk before going bad. You only need 3 ingredients: whole milk, white vinegar, and salt. Add some heavy cream if you like a more creamy texture.
Cottage Cheese Alternatives
Ricotta Cheese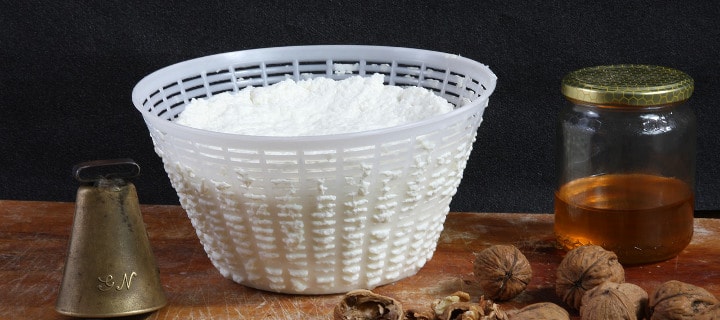 If you need to replicate the texture of cottage cheese, ricotta is your best bet. It's also a curd cheese - though more creamy and spreadable than cottage cheese. It has a slightly sweet taste (milder than cottage cheese).
Ricotta is an Italian cheese made from the whey leftover from the manufacturing of other cheeses such as Mozzarella or Provolone. It's made from cow, sheep, goat or water buffalo milk.
As far as nutrition goes, it contains more minerals and vitamins than cottage cheese. It is richer in calcium, iron, zinc, and magnesium as well as vitamins A, B2, D, E. In terms of protein, it's only 1% higher but contains much fewer sugars and sodium. Its biggest disadvantage is that it's higher in cholesterol and saturated fat.
The light fluffy texture of ricotta makes it an excellent replacement in lasagna, cannelloni, and other types of pasta. It can often be found in pizza and calzones and can be used in baked goods such as cakes, doughnuts, and brownies.
Use an equal amount of ricotta as the amount of cottage cheese required in the recipe.
Fromage Blanc
The mildly tangy and sweet flavor of Fromage Blanc resembles the taste of cottage cheese. But what is Fromage Blanc anyway, apart from difficult to pronounce?
It's a fresh cheese from northern France whose name means 'white cheese.' Fromage Blanc is made with skimmed or whole cow's milk, and sometimes cream is added to improve the taste. Its creamy soft texture and yogurt-like buttery taste make it a real treat.
On the downside, it's very perishable making it extremely difficult to export to the US. Thus, many of its America based fans have to compromise with the American version of this cheese which is not as good as the original. Or they may add different flavors to it such as citrus to get closer to the authentic taste.
Fromage Blanc can replace cottage cheese in various desserts and baked good recipes. It can also be used as a substitution for cream cheese or ricotta. Its most common use in France is topped with jam or fruit for dessert.
Besides, it's famous as a topping for various desserts as well as savory dishes. Flavor it with spices and herbs, spread it on bread, or use it to fill your favorite pastries.
Greek Yogurt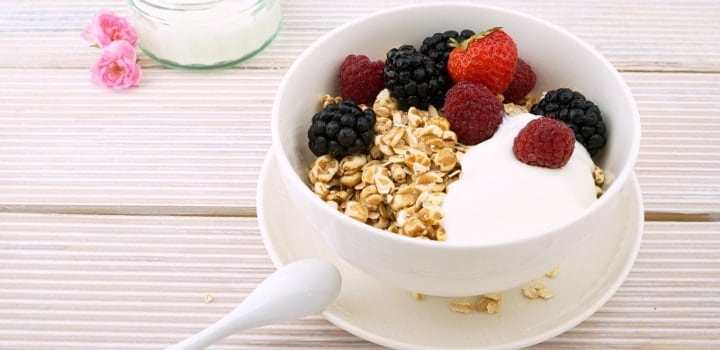 Greek yogurt is a popular replacement for cottage cheese. Its high-protein, low-calorie, and low-sugar content make it a great choice for snack or breakfast. It's also higher in calcium and vitamin B-12 and contains probiotic bacteria that promote digestive health.
Greek yogurt is nothing more than regular yogurt strained from most of its whey. This gives it a thick creamy texture which mimics the consistency of blenderized cottage cheese.
Cottage cheese doesn't have the tartness of Greek yogurt. Thus, you may need to omit or reduce certain ingredients that add sourness to a recipe like lemon juice or vinegar. There are various ways to enjoy this substitute.
Use it as a base for healthy dips, mix it with cereal and fruit, or create quick and easy desserts that are simply delicious. If you have plain yogurt sitting in your fridge, you can strain it overnight and the next day, you'll be left with thick smooth Greek yogurt.
Egg Whites
If you are looking for a dairy-free cottage cheese substitute that is high in protein and low in calories, add egg whites to your list. 56% of the egg's protein is found in the white part of the egg.
Unlike the egg yolk which is high in fats, egg whites contain no cholesterol and almost no fat. They also contain vitamins and trace minerals including calcium, phosphorus, magnesium, and potassium.
They are great for lactose intolerant individuals and high protein dieters, plus they are affordable, delicious as well as easy to use and to store. Enjoy hard-boiled egg whites for a snack or make an easy breakfast omelet instead of having cottage cheese.
Tofu
As a non-dairy source of protein, tofu is a popular alternative for vegans and vegetarians. It is low in cholesterol and fat making it ideal as a cottage cheese substitution in the military diet. Plus, it contains no saturated fats or sodium.
You can easily mash non-firm tofu until you get similar to cottage cheese texture. You can use it in pasta fillings or baked goods like tofu cakes.
Hummus
If you are looking for more vegan or military diet alternatives, hummus is affordable, healthy, filling and so simple to make. Plus, super delicious – who would ever imagine that boiled mashed chickpeas could produce such a yummy result?
Besides, hummus can be used for spreads and pasta stuffings in the place of cottage cheese.
Cream Cheese
In terms of taste and texture, cream cheese can be successfully substituted for pureed cottage cheese. It will work well in various savory and sweet recipes including cheesecake.
Whipped Heavy Cream
For a lighter and more airy consistency to your recipe, try replacing blenderized cottage cheese with whipped heavy cream.
Other Substitutes
Faisselle cheese
Mascarpone cheese
Sour cream
Feta cheese
Unsweetened soy/almond/hemp milk