The most modern kitchen today uses sleek and innovative counter-depth refrigerators. These types of refrigerators are typically wide and tall. Yet they have a narrow depth that would match the usual depth of a kitchen counter. Thus, they are unobtrusive and blend well with other kitchen fixtures. But what makes the best counter depth refrigerators?
You probably give this type a lesser consideration when buying a refrigerator. Counter depth refrigerators may seem like just a luxurious purchase; however, a counter depth refrigerator is so much more. Its wider build provides more room in comparison to a standard refrigerator with the same capacity. It will not also hamper mobility since you don't have to dig deeper into your refrigerator granting its narrower depth. Like with standard refrigerators, there are also door and freezer placement options to choose from.
The Best Counter Depth Refrigerators 
Counter depth refrigerators can have either French doors or side-by-side doors. French-door refrigerators usually have two side-by-side doors above the pullout freezer. These are the best counter depth refrigerators because they have a wider and easy-to-access interior.
Meanwhile, side-by-side refrigerators have more freezer space than French Door types. They also have more organized shelves. Plus, they are less expensive than the previous type. So, if you need a counter-depth refrigerator without spending too much, this is the go-to type.
Here are some of the sleek and best counter depth refrigerators for your kitchen:
1. Frigidaire FFHD2250TS 36 Inch Counter Depth Refrigerator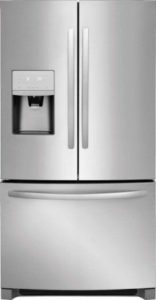 Frigidaire's 36-inch counter depth refrigerator has everything you are looking for in a refrigerator. It has 21 cu. ft. of total capacity and a total shelf area of 22.97 sq. ft. The edge-to-edge shelves provide more storage space for food. The storage is also adjustable so you can decide a hundred ways of reorganizing it. It also includes the crisper drawer that can be stacked vertically or horizontally. Moreover, the freezer drawer has adjustable dividers for additional storage.
In addition, its door dispenser is not only a stand-out feature; it also has a Pure Source Ultra II Filtration system for its ice-cold water. You will have access to cleaner and safer drinking water without opening the fridge. Add it to the Quick Ice feature, and then you can enjoy the convenience with the best counter depth refrigerators from Frigidaire.
Aside from being sturdy and spacious, this unit is also energy efficient. It has an Energy Star Certification as proof of its low consumption. So, you can also help the environment while cutting down on your electricity bill.
Key Features:
35-⅝  x 25 x 70 inches
21 Cu. Ft.
36-inch
Energy Star
Pros:
Even Temperature
External water dispenser
Gallon bin storage
French-Door
Cons:
2. Sharp SJG2351FS Counter Depth Refrigerator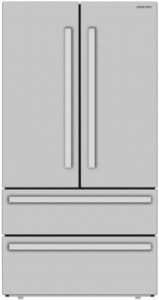 If you need more space for keeping your produce, Sharp's 4-door counter-depth is the perfect solution. Unlike other models, the Sharp SJG2351FS refrigerator has two freezer drawers at the bottom. The upper drawer holds the in-freezer ice maker. You can also keep your frequently used items there for easy access. On the other hand, you can use the bottom drawer only for all other extras. You will have more of the freezer storage for various perishables. It also features a Chill Boost and Freezer Boost function. This function adjusts the internal temperature quickly and immediately.
The design makes this one of the best counter depth refrigerators for contemporary kitchens. This is due to the stainless steel finish that is smudge and fingerprint resistant. Thus, cleaning it is your lesser worry.
Key features:
8 x 69.9 x 30.9 inches
5 Cu. Ft.
36-inch
4-doors
Energy Star
Pros:
Adjustable shelf
Smudge and fingerprint resistant
Automatic ice maker
Chill Boost and Freezer Boost features
French-Door
Cons:
No external water dispenser
3. Fisher Paykel RS36A72J1 Refrigerator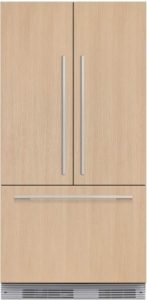 Fisher and Paykel's RS36A72J1 is reliable and one of the best counter depth refrigerators from their brand. Stainless steel refrigerators are undoubtedly timeless, but fingerprints and smudges can get annoying over time. So you may opt to cover it with a panel instead. However, refrigerators with the smooth and curved surfaces are not very kind to this modification. Fisher and Paykel refrigerator doors have flat and textured door skin. Thus, you can customize it to fit your kitchen style by adding the skin that you want.
Another best technology is its Clever Energy. It is a genius cycle where the fridge adjusts itself to cool and defrost when necessary. It can maximize its energy without compromising the contents. Its fridge has a maximum capacity of 11.7 cu. ft. while the freezer has about 5.1 cu. ft. Thus, it brings it to at most 16.8 Cu. Ft. of total capacity.
Key Features:
23 ¾ x 71 13/16 x 35 21/32 inches
36-inch
16.8 Cu. Ft.
Energy Star
Pros:
Panel-ready
Clever energy
With single ice maker
Electronic temperature control
French-Door
Cons:
4. KitchenAid KRFC300EWH Refrigerator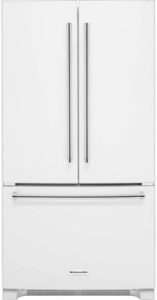 If you want an immaculate white refrigerator to color-coordinate with your other appliances, then this KitchenAid KRFC300EWH is a perfect fit. The seamless edges blend well with cabinetry for that built-in look. To add further to its bold design, it has Satin Textured Handles that supplements its chrome frame finish.
Meanwhile, beyond the look are KitchenAid's functional features. Its ExtendFresh Temperature System monitors the interior temperature of the fridge and the freezer through a built-in sensor. It helps provide the correct temperature for proper food preservation. Moreover, to extend the life of fruits and fresh produce, it has a built-in Produce Preserver in its chest.
Key Features:
35 ¾ x 70 ⅛ x 30 ½ inches
20 cu. ft.
36-inch
Energy Star Certified
Pros:
Temperature management system
Interior water dispenser
Produce Preserver
Automatic ice maker
French door
Cons:
No freezer shelves
No deli drawers
5. Haier 16.0 Cu. Ft. 4 Door Refrigerator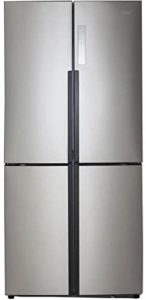 Haier created a practical storage and space solution with its side-by-side refrigerator. This quad-door design has two bottom freezers with up to 5.54 cu. ft. of capacity. Its fresh food capacity is about 11.19 cu. ft. That can hold more food than you think! Additionally, it has center pocket handles for that seamless look.
As you would notice, most high-end refrigerators like Haier have a Sabbath mode function. It is a feature that restricts an appliance activity during Sabbath and Jewish holidays. Thus, other features may be temporarily unavailable. However, this function does not hamper your refrigerator's food keeping business since you can also turn this feature off in its control panel.
Key Features:
32.75 x 71 x 26.5 inches
16.4 cu. ft.
Energy star
Pros:
4-doors
Sabbath mode
Quick Cool
Encapsulated door bins
Side-by-side
Cons:
6. Frigidaire FFSC2323TS Refrigerator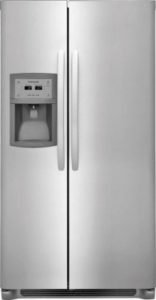 Save up to 4-inch of your kitchen floor while creating a stark accent with the best counter depth refrigerator. This side-by-side stainless steel has a smooth finish to stand out from the kitchen counter. Yet, at only 29-inch deep, it will not stand in the way.
The FFSC2323TS has an external dispenser that dispenses safe water with its Pure Source 3 filtration system. Its adjustable shelves have an edge-to-edge design to provide more usable space. The door storage also offers more room for gallons of liquid. When it comes to storage, this is one of the best counter depth refrigerators to consider.
Key Features:
36 x 69.875 x 27.125 inches
22 Cu. Ft.
36-inch
ADA (American with Disabilities Act) compliance
Pros:
Large adjustable storage
External water dispenser
Side-by-side
Cons:
No Energy Star certification
7. Bosch B20CS30SNS 300 Series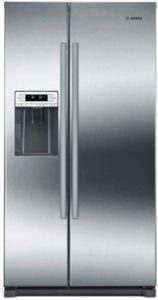 As a rule of thumb, you should allow food to cool off before putting it inside the fridge. Aside from its health and safety concern, it is one way of protecting the refrigerator from damaging itself. When you add new food, especially into the freezer, it will raise its internal temperature. It can result in automatic defrosting that may lead to quick deterioration of its contents.
Bosch's Super Freezing feature gives this problem a quick solution. That's because the freezer would quickly freeze any new food. So, it will be able to save on energy and promote better food preservation. Also, it has a SuperCool function that works similarly to Super Freeze, but for the fridge's contents.
Key Features:
27.38 x 35.88 x 69.75- inches
20.2 Cu. Ft.
36-inch
Energy Star
Pros:
Efficient energy conservation
Quick frosting and cooling
Transparent and spacious storage
Cons:
8. Kenmore Elite 50043 Refrigerator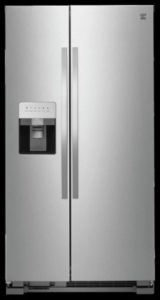 Kenmore's side-by-side counter depth refrigerator is simple and straightforward. So, if you need a large capacity refrigerator that fits in with your kitchen cabinetry, this is already a good deal. This affordable refrigerator has 25 Cu. Ft capacity. It has multiple shelves for accommodating various food items and tall containers. And for its price, the crisper drawer for fresh produce is already a bonus feature.
The Kenmore 50043 also has an external ice water dispenser from the freezer door. The freezer itself has spacious bins and shelves for items of various sizes. If you have little children, it also has a Child Lock system for added security. If you want the best counter depth refrigerator for its price, this one should be on the list.
Key Features:
33.81 x 35 x 69.25 inches
25 cu. ft.
Adjustable shelves
Slim side-by-side design
Pros:
Larger freezer storage
Easy access ice and water dispenser
With shelves for gallon bins
Cons:
Not Energy Star Compliant
9. Samsung RF23HCEDBSG Refrigerator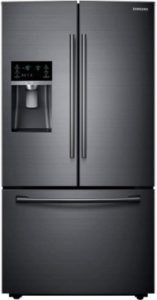 This black stainless steel counter depth refrigerator from Samsung exudes elegant finesse. This built-in refrigerator blends well into the cabinetry while still being functional. Samsung has a Twin Cooling feature that keeps even the perishable goods fresher for long. Its Cool Select Pantry also maintains the food's freshness under a controlled temperature. Samsung's Ice Master Bin can also store up to 2.7 lbs of ice.
In terms of storage space, it boasts of 23 Cu. Ft. capacity. It also has adjustable shelves that can be used in three ways: standard, slide-in, or flip-up. Additionally, the freezer has an EZ-open handle. This will allow you to open or close the freezer with ease, even if it is fully loaded.
Key features:
35 ¾ x 70 x 31 inches
23 Cu. Ft.
Energy Star
Pros:
Twin Cooling
Adjustable Shelves
With external dispenser
Fingerprint Resistant
French-Door
Cons: 
10. LG LMXC23796S 22.5 Cu. Ft. Refrigerator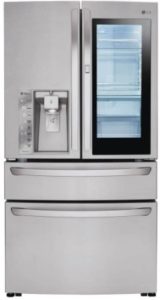 The LG LMXC23796S counter depth refrigerator is technology at its finest. For instance, there is no need to pull the handle to raid your fridge. Knocking twice on the door will turn on the light to let you see the contents from the glass panel. And if you don't want to raise a finger at all, Alexa or Google Assistant may also give you a hand. This is through the innovative SmartThinkQ app from LG.
This innovative technology is just an addition to LG's functional refrigerator features. From energy-saving, space-saving, and excellent cooling system, LG got your back. Overall, the LMXC23796S ranks on the list of the best counter depth refrigerator of this generation.
Key Features:
35 ¾ x 70 ¼ x 32 ⅛ inches
23 Cu. Ft.
36-inches
Energy Star
Pros:
InstaView
Smart ThinQ app
Smart Cooling Technology
Large shelf space
Exterior dispenser
Cons:
Problem with the ice maker
Counter depth refrigerators have cool and innovative features. However, the best benefit is the ability to maximize space within your kitchen. It may sacrifice about 4 to 6 inches of your refrigerator's space, but it augments it with wider and taller storage room. These refrigerators can hold more items in comparison to standard-sized refrigerators.
They are also very easy to organize with their adjustable shelves and racks. If you have a larger household, then look for the best counter depth refrigerators for its storage capacity.