If you are not very familiar with halloumi, let this recipe be your introduction! Halloumi is a magical ingredient. A cheese that can withstand the heat- grilling, pan searing, frying…you name it! Popular all over the Mediterranean, halloumi is a staple in that region adding flavor and richness to it's accompanied dishes. 
DIY spice blends are so much fun to make. This tandoor spice mix can be customized based on your spice level…whether you like it hot or not… just add as much or as little cayenne pepper as you'd like. If the weather permits, grilling is preferred but broiling the veggies is just as nice. 
serves 4 
Ingredients: 
for the seasoning mix: 
1 teaspoon ground cumin
1 teaspoon ground ginger 
1 teaspoon granulated garlic 
1 teaspoon ground coriander 
1 teaspoon turmeric 
1 teaspoon paprika 
1 teaspoon salt 
1/2 teaspoon cayenne (optional) 
For the vegetables: 
2 tablespoons olive oil 
1 red bell pepper, seeded and cut into bite sized pieces 
1 zucchini, sliced 
1 yellow squash, sliced 
1/2 cup red onion, peeled and cut into bite sized pieces 
1 bunch asparagus, trimmed 
For the halloumi: 
8 thick slices halloumi cheese 
2 tablespoons olive oil
2 cups couscous, cooked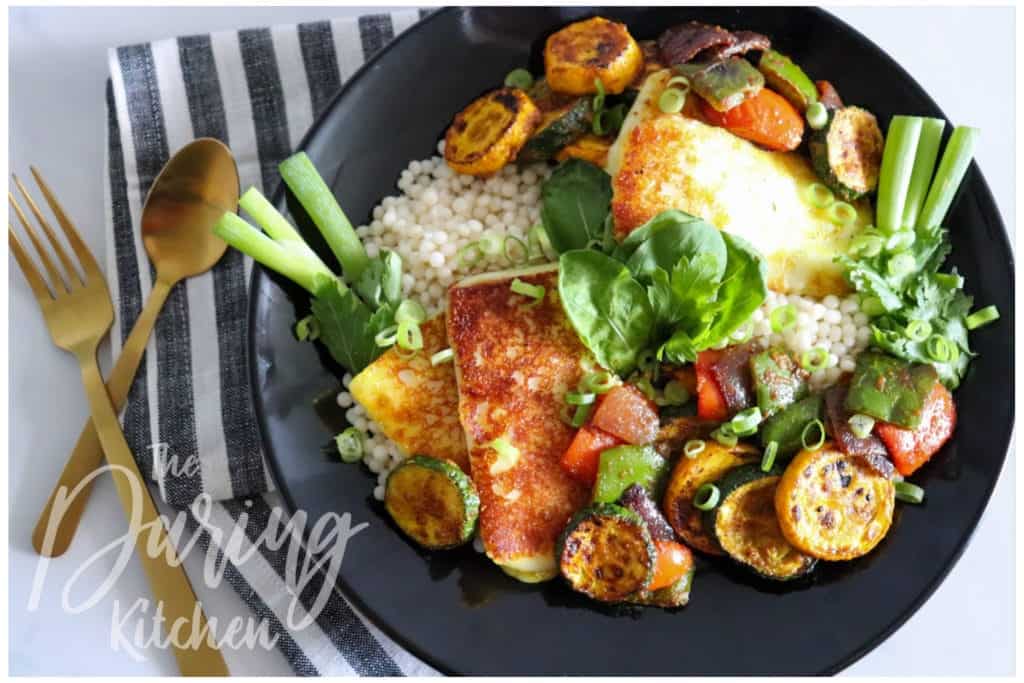 Instructions: 
Preheat grill or oven broiler. In a medium bowl mix together cumin, ginger, garlic, coriander, paprika and cayenne. In a large bowl toss together olive oil, bell pepper, zucchini, squash, onion and asparagus with spice blend. Skewer vegetables and grill or broil for 5-6 minutes or until lightly charred and tender. 
Drizzle sliced halloumi with olive oil and grill or broil for 3 minutes or until lightly charred. 
To serve spoon couscous into bowls and top with cooked vegetables and halloumi.