Looking for a light and summery salad recipe? Love couscous? Then couscous salads might just be your new best friend! Enter this vegetarian recipe with Mediterranean ingredients and a South Asian twist. One bite and you'll be taking a vacation during your lunch break.
Sometimes you just want something easy to throw together, that can store for a long time in the pantry, and also holds up in the fridge for a few days once cooked. Couscous recipes hit all those spots. This particular recipe makes for perfect meal prep with charred, spicy, seasonal vegetables and a hit of protein from the crispy halloumi cheese. Eat it hot, eat it cold, but above all, give this winning combination a go.
What is couscous?
Couscous is often mistaken for a whole grain but is actually a type of tiny pasta made from semolina and wheat flour. It's popular as a side dish or as a base for entrees in Middle Eastern and North African cuisines, and it's not hard to see why. The mild, slightly nutty little balls of dough soak up all the flavor you throw at them, from intense spices to zesty lemons to sweet raisins. You can serve couscous hot, cold, or room temperature.
Types of couscous
Couscous comes in several types, each with their own preparation techniques and cook times. The most common varieties available in the United States, however, are Moroccan couscous and Israeli or pearl couscous.
Israeli or pearl couscous is roughly the size of peppercorns, with a chewy consistency, and needs to be boiled like pasta before being drained and tossed with olive oil or other toppings. It's great for salads and soups when you want a little more texture.
Moroccan couscous has the smallest pearls and usually comes in an "instant" precooked form in the U.S. that just needs to rehydrate for a few minutes before fluffing with a fork and serving. (A pat of butter never hurts either.) It has the shortest cook time, perfect for fast meals when you just want to get food on the table for your family.
What is halloumi?
If you're not familiar with halloumi, dear readers, try this recipe! Halloumi is a unique cheese originally hailing from the island of Cyprus. What makes it so special? Its melting point is so high you can fry it, grill it, or saute it, and it STILL maintains its shape! During the cheesemaking process the curds are poached and then molded; it's this cooking that keeps the magical cheese firm and squeaky under blistering heat.
Stored in brine and sprinkled with mint, halloumi is popular with watermelon during the summer in the Mediterranean. For this couscous recipe the crispy broiled halloumi balances out lighter, spiced grilled vegetables with cheesy richness and mild, salty flavor. It also adds some filling protein and fats to keep you going throughout the afternoon or evening. As a warning, cooked halloumi is best eaten hot and fresh. The cheese is still delicious after it cools, but the crunch is less intense.
Customize your tandoor spice
Also known as tandoori masala, tandoor spice is a special blend of spices commonly used for foods cooked in a specialized oven called a tandoor. Tandoors are traditional cylindrical ovens popular throughout Central and South Asia—you might already be familiar with some Indian tandoori foods, such as naan flatbreads or bright red tandoori chicken.
This recipe's custom spice blend would be perfect for meat, but here it's used to pep up some seasonal vegetables. You don't even need a tandoor oven for a similar effect! Just toss vegetables with olive oil and the tandoor spice blend and skewer them before popping onto a hot grill or under a preheated broiler to char.
Don't be afraid to alter the spice mix to your tastes. Not a big fan of heat? Add less cayenne. Love cumin? Sprinkle in a little more. Have fun customizing your blend and making it your own!
Make ahead or make for a crowd
One of the strengths of this couscous recipe is its flexibility. While best eaten warm, the cooked vegetables and cheese can hold up for a few days in the refrigerator. The recipe itself is easy to scale up too, if you've decided to make this for a bigger group.
All these characteristics make it an excellent candidate for meal prep. Couscous bowls with cooked vegetables are less likely to wilt after the first day and can be eaten cold, warm, or room temperature. Plus, letting the tandoor vegetables and halloumi sit in the couscous allows the couscous to absorb all those flavors like a sponge.
Making this couscous recipe for more than just yourself or your family? Easily double the ingredients to feed everyone. If you want to make this recipe ahead for a lunch or dinner party, consider making the couscous the day before and grilling the vegetables and halloumi the day of the get-together. You'll certainly find this easy recipe worth sharing.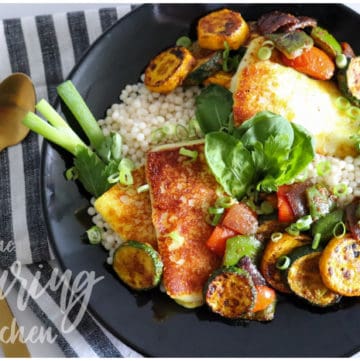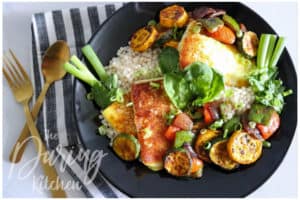 Ingredients
Seasoning Mix
1

tsp

Ground Cumin

1

tsp

Ground Ginger

1

tsp

Granulated Garlic

1

tsp

Ground Coriander

1

tsp

Turmeric

1

tsp

Paprika

1

tsp

Salt

½

tsp

Cayenne

optional
Vegetables
2

tbsp

Olive Oil

1

Red Bell Pepper

seeded and cut into bite sized pieces

1

Zucchini

sliced

1

Yellow Squash

sliced

½

cup

Red Onion

peeled and cut into bite sized pieces

1

bunch

Asparagus

trimmed
Halloumi
8

slices

Halloumi Cheese

thick slices

2

tbsp

Olive Oil

2

cup

Couscous

cooked
Instructions
Preheat grill or oven broiler. In a medium bowl mix together cumin, ginger, garlic, coriander, paprika and cayenne. In a large bowl toss together olive oil, bell pepper, zucchini, squash, onion and asparagus with spice blend. Skewer vegetables and grill or broil for 5-6 minutes or until lightly charred and tender. 

Drizzle sliced halloumi with olive oil and grill or broil for 3 minutes or until lightly charred.

To serve spoon couscous into bowls and top with cooked vegetables and halloumi.
Nutrition
Calories:
523
kcal
|
Carbohydrates:
80
g
|
Protein:
16
g
|
Fat:
16
g
|
Saturated Fat:
3
g
|
Sodium:
626
mg
|
Potassium:
761
mg
|
Fiber:
9
g
|
Sugar:
7
g
|
Vitamin A:
2328
IU
|
Vitamin C:
63
mg
|
Calcium:
96
mg
|
Iron:
5
mg