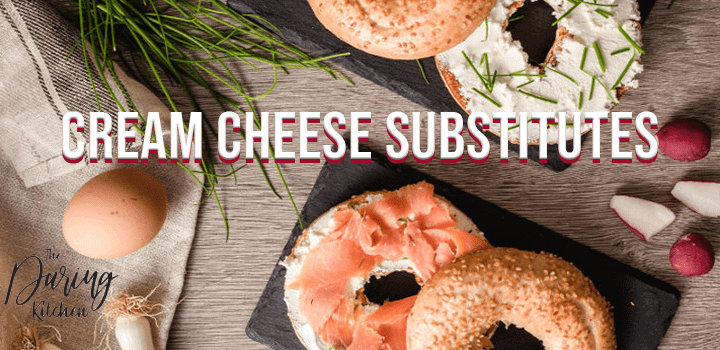 With a mild cheesy flavor and a creamy soft texture that screams 'comfort food', cream cheese is not only very tasty but also super versatile. And if it wasn't for its high-fat content, maybe no one would be looking for a cream cheese substitute anyways.
But with 34 g of fat and 342 calories for 100 g, no wonder the interest for a healthier alternative is at its highest. Wondering what the best substitute for cream cheese is? We will get there shortly but first, you need to remember that any good alternative should have a similar texture and taste to cream cheese.
Also, the recipe makes all the difference. For example, the substitute you will use for cooking pasta may be different than the one that is suitable for making cheesecake or baking goods.
What Is Cream Cheese?
Cream cheese is a soft and mild in taste fresh cheese that has a wide variety of uses both in savoury and sweet cuisine. It is good for spreads and dips but is also often used in cooking to give sauces and soups a thick creamy texture.
Sometimes, it can replace butter when making cookies and cakes. Other popular uses include cheesecake, frosting, sour cream, and more.
Compared to other types of cheese, it has a higher content in fat - at least 33% milkfat according to the FDA. The most popular cream cheese brand in the US and worldwide is 'Philadelphia'. However, it's not difficult to make cream cheese even at home.
Cream Cheese Alternatives
American Neufchatel Cheese
This is the first-ever cream cheese created in the US (it's also known as farmers' cheese). It was made by mixing the original Neufchatel (one of the oldest types of cheese in France) with cream.
American Neufchatel cheese can nicely substitute cream cheese in a variety of recipes. Why? They both have a dense creamy texture which makes them ideal for spreads and dips. However, Neufchatel is slightly more grainy so, in cooked dishes, you may notice a slight difference in texture.
In terms of taste, they are very similar. Both are tangy but Neufchatel tastes somewhat less rich because it is made from milk that contains ⅓ less fat than cream cheese. That´s why it is marketed as a less fatty alternative –good to know especially if you're watching that waistline.
Mascarpone
When you're looking for a sweet cream cheese alternative to use in frosting, desserts, cheesecake, or tiramisu, mascarpone is a good candidate. This is an Italian type of cream cheese that contains more fat than American cream cheese (at least 40%).
The higher fat content makes mascarpone more creamy and richer in taste and texture. So, you can use it in cheesecake successfully but it may not be ideal as it is slightly heavier than cream cheese.Adding a bit of extra lemon juice can cut its richness.
Mascarpone can be a better option when it replaces cream cheese in unbaked cheesecake. Just remember not to overbeat it because it can curdle slightly due to the higher content of fat. Just stir it lightly by hand and then gently beat in the rest of the ingredients until combined.
The rich, almost butter-like flavor makes it perfect for tiramisu.In terms of the price, it is more expensive than cream cheese and less easy to find.
Ricotta Cheese
Ricotta is an Italian fresh cheese made from the whey that is drained off when provolone, mozzarella, and other types of cheese are made. It is typically used in pasta and desserts.
If you need a healthy cream cheese substitute, Ricotta is a good option. It has a lot less salt and fat content than cream cheese while the texture is lumpier. Mixing it with strained yogurt will make it more smooth and suitable for a variety of recipes. Use ½ cup Ricotta and ½ strained yogurt to replace 1 cup of cream cheese.
Apart from using it for pasta, American versions of Ricotta also work well in cheesecakes and other baked goods.
Yogurt Cheese
For a creamy soft tangy alternative that is lower in fat and more nutritious, try yogurt cheese. Its texture is somewhere between thick cottage cheese and soft cream cheese. If you like its tart flavor, you can easily make it spreadable. For 1 cup of cream cheese, you will need to use 1 cup of plain or Greek yogurt.
Line a strainer with double folds of cheesecloth or kitchen towel and place a container underneath to trap the liquid. Pour the yogurt into the cloth and wrap the container with plastic. Leave it in the refrigerator overnight until the volume is reduced to half. You can also add herbs and other flavorings to make savory spreads or use it in other recipes.
Cottage Cheese
Cottage cheese is a mild cheese made from nonfat or skim milk and is versatile enough to be used as a cream cheese replacement. Its crumbly texture can be compacted by adding some fresh cream. 1 cup of cottage cheese gives a cup of cream cheese.
Remember to drain the curds for 5 minutes and then run it through a food processor. This leaves you a soft cheese that is perfect for your cheesecake recipes.
Tofu
For a dairy-free, vegan cream cheese substitute, tofu spreads are great. They are free of lactose and dairy or animal-based products and vary in terms of fat content from low-fat to full-fat.
In regards to consistency and flavor, they are very similar to cream cheese.
Looking For More Ideas?
Here are some more alternatives:
Boursin Cheese
Soy Cream Cheese
Buttermilk Cheese
Hung Curd
Sour Cream
Kefir