When people think cream of mushroom soup, they typically think a lot of dairy. This cream of mushroom soup is exactly the opposite. It is loaded with delicious coconut milk, making it totally vegan! I can proudly say this recipe deserves 5 stars. My family is addicted to it!
The Best Cream of Mushroom Soup Recipe
Creamy soups are great for the wintertime. They warm you up and fill you up. I personally love cream of mushroom soup. It is such a classic. Something very special happens when you combine cream and mushrooms together!
There are plenty of cream mushroom soup recipes out there. But, this one is absolutely bulletproof.
This homemade cream of mushroom soup recipe is 100 percent vegan. It still has the bold flavors of the classic mushroom soup. That's because this soup has some of my secret ingredients.
I love mushrooms. There are so many varieties, with different textures and flavors. I especially adore portobello mushrooms. They are naturally robust and hearty. Combined with just enough white wine, garlic, and onion, these mushrooms will really fool you for meat. It's important to use fresh aromatics, rather than onion powder or garlic powder. Fresh onion and garlic give this soup so much flavor and a tad of sweetness. I also add in fresh thyme, along with salt and pepper. It gives the soup the most magical aroma.
The mushrooms don't stop there! I love having whole mushrooms in my cream of mushroom soup. While the portobellos get blended into the creamy, small button mushrooms are sauteed and kept whole. These add just the bit of texture you need in this mushroom soup.
This condensed cream of mushroom soup becomes as creamy as ever with a few other plant-based ingredients. The combination is almost too good of a secret to tell. But, why make a recipe if you aren't going to share it?
What Makes this Vegan Mushroom Soup Creamy?
When I first made this mushroom soup. recipe, everyone who tried it were shocked to discover it was vegan. I felt a bit impressed with myself, to be honest! Especially because this recipe is very easy to make.
So, what makes this cream of mushroom soup so. creamy? Three awesome ingredients: coconut, cashew, and potato. These plant based ingredients all contribute in their own way to the velvety character of this mushroom soup.
Coconut milk lends the smooth richness you want for your soup. It substitutes perfectly for heavy cream, giving the soup just the right color. Plus, coconut milk is chock full of nutritional benefits. A cup of coconut milk has a lot fewer calories than 1 cup of heavy cream. Then, cashews add the density you get from typical heavy cream. But, cashews will not give you the belly troubles that dairy will!
Finally, I add potato into the soup as well. Potatoes are such a great source of fiber and are a natural way to get carbohydrates. More importantly, they lend a velvetiness to this soup that you can't omit. With a little vegetable stock, the potatoes easily become smooth.
So, how do you get all these ingredients to become one creamy soup? You have a couple of options.
An immersion blender is a cook's best friend. It makes it simple to whip everything into one creamy whole. If you don't have an immersion blender, a regular blender works just fine. You simply need to transfer your soup, which makes a little more of a mess. The result, however, will be just as great.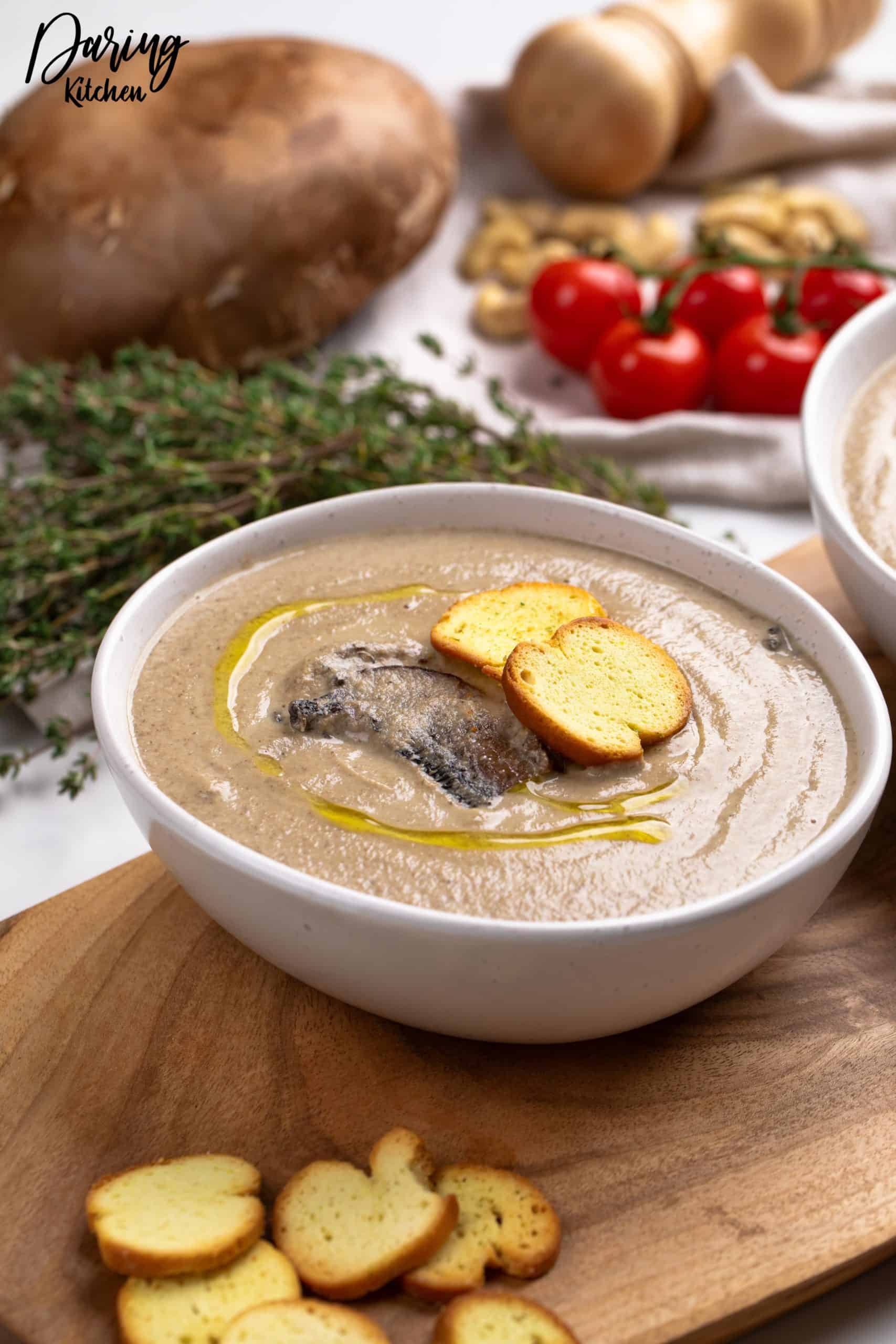 How to Make this Cream of Mushroom Soup Recipe
This cream of mushroom soup recipe is so easy to make. I am not kidding - you can have a perfect mushroom soup in just under 30 minutes. If you are slower in your prep time, maybe just maybe it will take you a little over 30 minutes. Either way, this soup is way better than the canned stuff.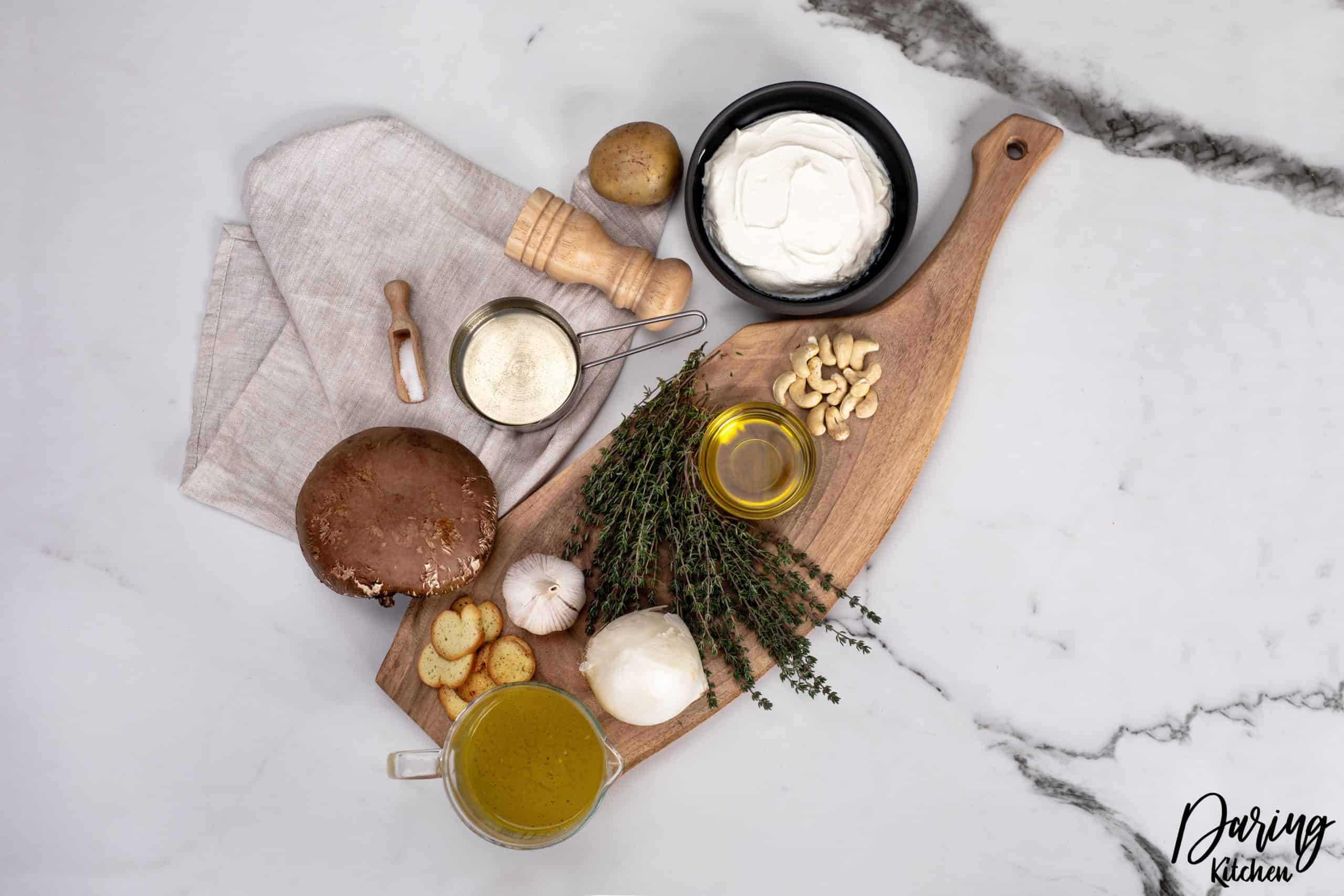 To start, prep your vegetables. This will help minimize your total cook time for the soup. Once that's complete, heat olive oil in a large pan over medium high heat.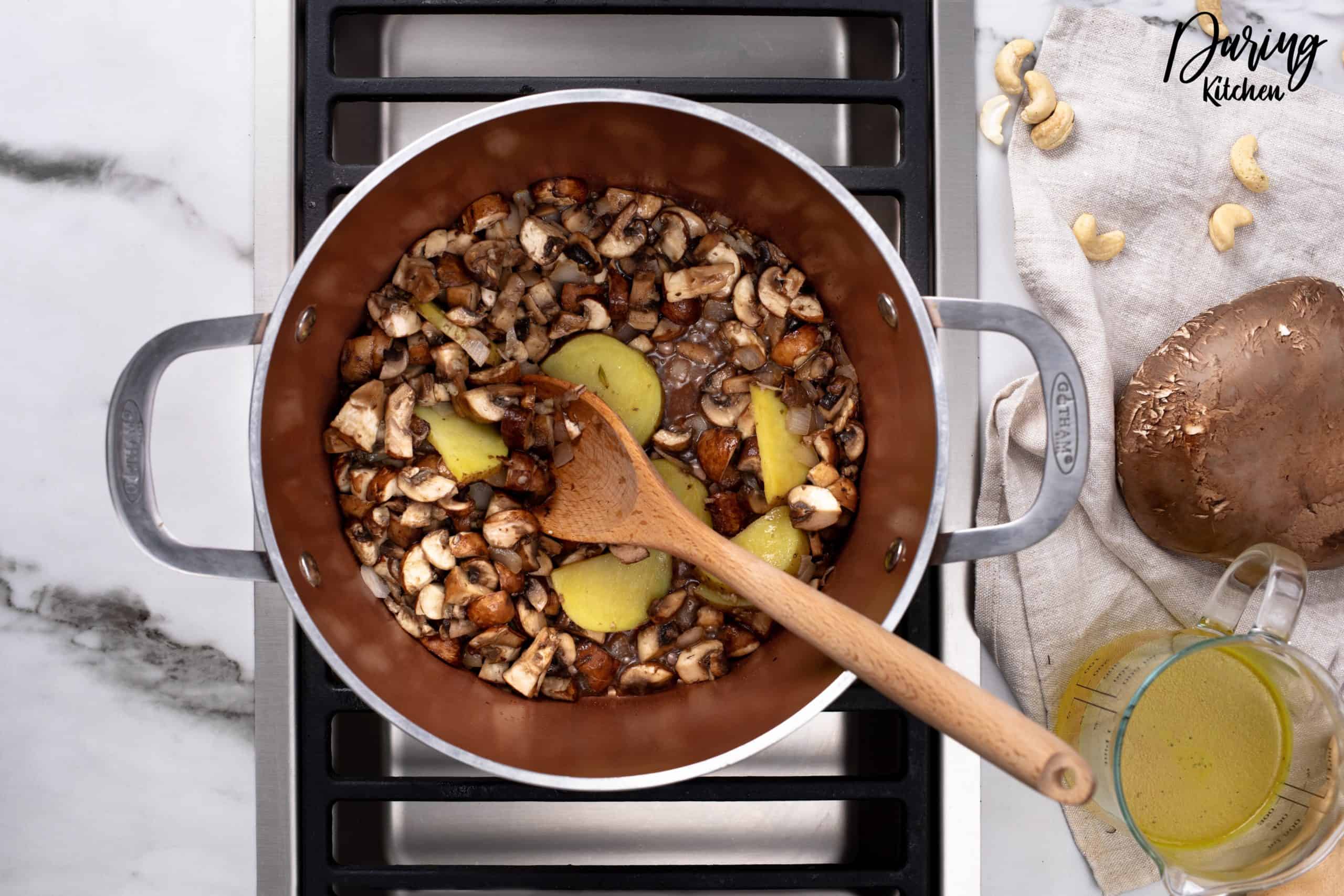 Add in your chopped onions, garlic, potatoes, and chopped portobello mushrooms. Stir gently. Cook until the vegetables are lightly browned and all the liquid from the mushrooms is gone. Then, deglaze with the white wine and take in all the fragrant aromas.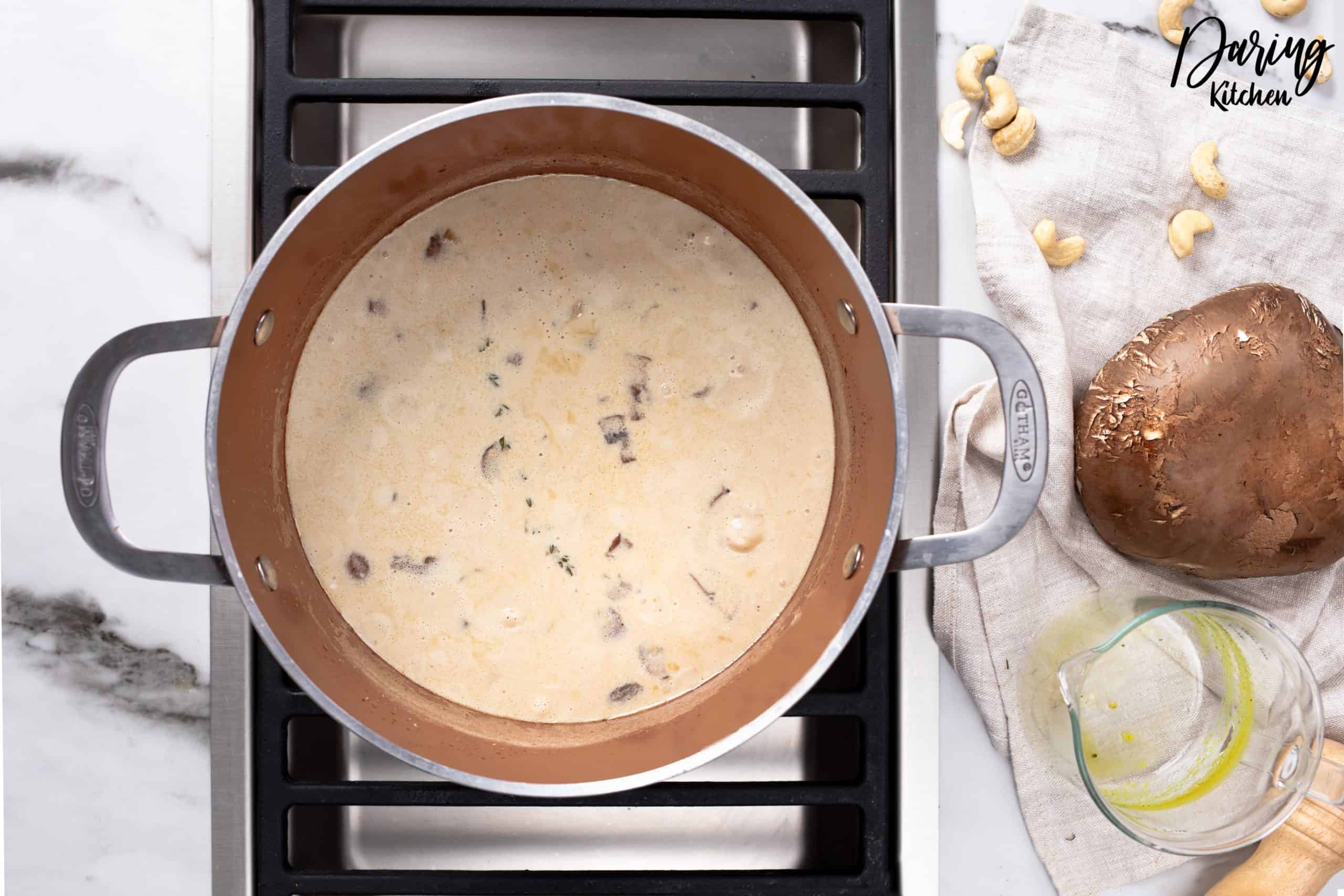 Then, add in your thyme, spices, coconut milk, and vegetable stock. Mix everything together and bring it all to a simmer. Allow it to bubble away for 10 minutes.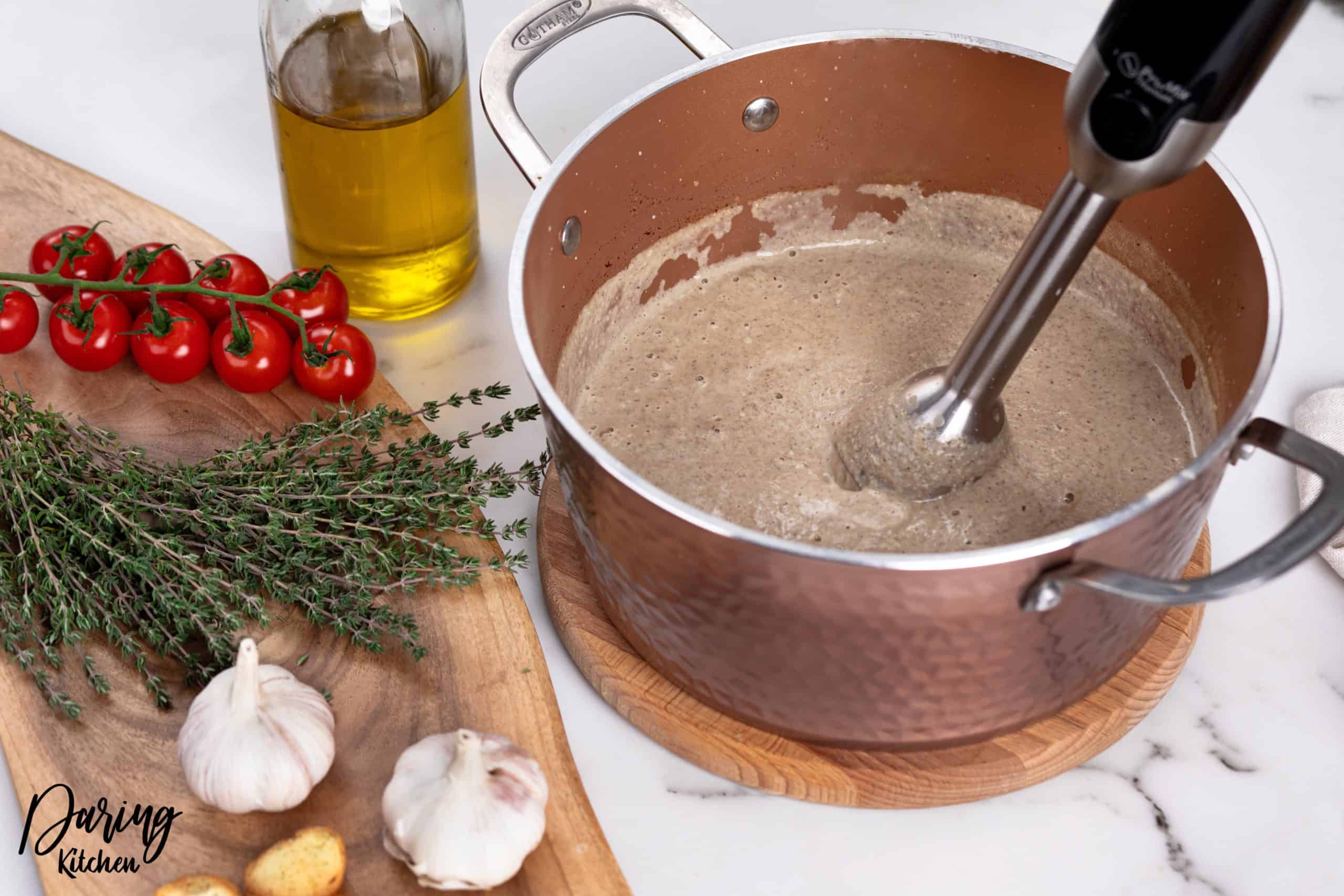 Now, with your blender or immersion blender, combine your soup base with the cashews. Blend everything together on high, ensuring the cashews are well integrated into your soup. If using an immersion blender, move the blender around so that you catch any lingering cashews.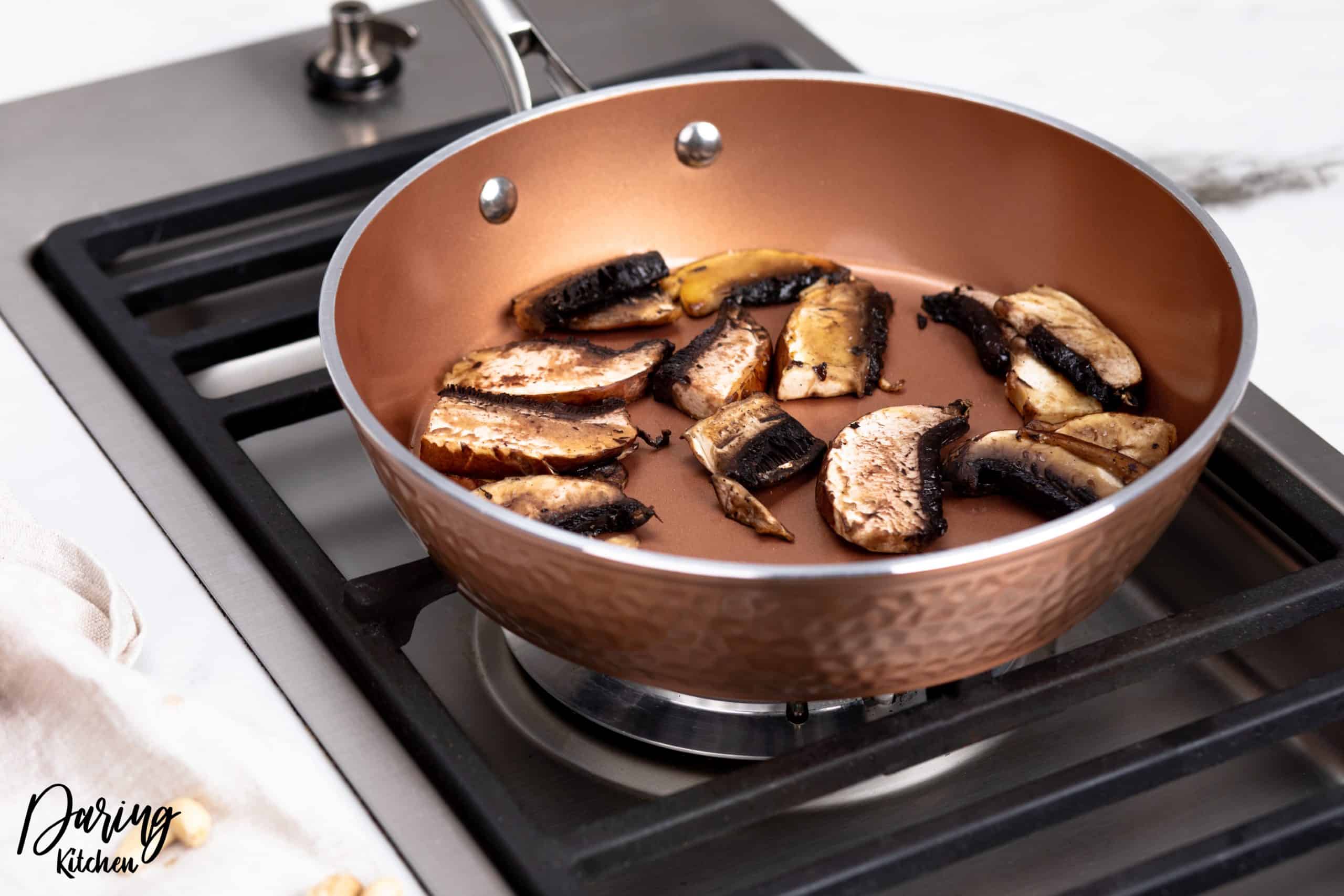 Using the same pan, add in some more olive oil. Saute the mushroom caps, sea salt, and black pepper. Once mushrooms are cooked (all the liquid is gone,) marry them with the soup.
Serve your cream of mushroom. soup with crunchy croutons or toast. Garnish with vegan almond cheese or even some fresh herbs.
This is one of my favorite cream of mushroom soup recipes ever. Do you love cream of mushroom soup as I do? If you do, please leave a comment below. I want to know how this cream of mushroom soup turned out for you! If it turned well, don't be shy to leave 5 stars as well.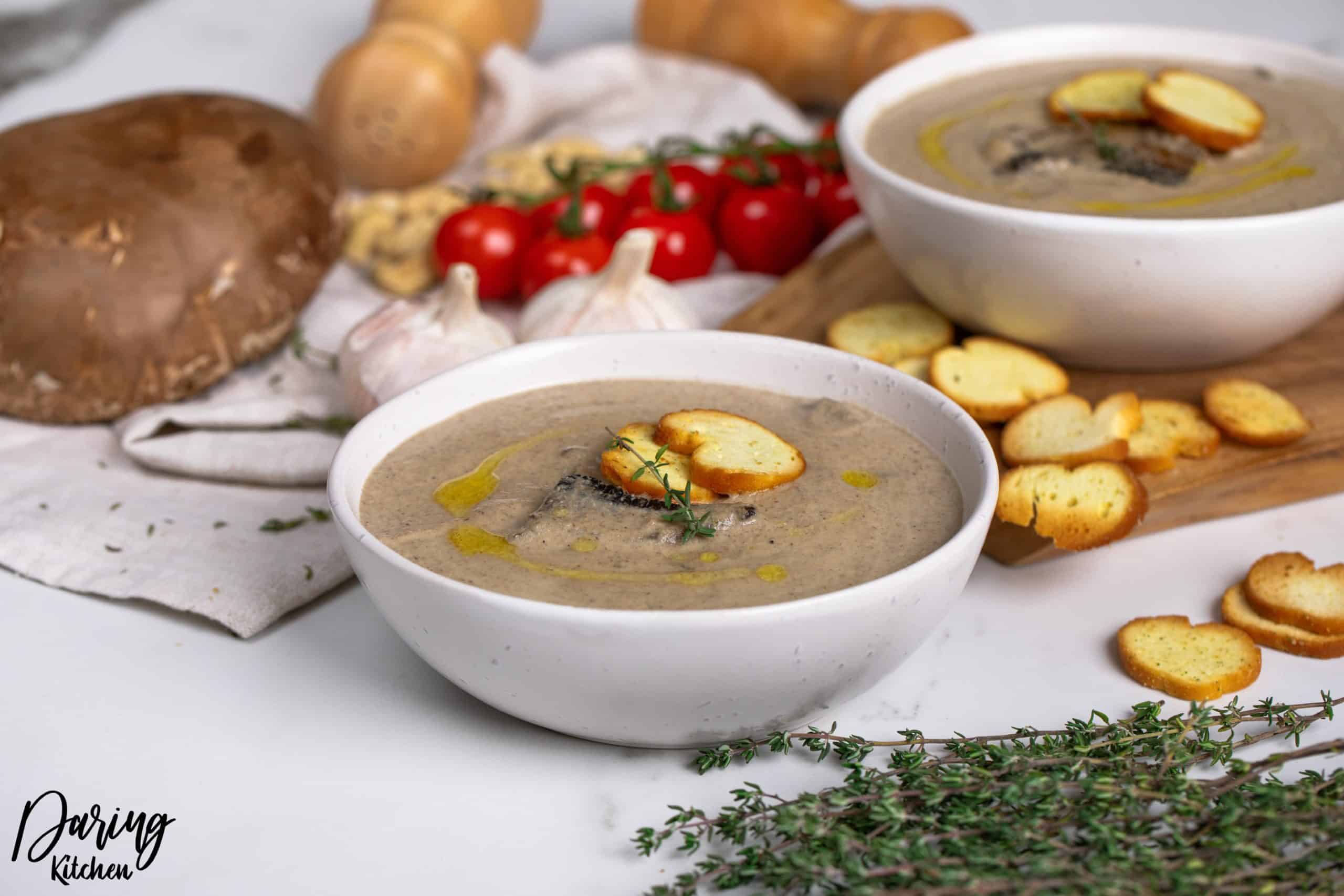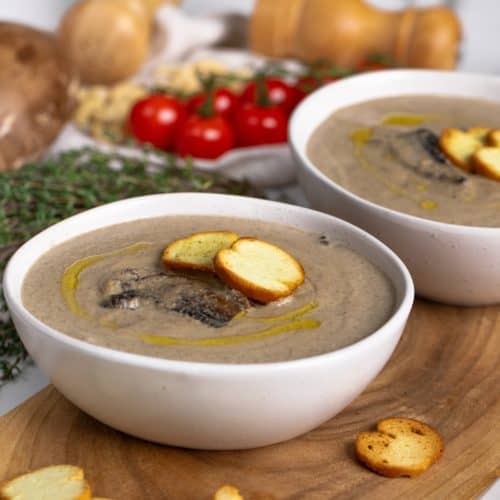 Equipment
Hand Blender/StandBlender
Ingredients
1

tbsp

olive oil

½

cup

chopped white onion

5

cups

chopped portobello mushrooms

4

mushroom caps

sliced

2

garlic cloves

minced

1

potato

thinly sliced

½

cup cashews

1

sprig fresh thyme

¾

cup

dry white wine

1

can full-fat coconut milk

1 ½

cup

vegetable stock

¾

tsp

sea salt

½

tsp

ground black pepper
Instructions
Prepare your vegetables for cooking, wash and cut them.

In the pan on medium heat add olive oil, chopped onion, garlic, mushrooms and potato, fry it for a few minutes.

When the vegetables are browned add in species, thyme, coconut milk, wine and vegetable stock, simmer for 10 minutes.

Pour it into the blender, add in cashews and blend on high. You can also use hand blender but this will take a little more time until it all smooth.

Place the pan back to the heat, add in olive oil, sliced mushrooms caps and seasonings, sauté for a few minutes.

Add fried mushrooms to the soup and serve with garlic croutons.