Creamed Peas- Sweet, velvety, and packed with delicious flavor! This dish transforms ordinary sweet green peas into something magical that will have everyone coming back for more! Green peas are cooked until soft and tossed into a dreamy cream sauce with butter and fragrant garlic undertones.
Do you like peas? I love them! I could probably eat them every day and never get tired of them. In fact, I've been known to put peas in just about everything, even cake! But my all-time favorite way to enjoy them is creamed peas. The creamy sauce enhances the natural sweetness of the peas while providing a smooth, rich texture that I can't say no to.
If you've never had creamed peas before or just looking for a new way to enjoy this classic vegetable dish, you have got to check out this recipe. I promise you won't be disappointed! This dish is so simple to make, but it's packed full of flavor and really satisfies my craving for something comforting and delicious.
Why You'll Love This Creamed Peas Recipe
Simple Ingredients- Creamed peas don't require any unusual or hard-to-find ingredients. Most of the ingredients you'll probably have at home already, making this the ideal last-minute side dish.
Easy to Prepare-  This dish is effortless to make. You just have to cook the peas, then mix them with a few simple ingredients to create the creamy sauce, and voila, it's ready to enjoy!
Fast- This recipe can be on your dinner table in less than 20 minutes. So it's perfect for a busy weeknight or large gatherings.
Delicious- Plain and simple, this dish is just downright mouthwatering. The creamy sauce pairs perfectly with the sweet peas, and it's a real crowd-pleaser.
Comforting- There's something about creamed peas that just makes you feel comfy and happy. Creamed peas are definitely a comfort food! I think it's the creamy, indulgent texture combined with the classic sweet flavor of peas.
Equipment Needed To Make These Creamed Sweet Peas
Saucepot

Whisk

Mixing Spoon

Measuring Cups

Measuring Spoons

Ingredients For Your Creamed Peas
Butter

Flour

Milk

Salt

Garlic Powder

White Pepper

Peas
How To Make Creamed Sweet Peas
In a saucepan, whisk together flour and melted butter until thoroughly combined. Allow the mixture to simmer for a couple of minutes before adding milk gradually. Add seasonings and stir until the mixture begins to thicken. Fold in the peas and mix thoroughly before serving. Serve while the peas are still warm, and enjoy!
What to Serve/Pair with Your Creamed Green Peas
This dish pairs well with just about anything. I like to serve it with a pasta dish, seafood, or a simple piece of grilled chicken or steak, but it would also be great with some roasted vegetables or a salad. You could even serve it as a side dish for a Thanksgiving or Christmas feast. Creamed peas may just be a new holiday gathering tradition!
When pairing wine with creamed peas, it's important to choose a wine that will complement the dish's flavors. Like a Sauvignon Blanc, light white wine is perfect for this recipe.
Popular Substitutions & Additions
When it comes to personalizing your creamed peas, there are endless possibilities.
Add in some cooked ham or bacon for some extra flavor

Try adding other veggies, such as carrots or onions

Swap out peas altogether, and make creamed corn or beans

Add a sprinkle of shredded cheese on top for extra richness

Sprinkle with red pepper flakes for a spicy touch

How To Reheat & Store Creamed Peas
What Is The Best Way To Store Creamed Green Peas?
Leftover creamed peas should be kept in an airtight container or resealable sandwich bags in the fridge.
How Long Will Creamed Sweet Peas Last In the Fridge?
When stored correctly in resealable bags or an airtight container, creamed peas will last for up to 3 days in the refrigerator.
Can I Freeze Creamed Peas?
Yes, you can freeze creamed peas. When stored in an airtight container or freezer bag, they will last in the freezer for up to 6 months. To thaw, place them in the fridge overnight or place them in a bowl of warm water for 10-15 minutes.
How To Reheat Creamed Green Peas?
To reheat, place the desired amount of creamed peas into a microwave-safe bowl and heat on medium-high heat for 2-3 minutes until heated through. Stir occasionally.

Creamed Peas FAQs
Can I use canned peas for this recipe?
Yes. Canned peas will suffice if you don't have any fresh peas on hand. Cooked fresh or frozen peas, on the other hand, are preferable.
Are there other vegetables that I can make this cream sauce for?
Yes! If you don't like green peas or don't have any on hand, you can use the same cream recipe for other veggies such as corn, asparagus, and beans.
Do I thaw frozen peas before cooking them?
No, frozen peas do not have to be thawed before being cooked. They'll cook just fine from the freezer. In fact, they may retain more of their nutrients this way.
Does it matter if I use fresh or frozen peas?
No. Peas, fresh or frozen may be used in this recipe. It's tough to tell how fresh peas from the supermarket or farmers' market are unless you grow your own. I like frozen peas for this recipe since they have been flash-frozen at their maximum level of freshness to retain as many natural vitamins and minerals as possible.
Can peas be overcooked?
Yes, peas can be overcooked. Peas need only a few minutes to cook thoroughly; keep an eye on them. Over-cooked peas become mushy and pale in color. If peas are cooked correctly, they will be bright green and delicate without being mushy.
Can this recipe be made vegan?
Yes. This dish may be prepared vegan by using a suitable vegan-friendly substitute for butter and milk. Always verify the ingredient labels of your chosen replacements to guarantee they are vegan-friendly.

Other Delicious Side Dishes You'll Love
Balsamic Soy Roasted Garlic Mushrooms
Don't Forget To Come Back And Let Me Know How Your Creamed Peas Turned Out!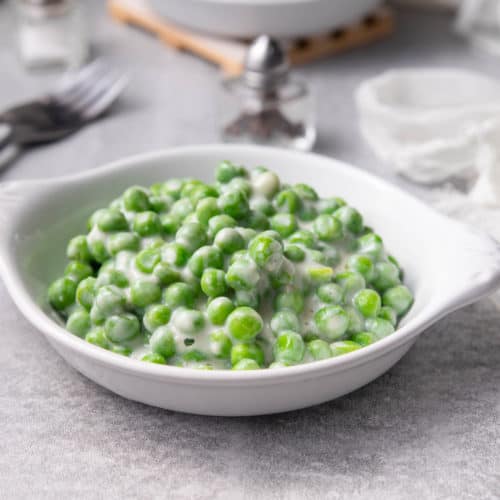 Creamed Peas
Green peas cooked until soft and tossed in a dreamy cream sauce with undertones of butter and garlic. This dish transforms ordinary peas into something magical.
Print
Pin
Rate
Ingredients
2

tbsp

butter

1

tbsp

flour

½

cup

milk

½

tsp

salt

½

tsp

garlic powder

¼

tsp

white pepper

2

cups

cooked peas
Instructions
Melt butter in a saucepot over medium-high heat.

Add flour and stir with a whisk.

Cook the flour and butter for 2-3 minutes.

Stir in the milk. Add salt, pepper, and garlic powder.

Once you have a gently thickened mixture, fold in the peas. Stir the peas gently until they are coated.
Nutrition
Calories:
193
kcal
|
Carbohydrates:
24
g
|
Protein:
10
g
|
Fat:
7
g
|
Saturated Fat:
4
g
|
Polyunsaturated Fat:
1
g
|
Monounsaturated Fat:
2
g
|
Trans Fat:
1
g
|
Cholesterol:
19
mg
|
Sodium:
350
mg
|
Potassium:
409
mg
|
Fiber:
8
g
|
Sugar:
4
g
|
Vitamin A:
231
IU
|
Vitamin C:
1
mg
|
Calcium:
54
mg
|
Iron:
1
mg