Fresh spinach cooked with fragrant and tender onions seasoned with salt and pepper. Add crème fraiche to give the spinach that rich and creamy flavor. Top off the spinach with freshly grated parmesan cheese for a delectable side dish that the whole family will fall in love with.
There are a lot of side dishes out there, but this creamy spinach is definitely one of the best. Not only is it easy to make, but it's also a great way to add some extra vegetables to your diet. So if you're looking for something new to add to your dinner repertoire, then try this creamed spinach. You won't regret it!
Rich, creamy, and packed with flavor, creamed spinach is the perfect side dish to accompany any main course. This recipe is easy to follow and results in a delicious dish that everyone in the family will enjoy. Serve creamed spinach alongside your favorite protein for a complete and satisfying meal.
Why You'll Love This Creamed Spinach Recipe
Easy To Find Ingredients-

With a minimal list of ingredients, everything you need for this creamed spinach recipe is readily available at your local supermarket if you don't already have it at home.

Simple-

This recipe will be ready to enjoy in just 15 minutes from prep time to finish!

Versatile-

Creamed spinach is so good! It's the perfect complement to just about any main course.

No Complicated Equipment-

Making spinach is easy. If you have a skillet, you can make this creamed spinach recipe.

Tasty-

The combination of fresh spinach, onions, cream, and parmesan cheese makes this side dish irresistible.
Equipment Needed To Make Creamed Spinach
Skillet

Knife

Spatula 

Measuring Spoons

Ingredients For Making Easy Creamed Spinach
Butter

Onion

Milk

Salt

White Pepper

Fresh Spinach

Crème Fraiche/Sour Cream/Heavy Cream

Grated Parmesan Cheese
How To Make Creamed Spinach For Two
To begin making creamed spinach, melt the butter in a pan, add the onion and simmer until soft and translucent. Add the milk and stir thoroughly. Stir in the spinach to the milk and onion mixture and cook until the spinach has wilted. Add whichever cream you choose, then heat for a few seconds while stirring frequently. Sprinkle with parmesan cheese and serve warm.
What to Serve/Pair With Creamed Spinach
This recipe is versatile and can be served with a variety of main dishes. Here are some ideas:
Steak

Chicken

Fish

Rice

Pasta

Mashed Potatoes

Crusty Bread
As you can see, there are endless possibilities for serving creamed spinach. Give it a try tonight and see for yourself! Whatever you're in the mood for, this dish is sure to please.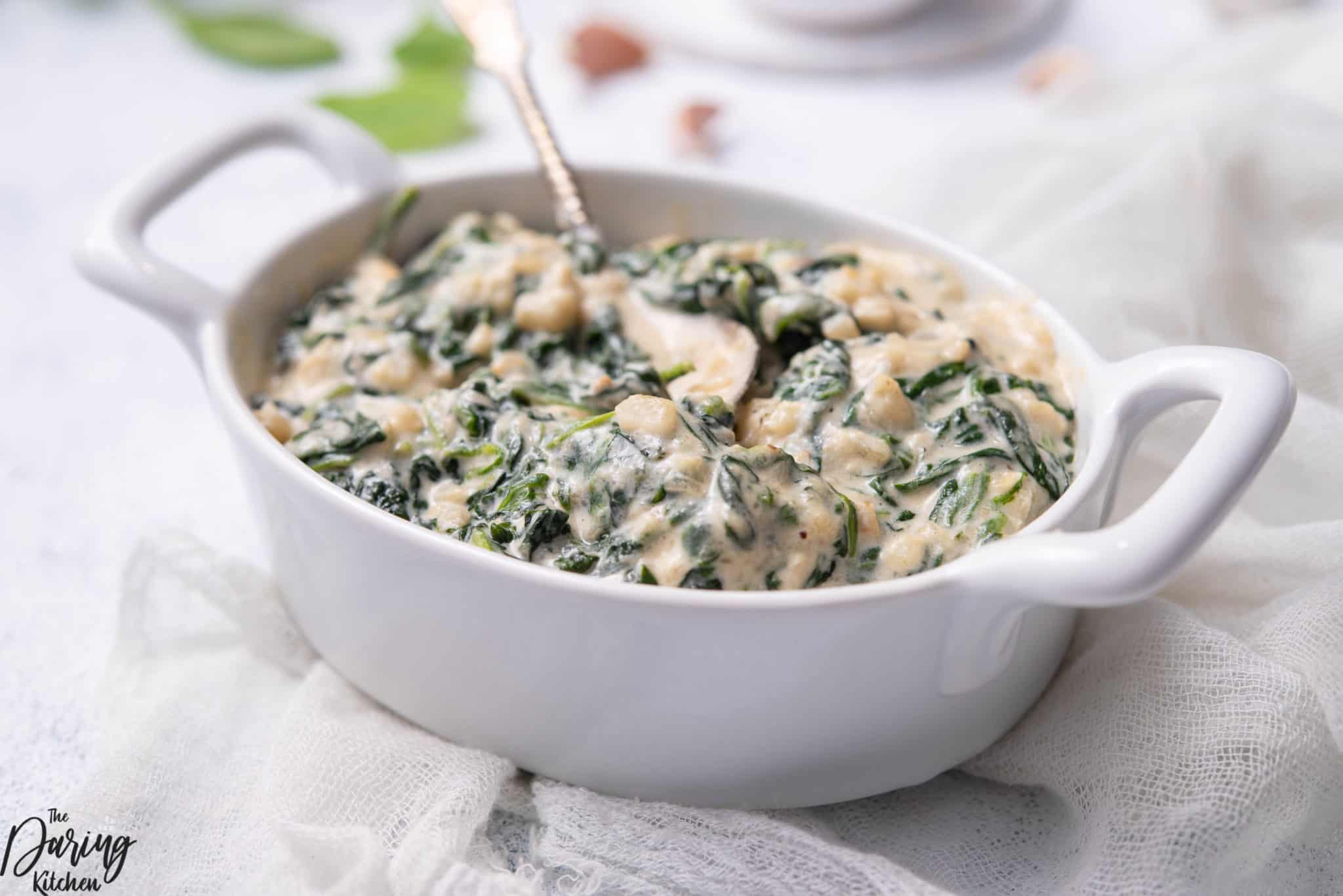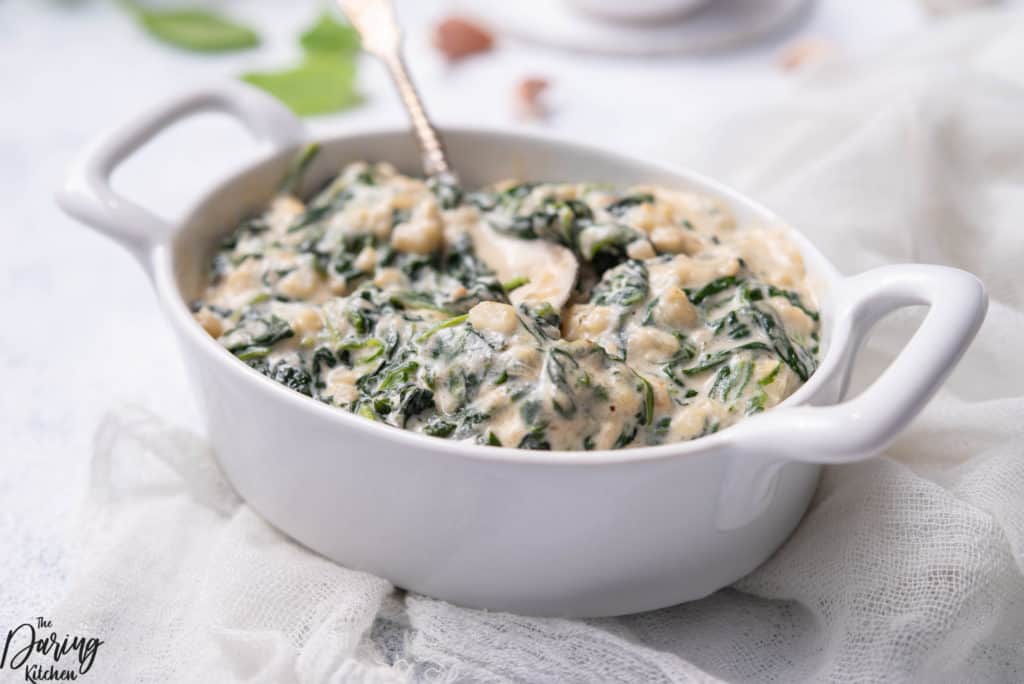 Popular Substitutions & Additions
As I mentioned earlier, this recipe is very versatile. If you're looking to change things up, here are some popular substitutions and additions:
Crème fraiche- Can be replaced with sour cream or heavy cream

White pepper- You can use black pepper or omit it entirely if you don't have any on hand.

Parmesan cheese- Can be replaced with cheddar cheese or goat cheese.

Additions- You can add garlic, nutmeg, or lemon juice for added flavor.
As you can see, there are many ways to customize this recipe to suit your tastes. So feel free to experiment and make it your own!
How To Reheat & Store Homemade Creamed Spinach 
Best Way To Store Creamed Spinach?
Fresh creamed spinach is best stored in an airtight container in the refrigerator.
How Long Will Creamed Spinach Last In the Fridge?
If stored correctly in an airtight container, creamed spinach will last up to 3 days in the refrigerator. 
Can I Freeze This Easy Creamed Spinach?
Yes! You can freeze steamed spinach for up to 2 months. To freeze, simply place in an airtight container or freezer-safe bag and place in the freezer. When ready to use, thaw in the refrigerator overnight before reheating. 
How Do I Reheat Creamed Spinach?
To reheat creamed spinach, simply microwave until warm or heat on the stove over low heat.

Easy Creamed Spinach FAQs  
Is creamed spinach healthy?
Yes, creamed spinach is a healthy dish that is packed with nutrients. Spinach is a leafy green vegetable that is high in vitamins A and C and iron. Adding milk and cheese to the recipe adds calcium and protein, making it a well-rounded dish.
Can I make creamed spinach ahead of time?
Yes! This recipe can be made ahead of time and stored in the fridge for up to 3 days. To reheat, simply microwave until warm or heat on the stove over low heat.
Am I supposed to wash spinach before using it?
Yes, it would be best to always wash spinach before using it in a recipe. Spinach is a leafy green vegetable that can harbor dirt and bacteria. To wash, simply place the spinach in a bowl of cold water and swish it around. The dirt will sink to the bottom of the bowl, and the spinach can be lifted out and placed in a colander to drain.
Can I use frozen spinach instead of fresh for this creamed spinach recipe?
While you can technically use frozen spinach, it will not taste as fresh or flavorful. Frozen spinach is also more likely to be watery, so it might not create the same creamy texture as fresh spinach leaves. You can use frozen spinach if you're in a pinch, but fresh is always best.
Do I use traditional spinach or any spinach for this creamed spinach recipe?
You can use either traditional spinach or baby spinach for this recipe. I prefer to use baby spinach because it's more tender and has a milder flavor, but either will work just fine.
Can I make this recipe without dairy?
Yes, you can definitely make this recipe without the dairy. Just substitute your favorite non-dairy milk and use vegan butter or margarine. You can also omit the parmesan to make it wholly dairy-free or use a vegan-friendly cheese.

Don't Forget To Come Back And Let Me Know How Your Easy Creamed Spinach For Two Turned Out!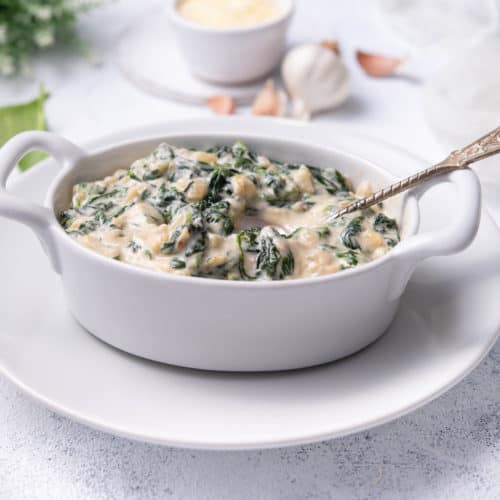 Creamed Spinach
Fresh spinach cooked with tender onions, salt, and pepper. Add crème fraiche for a luxurious creamy taste, then top with parmesan for an irresistible side dish.
Print
Pin
Rate
Ingredients
1

tbsp

butter

½

onion

chopped

2

tbsp

milk

¼

tsp

salt

¼

tsp

white pepper

14

oz.

spinach

fresh

2

tbsp

crème Fraiche

sour cream or heavy cream

2

tbsp

parmesan

freshly grated
Instructions
Melt butter in a skillet over medium heat.

Add onion and cook, stirring for 3-4 minutes or until very soft.

Add milk and give it a good stir.

Add spinach and cook until the spinach is wilted.

Add crème fraiche and cook 10 seconds.

Sprinkle parmesan and cook until the cheese is melted.
Nutrition
Calories:
156
kcal
|
Carbohydrates:
11
g
|
Protein:
9
g
|
Fat:
10
g
|
Saturated Fat:
6
g
|
Polyunsaturated Fat:
1
g
|
Monounsaturated Fat:
2
g
|
Trans Fat:
0.2
g
|
Cholesterol:
19
mg
|
Sodium:
595
mg
|
Potassium:
1179
mg
|
Fiber:
5
g
|
Sugar:
3
g
|
Vitamin A:
18853
IU
|
Vitamin C:
58
mg
|
Calcium:
284
mg
|
Iron:
6
mg