With vibrant spices and creamy coconut milk, this vegan sweet potato cream soup will be a staple recipe all winter long.
The Creamiest Sweet Potato Soup
When it comes to winter, soup is always a solid way to go. It is hearty, nutritious, and most important hot. With just a bowl (or two,) you can easily warm up no matter the temperature outside.
What you must take advantage of in the winter are squashes. There is an incredible variety of them during the season. Most of them taste delicious in soup recipes. What I love the most about many winter squashes is how creamy they are. With a handy immersion blender, you can quickly turn simple ingredients into a magically creamy soup. You can make this in any pot or even a slow cooker! The latter is a great option for when life just gets a little too busy.
In this recipe, sweet potatoes, carrots, cashews, and coconut milk are the key components in making this soup ultra-creamy. They are robust and bountiful in healthy ingredients. Sweet potatoes and carrots are classic winter root vegetables. Both are a great source of complex carbs. Carrots have a tremendous amount of vitamins, and so do sweet potatoes. Together, offer a bounty of immunity-boosting antioxidants.
Coconut milk, while it may not be seasonal, is one of my favorite ingredients. It is a reliable dairy alternative and a staple in my kitchen. It adds natural silkiness to any curry or soup. It also fills you up quickly, as it is plentiful in filling and healthy fats. Did I mention it is also keto-friendly?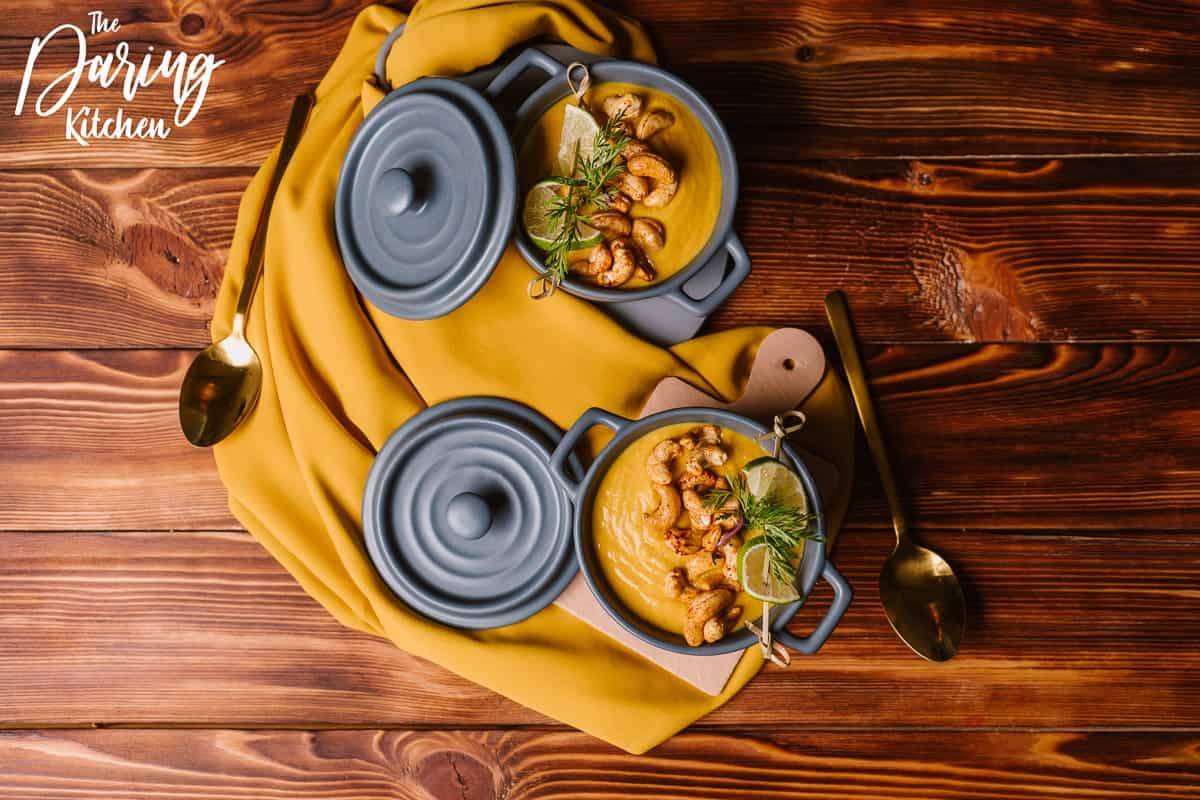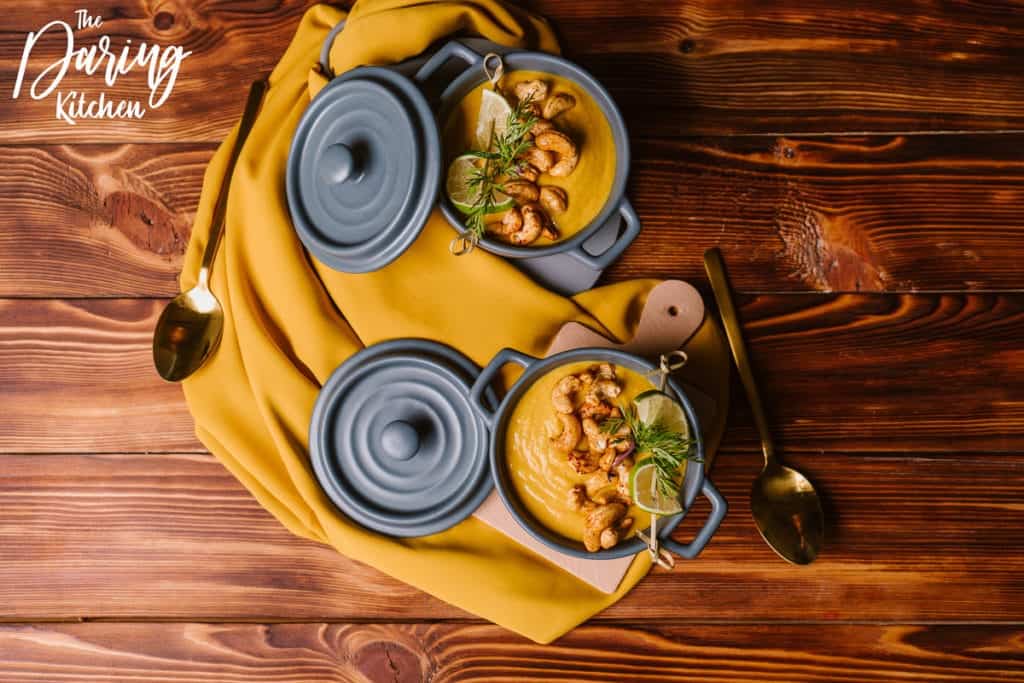 All the Best Spices
Some people think soup can be boring. But, that is impossible when you use just the right flavors and spices. With just the right seasonings, I created a velvety and gorgeously smelling soup that really does warm up the entire house.
What I love about this recipe is that it has a great spice combination. When creating this recipe, I wanted this soup to warm up the entire house with delicious smells. Fortunately, there are tons of great spices for winter recipes. Cinnamon, cumin, and ginger are just a few that make their way into savory and sweet winter dishes. These all smell and taste divine together. In this recipe, they all pair perfectly with the natural sweetness of sweet potatoes and carrots.
I also love adding turmeric into any creamy soup or curry. It enhances the color of the soup. Most importantly, it is one of the most nutritious spices out there. Through consciously considering the health of my diet, I've come to love turmeric. It has crazy health benefits, including reducing inflammation and protecting from disease. Especially with cold and flu season all around, we need all the help we can get from our diets! And, that is why I love turmeric.
I am confident you will love this recipe. Just don't forget a delicious garnish of smoky roasted cashews!
How to Make Sweet Potato Cream Soup with Crunchy Nuts
There are a few key steps to creating this unbeatably creamy sweet potato soup. Like many recipes, you will need to start by preheating your oven to 400 degrees Fahrenheit.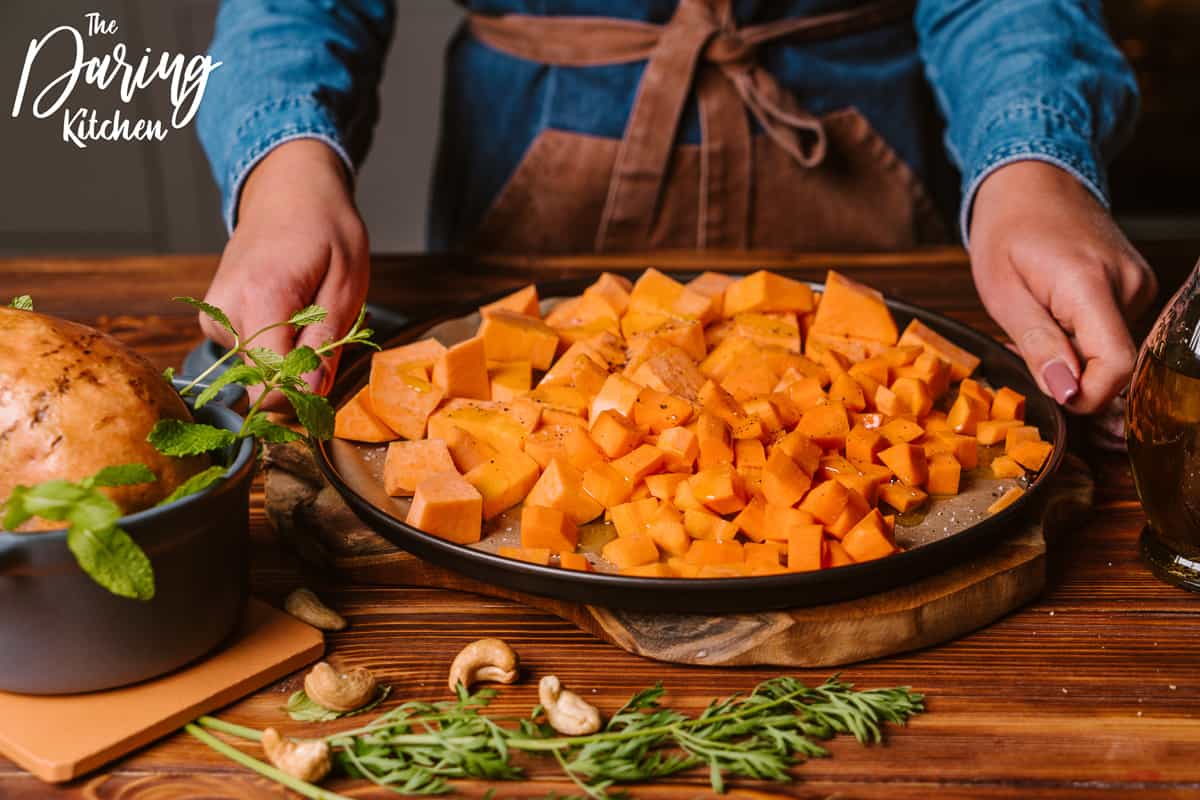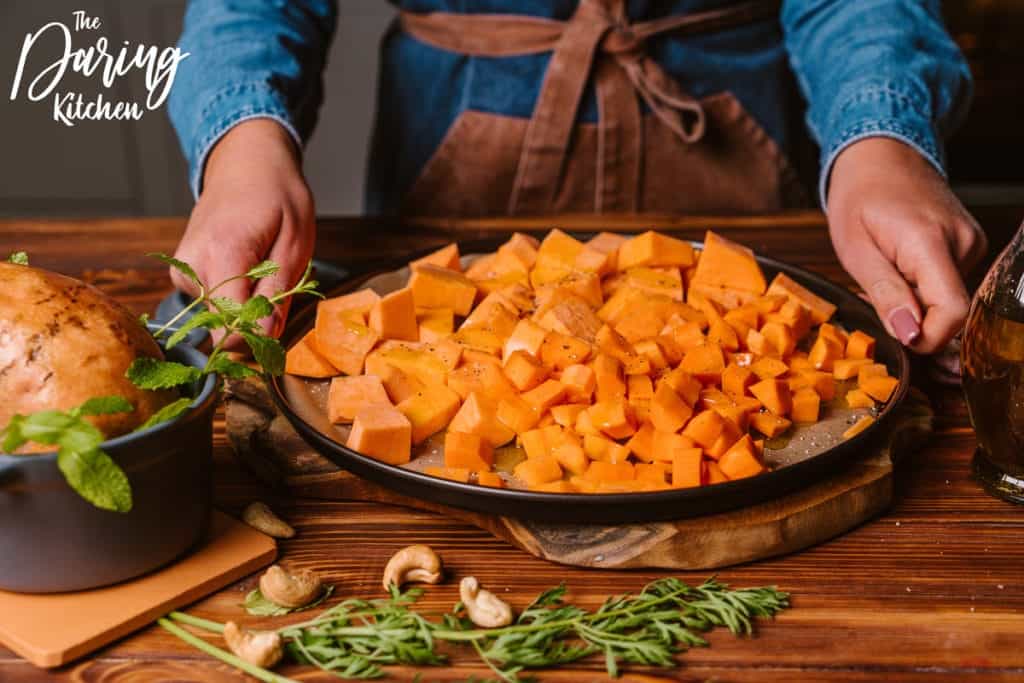 Take your carrots and sweet potatoes. Peel them and chop them up into cubes. Place them all on a baking sheet, making sure they all have room to roast. Evenly drizzle them with olive oil. Then, season them with salt and pepper. Once dressed, these veggies will need to bake in the oven for 40 minutes.
Using your large pot of choice (or even a slow cooker,) heat your olive oil over medium heat. Add in a chopped whole yellow onion and 2 garlic gloves. Stir gently while adding in all the spices. Continue to cook everything until the garlic and onions are aromatic and golden brown.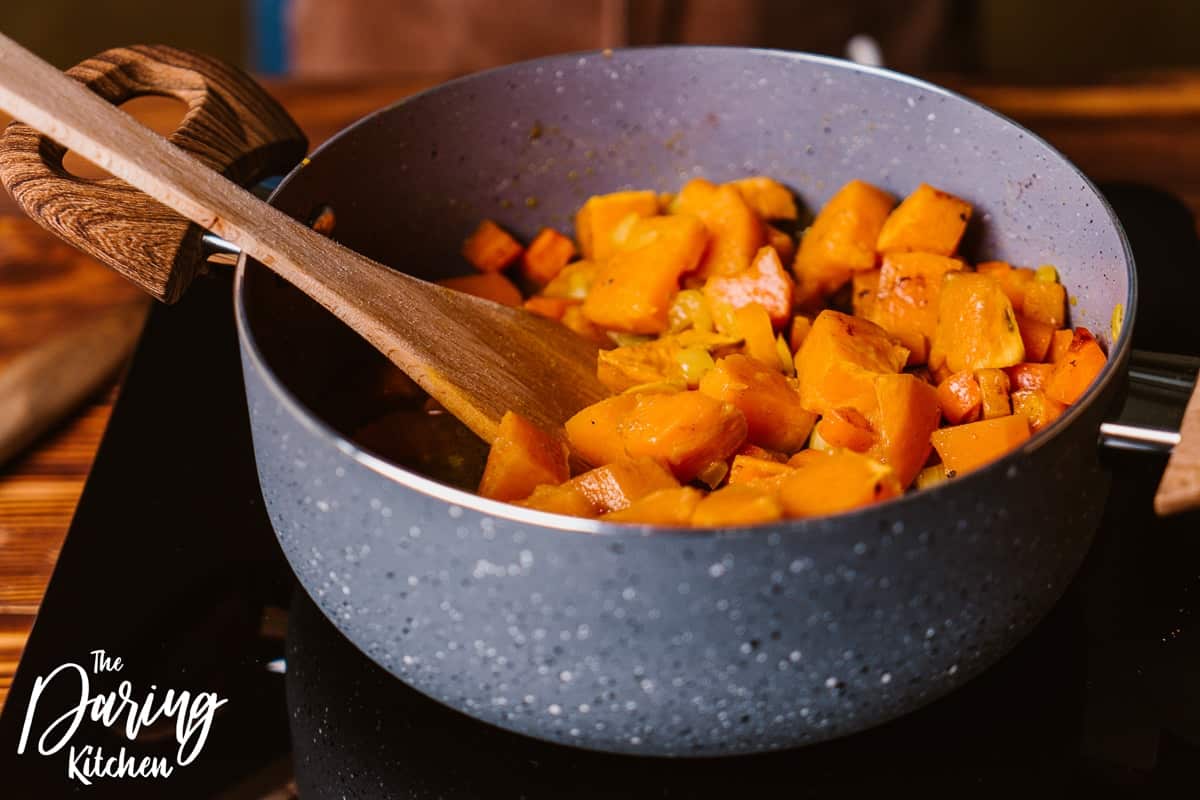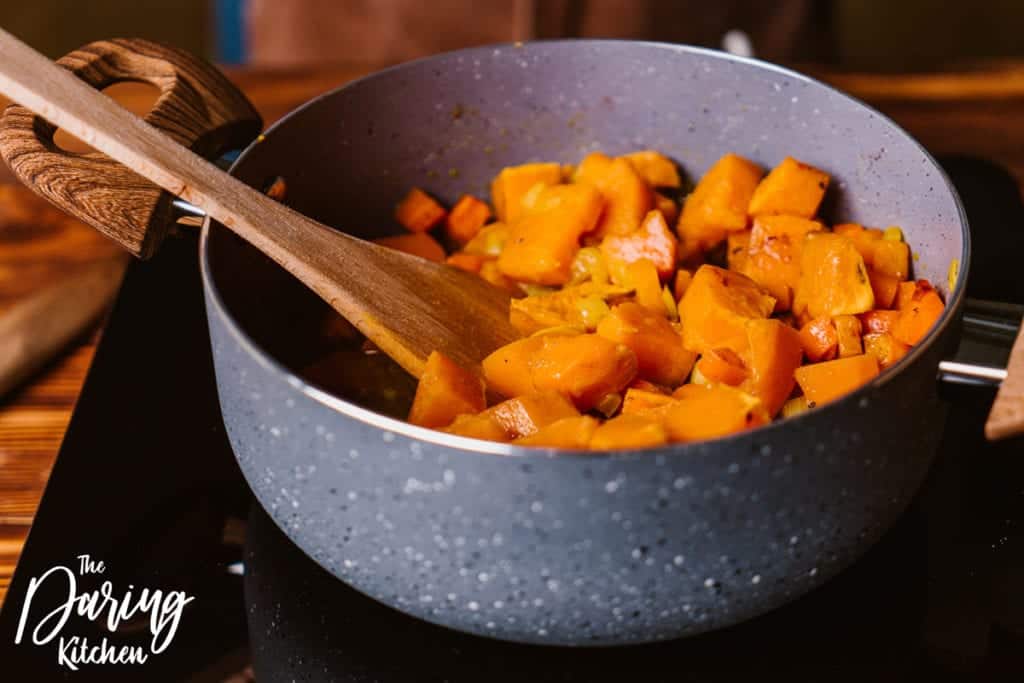 When the sweet potatoes and carrots are ready, add them to your pot. Cover them with vegetable stock and give it a good stir. Once this comes to a boil, add in the coconut milk and cashews.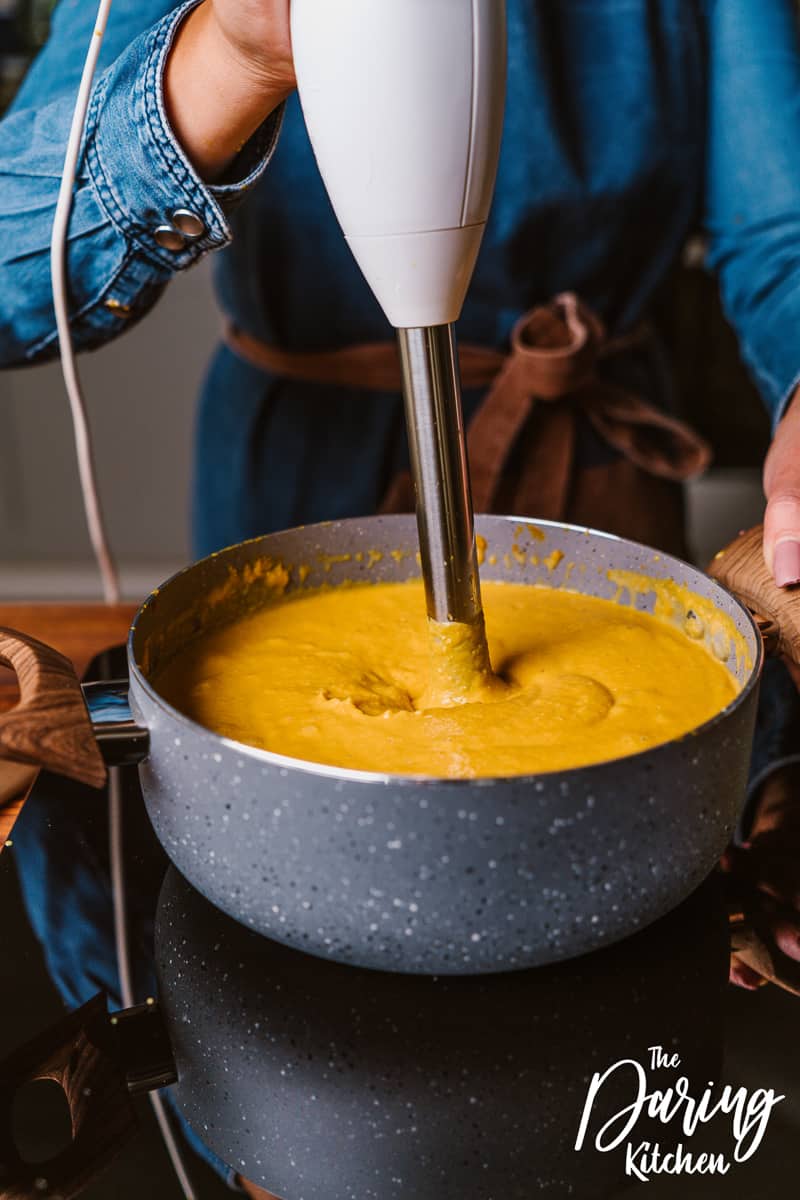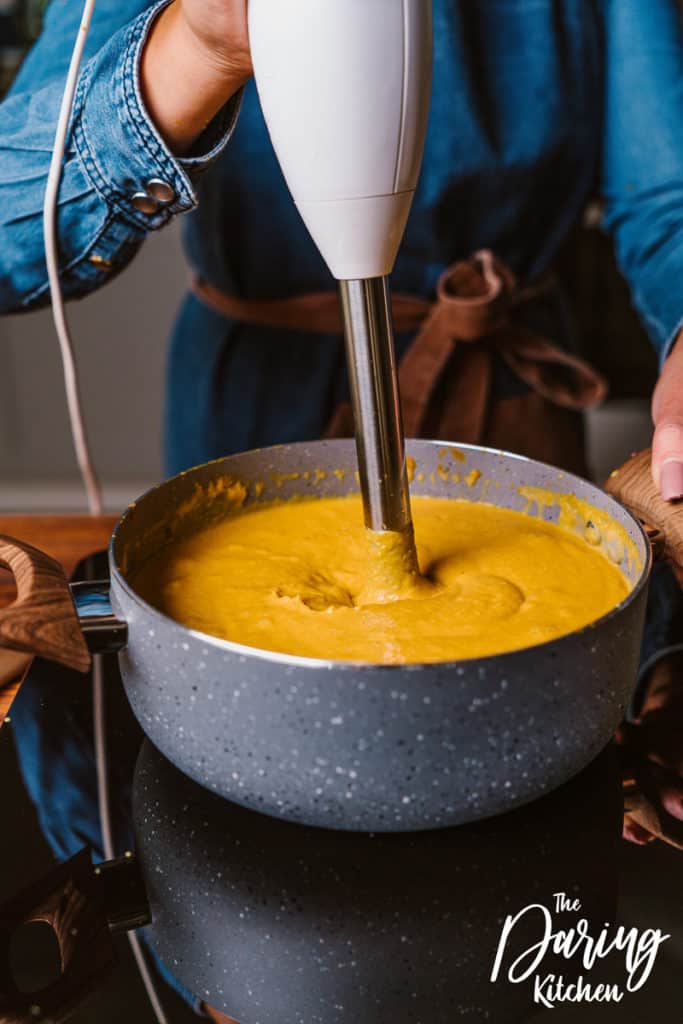 With an immersion blender, puree everything until creamy. It is important to make sure all the ingredients are well-combined. When you reach this point, give your soup a good taste test. Adjust with salt and pepper if necessary. When your soup is good to go, serve it in your favorite bowls with roasted cashews on top.
Enjoy!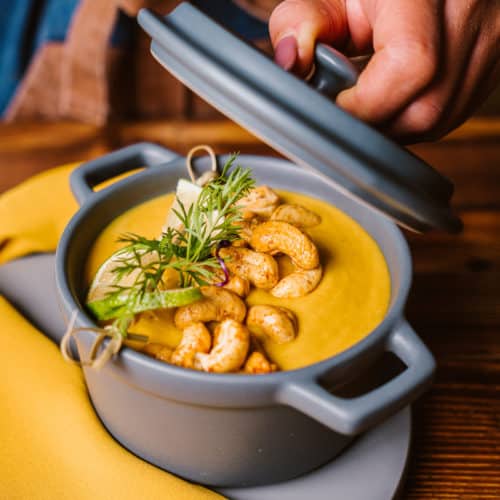 Sweet Potato Cream Soup with Crunchy Nuts
Full of winter veggies and spices, this vegan soup comes together easily with a handy immersion blender.
Print
Pin
Ingredients
2

Sweet Potatoes

2

Carrots

big

¾

tbsp

Olive Oil

1

cup

Vegetable Broth

400

ml

Coconut Milk

50

gr

Raw Cashew

1

Yellow Onion

2

cloves

Garlic

½

tsp

Salt

½

tsp

Black Pepper

1

tsp

Powdered Ginger

1

tsp

Turmeric

½

tsp

Cumin

½

tsp

Cinnamon
Instructions
In a baking sheet place the cubed potatoes and carrots. Drizzle with oil and sprinkle with salt and pepper. Bake for 40 minutes at 200 degrees.

Heat olive oil in a pot. Add the chopped onion, garlic and herbs. Cook until golden brown.

Add the baked sweet potatoes and carrots. Add the cinnamon, vegetable broth and let boil.

Add the coconut milk and raw cashew. Puree the mixture and keep cooking on medium heat.

Serve with a handful of baked smoky cashew, slice of lime and fresh herbs of your choice.
Nutrition
Calories:
1684
kcal
|
Carbohydrates:
149
g
|
Protein:
28
g
|
Fat:
119
g
|
Saturated Fat:
81
g
|
Sodium:
2502
mg
|
Potassium:
3335
mg
|
Fiber:
22
g
|
Sugar:
35
g
|
Vitamin A:
85007
IU
|
Vitamin C:
32
mg
|
Calcium:
316
mg
|
Iron:
22
mg