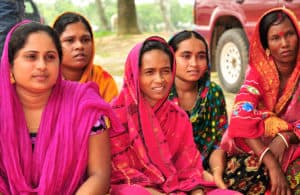 It seems obvious, right? An insight from the era of the industrial revolution: we work and concentrate better when we are healthy and well-fed. It is not just about filling the stomach, but also providing quality food and diet with sufficient vitamins and minerals (remember: anaemia can make you feel really tired).
Girls and young women need to eat iron-rich foods, as a means to prevent iron deficiency-anaemia and other micronutrient deficiencies, which impacts their general energy and productivity levels. Therefore eating the right balance of foods is important for their ability to perform at school, in a workplace and community.
So why not apply these simple principles in developing countries, such as Bangladesh?
The Bangladesh garment industry is the largest contributor to the country's economic growth. It provides formal employment to more than three million women, many of whom are still young and therefore important contributors to the development of their local communities, and the economy as a whole.
In recent years, many initiatives, policies and codes have been introduced seeking to improve the occupational security and health of the garment workers. This has led to an increase in attention to address issues related to anaemia and malnutrition amongst garment workers.
According to a recent report by GAIN and BSR (Business for Social Responsibility), Practices in Food and Childcare Service Provision in Bangladesh's Ready-Made Garment Factories, less than half of the female workers had a basic understanding of what constituted a balanced diet and the majority thought that rice was the healthiest food.
Some managers in factories where hot meals were served, felt there was a relationship between providing food and increased productivity, but the causality was not properly documented.
Recently, the Global Alliance for Improved Nutrition (GAIN) and BSR, with the support of the Netherlands Government, have started a project to reduce malnutrition in the workplace.
Four ready-made garment factories have begun to implement this project with 6,500 female workers and, over the next year, a further 20 factories with 25,000 female workers will be benefiting from this project.
Through this project, factory workers are provided with a more nutritious hot cooked meal, in which vegetable oil fortified with vitamin A, iodised salt, and fortified rice (with six micronutrients) are being used. Moreover, the female workers receive weekly iron-folate supplements through the factory clinic which will help to reduce anaemia (pregnant and lactating women receive daily supplements). Some of the workers have been trained as peer educators, and organise sessions with group of workers to discuss the importance of dietary diversity, breastfeeding, personal hygiene and hygienic food preparation.
Dr Rudaba Khondker, GAIN's Country Director in Bangladesh said "Female garment workers are key contributors to economic development in Bangladesh and are important agents of change in their communities. Investing in their nutrition and health is a meaningful way through which they can reach their potential."
Why do we need arguments to convince employers to invest in nutrition?
The garment sector is extremely competitive and profit margins are very tight. Factory owners will be motivated to invest in better food and nutrition for their workers, if it contributes to productivity and performance of the workers. Therefore, this project is measuring the impact of improved food quality and nutrition on the workers' productivity levels, absenteeism rates due to illness, and employee retention. A positive change in any of these indicators, as well as a strong social reputation with the global buyers, as a result of the intervention, may trigger factory owners to make the investment and contribute to the health and nutrition of the female workforce.
We need a #FoodRevolution in the workplace to improve health, nutrition and productivity of women workers.
Find out more about GAIN's work at www.gainhealth.org or follow us on Twitter @GAINalliance