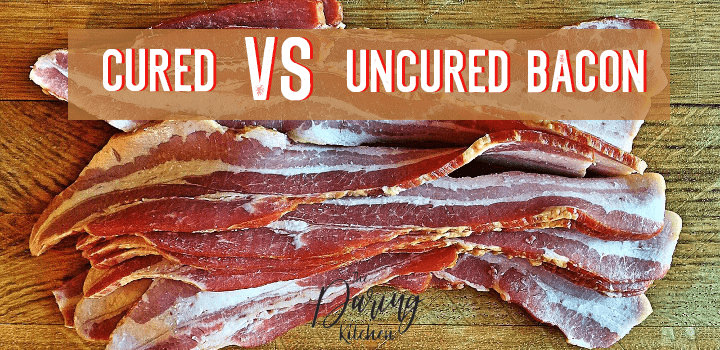 Long strips of delicious fatty meat sizzling on fire - it sounds like bacon. Streaky bacon is the most common type of bacon in the US but new varieties are continually popping up. However, the terminology used for some of them can be confusing.
Take cured vs uncured bacon for example. Are you kidding me? Up to recently, I thought that all types of bacon(whether wet brined or dried)are cured.
If this is the case, then what's with the confusing word 'uncured'?
Bacon-minded people will have a lot of questions to ask, that's for sure. For starters, what is the difference between cured and uncured bacon, do they taste the same and is one more healthy than the other? We'll answer all of these questions, one at a time.
The Basics About Bacon
The word bacon is used to describe a cured and sometimes smoked meat part of the pig. Its strong flavor is a combination of salty, fatty, sweet, and smoky notes that stand out in any dish.
Based on the part of meat the bacon is made and some other manufacturing details, it comes in various types. The streaky bacon is the regular American bacon that is cut from the side of the pig. It is thinly sliced and crisps up great when cooked because it has a high-fat content.
Back bacon, on the other hand, derives from a leaner part of the pork, the loin and it's a ham-like version of bacon. Americans call it Canadian bacon while the Canadians call it back bacon or peameal bacon.
Now, remember that regardless of which meat part is used, all bacon (even if the label says 'uncured') undergoes the curing procedure. It makes sense considering that the primary purpose of curing is to preserve the meat and protect it from bacterial growth. However, curing also adds taste to the meat.
Diving into the details of curing meat will help you understand what 'uncured' bacon is.
What Is Dry Cured Bacon?
Dry curing is the process that transforms fresh pork meat into tasty well-preserved bacon. The so-called 'cure' is a mixture of different dry ingredients rubbed around the meat. Salt, aromatics, seasonings, sugar, and sodium nitrites are commonly used.
It takes a week or more for the meat to cure during which it releases liquid and gradually becomes drier, firmer and darker in color. Once this period finishes, it's time for a good rinse and as a last step, bacon is either smoked or air-dried.
What Is Wet Cured Bacon?
Wet curing is another method of preserving pork. It's also called brining. It allows the meat to stay immersed in a mixture of water and other ingredients such as peppercorns, sugar, salt, and sodium nitrate among others. From honey to maple syrup, whiskey or beer, there are many flavor possibilities.
After the curing period has passed, the bacon can be smoked, heated in a convection oven to make the process faster or simply air-dried. The end product of wet curing is not so much more different than the dried product. It just holds more moisture and has more weight, but when cooked in the pan, it will shrink more than its dry counterpart.
Uncured Bacon Versus Cured
Since curing is necessary for preventing bacon from going bad, then how can there be an uncured bacon version and what does this term mean? The answer is much simpler than you may have expected.
Let's start with the fact that all types of bacon must be cured before they are consumed. But instead of using sodium nitrates that are synthetically-made additives, uncured bacon is cured with natural nitrates. These compounds are sourced from natural foods such as beets, celery, and other vegetables.
So, it all comes to using natural instead of chemical additives in the 'cure' solution. The concept is not new. Antioxidant vitamins such as vitamin C has long been used as a natural preservative not only in foods but in other products as well.
Uncured bacon products have to be labeled as 'uncured' and some of them may be additionally labeled as 'sodium nitrite-free'.
In terms of health, the uncured version is a little healthier since it is free of artificial preservatives, but don't forget that it still comes with a lot of saturated fat and sodium. High sodium can lead to high blood pressure while eating lots of saturated fat is associated with high cholesterol and potential heart problems.
When it comes to flavor, uncured bacon doesn't taste spectacularly different than the cured. They both contain lots of fat and salt. However, depending on the pig cut part, the ingredients used for curing, and the processing methods, the taste can vary from one product to another.
What Are Nitrates In Bacon?
You might have heard that nitrite and nitrate preservatives in processed meats can be harmful to your health. Some people say that it'snot that they are detrimental themselves, but it depends on the way these meats are cooked. For example, high temperatures make it easier to form nitrosamines, a compound that causes cancer. However, the risk with processed meat is rated as quite small.
Besides, both nitrates and nitrites are recognized as legal preservatives that suppress the function of damaging bacteria in ham, bacon, salami, and some types of cheese. Also, some vegetables such as beetroots are rich sources of nitrates which have shown to provide very positive results in terms of lowering blood pressure and offering other health benefits.
So, are these compounds bad for our health? The answer is simple: the nitrates that are contained in certain fruits and vegetables versus the ones contained in most processed meats are the ones to look for. By adding a lot of the good nitrates in your diet, you can lower the potential health risk connected to eating foods that contain synthetic or chemical-based nitrates.
Apart from adding natural nitrates sourced from fresh fruits and veggies, you can also reduce the number of synthetic nitrates in your diet and that's why uncured bacon can be a better option.
The Bottom Line
Whether cured or uncured, bacon is bacon and it comes with its pros and cons. Enjoy it in moderation and keep your diet healthy with plenty of fresh fruits and vegetables.