Play your cards right, and you can keep using your favorite cutting board for over a decade. And by that, we mean learn how to clean your cutting board and how to oil it properly, of course.
With the help of the best cutting board oil out there, you can make sure your butcher block looks as good years down the road as it did when you got it.
Today, we're bringing you reviews of the best oil for cutting boards. We've weeded out the bad products so you only have to choose from the most effective oils and creams. Which one will it be?
1) Best Cutting Board Oil for Beginners: John Boos Essential Maintenance Starter Kit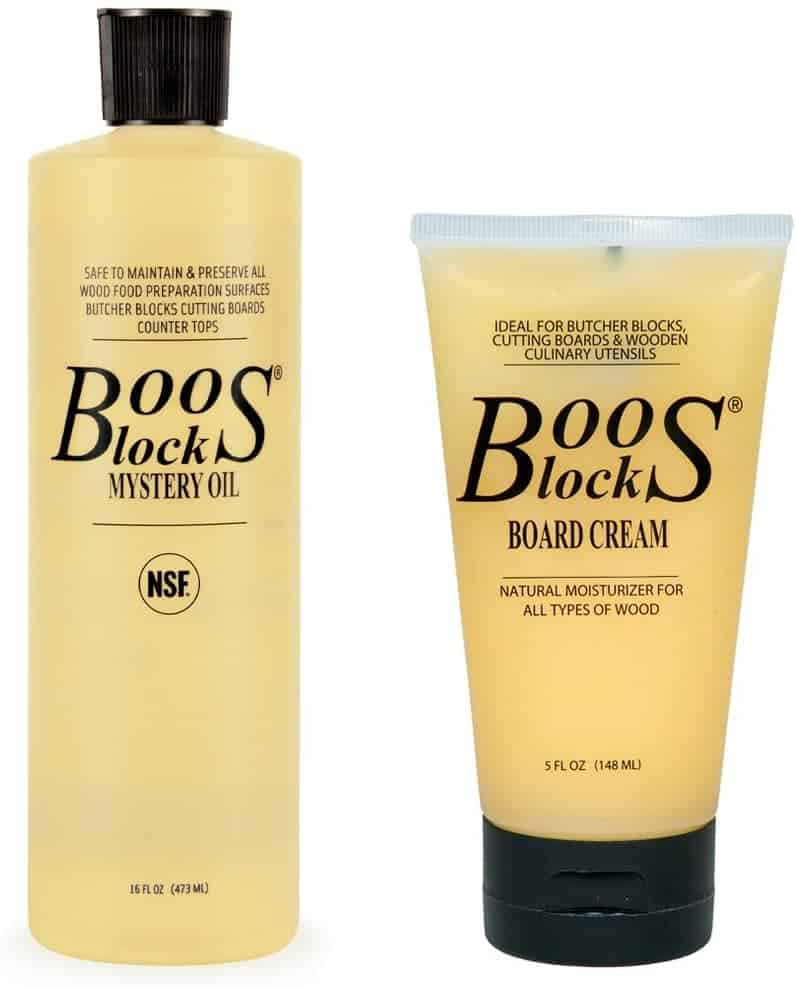 If you've never bought or used cutting board oils, it's a good idea to start with this John Boos Starter Kit. It comes with a bottle of oil and a tube of board cream to ensure perfect care and finish.
Both the oil and cream are made from all-natural food-grade, safe ingredients. They've even gotten the stamp of approval from the National Standards Foundation (NSF). And while we don't know what goes into the cutting board oil (it is called "Mystery Oil," after all), we do know that the cream has a mixture of mineral oil and unbleached beeswax.
When you use them together, you can better replenish the natural oils the wood loses as you use the chopping board. First, apply and rub in a generous layer of oil. Then, once it's dry, apply an even coating of the conditioning cream for an even better and more long-lasting treatment. Finally, wipe down any excess oil.
There are really no downsides to this starter kit. It's by far one of the most popular oils for chopping blocks out there.
2) Best Affordable Cutting Board Oil: Bayes High-Performance Mineral Oil

For a more budget-friendly pick, why not try the Bayes Mineral Oil? The formula has been perfected to better recondition both wooden and bamboo cutting boards. And the best part? It doesn't cost a fortune.
The Bayes uses food-safe mineral oil of the best quality in their wood protecting formula. It's easy to apply, easy to rub in, and wood and bamboo fibers can easily soak up all the nourishment it has to offer.
Moreover, the design of the bottle is clever, with a cap you can snap open and snap closed.
If you're concerned about the quality of the mineral oil, don't be. Bayes has a long reputation in the world of wood restoration and this specific oil is manufactured in the United States, where there are strict regulations barring toxic ingredients from making their way into cutting board oils.
3) Also Great: Howard Products BBB012 Cutting Board White Mineral Oil

Another cutting board oil to look into is the Howard BBB012 Mineral Oil. It's affordable, incredibly effective, and easy to use. Plus, it can help you salvage ugly-looking cutting boards.
The main selling point of this mineral oil is its composition. Just like most competitors, it has mineral oil that are safe for use on cutting boards and other food surfaces. But it stands out because it is enriched with Vitamin E. Not only will it help you revitalize your wooden cutting board, but it will also make the oil shelf-stable and protect it from oxidation.
Since it's odorless, tasteless, and rancid-proof, the Howard Oil is a great addition to your wooden cutting board care routine.
4) Best Plant-Based Option: Caron & Doucet Oil for Cutting Boards

Say you don't want a petroleum-based cutting board oil. What can you get? Well, the Caron & Doucet Plant-Based Oil seems like the perfect pick.
As you can gather from its name, the Caron & Doucet Oil doesn't include any animal or mineral products. Instead, it is made from plant products only. This is a good choice for anyone worried about the dangers of low-quality mineral oil.
The formula has coconut oil and natural essential oils in it. It doesn't go rancid (unlike vegetable oils used for cooking) nor does it include palm oil. 
If you think natural formulas equal weak oils, don't be fooled. This one has been highly reviewed hundreds of times and is a popular choice not just among health- and eco-conscious consumers, but among home cooks in general alike. It can penetrate the wood fibers quickly and restore just about any cutting board overnight.
5) Best for Heavy-Duty Use: Walrus Oil for Butcher Blocks and Chopping Boards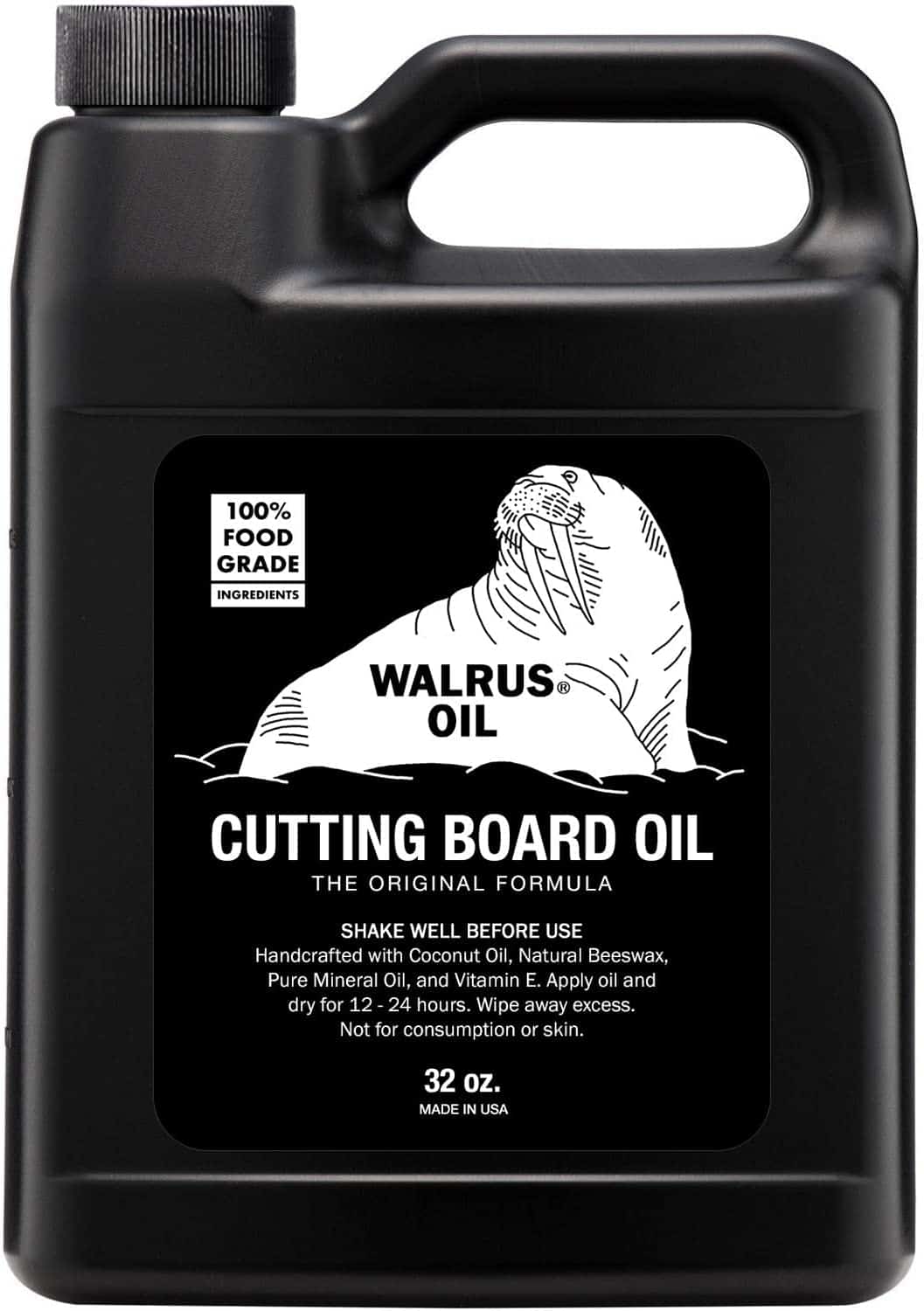 Will you be using a lot of cutting board oil? If so, the Walrus Oil is the right pick for you. Since it comes in a 32-ounce jug, you won't need to buy a replacement for a long time.
This mineral oil has been enriched and fortified with Vitamin E. It helps better hydrate and seal your cutting board, as well as keep the entire jug shelf-stable for longer. Additionally, it also has coconut oil and natural beeswax in it.
If you're still hesitant about the quality of the oil know that it's been approved by the FDA. And, since it's manufactured in the United States, you can trust it doesn't have any unsafe mineral oil in the formula.
6) La Tourangelle's Roasted Walnut Artisenal Oil for Wooden Surfaces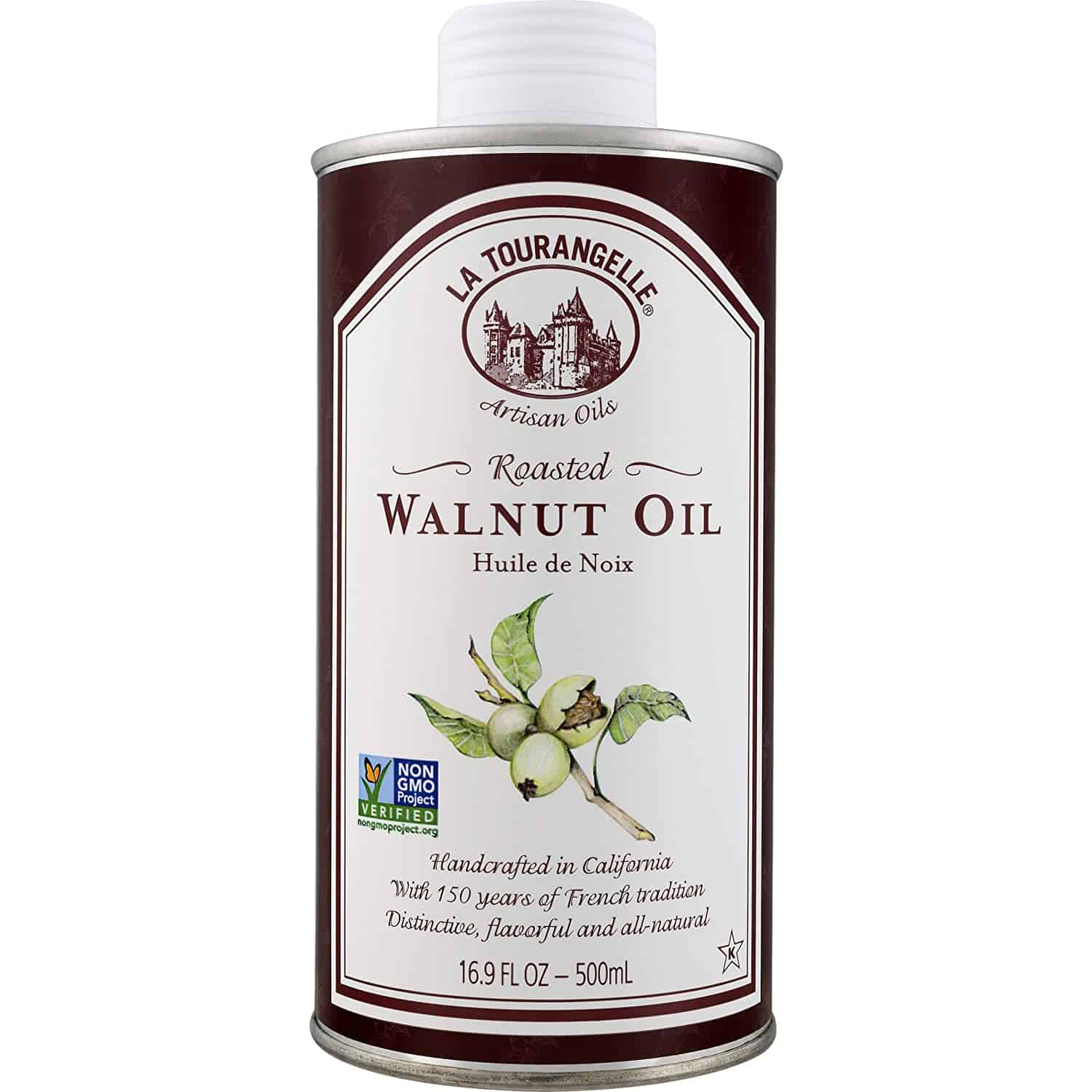 You should also check out La Tourangelle's Oil. It's strictly made from English walnuts sourced and processed in California using artisanal methods. And, of course, will make your board look healthy and shiny.
Unlike other oils suitable for food, La Tourangelle's Walnut Oil does not go rancid. You can apply it to your cutting board and rest assured that it will not give your food a bad taste. It only has a mild nutty aroma.
You'll find that this is a very affordable oil. That's because it's not specifically marketed as cutting board oil, despite getting the job done excellently. By being advertised as a high-quality food-safe oil, it saves you quite a bit of money.
7) Thirteen Chefs Food-Safe Mineral Oil for Woods

Lastly (but not least), we have Thirteen Chefs Oil on our list. It's a solid pick and one of the most beloved products by home cooks, without a doubt. Once you start using it, you'll see exactly why.
Only the highest quality food-grade mineral oil goes into the Thirteen Chefs formula. It's odorless, tasteless, and colorless—perfect for cutting boards of types of wood.
What sets it apart from other mineral oil products for cutting boards is how quick it is to act. Your board will soak it up in no time and work its magic overnight. It creates a long-lasting barrier against water and moisture.
Additionally, you can also use it to seal and protect more than just wooden kitchen surfaces. Use it on marble or stainless steel to waterproof those surfaces and give them a beautiful finish.
Different Types of Cutting Board Oils
There are lots of different types of cutting board oils. They all have their upsides and downsides, so it's a matter of you choosing the one best for your needs.
Do keep in mind that you should never, ever use cooking oil on cutting boards. They go rancid quickly and leave behind an unpleasant taste and smell on the board. Instead, stick to any of these oils, as they do not go rancid.
Mineral Oils
Mineral oils (e.g. liquid paraffin) are by far the most popular oils for cutting boards. They're sourced from petroleum and work great on wooden surfaces. Since they do not leave behind smell or taste, they're widely used on wooden cutting boards, wooden salad bowls, wooden spoons—just about any kitchen wooden utensil you can think of.
Their main drawback is that you have to be careful with the manufacturer. Only highly refined food-grade mineral oils are safe to use on your cutting board. Cheap, unrefined bottles of mineral oil are incredibly dangerous to use; they've even been linked to cancer.
Some people aren't comfortable rubbing a petroleum-based oil on a food surface, no matter if it's food-grade or not. If you share that discomfort, that's okay—there are plenty of plant-based oils to look into.
Plant-Based Oils
These oils are sourced differently. Instead of having petroleum as their base, they're made using plant material that has been highly processed to extract all its oil. That's how you end up with walnut oil, linseed oil, carnauba wax, and tung oil.
While these oils aren't the most popular out there, they're gaining in popularity. That's because more and more buyers want all-natural, plant-based materials, versus mineral oil they don't trust.
If you choose a plant-based oil, always check the labels for any ingredients you might be allergic to. For example, if you have a nut allergy, steer clear of walnut oil. You should also take your guests' allergies into consideration if you're using your chopping board to prepare food for a gathering.
Beeswax
Another good natural product for oiling chopping boards and butcher blocks is beeswax. It can be used for numerous things; for instance, you'll often find it in cosmetics, hair products, skin moisturizers, and—of course—hydrating and reconditioning wood.
You may have a difficult time finding pure beeswax specifically made for cutting boards. Usually, manufacturers mix it with mineral oil to get more product out of it. But if you want, you can look for pure beeswax for other uses and apply it to your butcher block.
Butcher Block Conditioner?
When shopping for cutting board oils, you'll undoubtedly find butcher block or cutting board conditioners. If you're wondering, they're not the same thing—although cutting board manufacturers recommend using both in tandem.
This conditioning cream acts as yet another layer of hydration and protection for your wood cutting board. It serves as a water-repelling layer and adds a beautiful glossy finish to your board.
However, if you're on a tight budget, you don't have to get a tub of conditioner. Properly oiling your butcher block once a month will be more than enough to keep it in perfect shape.
How to Find the Best Oil for Your Cutting Board: Buyer's Guide
If you didn't find the best oil for your cutting board in this article, don't fret. There are hundreds (if not thousands) of wood block oils out there to protect your most important kitchen utensils from cracking and drying.
To make your job easier, we've highlighted the features you should look for before committing to a product. Keep these in mind and you'll narrow down the top contenders.
Quality
For starters, you should only invest in a bottle of cutting board oil if it's well-rated and well-reviewed. Not all manufacturers use quality ingredients that are safe to use on your cutting board, so this will be something to look out for.
For mineral oil, it's important to look for FDA-approved, or NSF- or USF-certified products. It's also a good idea to stick to formulas manufactured and bottled in the United States. This way, you can avoid high-risk countries with subpar standards for harmful chemical levels.
This is all the more important if you have food allergies and want to get a plant-based oil. Always read the label to see what ingredients make up the oil.
Smell
Cutting board oils should not have a strong, pungent smell. If they do, they'll likely give your food an unpleasant taste. There's nothing wrong with a few fragrant notes—the best plant-based oils all have a faint, pleasing smell. But the smell shouldn't overwhelm you.
Easy to Use
Choose a product that's easy to apply with a paper towel or dish cloth. Some bottles come with an applicator cap to make your job of rubbing in the oil easier. While this isn't a must-have, it's a pretty handy feature.
Price and Capacity
Don't just focus on the price tag that comes with the cutting board oil. Look at how much the product costs per ounce. This is the best way of ranking products you're considering buying by cost.