Picture this: you just found an amazing recipe you want to try yourself. You get your favorite chef knife and start heating your trustiest cast iron skillet. Now that it's time to chop your onion and garlic, you notice something is missing to complete this chef-worthy set-up. What is it? Easy, the best cutting board for your kitchen.
No matter what you plan on cooking, you'll always need a good board for cutting ingredients at hand. If you don't already have one, you're in luck. We're here to help you pick the best one for your needs. Are you surprised that not all cutting boards are made the same? There are so many different types out there to choose from!
Today, we're bringing you reviews of the top six products on the market right now. You'll find boards for all tastes and preferences—from wood to plastic to bamboo, there's bound to be one you love. We've also curated a helpful buying guide and answered some frequently asked questions!
1) Best Cutting Board Overall: OXO Good Grips Clear Board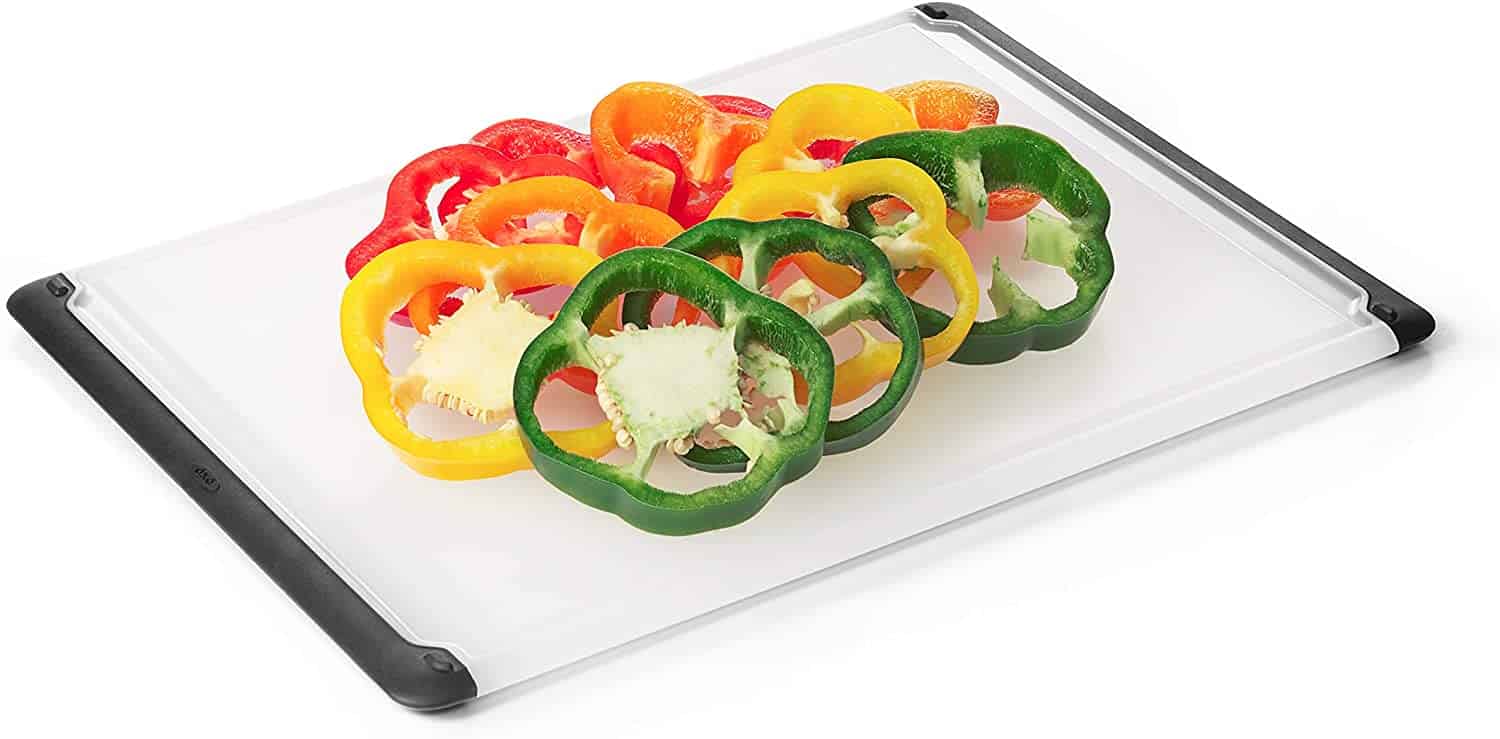 This Good Grips OXO cutting board is the best cutting board in our book. While it's no wonder to look at, it's incredibly versatile, easy to use and store, and gets the job done well every time.
This plastic cutting board's main highlight is the black rubber siding. It's where it gets the name "Good Grips" from. The rubber keeps it from slipping on the counter, which means it prevents any cutting accidents.
The groove along the edge is very useful when you're cutting anything too juicy. Be it a delicious steak or a fresh watermelon, the groove is there to catch any liquid that might drip. Where's the applause for no more messes on the counter?
We also love that you can easily pop the Good Grips OXO cutting board on the dishwasher. It's the easiest way of cleaning up your board thoroughly. Plus, it will always retain its shape, making this a durable model.
2) Runner Up: Epicurean Gourmet Series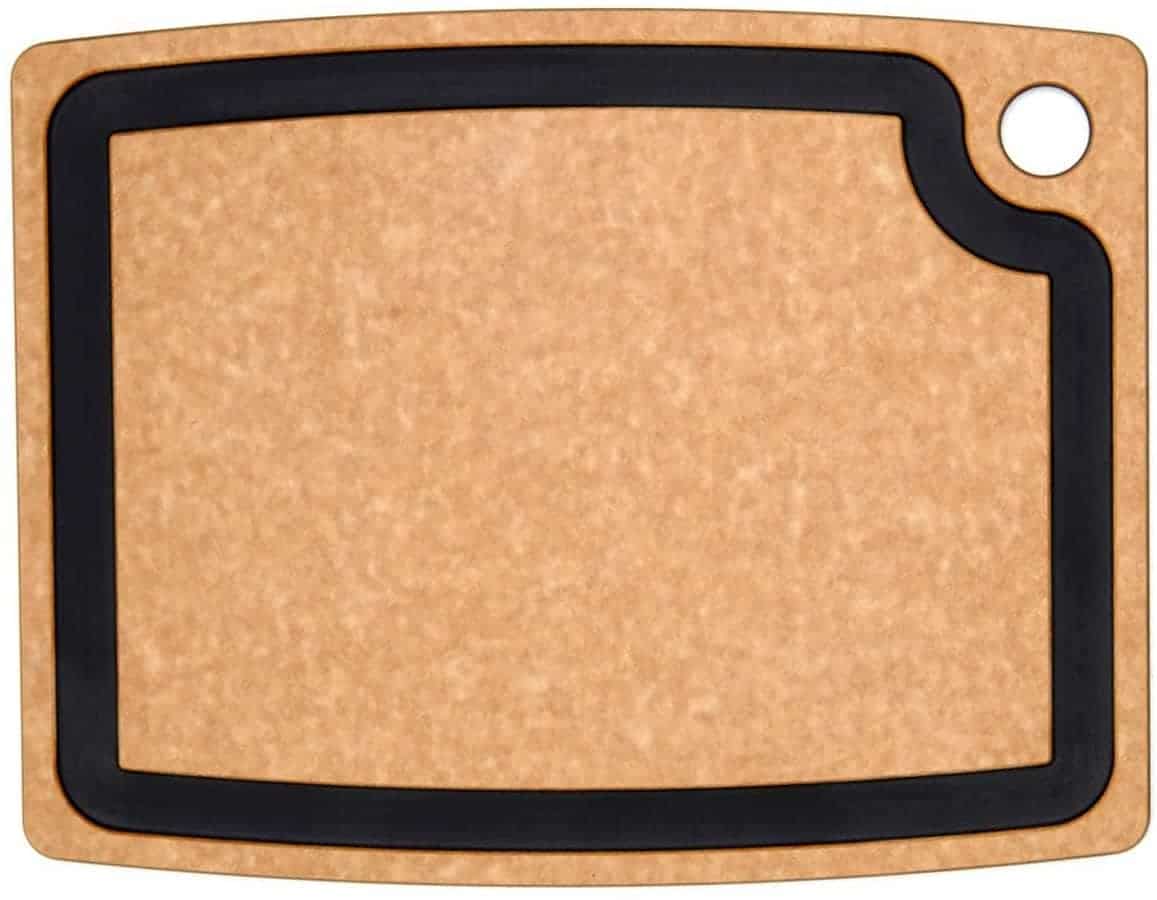 Our second favorite board is this Epicurean Gourmet Series model. It's aesthetically pleasing, lightweight but still durable, and very easy to take care of. It's perfect for beginner chefs!
Epicurean's natural nonporous wood boards are all made in the United States using sustainably crafted materials. This makes them an awesome eco-friendly pick and very safe for food preparation.
On top of that, they're super easy to maintain. Since they're gentle on knives, you don't need to sand or oil the cutting board to keep it in tip-top shape. All that while still looking sleek on your counter.
If that wasn't enough to convince you of how convenient they are, this surely will: you can wash them in the dishwasher! Yup, despite looking like a thin wooden board, they're much easier to take care of.
3) Best Small Cutting Board: Totally Bamboo Hana Board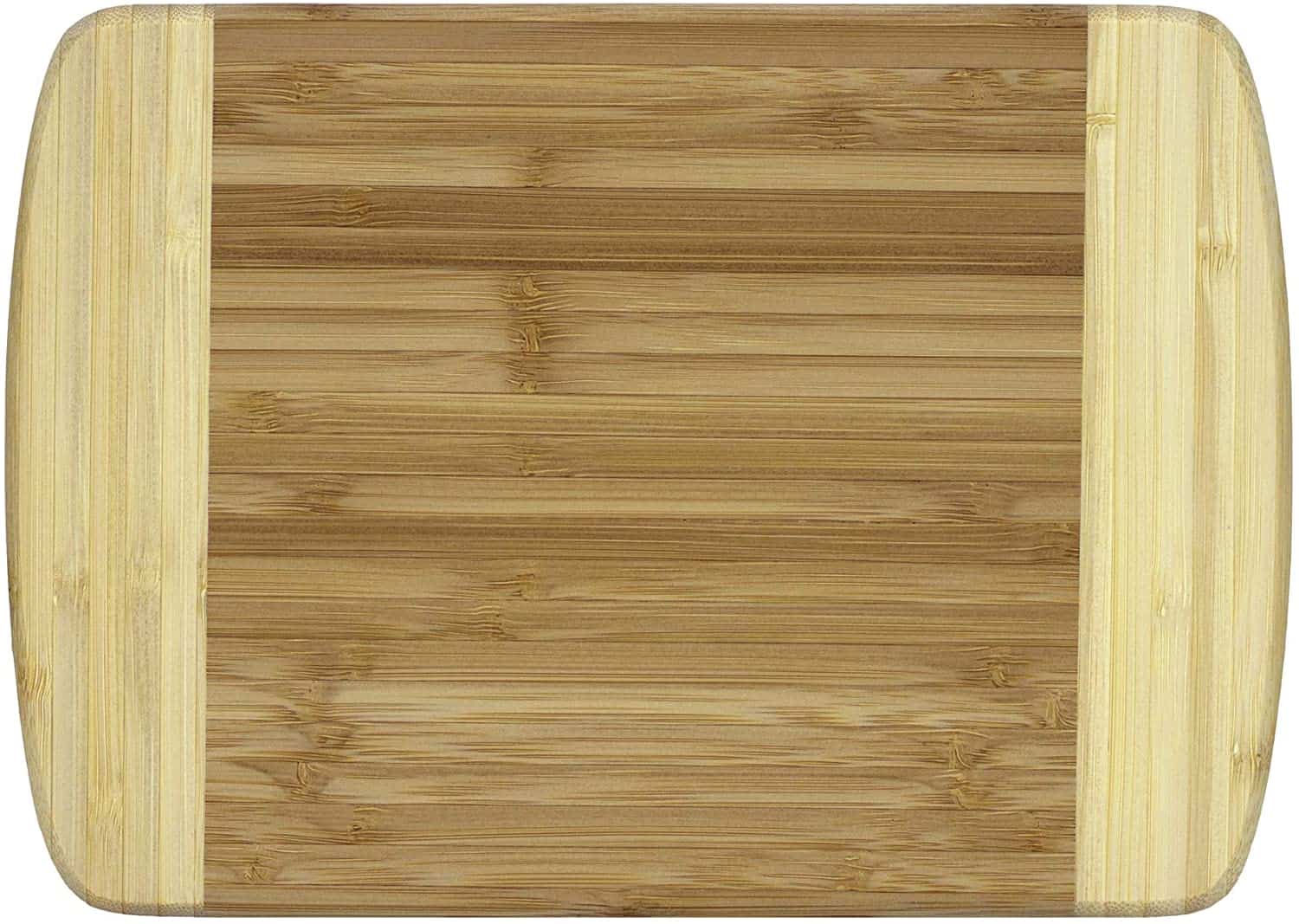 This small cutting board will perfectly match your small kitchen. It measures just ten inches by seven inches, great for any small cupboard.
Despite being small, it still has enough surface area for chopping onions, garlic, potatoes, and all kinds of smaller vegetables. You can obviously still chop large vegetables; you'll just have to do it in several batches.
The Hana cutting board is completely made from high-quality bamboo sourced from China and Taiwan. This material is surprisingly both lightweight and durable. Despite being so hard to the touch, it's unexpectedly gentle on your kitchen knives.
While this cutting board isn't dishwasher-safe, it's still very easy to sanitize. Use warm water, gentle soap, and pat it dry after the hand wash. Unlike wooden boards, you don't have to oil this board that often. Once every two weeks is good enough.
4) Best Extra-Large Model: Alltripal Acacia Wood Cutting Board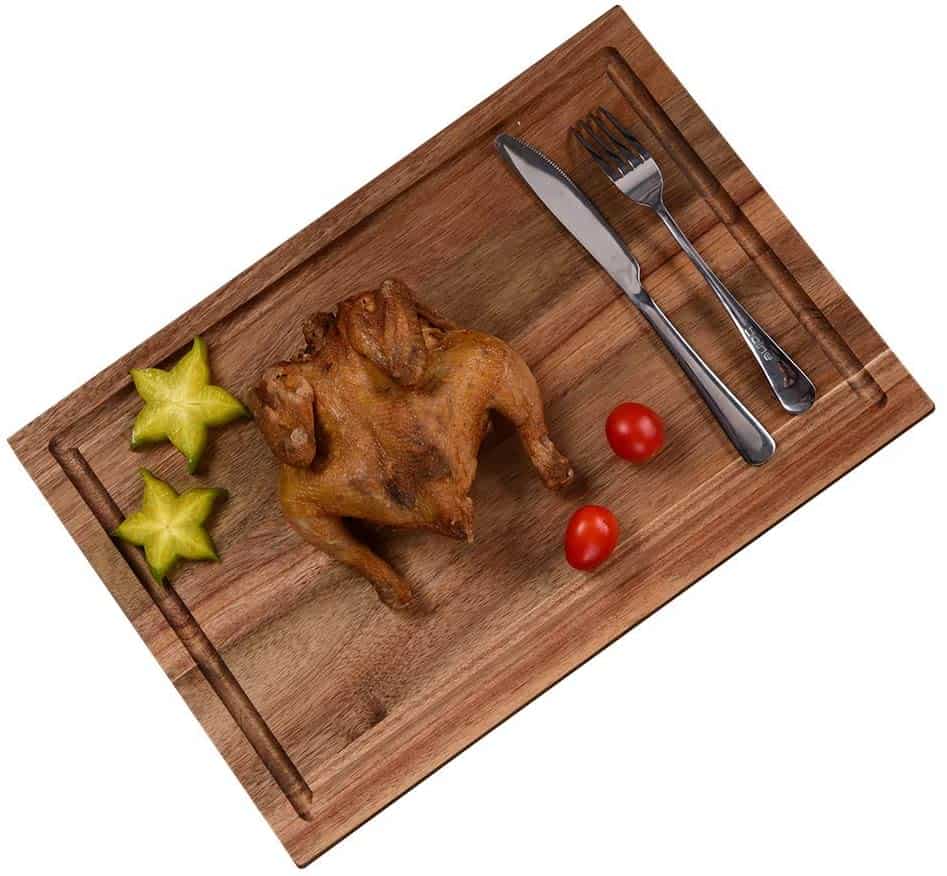 If you're not strapped for counter space or storage room, it might be a good idea to get the Alltripal board. When you get this extra-large model, you're not just paying for size; you're also getting high-quality materials and a beautiful board great for cheese platters!
This 24-by-18-inches board is probably the largest wooden board you'll find on the market. Since it's also pretty thick, it will last you a long time without needing a replacement.
Its reversible design lets you use this board for both food prep and plating. One side is mostly flat with just a juice groove running along the edge. The other has three indentations where you can place food to serve to a group of friends. It's essentially a handy and relatively affordable two-in-one!
Cleaning it doesn't have to be hard if you follow the manufacturer's instructions. As long as you keep it away from water and well-oiled, this cutting board could last you years.
5) Best Heavy Dutty Board: John Boos Chop n Slice

John Boos has a long reputation of making stunning boards that last years and years. Their Chop n Slice board is no different. It's one of the best cutting boards out there and makes the perfect gift to any home chef who wants to add a touch of personality and professionalist to their kitchen!
This 18-by-12-inch cutting board is handcrafted in Illinois by experienced artisans. That's how you end up with such a beautiful and high-quality Maple wood board. And the best part? All materials are sustainably sourced locally, making this a good eco-friendly kitchen essential.
Moreover, the Chop n Slice model is gentle on all kitchen knife blades. But that doesn't mean it gets scratched up by them. On the contrary, it will take you many months or even years of use to end up with a beat-up John Boos board. Its sturdiness is enviable.
6) Best Carving Board: J.K. Adams Large Reversible Maple Wood Slab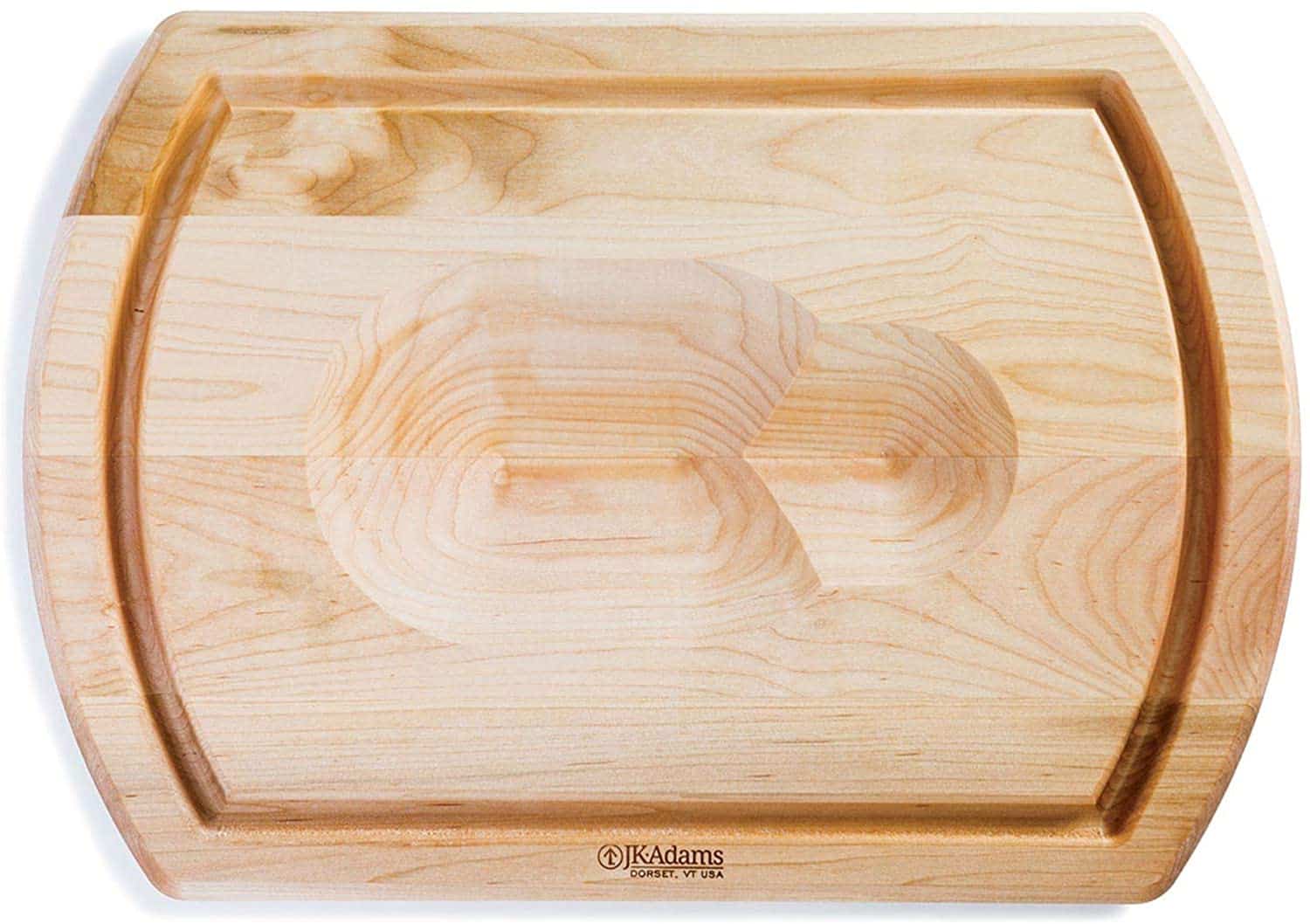 For something a little outside of the box, why not give the J.K. Adams board a shot? If you carve turkey and chicken, it will especially come in handy!
The most distinct feature of this board is the bird-shaped indentation it has on one side. It makes carving turkey and chicken all the easier, as the meat won't slip around on the board. Additionally, the grooves along the edge catch any excess liquid that may drip, avoiding a mess on the floor or counter.
But if you're not carving a turkey, you can flip over the board and use it as normal. There's plenty of room to make even family-sized meal preps.
Keeping it in great shape will take some effort, but it's well worth it. Always keep your board water-free and oil it regularly. In the end, you'll end up with a beautiful and durable wood cutting board that will stay with you for years.
What Is the Best Cutting Board Material?
Cutting boards are usually made from one of three types of materials: wood, plastic, and bamboo. They're all different but all get the job done. We can't pick the best one for you, but you can! Check out their pros and cons and make up your mind.
Wood
This is probably the most classic type of cutting board. When you think of a board for cutting ingredients, you're probably imagining one made of wood. And for good reason!
Wood cutting boards have tons of advantages. For starters, their timeless look makes them the perfect addition to any kitchen. Secondly, they're incredibly sturdy. If you care for them properly, they can last you years. Thirdly, wooden boards are very gentle with your pristinely sharpened kitchen knives. On top of all that, you can sand them once a year to get a freshly polished surface free from scratches.
On the downside, wood cutting slabs need a lot of care. From oiling to seasoning, you have to commit some time to keep your cutting board good as new. Moreover, you can't put them in the dishwasher, unless you want to end up with a rotten warped kitchen utensil. Lastly, they're porous and may not be the best to cut meat on, as you risk trapping bacteria and cross-contaminating your food. But more on that later.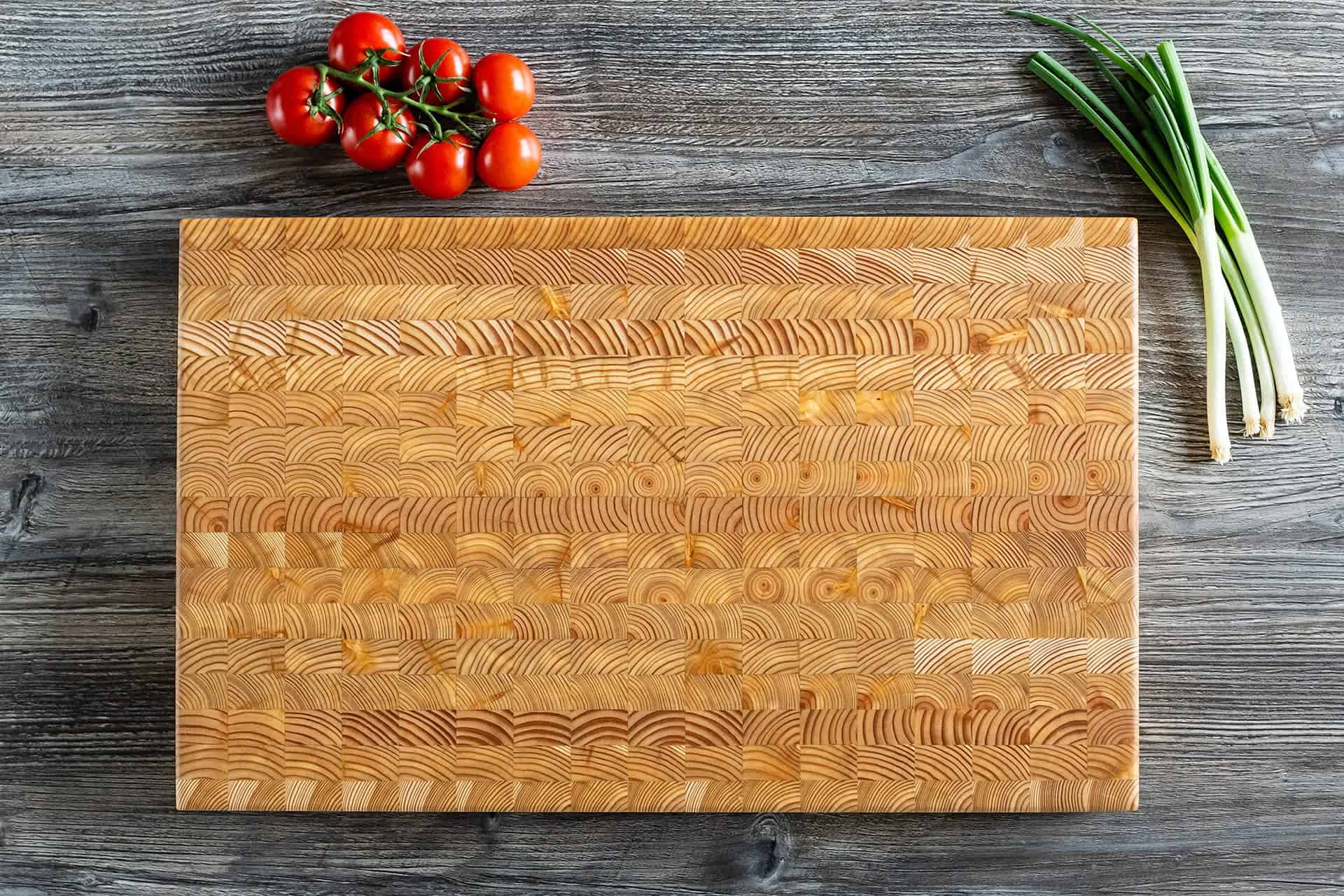 Plastic
Plastic boards are much cheaper and easier to find than their wooden counterparts. You might be twisting your nose now, but don't overlook these underrated boards!
On the plus side, plastic boards are lightweight and easy to store and carry. They're also dishwasher friendly and, thus, much easier to clean than any other type of board. In addition to that, most plastic boards are non-porous, keeping bacteria on the surface (and not trapped inside). They also require minimum upkeep: no frequent sanding, oiling, or seasoning for them! This is probably why plastic cutting boards are frequently recommended to college students and young adults moving out for the first time.
Unfortunately, they do have their negative side, too. For starters, plastic cutting boards can start looking old and beat-up after a while. From knife scratches to discoloration, you'll probably have to buy a replacement in a couple of years or less.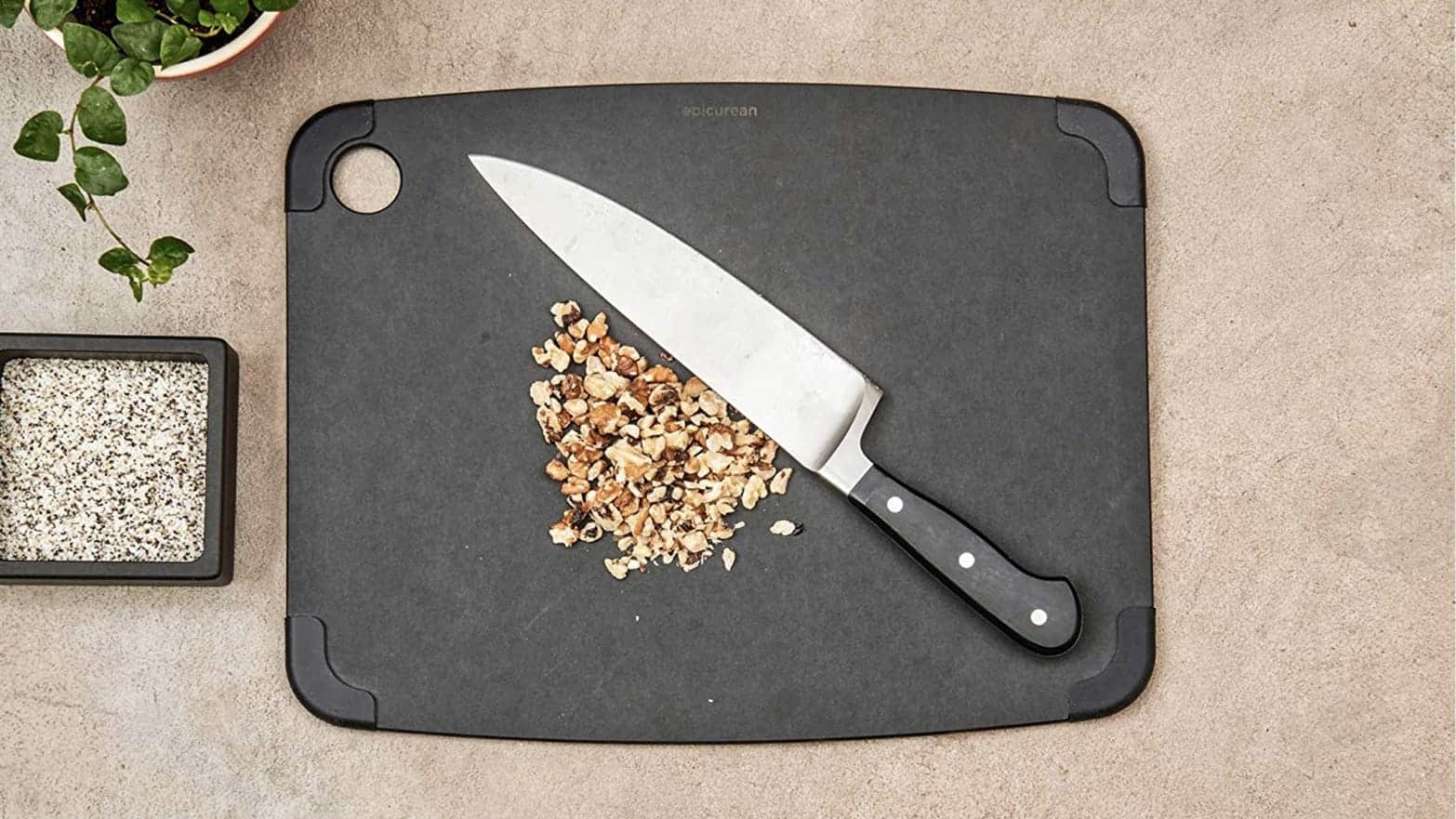 Bamboo
Lastly, we have bamboo cutting boards. This type of board isn't as popular, but it is still worth considering.
If you've ever used bamboo utensils, you know how hard and tough they are. A bamboo cutting board tends to be just as hard (if not harder) than proper hardwood slabs. That makes them very sturdy and durable, which maximizes your investment in the long run. Despite being so hard, a bamboo cutting board still pretty gentle on your knives, leading to fewer cracks and chippings. As you might already know, bamboo is also a good eco-friendly choice, as bamboo is a fast-growing grass. And, of course, they're as beautiful to look at as wooden cutting boards and don't cost as much.
As with all other kitchen utensils, these cutting boards do have their downsides. Even the best bamboo cutting board will need semi-frequent upkeep to preserve their tip-top shape. Moreover, despite being less porous than wooden slabs, they can still trap bacteria inside. And since they can't be put in the dishwasher, they also take more time and effort to clean properly.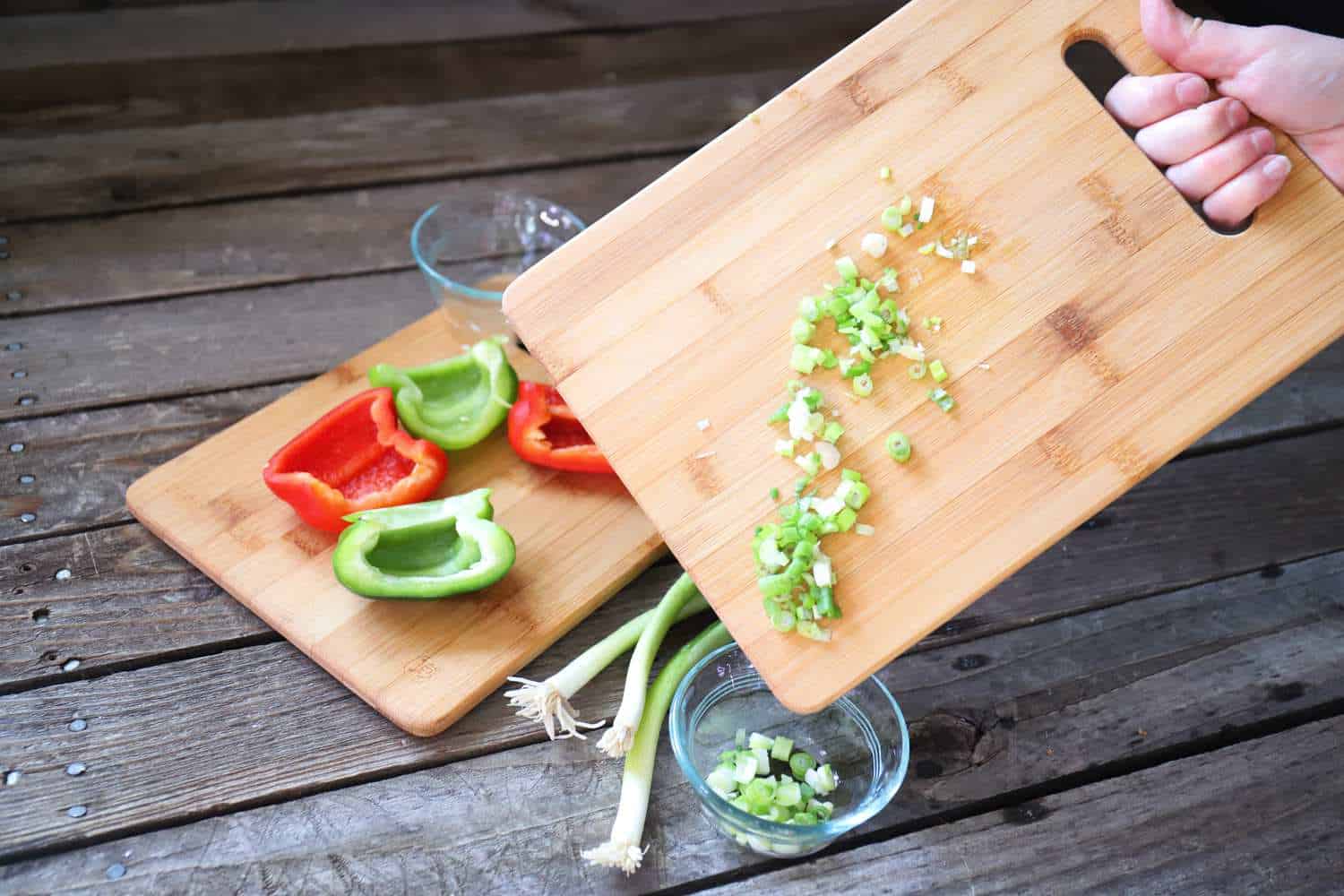 A Word of Warning: Cross-Contamination
Cross-contamination happens more often than you'd think. When harmful bacteria transfer from one food to another, it can lead to food poisoning. It's important to keep these food safety tips in mind every time you prepare food.
First things first, you should never cut veggies after cutting meat on the same board without first sanitizing it thoroughly. This goes for all kinds of cutting boards.
Then, you should also pay attention to what type of board you're getting. Porous boards tend to trap in bacteria, which can stay there for a while, especially if the board is old and has hard-to-clean grooves. Non-porous boards (such as plastic and bamboo ones) are more resistant to this.
Keep this in mind before settling on a given board.
What Is the Best Cutting Board?: The Ultimate Buying Guide
Non-Slip
You should always have your cutting board firmly placed on the counter when you use it. Otherwise, it could slip and cause a nasty cutting accident you're better off avoiding.
There are ways of preventing your board from slipping, but you could instead choose a board you know won't slip. For instance, boards with rubber feet will easily stick to the counter and stay in place. It's all about safety here.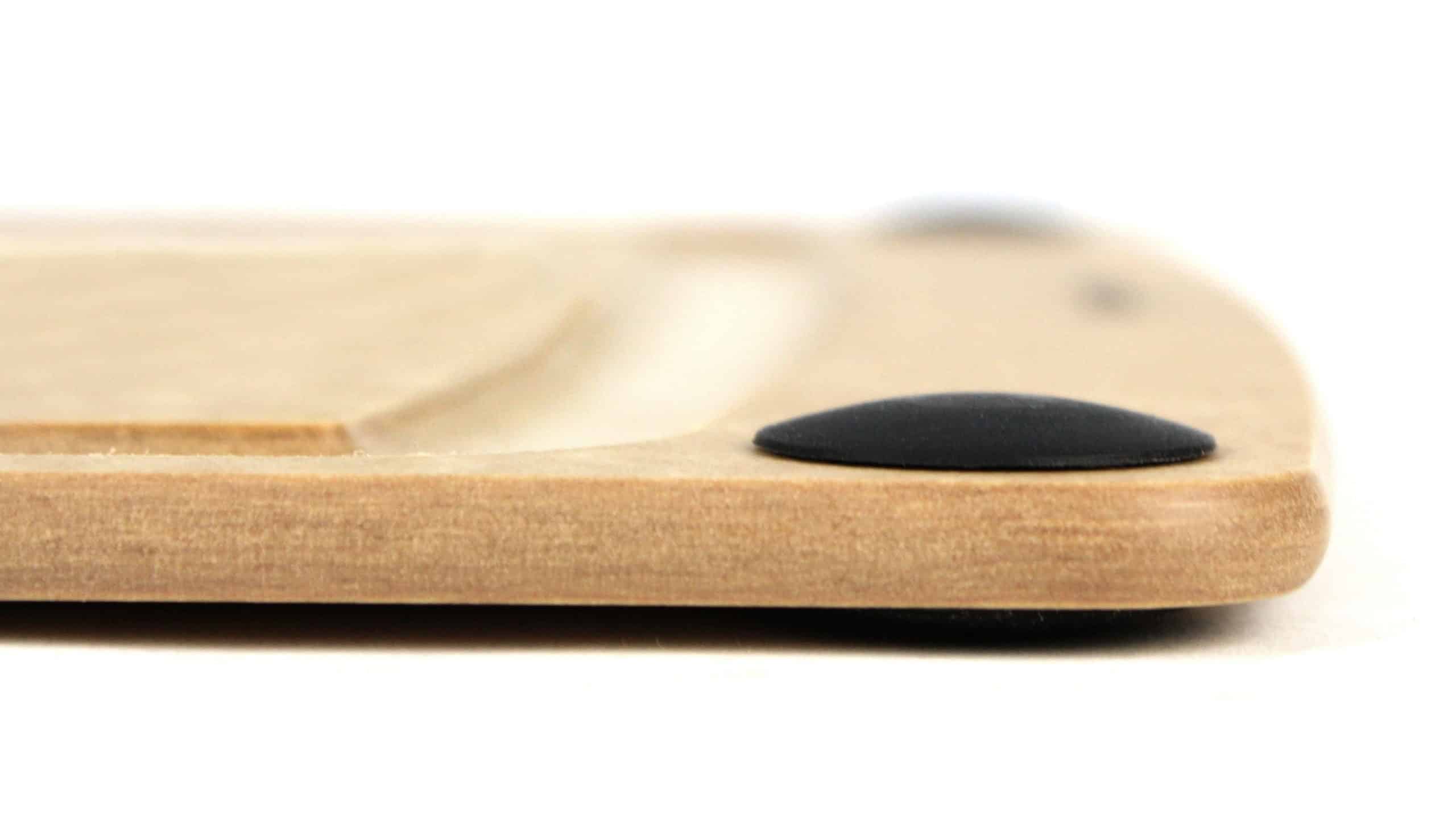 Well-Balanced
The best cutting boards are well-balanced. This means that it weighs the same on all sides. It will stop the board from wobbling when you set it down on the counter and, in turn, give you better control over your chopping.
Best Cutting Board Material
We've already gone over wooden, bamboo, and plastic boards. Now it's time for you to choose the one that best suits your lifestyle.
Are you trying to save money and don't need anything fancy? Go for a plastic board. Do you have a more comfortable budget and want to invest in a beautiful, durable, and timeless piece? Then a wooden board is right for you.
There's no right or wrong, so go with what your gut tells you.
Adequate Size
This part is important: how large do you want your cutting board to be? They come in all shapes and sizes—round, square, rectangular, tiny, extra-large... You just have to choose what best fits your lifestyle.
Think about how much counter surface area you have available for your board. Think too of how much chopping you'll be doing at once—large batches or small batches? 
A small board will cost you less but won't be very useful if you're cooking for six. Large boards, on the other hand, are only worth the steeper price tag if you have the room to place them and store them.

Grooves or Flat?
You'll notice that some cutting boards come with a long groove along the edge. Some will only have it on one side, while others have it on both. Either way, the groove designed to catch any juices that may drip from whatever you're cutting, be it a steak or fruit. If you want to keep your counter clean, this is a feature well worth considering.
Looks
Many home chefs think about looks before settling on the cutting board of their dreams. Not just how it will look in the kitchen, but also whether they can use it in their plating during dinner parties.
You've probably seen beautiful arrangements of all kinds of cheeses, different types of salami, and grapes on a stunning wood cutting board. What you may not know is that many home chefs don't just use that board for plating—they use it for cutting, too!
If you entertain guests often and love a good charcuterie board, it may be wise to pick a stunning board. It will most certainly be an impressive addition to any home party.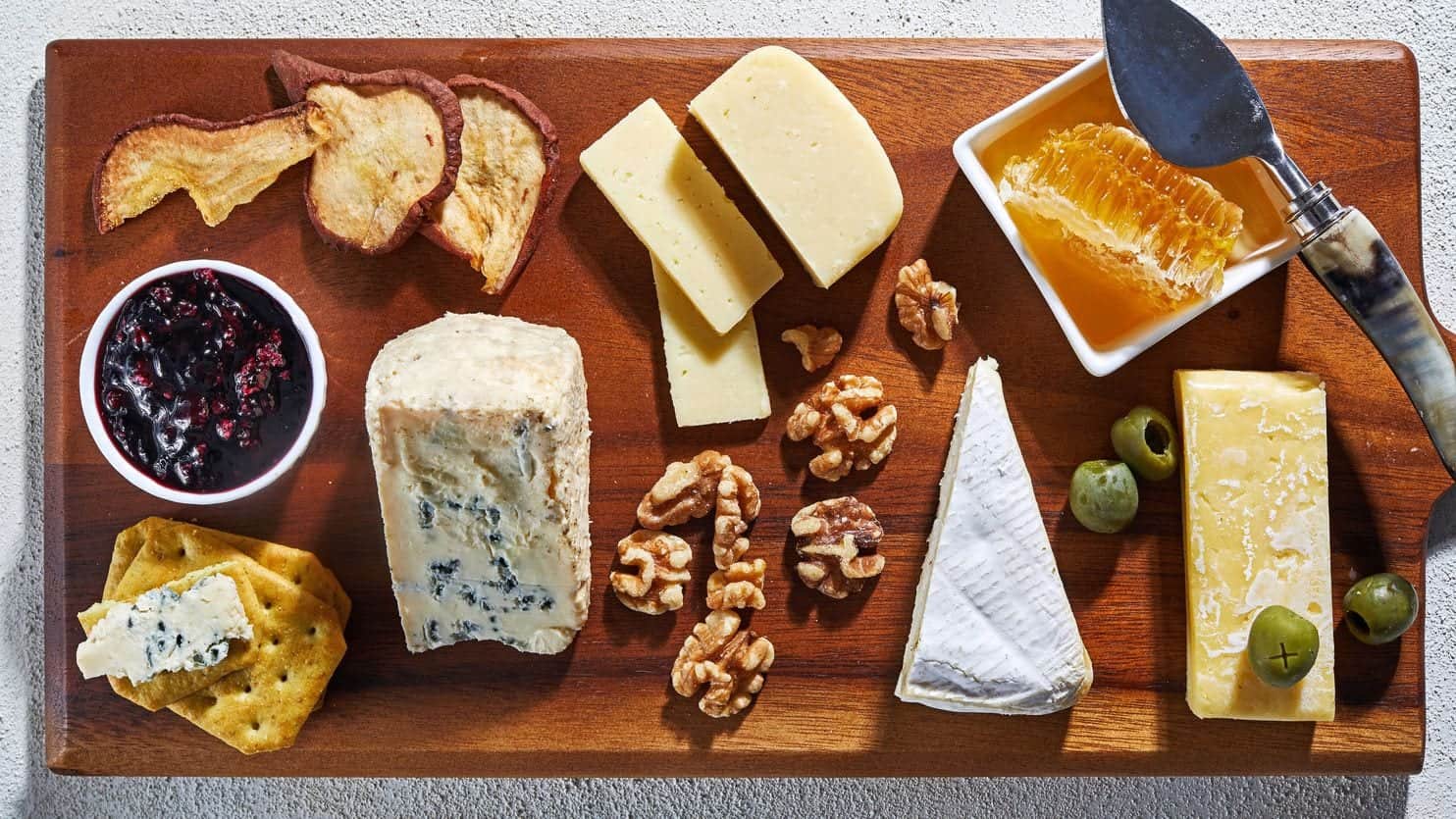 Durability
You should look for a cutting board that will last you a good few years at least. For starters, you'll save yourself the hassle of having to repurchase another board. Secondly, it's a great environmentally friendly way of cutting down on unnecessary costs. Thus, pick thicker boards you can easily take care of.
Non-Porous Finish
As we've mentioned before, non-porous boards are better at keeping your work surface clean and bacteria-free. They're especially good when it comes to cutting meat. However, they still need to be thoroughly sanitized!
If this is an important point for you, stay away from most wooden boards. Even when you oil them and take care of them properly, they can still trap in bacteria and promote cross-contamination if you're not careful during wash-up.
Easy to Clean
We can't say this enough: you need to wash your board very well if you don't want to get sick! Now you can see why we insist so much on getting a board that's easy to clean, right? You're more likely to use it and properly care for it. The best cutting boards aren't a hassle to work with—and that includes cleaning.
In a nutshell, plastic boards are the easiest to clean, as they're dishwasher-safe. Wooden boards are the hardest to clean, since they deteriorate quickly if they get too much water. Plus, you also need to oil frequently afterward.
Easy to Store
Lastly, think of where you're going to store your board. Can you fit it into a kitchen drawer or cupboard? This is where size becomes the most important! Additionally, you might be able to hang it on a cutting board rack—a great hack for tight kitchen spaces.