An air fryer may be all the rage now, but there will always be a spot in our hearts (and kitchens!) for a trusty deep fryer. Some foods are just better when you fry them the old-fashioned way!
While cooking with deep fryers isn't always healthy, treating yourself to a delicious deep fried food meal once in a while has never hurt anyone. Crispy onion rings, crunchy spring and egg rolls, piping hot french fries, juicy fried chicken—do we have to go on?
Luckily, you don't have to go to a restaurant or fast-food joint to get your comfort fried foods fix. There are hundreds of deep fat fryers designed to use at home. The best models are easy to use, easy to clean and deliver quality results consistently. 
Today, we're looking at the best deep fryer gadgets on the market. You'll find the perfect one for your home in no time. We're also breaking down the features you won't want to pass up on and answering some frequently asked questions.
1. Best Overall Pick: EZ Clean T-fal Deep Fryer with Oil Filtration System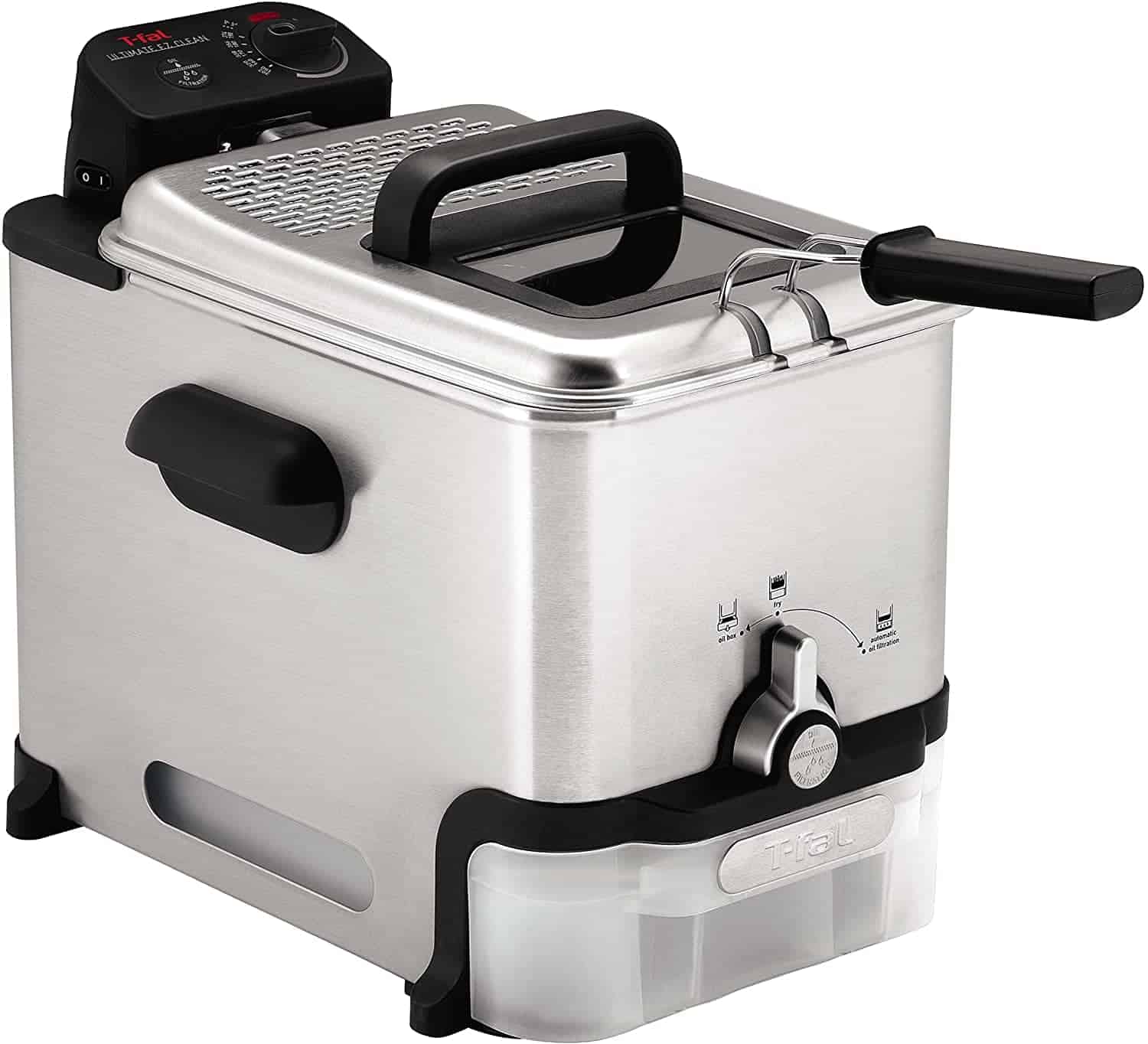 The T-fal EZ Clean model is the best-rated deep fryer on our list. It's the best bang for your buck. You can't go wrong with that!
With an oil capacity of 3.5 liters, you can fry up to 2.65 pounds of food at once. That makes it perfect for a large family. Moreover, the powerful immersed heating element makes the cooking process more reliable and shorter.
The two-position frying basket makes using this appliance a breeze: one for deep frying, one for draining. The handles also let you easily transport the unit if need be.
On top of all that, the most outstanding feature is—hands down—the built-in patented T-fal oil filtration system. After you're finished cooking, select the "automatic filtration option." The fryer will start cleaning the used oil. This means you won't have to keep refilling the entire tank every time you use this appliance, saving you time and money.
Once the oil is clean, it is stored in a drawer you can easily remove. Plus, since all parts (basket, oil container, and lid) are dishwasher safe, clean-up becomes a lot easier.
Lastly, there is a knob that lets you choose the desired temperature for the oil, from 302ºF to 374ºF. It's perfect for more versatile cooking.
2. Best Value Pick: Hamilton Beach Cool-Touch 35021 Deep Fryer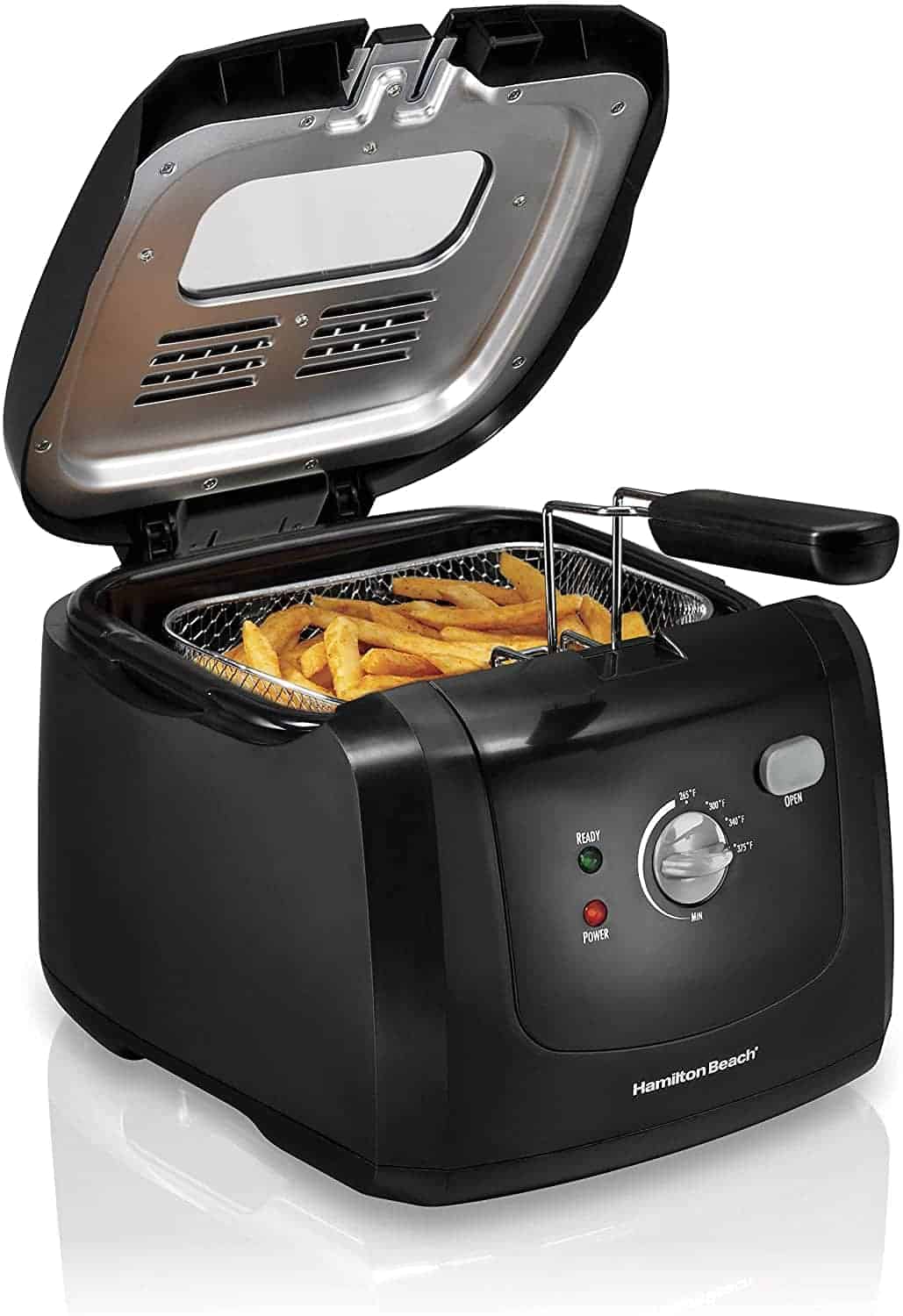 If you're trying to stick to a budget but still get a high-quality electric deep fryer, this Hamilton Beach model comes at the perfect time. It has all the great features you should look for in electric deep fryers, doesn't take up much room, and it fries foods to a perfectly consistent golden point.
You can fit up to two liters of oil in this electric fryer. Thanks to its smart design, it's roomier than most countertop models but doesn't have much of a countertop footprint. You can also easily store it in a cupboard once you're done.
The adjustable built-in temperature control gives you full reign over your cooking. Simply select the oil temperature you desire (260ºF, 300ºF, 340ºF, and 375ºF) and wait for the oil to heat. Once it does, a green light will turn on, which tells you that it is time to start deep frying.
The lid is also a great addition. Not only does it stop hot oil from splattering, but it also keeps odors to a minimum. That said, the glass viewing window lets you still keep an eye out on your food.
We also really like the materials that go into making this appliance. The oil container is stainless steel with a non-stick coating. That, along with the removable parts, makes this fryer really easy to clean.
3. Premium Pick: DeLonghi Livenza Easy Clean Smart Fryer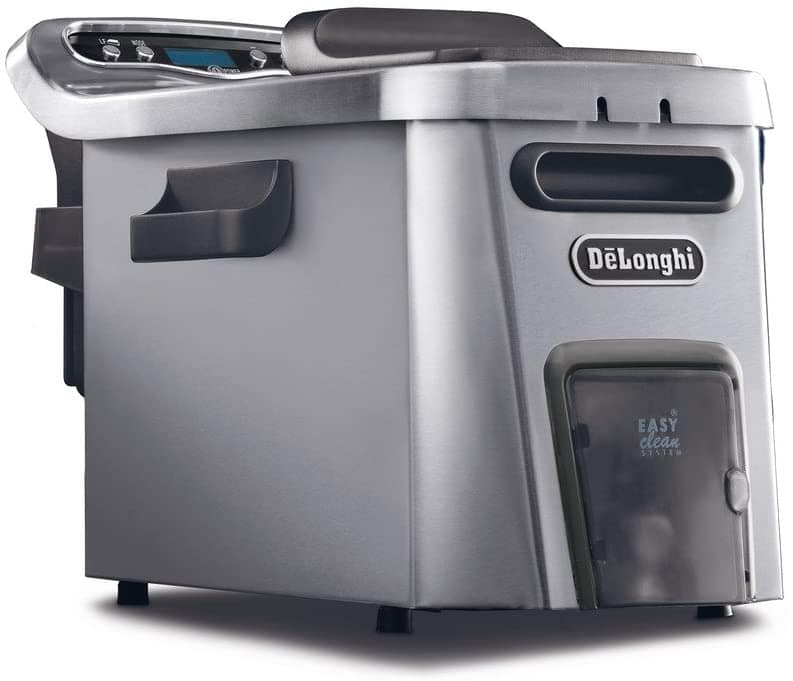 If you can spend more on an appliance, we highly recommend this DeLonghi smart fryer. It's one of the best deep fryers. It boasts a more modern design, generous capacity, and some cool extra features.
This is a basket countertop fryer with the large capacity of one gallon of oil, meaning it can fry up to three pounds of food at once. 
The fryer basket, oil container, and lid can easily be removed. And since they're dishwasher-safe, cleanup will be even easier. Moreover, there's a valve at the front of the appliance that lets you collect the dirty, leftover oil when it comes time to change it.
You can use the same oil several times when deep frying with this appliance. Any food particles that fall from your food are filtered down to a "cool zone," which means the oil will stay cleaner and odorless for longer. This is a feature you don't often find in other deep fryers.
The higher price tag gives you even more awesome features. The cool-touch handles make it safe for you to handle the fryer without getting hurt. And, of course, using the adjustable thermostat you can have greater control of the deep frying process.
4. Best Compact Pick: Presto FryDaddy Deep Fat Fryer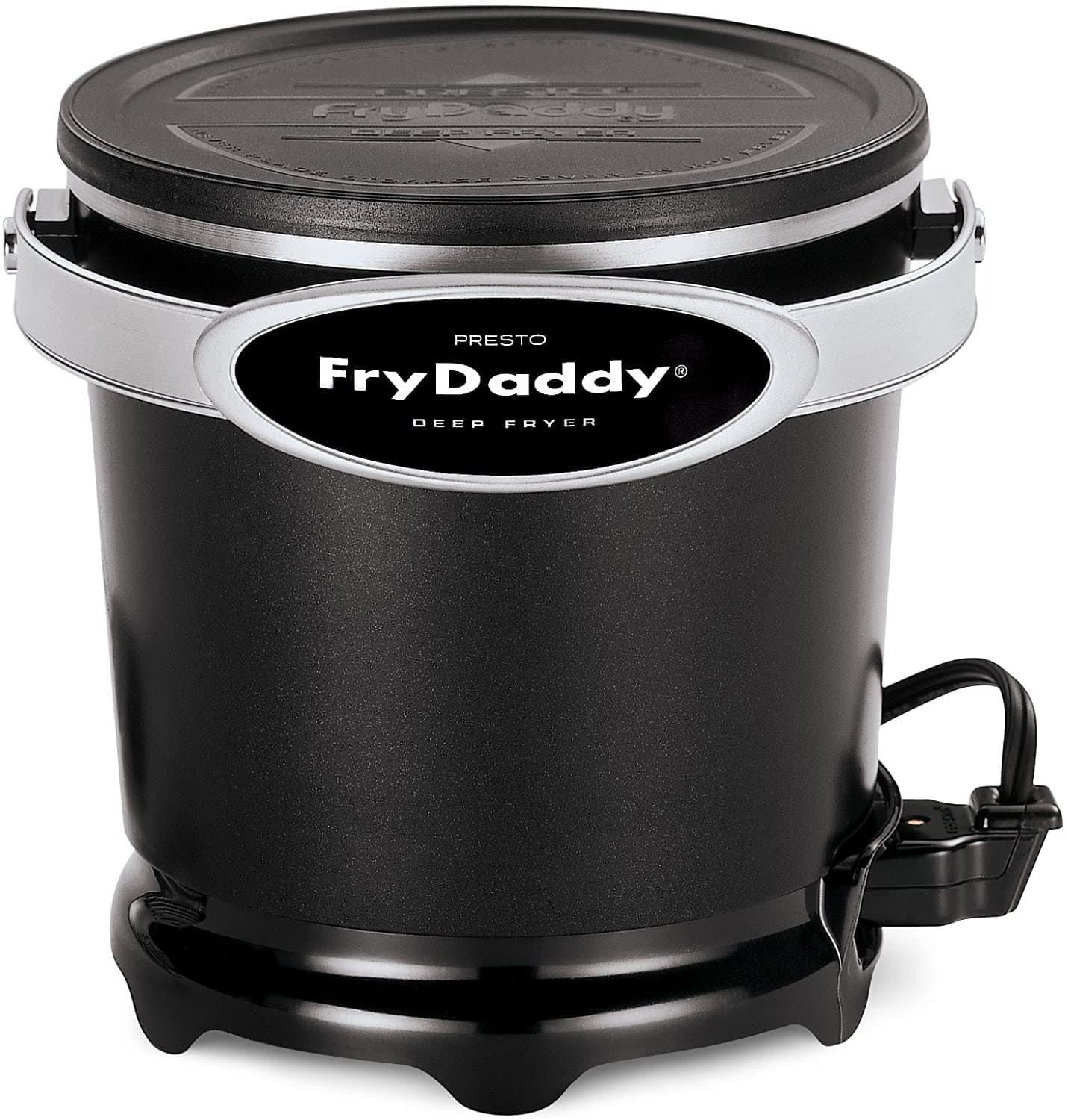 Cooking for one or two with little storage and counter space? Don't fret. The compact Presto FryDaddy Fryer lets you enjoy restaurant-quality fried foods without needing a restaurant-like kitchen. It's the best small deep fryer on our list.
This unit couldn't be more straightforward. You pour in up to four cups of oil into the bucket, wait for it to get hot, and then put your food inside. No basket—just a slotted scoop for you to fish out the bits of food when they're perfectly golden brown.
The immersion heating element runs at 1200 watts and keeps the oil at one temperature: 375ºF. If you don't like having to mess around with buttons to set a specific temperature, this is the no-frills approach you'll want. Plus, the oil heats up quickly.
The bucket is made of heavy-duty aluminum for maximum food safety. It is also lined with non-stick coating, for easy cleaning. The no-skid rubber feet keep the fryer grounded, preventing accidents with hot oil spills.
When you're done deep frying, you can leave the oil inside. Snap-on the lid and you can store the deep fat fryer away in any small cupboard, ready for your next use.
5. Best for Families: Stainless Steel Dual Basket Presto Deep Fryer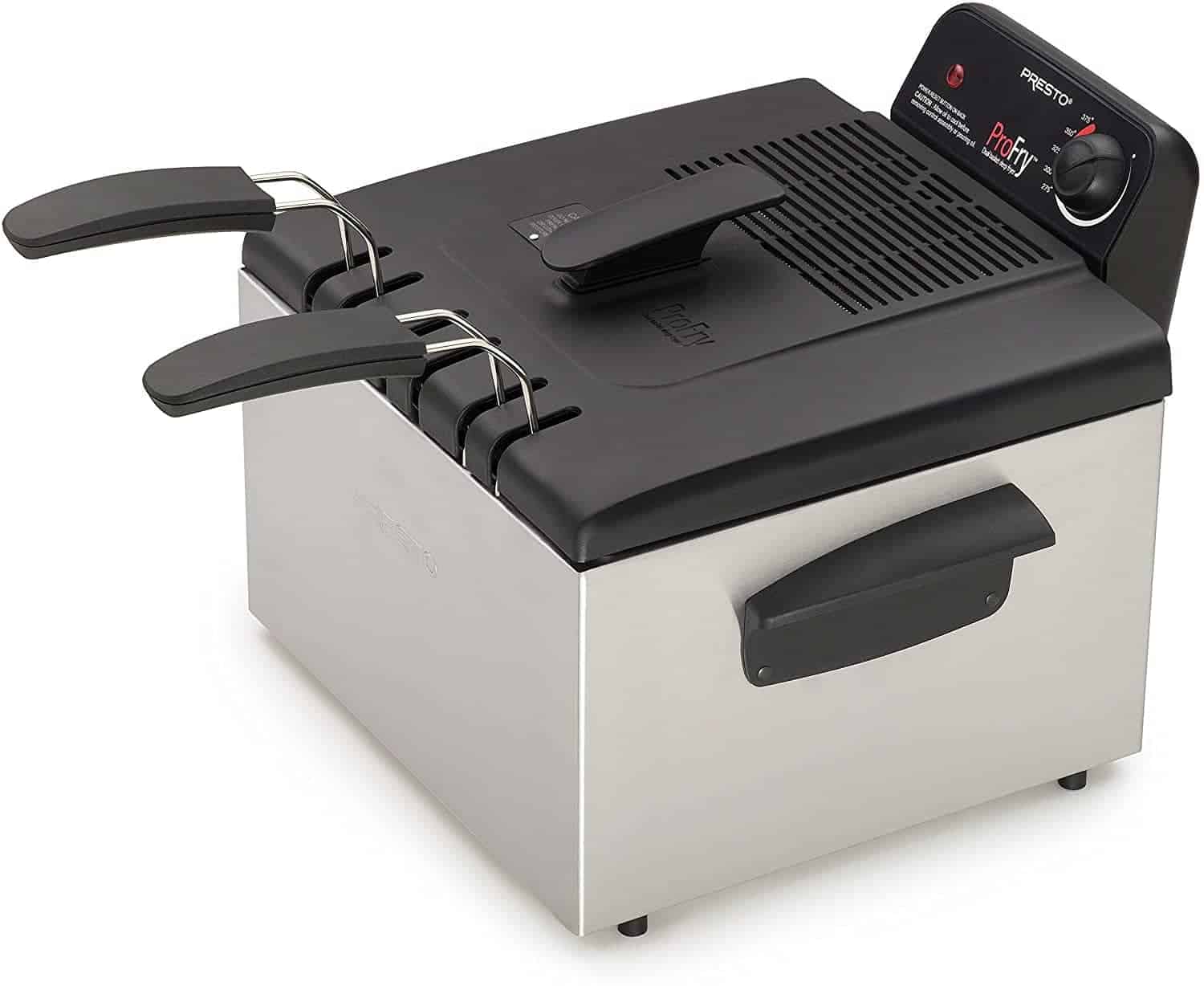 If you usually cook for several people at a time, you can't go wrong with this Presto Deep Fryer. It's the most spacious unit on our list, works fantastically, and is available for a very reasonable price.
With this fryer, you can cook up to five pounds of food in one go. Using the two smaller stainless steel baskets, you can even cook two types of food separately. It's the best high-volume fryer.
The adjustable thermostat lets you set the oil temperature at your will. It goes from 275ºF up to 375ºF so that you can perfectly fry different foods. Thanks to the 1800-watt heating element, the oil heats up quickly.
When you're done cooking, turn off the fryer using the simple one-touch off-button and hang the baskets to drain the oil.
To clean up, remove the immersion heating element and the enamel pot. The pot and baskets are dishwasher safe, which makes your job a lot easier.
The sturdy lid keeps the hot oil inside, preventing dangerous spillage. The downside is that you won't be able to keep an eye on your food while it's cooking, as there is no viewing window.
What Is the Best Deep Fryer?: Buying Guide
If these five deep fryers haven't charmed their way into your heart, you can always do your own research. Because there are so many models out there, you'll need to narrow down your search. Look for these features. The best deep fryers check off most of these boxes.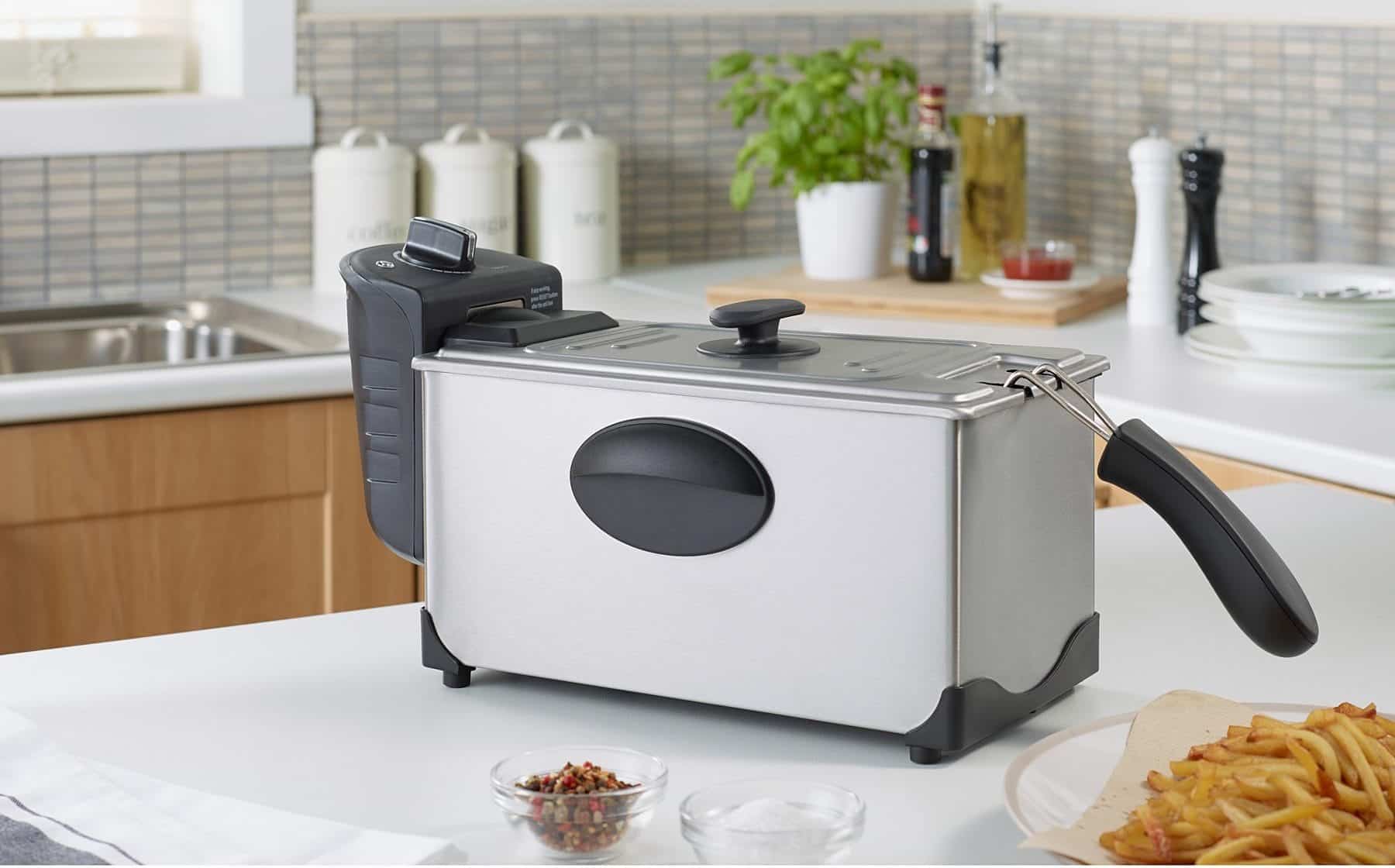 Capacity
As common sense will tell you, large capacity deep fryers are more expensive than their small, compact counterparts.
If you'll only be cooking for two most of the time and you're on a budget crunch, it would be wise to opt for a smaller model. They work just as well but aren't as roomy.
On the other hand, if you're cooking for several people, you'll probably want to splurge on a larger model. Maybe one with dual or triple basket design. Having to fry foods in multiple batches and eating some of it cold is no fun. Who wants to eat cold, soggy french fries?
Size
Capacity isn't everything. An electric deep fryer isn't a small gadget. Some fryers are bulky but not very roomy, while others have the same capacity but were designed to fit a small kitchen. If you're strapped for room in your kitchen, you'll have to consider the fryer's dimensions before you make a purchase.
Temperature Settings
Being able to control the oil temperature is a very handy feature. Each food has its own ideal frying temperature. Oil too cold and your food won't get crispy. Too cold and the outside will burn while the inside stays cold and underdone.
The higher-end models let you have full reign over this thanks to their temperature control. Whether it's by turning a knob, pressing a few buttons, or, more futuristically, touching a screen, you're in full control.
Consistency
Not all deep fryers are created equal. Some models are definitely better than others, as we've highlighted throughout the article.
The best models keep a consistent oil temperature while deep frying food. This means you can accurately predict how long your food will take. Moreover, you end up with food that's crispy on the outside and perfectly cooked on the inside.
Other models leave a lot to be desired. Some days they'll work perfectly, while on others they'll be very inconsistent. For instance, the oil can sometimes heat up to 400ºF, which would burn your food on the outside while leaving it raw on the inside. As you can imagine, this is the last thing you want when you're deep frying meat and fish.
Always look for reviews to know just how reliable any given deep fryer is.
Easy to Use
That said, you don't want an overly complicated model. What's more off-putting than a deep fat fryer that is a hassle to cook with?
You'll want a no-frills approach if you're looking for an appliance to use semi-regularly. After all, cooking with one shouldn't be rocket science.
However, if you're tech-savvy or like a challenge, by all means, invest in a complex model with lots of different functions!
Luckily, pictures and customer reviews usually tell you within a few minutes if the model you're looking at is a pain to use.
Easy Cleaning
Similarly, for convenience's sake, electric fryers that are hard to clean are also no fun. Remember, you'll need to clean your fryer after every use, once the oil has cooled down. Think of how easy cleanup will be at the end of the day.
For instance, some models have removable oil. Others have dishwasher-safe baskets. That makes your job a whole lot easier—and puts the fun back in cooking.
Deep Fryer Safety Features
Of course, if you don't handle your electric deep fryer correctly, you can get seriously hurt. Third-degree burns from spilled oil and even house fires aren't unheard of.
You should always take precautions and read your deep fat fryer's instructions. For instance, overfilling your deep fryer is a big no-no; fire departments warn that this is the leading cause of "turkey fryer fires."
There are many ways of preventing deep fryer accidents, but you're always safer with an appliance with built-in safety features.
Just having a metal lid cover the frying chamber is already a good way to prevent getting burned by hot sizzling oil. Being able to check oil temperature throughout the cooking process can be enough to avoid a fire from starting, for instance. Double walls, too, can prevent you from getting burned if you happen to touch the sides of the fryer while it's turned on.
If you have children around, these are especially important features to keep in mind.
Bonus Features
Then, there are bonus features that are just convenient but aren't necessarily make-or-break add-ons. Here are a few of them:
Programmable minute timer

Dirty-to-clean oil filtration

Built-in drainage for dirty oil

Ventilation and odor filter

Built-in thermometer
You can go without them. But if you're going to splurge, make sure you're getting these, to maximize your investment.