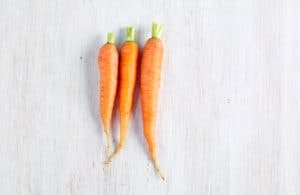 In America, we know that children do not eat enough fruit and vegetables, and they are often bombarded with adverts for unhealthy junk food. In response to this, a study held by The Ohio State University has explored whether branded media and vegetable 'characters' can be used to boost children's vegetable selection in the school cafeteria.
Previously, there have been studies that explore the impact of external environmental factors on a child's lunch choice, but there is less evidence on the effect of more conventional 'marketing' techniques.  For instance, evidence shows that serving fruit in more attractive bowls increases uptake, and that peer pressure will also influence choices. There is less evidence based on overt healthy marketing. So this study wanted to measure the effect of a vegetable campaign in elementary school cafeterias in an attempt to increase uptake of salad and other vegetables.
Giving veg a face!
There is already support to show that using characters will encourage children to eat more fruit and vegetables. In 2013, the Produce Marketing Association joined forces with Sesame Workshop and the Partnership for a Healthier America over the course of two years. They used the Sesame Street brand, in a no-licensing fee agreement, to promote fruit and vegetable consumption among children. There is a real opportunity to use this evidence and make a difference.
The study took place across a large urban school district in 10 elementary schools over a six-week period. In total, 22,206 students were observed every day and a tally was made of the number of boys and girls taking vegetables from the school's salad bar.
Different marketing techniques that were used were randomly assigned to each school – either a banner displaying vegetable characters at the base of the salad bar, or health education television segments delivered by vegetable characters. Some schools ran a combination of the banner and television segments.
Incredible impact
The results were astonishing. They showed that 90.5% more students took vegetables from the salad bar when exposed to just the banner, and a staggering 239.2% more students visited the salad bar when exposed to both the television segments and banners!
This hugely positive and promising research highlights a fantastic opportunity for marketers and children to benefit from branded media. School food staff can use these findings and other marketing opportunities in relatively inexpensive ways, such as providing descriptive names for the foods they offer and making them more convenient to take.
Better childhood nutrition is the ultimate goal, and the combination of marketing strategies and healthy choices has great potential for improving what children eat, both in and out of school.