Anyone who consumes dairy products knows firsthand just how sensitive these foods can be. Due to plenty of naturally occurring bacteria as well as an abundance of sugars which make the perfect food source for those little critters, it's no secret that milk and milk products are extremely prone to spoilage and must be carefully looked after.
Buttermilk is an interesting case though. You might already be familiar with the characteristic sour taste of this dairy product, which is evident as soon as you crack the seal on the bottle--long before any expiration date has been reached! This begs the question, does buttermilk go bad?
Unfortunately, buttermilk is in the same boat as other dairy products and is just as at risk as regular milk and cream. We'll fill you in on what distinguishes buttermilk from regular milk, signs of spoilage to look out for, and even a few ideas to use up that carton of leftover buttermilk before it hits the expiration date!
What is Buttermilk?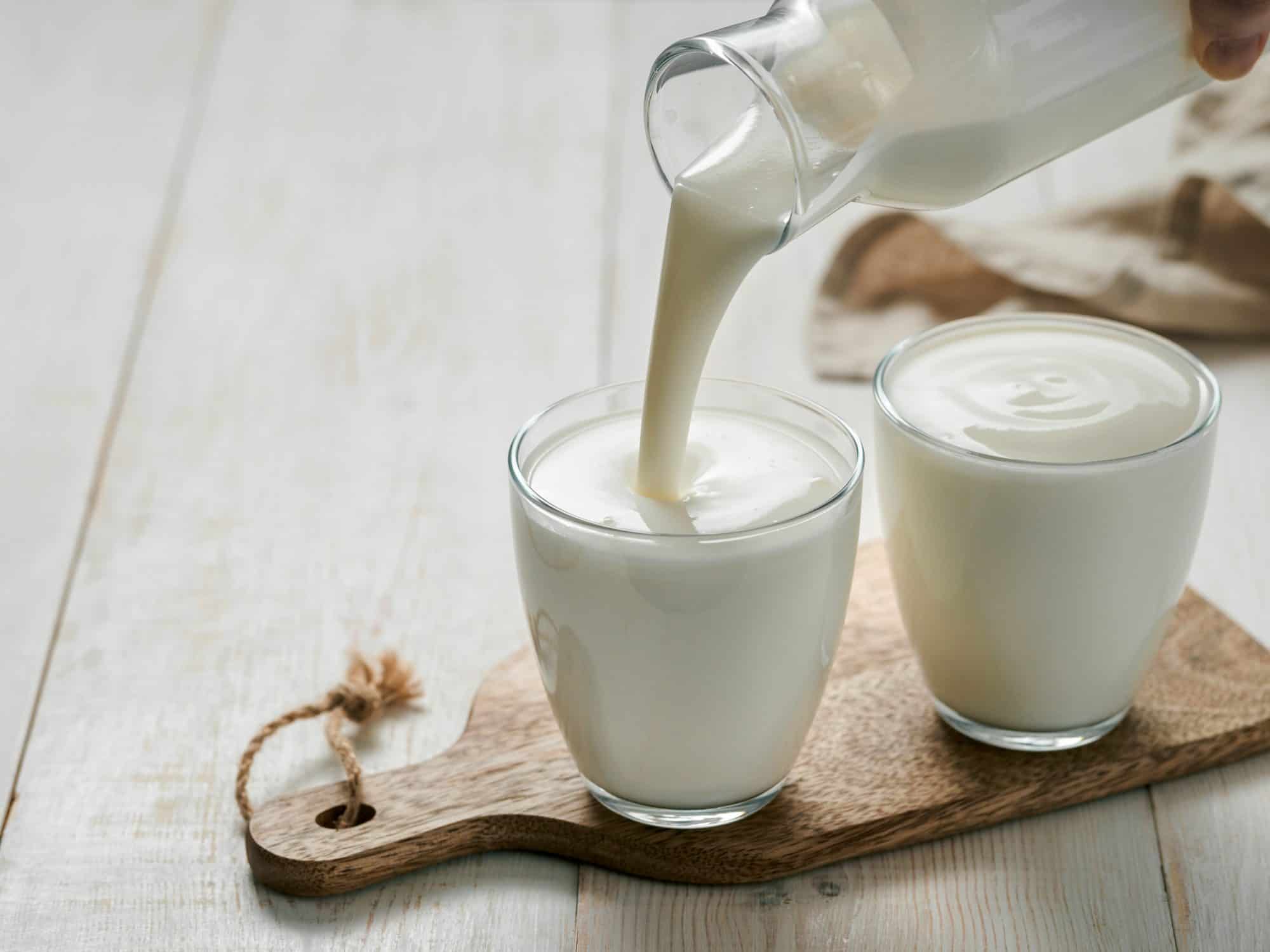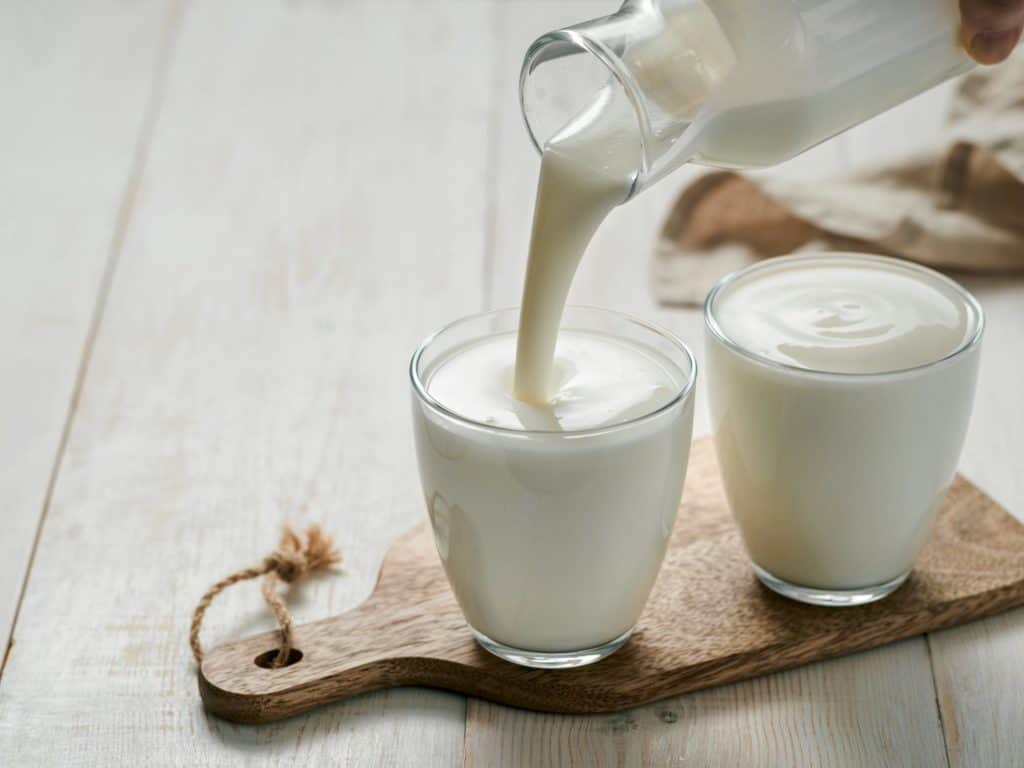 Buttermilk is a fermented dairy product in which lactic acid bacteria have consumed all of the lactose (milk sugars), producing 2 important byproducts: lactic acid and diacetyl. The lactic acid imparts that unique tangy flavor to the buttermilk, while the diacetyl brings an additional level of buttery flavor of the product.
In terms of taste, buttermilk is quite similar to sour cream or plain yogurt, two other readily available fermented milk products. While the tangy flavor is comparable, the texture is quite different. Buttermilk is thinner and more pourable than sour cream or yogurt, but still noticeably thicker than regular milk.
The fat content of buttermilk tends to be relatively low as compared to full fat milk or heavy cream, but this can vary, as the final fat content depends entirely on how much fat was in the milk which started the fermentation in the first place.
Also, the fact that buttermilk is higher in lactic acid than regular milk points to the fact that it is lower in lactose than other dairy products as well. While buttermilk is not a lactose free milk, it does have considerably less and therefore may be a good choice for those suffering from a lactose intolerance.
What is Buttermilk Used For?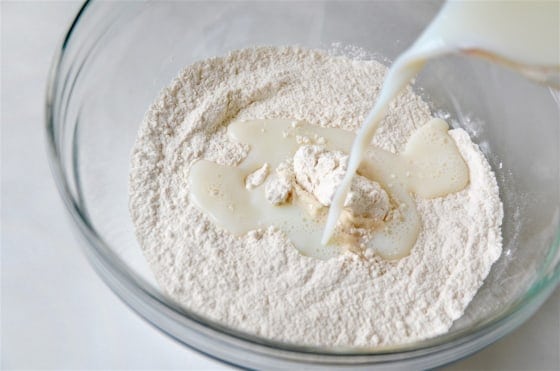 The unique flavor and properties of buttermilk make it well suited to a wide range of cooking applications, from sweet to savory and everywhere in between!
The slightly tangy taste of buttermilk is perfect for sauces and dressings–such as the famed buttermilk ranch!
Buttermilk is great for baking, as the high acid content brings extra moisture to baked goods.
Buttermilk + baking soda also increases the rise in baked goods, making it ideal for creating fluffy pancakes and waffles, or baking biscuits that puff up light and flaky.
Using nothing more than a few layers of cheesecloth, heated buttermilk can be strained into buttermilk cheese, which is delicious when eaten on its own or used in recipes.
The acidity in buttermilk is great for savory meals as well. Marinating chicken or meat in a buttermilk bath before cooking helps to tenderize the meat, as the acid starts to break down the meat before it is cooked.
Types of Buttermilk
As a grocery store shopper, you're likely to be most familiar with cultured buttermilk, as this type is commercially produced and readily available. But there are two other main types of buttermilk, and it's important to understand the implications of each!
Traditional Buttermilk
The commercially produced buttermilk that most of us are familiar with using is not quite the same as the original stuff. Fresh buttermilk used to be the liquid leftover after butter had been churned out of fresh cream.
As all of the fats had made their way into the butter during the process, the remaining liquid was relatively low in fat, yet still possessed a delicious buttery taste. And, since the milk was left at ambient temperatures during the butter-making process, traditional buttermilk was therefore naturally fermented. The naturally occurring lactic acid bacteria ate away at the sugars in the liquid, turning the flavor sour as they did so.
Cultured Buttermilk
These days, butter doesn't have to be made first in order to have some good quality buttermilk available. In order to meet the demand for buttermilk without being dependent on butter production, producers actually add lactic acid bacteria directly to fresh milk, in effect, spoiling it in a controlled manner.
These bacteria are known as "cultures", and therefore this type of commercially produced buttermilk is often referred to as "cultured buttermilk" in order to differentiate it from the traditionally made version. Adding cultures to skim milk will produce a cultured buttermilk which is compositionally most similar to traditional buttermilk, but there are also versions of buttermilk made with partial and full fat versions of milk. As you would expect, the more fat that is present in the starting milk, the richer and butterier the resultant buttermilk will be!
Cultured buttermilk tends to be thicker and tangier than traditional buttermilk, but of course traditional buttermilk can vary widely depending on who makes it and how much fat remains after the butter making process is completed.
Powdered Buttermilk
Powdered buttermilk is regular ol' buttermilk which has been completely dehydrated, resulting in a fine powder that has the same appearance and texture as typical powdered milk. The buttermilk powder can easily be reconstituted for liquid use; simply blend the powder with cold water until you have a liquid buttermilk of your desired consistency.
The acidity you expect from buttermilk is still present in the powder, therefore you can even add the powder directly into the dry ingredients for batters and doughs when baking--no need to mix it with water first! Buttermilk powder is also great for salad dressing mix, as it will easily blend with oil and vinegar, or you can dredge proteins in the powder before searing or frying.
Despite its longer shelf life as compared to fresh buttermilk, powdered buttermilk is best kept in the fridge after opening, as this will help it to last even longer.
Does Buttermilk Go Bad?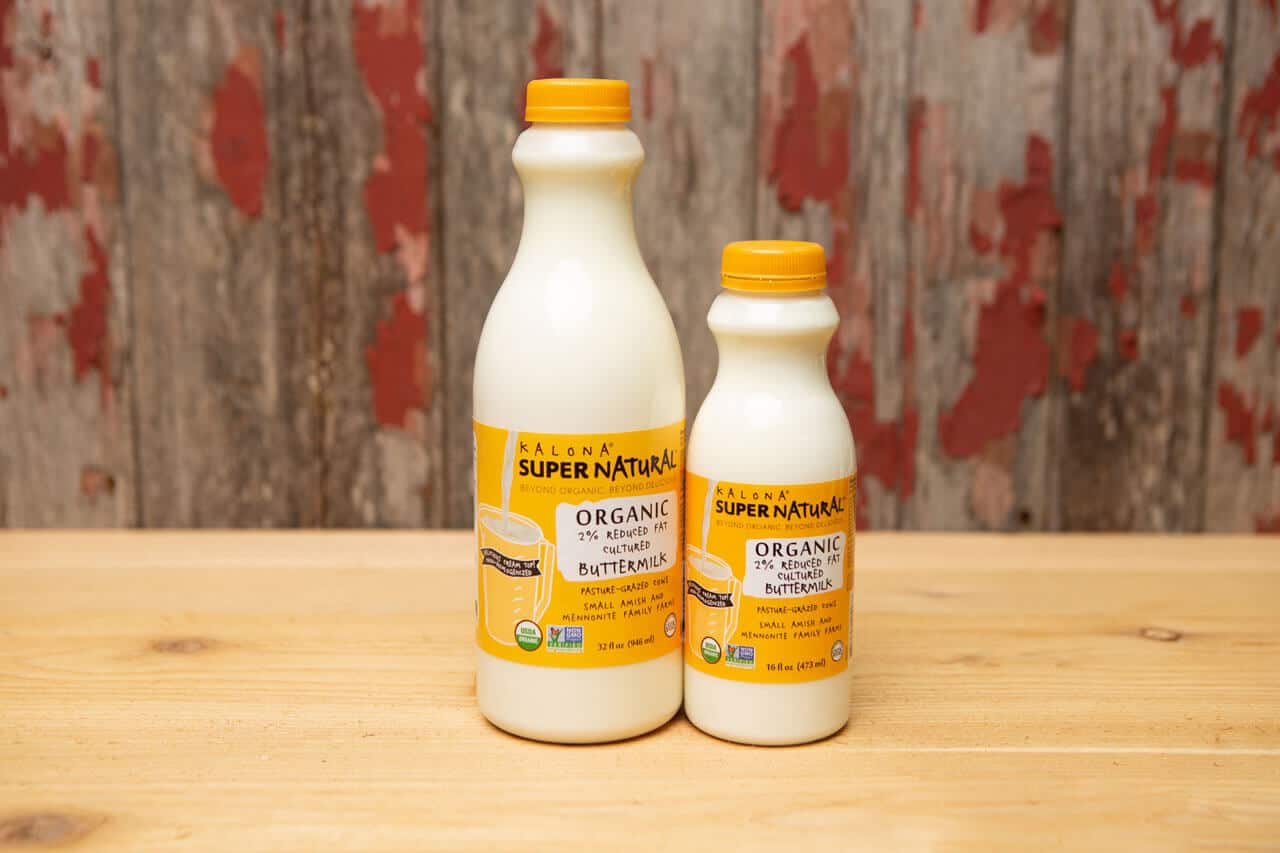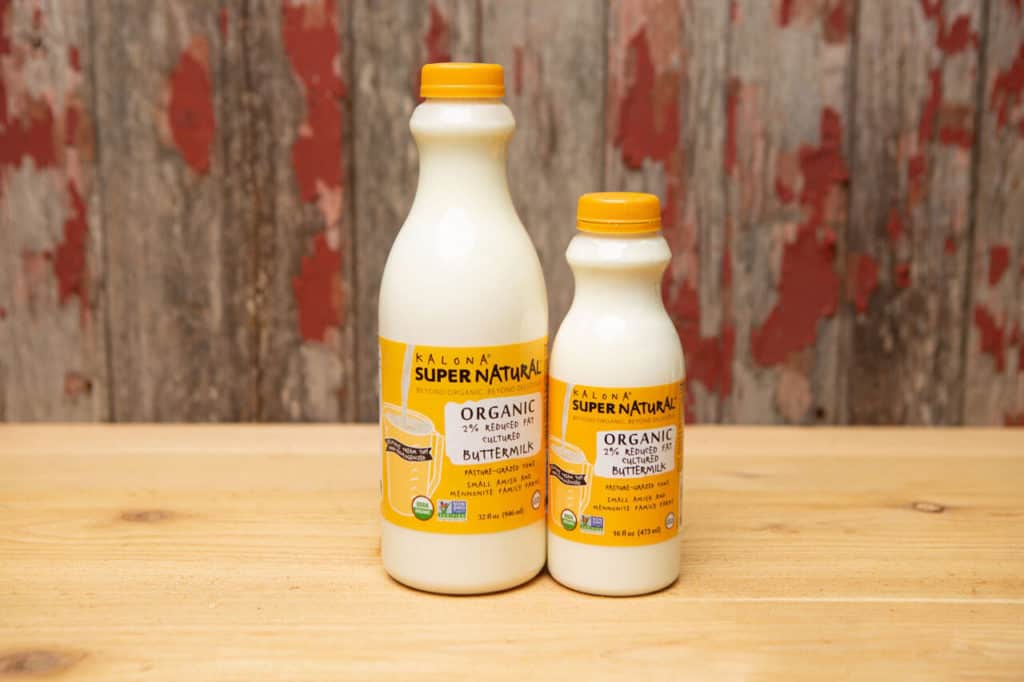 Since buttermilk is high in lactic acid, it does tend to have a longer shelf life than regular milk. Thanks to the acidic environment, the growth of molds and harmful bacteria is greatly inhibited. That said, the stuff doesn't last forever!
Unopened buttermilk should be safe to continue using up to 2 weeks beyond the expiration date. However, keep in mind that the buttermilk may very well turn sooner if it has been mishandled during shipping or left out on the countertop for extended periods of time during its lifespan. Opened buttermilk should be used within 1-2 weeks after opening and carefully examined each time for any signs of spoilage, which we'll outline below.
In addition to concerns regarding spoilage, there is also the fact that buttermilk tends to lose its buttermilk-y qualities as it ages. This is due to the fact that buttermilk continues to ferment, even after it is bottled.
As the level of lactic acid becomes increasingly higher, it gets to a point where it kills off all of that yummy tasting diacetyl, which if you remember is the byproduct which is responsible for the rich, buttery taste of the product. Therefore, the buttermilk will become increasingly sour, with less and less fat flavor to round it out. While this shift in flavor on its own does not pose any risk, it does take away from the desired taste and impact you hope for buttermilk to have upon the recipes you use it in.
How to Tell if Buttermilk Has Gone Bad
Technically speaking, buttermilk by nature is already "spoiled", therefore it can be tough to tell if buttermilk has gone bad in a way which might be harmful to you. The signs of spoilage that you would detect when it comes to other dairy products, such as a slightly sour smell or a thick texture, are already present so how do you actually know if buttermilk is in fact bad?
Thankfully, there are some key signs to look out for when it comes to determining whether or not you have spoiled buttermilk on your hands.
Any visible mold is an automatic deal breaker! Even if the mold is just around the rim of the bottle or along the edges of the container, any sign of mold means bad buttermilk and it should be thrown out.
You should be able to easily pour buttermilk, so if it has thickened to a point where it will not pour from the container or it has a clumpy texture or a curdled appearance, this is a sure sign that it has spoiled. The texture of fresh buttermilk is smooth, thick, and creamy but keep in mind that a few small lumps or slightly uneven appearance is totally normal for buttermilk.
Does it pass the nose test? While buttermilk has an inherently slightly tangy taste and an aroma to match, if you detect strong odors of sourness and pungency, this is a key indicator that you have sour buttermilk. A fresh container of buttermilk will have a unique but not off-putting fragrance, whereas an unpleasant smell will develop as the product ages and turns bad.
How to Store Buttermilk
In order to preserve buttermilk's perfectly balanced rich yet sour taste and keep it safe to consume for as long as possible beyond the sell by date, stick to these vital storage tips.
First things first, whether you have traditional, cultured, or powdered buttermilk–keep it tightly sealed! An airtight container is of the utmost importance. Also be sure to keep the cap clean and replace it securely after each and every use.
Take care to store buttermilk in a temperature stable section of the fridge, away from the door (and definitely not on those handy door shelves!) as this will cause the buttermilk to experience undue periods of warming and cooling. Also be careful not to place any warm foods near your buttermilk, or any other dairy milk for that matter, such as leftovers that are still cooling off or that carafe of hot coffee you're chilling down for iced lattes.
These tips are the same for powdered buttermilk as well. While it is not necessary that you store it in refrigeration, the fridge is surely your best bet in order to extend the shelf life of buttermilk powder for as long as possible.
Can You Freeze Buttermilk?
Yes! Buttermilk can be stored in the freezer for up to three months.
Freezing buttermilk is a great choice for extending its shelf life even further. When you decide to freeze buttermilk, just be sure that you are dealing with buttermilk that is still in excellent condition. You should not attempt to freeze expired buttermilk or buttermilk which is already showing signs of age. These conditions will certainly not improve over the duration of freezing, and by the time you defrost it, the buttermilk could quickly turn bad, potentially posing a risk to you.
Also keep in mind that the process of freezing and defrosting will have an impact on the final texture of the buttermilk. Therefore, it is best to use buttermilk which has been previously frozen for baking and cooking only. The irregular texture could have some undesirable consequences if you try to use it in sauces or dressings.
How to Freeze Buttermilk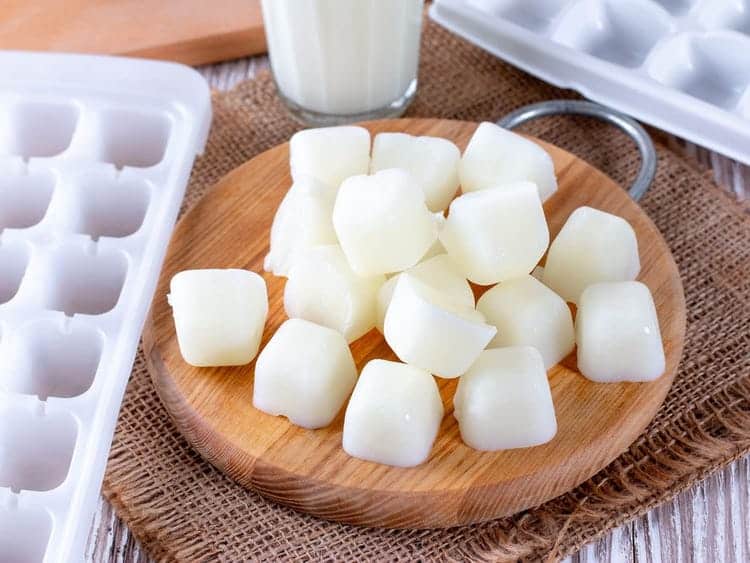 To make things easy, you can place the buttermilk straight into the freezer in its original container if you like, as long as there is 1-2 inches of headspace at the top. Since buttermilk expands as it freezes, this extra space is vital and if there is not adequate room at the top, it could break the container and cause a mess!
Another idea that will likely be more convenient for you when it comes time to defrost is to pour the buttermilk into an ice cube tray, then pop the cubes out and into freezer bags once frozen solid. This enables you to defrost just one cube or a few, depending on how much buttermilk your recipe calls for.
How to Defrost Frozen Buttermilk
Defrosting buttermilk could not be easier! Simply remove the frozen buttermilk from the freezer and place it in the fridge overnight. This is the easiest and safest way to defrost just about anything.
Need your buttermilk in a hurry though? You can place the sealed buttermilk container (or freezer bag) in a bowl of cold water and set it on the countertop. Then just replace the water every 20-30 minutes until the buttermilk is fully defrosted. It may be tempting to use warm water to get the job done quickly but this type of rapid warming is breeding grounds for bacterial growth, so exercise patience and resist the urge!
If your buttermilk is in freezer bags, be sure to examine the bag carefully to ensure that no rips or pinholes have appeared while in the freezer, as this is a common occurrence.
One other thing of note: thawed buttermilk will have an unavoidably odd and separated appearance. Don't worry! This is normal after being frozen, and once defrosted, you can easily whisk the buttermilk back together. It will never be quite the same, but it will be plenty suitable for baking and cooking with.
Ideas for Using Up Buttermilk (Before it Goes Bad!)
Make a batch of ranch or creamy blue cheese dressing and have a big chopped salad for dinner. Don't forget the diced ham and chopped boiled eggs!
Whip up a few trays of buttermilk biscuits, a skillet of cornbread, or a pound cake loaf or two. These items freeze wonderfully and can be pulled from the freezer as you need them. Pro tip: freeze your pound cakes in individual or double slices for easy defrosting.
Have breakfast for dinner! Cook up a load of buttermilk pancakes or waffles and top them with plenty of fresh fruit. Feeling decadent? Give these Pan Fried Cinnamon Bananas a try as a pancake or waffle topping.
Got a bag of potatoes on hand? Then you have the perfect way to use up that leftover buttermilk! After boiling the peeled spuds, mash them with buttermilk, then season with salt and black pepper.
Can You Make Your Own Buttermilk?
Ok the only true way to make homemade buttermilk is to make your own butter (a topic for another day) and then save the leftover liquid. But there is one quick, homemade substitute which will work very well if you find yourself in a pinch after discovering that your buttermilk has gone bad!
Simply stir 1 tablespoon of lemon juice or vinegar into 1 cup of milk and allow the mixture to sit for 10-15 minutes. In this short period of time, the milk will curdle slightly and thicken, giving it a very similar texture to that of buttermilk. The milk will also have a subtle sourness thanks to the acid! If you opt to use vinegar, just keep in mind the flavors of the recipe you are using the mixture for and take care not to use any vinegars that are too strongly flavored!
Does Buttermilk Go Bad? The Bottom Line
When it comes to answering the question "how long does buttermilk last?", there are several factors to consider. Chances are you are trying to find out about that bottle of cultured buttermilk you picked up at the grocery store, but if you are dealing with traditional buttermilk or buttermilk powder, the lifespan will be different.
If you have aging buttermilk in the fridge and are trying to determine if it is any good, this can be tough since buttermilk tastes sour, even when it is perfectly fresh! The things you must look out for are signs of mold, an un-pourable texture, or any extra-sour or unpleasant smell or taste.
In order to prevent the waste of perfectly good buttermilk, you can easily freeze it, so that way you have some on hand anytime you need it. The best way to use up buttermilk though is to simply get creative with it and try out a new recipe or two. You might even wind up with a new favorite!