What do you think of when you hear the word "salad?"
For many, the salads we grew up with consisted of iceberg lettuce, sliced cucumber, some tomatoes and maybe some carrots. All of that was drowned in some sort of dressing from a bottle or jar. That is fine, I guess, but not very imaginative.
For this month we chose to challenge you to go beyond the dressings in a jar .We are inviting you to dive into the vast and wonderful world of homemade salad dressings.
Making your own salad dressings may sound intimidating at first but believe me it can be nearly as fast as reaching for and shaking that bottle of over-priced, preservative and additive loaded salad dressing. Homemade salad dressings are also cheaper, healthier and the taste is phenomenally better than anything you can buy.
Recipe Source: Recipes included here come from family traditions, Women's weekly "a salad every day" cookbook, and various online sources. Each recipe is noted with its source.
Blog-checking lines: For March's Daring Cooks' Challenge, Ruth, Shelley and Sawsan asked us to totally veg out! We made salads and dressings, letting the sky be the limit as we created new flavors and combinations that reflect our own unique tastes.
Posting Date:
March 14, 2014
DOWNLOAD THE PRINTABLE FILE HERE.
Notes:
There are several general styles of salad dressings. The most common are vinaigrettes, creamy dressings and cooked dressings.
A vinaigrette is generally an emulsion of some sort of vinegar with some form of oil. when you make vinaigrettes there are a few things to keep in mind.
•Keep the oil to vinegar ratio at about 3:1
•If you want a smooth consistency in which the oil and vinegar do not separate you must use an emulsifier. Dijon mustard is a good example
•Play with flavors:
o Change up the vinegar that you use, try balsamic, rice vinegar or apple cider.
oAdd onion, garlic, spices, herbs, and honey. A little addition can change everything
oTry replacing the lemon juice with orange juice or sumac for a different citrusy kick
•For simplicity use a jar where you simply dump, shake, and serve salad dressing.
Cooked dressings were developed at a time when vinaigrettes and mayonnaise were confined to the tables of the wealthy who could afford imported olive oil. Boiled salad dressings were the solution for the rest of the people, using cream or a combination of butter and milk for the fat. Similar to hollandaise sauce, it is not actually boiled, but gently cooked in the top of a double boiler.
Creamy salad dressings are usually created on a base of mayonnaise or some fermented milk product (such as buttermilk or sour cream or yogurt)
Mandatory Items: You must make your choice of salad dressing from scratch and use it to dress a salad.
Variations allowed: You may make any sort of salad you choose, using fruits, vegetables or grains as you base. The recipes provided within this challenge are for inspiration purpose only, and can be adjusted (or ignored!) based on your dietary needs and preferences.
Preparation time:
Varies by recipe.
Equipment required:
•Mixing bowls
•Measuring spoons
•Whisk
•Mixing spoons
•Knives/cutting board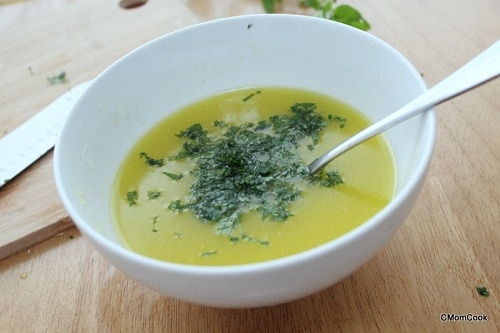 Lemony mint salad dressing
An Edible mosaic
1 clove of garlic, crushed with 1/4 teaspoon salt
Juice of 1 lemon (about 3 tablespoons (45 ml))
1/2 cup (120 ml) olive oil
1tablespoon (15 ml) minced fresh mint leaves
1) Whisk together the garlic/salt mixture and the lemon juice.
2) Whisk in the olive oil, drizzling the oil gradually into the lemon juice mixture, whisking continuously.
3) Stir in the mint.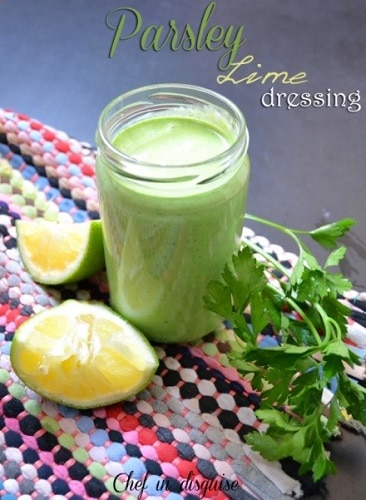 Parsley lime salad dressing
For the dressing
1/4 cup (60 m) sourcream or labneh (for a healthier lighter version)
1/4 cup (60 ml) Greek (natural-set) yogurt
1 cup (240 ml) (25 gm) (1 oz) fresh parsley chopped
3-4 tablespoons (45-60 ml) olive oil
1-2 cloves of garlic chopped
2 tablespoons (30 ml) lime juice
Salt and pepper to taste
Blend all the dressing ingredients in your blender until smooth, set aside.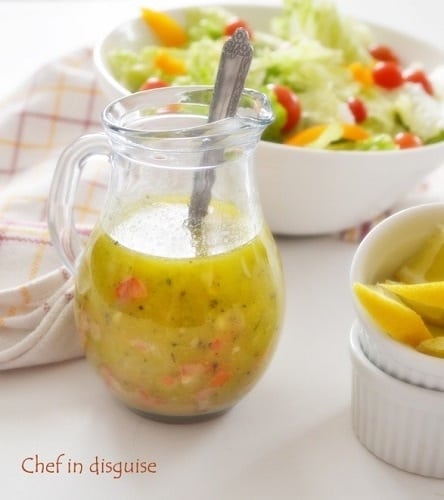 Italian salad dressing
The kitchn
Makes 3/4 cup (using 2-4 tablespoons per salad)
1/2 cup (120 ml) olive oil
3 tablespoons (45 ml) apple cider vinegar
1 garlic clove, pressed
1 tablespoon (15 ml) finely chopped shallots
1 tablespoon finely chopped red bell pepper
1 teaspoon (5 ml) Dijon mustard
1 teaspoon honey
1/2 teaspoon kosher salt, plus more to taste
1/4 teaspoon dried oregano
1/4 teaspoon dried marjoram
Pinch of red pepper flakes
Freshly ground black pepper, to taste
Combine all of the ingredients in a jar with a tight fitting lid. Shake vigorously until the mixture is thickened and well-combined.
Alternatively, combine the ingredients in a bowl and whisk until combined.
Taste the dressing using a lettuce leaf and adjust seasonings.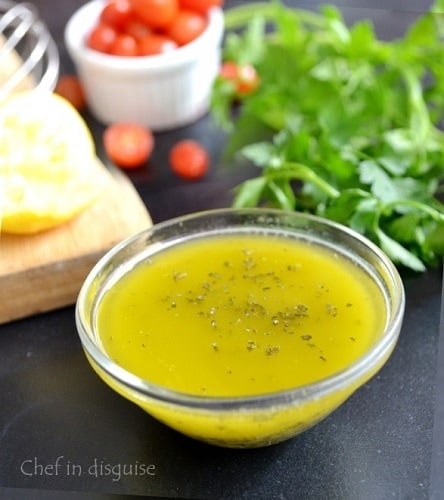 Basic Vinaigrette salad dressing
Juice of half a lemon
1 tablespoon (15 ml) vinegar
1 teaspoon (5 ml) mustard
1 teaspoon oregano
salt
pepper
3-4 tablespoons (45-60 ml) olive oil
Mix the dressing ingredients except for the oil
Drizzle in the oil while whisking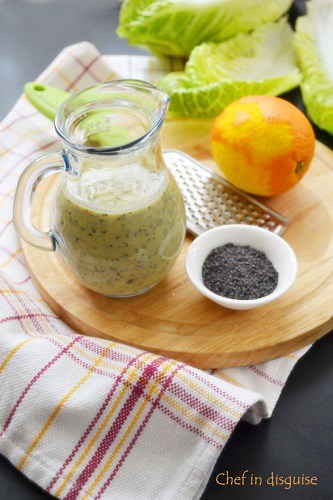 Citrus and poppy seeds salad dressing
Women's weekly
2 teaspoons (10 ml) orange zest
¼ cup (60 ml) orange juice
2 tablespoons (30 ml) apple cider vinegar
1 tablespoon (15 ml) (10 gm) (1/3 oz) poppy seeds
1/3 cup (80 ml) sour cream
1 teaspoon (5 ml) mustard
1 teaspoon (5 ml) honey
Whisk all the ingredients until homogenous
Storage & Freezing Instructions/Tips:
Dressings have varying storage times, based on the ingredients. Vinaigrettes with no spoilable ingredients can be kept in an airtight container until they are used up while creamy dressings can be stored, again, in an airtight container, and in the refrigerator, for about a week.
Additional Information:
Following are a few links to collections of salads and dressings, some informative, some inspirational, and all available as a springboard to get your imagination and taste buds stirring.
http://en.wikipedia.org/wiki/Salad
http://allrecipes.com/recipes/salad/
http://www.simplyrecipes.com/recipes/course/salad/
http://www.foodnetwork.com/topics/salad-dressing.html
http://www.foodnetwork.com/recipes/articles/50-salad-dressing-recipes.ht…
http://allrecipes.com/howto/salad-dressings/
a boiled salad dressing http://southernfood.about.com/cs/saladdressings/a/boileddressing.htm