From frying perfect chicken and fish to making great pancakes, stir-fries, potstickers and shabu-shabu, electric skillets continue to find a way into our homes with their useful and versatile features.
In fact, it is this wide variety of features that often makes the task of finding the best electric skillet a bit difficult. However, once you determine what your needs and restrictions are, you should be able to make the right choice.
Top 9 Electric Skillet Reviews
Presto 06852 16-Inch Electric Skillet with Glass Cover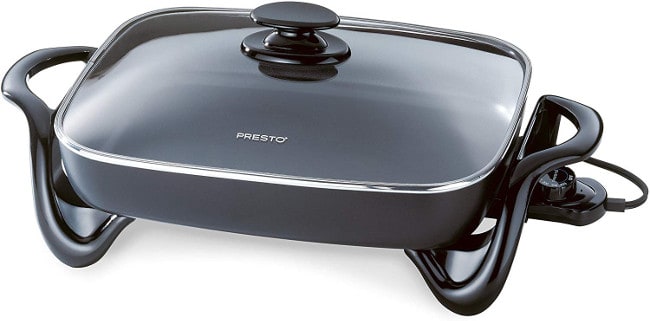 One of the most important features to consider when looking for the best electric skillet is the size of its base. Small skillets take less space and are quicker to heat up, but nothing beats the functionality of a generous size surface especially when you need extra cooking or serving capacity.
The Presto 06852 features a big size rectangular base that provides plenty of space to prepare fried chicken and well-cooked roasts, stews and casseroles. Its high sidewalls increase the cooking capacity, protecting from spills and frying oil accidents.
The heavy cast aluminum base is warp-proof and covered with a non-stick coating (inside and out) that is smooth and easy to clean. The glass tempered lid improves visibility while cooking but also adds style to it which is great when cooking on a table with guests or when using the skillet as a buffet server.
The maximum temperature of 400 degrees is enough for almost any cooking task from sautéing pork or chicken to making steaks, pancakes and even high deep dish pizza!
It is easy to clean and can be fully immersed into the water once you remove the pan from the base but should not be soaked into water for more thana couple of hours as this can damage the non-stick coating.
It is also dishwasher safe but discoloration on the bottom may develop due to the causticity of the dishwashing detergent.
On the downside, the glass lid does not have a vent to allow the steam to come out. The company also recommends against using it as a deep fryer.
Important Specs:
Dimensions: 23 x 13 x 9 inches.
Weight: 9 pounds.
Depth: Approximately 2.5 inches.
Stay-cool handles.
Temperature heat controller.
It only connects to a 120VAC electrical outlet.
1-year limited warranty.
Copper Chef Electric Skillet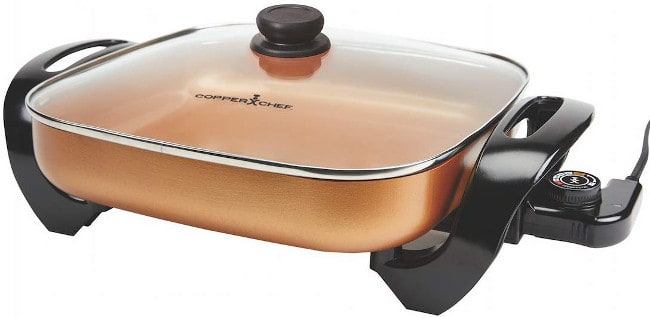 When thinking about ways to prepare healthy meals for you and your family, consuming less fat, butter or oil is a great option, any health nutritionist would tell you that. Cooking with very little to no fatty substance would not be possible or manageable, to say the least, without a good quality non-stick cooking surface.
The Copper Chef brand is popular for its good non-stick cookware that is free of PFOA& PTFE. The Copper Chef electric skillet features a Cerami-Tech coating surface that is non-stick and allows for an easy-breezy cleanup.
This product can be used for a variety of cooking methods from steaming and sautéing to making casseroles and frying fish, vegetables and meats. Its 12-inch base can prepare a one-pot meal for 5-6 people and its deep sidewalls increase the cooking capacity.
The copper pan and glass lid would look good on any table or buffet, serving as a stylish food warmer.
What we like in this model is the steam vent which makes cooking easier and safer. There is also a thermostat with a control dial temperature control dial that sets the desired temperature from 120° F to 425° F. The handles are control-heat and have a nice grip.
What we don't like is that the skillet and the base are attached to one another and they don't come apart. This can make cleaning inconvenient as the unit should not be submerged into water.
However, the glass lid can be washed in the dishwasher but make sure that you place it on the top shelf upright and not upside down. It can also be washed by hand using a mild detergent.
Important Specs:
Dimensions: 12 x 12 x 6 inches.
Weight: 7.95 pounds.
Rated power: 1200 Watts.
Model: CC-12Skillet.
On/Off Arrow indicator.
60-day money-back guarantee.
Oster Titanium Infused Duraceramic Square Electric Skillet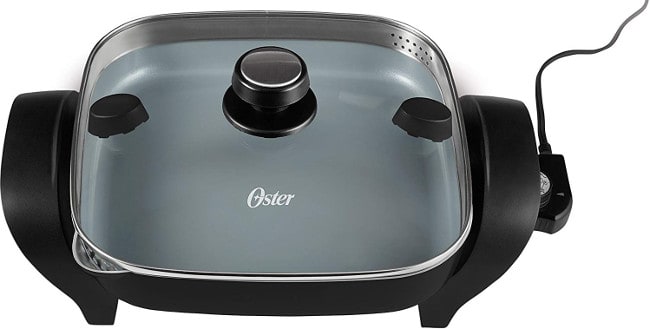 One of the cons people often complain about when it comes to the performance of certain electric frying pans is that their non-stick surface starts peeling off and losing its coating a few months after use.
Titanium infused ceramic coated cookware is said to heat faster than iron or steel and features enhanced non-stick properties that provide durability and better performance. The non-stick materials are non-reactive or toxic and, therefore, considered to be safe for healthy cooking.
However, you may need to make sure that the coating of the skillet you are interested in buying is free of harmful materials such as nickel, PFOA and heavy metals.
Oster CKSTSK12S electric frying pan boasts to have titanium infused coating that cooks up to 30% faster than typical non-stick surfaces and it is also PTFE and PFOA free. Its base is 12 inches and the walls of the pan are a little more than 2.25 inches, which is a good size for preparing one-dish meals quickly and effortlessly.
We like the large and small straining holes to adjust the liquids in your food as well as the drain spout which facilitates the easy draining of excess liquid without the use of potholders. For safety reasons, you just need to make sure that the lid is in place and the device is unplugged from the electrical outlet.
In addition, the tempered glass lid has steam vents and thumb pads, and the side handles are cool-touch.
Users like that the surface of the pan is free from harmful chemical ingredients and that it heats up very quickly and cooks really fast, maintaining good temperature.
Important Specs:
Dimensions: 5.8 x 14.7 x 13.1 inches.
Weight: 6.3 pounds.
Rated power: 1200 Watts.
Adjustable and removable temperature controller.
Maximum temperature reaches 420° F.
Electric skillet recipes included in the manufacturer's manual.
1 year limited warranty
Presto 06857 16-inch Electric Foldaway Skillet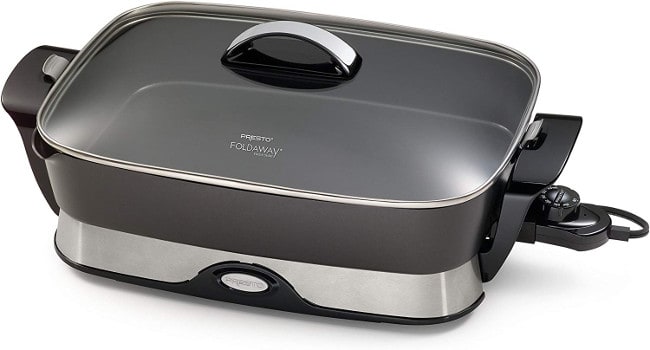 Presto has been a leading brand in the industry of household and small electric appliances since 1905 when it was founded. The O6857 model is one of their best selling items in the category of electric run skillets.
From roasting and frying to stewing and baking, this unit can be easily used for batch cooking. You can even bake cookies but you need to buy the baking rack that is specially designed for this item.
The large 16-inch base and high sidewalls increase both cooking and serving capacity. The base is heavy cast aluminum which is good for even cooking.
The manufacture of coating of all Prestoproducts adheres to regulatory standards including NSF approvals, FDA, UL® listings and other regulatory compliance that is worldwide. The non-stick coating is PTFE free and very easy to clean.
The glass cover lid and cool-touch handles are great for doubling the skillet as a buffet server. However, Presto's customer service does not recommend using it as a warming tray because it can shorten the lifetime of the product and void your guarantee.
The removable pan has a flat surface that works well in terms of heat distribution. In regard to the temperature control, keep in mind that in order to maintain the temperature you select, the unit will cycle on and off.
We particularly like the built-in spout which can be used to drain liquids and as a spoon or spatula rest. There is no steam vent but the pour spout on the corner allows steam to come out.
It is also dishwasher safe once the heat control is removed, and very easy to store, saving you space and allowing for easy transport. You just need to fold the handles down and remove the pan from the base. With the handles folded, the base fits inside the pan and the cover stores compactly on top.
Important Specs:
Pan dimensions: 15. 75″ x 11. 87″ x 2. 87″.
Weight:8.55 pounds.
Maximum temperature: 400° F.
Rated power: 1500 watts.
1 year limited warranty.
BELLA 14607 Ceramic Copper Titanium Electric Skillet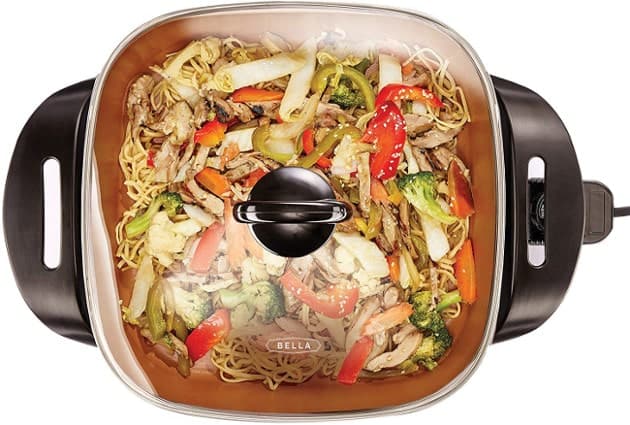 In people's minds, electric skillet cooking is healthy because, due to the non-stick coating, little to no oil or butter is needed. However, the non-stick feature does not ensure healthy cooking just on its own since the coating of some of these products is made from harmful toxic materials.
This is not the case with the BELLA 14607 whose coating is free of PTFE, PFOA, lead, and cadmium. The base is ceramic and titanium infused, which makes cooking fast and increases durability. The coating does not quickly wear off and is more resistant to damage caused by metal utensils.
Another advantage of the base is that it is also cast aluminum, a lightweight durable material that cooks food evenly and cools down fast. In terms of heat conduction, it is superior to stainless steel and it is also scratch and rust-resistant.
Its non-stick feature makes food easy to handle and cleaning is convenient as there is no scrubbing required. This multi-functional appliance is suitable for a variety of cooking tasks and methods such as frying, roasting, pan-broiling, braising, simmering or steaming.
The 12-inch base offers adequate space for the preparation of a one-pot family meal. More specifically, it can fit up to 6 pork chops or 10 chicken drumsticks.
The tempered glass lid is good for easy viewing and looks attractive when placed on a buffet table. The cool-touch handles are convenient and easy to grip. The pan does not separate from the base, but it is fully immersible once the heating element gets removed.
On the downside, the temperature dial may be a bit difficult to adjust as it is situated under the handle. Also, the cord is a little short and unless you have an outlet nearby, you may need an extension.
Users really like how fast and hot-spot free this pan is.
Important Specs:
Dimensions: 16.7″ x 12.1″ x 7.9″ (L x W x H).
Weight: 4.74 pounds.
Rated power: 1200 Watts.
Maximum temperature of 450° F.
Dishwasher safe glass lid.
2 Year limited warranty.
NUWAVE Medley X-Large Duralon Ceramic Non-Stick Digital Skillet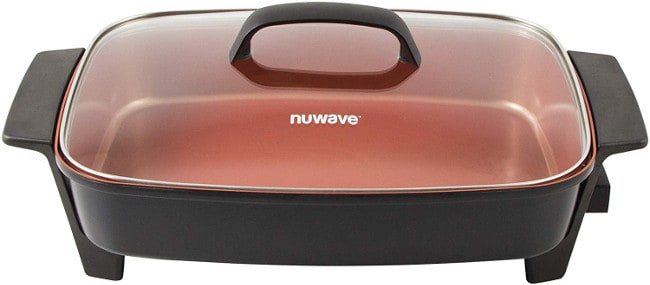 NUWAVE Medley XL Digital skillet is a large capacity unit with a 16-inch cooking surface and deep sidewalls which makes it suitable for a variety of cooking methods, from frying and steaming to searing and slow cooking.
It features Duralon® ceramic non-stick coating which actually consists of two layers, the top one, which is titanium infused, and the base coat, which is diamond infused. The base of the pan is cast aluminum.
Duralon® is a natural eco-friendly ceramic material since it does not contain any toxic harmful chemicals such as cadmium, PFOA, PTFE, lead or BPA. Thus, if it gets accidentally overheated, it will release no toxic fumes.
Teflon coatings are prone to flaking and peeling quickly, but Duralon® coating is long-lasting with a 9H grade, unlike Teflon coatings which are between 2 and 3H grade. Using utensils that are non-metallic such as silicone, wood or plastic can also prolong the durability of the coating.
In addition, a feature that is different than most similar products of this type is the digital temperature control which allows you to set the desired temperature in 5° increments starting from 100°F and going up to 425°F. You can also adjust the time in 1-minute increments (starting from 1 minute to 9 hours and 60 minutes).
As a safety precaution, the timer shuts off the appliance once the cooking time is finished. The heating coil has a unique "M" shape, which NUWAVE claims to generate heat more quickly and more evenly than the common circular shape coils.
The NuWave Medley is easy to wipe off or wash clean. It is also dishwasher-safe except for the temperature probe. The steam vent, glass lid, and heat-resistant handles make this product more functional and easy to use.
Users like the size and convenient coating which makes food easily slide off. The cleanup is also very simple.
However, there have been some complaints in regard to the temperature control and how evenly this product cooks.
Important Specs:
Dimensions: 12 x 16 x 4 inches.
Weight: less than 7 lbs.
Power rate: 1500 Watts.
Limited warranty.
Recipes included.
De'Longhi BG45 Electric Skillet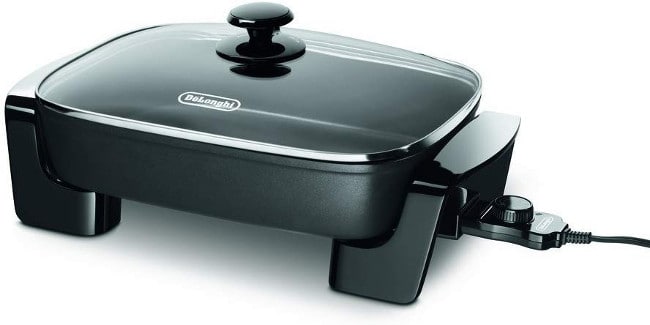 If you are looking for a combination of affordable price and useful features, the De'Longhi BG45 is a popular option.
Its 16-inch cooking surface provides adequate space to cook for a large crowd while the 3 inch deep sidewalls make it easy to mix different foods preventing spillage all over your countertop. Also, the temperature can be easily set with the adjustable knob, ranging from 200° F – 400° F.
We particularly like the adjustable feature of the steam vent holes, which allows you to adjust the steam ventilation according to your needs. If you want the food to dry, you put the knob on 'OPEN' whereas if you need the steam to stay in the pot, you set it to ´CLOSE'.
This product has a die-cast aluminum base that heats quickly and handles materials easily. It is non-stick and very easy to clean. The pan itself is on the heavy side, but it has a solid construction and a sturdy feel to it.
The embedded heating element runs around the perimeter of the pan, providing good heat distribution. The glass lid offers good visibility and gives a refined look to the appliance that is much appreciated when using the unit as a serving or warming dish. The handles are resistant to heat and well made.
Cleaning is convenient and fast as it can easily be placed in the dishwasher or cleaned by hand.
Users like its sturdy construction and affordability. They review that it heats fairly evenly although some cold or hot spots are to be expected. For best results, maintaining a steady temperature may require your close attention.
Important Specs:
Dimensions of the unit: 15 inches long, 11 ½ inches wide and 3 inches deep.
Weight: 8.89 pounds.
Power rate: 1500 Watts.
It comes with a detachable and adjustable thermostat.
On/off switch.
Integrated removable drip tray.
1 year limited warranty.
Cuisinart CSK-150 1500-Watt Nonstick Oval Electric Skillet

With its shiny, smooth and mirror-finished appearance, Cuisinart CSK-150 would complement anydécorfrom traditional style to urban country and modern loft.
The brushed stainless steel exterior including the rim and the handles do not only look attractive but they are durable and remain blemish and stain-free after many years of use.
The see-through glass lid allows you to have better visual control of the cooking process and adds to the style of your buffet if you are using the pan as a warmer.
This pan has a large 5.5 quart cooking and serving capacity, which is great for entertaining. For even heat cooking, the element of heat is mounted in a thick 5mm capsulated aluminum base.
We like the steam vent which helps prevent splattering and the interior non-stick surface is easy to clean. By removing the cord, this pan is ready to be fully immersed or go into the dishwasher.
Using a temperature control dial, the temperature can be set from 'Warm' up to 450°F, but what we don´t like is that once the temperature reaches the desired level, the appliance turns off. This is due to safety precautions, but it makes cooking inconvenient.
Some users don't like the fact that this unit does not maintain temperature well and requires constant attention when it is on.
Important Specs:
12″ x 15″ oval-shaped cooking surface.
12.50 pounds of weight.
2 1/2 inches deep.
1500 Watts of power.
Instructions include 30 recipes.
BPA Free.
Limited 3-year warranty.
Hamilton Beach 38529 Durathon Ceramic Electric Skillet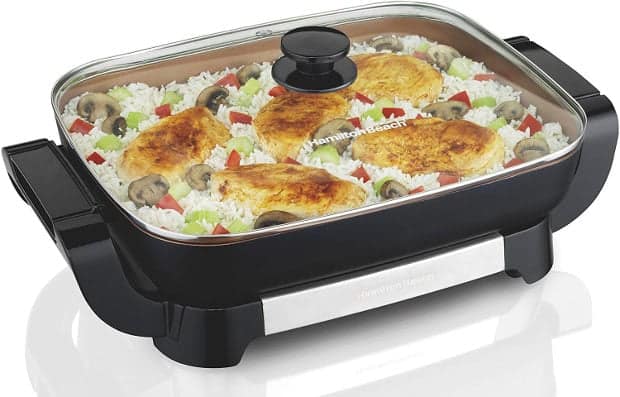 With a 100 year history in the home appliance industry, Hamilton Beach is a brand that is well known for its wide variety of quality products. Is this the case with Hamilton Beach 38529ceramic electric pan? Let's read on!
Surely, this 12" x 15" skillet with 3" deep walls has adequate cooking space for a family of 4 to 6, and it can easily be used as a serving dish since the pan is removable. You can either wash the skillet by lifting it off or place it all to the dishwasher after removing the cord.
If you are looking for a durable, non-stick and safe healthy option, look no further than ceramic coating. This type of cookware is manufactured without the use of chemical materials such as PTFE and PFOA and it surpasses Teflon in terms of heat resistance.
It is also more durable and resistant to scratches or other types of abrasion, but this does not mean that the coating will last for a lifetime. There are some ways to extend its life including cooking on low to medium heat, washing by hand and using non-metal utensils.
Other nice features of this model include a tempered glass lid with a vent, heat-resistant handles and an adjustable temperature control dial that you can set between 200ºF and 400ºF.
Important Specs:
Pan dimensions: 12in. x 15in. by 3in.
Item weight: 8 lbs.
Power rate: 1500 Watts.
Limited warranty.
Why Choose An Electric Skillet
If you are wondering whether you need to buy an electric skillet or not, here are some benefits and advantages to remember:
Versatility
Whether you need an extra cooking unit, a buffet warmer or an RV fryer all in one appliance, electric skillets are all about versatility.
They can be used instead of an electric stove when you don't have time to waste and you need a quick solution to cover the eating needs of you and your family. They are also particularly useful when you have to prepare a lot of one type of food for a large number of guests (for example, bacon, pancakes or dumplings, you get the idea).
In addition, they are great for small houses, dorm rooms and RVs where space is an issue. We love the option of using them on the table to cook sukiyaki and shabu shabu with guests.
Cooking Capacity
Cooking for more people can always be challenging and a stressing factor no matter what the level of your cooking experience is.
Electric frying pans mainly have a flat surface and high sidewalls, which increases the cooking capacity. Therefore, larger quantities of food can be cooked.
The lids of these pans are often roomy and tall, providing extra height and room for a variety of items to be prepared or warmed up such as bulky foods.
Temperature Control
Frying is all about achieving a steady temperature. While there are many appliances that are simply not up to the task (see electric stovetops and even some induction stovetops), electric pans may positively surprise you.
By easily setting the temperature at the desired level and keeping it steady and even, you can easily fry crispy chicken in a matter of minutes like your mother used to do, remember?
However, keep in mind that not all pans are the same, and some are better at cooking evenly than others.
Energy Efficiency
Having better control over the temperature can result in less cooking time and saving energy. These skillets also give off a lot less heat than traditional electric cooktops and gas ranges, which can be a life-savior in hot weather.
Easy to Clean
Covered with anon-stick coating makes cleaning a breeze. However, you need to clean in a non-abrasive manner, using tools that are gentle to the surface of the product. Also, never use metal utensils to scrape off sticky food remnants.
Variety of Features
With a wide variety of handy features available from steam vents to pouring spouts and clip-on lids to allow for portability and easy transport, these skillets can be a lot more functional and easy to use than you would ever think possible.
Electric Skillet Buying Guide – Top Features To Look For
1) Size
Choosing the right size skillet depends on the number of people you need to cook for. For example, a 9-10" is suitable for 2-3 people whereas, for a family of 4-6, the best size is 12-14". For restaurants, parties and other events, you will need a 16" cooking surface.
2) Shape
Electric pans come in 3 sizes: square, rectangular and oval. The first two offer more cooking capacity than circular models but they also occupy more space on the countertop or inside your kitchen cupboard.
3) Weight And Storage
The weight can be an important factor if you want to increase ease of portability and storing. Ease of storage can also depend on the size and the shape of your appliance.
4) Cooking Purpose
All the skillets that are electric can be used for a variety of cooking methods, but for frying or braising, you will need to find a model with high sidewalls to prevent oil splattering.
Also, keep in mind that most, if not all, electric skillet brands warn against using their product for deep frying, so this is something you need to check before buying.
5) Type Of Coating
All of these devices feature a non-stick coating which makes handling food and cleaning the pan very easy. However, some bases, such as titanium infused ceramic and die-cast aluminum are more eco-friendly and healthier than Teflon since they do not contain toxic chemicals.
They are also more durable because the coating takes longer to peel off or degrade than Teflon, providing good value for money.
6) Temperature Controls
The temperature, in most of these products, is set with a dial but there are a few digital ones, too. For high-temperature cooking, some devices go up to 400°F while others go up to 425°Fand even 450°F.
You can also look for a 'keep warm' option.
7) Ease Of Cleaning
These items can be easily wiped due to their non-stick surface. For more convenient cleaning, some pans separate from their base. Most of them are also dishwasher safe. However, hand washing can prolong the life of the pan.
8) Price
Depending on your budget, you will be able to find an electric skillet anywhere between $25 to $150 depending on the quality and features.
9) Additional Features
Glass tempered lid.
Heat resistant handles.
Steam vent.
Drainage spout.
Inserts to apply baking, roasting or grilling racks.
The Bottom Line
Electric skillets are not going to go out of fashion any time soon. In fact, due to their versatility and handy features, their popularity may increase. In order to ensure a good buying experience, make sure to choose a product that best meets your specific needs and budget.