Hi everyone! On the internet I am known as Monkey Queenand can be found at Don't Make Me Call My Flying Monkeys. I have been with Daring Kitchen since January 2011 and have loved every minute of the time I have spent trying to leave the ordinary world of cooking and adventure far afield to push the boundaries of what I know. I grew up in a home where my mother cooked because she had too and not necessarily because she enjoyed it. As an adult, I learned that I enjoyed food more then I originally thought growing up and I began my quest to understand how food was put together and the many tastes that I had never encountered.
This month, I wanted to jump into something that could be as complicated or as simple as you choose and a challenge that could include the younger members of your family. To accomplish this, I choose "En Croute" as the challenge.
Download printable file HERE
What is En Croute? It is a food that has been wrapped in pastry dough and baked in an oven. You can find lots of foods to wrap; salmon, pork, vegetables and fruit, with beef wellington being the most decadent and well known.
I wanted to offer three En Croute recipes with different difficulty levels; beef wellington, stuffed mushrooms and a saucisson en croute to potentially include children of an appropriate age.

Beef Wellington Stuffed Mushroom en Croute Saucisson en Croute
Recipe Source: Classic beef wellington – Finecooking.com
Mushrooms en Croute – Ocado.com
Saucisson en Croute – Max, my 8 year old sous chef, came up with this one all on his own.
Blog-checking lines: Our lovely Monkey Queen of Don't Make Me Call My Flying Monkeys, was our May Daring Cooks' hostess and she challenged us to dive into the world of en Croute! We were encouraged to make Beef Wellington, Stuffed Mushroom en Croute and to bring our kids into the challenge by encouraging them to create their own en Croute recipes!
Posting Date: May 14, 2013
Note: Many of the beef wellington recipes that you will find may not include the liver pate or crepes. I had beef wellington one time in a restaurant, it was amazing and it included both pate and crepes so that is how I did it. I improvised a bit by making my wellingtons as individual servings and by adding herbs to the crepes to reflect what I used in the duxelles. Here is a video that was made from the recipe that I used and shows you how to assemble and wrap the beef.
Mandatory Items: Wrap whatever suits your taste in some type of pastry and bake it.
Variations allowed: You can use various foods to be wrapped and experiment with the types of bread/pastries that you use to wrap up your food choice. If you have children of an appropriate age, I would have them create their own en Croute.
Preparation time: Time will depend on the recipe that you have chosen.
Equipment required:
Equipment will depend on the recipes that you have chosen.
Classic Beef Wellington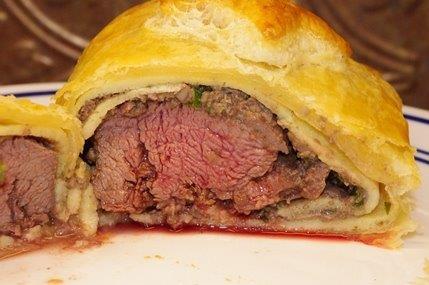 Servings: 4
Ingredients
For the duxelles
2 tablespoons (30 ml) (30 gm) (1 oz) unsalted butter, softened
1 tablespoon (15 ml) vegetable or sunflower oil
1/4 cup (60 m) (25 gm) (¾ oz) finely chopped shallots
1-1/2 cups (360 ml) (100 gm) (3½ oz) finely chopped Portobello mushrooms (from 4 large caps; remove the stems and gills before chopping, preferably in a food processor)
Kosher salt and freshly ground black pepper
1 tablespoon (15 ml) (1 gm) finely chopped fresh flat-leaf parsley
Directions:
1.Heat the butter and oil in a 10-inch (25 cm) skillet over low heat.
2.Add the shallots and cook, stirring often, until translucent, 3 to 4 minutes.
3.Add the mushrooms, stir well, and raise the heat to medium. Cook, stirring occasionally, until the mushrooms have cooked down to a thick, almost black mixture, about 15 minutes.

4.Season with a pinch of salt and a few grinds of pepper.
5.Stir in the parsley; then transfer to a small bowl and cool completely. (The duxelles can be refrigerated for up to 2 days or frozen for up to 2 months.)
Ingredients
For the crêpes
1/2 cup (120 ml) (70 gm) (2-1/2 oz) unbleached all-purpose (plain) flour
1/8 teaspoons (½ gm) kosher salt
2 large eggs
3/4 cup (180 ml) whole milk
2 tablespoons (30 ml) (30 gm) (1 oz) unsalted butter
Directions:
1.In a large bowl, whisk the flour and salt. Make a well in the center, break in the eggs, and add 1/4 cup (60 ml) of the milk.
2.Gently whisk the eggs and milk, gradually incorporating the flour.
3.Slowly whisk in the remaining milk to make a smooth batter. (The batter can be covered and set aside for up to an hour at this point.)
Melt the butter in a 10-inch (25 cm) skillet over medium-low heat. Swirl the pan to coat with the butter; pour the excess butter out into a small bowl.
4.Whisk 1 tablespoon (15 ml) (½ oz) (15 gm) of the melted butter into the batter. Reserve the rest for greasing the pan between crêpes.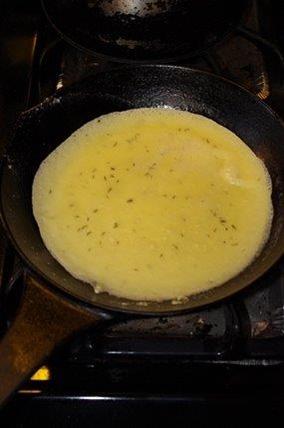 5.Increase the heat to medium high and pour 1/4 cup (60 ml) of the batter into the skillet. Swirl so the batter thinly and evenly coats the base of the pan.
6.Cook until the crêpe is spotted with brown on the underside, about 1 minute, then flip and cook the other side until lightly browned, 30 seconds to 1 minute more.
7.Repeat with the remaining batter, greasing the pan off the heat as necessary.
8.Transfer the crêpes to a plate, separating them with sheets of parchment, and cool. You'll need about 4 crêpes.
Ingredients
For assembly
3 pounds (1-1/3 kg) center-cut beef tenderloin, trimmed, side muscle removed
Kosher salt and freshly ground black pepper
1 teaspoon (5 ml) vegetable or sunflower oil
2/3 cup (180 ml) chicken liver pâté, homemade or store-bought
1 pound (½ kg) puff pastry, homemade or store-bought, thawed overnight in the refrigerator if frozen
1 large egg, lightly beaten
1 teaspoon (5 ml) (5 gm) unsalted butter, softened
Directions:
1.Remove the beef from the refrigerator about an hour ahead so it has time to lose its chill. Pat the beef dry and season all over with salt and pepper.
2.Heat the oil in a 12-inch (30 cm skillet over high heat until very hot. Sear the beef until it is evenly browned all over (don't worry about the ends), 2 to 3 minutes per side.
3.Transfer the beef to a baking sheet and cool.
4.In a medium bowl, mash the pâté and the duxelles with a fork until they form a soft paste.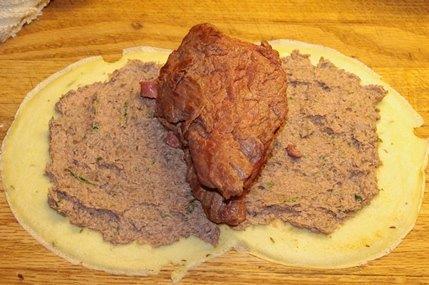 5.Lay 4 crêpes on a clean work surface, overlapping them just enough to give you a 13×13-inch (33x 33 cm) roughly square surface. Dot the pâté mixture over the crêpes, then use an offset spatula to spread it evenly across the crêpes' surface.
6.Place the tenderloin in the center of the crêpes and carefully wrap them around the filet, pressing and molding them into place. Trim off any excess crêpe at the ends.
7.If using store-bought puff pastry that's packaged as 2 sheets, fuse the sheets together by slightly overlapping them and lightly rolling over the seam until adhered.
8.On a lightly floured surface, roll out the puff pastry to a 13×16-inch (33×40 cm) rectangle (for store-bought puff, roll in the direction of the seam).
9.Transfer the wrapped beef to the center of the pastry and tuck any crêpes that have come loose back into place. Bring the pastry up around the beef, smoothing out any air pockets.
10.Brush some of the beaten egg along the bottom edge of the seam and then press gently to seal; trim off any excess. Seal the pastry similarly at the ends.
11.Lightly grease a large baking sheet with the butter. Lift the Wellington onto the sheet, seam side down. Refrigerate for at least 15 minutes and up to 3 hours. (If refrigerating longer than 1 hour, let the Wellington sit at room temperature for 1 hour before baking.)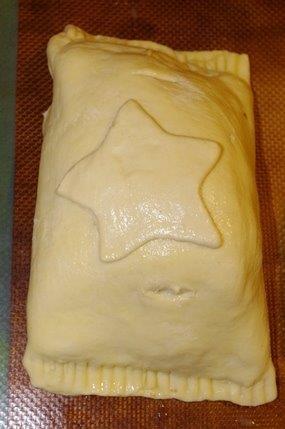 12.At least 20 minutes before baking, heat the oven to very hot 475°F/240°C/gas mark 9 and position a rack in the center of the oven. Brush the Wellington with the remaining beaten egg.
13.Using a sharp knife, score the surface of the pastry with diagonal lines, being careful not to cut all the way through the pastry.
14.Put the Wellington in the oven and immediately reduce the temperature to hot 425°F/220C/gas mark 7. Roast for 10 minutes, then reduce the heat to moderately hot 400°F/200°C/gas mark 6 and roast until an instant-read thermometer inserted into the center of the Wellington registers 135°F/57°C for medium rare, 20 to 25 minutes.
15.Transfer to a carving board and let the Wellington rest for 10 minutes.
Mushroom En Croute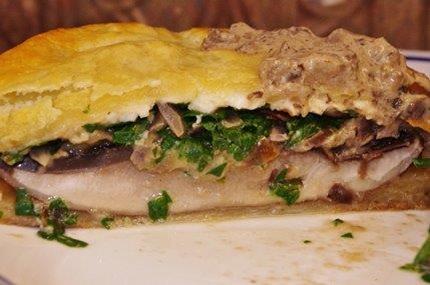 Servings: 4
Ingredients
6 large (225 gm) (8 oz) Portobello Mushroom caps
2 tablespoons (30 ml) Olive Oil
8 Shallots, sliced
2 tablespoons (30 ml) (2 gm) Fresh Thyme, chopped
1 Lemon, zest only
2 large bunches (225 gm) (8 oz) Baby Spinach
¼ cup (60 ml) (15 gm) (½ oz) Breadcrumbs
4 oz (115 gm) brie cheese, sliced
16 oz (500 gm) Puff Pastry
1 Large Egg, beaten
½ Vegetable Stock Cube, dissolved in ¾ cup (180 ml) of water
2 tablespoons (30 ml) Crème Fraiche
Directions:
1.Preheat oven to moderately hot 400°F/200°C/gas mark 6.
2.Reserve the 4 largest mushrooms and set to one side. Chop the remaining mushrooms.
3.Heat the oil in a frying pan and cook the shallots until softened. Remove half the shallots from the pan and place in a bowl.
4.Add the chopped mushrooms to the remaining shallots in the frying pan and cook until softened, then remove the pan from the heat.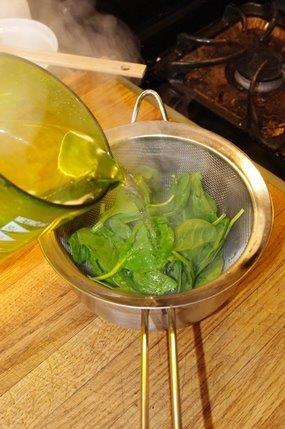 5.Place the spinach in a bowl and pour over boiling water, stir then drain in a colander thoroughly, pressing down on the spinach to squeeze out as much liquid as possible.
6.When cool enough to handle chop and add to the bowl with shallots. Add the thyme and lemon zest, season and mix well.
7.Roll out the pastry to measure approximately 20 x 12 inches (50x30cm) and cut into 4 equal pieces. Now working with one piece at a time, place a whole mushroom, gill side up, on one side of the pastry
8.Sprinkle with a quarter of the breadcrumbs followed by a quarter of the spinach mixture and finally a quarter of the cheese.



9.Brush the edges of the pastry with the beaten egg and fold over to enclose the mushrooms, pinching the edges to seal. Repeat with the remaining pastry and filling, then place on a baking sheet. Brush with beaten egg and cook in the preheated oven for 25 minutes until golden and crisp.
10.While the mushrooms are cooking, gently reheat the chopped mushrooms and add the stock, bring to the boil and then reduce the heat to a simmer. Stir through the crème fraiche and keep warm until ready to serve.
Saucisson En Croute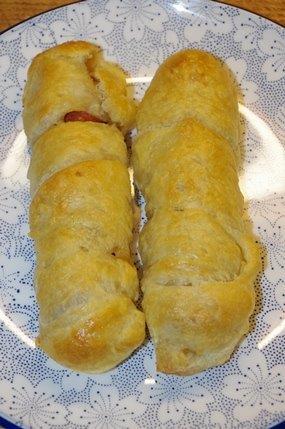 (perfect for little hands and creative minds)
Servings: 2
Ingredients
2 sausages
1/4 sheet puff pastry, cut in long strips
Cheese (optional)
Directions:
1.If using cheese, wrap the cheese around the sausages.
2.Wrap the strips of pastry around in a spiral to cover the sausage.
3.Once covered, brush with egg wash
4.Bake in a preheated hot oven 425°F/220°C/gas mark 7 for 15-20 minutes or till the pastry is golden brown.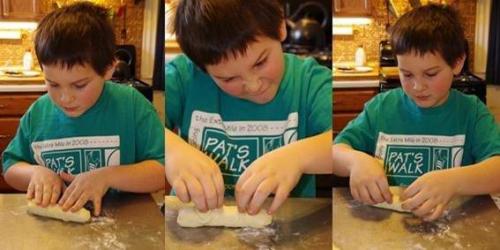 Storage & Freezing Instructions/Tips:
Each of these recipes can be frozen for up to 2 weeks after they have been fully cooked, though they are best when fresh.