This feta pasta recipe had major hype on Tiktok for a reason! It is so simple and easy to make. And, my version is so quick to make. In well under an hour, you will have a yummy Greek-inspired pasta feast.
What is Tiktok Feta Pasta?
There are tons of food trends that come around. Feta pasta is the latest one to take over social media. That's because it's a brilliant recipe that's absolutely delicious!
Some say the feta pasta craze started in Finland. A Finnish blogger may have been the first to post about this pasta dish. Apparently, feta pasta is quite popular in Finland. Who knew?
Since then, popular food bloggers have created Tiktoks making this awesome recipe. All you need is feta, cherry tomatoes, olive oil, and seasonings (I like salt, pepper, and garlic!) Put it all together into a baking pan, pop it in the oven, and BAM! You have a delicious and creamy sauce for whatever pasta you desire.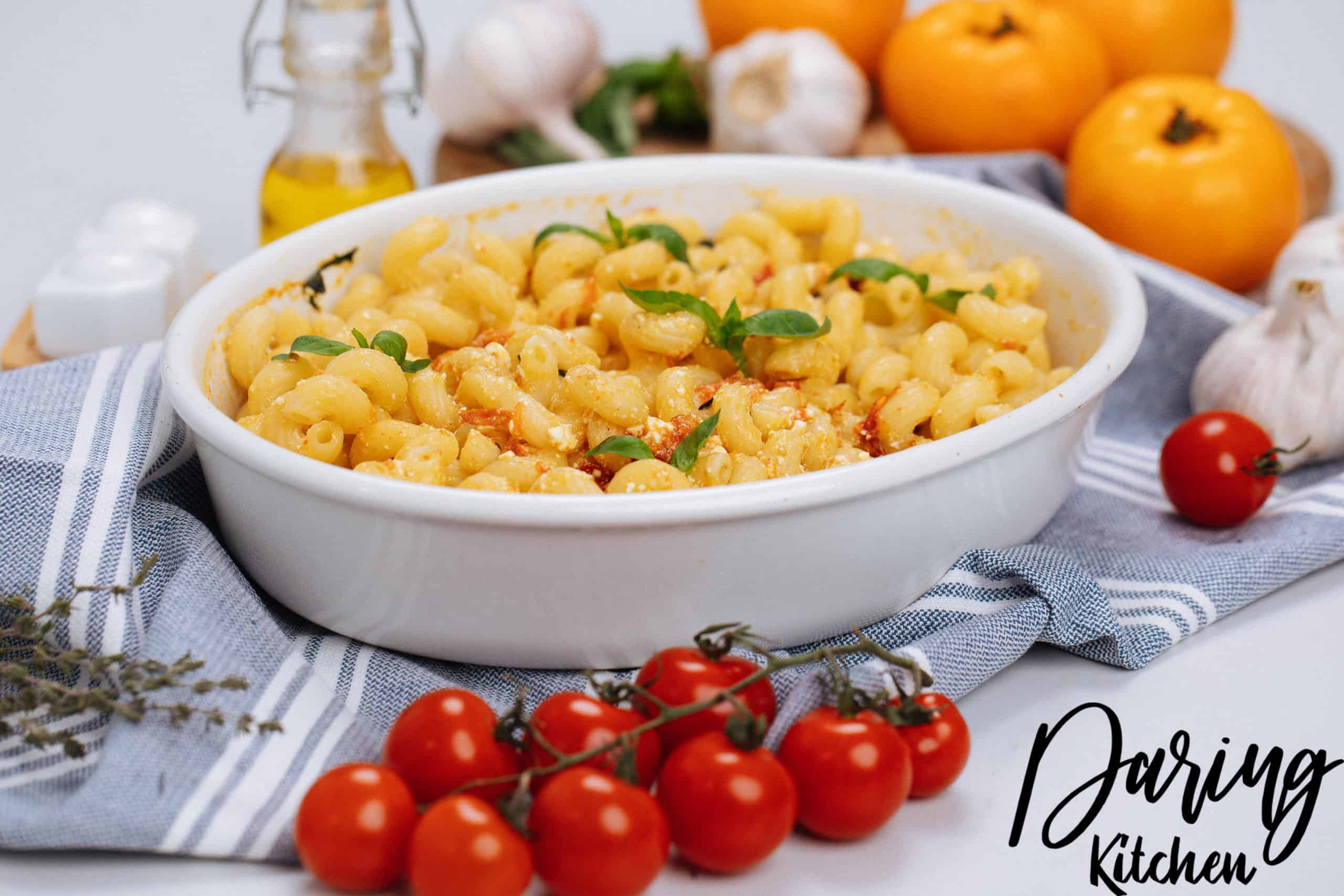 My Awesome Baked Feta Pasta Recipe
I am definitely one to create my own recipes, rather than try the latest trends. But, after seeing all the awesome feta pasta interpretations on social media, I couldn't resist trying to make this dish. And, I am so happy that I did!
Feta pasta is really great. I was so shocked by how straightforward and effortless the recipe is. It doesn't even require you to whip up a pot of sauce. The sauce comes together magically in the oven with just a few ingredients!
The pasta shape is also totally up to you in this recipe. I love using cavatappi - its curly shape has great texture. Plus, it makes this dish look kind of like macaroni. I mean, it's sorta like adult macaroni and cheese, right?
If you can't find cavatappi, I love penne too!
I make baked feta pasta often now - well, when I can successfully find feta at the grocery store! Once you try feta pasta once, you can easily tweak the recipe and add your own flair. I love adding red pepper flakes to the sauce. It gives just enough heat to the dish and really enhances the cherry tomatoes.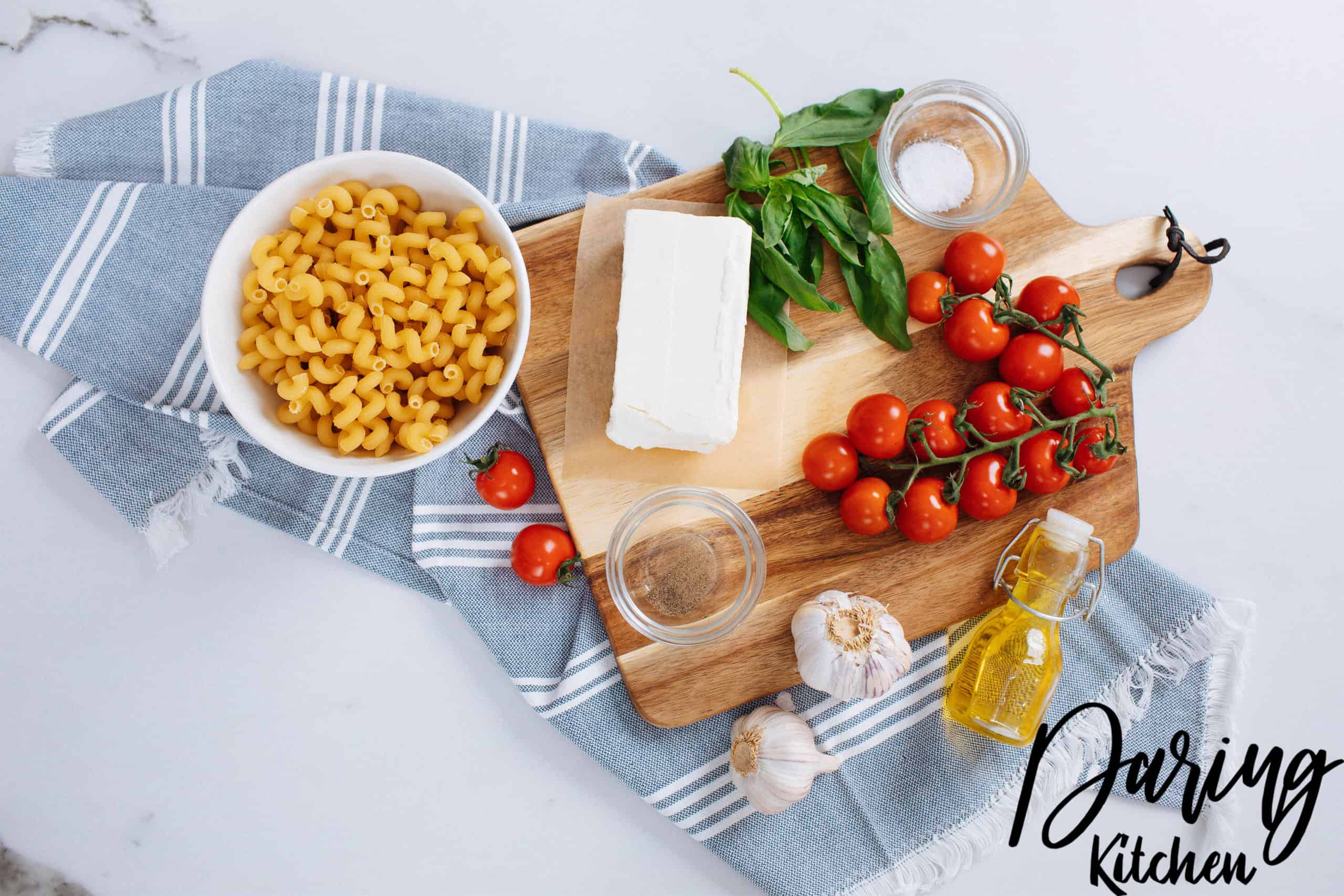 Baked Feta Pasta Ingredients
Baked feta pasta is not hard to make whatsoever. It relies on a few core ingredients that come together seamlessly to create a scrumptious sauce. Even though this recipe has few ingredients, you should always make sure they are top-quality ingredients. That's what makes the whole difference in this dish!
Here's what you'll need for this baked feta pasta recipe:
Block of feta cheese: you will need at least an 8-ounce block of feta cheese. A block is better than crumbles because a block typically offers way more flavor. I also prefer to use full-fat, as it lends more flavor and creaminess to the dish. A whole feta block also gives you the perfect photo op for social media!
Cherry tomatoes: ripe cherry tomatoes are essential for this dish. Their natural sweetness pairs so well with the saltiness of feta cheese! I do not recommend substituting cherry tomatoes with a larger, more fleshy tomato. The end result will not be as juicy or sweet. The consistency will also be off.
Olive oil: A high-quality extra virgin olive oil gives this dish flavor and complexity
Garlic: I am a lover of garlic. When added fresh to this pasta, it adds a nice bite that you get from your favorite bruschetta!
Seasonings: Salt and pepper are really all you need for this dish. But, you can also add in herbs that you love as well.
Pasta: For this pasta recipe, you can use any pasta shape you like! Long, short, dry, or fresh - this feta pasta sauce pairs well with all of it!
Pasta water: This is the ingredient you don't want to skip! If your pasta seems a little dry when mixed all together, a little pasta water helps to loosen up the sauce. Its starchiness also helps to keep the pasta creamy too. I always save at least ½ cup of pasta water for this dish.
Basil: I love adding fresh green basil to my tomato sauce recipes. It gives the dish more freshness. Plus, it adds great color to the dish.
How to Make Baked Feta Pasta
So, how do you make Tiktok feta pasta? I have the exact steps so that you will make this dish perfectly each and every time!
First, preheat your oven to 425 degrees. You want your oven very hot so that the cherry tomatoes blister. Then, choose a baking dish that fits your cherry tomatoes without giving them too much room. If the cherry tomatoes have too much space, they won't become as juicy.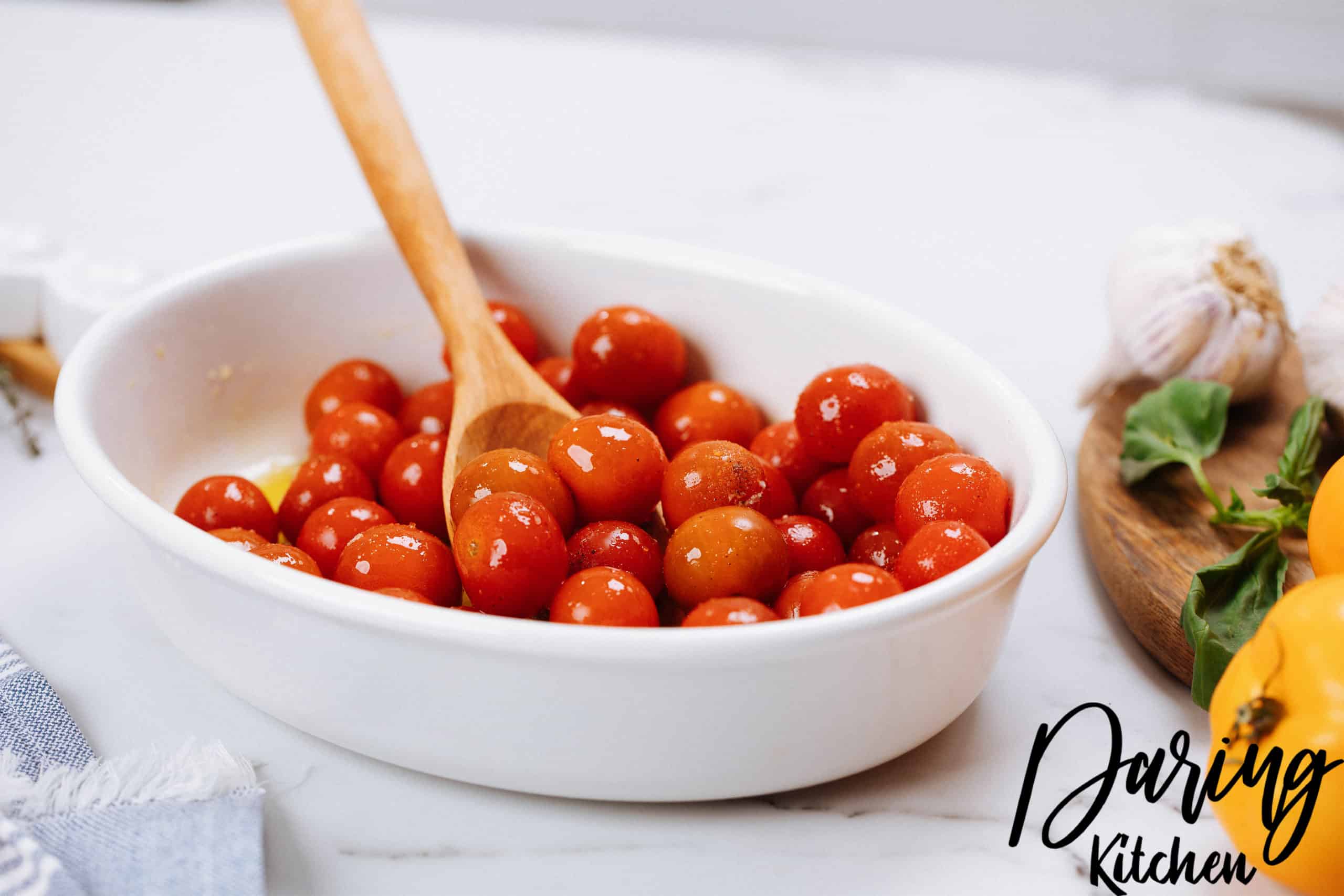 In the baking dish, add in your cherry tomatoes, olive oil, garlic, salt and pepper. Save some olive oil and seasonings for finishing your dish. Then, toss them all together so that the cherry tomatoes are well and evenly coated.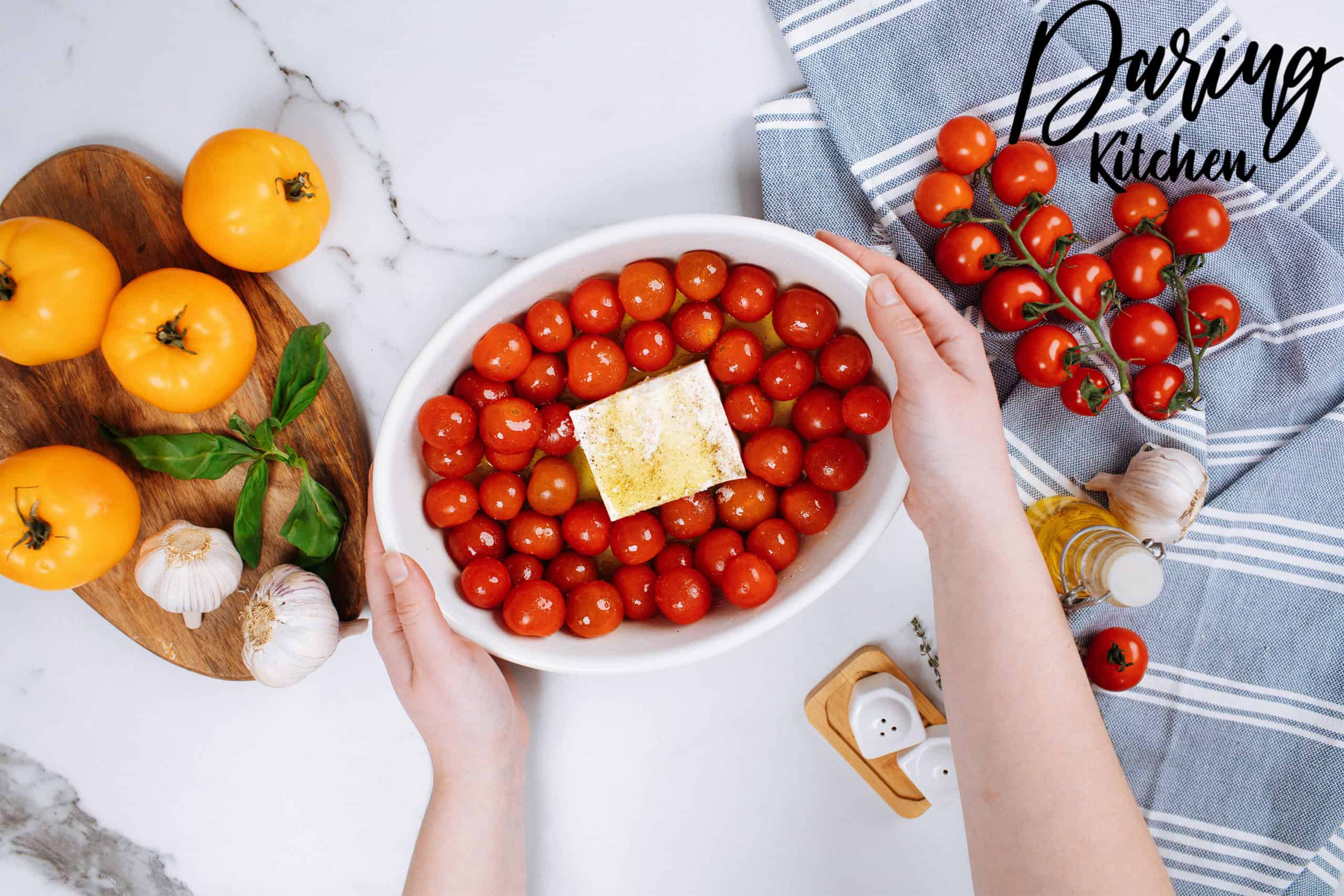 Place your block of feta cheese right in the middle of your seasoned cherry tomatoes. Gently sprinkle the rest of your olive oil and seasonings over the feta and cherry tomatoes. Then place it all in the oven. It will need to bake for around 20-25 minutes. You want the tomatoes to be blistering and your feta is creamy.
While you wait for your magical feta pasta sauce in the oven, start to make your pasta. Boil your favorite pasta shape in salted water until cooked. Before draining your pasta, save at least ½ cup of pasta water.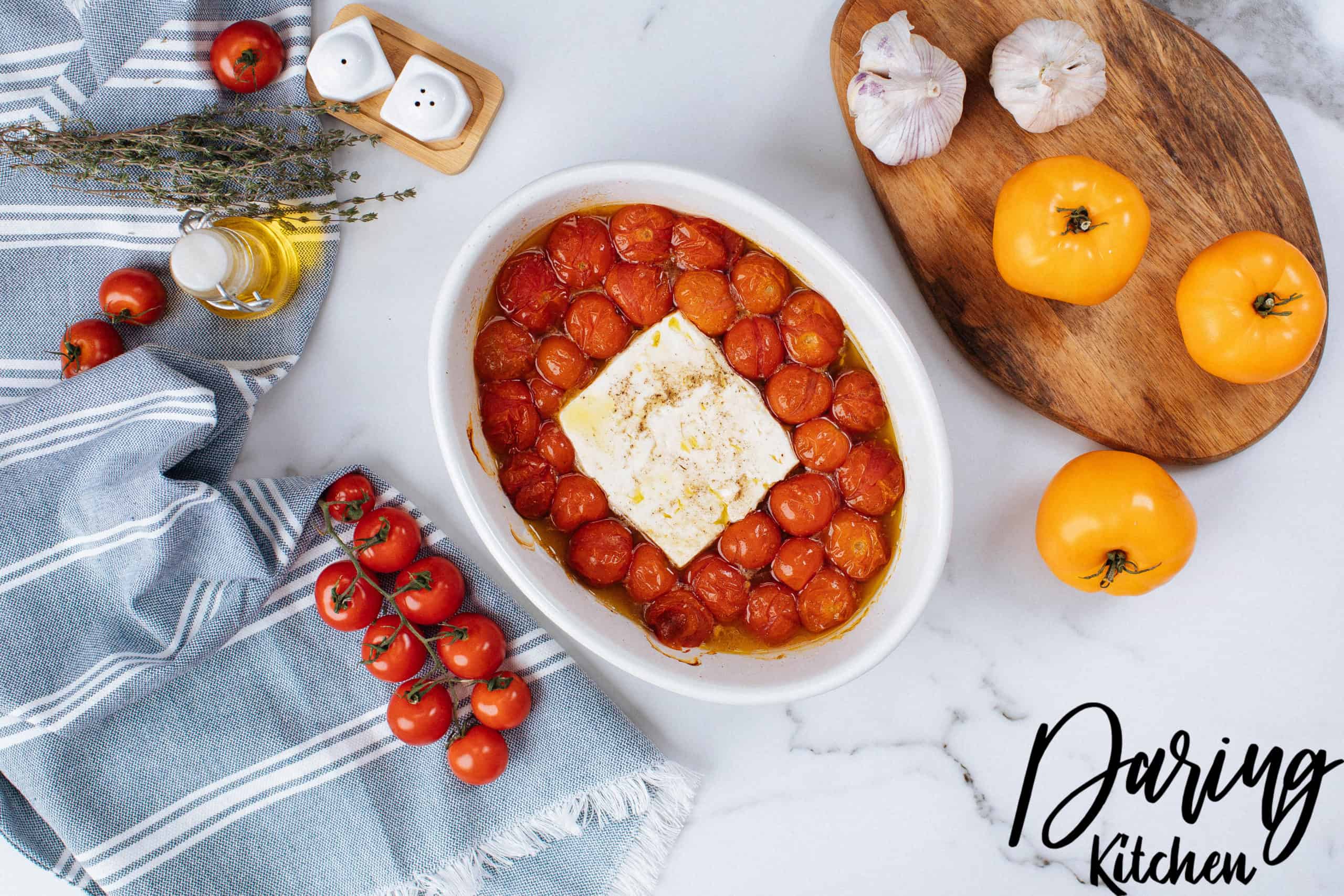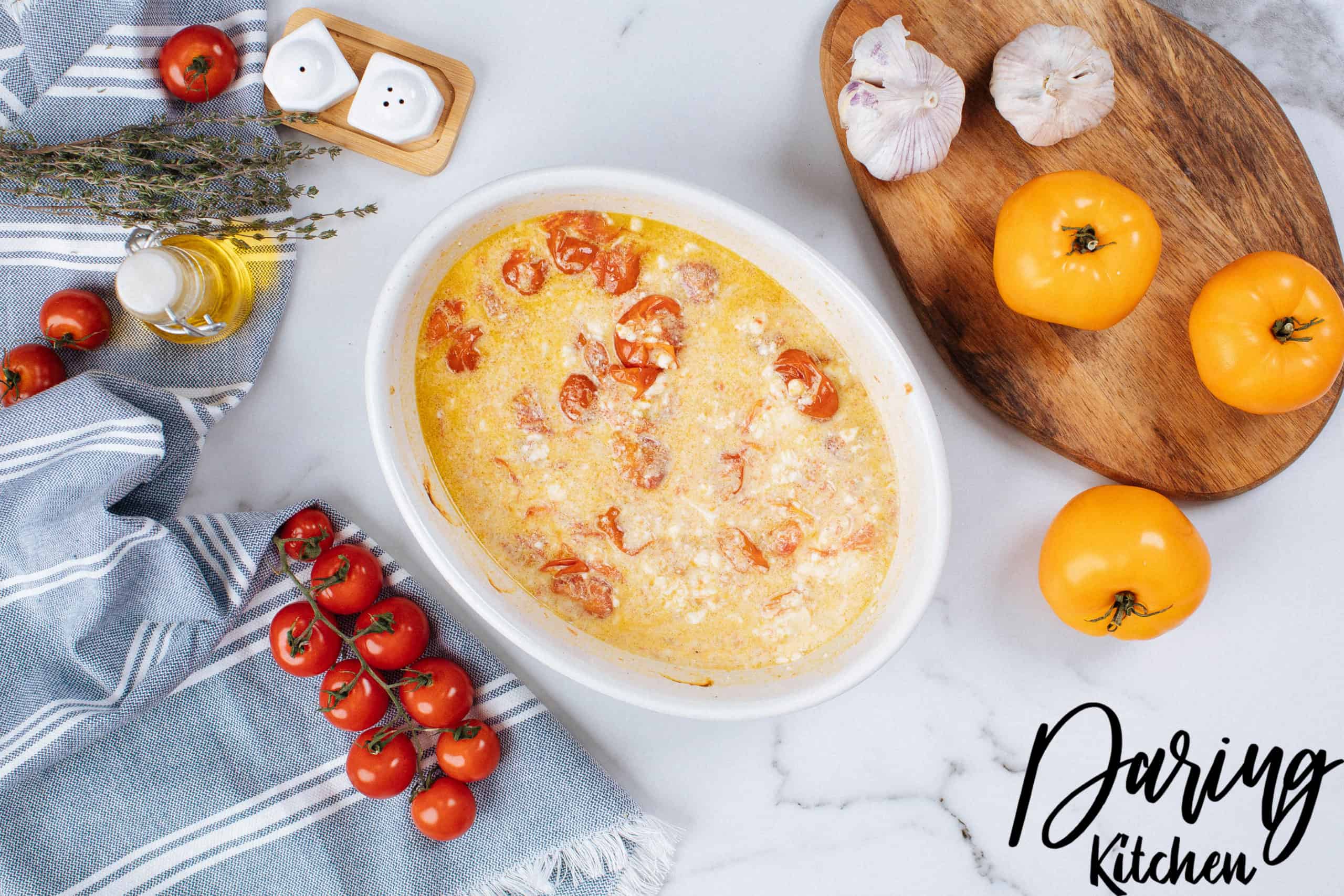 Remove your baked feta pasta from the oven. Carefully mix the roasted cherry tomatoes with the feta to create a sauce. Add in your chopped garlic and basil. When everything is mixed evenly, pour in your cooked pasta. Coat the pasta with the sauce, using the pasta water as necessary.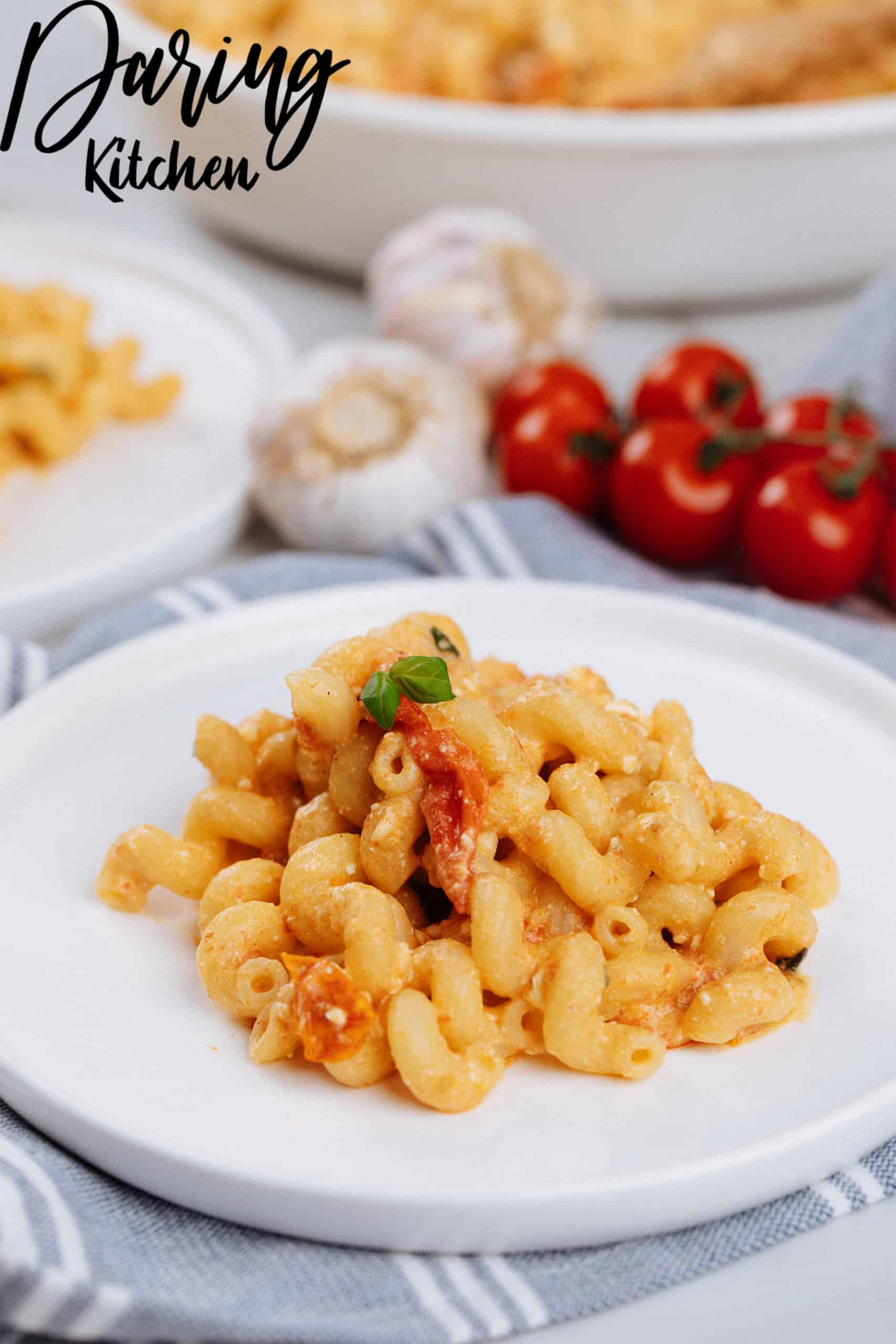 Serve your feta pasta in bowls with torn basil. You can sprinkle more grated cheese on it if you like. But, trust me this recipe is so cheesy and delicious, you won't even need it!
Enjoy!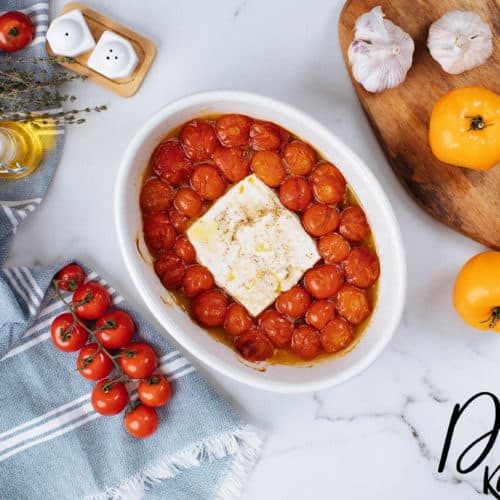 Baked Feta Pasta
This Tiktok feta pasta recipe was a social media sensation for a reason. With sweet cherry tomatoes and feta cheese, it's absolutely delicious!
Print
Pin
Rate
Ingredients
8

oz

feta cheese

(full fat is best)

14

oz

cherry tomatoes

(the sweeter the better)

2-3

garlic cloves

chopped

½

cup

olive oil

½

tsp

salt

½

tsp

ground black pepper

10

oz

pasta of choice

(use less pasta for more creamy sauce)

¼

cup

chopped basil
Instructions
Preheat the oven to 425º F.

Wash and dry cherry tomatoes before cooking.

In a baking dish toss together cherry tomatoes, olive oil, salt and pepper. Then, add the block of feta cheese in the middle and sprinkle with the remainder of the olive oil and species. Bake uncovered for about 20-25 minutes.

Meanwhile, bring a large pot of water to a boil, season it with salt and cook according to your package instructions.

Once the feta and the tomatoes are baked, mash the baked feta and tomatoes into a smooth mixture, add in chopped garlic, basil and prepared pasta, mix it well until it is creamy.