Hi. My name is a Kat from The Bobwhites and I'm a delinquent blogger. I'm learning to farm, I love to bake, and I thrill to use stuff from my property to feed people. But I haven't always been a baker…
I clearly remember Christmas of 1980. For one thing, I was so sick with chicken pox that I had to be carried down the stairs to open my Christmas stocking. I remember receiving a beautiful edition of Little Women with a fancy clear plastic overlay to protect the gorgeous artwork and my 90 pound Merriam Webster Dictionary. Both of these treasures were from my Grandma.
Download printable file HERE
I also remember what my mom received for Christmas—the Good Housekeeping Illustrated Cookbook. Being so sick, and having completely devoured Little Women and a whole lot of the dictionary as well, I turned to that cookbook. I memorized that cookbook. I devoured that cookbook. I wondered if I'd ever have the courage to make any of the gorgeous foods in that cookbook? After all, they did call for strange and unusual ingredients such as unflavored gelatin, dill-weed, and oddity of all oddities—brains!
The picture I lusted after the most was a beautiful tray of swans. This, I knew, was the absolute peak of what could be made in a kitchen. Since then, I've conquered many challenges inside and outside the kitchen. Grad school? Done! Beekeeping? Natch! But swans? SWANS? Could this even be done?
Yes!
And you can do it too. Remember Croquembouche? This is easier than that. Remember macarons? This is waaaay easier than that! Heck, this is even easier than those Battenburg cakes! People, I'm here to tell you, we can all do swans. In fact, I think I could have made these that terrible winter when I missed so much of third grade, if only I knew that dreams were really possible.
Recipe Source: Good Housekeeping Illustrated Guide to Cooking, 1980 edition.
Blog-checking lines: Kat of The Bobwhites was our August 2012 Daring Baker hostess who inspired us to have fun in creating pate a choux shapes, filled with crème patisserie or Chantilly cream. We were encouraged to create swans or any shape we wanted and to go crazy with filling flavors allowing our creativity to go wild!
Posting Date: August 27, 2012
Note from Lis: You'll find recipes for vanilla, chocolate and coffee Crème Patissiere taken from our May 2012 challenge, Croquembouche. They are half recipes so they can easily be doubled. In the Croquembouche challenge a half recipe was enough to fill approximately 28 small cream puffs (profiteroles), so figure anywhere between 14 and 20 swans, depending on how full you make them. I've included these recipes to give suggestions on how to flavor your fillings. Please feel free to make your filling any flavor that you'd like.
We've also included a recipe for Chantilly cream for those who want to make a lighter filling. Feel free to use it or any other filling recipe you'd like.
Fun video links are at the bottom of this challenge as well.
Mandatory Items: Make a crème-filled choux pastry in the design of your choice. Also mandatory is having a lot of fun doing it.
Variations allowed: Choose a shape, choose a flavor, choose a theme, just have fun. Paris Brest is a similar dessert, and would be a fun alternative to swans. Joy of Baking has a good-looking recipe here, but I haven't tried it so I'll leave that up to you!
Preparation time: You will need about three or four hours of active time, depending on your chosen project, whether you have to run out and gather eggs, and whether you spend too much time dancing around having fun. You will also need another hour or so for the pastries to chill. Or not. I didn't. But the recipe says you should. Whatever.
Equipment required:
•Mixing bowls
•Saucepan
•Silicone spatula or wooden spoon
•Whisk
•Baking sheets (silicone mats are also very useful)
•Electric beater
•Piping bag or plastic bag with a snipped-off corner
•Sharp knife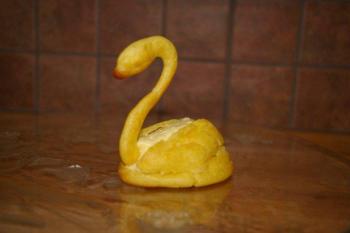 Vanilla Creme
Ingredients
1 tablespoon (15 ml) (7 gm) (1/4 oz) (1 envelope) unflavored gelatin
½ cup (120 ml) (115 gm) (4 oz) sugar
2 tablespoons (30 ml) (18 gm) (2/3 oz) all-purpose (plain) flour
4 large egg yolks, well beaten
1 cup (240 ml) milk
1 teaspoon (5 ml) vanilla extract
1 cup (240 ml) heavy (whipping) cream (about 35% butterfat)
Directions:
In a medium saucepan combine gelatin, flour, and sugar. Mix very well.
Add milk and egg yolks and turn heat to medium-low. Stir almost constantly until mixture is thick enough to cover the back of your spatula or spoon. This should take about 10 minutes.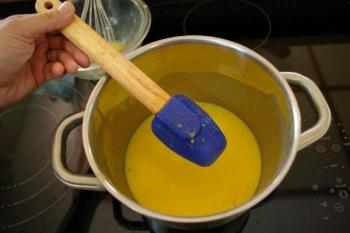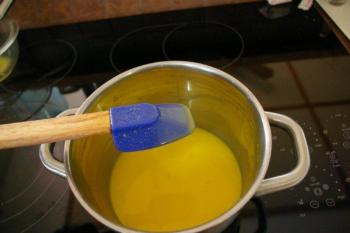 Once thick, immediately dump into a bowl, straining the mixture if you are concerned about lumps of cooked egg.
Add the vanilla, and mix in well.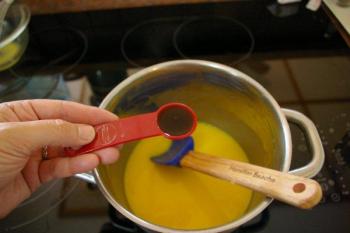 Cover the surface to prevent a skin from forming, and chill for about 45 minutes. You do not want the mixture to set, just to continue thickening.
Now is a good time to begin your choux paste.
In a large bowl, beat cream until light peaks form. Carefully fold the vanilla mixture into the whipped cream until the mixture is well-blended and fairly smooth.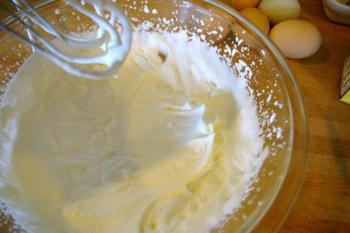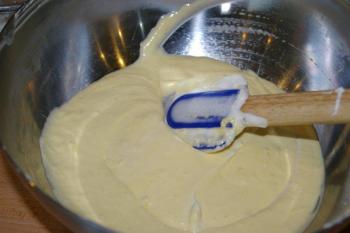 Refrigerate mixture if not using immediately.
Pate a choux
(cannot be doubled)
Ingredients
½ cup (120 ml) (115 gm) (4 oz) butter
1 cup (240 ml) water
¼ teaspoon (1½ gm) salt
1 cup (240 ml) (140 gm) (5 oz) all-purpose flour
4 large eggs
Directions:
Line at least two baking sheets with silicone mats or parchment paper, or grease pans well.
Preheat oven to moderately hot 375°F/190°C/gas mark 5 .
In a small saucepot, combine butter, water, and salt. Heat over until butter melts, then remove from stove.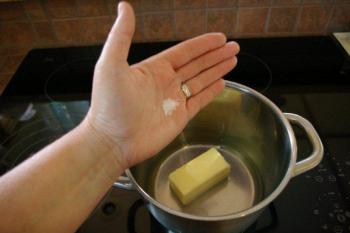 Add flour all at once and beat, beat, beat the mixture until the dough pulls away from the sides of the pot.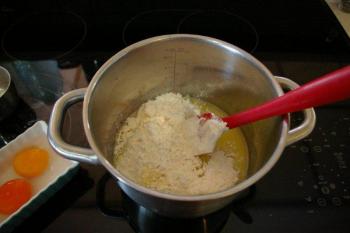 Add one egg, and beat until well combined. Add remaining eggs individually, beating vigorously after each addition. Resulting mixture should be somewhat glossy, very smooth, and somewhat thick.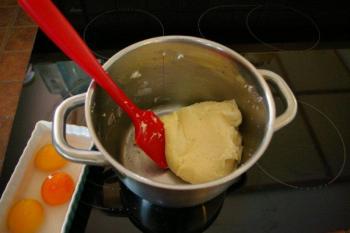 Using a ¼" (6 mm) tip on a pastry bag, pipe out about 36 swan heads. You're aiming for something between a numeral 2 and a question mark, with a little beak if you're skilled and/or lucky.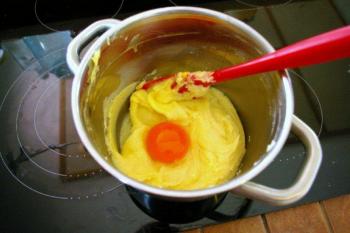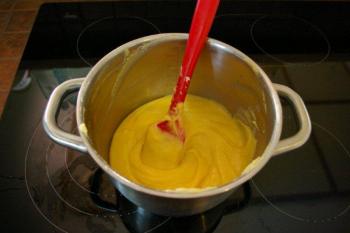 Remove the tip from the bag and pipe out 36 swan bodies. These will be about 1.5" (40 mm) long, and about 1" (25 mm) wide. One end should be a bit narrower than the other.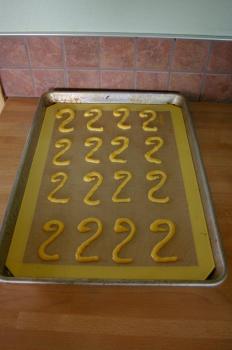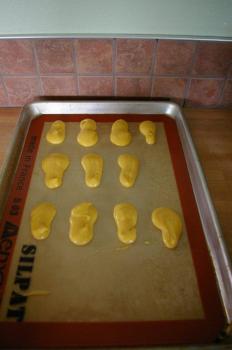 Bake the heads and bodies until golden and puffy. The heads will be done a few minutes before the bodies, so keep a close eye on the baking process.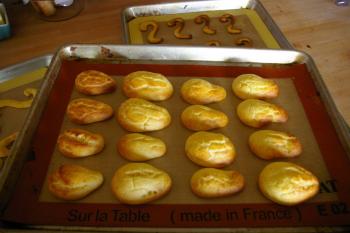 Remove the pastries to a cooling rack, and let cool completely before filling.
Assembly
Take a swan body and use a very sharp knife to cut off the top 1/3rd to ½.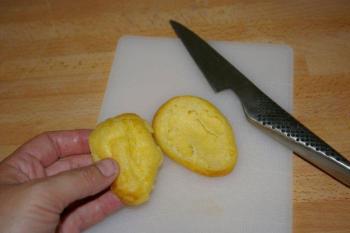 Cut the removed top down the center to make two wings.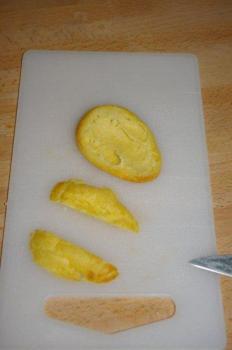 Dollop a bit of filling into the body, insert head, and then add wings.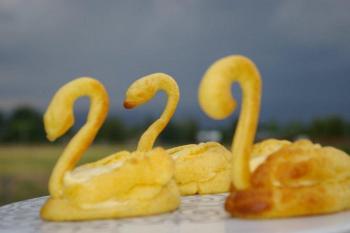 Your first attempt will probably not look like much, but the more you make, the more your bevy of swans will become a beautiful work of swan art.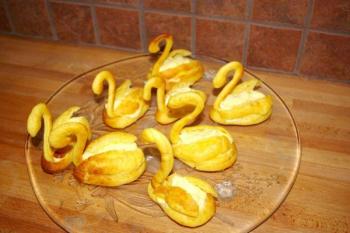 Vanilla Crème Patissiere
(Half Batch)
Ingredients:
1 cup (225 ml.) whole milk
2 Tbsp. cornstarch
6 Tbsp. (100 g.) sugar
1 large egg
2 large egg yolks
2 Tbsp. (30 g.) unsalted butter
1 Tsp. Vanilla
Directions:
Dissolve cornstarch in ¼ cup of milk. Combine the remaining milk with the sugar in a saucepan; bring to boil; remove from heat.
Beat the whole egg, then the yolks into the cornstarch mixture. Pour 1/3 of boiling milk into the egg mixture, whisking constantly so that the eggs do not begin to cook.
Return the remaining milk to boil. Pour in the hot egg mixture in a stream, continuing whisking.
Continue whisking (this is important – you do not want the eggs to solidify/cook) until the cream thickens and comes to a boil. Remove from heat and beat in the butter and vanilla.
Pour cream into a stainless steel/ceramic bowl. Press plastic wrap firmly against the surface. Chill immediately and until ready to use.
Chocolate Pastry Cream
(Half Batch Recipe):
Bring ¼ cup (about 50 cl.) milk to a boil in a small pan; remove from heat and add in 3 ounces (about 80 g.) semisweet chocolate, finely chopped, and mix until smooth. Whisk into pastry cream when you add the butter and vanilla.
Coffee Pastry Cream
(Half Batch recipe)
Dissolve 1 ½ teaspoons instant espresso powder in 1 ½ teaspoons boiling water. Whisk into pastry cream with butter and vanilla.
Chantilly Cream
1 cup (225 ml.) cold heavy cream
2 tablespoons confectioners' (powdered) sugar
Chill medium mixing bowl and whisk in freezer for 10 minutes before beginning. In chilled bowl, whisk cream until it begins to foam and thicken. Add sugar and continue to whisk just until soft peaks form. Do not over-whip.
Freezing/Storage Instructions/Tips: While the crème filling stores well when covered tightly and kept in a refrigerator, the baked choux does not store well at all, especially after being filled. Therefore, you must eat these the day they are made. This won't be a problem, though, I assure you.
Additional Information:
Pâté a choux Swan videos:
http://www.youtube.com/watch?v=hOKqFsQG3mA
http://www.youtube.com/watch?v=cV1H1RREjJg
Paris Brest videos:
http://www.youtube.com/watch?v=eeRQA6cNLR0
http://www.youtube.com/watch?v=VXRbsV0PSoI (In French, but easy to follow for non-French speaking people) 