Whether you're fixing a sumptuous meal at the shore or just simply preparing your latest catch for dinner, having the right tool for the job makes meal prep infinitely easier. Sure, a butcher's knife or just about any other kind of knife can butcher a fish too. And quite well at that. But only one type of knife gets the job done safely and efficiently – the best fillet knife.
Appropriately named, top fillet knives feature thin, flexible narrow blades that offer you precise control and the maneuverability you need to skin bones, fins, and entrails from a fish fillet. It's definitely a tool that you want to have around the kitchen if you're a fish lover.
However, with so many variations on the market, all in different sizes and with varying designs, choosing the best fillet knife that's a cut from the rest can be a rather arduous and exasperating affair. And the last thing you want is to choose the wrong knife for the obvious reasons that you could end up wasting precious meat or worse, risk cutting yourself in the process.
To help you out, we have done all the heavy lifting for you – so that you don't have to. In this article, we have reviewed 10 of the best fillet knives on the market in 2020 and mapped out in great detail what sets each knife apart from the rest and everything you need to consider before making a purchase decision.
Let's dive right in.
Shun DM0743 Classic Gokujo Boning and Fillet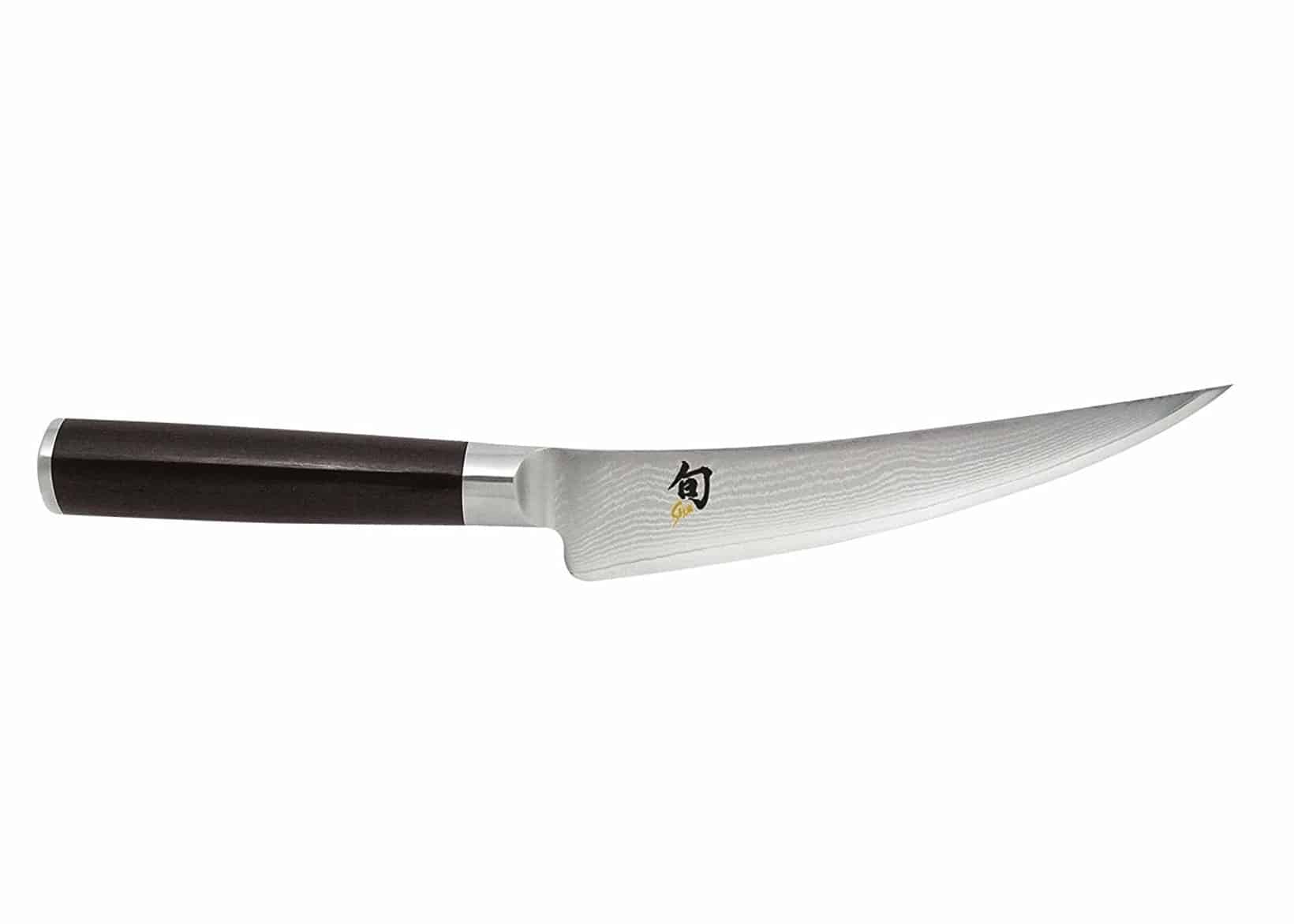 Eye-catching beauty. Efficiency. Fine results with every cut. It most certainly doesn't get any better than this. This 6-inch long Japanese Gokujo fish fillet knife is a one of a kind. Designed specifically for boning and filleting fish, the knife features strong robust blades that make it easy to cut through meat both safely and efficiently and a D-shaped design for a more comfortable grip.
Coming from a long line of high-quality cutlery options, it makes perfect sense that Shun costs $89.95. Sure, it's a bit on the higher side. But for all its advantages, I'd say it's well within reasonable range. Like all other knives in Shuns collection, the fillet knife comes while precision forged and features 16 layers of high carbon stainless steel on both sides.
Highlights of the Shun DM0743 Classic Gokujo Boning and Fillet
It cuts through meat seamlessly while maintaining the integrity of the meat.
It has a Damascus detailing that not only prevents morsels from sticking but is also aesthetically gorgeous.
Tuo Cutlery 7 Inch Boning Knife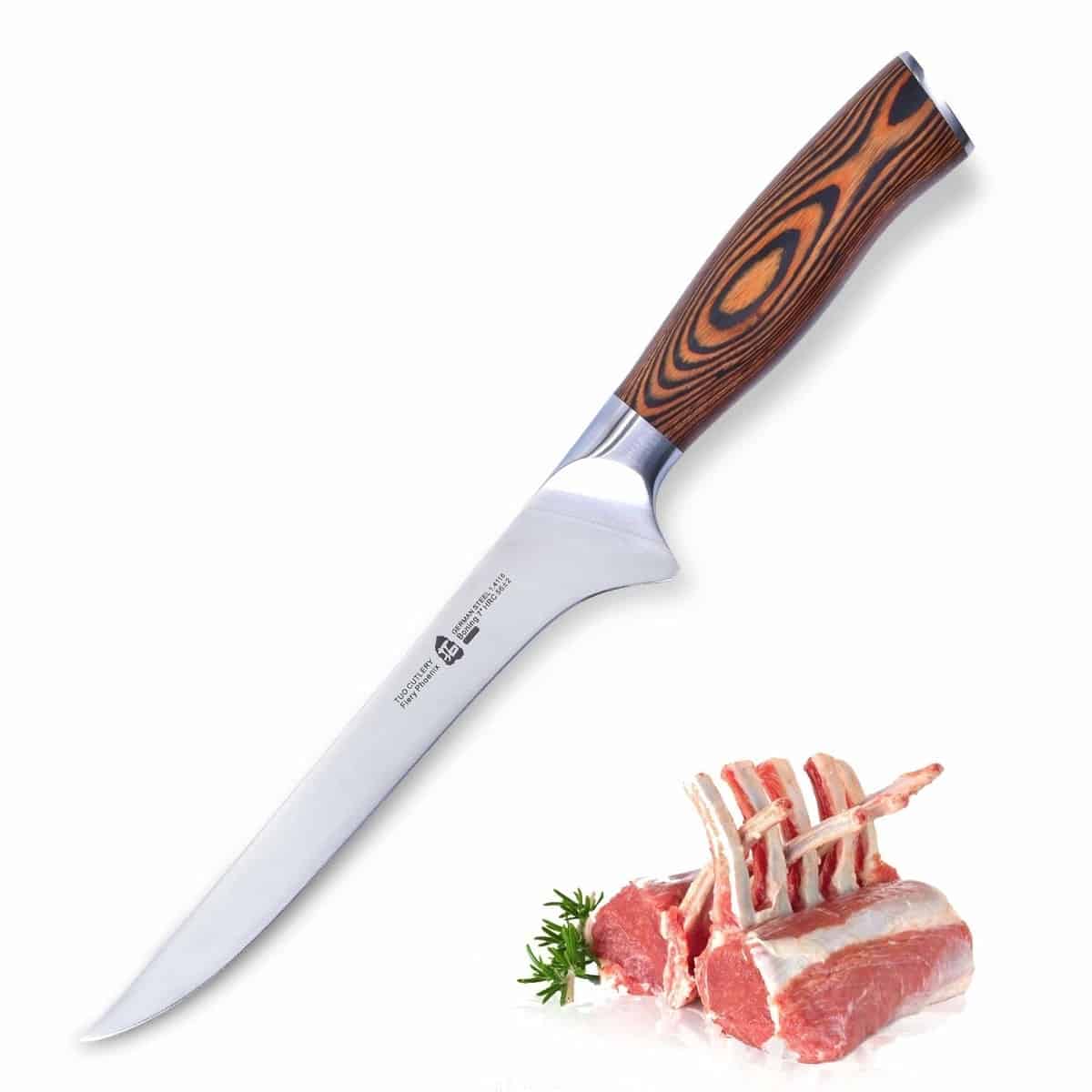 Have your eyes set on a budget-friendly fillet knife that gets the job done just as well as a fillet knife that costs much more? This Tuo Cutlery 7-Inch Boning Knife is just what you need. Costing a measly $33.95, this boning knife cum fillet knife can do pretty much anything from cutting fruits, vegetables and small cuts of meat.
The handles are both aesthetically appealing and ergonomically designed to fit comfortably in your hand and the blade razor-sharp for precise cuts.
Highlights of the Tuo Cutlery 7 Inch Boning Knife
Stain resistant.
Ability to resist corrosion and rusting.
Narrow ultra-thin blade that flexes as you cut to allow for maximum maneuverability.
Mercer Culinary Millennia Narrow Fillet Knife

This is probably the cheapest fillet knife on the block. It is made from high carbon Japanese steel that's durable, rust-resistant and strong enough for the task ahead. It also delivers precise cuts which is a plus especially if you're a sucker for the perfect cut. It has razor sharp edges that cut through tough meat seamlessly and features ergonomically designed handles engineered for maximum comfort.
As for aftercare, it's pretty much no-brainer. All you have to do is wash it carefully with soap and warm water and dry it with a dry towel then store in a cutlery block or sheath to prevent injuries and preserve the cutting edges.
Why Mercer?
Mercer is certainly no stranger in the world of culinary tools. It has been one of the industry leaders for a little over thirty years and is a trusted brand that tailors its tools to exceed expectations.
Highlights of the Mercer Culinary Millennia Narrow Fillet Knife
It is easy to use and maneuver.
It reasonable priced.
It has non-slip handles.
It comes in an assortment of colors.
It is crafted with exceptional quality materials.
Boasts of a unique design.
Zwilling J.A. Henckels Twin Four Star 7-Inch Blade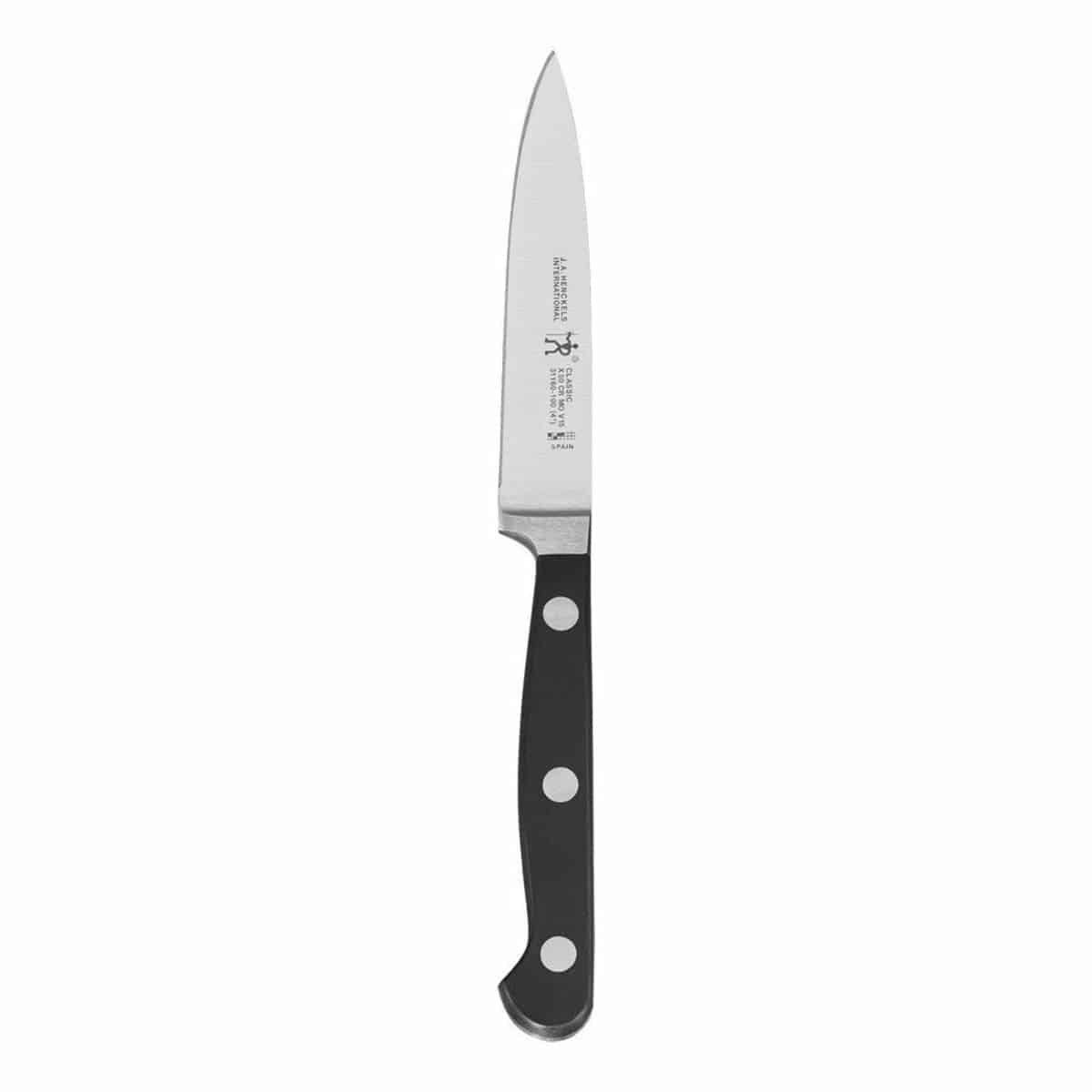 The Zwilling J.A. Henckels receives a lot of raves for being a top-selling knife series worldwide.  And the Twin Four Star 7-Inch Fillet Knife is certainly no exception. Honed and crafted by skilled artisans cut above the rest, this handsome, rugged fillet knife boasts of having a seamless transition from bolster to handle, remarkable balance and impeccable ergonomically designed handles.
This 7-Inch medium sized knife also features a modest curve near the bolster and a straight cutting edge. In addition, the blade is long, slim and flexible to cut through meat fibers seamlessly. Not to mention, they are also made of Friodur which provides exceptional hardness and high resistance to corrosion. As for weight and convenience, the Four-Star fillet knife is lighter than other premium fillet knives on the market and is quite easy to use too. Having a lifetime warranty is also reassuring.
Fair warning though, like all good things you have to pay top dollar for it – but it's the perfect addition to any fillet knife set.
Highlights of the Zwilling J.A. Henckels Twin Four Star 7-Inch Knife
It is dishwasher safe.
It has blonded polypropylene handles that enhance comfort.
It features a Full tang that provides proper balance and more strength.
Dalstrong Fillet Knife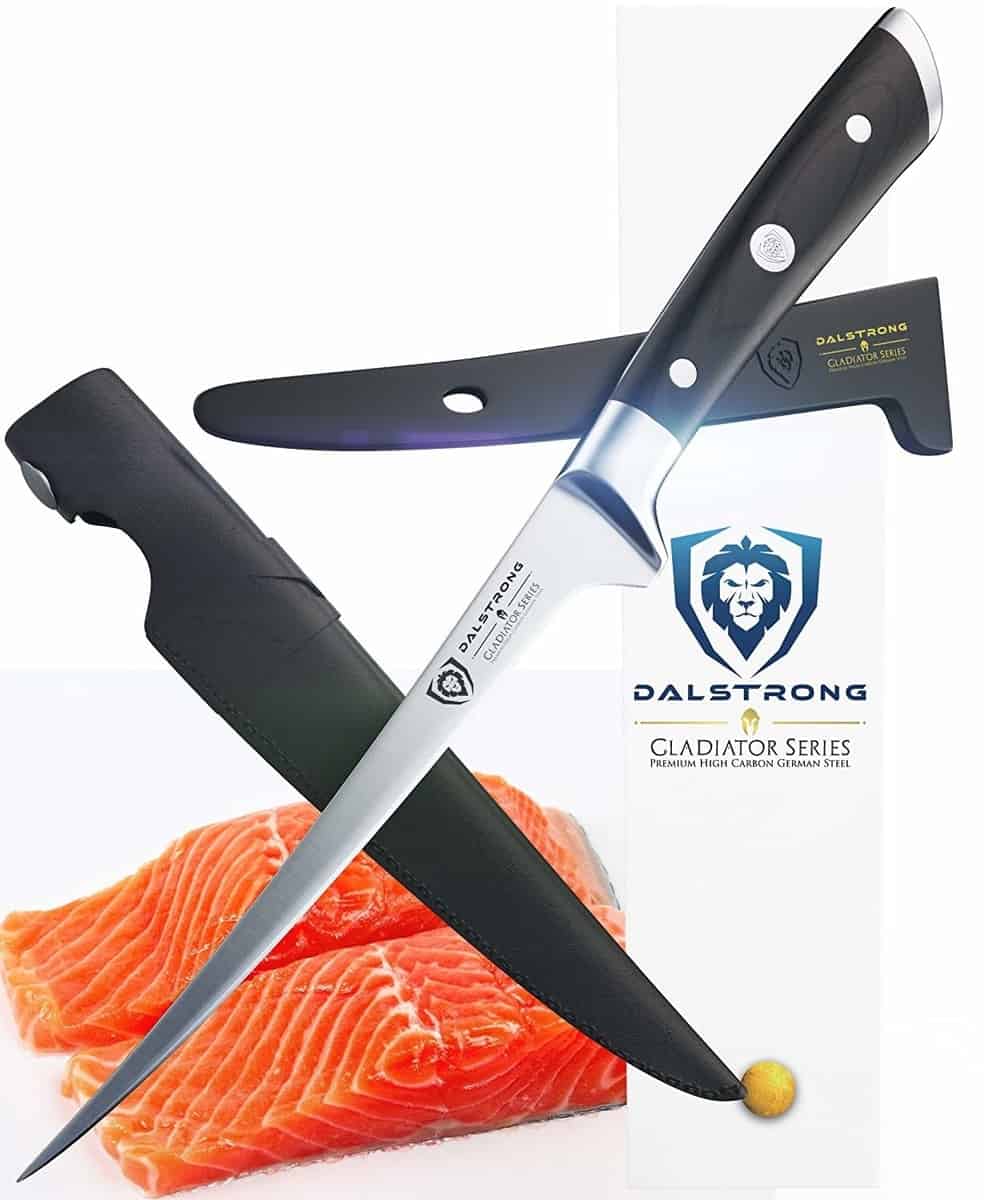 Now here is a fish fillet knife that will knock your socks off – the Dalstrong 7-Inch Fillet Knife. Carefully designed to handle pretty much any task you throw at it including descaling, deboning, skinning, filleting, trimming and butterflying fish, calling Dalstrong a Jack of all trades would be an understatement. It features a thickness of 1.5mm from the spine and is flexible and maneuverable to make it easier for you to cut through flesh seamlessly.
As an extra perk, the knife also comes with a BPA free perfect fit sheath that covers the storage bit and a travel case where you can tuck the knife just in case you decide to take it with you on an adventure.
Why Dalstrong?
Dalstrong is one of those brands that are synonymous with quality. From build to aesthetic, everything speaks finesse and general satisfaction. Having been around for a little over seventy-five years, quality and excellence are certainly not new terms to Dalstrong. So, from packaging to seemingly trivial things like support, they dedicate themselves to expert finesse at all times. Now, while the Dalstrong 7-Inch fillet knife is a fairly new entrant to the scene, you can rest assured that it's coming from a foundation of excellence with a blend of ancient craft and modern thinking.
Highlights of the Dalstrong Knife
Tapered design for maximum flexibility.
The edge is painstakingly sharpened to maintain the perfect balance between resilience and reliability.
The handle is made from high carbon ThyssenKrupp German steel which is reminiscent of an ultra-sharp and wear resistant material.
The handle is ergonomically designed to provide maximum comfort.
It is easy to care for.
It comes with a perfect fit sheath that facilitates easy storage.
Morakniv Fishing Comfort Fillet Knife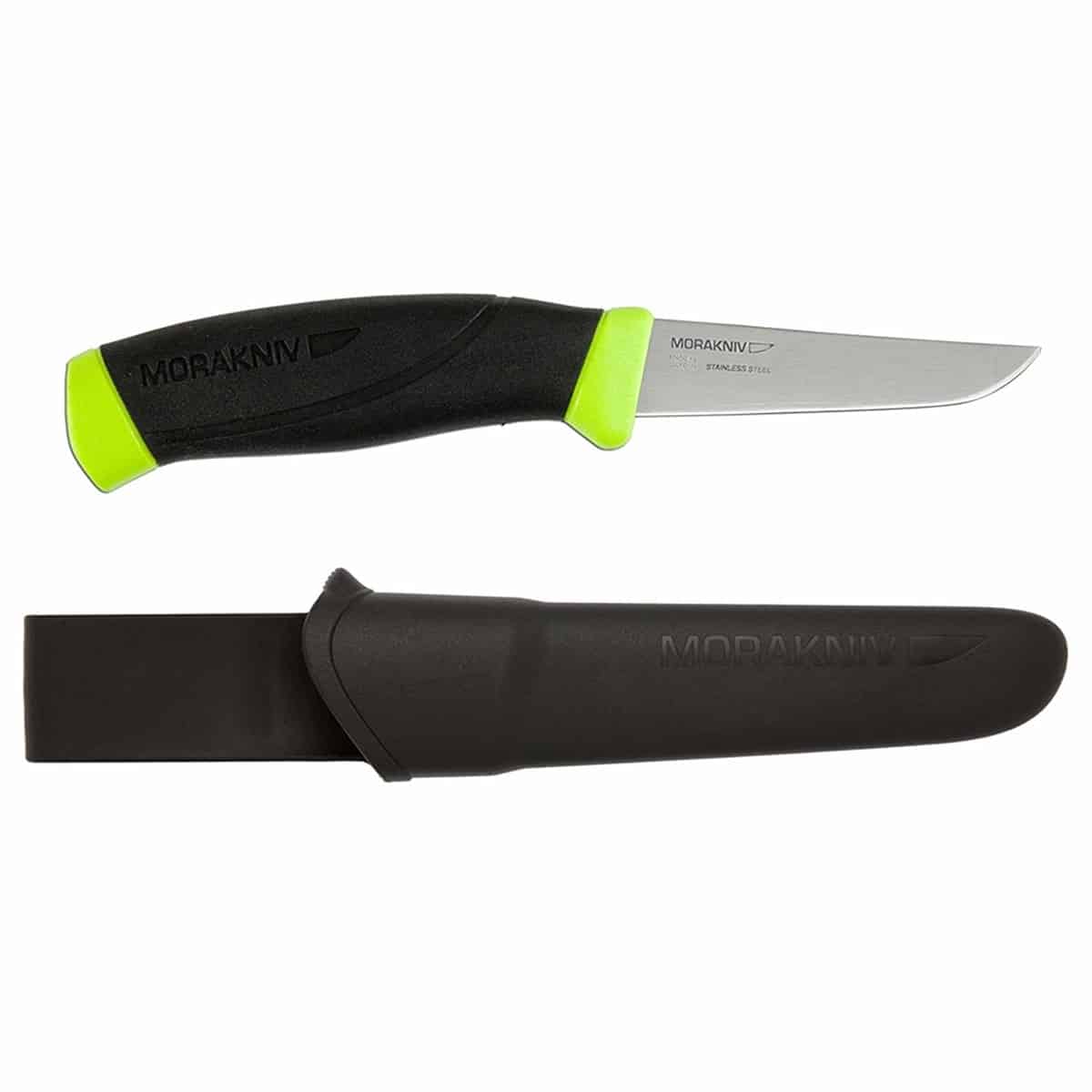 The Morakniv Fishing Comfort Fillet knife is a great fillet knife. And if your family is anything like mine, then the convenience that this knife brings will no doubt take them. It is 6.1 inches in length which makes it appropriate for filleting fish within the 3.5-inch length spectrum or smaller. It also comes with patterned non-slip handles that help ensure that you're still in control and maintain your grip regardless of how slimy it gets.
In addition, the Morakniv fillet knife comes with a plastic sheath that makes it easy to store away the knife and two interchangeable belt clips that you can use to clip or loop your knife onto through the belt. For maximum reassurance, Morakniv has also included a lifetime warranty which gives you peace of mind as you go about preparing your meals.
Highlights of the Morakniv Fishing Comfort Knife
Ergonomically designed easy grip handle.
It comes with a lifetime warranty.
Exceptional sharpness.
High friction handles that allow you to maintain control and grip.
Kershaw Clearwater 9-In Fillet Knife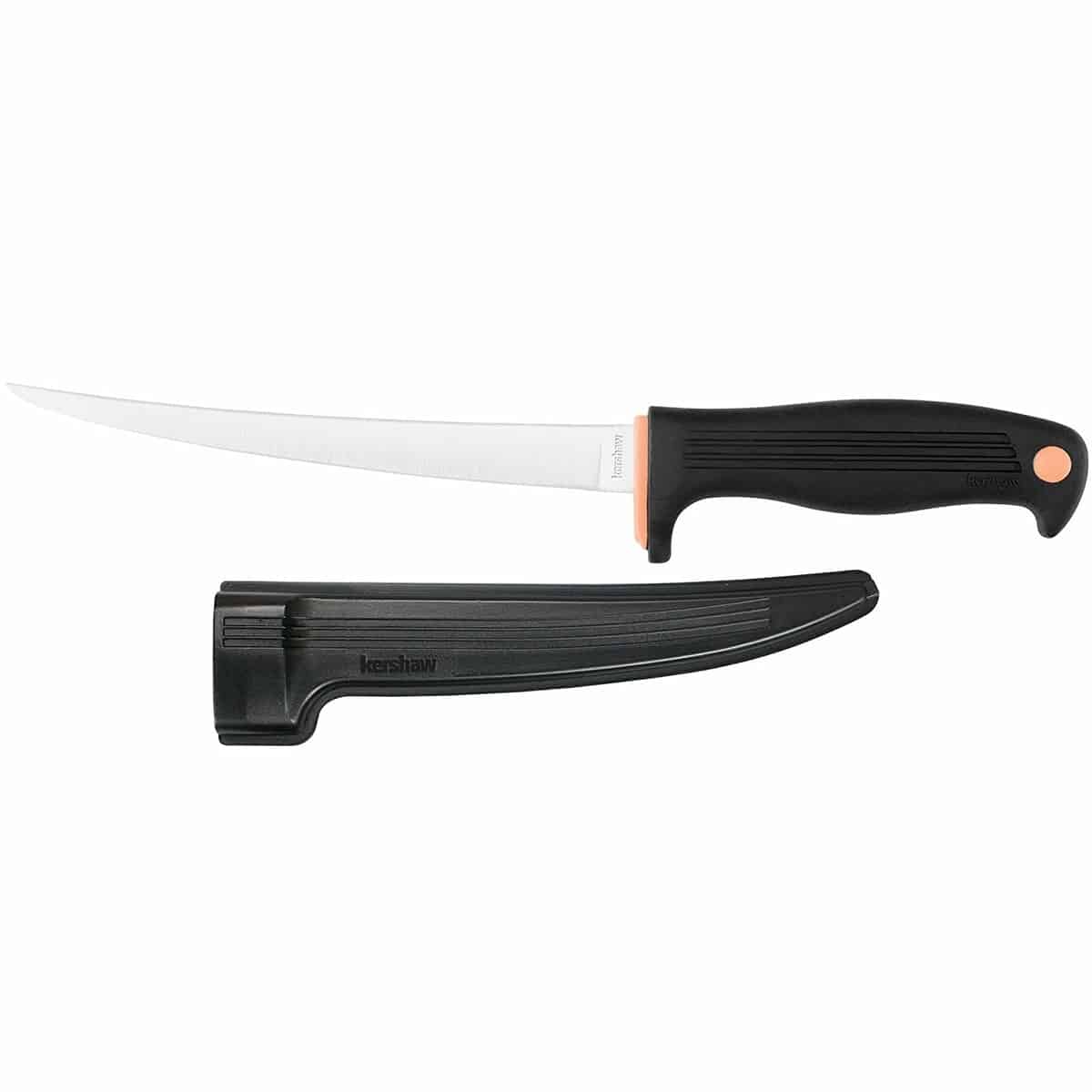 Kershaw is most certainly not your ordinary fillet knife. Featuring a 9-inch long blade that is resistant to corrosion, the Kershaw Clearwater Fillet Knife makes for the perfect filleting knife on the block. The blade is made from Japanese stainless steel and is just the right amount of flexible making it easy to maneuver the meat without breaking the blade. Its handle is made of copolymer material which is quite durable and is a bit textured to provide a tough grip.
Having been around since 1974, Kershaw has made a reputation for themselves over the years for being an innovative and high performing brand that delivers quality with every piece.
Highlights of the Kershaw Clearwater 9-In Blade
You can take it with you when going on an adventure.
It's perfect for filleting larger fish like salmon, tuna, tilapia, eel, catfish, snapper, and bass pro style.
It features a soft blade steel that is designed to bend without breaking.
The handles are textured to provide a firmer grip.
Buck 0220BLS Knives Silver Creek Folding Fillet Fishing Knife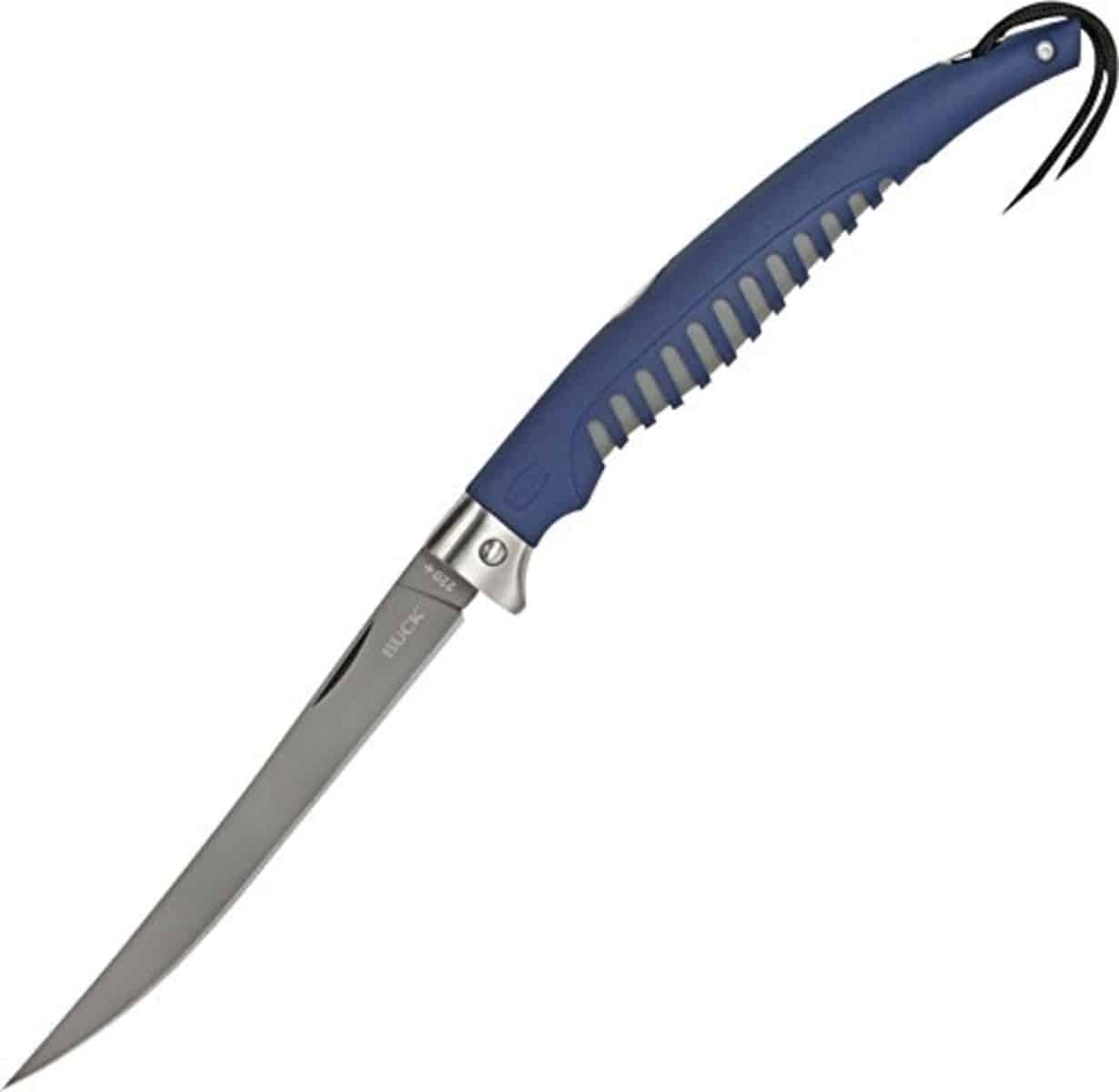 If you're looking for a fillet knife made in the USA, this is for you. At first glance, the Buck Silver Creek Folding Fillet Knife doesn't look like much. In fact, it almost looks like just any other knife. But nothing could be further from the truth. This razor-sharp titanium coated fillet knife drives a hard bargain for the cost. It has a long thin blade that cuts through meat almost seamlessly and features a rubber coated handle that facilitates a non-slip grip. It is also corrosion resistant and the blades can be easily sharpened in the vent that they become dull. It offers the perfect blend of resilience and efficiency and is conveniently sized to make it easier to carry it with you when you're heading out for an adventure.
Highlights of the Buck 0220BLS Knives Silver Creek Folding Fillet Fishing Knife
The handles are rubber coated to ensure you have a firm grip.
You can carry it effortlessly to just about anywhere you're going.
All Buck knives are made in the America.
Rapala Fish n Fillet Superflex Knife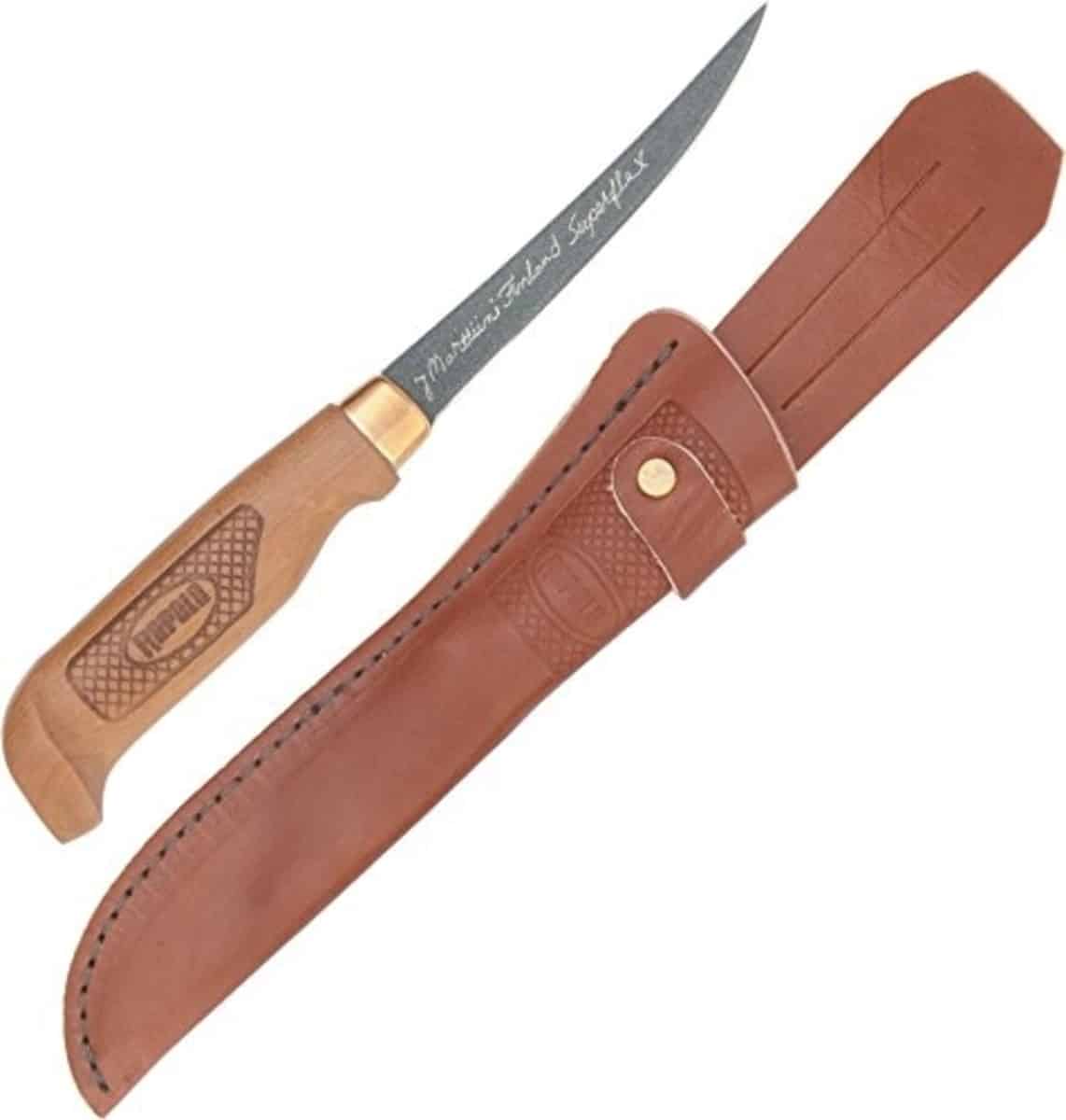 If you're looking for an elegant, high-quality fillet knife that pushes the limits of resilience and efficiency, the Rapala Fish n Fillet Superflex knife if the best fish fillet knife on the market. Available in 4 inches, 6 inches, and 7.5 inches, this incredible extra thin knife is all you need to get your fish done in a jiffy. It has a comfortable and elegant handle that takes the stress out of meal prep and comes with a leather sheath where you can easily store it after use. In addition, the Rapala fillet knife is equipped with a stainless steel blade which is rust and corrosion resistant, meaning that it won't succumb to wear and tear for a long time.
Highlights of the Rapala Fish n Fillet Superflex Knife
It is super flexible.
Comes with a leather sheath where you can store it.
Wusthof Pro 9 Inch Knife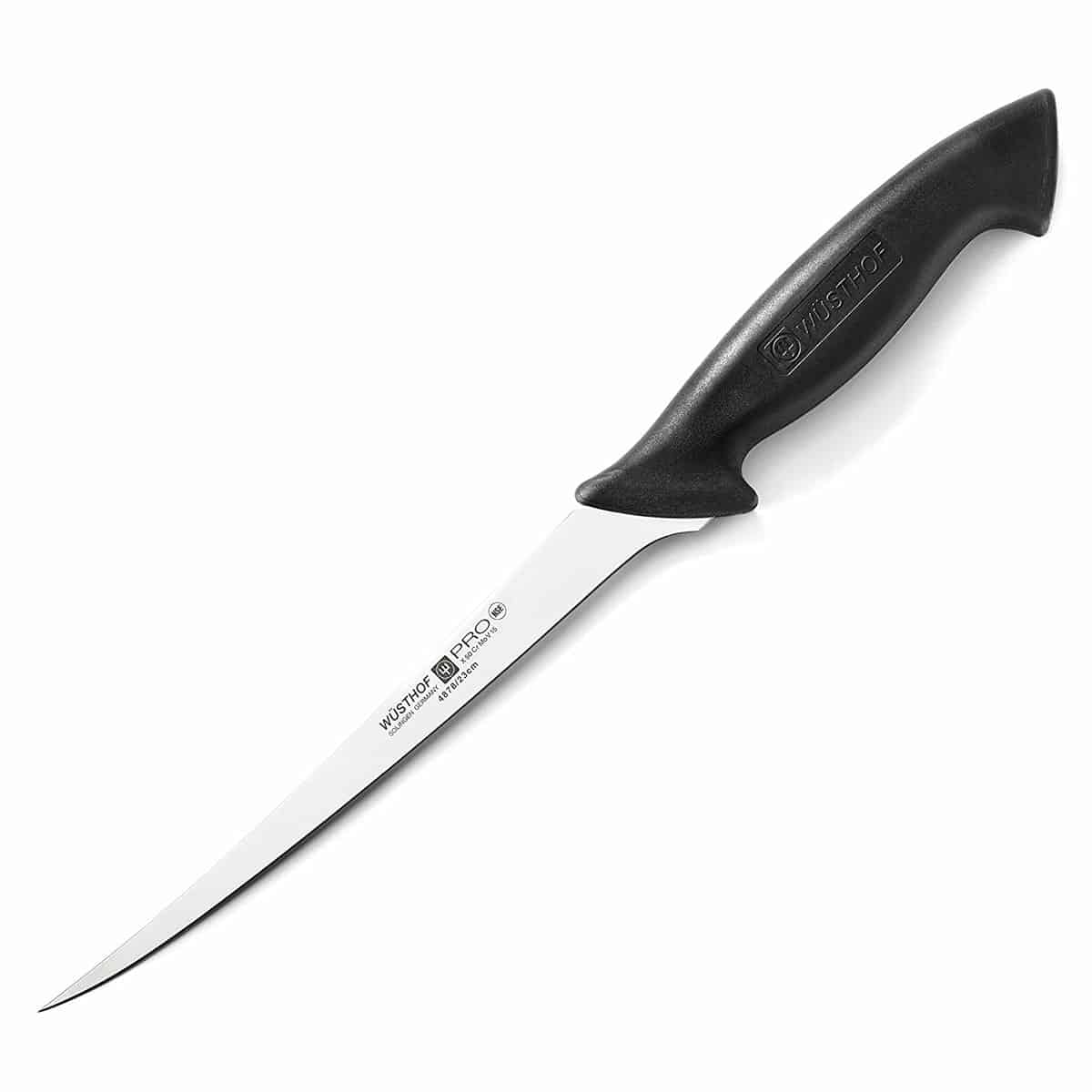 By any measure, Wusthof is an exceptionally remarkable brand. Having been around for seven generations, Wusthof products just keep getting better and better. From build to quality, they have ensured that they craft every single piece of equipment carefully to provide an exceptional culinary experience. And seven generations later, it's clear that Wusthof hasn't lost their golden touch at all. This high carbon steel blade features a stain-free design and ergonomically designed handles that help reduce the pressure on your hands. Thanks to its remarkable length, you can use it on a variety of fish types and sizes without as much as any problems at all.
Highlights of the Wusthof Pro 9 Inch Fish Knife
It is easy to use and care for
Choosing the Best Fillet Knife
If you are buying a fillet knife for the first time, it's a good idea to examine all the features in detail so as to figure out what's best for your needs.
Blade Material
When it comes to blade material, there are various schools of thought that support the use of different materials. Sure, ceramic seems like the best option ever because of the simple fact that it can easily be sharpened and holds its sharpness a little longer than other materials, but they break quite easily too. And top-quality ceramic blades do not come cheap. However, there are plenty of other viable options including stainless steel, forged blades, carbon steel and high carbon stainless steel.
Stainless Steel
This is the most common metal you'll find around the kitchen place. It is durable, easy to sharpen and inexpensive too.
Carbon Steel
Slightly more expensive than stainless steel, carbon steel is an easy to sharpen premium metal that holds a sharp edge for a long time.
High Carbon Stainless Steel
As the name suggests, the high carbon stainless steel has a little more carbon in the steel mixture giving it superior strength. You'll have to pay top dollar for this but for its quality and craftsmanship; it will no doubt prove to be worth every single penny.
Color
Today, fillet knives come in a hue of colors, so you can pick a hue that matches your décor. Some consumers like subtle colors. Others prefer darker hues which are more forgiving in case of dirt and some others like to match their cutlery with the rest of the kitchen linen and décor.
Price
You can find a fillet knife that fits just about any kind of budget. From as little as $18 to more expensive knives that cost between $40.00 to $60.00 and high-quality fillet knives that go for as much as $100.00. Fortunately, most of the big tag items come with free shipping in you buy online, so that's something! If you don't mind splurging a little more, I'd recommend going for a fillet knife within the price range of $60 to $100 rather than investing in the cheapest fillet knife at WalMart. However, you can still find a bargain-priced fillet knife that gets the job done just as well.
Handle
A quality fillet knife feels right in your hand. It is both ergonomically designed for maximum comfort and is well balanced too to avoid overexertion. Meaning you can use it for hours without feeling as much as a tire. To put things into perspective, there are generally three types of materials used to make fillet knife handles- wood, laminate, and plastic.
Wood
Wood is a classic material that feels great in your hands. However, it tends to hold onto bacteria quite a bit and as far as durability goes, it pales in comparison to other materials used to make handles.
Laminate
Laminate is pretty much a composite of plastic and wood. You might confuse it for wood because of its awful resemblance but unlike wood, laminate is far much easier to care for and durable too.
Plastic
Plastic is adorable, to say the least. Easy to maintain and awfully light too which makes it superb if comfort is what you're looking for. However, it is quite frail too and hence cracks easily when exposed to heat.
Flexibility
Because of the nature of filleting, you're going to need a flexible fillet knife that won't break. And I don't mean that you should go for a flimsy knife. Certainly not! A filleting knife should be flexible in the sense that you can easily maneuver around the meat with little or no difficulties at all. Preferable something short that fits in your hand just fine.
Blade Length
While blade length is a matter of personal preference, there are some specific things that you have put into consideration. Blades come in various lengths and each length is suited for a particular type and size of fish. And so, it all depends on the type and size of fish that you're more likely to go for. But to put things into perspective, there are generally three kinds of blades. Short blades, medium sized blades and long blades.
Short
Short blades are fairly easy to take with you and offer better control and maneuverability when you're dealing with smaller fish species such as crappies, yellow perch, and sunfish.
Medium
Medium sized fillet knives on the other hand range from say 7 to 7 and a half inches and are a good choice for cutting up the trout, bass, and walleyes.
Long
Lastly, there are the larger sized blades which give you more power and leverage to handle bigger fish like supersize salmon and broad-shouldered pike. However, the larger the blades or knife in general, the more awkward it is to carry along with you.
Ease of Use
Think of all the cutting and skinning involved when filleting fish. You no doubt want a simple tool that can take the stress out of meal prep altogether. But while most knives are pretty much easy to use, some are a little more complex than others. For the inexperienced chef, having a fillet knife that takes the guesswork out of meal prep is refreshing. Some fillet knives even come with a detailed guide that helps new knife aficionados maneuver just fine.
Electric fillet knives are also widely used, but we're focusing on good old fashioned manual blades here. However, if you want to buy an electric fillet knife at WalMart and compliment it with one of these, you'll have all the tools you need for master fillet work!
Grip
After blade length, flexibility and ease of use, the grip is probably the next important element to put into consideration.  The right fit enhances efficiency and makes meal prep a pleasant experience. Not to mention reduces the chances of injury too.
Frequently Asked Questions
Is there a difference between a fillet knife and a boning knife?
Yes. Not just technically speaking but also in terms of design too. A boning knife, although thinner than most other kitchen knives isn't as thin as a fillet knife. Plus, fillet knives are a lot more flexible which allows for maneuverability when filleting.
What do you use this knife for?
A fillet knife is used to fillet and prepare fish.
How much do these blades cost?
There are inexpensive fillet knives that cost as much as $25.00 and then there are quality fillet knives that cost a little well over $80.00. For the average home chef, you can get a good enough fillet knife that's both comfortable and well-built with anything between $35.00 – $60.00.
What is the best way to store my knife?
A good fillet knife can be a handy addition to your kitchen. And as such, it should be treated like royalty. Avoid tossing the knife into a jumbled drawer or leaving the blade down in a knife block as both actions could dull the blade. In addition, you should also keep the knife up in a knife block or attach it to a magnetic knife holder that separate from other kitchen cutlery.
Do you need to sharpen them?
Yes. Just like other knives, fillet knives also tend to get duller and duller with consistent use. And then they are no good at all. Luckily for you, there are a number of great videos online that demonstrate proper sharpening techniques.
Who needs a knife like this?
While fillet knives can be used for pretty much anything, they work especially well with fish fillet. If you bone or fillet fish regularly, the fillet knife gives you the control and flexibility you need to get the job done well.
Whether you are a novice chef or a professional, having the right armor in your arsenal could be the difference between a frustrating meal prep process and a relaxed one. And if you're a fish lover, the fillet knife is certainly something that you want to have around. However, the knife you ultimately go for depends purely on your preference and budget. But if you're looking for high-quality fillet knives that get the job done remarkably well, then any of the 10 best fillet knives we have mentioned will do just fine.