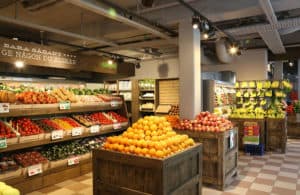 When you walk into Paradiset supermarket in Stockholm, you genuinely enter into food heaven. The open space, cleverly displayed products and friendly staff make shopping or even just browsing there inspiring. The entrance has a sign saying: "Welcome to Paradiset,  you won't find any artificial flavours, colours, taste enhancers or sweeteners here" When I asked the founder, Johannes Cullberg why he called it Paradise he replies "In heaven only the good get through the gates, and we wanted it to be a pleasure to shop here, stress free and inspiring". After spending some time browsing the aisles, I can confirm this is indeed true. Johannes and his team have carefully selected the products which end up on his shelves, banning roughly 200 additives such as E numbers (with a few exceptions) and other not naturally occurring ingredients such as yeast extract and glucose/ fructose syrups. You won't find a coca cola or pepsi can in sight. As stated on their website "Many consumers today demand to know exactly what they eat, where the food comes from and how its produced with regards to consideration to animals, humans, nature and the environment. We want to take responsibility and offer consumers ethically and sustainably sourced products whether it is meat, fish, bread or cosmetics".
The concept is based on selling products which are as close to as nature intended it to be consumed as possible. The result is a store with 75% organic products (Wholefoods Market has roughly 30% organic products) and all the animal products are locally sourced, and all fish sold is ethically fished or farmed and approved by the Marine Conservation Society.
Cold-press juice is pressed and bottled on site. Most fruit and vegetables used to make the juice are rescued fruit and vegetables otherwise destined to become food waste. The flagship store also hosts a cafe which also uses rescued food which not only forces the menu to be changed daily due to whatever produce is available, but it also drives the price down considerably, making it more affordable for everyone.
Johannes is furthermore dedicated to helping Sweden socially too. With Sweden having some of the highest levels of immigration in Europe, Johannes has set up an apprenticeship programme within his business where refugees and immigrants can apply to work with the cold pressing juice business for one year. They also get an introduction to learn business Swedish, giving them the confidence and experience to go on to other jobs and excel in society.
Health is not only about what you eat, it is about being a role model and standing up for what you believe in. In a passive society, our core values get suppressed. Following the heated sugar tax debate in UK, Sweden is in the process of considering the same tax. Johannes feels very strongly about this and is working on spearheading the campaign for a sugar tax on sugar sweetened beverages in Sweden. Lead by example is his ethos, and his actions are louder than anyone's word at the moment in Sweden.  The future is bright for Sweden and we hope to see more of revolutionary daring people like Johannes.
What would make your food heaven? Comment below and join the conversation online with #FoodRevolution.