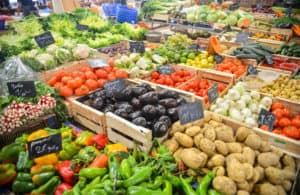 In 2012 I discovered some staggering statistics – 30% of food produced for human consumption is wasted across the food supply chain and, at the same time, one in seven people around the world suffer from severe hunger and malnutrition. According to the UN, if the amount of food wasted was reduced by 25%, there would be enough food to feed all the people who are malnourished.
This inspired me to take action. In February 2012, I met Aoibheann O'Brien and together we started FoodCloud, a social enterprise that connects businesses who have surplus food with local charities, through our tech platform. We wanted to develop a local solution to a global problem which could be scaled to any community internationally, as quickly and efficiently as possible.
Getting from 'A' to 'B'
According to WRAP (the Waste and Resources Action Programme), 'store level' surplus food poses a particular challenge. This food tends to be perishable, comes in small quantities and needs to be redistributed very frequently, which does not suit traditional food redistribution models. We started by doing as much research as possible with charities in Ireland, trying to understand what types of food are most beneficial to them and what barriers they faced in accessing food donations in their community.
The solution we developed allows stores to upload details of their surplus food and send a text message to a local charity to let them know what is available. The charity then collects this perfectly good food and gets it to the people who need it. The real-time information means that the charity and stores get to work closely together and build relationships.
Food community
Food is redistributed to partner charities that provide critical services in youth, childcare, homelessness, addictions, domestic abuse, education and unemployment sectors. The donations also allow many partner charities to reduce their food bills and redirect resources towards their core services. Quite early on, we discovered the power that food has to connect and empower people – it is so much more than nutrition, it is a tool that brings people together.
FoodCloud launched with a number of small bakeries, cafés and one Tesco store in 2013. It has grown quickly and is now working with over 350 businesses and over 650 charities across Ireland and the UK, and the company has received worldwide recognition for its efforts in reducing food waste. FoodCloud is currently working in the UK with Tesco and FareShare with the aim of launching in every Tesco store across the UK by 2107. To date, FoodCloud has facilitated the distribution of 1,101 tonnes of food, which is the equivalent of over 2.4 million meals.
One of our partner charities is a women's refuge called Daisyhouse. Their CEO, Orla Gilroy, says: "We were an early partner with FoodCloud and Tesco, and the difference it has made to our residents is terrific! The food brings the women who live with us together and we've seen strong friendships develop as they share food and recipes. It's great to come into the centre after a delivery and hear the laughter in the room, not only does this service assist in terms of cost but it's brought our residents, whether new or long term, together and created lifelong bonds."
Geography of food waste
Food waste has significant environmental and social consequences. Every year, we use land the size of China, Mongolia and Kazakhstan combined, plus 550 trillion litres of water and a range of other scarce resources to grow food that is never eaten. If food waste were a country, it would rank as the third highest national emitter of greenhouse gases after the US and China.
In 2013, I was invited to attend the One Young World summit in Johannesburg, which was such an inspiring and motivating experience. I met so many amazing young people who are trying to achieve (seemingly impossible) large scale, systemic and sustainable social change. It is incredibly inspiring to know that a global community of young social entrepreneurs exists. It also acts as a great motivator, in these more challenging times, to help overcome the food waste barriers we face.