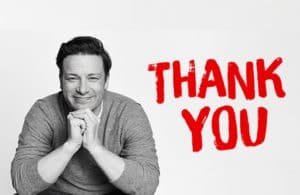 Food Revolution Day breaks record for longest-ever Facebook Live campaign and reaches 115 million.
This year, not only were there incredible events taking place on the ground all over the world to celebrate Food Revolution Day, but we also took to Facebook to broad the longest-ever Facebook Live campaign!
From London to Australia and Canada to Tanzania, Jamie was joined by the following well-known chefs and personalities from 10 different countries, all of whom carried out Facebook Live broadcasts from the around the world to help make history:
The marathon had 115,296,411 million people participate around the world! Click on the links below to catch up and see the events as they rolled out yesterday.
– London, UK: Cheryl, Chef Gennaro, Chef Clodagh McKenna, Charlotte Crosby, Alfie Deyes, Tanya Burr and Jim Chapman
– LA, U.S.A: Kris Jenner, Wolfgang Puck and Cody Simpson
– Sydney, Australia: Chef Donna Hay
– Mumbai, India: Jacqueline Fernandez and Chef Kunal Kapur
– Nairobi, Kenya: Chef Ali and Juliani
– Hamburg, Germany: Chef Tim Malzer, Chef Steffen Henssler and Janina Uhse
– São Paulo, Brazil: Chefs Ana Luiza Trajano and David Hertz with guests Marina Person and Felipe Solari
– Dar es Salaam, Tanzania: Cookery Personality Marion Elias and AliKiba
– Lagos, Nigeria: Chef Eros and Waje
– Toronto, Canada: Chef Lynn Crawford
– Netherlands: Bart Van Olphen and Miljuschka Witzenhausen
Food Revolution Day was also supported on social media by Coldplay, James Corden, Kate Hudson, Nicole Scherzinger, Rio Ferdinand, Paloma Faith, Niall, Zoella, Jim, Tanya, Louis, Pixi Woos, Haste Kicthen, Olly Murs, Ronan Keating, , Marlon Roudette, Cascada, Cornelia Pletto, Palina Rojinski, Holger Stromberg, Chris Mears, Naomie Harris, Jake Paul, Emmanuelle Chriqui and Keltie Knight.
Offline and on the ground, the day also marked the two billionth meal being served to children in India by the Akshaya Patra Foundation, and Food Revolution ambassadors and supporters hosted thousands of events across the globe. Check out stories, videos and photos shared from around the world with #FoodRevolution.
"Food Revolution Day 2016 was incredible!  We've already reached over 50 million people on Facebook, we've got almost 700K revolutionaries signed up to the Food Revolution Hub and we've raised awareness of the child nutrition crisis that touches every corner of the globe.  I truly believe that change only happens when people come together and I am inspired today to keep the pressure on businesses and governments to put our kids first." – Jamie Oliver
A massive thanks to everyone that got involved and helped raise awareness!
* Article updated with latest figures as of May 23rd