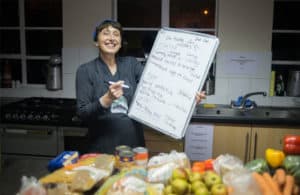 FoodCycle was born out of the simple belief that food waste and food poverty should not co-exist. In a country as rich as the UK, we should not be throwing out the level of food that we do and people should not be going hungry on our streets.
We'll soon be celebrating our 7th birthday and it is amazing (and humbling) how much we've grown over the past seven years. We now run 29 projects all across the country, from Durham to Exeter, Norwich to Manchester. Our projects are all powered by volunteers who go, week in and week out, to collect surplus food from supermarkets and local retailers. This is food that is totally fine to be eaten but that, because it might have gone a bit squashy, bashed around or bruised, won't be sold in the shops.
The volunteers then use this food to cook healthy, nutritious and tasty three course meals for people who are at risk of food poverty. These meals are then served in a warm and welcoming environment to guests, many of whom are older people, people dealing with mental health issues, people affected by homelessness, low-income families, asylum seekers and refugees, and people who are long-term unemployed. Volunteers and guests all sit down together to eat this food – so we feed bellies, and not bins!
Over the years, we've found that we don't just deal with the issue of food waste, we're dealing with issues much wider than that. Many of our guests, for example, are really lonely and isolated – and for them, coming to a FoodCycle meal is the one chance they might have in a week to eat and have a chat with other people.
We do aim to encourage everyone to consider how they think about food more carefully. We want to show through our projects that an engaged and motivated group of people, with a shared vision, really can make a difference and can bring about positive environmental and social change.
So, what are you waiting for? Join the food waste revolution and visit foodcycle.org.uk to find out how you can get stuck in and help! Together, we really can make a difference through food.