As grocery stores continue to import new and unique products it is easy to get lost among all the new ingredients available. I like to take time to learn about new ingredients and expand my palate will rediscovering old favorites that I may have forgotten about.
This list of 30 different foods that start with K is comprised of a lot of ingredients you might be familiar with, but I'm sure there will be a bunch that are as new to you as they were to me. Whether your looking for new flavors of Kit Kat bar or want to know more about what makes Kielbasa special, this list has something for you!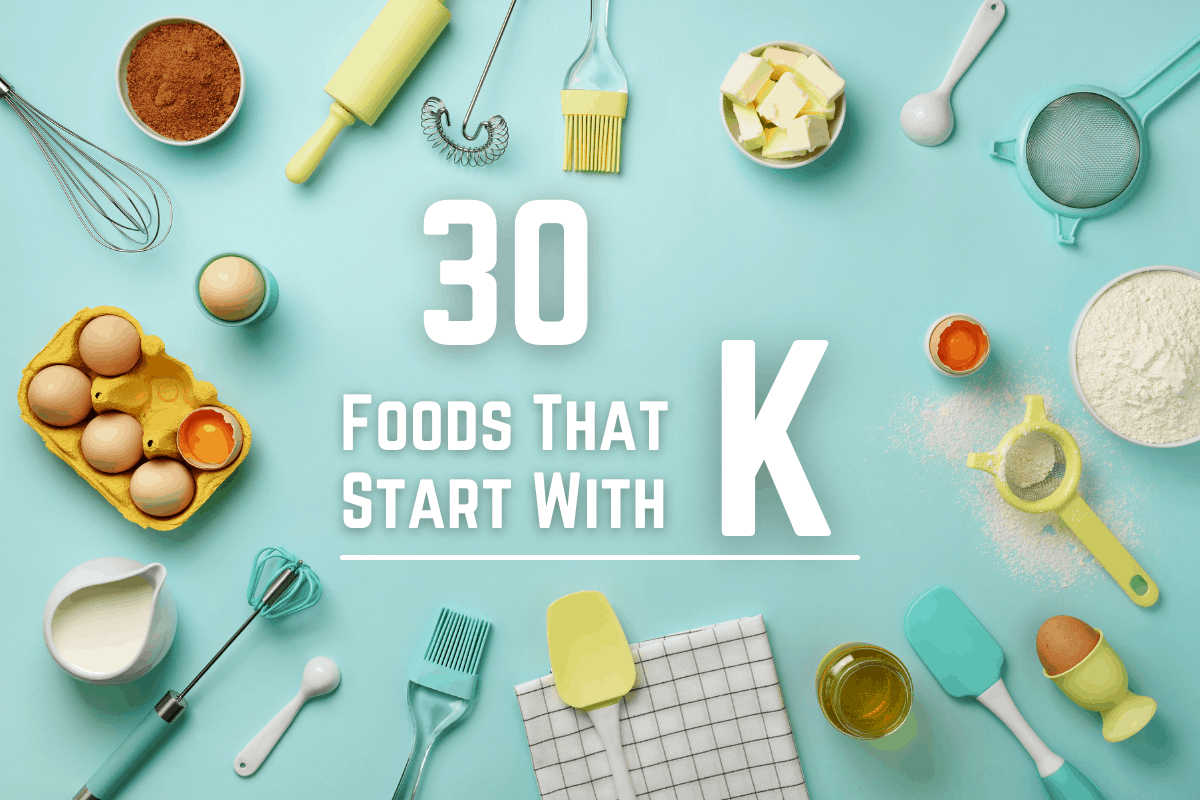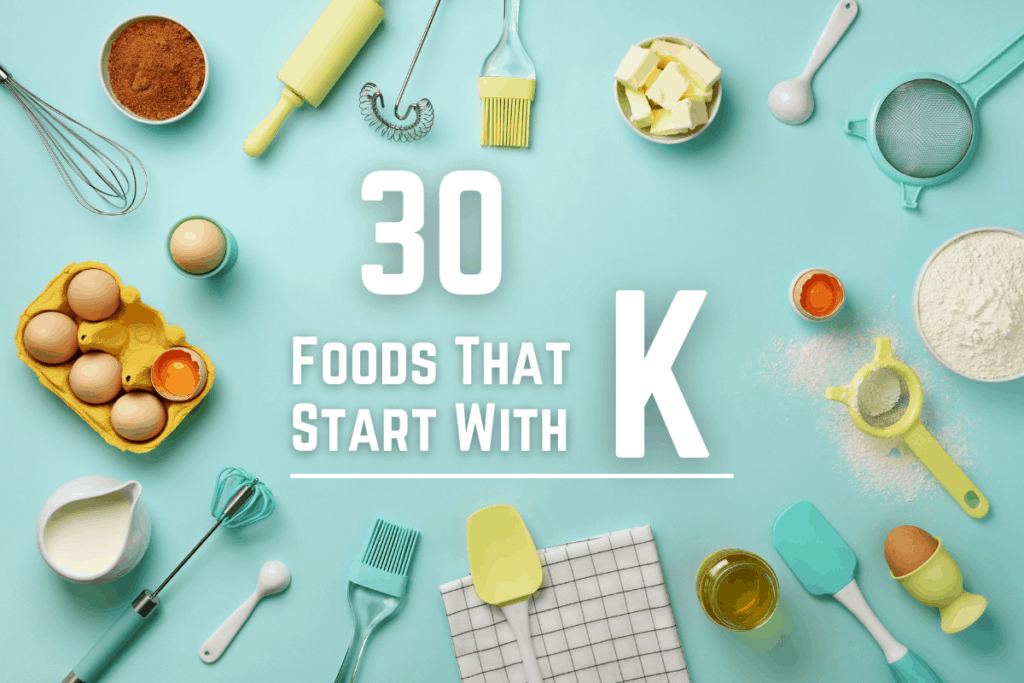 30 Foods that start with the letter K.
1. Kaffir Lime
Kaffir lime is a type of citrus native to southeastern Asia. Also known as Thai lime this fragrant lime variety is prised for the incredibly floral flavor of the leaves as well as the fruit. Kaffir Lime leaves are often used as an aromatic ingredient in traditional Asian dishes such as Tom Kah Gai soup.
2. Kahlua
Kahlua is a rum and coffee-flavored liqueur from Mexico. Made with 100% arabica coffee beans, Kahlua is a major ingredient in several classic cocktails such as the Mud Slide or White Russian.
3. Kale
Kale is a hardy green from the brassica family and is a relative to broccoli and cauliflower and cabbage. Known as leaf cabbage, kale comes in several recognizable varieties such as curly kale or Tuscan/Italian kale which has a flatter broader leaf. Kale can be prepared in any number of ways and tastes delicious when used in a stir fry, air fried into kale chips, or as a hearty part of a mixed green salad.
4. Kasha
Kasha is a type of hot cereal or porridge made from buckwheat groats. Similar to steel-cut oats in size and texture, kasha has a gummy, starchy texture and tastes great with toppings like fruit, syrups, or yogurt. Kasha can be made from dried or toasted buckwheat groats, and toasting tends to bring out a nuttier, deeper flavor.
5. Kebab
Kebabs are pieces of meat that have been marinated and skewered on a metal rod before being grilled or roasted over an open fire. Kebabs are common throughout Mediterranean and middle eastern cuisines and are thought to have originated in Turkey/Greece. Soldiers in ancient times would skewer pieces of meat on their swords before roasting them over a fire, which is where the tradition is thought to have begun.
Kebabs can be made from meats, seafood, or vegetables depending on your tastes or the recipe you are using. Common meats typically used for shish kebab would be lamb leg, chicken breast, or beef loin.
6. Kedgeree
Kedgeree is a dish composed of flaked fish, typically smoked haddock, rice, hard-boiled eggs, curry, butter, and cream. Kedgeree is Indian in origin but has become a favorite dish throughout Britain thanks to the long history between Britain and India. Often eaten for breakfast, kedgeree is a hearty way to begin your day!
7. Kefir
Kefir is a fermented milk drink similar to yogurt. With a slightly sour flavor, kefir is packed with probiotics from the yeasts and bacteria that ferment the milk in its production. Kefir comes in many different varieties, from flavors like berry or mango, to plain or vanilla there is a kefir drink for almost any occasion.
8. Kefta
Kefta is the name for a type of ground meat kebab common in middle eastern or Mediterranean cuisines. Kefta can be prepared as a kebab by forming a seasoned ground meat mixture around a metal skewer before grilling or roasting over an open fire or by forming the mixture into oblong meatballs and roasting them in a pan or on the grill. Often made from a mixture of ground lamb, beef, lamb fat, onion, garlic, white pepper, and allspice, Kefta is delicious with fresh pita and a cucumber and yogurt sauce.
9. Ketchup
Ketchup is a sweet and tangy blend of tomatoes, sugar, spices, and vinegar. Traditionally seasoned with onion, garlic, clove, coriander, nutmeg, and mustard, ketchup sometimes includes ginger, cinnamon, and celery seed as well. Often served as a condiment with french fries, burgers, or hot dogs, ketchup can also be used as a base ingredient for sauces and marinades.
10. Kettle Corn
Kettle corn is a type of sweet and salty popcorn traditionally cooked in large cast-iron kettles. Sugar and oil are heated in the bottom of a pot before adding corn kernels and allowing them to pop while stirring constantly to prevent burning or over caramelization. The resulting popcorn is sweet and salty, with an awesome crunch and addictive flavor.
11. Key Lime
Key Lime is a type of lime native to southeastern Asia. The lime is commonly grown today through the southeastern united states, specifically the Florida Keys for which it's named. With a smaller size than traditional limes and a sweeter flavor, key lime juice is used in many recipes and is particularly important to the production of key lime pie.
12. Key Lime Pie
Key Lime pie is a custard-based pie made from eggs, sugar, and key lime juice. Typically topped with meringue or whip cream and set in a graham cracker crust, Key Lime Pie is a delicious and refreshing dessert that is perfect for a hot summer evening.
13. Kidney Beans
Kidney beans are a common bean that comes in two different colors, white or red. Kidney beans are named for their kidney-like shape and in the case of the red variety, their color is similar to a human kidney. Kidney beans can be prepared in several different ways, from boiled beans to baked beans or pureed for bean dip, these delicious legumes make a great side dish or addition to any soup or stew.
14. Kielbasa
Kielbasa is a term for any type of polish sausage. Kielbasa typically refers to a smoked, coarse ground, u-shaped, highly seasoned sausage that is grilled and served with mustard and vegetables. Kielbasa is delicious in stir fry, or by itself on a roll with mustard and caramelized onions.
15. Kimchi
Kimchi is a Korean fermented vegetable dish. Kimchi can refer to any number of different pickled vegetables but is most often connected with a spicy fermented cabbage dish that is served with almost all Korean barbecue. Made from napa cabbage and gochugaru a traditional Korean pepper powder, kimchi is seasoned with rice flour, fish sauce, garlic, and other aromatics to give it an incredibly unique flavor.
16. King Crab
King Crab is a type of crab-like decapod found in cold waters. The most common type of King Crab is the Red King Crab, and the meat of these giant crustaceans is highly prized. King Crab fishing is a notoriously dangerous occupation and the high price of these delicious crabs command makes it a very lucrative product. King crab has a sweet, rich flavor with long thick leg meat portions and a large central body, king crabs are a healthy protein that is also delicious!
17. King Fish
King Fish or King Mackerel is a type of migratory fish found in the Western Atlantic Ocean and the Gulf of Mexico. King Fish has shiny, silver skin and easily removed, tiny scales. The flesh of King Mackerel is grey/tan due to its high-fat content. King Fish can be prepared in a lot of different ways, from raw preparations like Crudo or sushi to pan-searing, grilling, or even smoking. King Fish has a rich dense flesh that has a lush fatty flavor and lightly tint of natural brine.
18. Kippers
Kippers are a classic British breakfast dish made of brined, smoked herring that has been prepared by "kippering it". Kippering is the process of deboning a herring and splitting the fish, before curing it with salt and finally smoking it. Kippers are prepared by baking, grilling, or pan roasting the smoked fish filet and it is often served with scrambled eggs.
19. Kirsch
Kirsch or Kirschwasser is a traditional cherry brandy. Produced by fermenting whole Morello cherries including their pits, before distilling the fermented liquids, Kirsch is a clear colorless brandy that has a great cherry flavor but is not sweet. Unlike cherry liqueurs, cherry brandy doesn't have any added sugar and is a very dry liquor.
20. Kit Kat
Kit Kat is a chocolate-covered wafer bar produced by Nestle. Known for its iconic commercials like "give me a break of that kit kat bar" this delicious chocolate treat is a staple in the United States and abroad. One neat fact about the kit kat bar is its incredible popularity in Japan due to the name Kit Kat and its similarity to a traditional phrase wishing students good luck before exams. Japan has over 400 unique flavors of Kit Kat bar with combinations from matcha, banana caramel, ume plum, and yogurt sake there is a whole world of Kit Kat bars to discover.
21. Kiwi
Kiwi, also known as kiwifruit or Chinese gooseberry is a type of vining fruit native to China and was exported to New Zealand and from there to Britain and the world. Kiwi fruit has a mild gooseberry flavor, sweet taste, and bright green flesh. About the size of a large egg, kiwi has a rough, leather skin that needs to be peeled with a sharp knife. Kiwis can be eaten with a spoon by dishing out the flesh similar to the way you might eat a grapefruit half but is also great in a fruit salad. I like to slice kiwis with an egg slicer after I've peeled them to get even, thin slices that taste great on salads or desserts.
22. Kiwi Berries
Kiwi berries are a cousin to the kiwifruit plant, with smaller fruit about the size of large grapes these small kiwi-like fruit can be eaten whole without removing the skin. Kiwi berries make great snacks or garnishes for your next cheese/charcuterie board. With a ripe kiwi/gooseberry flavor these awesome fruits are filled with healthy vitamins and minerals.
23. Knish
Knish is a type of traditional Ashkenazi Jewish snack food or street food. Made from a thin dough stretched over a filling that is then fried, these hot snacks are often served from stands or carts. Fillings range from potato and onion to corned beef or other meats, these warm pastries are a delicious snack or meal with a unique flavor and history.
24. Kohlrabi
Kohlrabi or german turnip is a type of wild cabbage in the Brassica family. A cousin to Brussels sprouts, cabbage, and broccoli, Kohlrabi can be eaten raw or cooked. With a spicy, mustard flavor when raw and a rich, turnip/rutabaga quality when roasted, kohlrabi is delicious in many recipes and dishes. I like to make an easy kohlrabi coleslaw with the purple variety, and the skin is thin enough that you can leave it on without worrying about peeling it.
25. Kosher Pickles
Kosher pickles are cucumber pickles made in the tradition of the kosher pickle makers of New York City. Kosher dill pickles are flavored with large amounts of dill and garlic as well as salt during the lactic fermentation that gives them their bright, unique flavor profile. Delicious on a sandwich or as a side dish, pickles are a healthy snack that is great for your gut health as they are filled with probiotics from the fermentation.
26. Kulfi
Kulfi is a traditional Indian ice cream product made from milk that is slowly simmered until it is reduced and caramelized in flavor. The sweetened reduced milk is then flavored and frozen in molds that are sealed and placed in an ice water and salt mixture. This helps the ice cream freeze quickly creating a denser, richer ice cream that is unique and wonderful. Traditional flavors include cardamom, pistachio, and rosewater, this amazing ice cream is easy to recreate at home using sweetened condensed milk and mason jars.
27. Kumara
Kumara is the name for the sweet potato in New Zealand. Originating from the African subcontinent, Sweet Potatoes or Kumara is a tuberous vegetable that comes in yellow or white/gold varieties and is sweet in flavor. Ranging in size, sweet potatoes can be prepared by boiling, roasting, or frying.
28. Kumquat
Kumquats are a small citrus fruit and plant native to China. With a small olive-sized fruit that resembles a small orange, kumquats are an incredibly fragrant and sweet citrus fruit that can be eaten whole or cooked in several ways. Kumquats taste great when juiced, pureed, or when turned into marmalade and work well in many different desserts.
29. Kung Pao Chicken
Kung Pao Chicken is a classic Sichuan stir fry dish composed of chunks of cooked chicken, peanuts, chili peppers, and Sichuan peppercorns. Usually prepared with a stir fry sauce composed of soy sauce and other seasonings, Kung Pao Chicken is a Chinese classic that can be found in restaurants the world over.
30. Kvass
Kvass is a fermented beverage originating in the Slavic and Balkan regions. Made from rye or black bread, this light brown drink is fizzy and lightly alcoholic with a bright sour flavor. The color of the drink comes from the dark color of the rye bread used in its production.
Final thoughts on foods beginning with K.
I hope you enjoyed learning more about these 30 foods that start with the letter K. While you might not have ever had the privilege to try Kvass, you have probably run into a fair share of Kung Pao Chicken or Kumara, and now you know how to make Kulfi for a sweet homemade ice cream treat!
Did I forget any of your favorite foods that begin with K? Let me know in the comments and I'll be sure to check it out!