There is a world of ingredients and foods out there, some we may be familiar with, while others are just waiting to be discovered. With the ever-growing landscape of fruits, veggies, herbs, and spices available to us, it's important to take time to appreciate the foods you know but also the ones you want to learn about. If you are looking to learn about new and unique foods then you're in luck!
The list that follows is comprised of 27 different food items that start with the letter N. While this might not be all the foods that start with N, it's a pretty good place to start!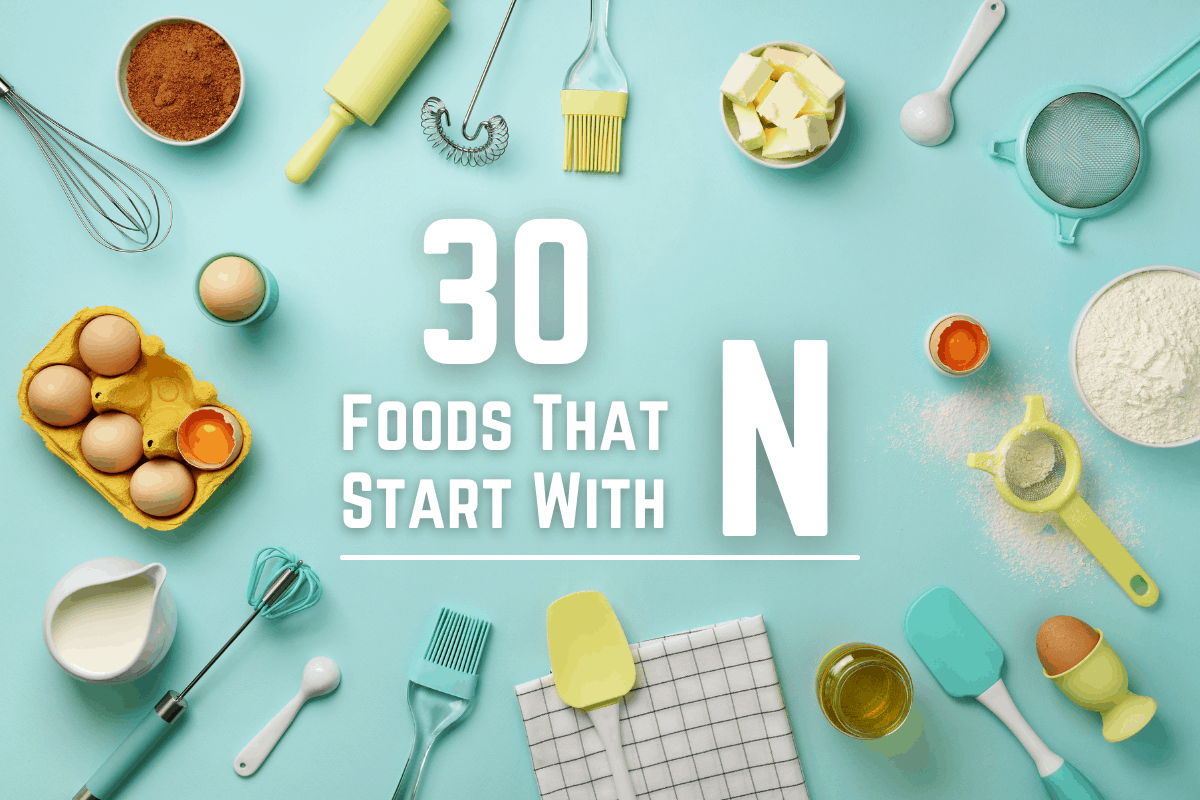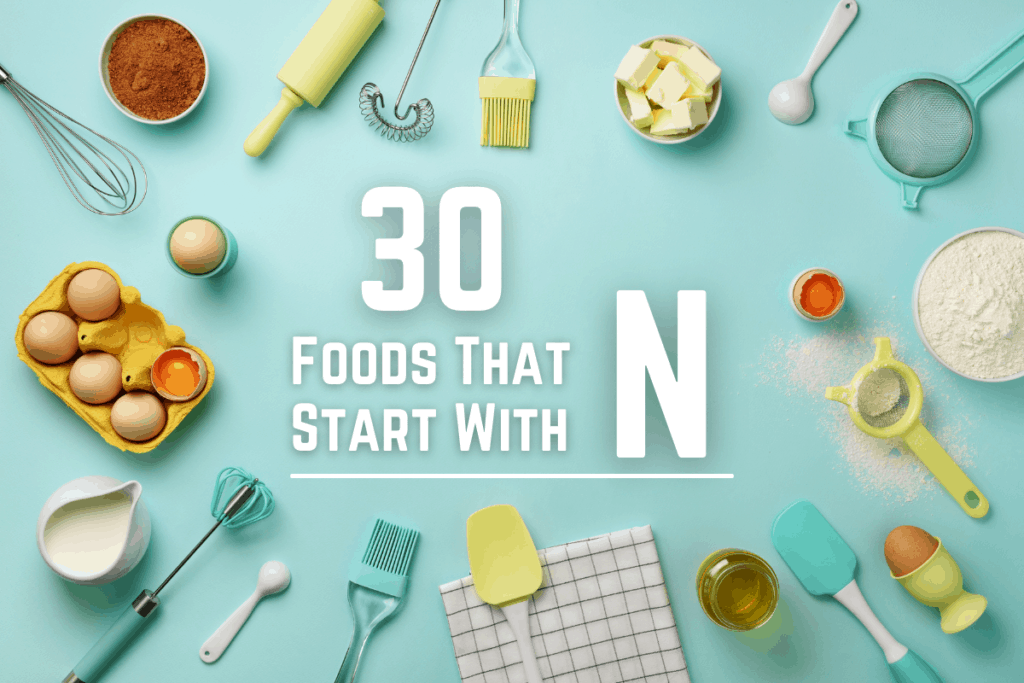 26 Foods that start with the letter N!
1. Naan bread
Naan bread or simply Naan is a leavened flatbread common to the cuisines, of western Asia, southern Asia, and the middle east. Most often identified with Indian cuisines, this delicious, soft, tender flatbread is perfect for dipping in rich saucy curry dish and wrapping around tender cuts of meat like curries or stews.
Naan can be seasoned in any number of ways, some of the most common variations would be onion naan, garlic naan, or nigella seed naan.
2. Nachos
Nachos are a Northern Mexican dish composed of crispy tortilla chips and melted cheese. Often served with toppings like salsa, grilled or roasted meats, sour cream, and veggies, this tasty dish commonly served as an appetizer. Invented in 1940, nachos have become a staple of Tex Mex and Mexican cuisine.
3. Nacho Cheese
Nacho cheese is a form of liquid processed cheese that is often mixed with spices and vegetables like peppers and onions. Nacho Cheese Sauce is often served in large foodservice locations, such as sports games, movie theatres, or stadiums, and can be used for foods besides nachos as a dipping sauce or topping.
4. Napa cabbage
Napa cabbage or Chinese cabbage is a type of brassica native to China and commonly used in Asian cuisines. With tender leaves and an oblong rugby ball shape, Napa cabbages are perfect for stir fry, soups, stews, or pickling. One of the most identifiable uses for this cabbage is in Kimchi, a Korean spicy pickled cabbage dish.
5. Napolean
A Napoleon or a Napoleon cake is one of Russia's national desserts. Composed of 16 layers of crispy pastry and almond cream a napoleon resembles a mille-feuille, a classic French pastry that means "1000 layers" With an incredibly rich flavor and amazingly crisp texture, a Napoleon is a showstopper that will leave your guests battling for the last slice!
6. Nasi Goreng
Nasi goreng is a traditional Indonesian fried rice dish. Made from day-old rice, seasonings, chopped meats, and veggies, this delicious fried rice dish is often served with a fried egg on top!
7. Nasturtium
Nasturtium can refer to a number of plants in the Tropaeolaceae family, but typically in food, it refers two one of two things, watercress or Garden Nasturtiums.
Watercress, also known as nasturtium, is an edible aquatic green that may be one of the oldest consumed plants on earth. Delicious in salads or as a sandwich topping, watercress is packed with vitamins and minerals and can be a great part of a healthy diet or meal plan.
Garden Nasturtium, also known as Monk's Cress is a flowering cousin to watercress that is highly prized by chefs for its beautiful edible flowers, peppery edible leaves, as well as its "capers" or flower buds that can be pickled or fermented.
8. Natillas
Natillas is a Spanish term that refers to a group of custard-based desserts typically made from milk, cream, sugar, and eggs. Similar to Creme Anglaise, a french custard sauce, these dishes are thickened with egg yolks and served chilled with spices and seasonings.
Most countries of Spanish influence have some sort of Natilla style dessert tradition, though, in Colombia, Natillas do not contain eggs.
9. Natto
Natto is a fermented soybean dish from Japan. It is known for having an incredibly unique texture as a result of the fermentation process the soybeans undergo. Often served for breakfast, Natto is considered by many to be a superfood.
Though natto is reported to be delicious by many, the texture of the fermented beans is often a stopping point for many adventurous eaters.
10. Navel oranges
A common breed of orange fruit that was first cultivated in the 1820s, Navel oranges is known for the distinct "navel marking" at the base of the fruit. There are a few common mutations to the Navel Orange and my personal favorite is the Cara Cara orange which has a redder flesh a sweeter flavor. With a hardy skin and longer shelf life, these oranges are perfect for transport across the country and the world.
11. Navy beans
Navy beans or pea beans are small oval-shaped white beans native to North America. They are quick-cooking and have a rich, creamy texture, especially when mashed or pureed. They taste great in spreads, dips, soups, or stews.
One of the most common uses for the navy bean would be Navy Bean Soup. Often made from smoked pork products like ham hock and simmered in a flavorful ham stock, Ham and Navy Bean Soup is the perfect lunch for a chilly winter day.
12. Nduja
Nduja is a spreadable pork sausage or salami from the Calabria region of Italy. Often served with crispy grilled bread or toast as well as pickled veggies or olives, N'duja is a great addition to your next charcuterie board or party spread!
13. Neopolitan ice cream
Neopolitan Ice Cream is traditionally a package containing three types of ice cream, chocolate, vanilla, and strawberry, side by side. Originating from ice cream traditions brought to America by Italian immigrants in the 1800's, the traditional 3 stripe pattern is still recognizable today. The name itself is derived from "alla napoletana" which means "of Naples".
14. Nectarine
A nectarine is a smooth-skinned variant of the Peach family. With white or yellow to orange flesh, these glossy skinned stone fruits are slightly smaller and often sweeter than peaches.
15. Neeps
Neeps is the Scottish nickname for Turnips. Usually referring to a dish called "Neeps and Tatties" a traditional dish made from slow-cooked turnips or rutabagas and mashed potatoes.
16. Negus
Negus is a hot alcoholic drink made from wine and port that has been mixed with hot water, citrus, and spices. Invented in the 18th century, Negus is similar to other hot cocktails like mulled wine, glog, gluhwein, or a hot toddy.
17. Nettles
Nettles are a type of edible plant that grows wild and are known for their "stinging" qualities. Stinging or common nettles are lauded for their flavor and medicinal properties and can be eaten or drunk in a tea. Through heating, the mild toxin in the "stinging" hairs that cover the plant are neutralized and the remaining flavor is peppery and delicious.
18. Neufchâtel cheese
Neufchatel cheese is a type of cream cheese product or cream cheese substitute. Similar in texture, flavor, and consistency, Neufchatel cheese contains less overall fat than cream cheese and has higher water content overall. Neufchatel can be used almost interchangeably with regular cream cheese and can be utilized both fresh as a spread and in baking or cooking recipes.
19. Newburg Sauce
Newburg sauce is a traditional American seafood sauce made from thickened milk, butter, and cream sauce that is spiked with sherry and paprika. Traditionally served with seafood dishes, Lobster Newburg is one of the most notable uses of this incredible sauce.
20. Nigella Seeds
Also known as Black Caraway Nigella Seeds are common in Eastern Asian and Middle Eastern Cuisines. Noted for its lightly bitter flavor, Nigella seeds are commonly used as seasonings or in Bangladeshi Naan.
21. Nonpareil
Nonpareils or 100s and 10000s as they are known outside of North America, are a decorative candy or confection. Nonpareils are tiny balls made from sugar and starch, traditionally white in color they now come in a multitude of colors and shades. Primarily used for decorating cakes and candies, one of the most recognizable uses of nonpareils would be in Snow-Caps a movie theatre favorite made from chocolate disks covered in nonpareils!
22. Noodles
Noodles are a type of food made from unleavened dough cut into strips or shapes. Noodles can be made from flour, eggs, rice flour, or other gluten-free starches, and they can be rolled, pressed, extruded, or formed by hand. Cultures from all over the world have rich noodle traditions including, Italy, France, Germany, Korea, Vietnam, China, Japan, Cambodia, and others.
Noodles can be used in everything from pasta to cold noodles salads or homestyle classics like chicken noodle soup!
23. Nori
Nori is a dried seaweed product from Japan. Made in a method similar to papermaking, seaweed is shredded, pressed, and then dried into sheets that can then be further roasted to impart a rich umami flavor. Often used to wrap sushi rice, Nori can be found in almost all grocery stores today and can be delicious in soups or stews as well.
24. Norman tart
A Norman Tart. is a classic French apple tart made from shortcrust pastry, sliced apples, sugar, and rich egg custard. Baked together in a tart pan until the top is lightly caramelized this apple tart is a delicious classic dessert that is sure to impress.
25. Nougat
Nougat is a family of confections composed of whipped egg whites, sugar, honey, chopped nuts, and sometimes dried fruits. Nougat is usually chewy and rich, and is often used as a filling for modern candy bars, but is absolutely delicious on its own. Check your local pastry or candy shop to try a traditional nougat for yourself.
26. Nuggets
Nuggets or Chicken Nuggets, are small pieces of boneless chicken meat that is then breaded and fried. First invented in the 1950s Nuggets have become a favorite dish of children everywhere!
27. Nutella
Nutella is a hazelnut and chocolate spread first produced in Italy in 1963. A cousin to the chocolate/hazelnut mixture called Gianduja, Nutella has a creamier and more fluid natural state thanks to the palm oil used in its production. Nutella has a delicious chocolate and hazelnut flavor that tastes great on everything from toast to cakes or all by itself!
28. Nutmeg
Nutmeg is a ground seed or spice, commonly used in baking recipes as well as in curry dishes and foods from Asia and the middle east. Commonly available in its pre-ground form, Nutmeg is a small oval-shaped seed about the size of a large marble. Originating in Indonesia, Nutmeg is cultivated from a tree responsible for two different spices. Nutmeg is made from the seed of the tree, while Mace is derived from the seed covering. Both have similar flavors, but Nutmeg is more gentle and less pungent overall.
29. Nuts
Nuts are a category of food that is composed of an edible seed contained in an inedible shell. Common types of nuts include Hazelnuts, Almonds, Walnuts, and Cashews. Peanuts are not actually nuts but are instead in the legume family like beans or peas.
30. Nutter butter cookies
Nutter Butters are a classic sandwich cookie with a peanut butter filling. Shaped like a peanut with a crosshatch pattern giving the cookie the appearance of a peanut shell, these peanut butter cookies are filled with a peanut buttercream frosting for an extra peanut butter kick!
Final Thoughts on Foods That Start with the letter N.
While this list is a strong starting point, there are still a lot of foods that start with N left to discover. I love learning about new cuisines and ingredients, what are some of your favorite foods that start with N? Did I leave out one of your favorite N foods? Let me know in the comments and I'll be sure to check them out!