When it comes to frittata and quiche, which do you prefer? The different opinions when it comes to frittata vs quiche can be overwhelming.
Some may prefer frittata, while others always choose quiche, and their respective fans have a ton of reasons why one is better than the other.
For those unfamiliar with these dishes, this can be confusing. Is there a difference between the two? Or are they similar enough that the unnecessary fighting over which is best should be put to rest?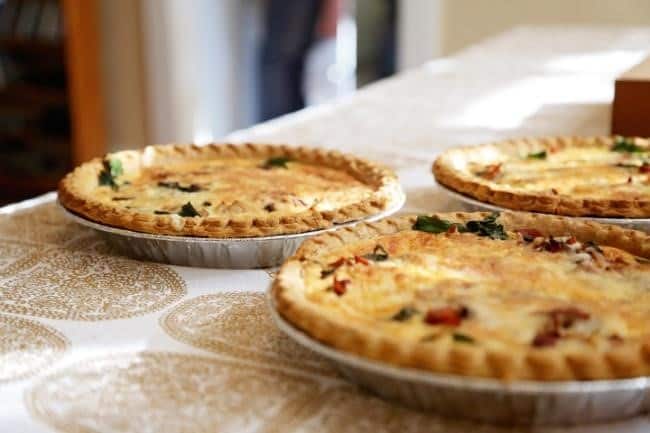 Both frittata and quiche are egg-based dishes with added vegetables, meat, cheese, and other ingredients that make them mouth-wateringly delicious.
When you hear eggs, you probably think of breakfast. And while both have been served as breakfast staples, they can be leveled up to become iconic fixtures on dinner tables and other events too.
But how can you differentiate the two? Let's find out.
What is a Quiche?
The first thing you'll notice on a quiche, and the thing that separates this dish from a frittata, is that it has a crust. To bake a traditional quiche, you need to bake your filling in a pastry crust. This filling usually has a mixture of eggs, cheese, and cream.
Meat and vegetables can be added to it depending on the recipe you are following. The ingredients are added to the custard base, which is a mix of eggs and heavy cream.
This custard base is what gives the creamy consistency of the quiche when baked. (To help curb the fat, you can also replace the cream with half-and-half for your egg mixture on any recipe.)
The modern quiche that we are accustomed to nowadays is a distinctive French variant called quiche Lorraine. It is named after a region in France called Lorraine, where they serve quiche during special occasions. But if we dig deeper into quiche's history, we can find that it has been enjoyed as early as the 13th century in Italy.
Quiche Recipes
There are many delicious quiche recipes out there. We've gathered a list of amazing quiche recipes that you can try:
Roasted Tomato, Basil and Parmesan Quiche
Butternut, Sage and Hazelnut Quiche
What is a Frittata?
While quiche is more complex with all the baking you need to do, making a frittata is easy as one, two, three. All you need is to (1) whisk all your ingredients together, (2) pour into a frying pan, baking dish, skillet, or sauté pan, and (3) let it cook in a skillet and finish it in an oven.
Like quiche, a frittata is made with a mixture of eggs, meat, vegetables, and cheese. However, it does not have a cream-based custard as the egg base. Where quiche is like a pie, think of a frittata as a sort of giant baked omelet.
Aside from using an oven, you can also make use of a broiler to finish your frittata. Either way, it will taste just as great.
Frittata Recipes
Ready to try a frittata? Here are our recipe recommendations that you should try:
Bacon, Spinach, Tomato, and Swiss Frittata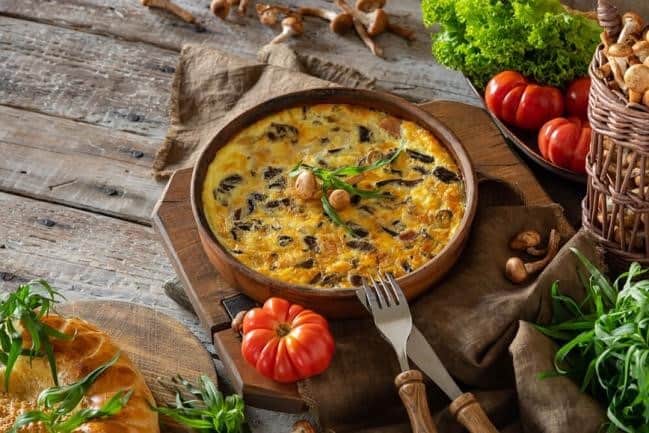 Quiche vs Frittata
When it comes to the frittata vs quiche debate, their differences are determined by three integral factors: the crust, the egg-to-dairy ratio, and the cooking method. With these factors, you can distinguish which is which.
Crust
As we mentioned earlier, a quiche usually has a crust while a frittata does not. While quiche is baked slowly in a pie crust, the frittata is crustless and thus quicker to make.
The crust factor also affects the ingredients that you can use in making these two dishes. Since a crust is firm, it can help the quiche to handle more cream than a crustless frittata.
Egg-to-Dairy Ratio
The egg-to-dairy ratio also differs between a frittata vs quiche. A quiche recipe typically uses more dairy, requiring cream, half-and-half, or milk for the quiche filling. Without the addition of dairy, quiche will not be the same.
Meanwhile, frittatas use little to no dairy at all. It is mostly made up of eggs, with dairy coming in the form of cheese. Thus, the egg-to-dairy ratio is very minimal and limited. If dairy is added, the ratio is usually ¼ cup of full-fat dairy for every six large eggs. The dairy used for frittatas can be heavy cream, thick sour cream, or creme fraiche.
Cooking Method
Frittatas and quiches are also cooked differently. Frittata often makes use of a skillet, sauté pan, or frying pan on a stove. While some people end the process at the stove, in most occasions, frittatas are placed in an oven to finish the entire cooking process. That is why you need to be sure that the pan and skillet you are using are also oven-ready.
Meanwhile, quiches are baked in their entirety. It is placed in a pie pan on a pie shell. Because of the baking, making a quiche requires a bit more effort than a frittata. However, both taste great and worth your time.
In Conclusion
It's hard to pick a winner between quiche and frittata. While it is easier to make a frittata, it is also worthwhile to cook quiche from time to time. Both dishes are extremely delicious and rewarding. Though they might differ in cooking method and taste depending on the ingredients you use, both the frittata and the I
If you need a quick fix for a supper, then a frittata is a good go-to. But if you have more time to make an elaborate meal, then it could be worth it to make a quiche.
Whatever you choose to serve, one thing is for sure: You'll never go wrong with any of it as long as you have the right recipe and wonderful ingredients!
Both dishes are great and taste good in their own ways, so go forth and cook! There are no wrong answers here.